Backcountry Ski in Jackson Hole
If you are looking for a true winter adventure, this is where you need to be! Since the 1820s, when French traders passed through Jackson and dubbed the three most prominent peaks Les Trois Tetons, these mountains have been providing ultimate fun and excitement to outdoor lovers.
From low-consequence powdery slopes to the iconic steep-and-deep runs, there is plenty of terrain to explore. So saddle up, grab your skis and skins, and we'll see you in Wyoming!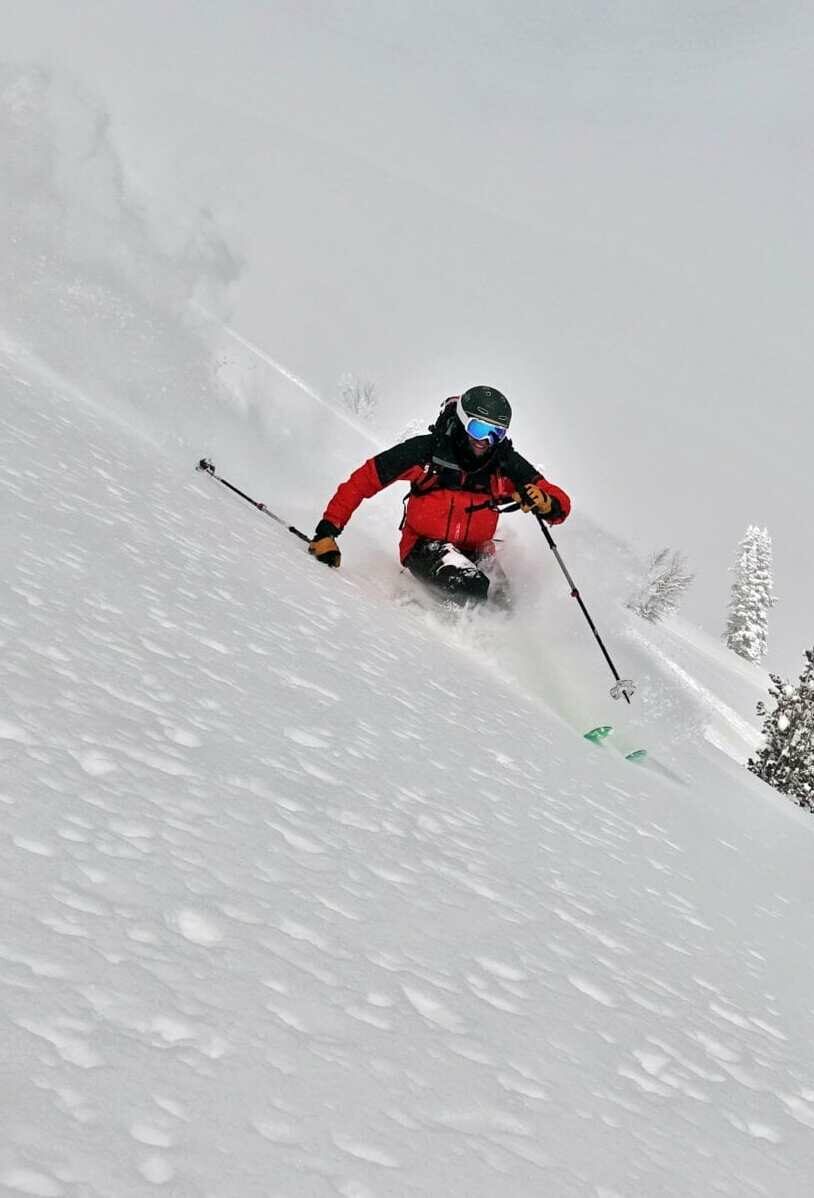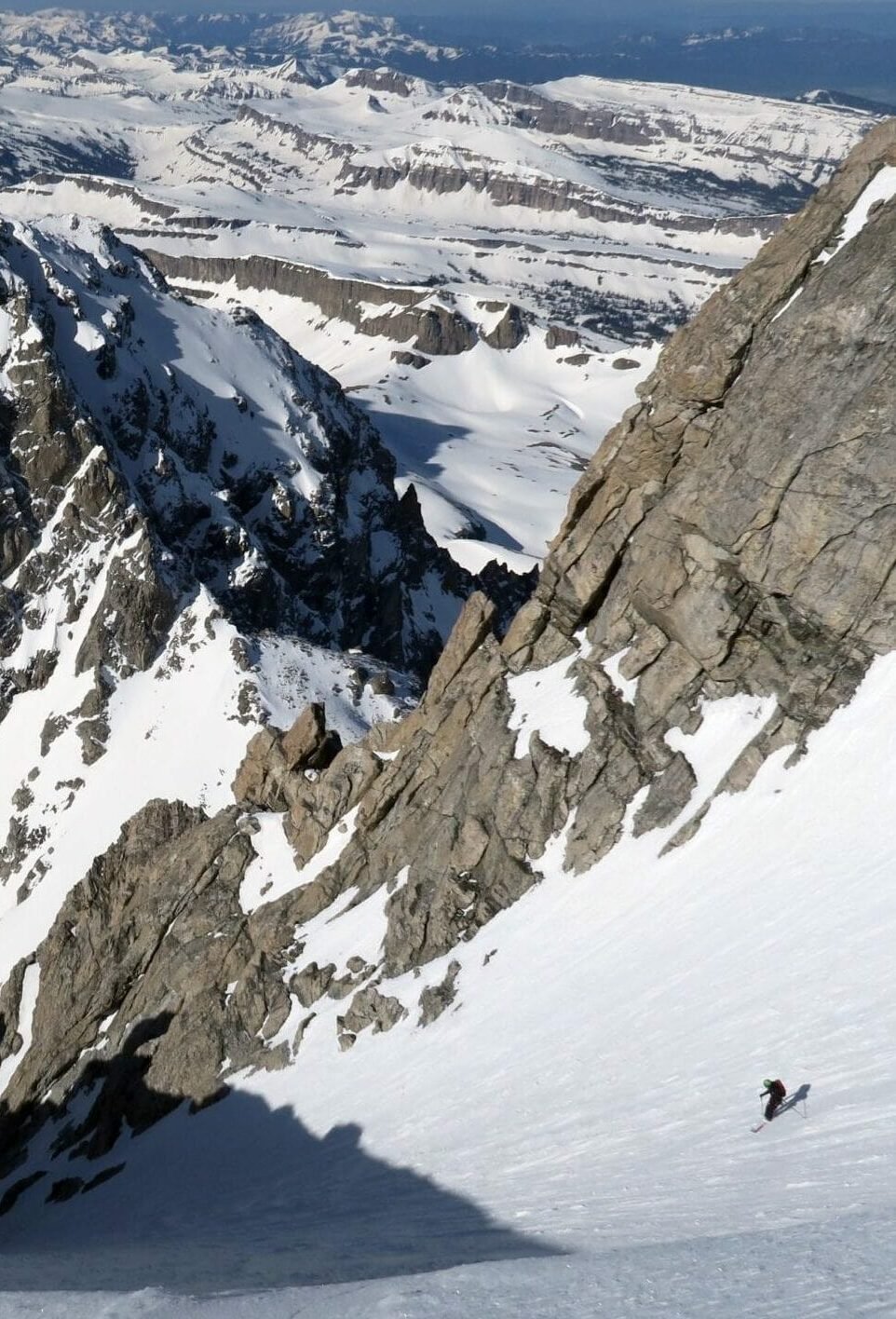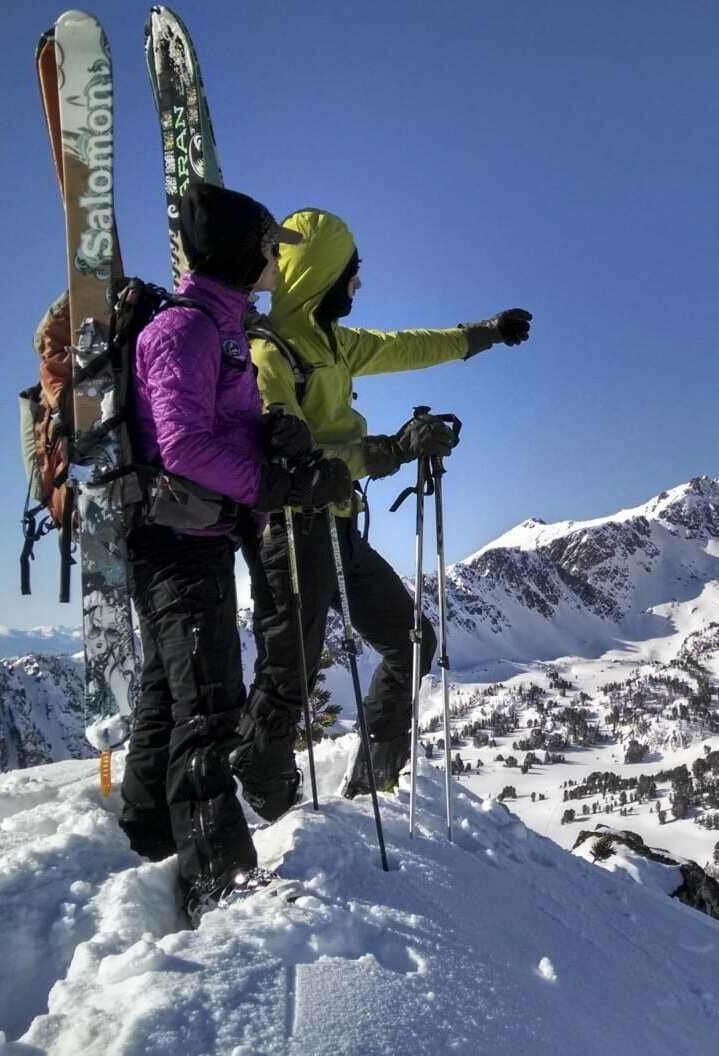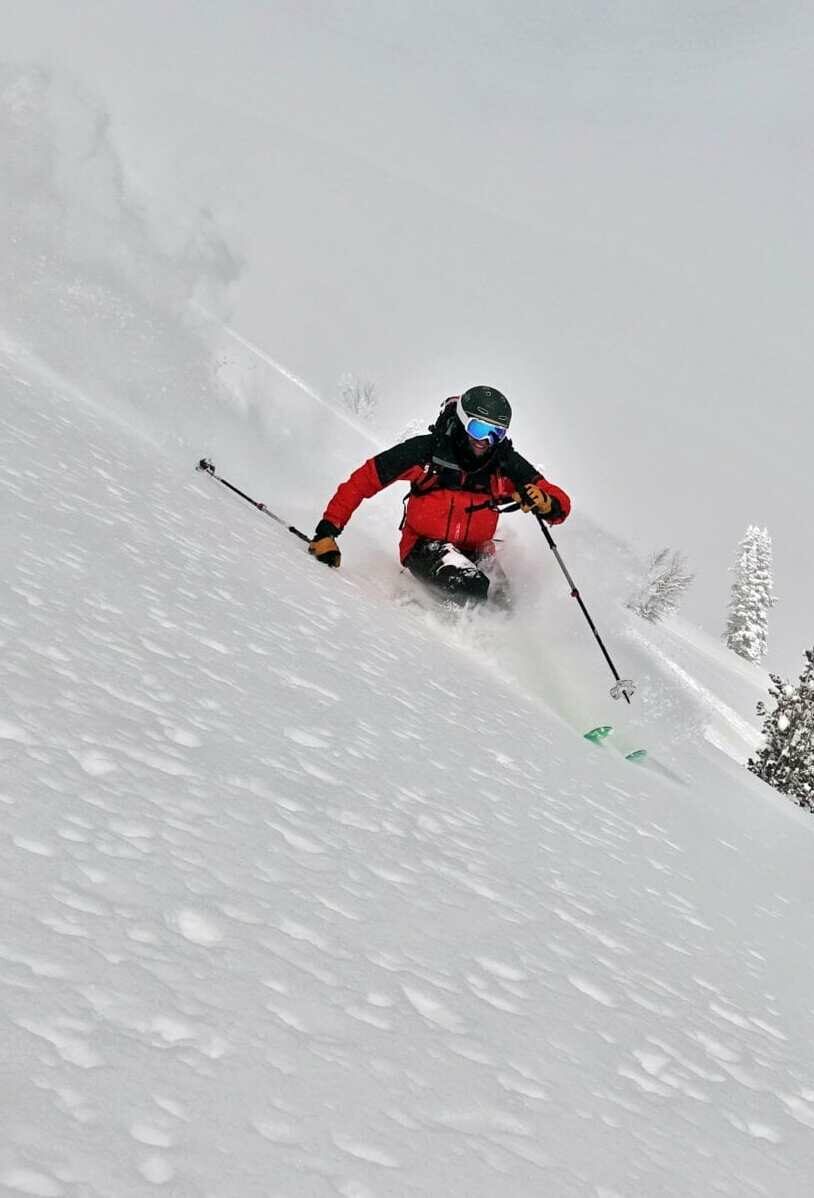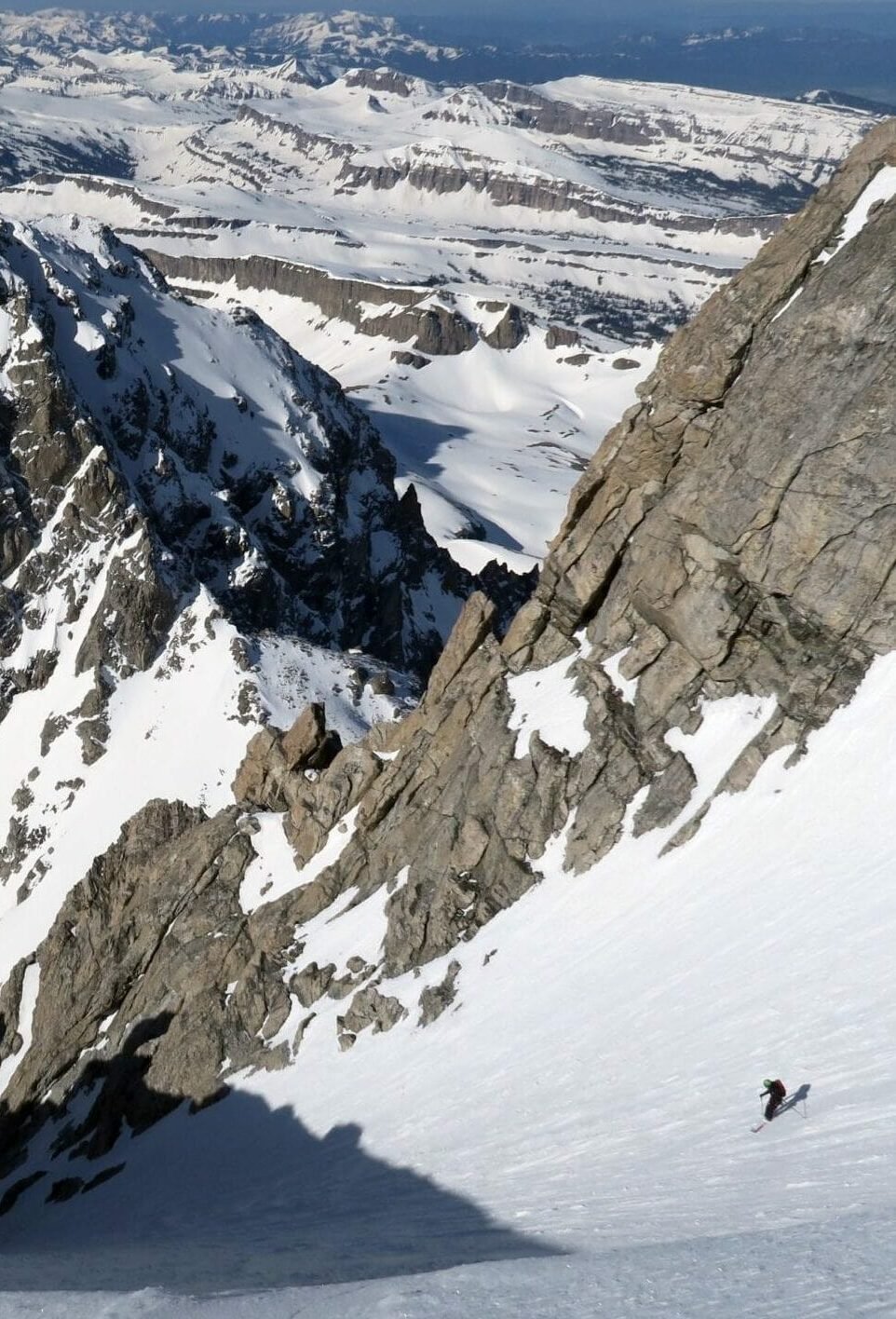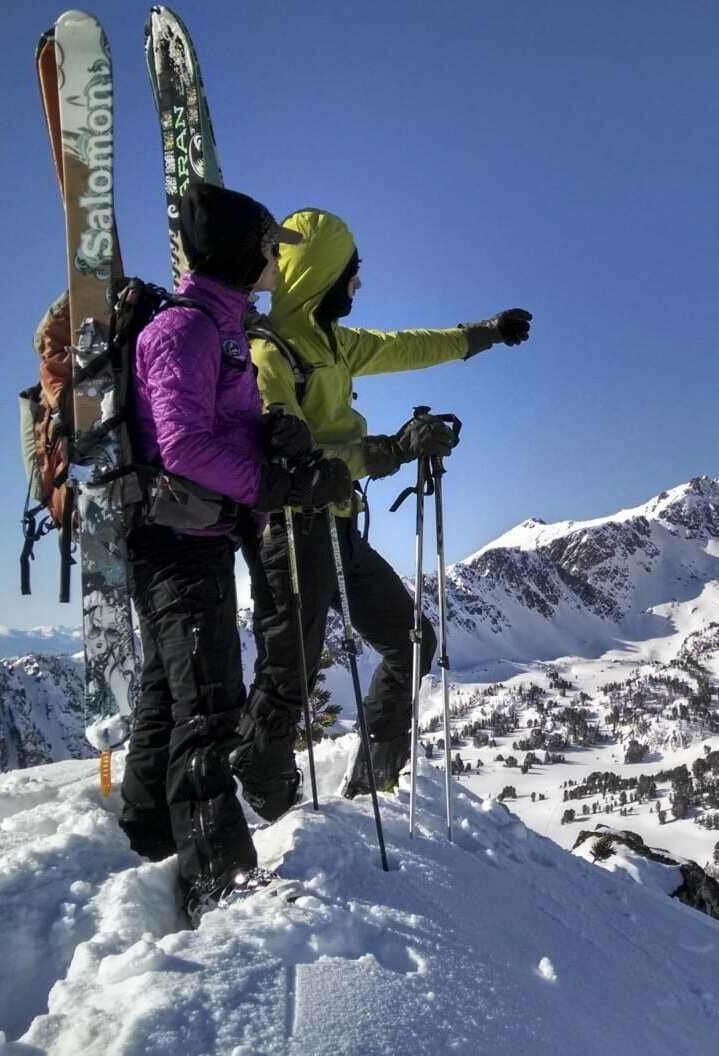 Discover amazing terrain around Jackson
Nestled between the Teton and Gros Ventre mountain ranges, Jackson Hole is located in far northwest Wyoming, right on the state's border with Idaho. Thanks to its high elevation, northerly latitude, and access to Pacific moisture, it is one of the best ski locations in the States.
The mountains' laid back, un-crowded atmosphere means there's always plenty of room for everyone and, with record snowfall this season, it is the perfect place to find fresh powder turns anywhere you look.
The incredibly varied terrain around Jackson boasts everything from laps off Teton Pass to adrenaline-pumping chutes in Grand Teton National Park. You'll start planning your next visit as soon as you leave!
57,266 ACRES
BLUEBIRD DAYS
EASY ACCESS
APRES-SKI SCENE
43°5′ N AND 110°8′ W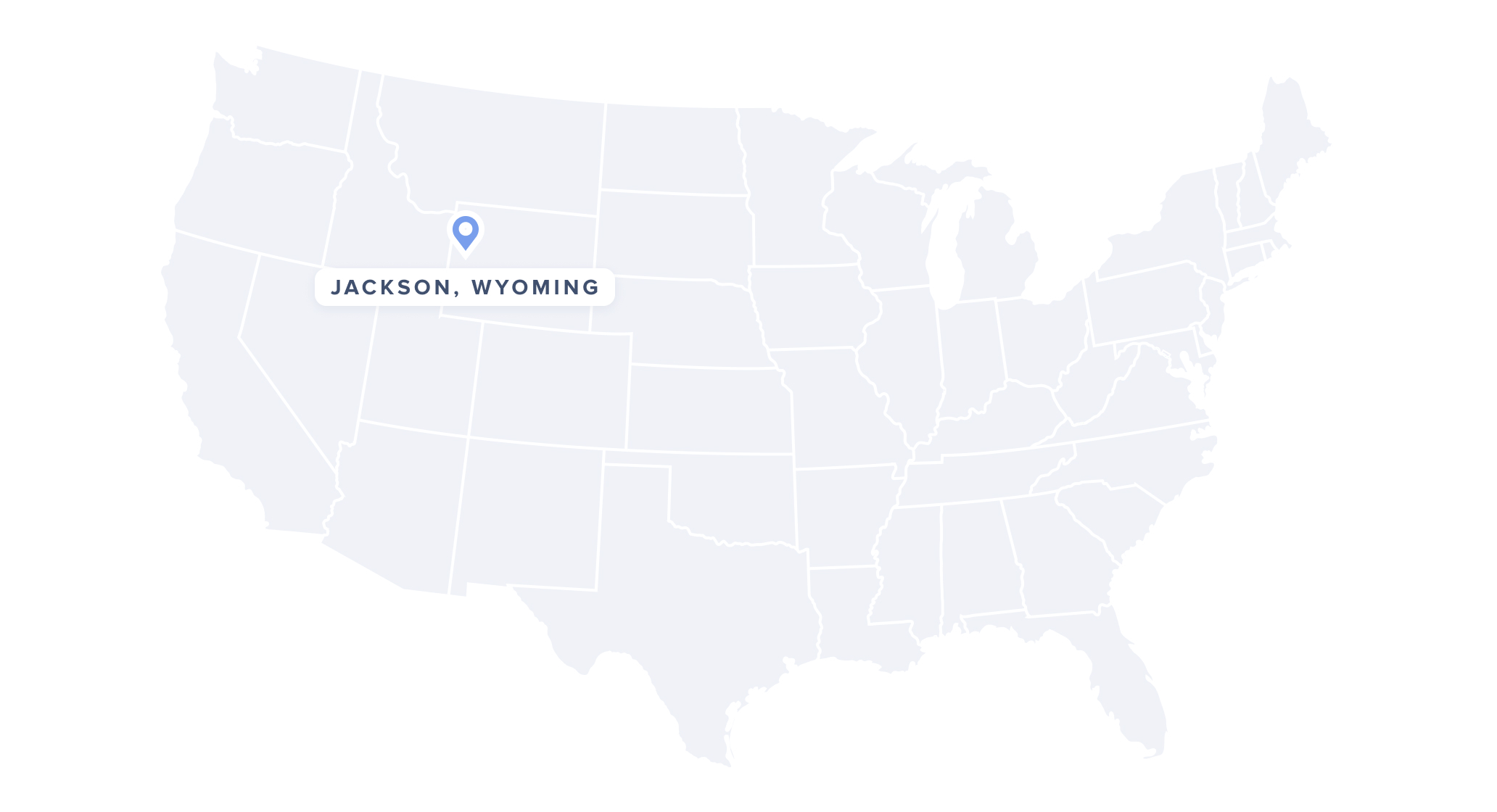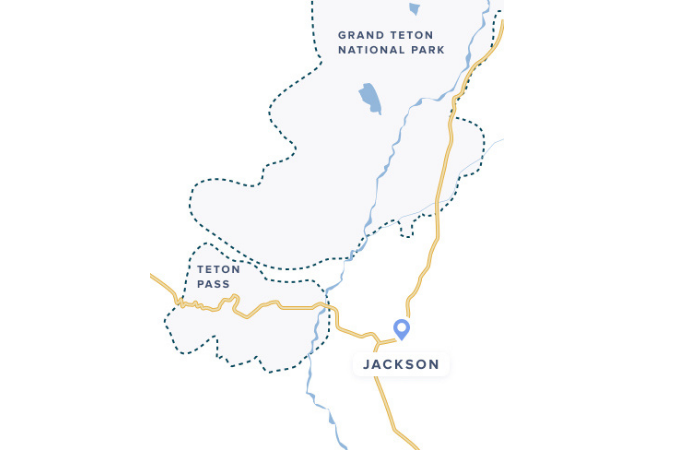 Thousands of acres waiting to be explored
HEAD TO TETON PASS…
Teton Pass might be the best place to start off your backcountry trip. This legendary venue features great steep skiing, but also has tons of low-consequence terrain for newcomers ready to discover the thrill of the backcountry.
The west side of the summit is generally more beginner-friendly, rarely exceeding 35 degrees, while providing the longest runs on the pass up to 2,900 feet. Skinning south for less than an hour will take you to the top of amazing 30-degree bowls and 25-degree glades.
Those with more experience and better fitness can even access bowls and glades off the summit of Mt. Glory, which is reached by a 1,655 vertical-foot bootpack straight from the parking lot.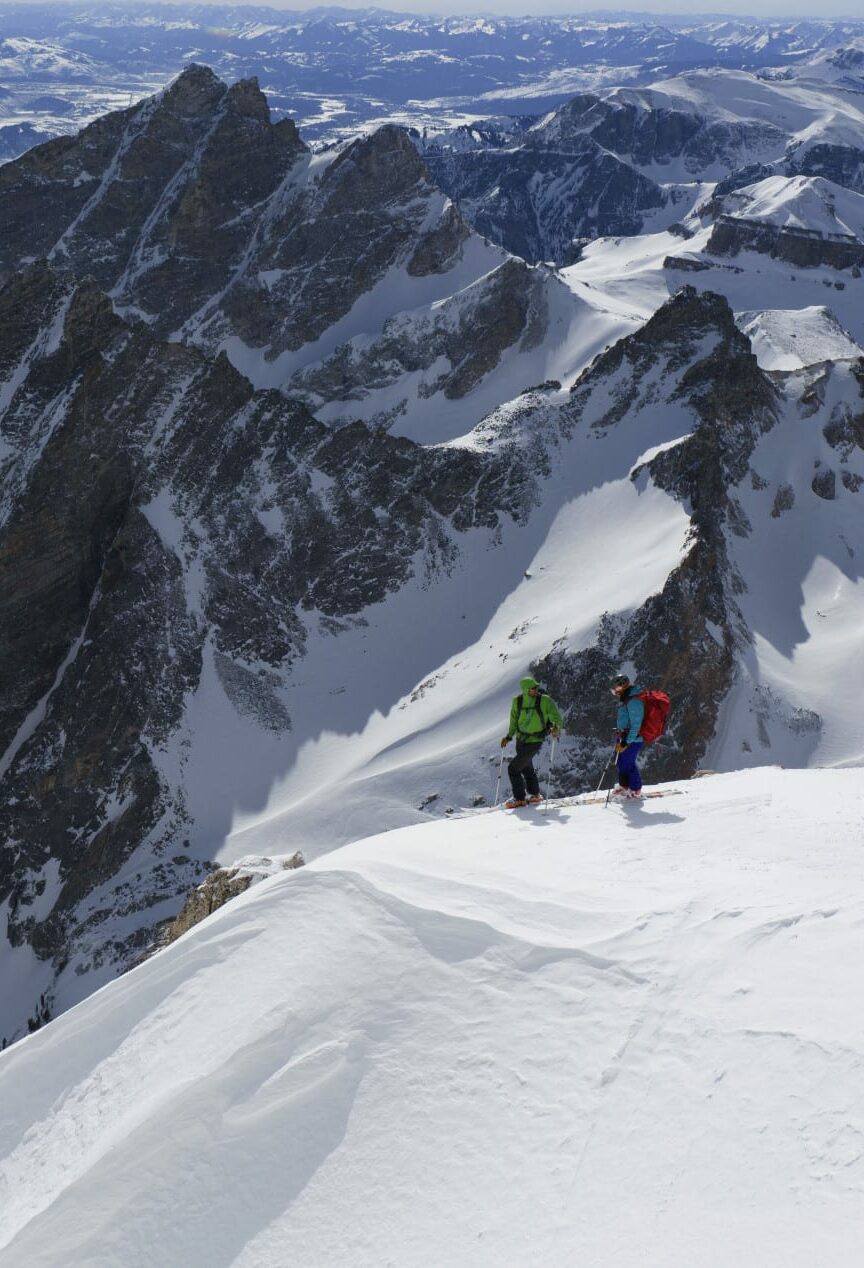 …OR GRAND TETON
NATIONAL PARK
While Jackson Hole offers terrain for every skill level, Grand Teton offers some of the most serious major-league terrain most people will ever ski. Synonymous with epic backcountry skiing, it has everything from amazing tree glades to adrenaline inducing high-angle couloirs with up to 6,500 feet in vertical gain!
From the iconic classics like the Ford-Stettner couloir to modern favorites like the Banana Couloir on Prospector Mountain, a trip to the Tetons should be on every skier's bucket list.
The alpine season for the big lines starts in March and lasts through April, so if you're looking to boost your experience on the slopes with some ski mountaineering, there's no better place than the Park.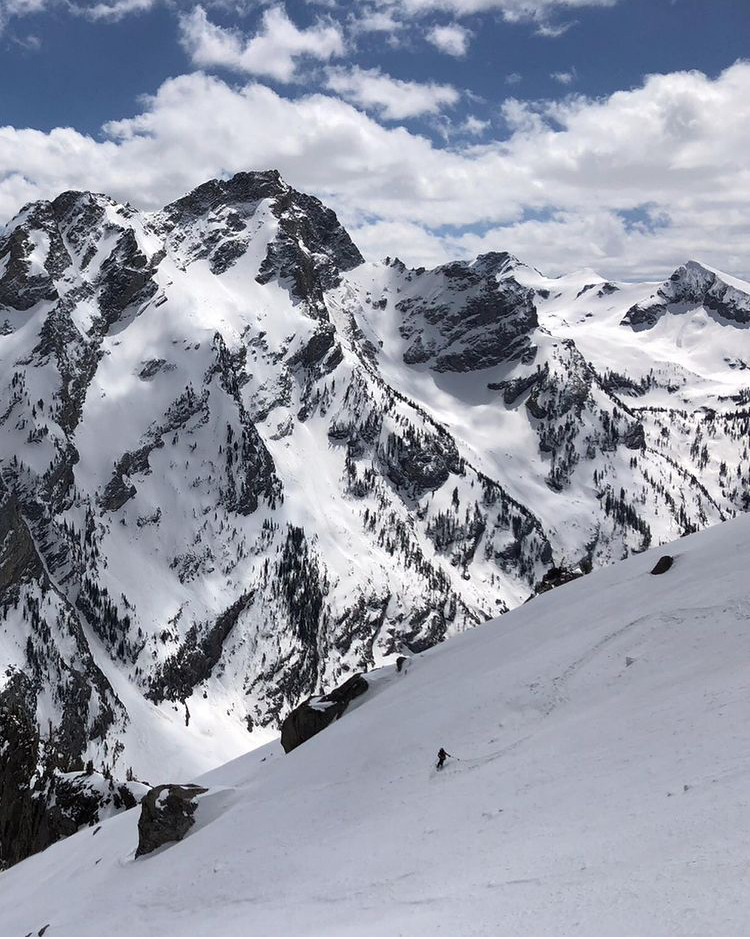 The birthplace
of off-piste touring
Backcountry skiing runs deep through the veins of Jackson Hole. The Jackson Hole Winter Sports Association was formed in 1945 in response to the growing interest in skiing. Just 20 years later, Jackson opened the doors of its legendary resort to the public and started its journey to become one of the most iconic ski towns in the world.
A huge turning point for big mountain skiing happened in 1971 when Bill Brigg successfully managed a nail-biting first descent of the Grand Teton (13,776 ft).
After that, backcountry skiing in Jackson began developing, and in 1986, The Jackson Hole Air Force decided to escape the resort boundaries and headed for the mountains in search of new powder thrills, opening the gates to the most expansive backcountry terrain in the U.S.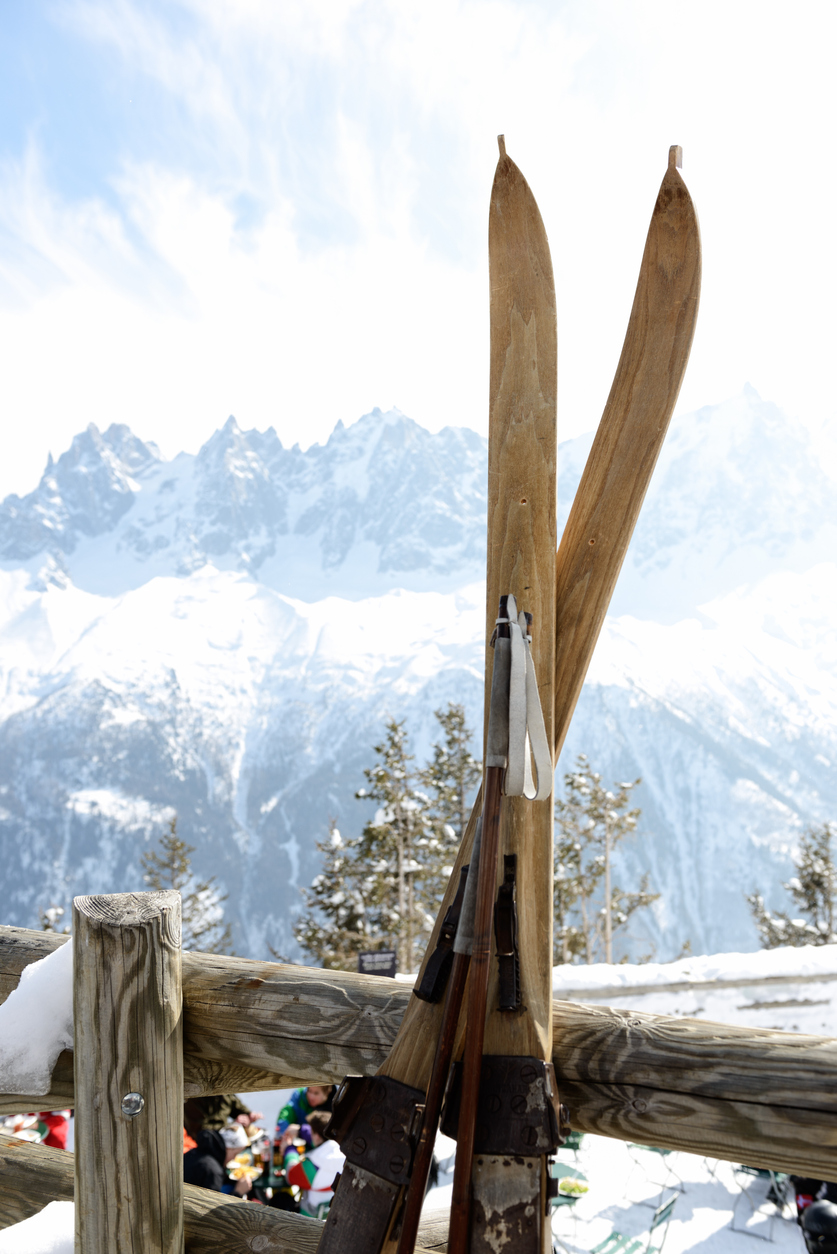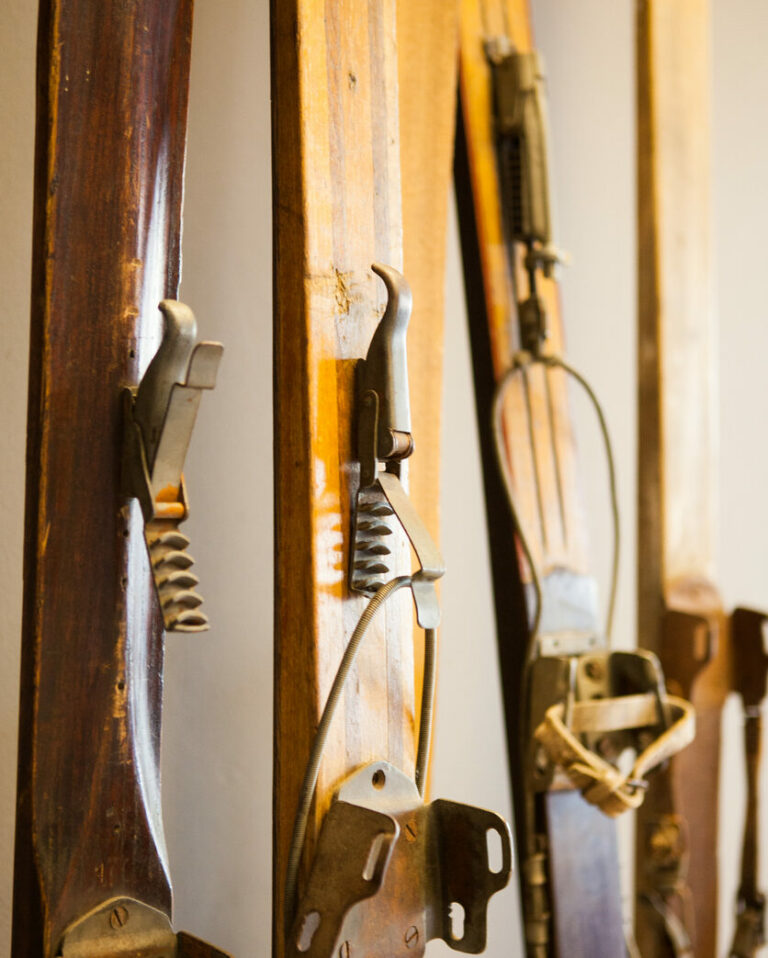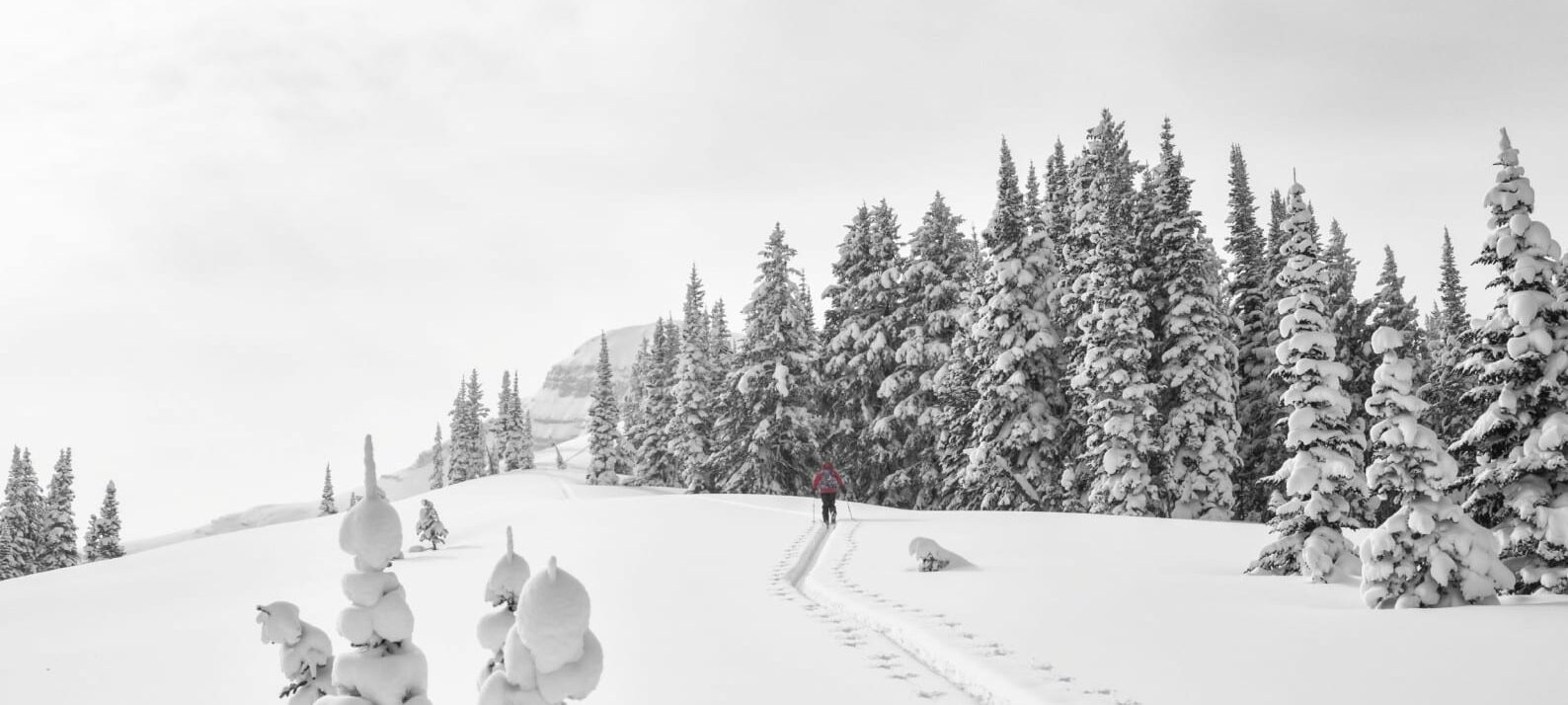 Why go backcountry skiing?
Head for the mountains! Leave the resorts behind and put your skins on as you embark on an exciting backcountry adventure with virtually limitless options. Backcountry skiing or snowboarding allows you to explore everything around you, giving a lifetime of exploration near and far.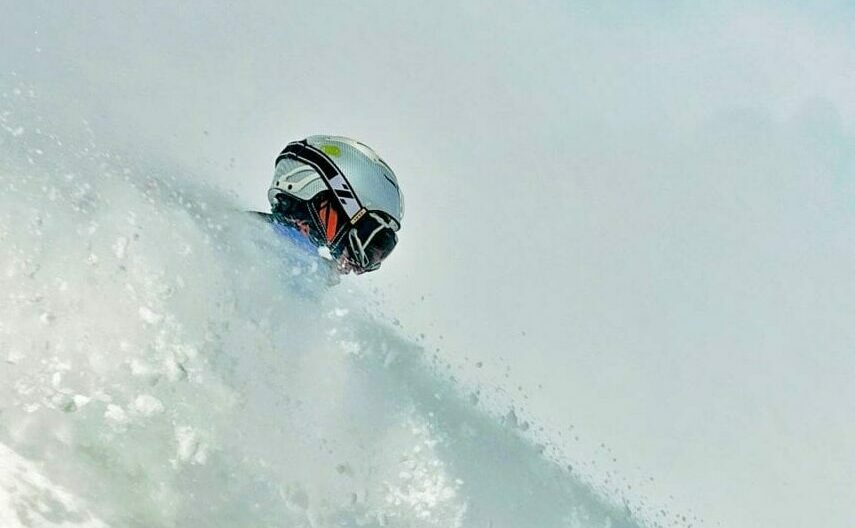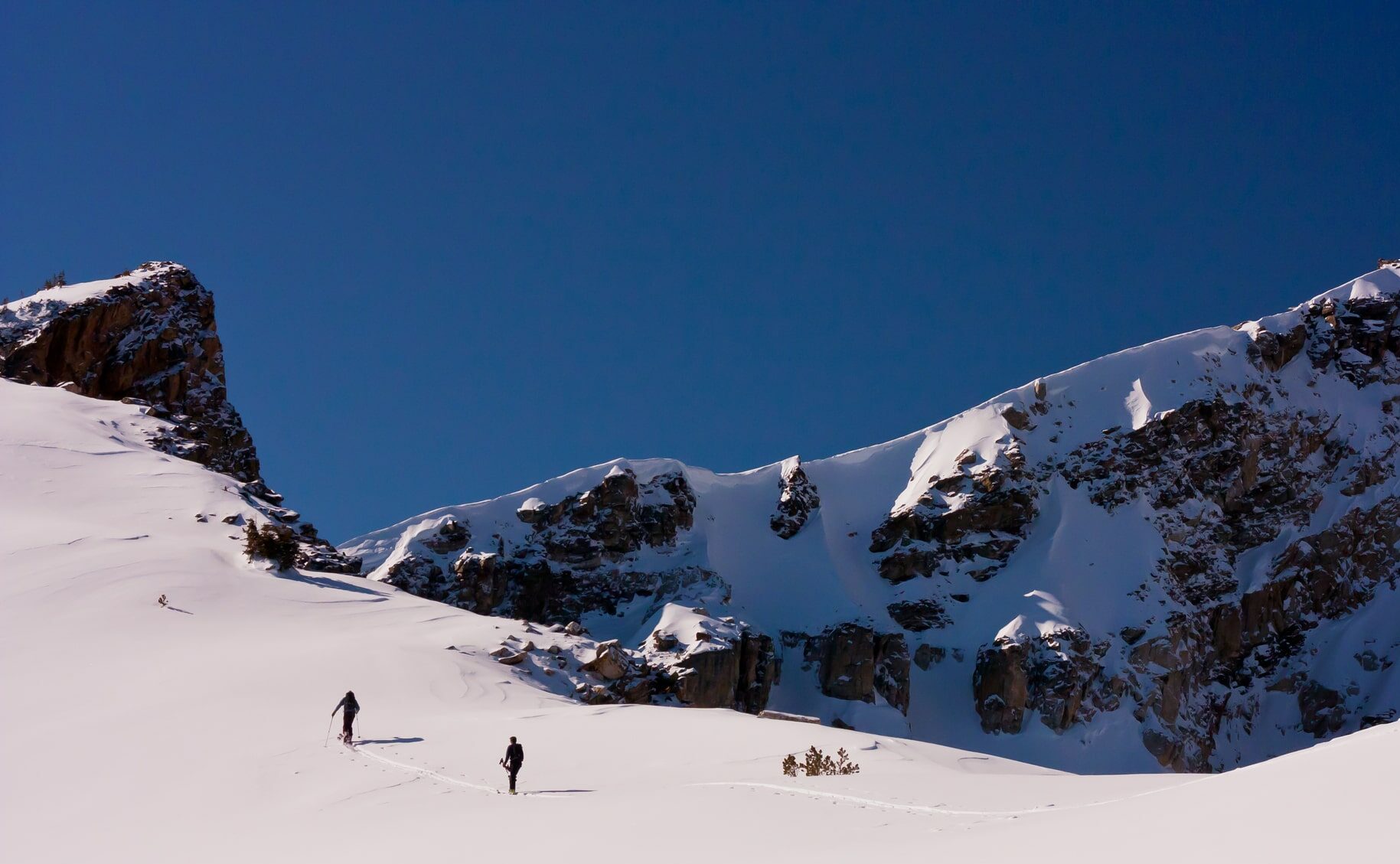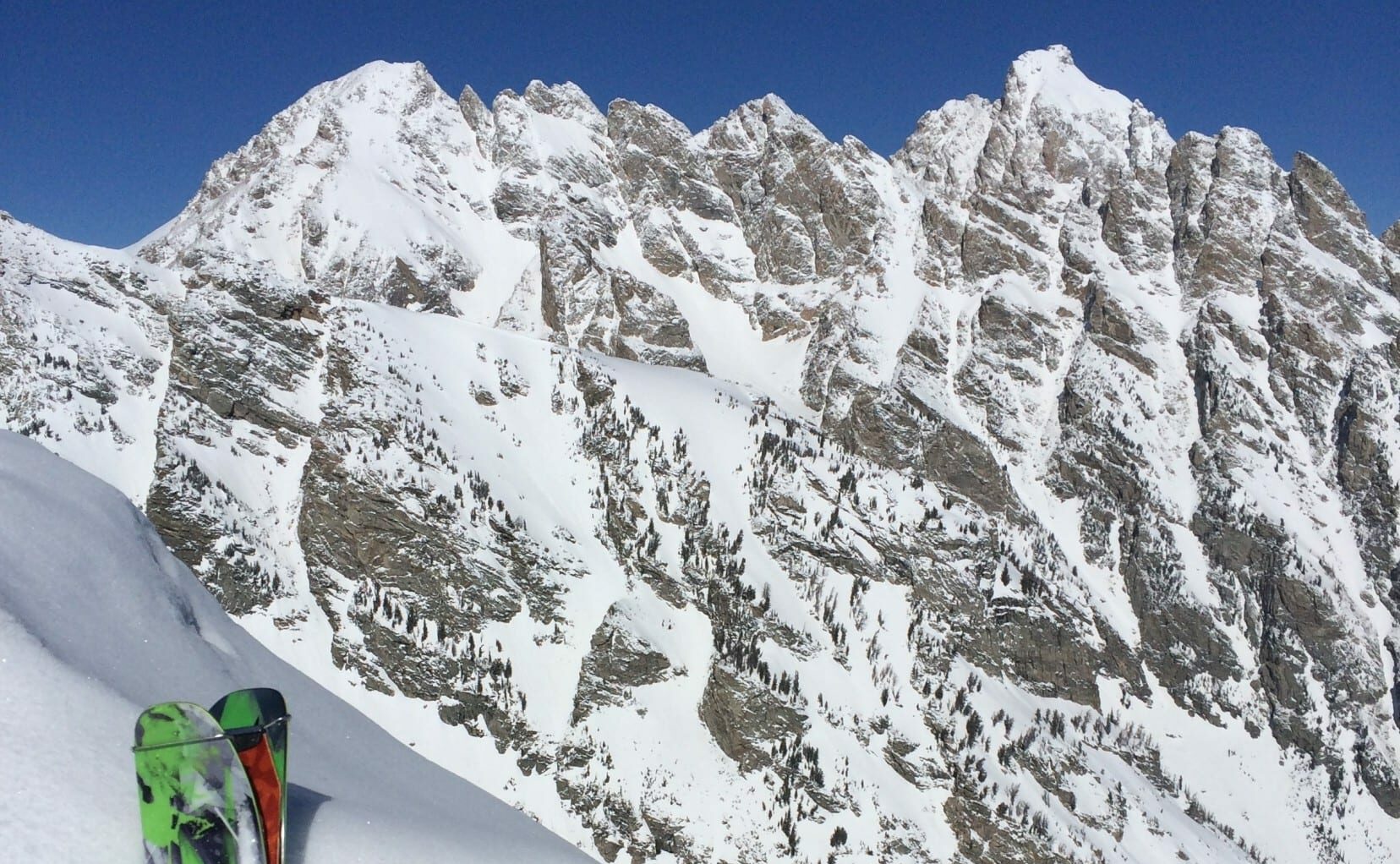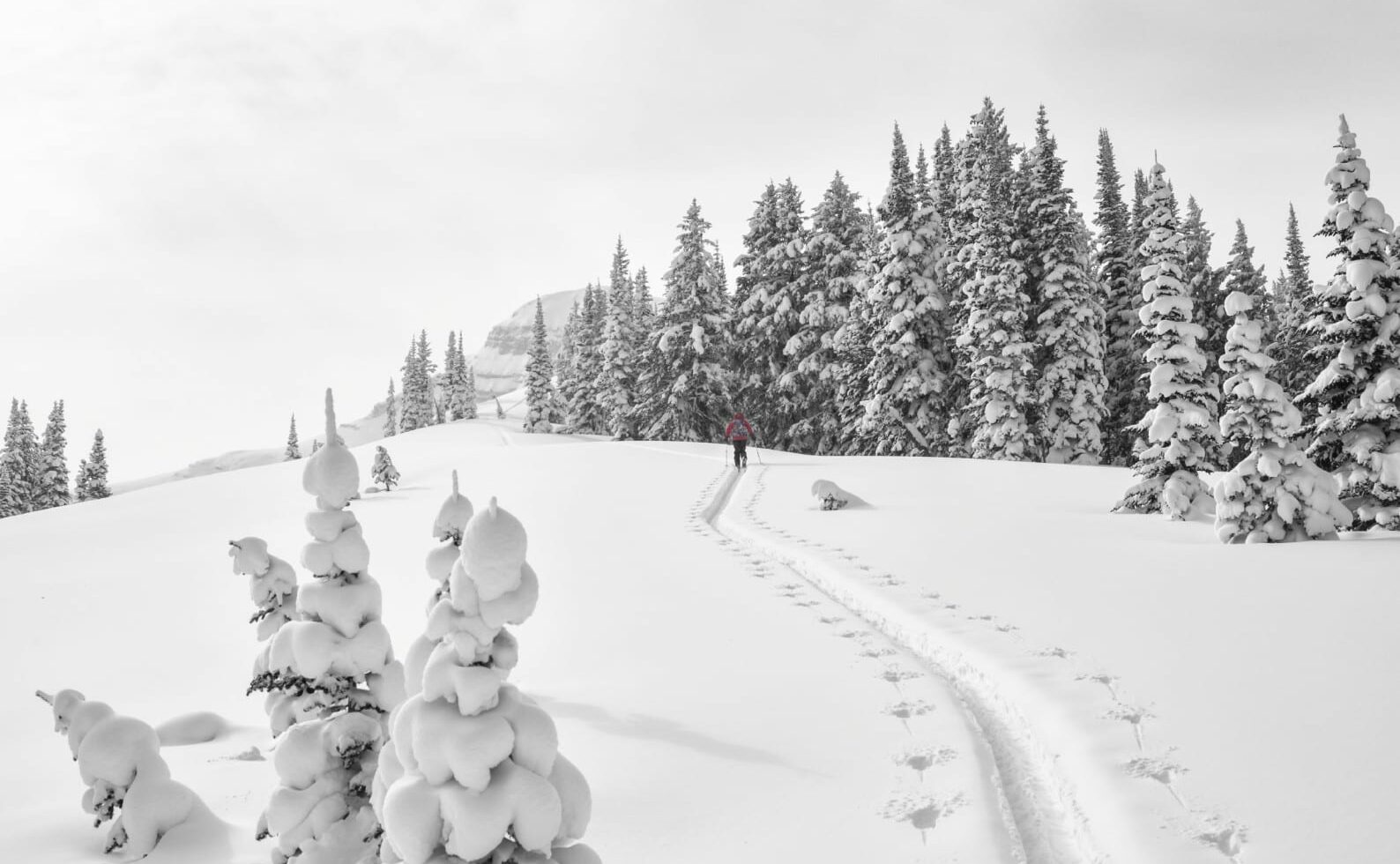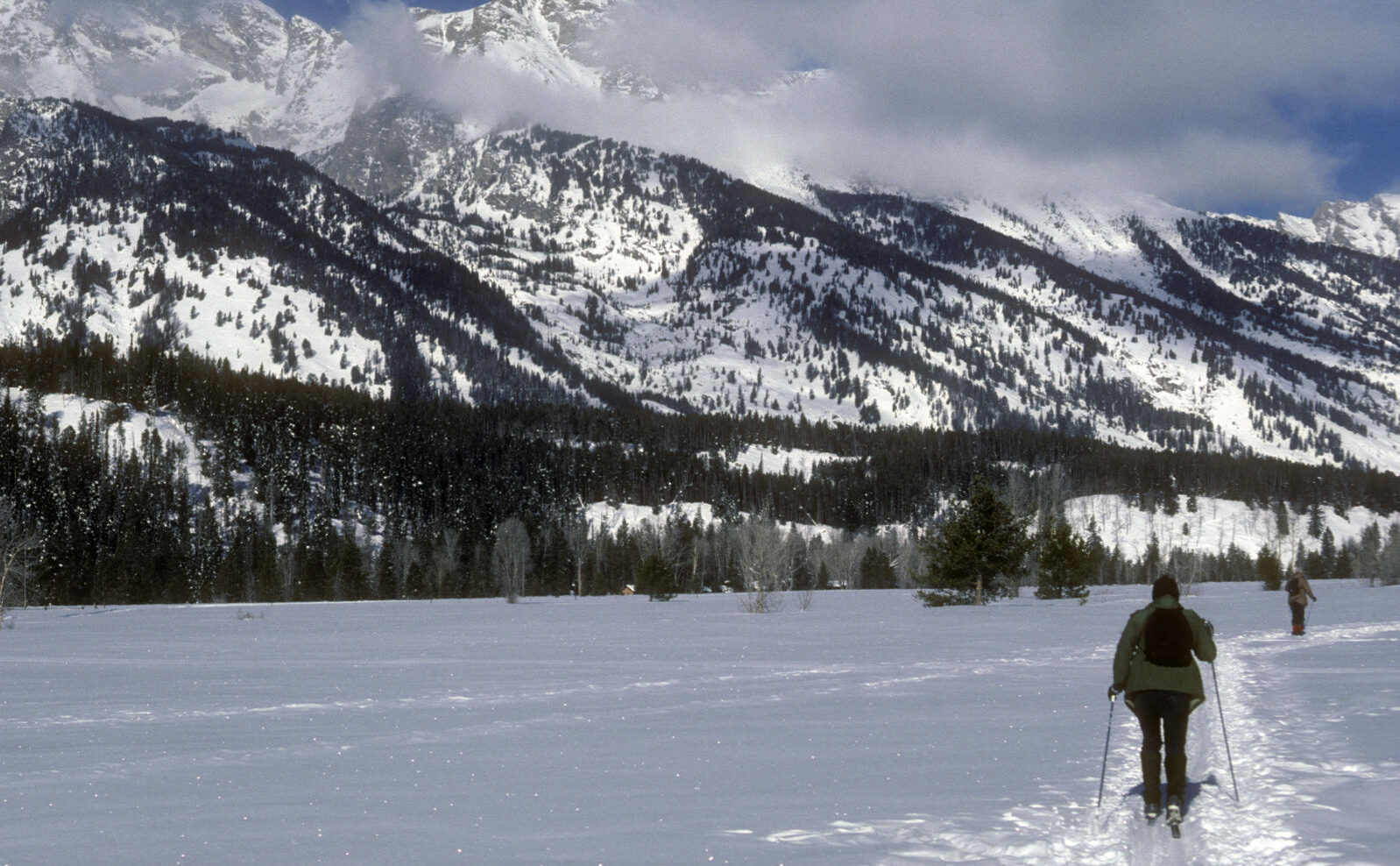 FRESH COWBOY POWDER
Powder-hounds know this place for its legendary fluffy "cowboy powder." Similar to cold smoke, but specific to Wyoming and Montana, this is a light, airy, and seemingly endless snow that follows skiers and boarders during a fresh-powder run.
BLUEBIRD DAYS
With an average of 215 days of sun and 109 inches of snow per year, Jackson Hole suits both those in search of powder and those that just want to enjoy the fresh air and amazing landscapes. Even when the weather conditions aren't great and the visibility is limited, you can spend the day tree-skiing!
SPECTACULAR VISTAS
Once you reach your slope, you'll have a wonderful overview of the valleys below you. As you look at the awe-worthy mountains in the distance, you'll feel equally small and pumped-up about the descent. It's also fun to see all the animal tracks in the snow or the developing hoarfrost in meadows. It's the little things that make the day most interesting.
ESCAPE THE CROWDS
Once you master the art of skiing within the resort boundaries, get ready to experience the beauty of off-piste skiing. Ski resorts often get tracked-out so fast that skiing becomes stressful as you rush to get to the snow before everyone else. This isn't the case here, so leave the crowds behind and enter the freedom of the hills!
PEACE OF MIND
The backcountry provides a perfect getaway from the urban buzz and everyday life! As you're speeding down a secluded slope surrounded by breathtaking nature, you have a chance to leave you worries behind and focus on the here and now.
Endless options on untracked slopes
Perfect venue for every skill level
With a reputation for having some of the steepest and most challenging backcountry skiing in North America, this backcountry terrain may seem intimidating, but one of the most remarkable aspects of this ski paradise is the variety of terrain suitable to skiers of all levels.
There are over 57,266 acres of high-value backcountry ski terrain in the Teton Range, featuring everything from massive couloirs, playful tree skiing, scenic ridgeline traverses, and pencil-thin chutes that make Jackson Hole a Disneyland for adults.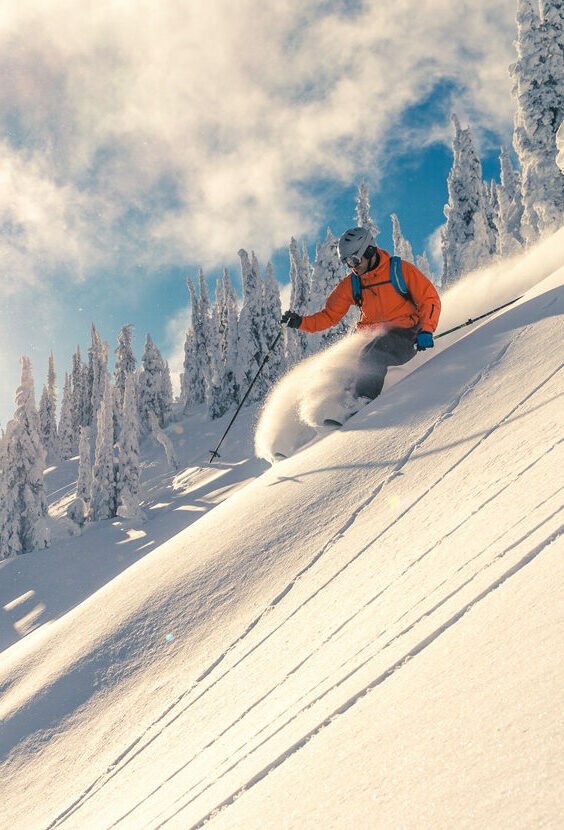 EASY ACCESS TO FRESH POW
First and foremost, the convenience of the airport makes it easy and stress-free to get your vacation started! Jackson Hole Airport is one of the only major airports located within a national park, meaning it only takes 36 minutes door-to-door to get from the airport to Teton Village!
Thanks to a sprawling landscape, it's not hard to find fresh turns, including sweeping bowls, timbered terrain and steep chutes.
If you bring your skins and are prepared for 30-minute ascents, you'll quickly find untracked terrain straight from the parking lot!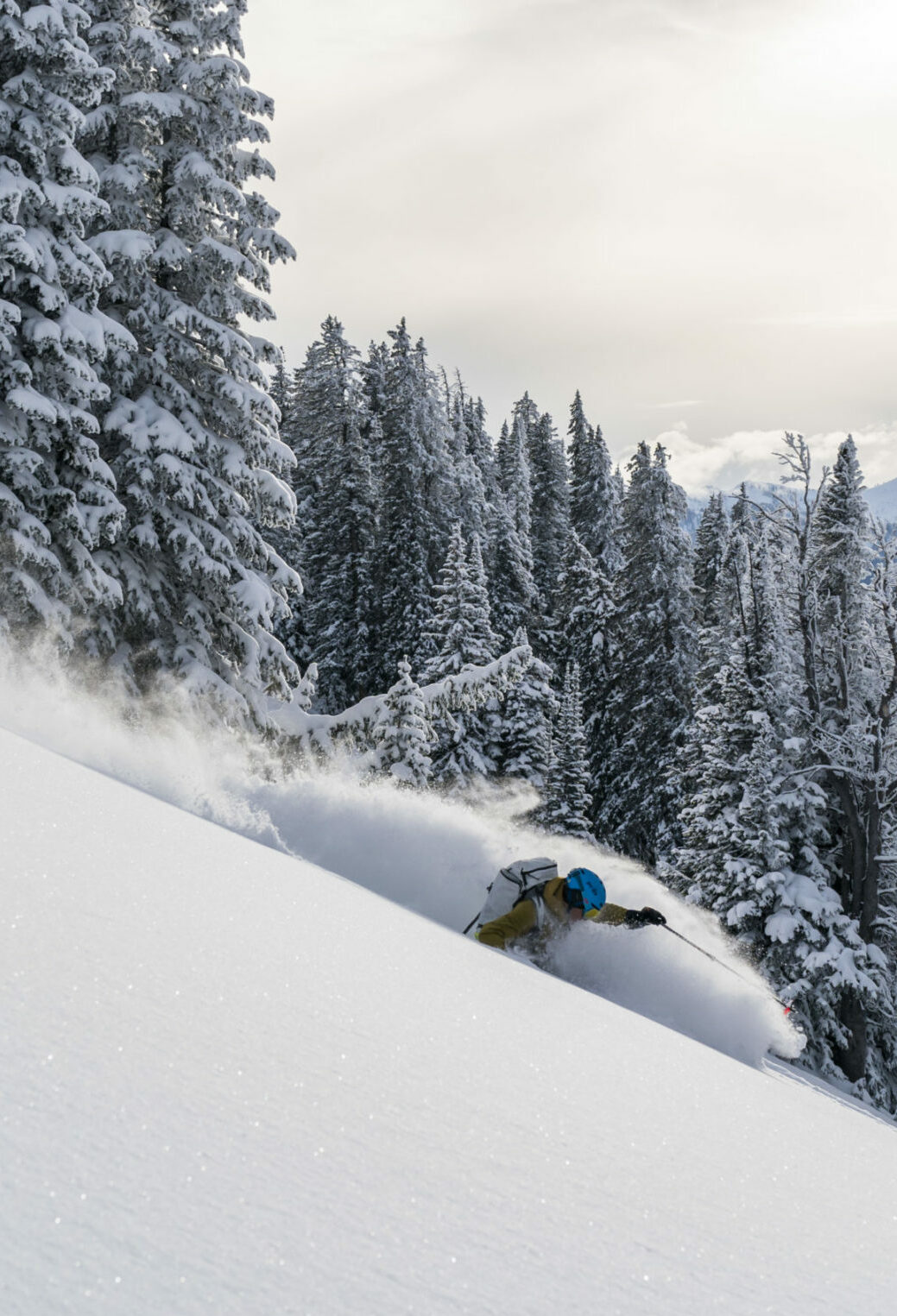 BIG MOUNTAIN SKIING
Take your skiing to the next level—ski mountaineering offers a whole new world of exciting challenges! This is one of the most thrilling activities for adventure seekers with some experience in the backcountry.
Experience the sheer natural beauty of the snowy wilderness and explore remote parts of a mountain that are otherwise inaccessible to skiers.
Descending down bottomless untouched snow is the icing on the cake, and participants can take exciting runs that have yet to be discovered.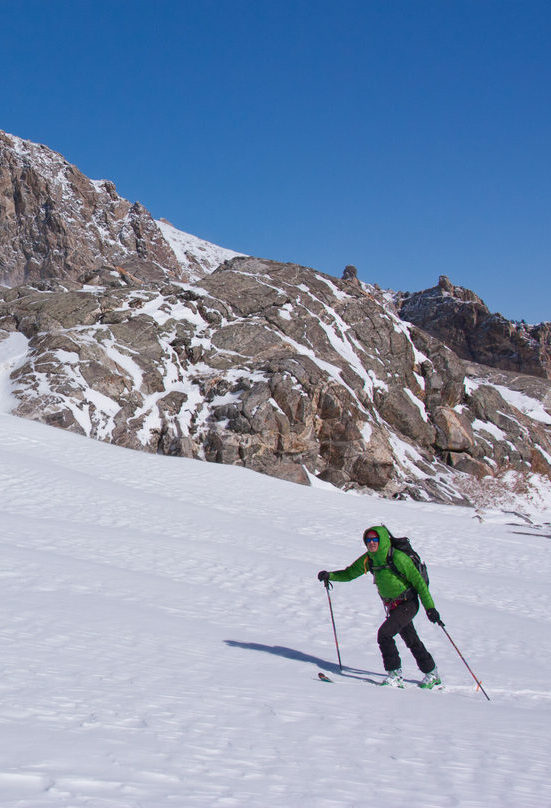 Make the most
of your day
STAY SAFE ON THE SLOPES
With great backcountry skiing comes great responsibility and the Tetons have a reputation for being big, magnificent, and avalanche-prone. There are many hazards out there that must be treated with respect and care, so proper safety practices are more important than ever.
The backcountry introduces an entirely new set of factors that will determine whether you go, or turn around and go home. The best way to gain decision-making experience is to spend a great deal of time with people who already have these skills, and practice under their watchful eyes.
With an experienced guide by your side, you'll learn about optimal gear use and risk, while they make sure you stay safe and have fun on the slopes!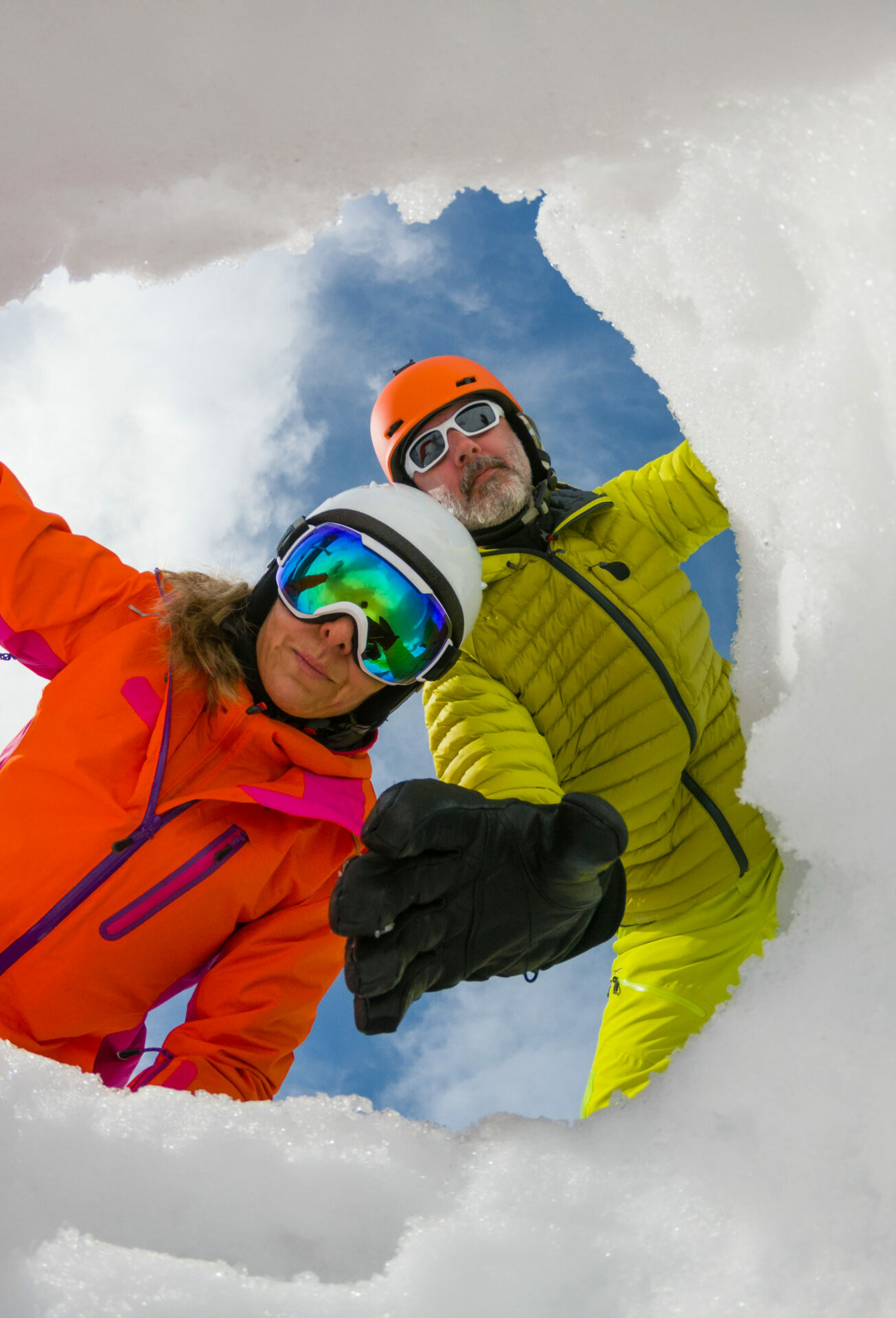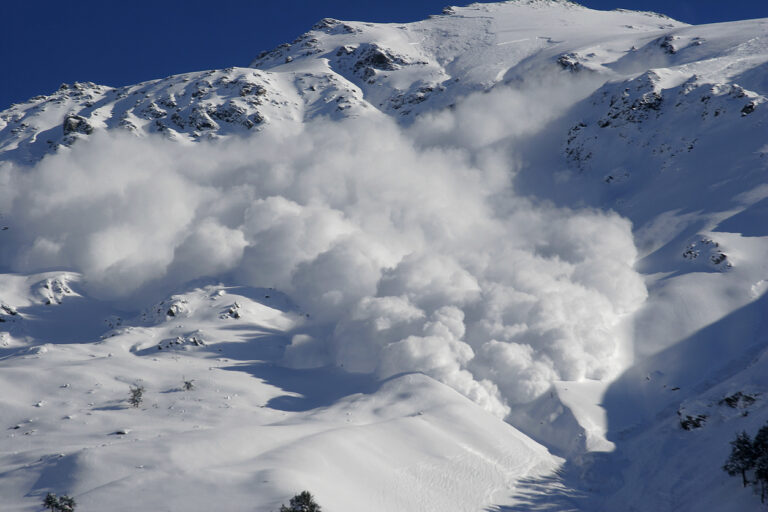 UPGRADE YOUR SKILL SET
Master the fundamentals or expand your existing skills on top-notch terrain and powder!
One of the features of these ski tours is its flexibility. All levels of skiers can participate because your guide will adapt the itinerary according to your experience. Learn about skin track setting, navigation, and downhill travel while brushing up on your avalanche safety skills.
The guide will oversee your technique and teach you how to manage the terrain better while focusing on your abilities and goals!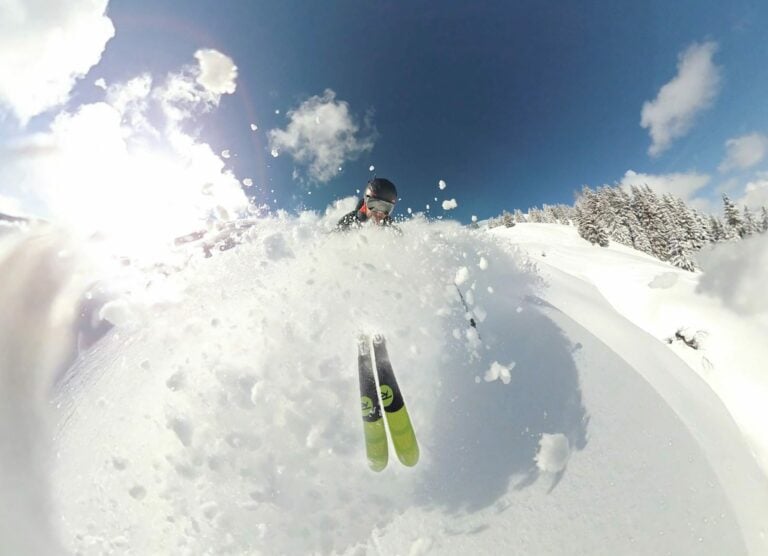 PEACE OF MIND
Hiring a guide is the safest thing you can do, whether you are completely new to the sport or not, and this is your easy one-stop shop where you can connect with the most experienced local guides out there.
They will take all of the guesswork out of your time in the backcountry. From tour planning to route selection, terrain management, safety, and gear knowledge, your guide's expertise and backcountry experience will ensure you have an unforgettable ski touring adventure.
Leave your worries behind and let your guide handle the logistics as you focus on the thrill of the backcountry!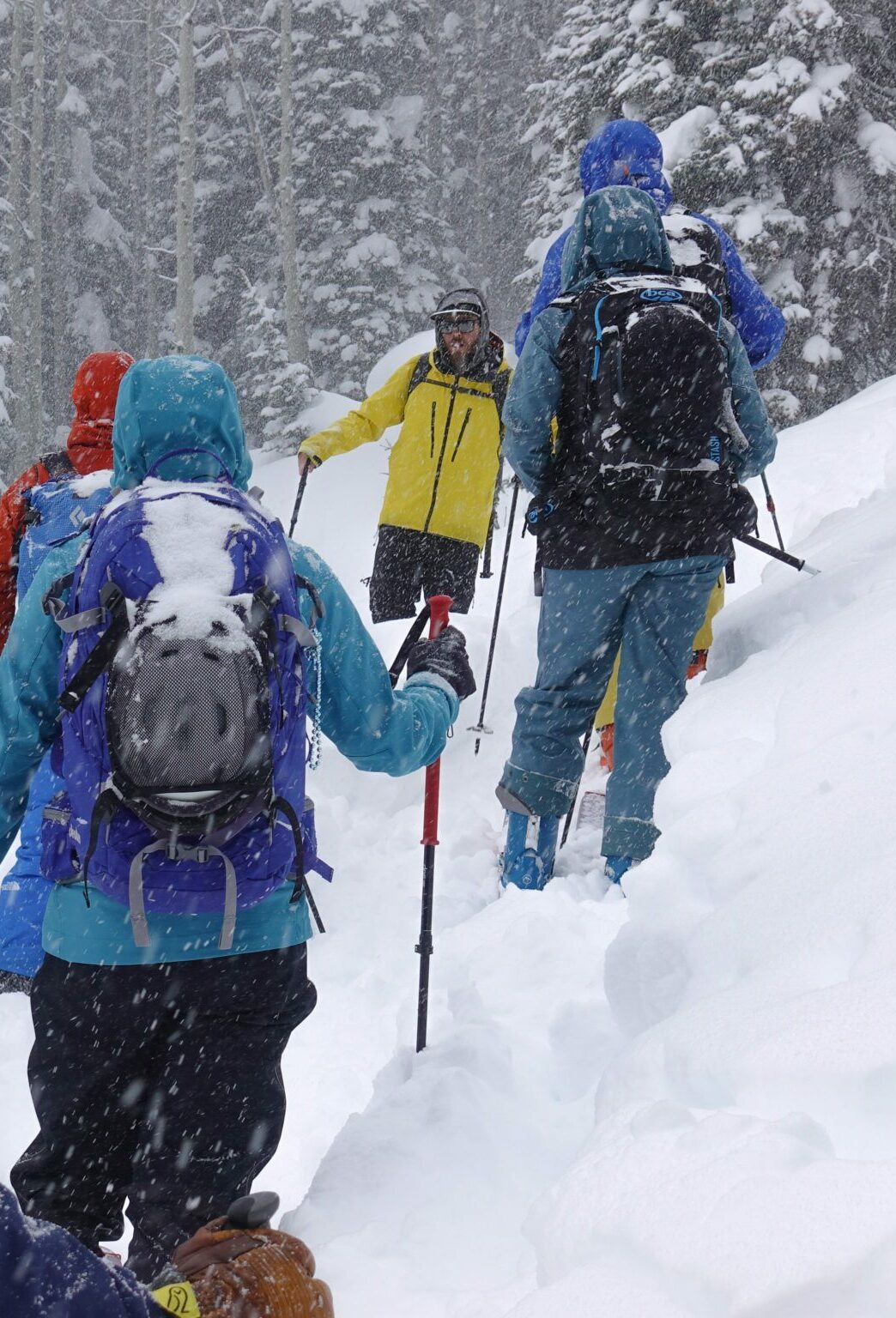 Ultimate après-ski scene
GET THE PARTY STARTED
No matter what your goals in the backcountry are, relaxing at your favorite après-ski hangout is a crucial part of the ski experience.
Discover numerous lively restaurants, bars, and bistros that offer something for everyone—from hot meals and beverages to fresh cocktails and beer.
The backcountry culture around the Tetons is friendly and welcoming, often surprising newcomers and visitors, who show up expecting a "locals only" vibe. They'll mostly be happy to point you in the right direction and share ideas for good tours!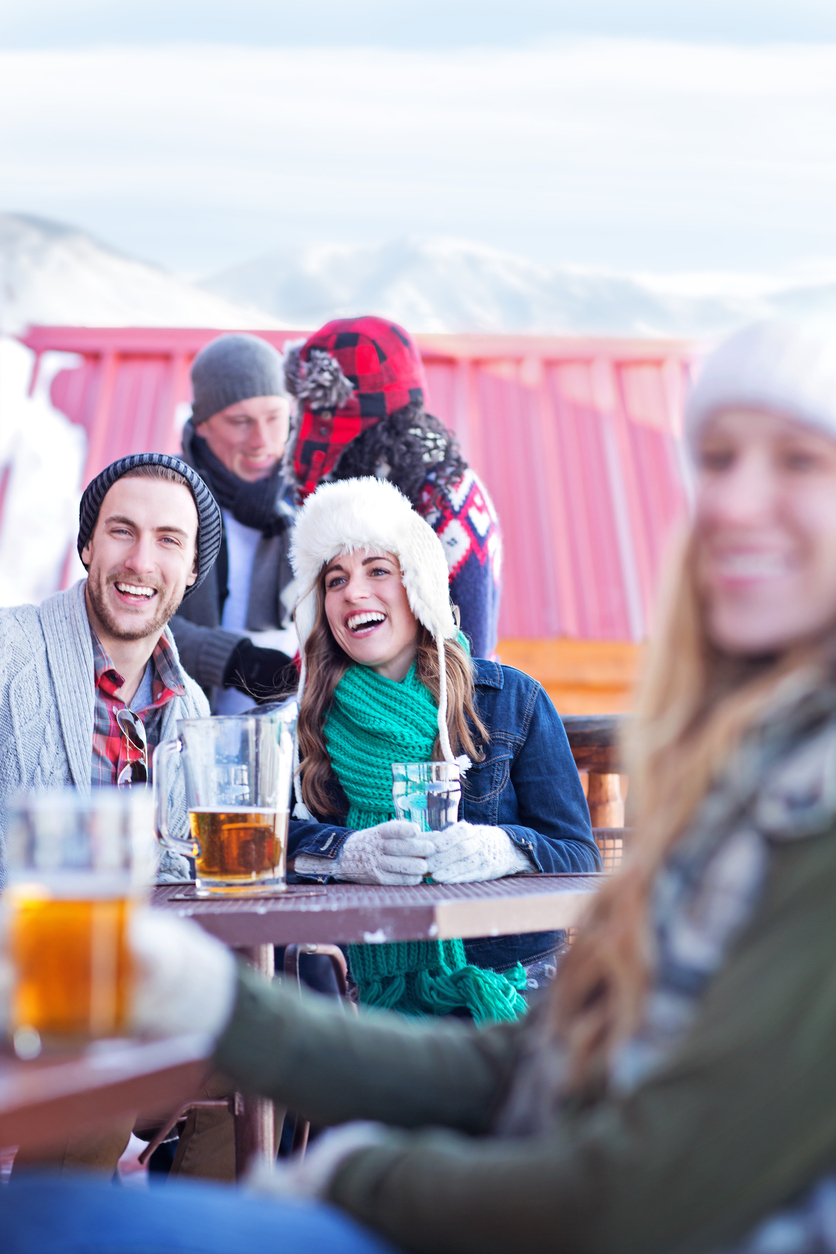 TETON VILLAGE
To really experience the apres-ski scene, head to Teton Village—home of the Jackson Hole Mountain Resort.
Just 12 miles northwest of Jackson, on the east slope of the Teton Mountain Range, you'll find a Swiss-style ski community offering specialty shops, restaurants, and various accommodations in the area.
There are few ski spots on earth more exciting when the restaurants and bars come alive in the evening, buzzing with expectation for the next morning's powdery adventures.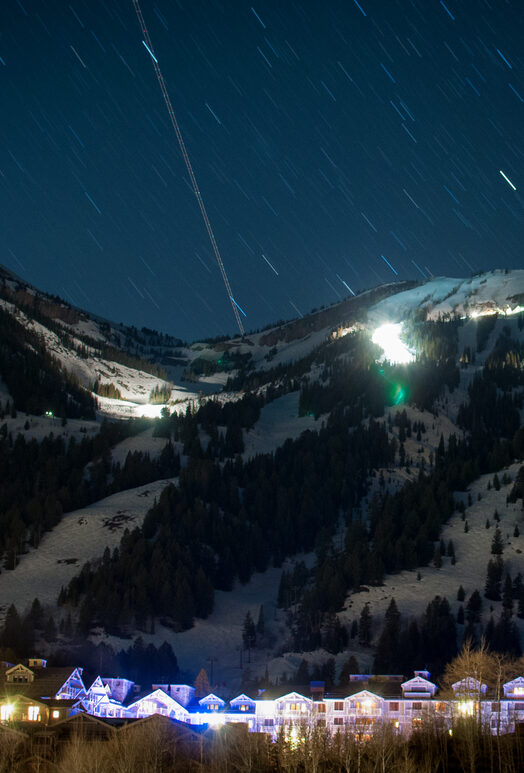 Meet your guides
Jackson Hole Mountain Guides have been taking skiers into the Teton backcountry since 1968. Being the second oldest guiding service in the US, they set the industry standard within the professional guiding industry.
JHMG is a company of passionate people who live and breathe adventure! Accredited by the American Mountain Guides Association (AMGA), they run everything from ski mountaineering courses to introductory touring days.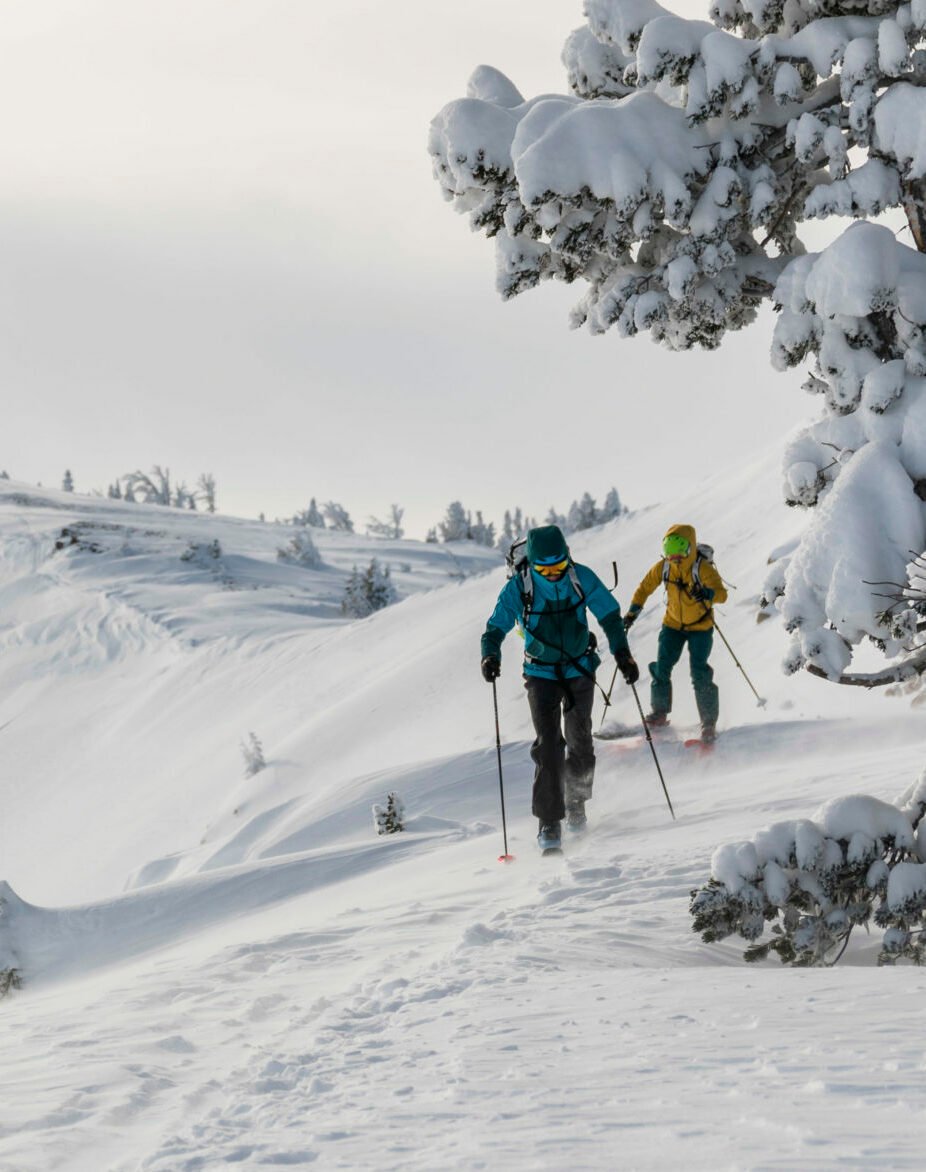 Her knowledge, experience, fitness level, risk analysis, and interpersonal skills all helped to make our trip a safe and unforgettable trip. She did a fantastic job of not dictating an agenda, but steering the conversation and arming everyone in the group with the risk analysis skills to make the right decisions for us given the circumstances at any given time. Plus, she absolutely shreds!
Our guide Jeff knew how to keep us safe and over the course of the day was a wealth of knowledge, sharing snow safety facts, terrain observations and even local knowledge of the history of that area and the trails we were traveling. Super cool guy and took us into terrain we would have never been able to access with endless amounts of powder!
We had a great two days of ski touring with our guide, Woody, in Grand Teton National Park and Teton Pass area. I was looking for a group to do some guided backcountry skiing with, since I was unfamiliar with these mountains, and this was a great deal. Our guide did a great job of finding the best snow given the conditions we had, and we skied 3500+ feet of elevation each day, with lots of good turns. I highly recommend this for any visiting backcountry skiers who want an intro to the terrain around Jackson.
JHMG knows there stuff! My instructors provided a wealth of knowledge for us to learn from and an awesome attitude that kept everyone stoked.
Knowledgeable instructors and in a setting that inspires. I learned a lot during my course and look forward to putting my new knowledge to use exploring on snow in the Tetons and beyond.
Very professional! Excellent instructors with a wealth of knowledge and most importantly, they know how to facilitate growth of one's mountain sense.
Awesome experience: great guide, fantastic routes, perfect location and nice weather. What more could you possibly wish for?