Jackson Hole | Wyoming
AIARE Avalanche Level 2 in Jackson Hole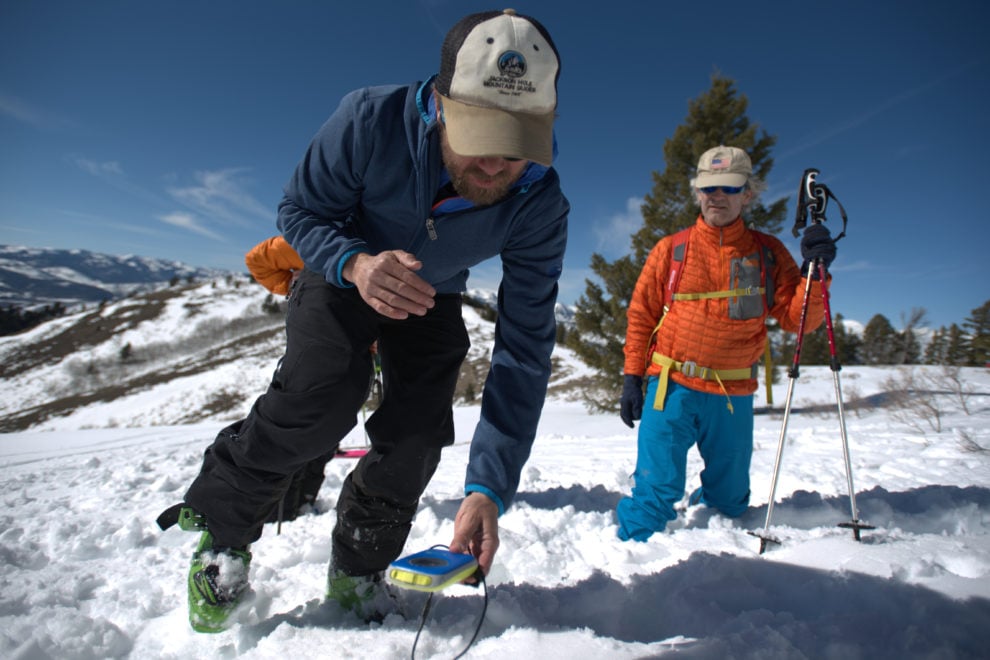 Improve avalanche awareness with AIARE Level 2 in Jackson Hole
This course is operated by The Mountain Guides
Take the next step in avalanche education. The AIARE Level 2 course offers an amazing chance to fine-tune all rough terrain best practices against a stunning backdrop: the Tetons in Jackson, Wyoming.
Learn to analyze snow stability and avalanche hazards
The Mountain Guides AIARE 2 is a three-day course designed for skiers, riders and winter alpinists who travel regularly in avalanche terrain. This course will help experienced backcountry users gain the skills necessary to make decisions in complicated situations like leading a small travel group, traveling in challenging or complex avalanche terrain, or developing a travel plan without adequate resources.
This course is best for amateurs or professionals looking to gain experience before taking a Pro 1 course.
Here's a course outline
DAY 1
The Mountain Guide: Welcome and Introductions, Level 1 Review, Mountain Weather/ Formation of New Snow, Layered Snowpack, Trip-Planning using local avalanche Bulletin, Beacon Function and Range Check and Snowprofile Demo, PM Meeting Demo
DAY 2
The Mountain Guide Classroom Interpreting Weather Data, Snow Surface conditions, and Snow Profiles, Risk Management for small groups, Avalanche Release, Snowpits
In the Field: with Departure Check, Snow Profiles and Tests
DAY 3
In the Field: Ski Tour, Beacon Range Check, Group Management, Communication, and Human Factors; Terrain Selection, Travel Techniques, Gathering Field Obs, Analyzing Snow Instability and Avalanche Hazard.
In The Mountain Guide Classroom: Debrief; Instability Factors Analysis, Review Field Obs and Human Factors; When we're me most at risk; Course Close, Next Steps.
The American Institute for Avalanche Research and Education (AIARE) is the standard that informs your curriculum. All of our guides are certified and will use their extensive experience when guiding each participant.
Prerequisites for avalanche education
All participants must have completed an AIARE 1 and an Avalanche Rescue course.
Significant personal winter backcountry experience is a must
We also expect our Level II students have experience in ski or split board touring
Take some time to familiarize yourself with all of your gear
Make sure it's all in good working order prior to the class
You must have appropriate alpine touring (AT), telemark or split-board equipment
Other gear (pack, transceiver, probe, shovel) is available to rent
Things you need to know
Travel and preparation
Grand Teton National Park is located roughly 30 minutes from the Jackson Hole Mountain Guides' office in Jackson, WY. The office is located at 1325 S. Highway 89, Suite 104, and shares a parking area with Smith's. Most trips and classes will meet at this office for gear checks, preparation, and classes
It is helpful to arrive a couple of days prior to your trip/class in order to acclimatize. Otherwise, arrive the day before and stop by the office for an equipment check. Do not plan on traveling the day after a significant climb — you will be tired and there are no guaranteed times when you'll return to the trailhead
Plan on having accommodations for the night prior to and the night you return from a significant climb. There are ample hotels, motels, and bed and breakfasts in Jackson and the surrounding area. It is highly advisable to make reservations as early as possible
The Jackson Hole airport is the closest, but Idaho Falls (2–2.5-hour drive) and Salt Lake City (4–5-hour drive) are worth considering as well
Equipment
UPPER LAYERS
BOTTOM LAYERS
Bottom Synthetic or Wool Long Underwear Bottoms Guide Pick: Mountain Hardwear Butterman Tight

Shell Pant: full side zips and built-in gaiters

Guide Pick: Mountain Hardwear Highball Pant

Socks: Synthetic or wool. Sized for your boots and blister protection. Liners recommended
HEAD AND HANDS
Gloves  3 pair: 1 light, 1 medium, 1 heavy pair  Guide Pick: Mountain Hardwear Cyclone Alpine Glove

Hat: medium weight ski hat

Hat: baseball or visor for sun

Buff/neck gaiter
ACCESSORIES
Guides we recommend
The Mountain Guides
The Mountain Guides have been leading desert and mountain adventures in the Western...
View details