Things to Do in Canada for Outdoor Adventurers
Canada epitomizes the word "massive". With nearly 2 billion acres of wilderness encircled by colossal mountain ranges to the East and West and an endless permafrost northward, the adventurous things to do are as boundless as the land itself—there's always a trail you haven't explored, a slope you haven't skied, or a peak you haven't conquered!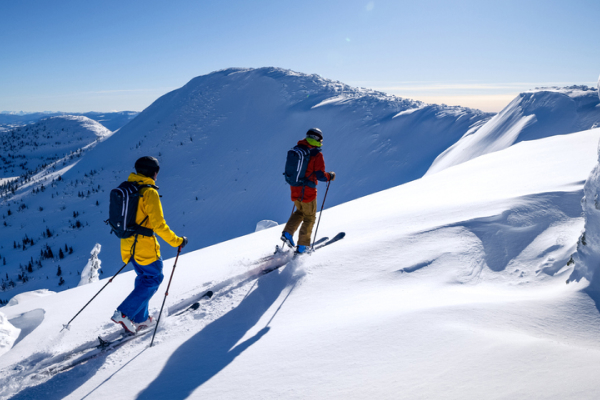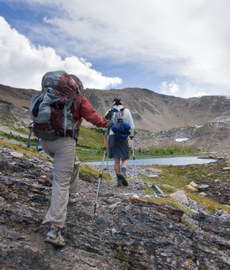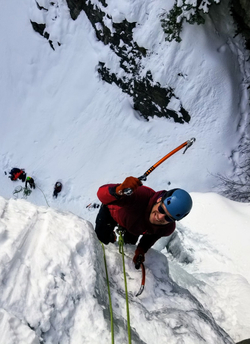 Recommended by locals
Greg Hill
ACMG Ski Guide, Advanced First Aid, CAA Avalanche OperationsLevel 2, Hiking Guide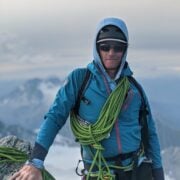 Jeff Bullock
ACMG/IFMGA Mountain Guide and Owner of Alpine Air Adventures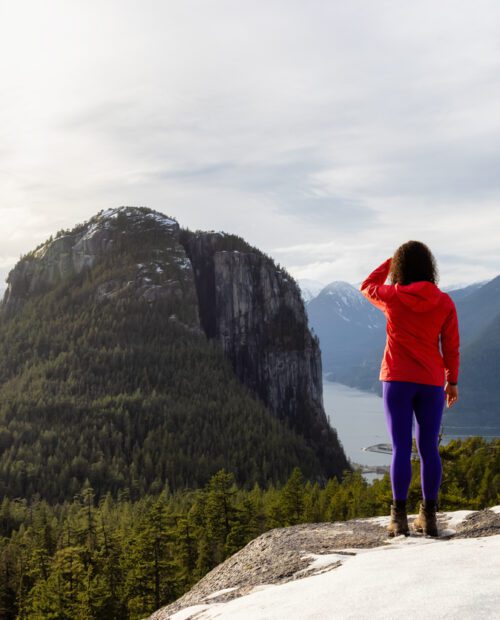 Hiking in Canada for Breathtaking Nature
The world's second biggest country may just be number one for hiking! Up north the hikes are as varied and iconic as the U.S.', minus the overbearing crowds (though you might find it overmoosed). Between dense coastal rainforests, panoramic mountainous lookouts and colorful lakeside parklands, you won't leave these trails disappointed.
Canada hiking adventures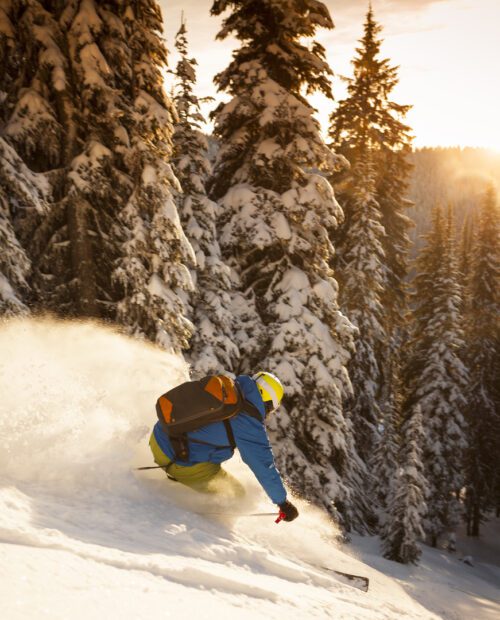 Backcountry Skiing in Canada: It Doesn't Get More "Off-Piste" Than This
Canada is called the Great White North for a reason: the season is long, the weather is perfect, and millions of acres of feathery pow are waiting to be skied. Thanks to nearly 300 ski resorts, you're never too far from a great slope, in or out of bounds.
Canada backcountry skiing adventure
"Skiing through deep powder under massive old growth trees, is one of the many specialties of BC skiing"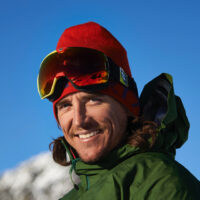 Greg Hill
ACMG Ski Guide, Advanced First Aid, CAA Avalanche OperationsLevel 2, Hiking Guide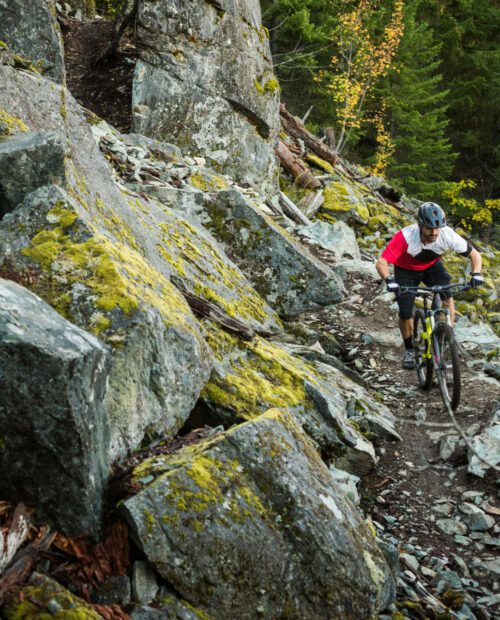 Mountain Biking in Canada for Unparalleled Trails
A passionate community + some of the biggest downhill bike parks in North America = world-class reputation. Whether you're chasing thrills on Whistler's adrenaline-fueled singletracks or testing your mettle on Squamish's tricky technicals, you're in for some of the finest riding in this hemisphere, whichever way you slice it.
Canada mountain biking adventures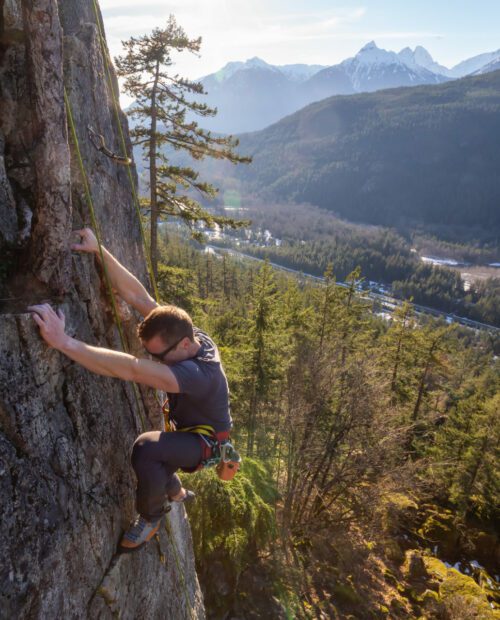 Rock Climbing in Canada for Big Time Thrills
The Great White North offers big choices. Between coastal bouldering in Nova Scotia to the legendary Rockies out west you'll find a whopping 16,000+ routes across the country. Ready to go all in with massive multi-pitches, high-altitude pebble wrestling, and ascents up secluded waterfalls?
Canada rock climbing adventures
Frequently Asked Questions about Canada
Why is Canada so popular?
Visitors from around the world are drawn to Canada's endless wilderness, majestic landscapes and stunning biodiversity. America's northern neighbor is rich with outdoor adventure opportunities, and features a number of bucket-list hiking, skiing, cycling, and climbing destinations. Areas like Alberta's Banff National Park perfectly exemplifies the wealth of variety of Canada's backcountry. If you're a skiing fanatic, you're gonna love it here—Banff is home to three world-class ski areas with easy backcountry access: Lake Louise, Banff Sunshine, And Norquay. The powder there is pristine and feather-light, and the panoramic views of the surrounding mountains are breathtaking. If you're not into skiing, you'll find over 1,100 miles of hiking and 120 miles of MTB trails to play around in. The trail network is massive and well-maintained, and it's a great way to experience the best of the Canadian Rockies!
What is British Columbia good for?
While there's plenty of things to do in British Columbia, the skiing here absolutely takes the cake. Home to Canada's most iconic ski resorts, such as Whistler Blackcomb, Squamish, and Revelstoke, British Columbia hosts some of the finest powder and best skiing conditions on the continent. And if you're looking beyond the resorts for a taste of true Canadian wilderness, BC's hut-based ski tours are as close as you can get to being one with the backcountry. That's not to say that you need skis to have fun here—popular adventure areas such as Squamish offer hundreds of miles of well-maintained cycling trails to ride, as well as plenty of faces, slabs, cracks, and long multi-pitches to climb.
How many days do you need in Canada?
As many as you can spare! But a more realistic itinerary would be a week… Seven days is plenty of time to sample some of the (limitless) things to do in Canada! Landing in Calgary, nestled at the foot of Alberta's Canadian Rockies, and making it your base opens you up to a whole world of opportunities. Hiking fanatics will be in luck, as Rockies' 3,500 square miles of wilderness boast an excellent trail network, with plenty of day- and week-long hikes to get you to fall in love with the area's soaring landscapes. Also, the climbing here is some of the best in North America. From limestone slabs to frozen waterfalls, you're sure to find a week's worth of quality climbs! To top it all off, Calgary is a short drive away from some of the greatest skiing and hiking areas in Canada. Banff, Lake Louise, Revelstoke: the opportunities are endless. If you're looking for a backcountry ski trip with an eco-friendly twist, a three-day sustainable ski tour could be right up your alley!
What is the best time to visit Canada?
If you're planning a ski trip in Canada, booking for late February or early March is the best choice. While some slopes are skiable from late fall, the cold and dry snowpack can be fickle in the early season. Around mid-February, the snowpack starts to settle and develop, making for a safer and more enjoyable skiing experience. For off-the-slope activities like hiking and climbing, June is a no-brainer. By late spring, most trails will be dry, the temperatures will be pleasant and you'll get to beat the summer crowds in the more touristy destinations.
What Months Does It Snow in Canada?
Canada is massive, so the snow conditions vary significantly. While the northernmost parts of the country experience a permafrost climate, the southern regions go through all four seasons and see the most snow between October/November and March. The snow averages are all over the place, and they depend greatly on the region and city. For example, while Vancouver experiences less than 10 inches of snowfall a year, ski resorts like Whistler, BC, see monthly averages of up to 40 inches all winter long! If planning a ski trip, it's best to inquire about the specific state, town or resort you're planning on visiting.
What to pack for hiking in Canada?
Summer:
In the summer, sun exposure can be a big issue. Make sure to bring a ball cap or sun hat, as well as some sunglasses. Also, don't forget to bring sunscreen, lip balm and bug spray—sunburn and mosquitoes can easily ruin an otherwise great hiking experience. Keep in mind that even though it's summer, the weather can be unpredictable, especially at higher altitudes. Make sure to layer up and check the weather report as often as possible. Your guides will most likely provide a more detailed gear list after you book the tour.
Shoulder seasons (spring and fall):
No matter the season, you'll need well-fitting and durable hiking boots — you don't want to get blisters in the wilderness. Also, you'll need a daypack large enough to carry all of your gear, and a water bottle is always a must. Hiking poles usually aren't required, but they make challenging hikes a lot more manageable. If you plan on hiking in the colder seasons, make sure to bring a wind-resistant and waterproof jacket, waterproof pants, and some spare clothes for layering. A warm hat, gloves, and some extra socks are recommended.
Winter:
There are plenty of fun things to do in Canada in the winter, as long as you have adequate clothing and equipment. Bring a warm fleece or down jacket (a good quality ski jacket will do). Make sure your outer layers are waterproof and of decent quality. A warm hat is a must, and bringing a scarf or buff won't hurt. Some warm gloves or mitts and a pair of thin liner gloves are also recommended. Layering is key here, and you should bring plenty of spare warm clothes with you. Wearing a fleece top or hiking shirt is a good idea, as is bringing some leggings, thermal bottoms, or running tights for added warmth. Getting wet is always a possibility in the winter, so aim to bring several sets of underwear (cotton is not recommended) and several pairs of good-quality trekking socks, especially for multi-day trips.
When to go mountain biking in Canada?
The best time to ride Canada's trails is between May and September. In late May and early June, the weather slowly stabilizes, the last ice in the mountains melts away, and it's just warm enough on the trails. If you're looking to avoid the crowds, plan your visit then . Summer marks the start of the MTB season proper, and the Canucks usually hit the trails between June and August. The weather may be optimal, but you'll find it difficult to secure a trail all to yourself, especially in more popular areas like Whistler Mountain Bike Park. In the mountainous regions of Canada winter comes quickly, and the Rockies often see snow as early as late September. If you're planning a late-season MTB adventure, make sure to gear up and check the forecast often.
When to go rock climbing in Canada?
You'll experience the best rock climbing in Canada between May and October. While the sheer number of cold months makes the season relatively short, you can always squeeze in some great rock climbing! Due to the cold and wet climate, finding decent early-season climbs can be tricky. Luckily, areas with an uncharacteristically hot climate like Skaha Bluffs offer great opportunities to warm up for the summer. Between June and August your options are limitless, and you'll have no difficulty finding great climbs in areas like the ever-popular Squamish. While fall brings unstable weather, it also makes for some very scenic and colorful late-season climbs—this is when quaint low-altitude areas such as Val-David truly shine.
What is the backcountry ski season in Canada?
You can experience the best backcountry skiing in Canada between December and March. Early in the season, the snow will be fresh and the snowpack a little lower, making for a more challenging skiing experience. That's not to say that you can't find some world-class slopes—areas such as Revelstoke offer great runs from early December! As the snowpack gets deeper and consolidates with time, your options truly open up, and legendary ski areas such as Whistler, Golden and Lake Louise shine! the And if you're looking for late-season runs, you're in luck—you can shred top-of-the-line powder on Rogers Pass' slopes well into early spring.
Which ski resort is best for backcountry skiing in Canada?
If you're skiing out of Vancouver, hitting up the Whistler Blackcomb ski resort is your best bet. As the largest ski resort in North America, Whistler Blackcomb offers top-of-the-line facilities and easy access to some of British Columbia's finest backcountry objectives. And if you choose to start your adventure in Calgary, Alberta, you'll have a grand total of 3 ski resorts at your disposal! Banff Sunshine, Lake Louise and Mt. Norquay all boast acres of accessible and enjoyable backcountry slopes.
Where is the best mountain biking in Canada?
While primarily famous for its skiing, Canada's mountain biking community is actually very well-developed and engaged. If blood-tingling downhill freerides, hardcore cross-country leg-burners or rocky tech-trails sound like your thing, you can't go wrong mountain biking in Whistler, BC. This downhill mountain bike park, the largest one in North America, also houses plenty of beginner and family-friendly rides, as well as numerous off-trail activities. Squamish is another highlight, with nearly 200 miles of complex and varied singletrack. There's plenty of jumpy, burmed, and slabby thrills to be had here!
Where is the best hiking in Canada?
When it comes to hiking in Canada, the Rockies are the uncontested champion. At only an hour's drive away from Calgary, Alberta, Banff National Park has over 1,100 miles of breathtaking wild trails! A beginner-friendly ridgeside hike on Sulphur Mountain should provide the perfect introduction to Canada's stunning forest flora. Travel a bit deeper into the Rockies and you'll find another great hiking hub. Though made famous by its world-class backcountry slopes, once Revelstoke's deep snow melts away, it leaves behind some of the most varied alpine hiking terrain in the country. And if you're looking to explore some dramatic glaciers, crystal-clear lakes and coastal vistas, add Squamish's sea-to-sky hikes to your bucket list.
Where is the best rock climbing in Canada?
If you're looking for the best rock climbing in Canada, you'll feel spoiled for choice. For early-season sport climbs in hot desert landscapes, give Skaha Bluffs a shot. With over 50 moderate gneiss crags, many of which are in the 5.10-5.12 range, it's a great place to prime yourself for the summer. When said season comes, the obvious choice has to be Squamish. With its endless multi-pitches, beginner-friendly single-pitch trad climbs, world-class bouldering and awesome views, it earns its reputation as the best climbing venue in Canada. While not as trendy as Squamish, Canmore's steep and hard limestone features long multi-pitches up massive cliffs, tons of hard sport routes and over fifty 11,000+ foot peaks!
Read More About What to Do in Canada
Canada is Calling!
Canada has a lot more to offer! Contact us for an adventure of a lifetime.
Ask an expert