Whistler | British Columbia
Mountain Biking Tours in Whistler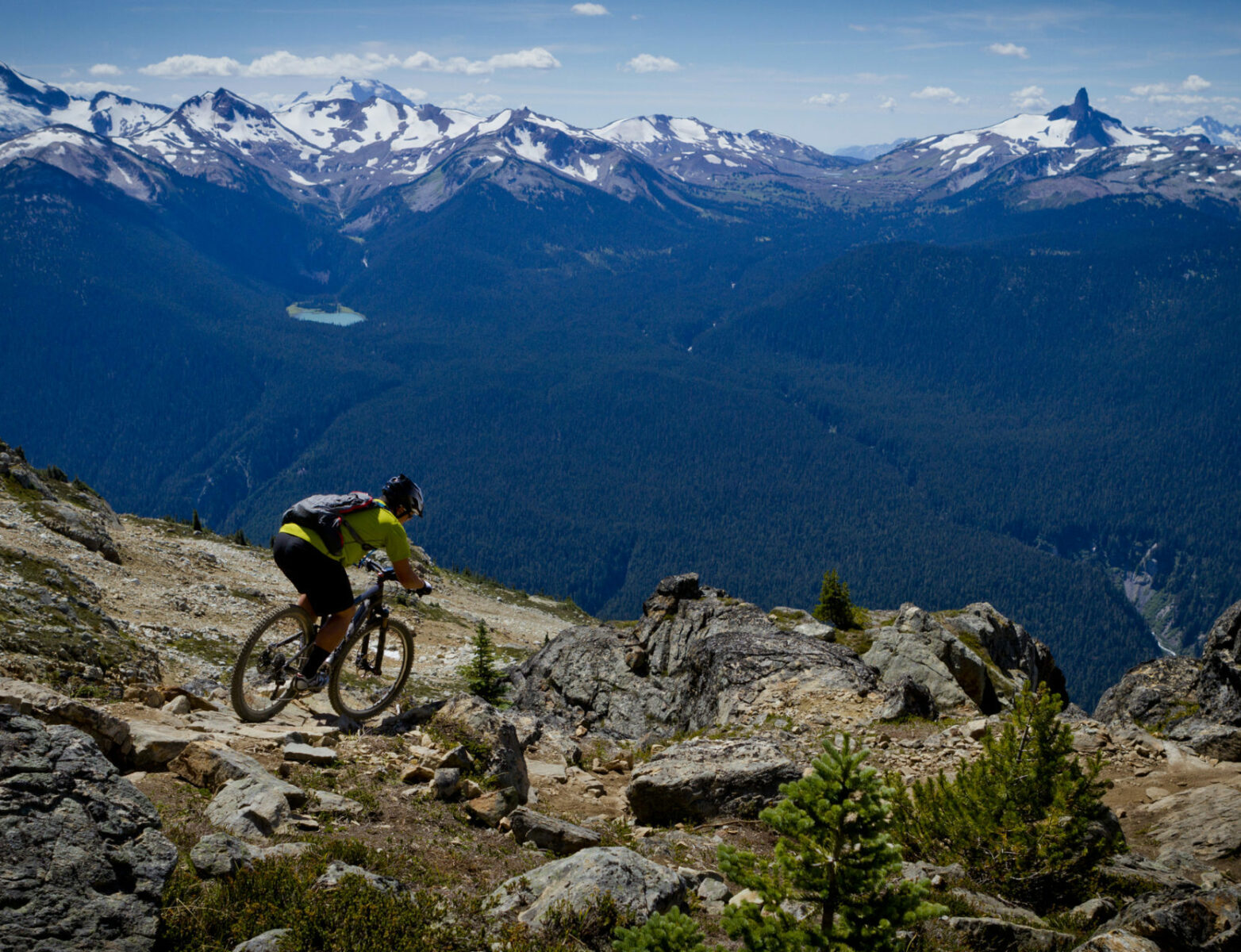 Group size
1 – 14 guests / private groups available
Whistler. Has. It. All.
Well, maybe not slickrock, but that should hardly matter! Home to IMBA Epics, a dedicated mountain biking community, and, of course, more terrain and trails than you could possibly ride in a lifetime, there's so much to ride in this BC town that it's become a regular stop on any mountain bikers tour. It's a mecca, if not THE mecca of the sport. The Whistler Mountain Bike Park alone has five zones separate zones, including a pump track. Surely even that's plenty to keep anyone busy for months on end. What are you waiting for?
Most popular packages and classes in Whistler
Sometimes even diehard MTBers need to stop and smell the proverbial roses. The Whistler scenic valley tour is perfect for this. With the mountains towering overhead as your backdrop, there are fantastic, mellow rides to be had around lakes in the area: Lost, Green, and Alta. The best thing about this trip is you can bring the kids along too.
Ultimate Whistler Single Track
from $190 per person
·
half day
Spend a day outside the park and discover the singletrack that makes Whistler the mecca it is! Tailor your day with your guide and ride the classics. This day of riding is best for intermediate to advanced riders.
Things you need to know
When is the best time to go?
As we're sure you know, Whistler has a pretty extensive ski season, so the transition to mountain bikes comes at the very beginning of June.
What about bad weather?
Inclement weather can very rarely get in the way of your mountain bike tour, so ask your guide or touring service for more information.
What's a typical tour itinerary?
• Meet up with your group at the designated location
• Check your bike! Make sure everything's calibrated
• Anywhere from 10 to 40 miles of world-class mountain biking!
• On multi-day tours you can count meals, camping and a support truck being covered by your guiding service
• Depending on the group size there may be one or more guides
What about group sizes?
All group sizes have a low guide to guest ratio, so you can rely on having the best time possible. Of course, as the group size increase, the cost decreases, which is a great reason to ride with friends and family!
Getting there
Vancouver International Airport (YVR) is best. Once there you can rent a car, or book a shuttle service to take you the remaining 85 miles. You can stop and ride at Squamish if you want — it's on the way.
Whistler Bike Guide
Mountain Bike Guides
Whistler Bike Guide Adventures features a group of local riders that are passionate...
Arbutus Routes
Mountain Bike Guides
Arbutus Routes is dedicated to quality in everything they do, from bike rentals and...
Whistler Eco Tours
Mountain Bike Tours
Whistler Eco Tours has been bringing people back to nature since 2001. Specializing...
The hardest part is picking a trail
Don't worry! There's no FOMO at Whistler. Everywhere you look, you'll see a trail to ride! And then another and another…feeling like something epic? There's Comfortably Numb around the corner. Try the new-ish Lord of the Squirrels or Whistler's tried and true Alta Lake Technical Tour followed by A Line. Like we said, you cannot lose here. Point your bike in any direction and ride!
Who should go mountain biking in Whistler?
With all the terrain on offer, and the amenities in Whistler proper, you can plan a proper vacation in the area and there will always be something for everyone — even when you need a day of rest.