Find Your Inner Peace Hiking In Sedona's Red Rock
Sculpted over millennia by the chiselling wind and water, Sedona's unreal sandstone rock formations are a geological miracle begging to be seen—and hiked.
It takes a lot to surprise me these days.
When a buddy of mine invited me to Sedona, I instinctively prepared myself for the familiar Sonoran Desert vistas and typical small town charm of the American Southwest. But driving into Red Rock Country that first time, I was struck by the sublime beauty of it all.
Located in the heart of the Coconino National Forest, Sedona is warded by massive sandstone formations glowing in brilliant orange and reds. Set against the blue sky, they look like fiery curtains of an ancient world. Buttes and mesas rise out of the pine-dotted landscape, sage-scented trails meander through the whispers of history.
After travelling across 40 states and 15 countries, I thought I'd seen it all. But for Sedona—this unspoiled hiking country—you have to be here to believe it.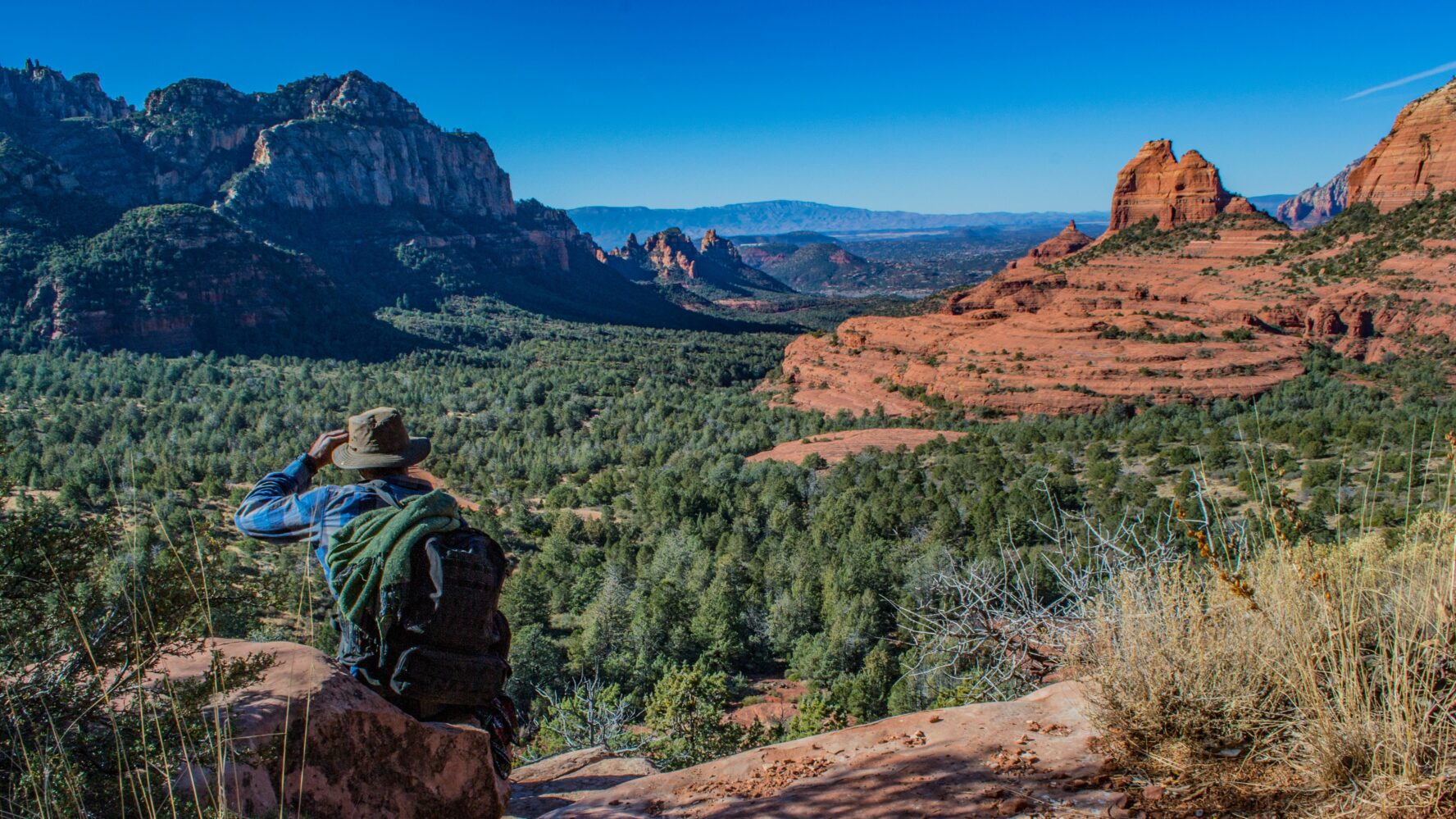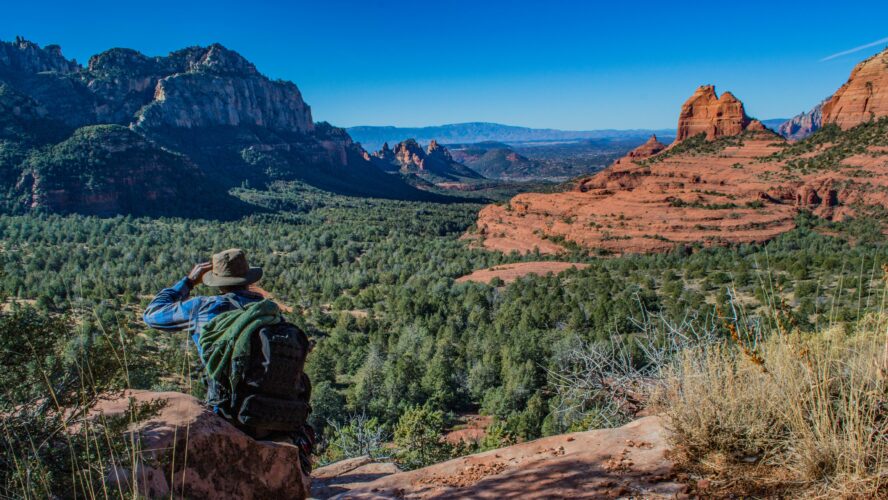 Pros and Cons of Hiking in Sedona
Absolutely spectacular, out-of-this-world scenery
The best trails are beginner-friendly
Sedona's small area means all the trails are easily accessible
The crowds get downright oppressive during peak hiking season
Large-scale tourism comes with tourist pricing
There's not much to do besides hiking
The locals call this town a cathedral without walls. There's an air of the surreal—mystical even—to the interplay of vivid colors and strange shapes in this lonely landscape reminiscent of the backpacking in Big Sur. That may explain why Sedona has been the New Age capital of the US since the 1980s, with thousands of tourists flocking here every year in search of enlightenment, peace and spiritual healing. You see, some people believe Sedona to be the site of mysterious vortices (or vortexes, as the locals prefer to pluralize it), swirling centers of energy flowing through the earth. These vortexes are located in Sedona's most scenic spots, such as Airport Mesa, Cathedral Rock, Bell Rock and Boynton Canyon.
Whether you're spiritual or not, it's hard to deny the impact of Sedona's sandstone monoliths on the senses. Such was the case with me. When I drove down to Arizona from the heights of Colorado, I expected little more than flat deserts rolled to the horizon… It didn't take more than a drive through Oak Canyon to seal the deal—I was going to move to Sedona and explore every corner of this astonishing place.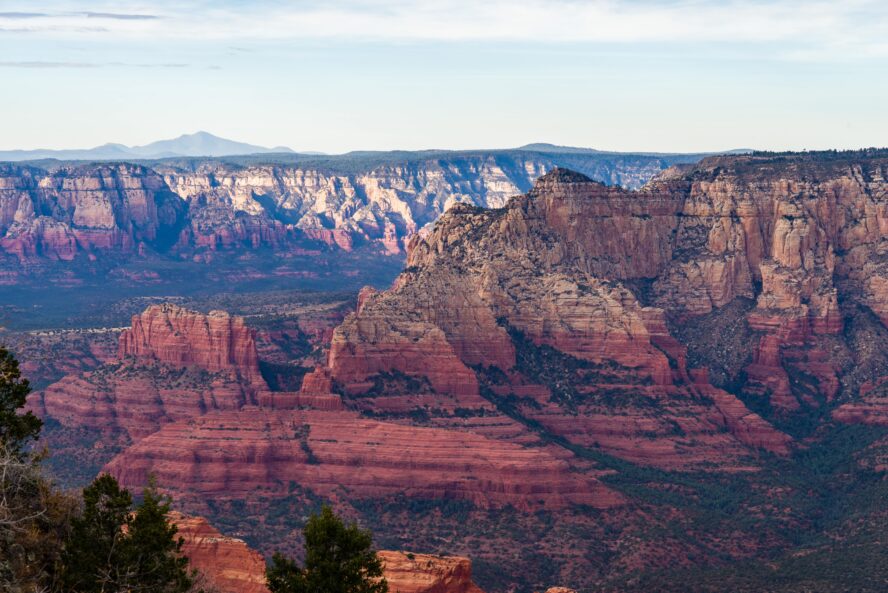 The Joy of Discovery Permeates Sedona's Rust-Laden Oasis
I was pleased to learn that people in Sedona are very into hiking and cycling, rarely spending their time holed up indoors. Having world-class trails right outside your door—and the top-notch hiking in Grand Canyon just a 100 miles away—tends to do that. On my part, I wasted no time chatting up the locals to find out what the best trails are, then trying them out one by one. The widely trafficked hotspots and the unearthed gems alike. Soon I came to realize that each trail holds little secrets just around the corner or off the beaten path: hidden caves, soaring pillars or new views that reward the adventurous.
1. Cathedral Rock—a sandstone shrine worthy of reverence
Cathedral Rock is a sandstone butte commanding the skyline in the southern part of Sedona. Just one look at its red-tinged cliffs is enough to make your heart race. Many tourists opt for a one-hour trip to the top to snap their photos as soon as possible, but I like to take my clients on a more scenic tour. This includes a side trip to Oak Creek Village's swimming hole for a refreshing dip, which adds a few hours and plenty of sights others often miss.
Making our way through the juniper and pinyon pines, we reach the bottom of Cathedral Rock. Here a dry wash marks a noticeable change in the terrain. The sandstone under our feet, worn out from the onslaught of tourist traffic, suddenly turns slippery. Carefully we reach the toughest stretch up a steep cracked boulder and scrambling over loose rock. This is the section where some beginners start to get discouraged. Luckily for them, the last push will be rewarded tremendously with one of the most inspiring (and Instagrammable) views in the entire Southwest.
There's another way of enjoying the beauty of Cathedral Rock: admiring it from the nearby Baldwin Loop Trail. This 3-mile hike explores the less-seen "backside," an option for communing with the scenery away from crowds.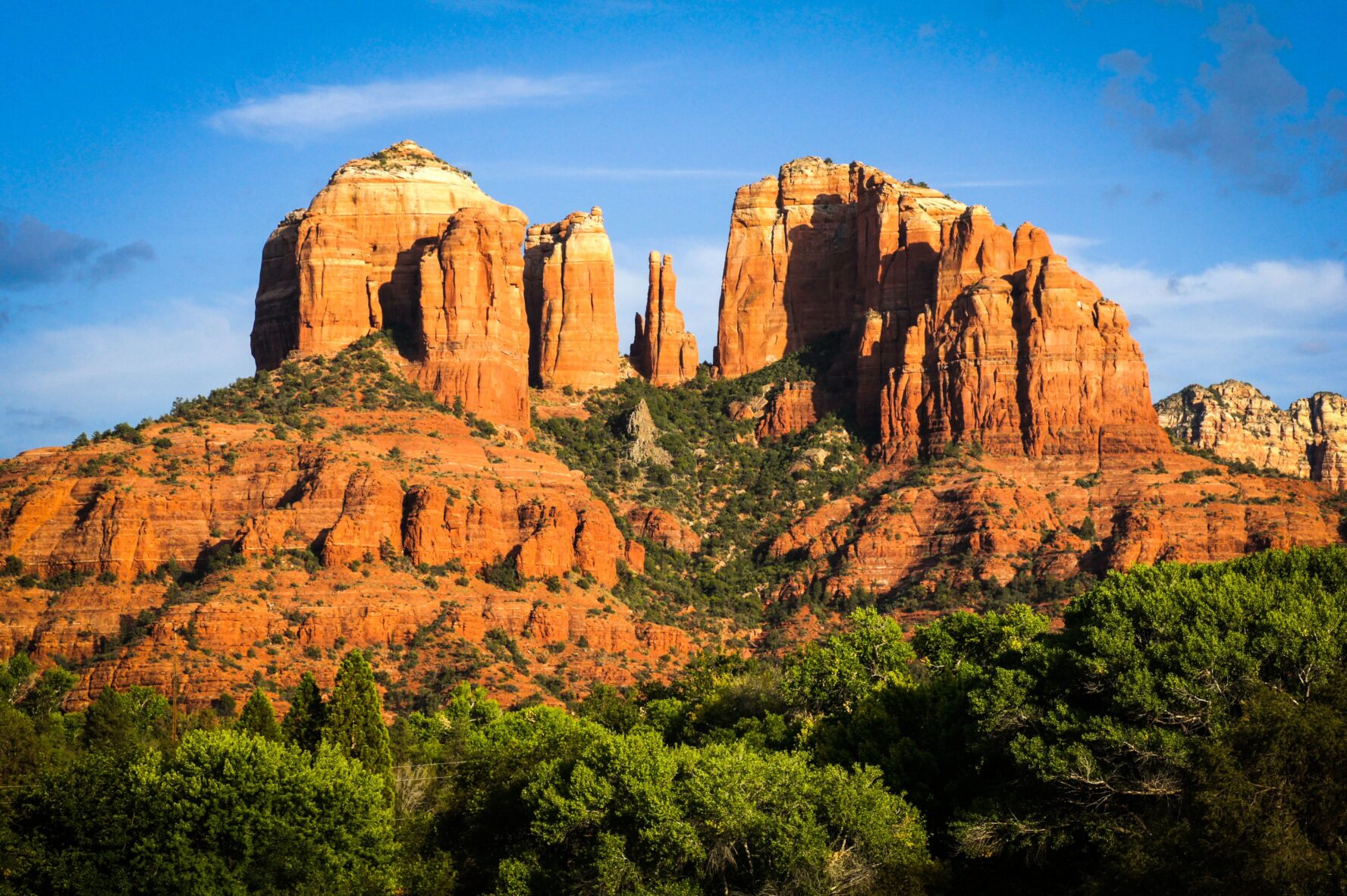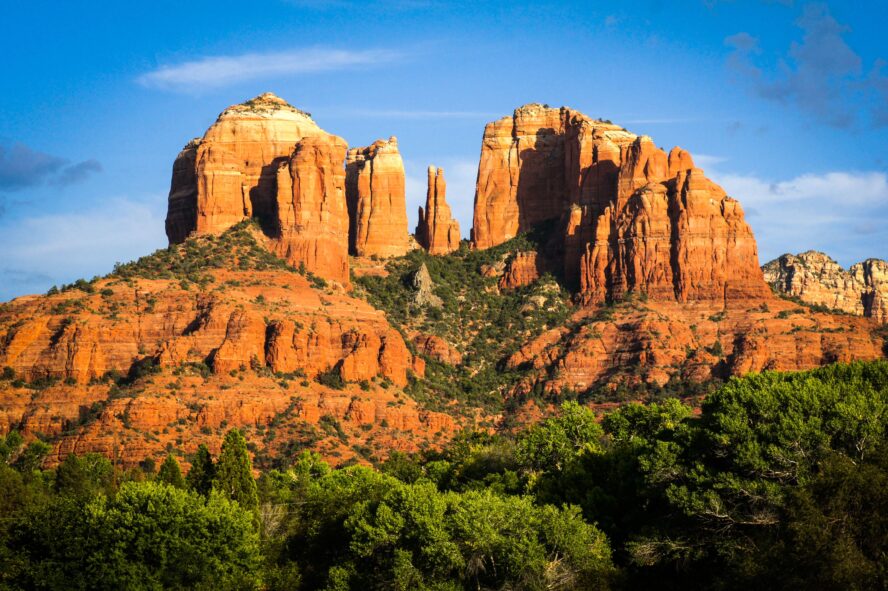 2. Devil's Bridge foretells trouble, but evokes delight
Considering how extensively photographed this bad boy is, chances are you've already seen it in a screensaver or a coworker's new profile picture, inspirational quote and all.
Devil's Bridge is the largest natural sandstone arch in the Sedona area, but don't mistake its name as an indicator of difficulty. It offers breathtaking views of Red Rock country and plenty of opportunities for wildlife watching. It's not long by any means, but just like Cathedral Rock Trail, it features a steep climb at the tail end. In this case, an uneven rocky staircase. Consider packing a pair of hiking shoes to help you traverse the tricky slickrock.
The trail itself is just under 2-miles roundtrip, but you'll have to walk about two or three times that because parking spaces are a rare commodity. If you happen to have a 4×4 vehicle, you can drive straight to the trailhead and shorten your trip.
Another thing to note is that you don't actually cross Devil's Bridge. When it's finally your turn to commemorate the occasion, you step onto the wide ledge—get your photo taken—then come back the same way. Now, I hope this doesn't ruin the mystique for you: the trail is still gorgeous and the sights well worth it.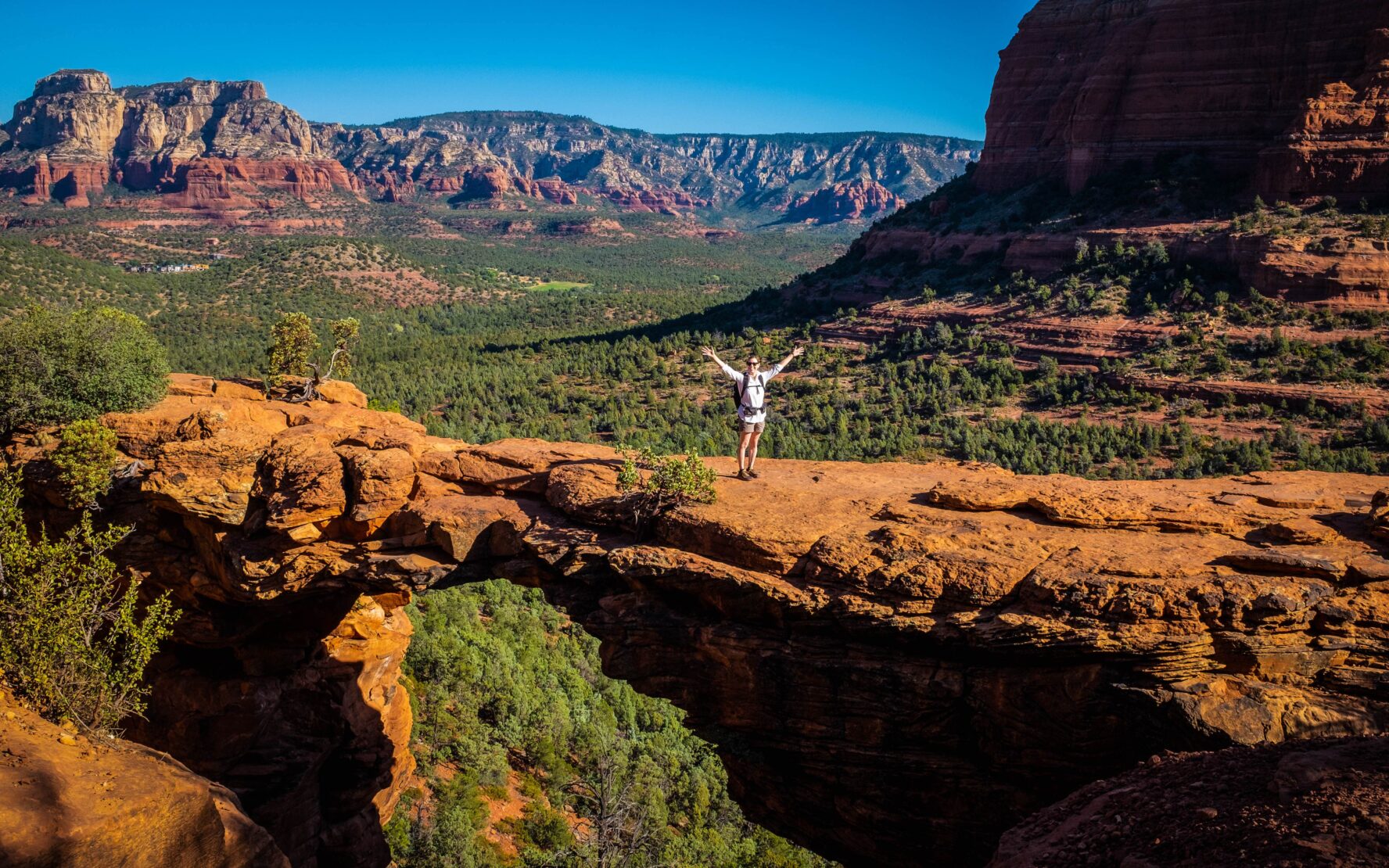 3. Ring in a spectacular hike with the fabled Bell Rock
Just north of Oak Creek Village stands a peculiarly shaped butte, invoking images of a withered pyramid chipped away by time. This iconic formation is Bell Rock, a purported vortex site and one of Sedona's most recognizable landmarks. There are multiple trails leading here. The one I take my clients on is the easiest of the bunch, a breezy 2-mile loop through shrub and sagebrush culminating with a glorious climb to the top of this imposing outcrop.
The Bell Rock Trail is well marked, easy to follow and not strenuous at all. As a bonus, there's a fun little rock scramble waiting for you at the end. All in all, Bell Rock's a guaranteed good time for the entire family. And if walking around in the Arizona heat gets your stomach churning, there's a restaurant in Oak Creek called Corner Table where you can get some good old-fashioned American grub. Definitely try their burgers.
Those with more gas in their tanks can go check out Courthouse Butte, another geological jackpot in the vicinity. You'll recognize this by its flat, box-like shape and horizontal multi-colored stripes.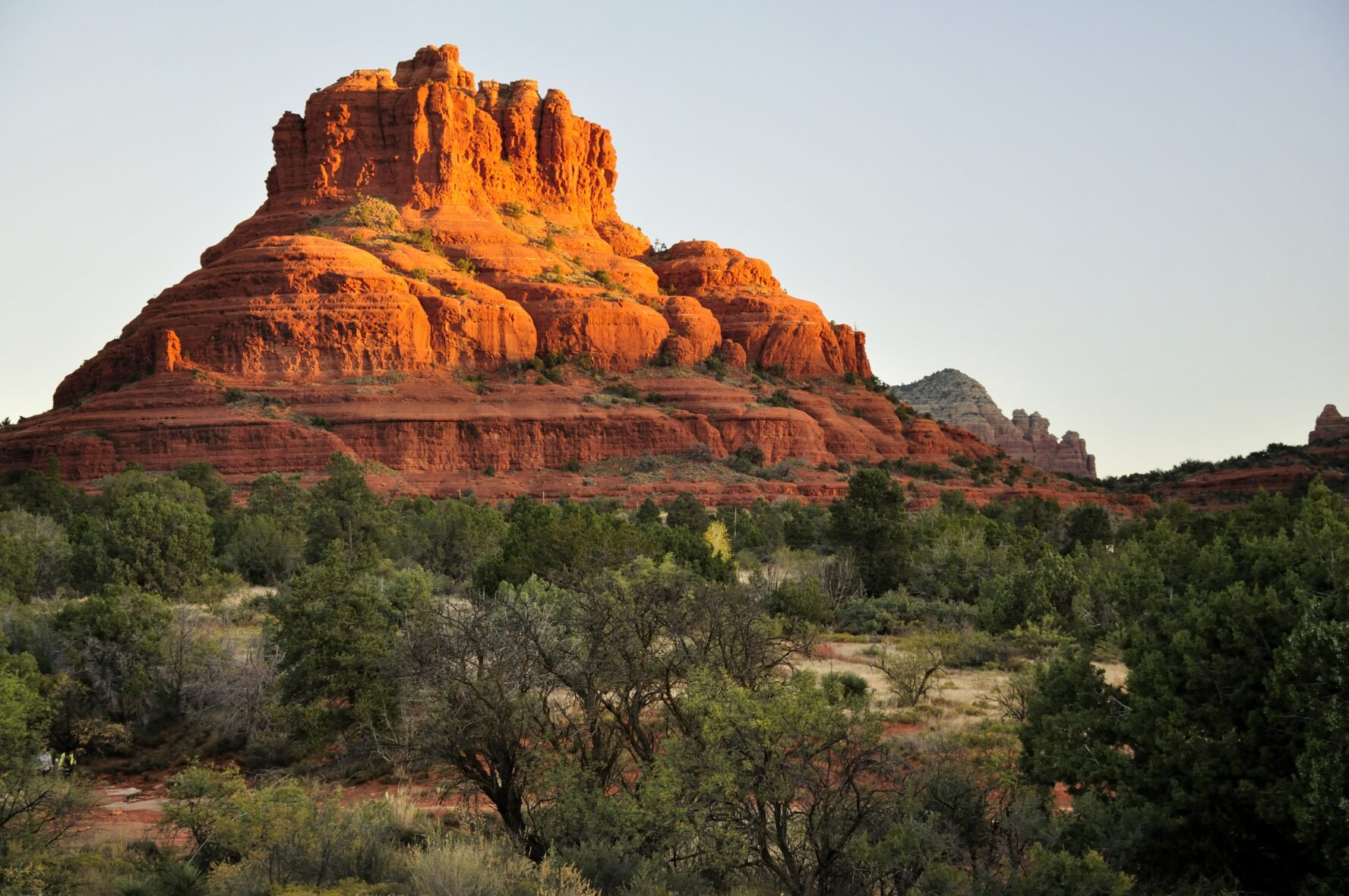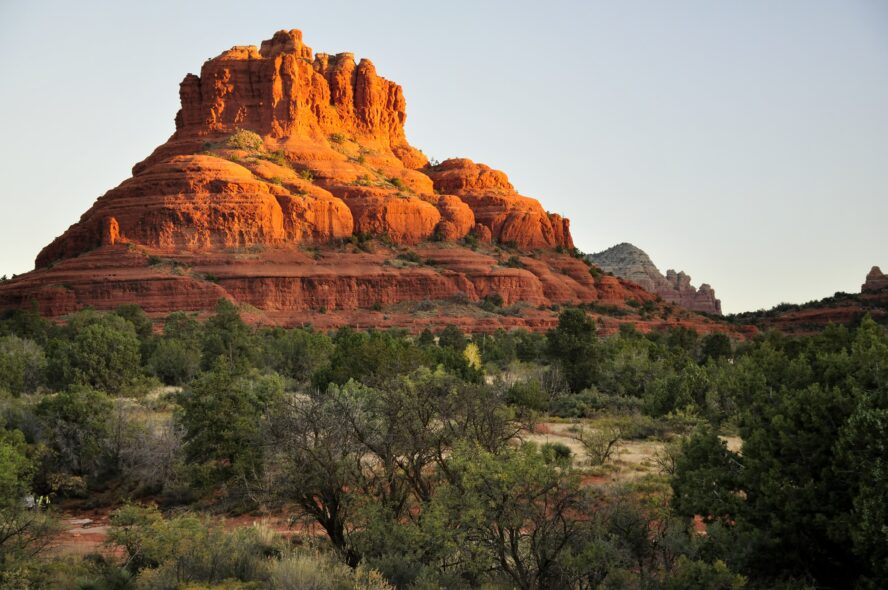 4. Set a course for Airport Mesa—and its sweeping sun-soaked vistas
What if I tell you there's a vantage point from which you can see the sunset's low light reflected brilliantly by Sedona's mineral-imbued sandstone?
The name of this place is Airport Mesa, a high flat-topped ridge overlooking a major portion of Sedona. It was renamed in the 1950s, from Table Top Mountain, when a small runway was built on top of it.
Offering a spectacular 360-degree view of the area and peaceful meditation spots for vortex chasers, this 3.5-mile loop circling the upper slope is attractive not only for its panoramics but also for the beautiful display of wildflowers. Unlike the trails we've covered so far, the Airport Mesa Loop Trail is not suitable for beginners. Hiking in the Arizona sun through rocky, scarcely shaded terrain is no easy task. Plenty of water and a reasonable level of fitness is a must. The good news is that the views are phenomenal all the way through.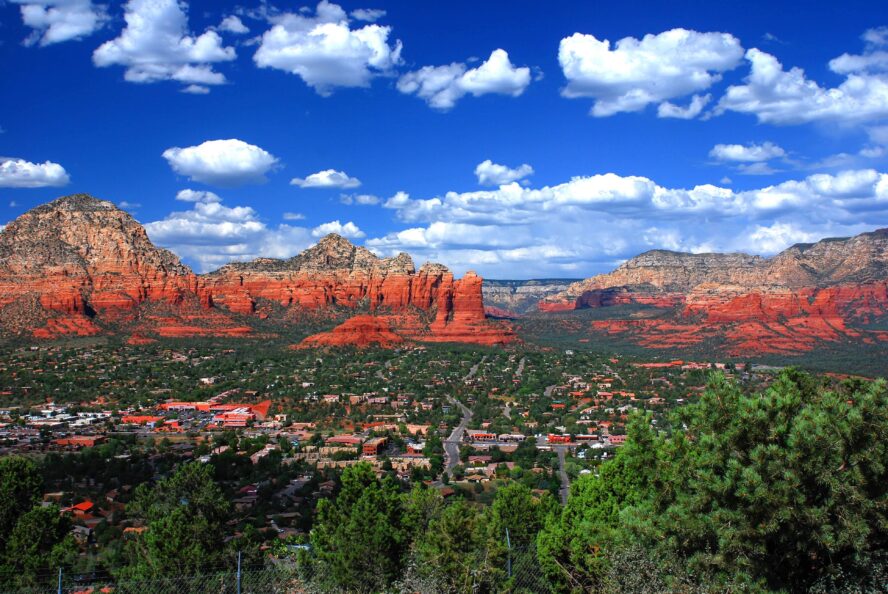 5. A heady trifecta awaits on Hangover Loop
My final suggestion is another strenuous loop—varied, challenging and crowd-free. There are three main sections in this roundabout trip: Munds Wagon, Cow Pies and Hangover. Together they provide nine miles of gorgeous red rock and wildflower patches. And if you happen to be an MTB enthusiast, you're in for a real treat because these exquisite trails are bike-friendly (but double black diamond, mind you).
Munds Wagon is a former cattle route with a surprising amount of elevation and a few switchbacks. This meandering trail runs parallel to the highly-trafficked Schnebly Road, even crossing it a few times. Eventually you'll reach Merry-Go-Round Rock, an endless source of inspiration for wedding photographers. This small outlook offers picture-perfect views of Bear Wallow Canyon to the west and Munds Mountain to the south.
Before long a fork will take you to Hangover Trail. Here the steep climbs on loose rock will test your technique, while the accompanying views will fuel your determination. After about three miles, you'll reach the Cow Pies Trail, a half-mile section connecting Hangover with Munds Wagon and the fascinating multi-level mounds on Cow Pie Mesa. Now all that's left is heading on to Munds Wagon and following the trail back to the trailhead.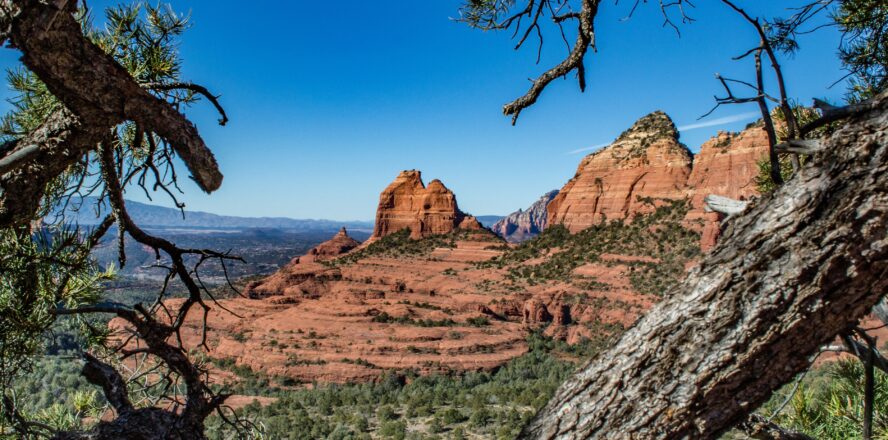 From a Guide's Perspective: A Few Notes and Commonly Asked Questions about Hiking in Red Rock State Park
Let's enjoy pristine nature and keep our trails clean
As guests of the land we are dedicated to preserving our natural environment and therefore practice Leave No Trace vigorously. Sedona gets quite busy during peak tourist season, which means lots of people on the trails. Unfortunately, not all of them adhere to the same principles. Don't be like them. If you see trash, pick it up; if you bring it, take it back.
Is hiking in Sedona free?
Yes, you can hike on Sedona's trails free of charge. However, there are 19 locations, including Cathedral Rock and Courthouse Butte, where a Red Rock Pass is required for parking. A daily pass is $5, a weekly pass $15, and the annual pass is $20.
What is Sedona like?
Life in Sedona is pretty far removed from the city. You won't find big box stores here and there is no nightlife to speak of. Bars and restaurants close by 11 PM. That's because Sedona is an International Dark Skies Community, which means even the streetlights are turned off to combat pollution and ensure a natural nightscape. Let me tell you, having backpacked the Alps and slept on glaciers in Washington's North Cascades, nothing beats stargazing here in Sedona. All of this makes Sedona one of the best hiking destinations in the States.
Where to go out in Sedona?
Northern Sedona is the busy downtown hotspot where all the tourist-oriented attractions and cool gift shops are. You can go there for food and drinks in the hotels and restaurants. But if you're looking for the best bar in town, that would be Moody's Irish Pub. This is where the locals come after work to chat up fresh faces and give them all the lowdown on the area. Take a seat, grab a bite and enjoy the lively atmosphere.
Ready to experience Sedona's otherworldly landscapes and hike on stunning red rock trails? Join Andy and book your adventure today!