Hiking the Salkantay and Inca Trails to Machu Picchu
Machu Picchu | Peru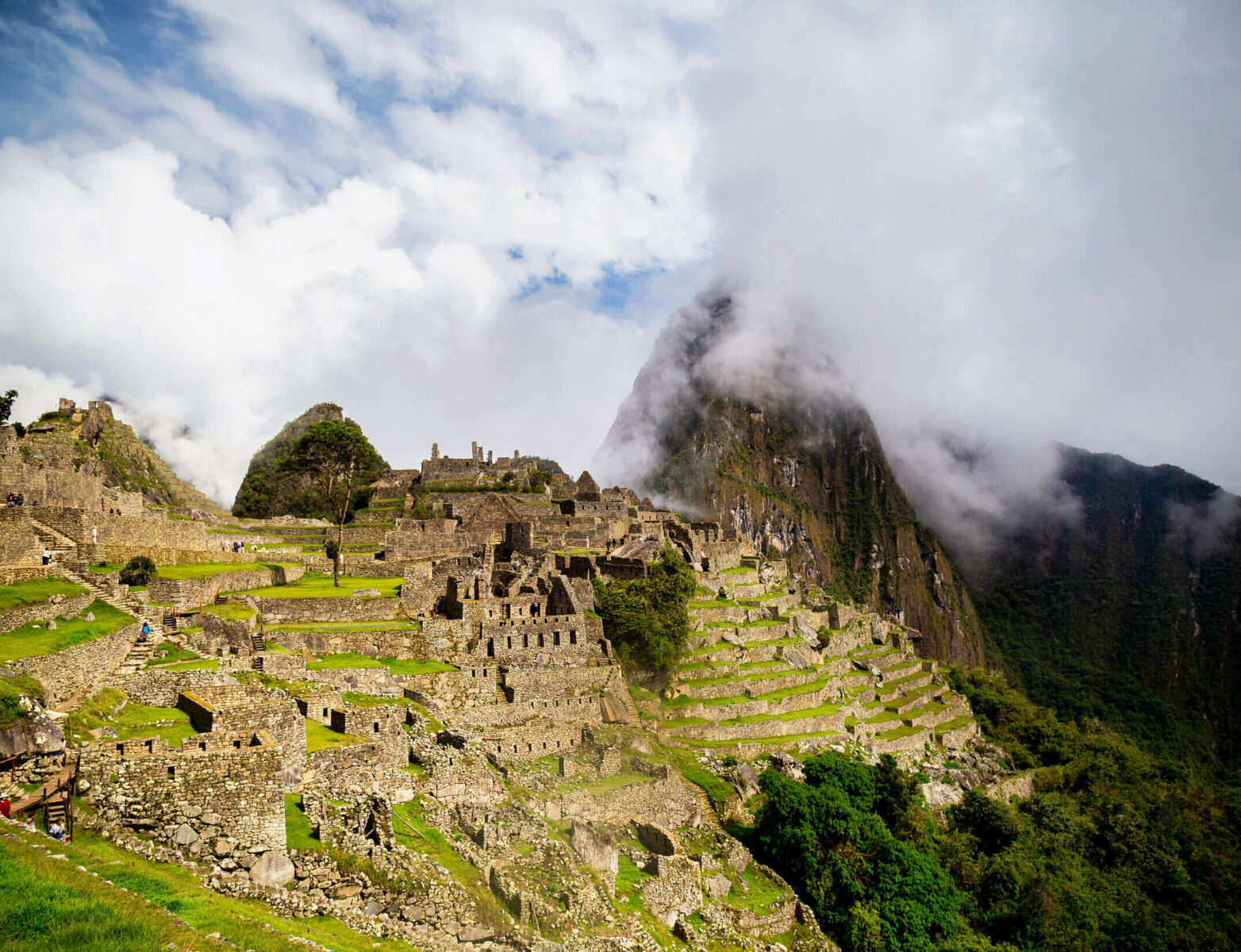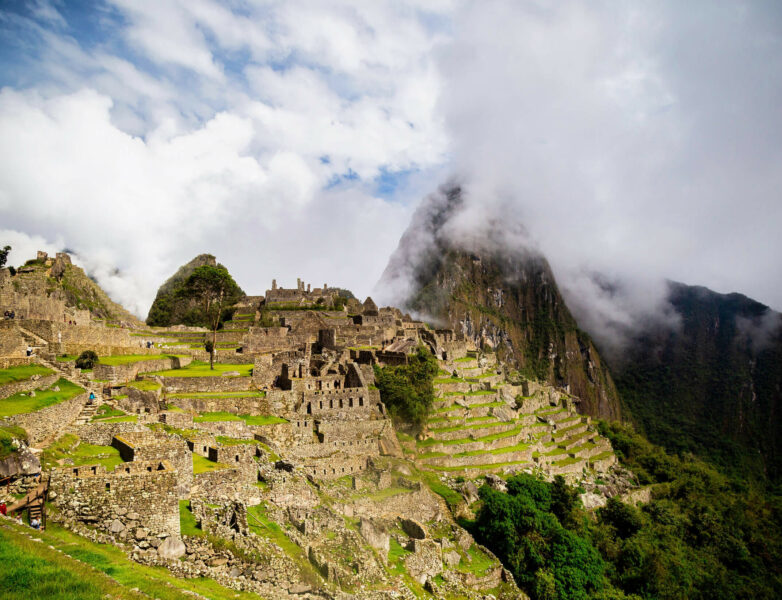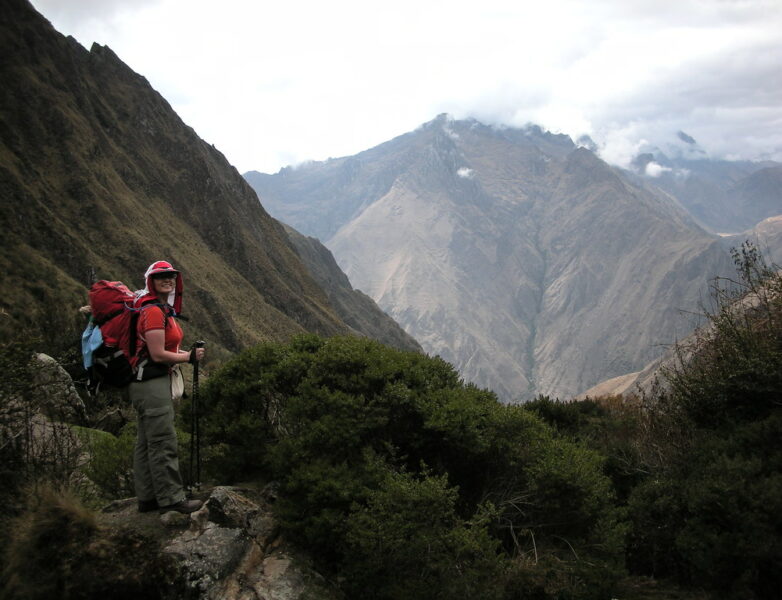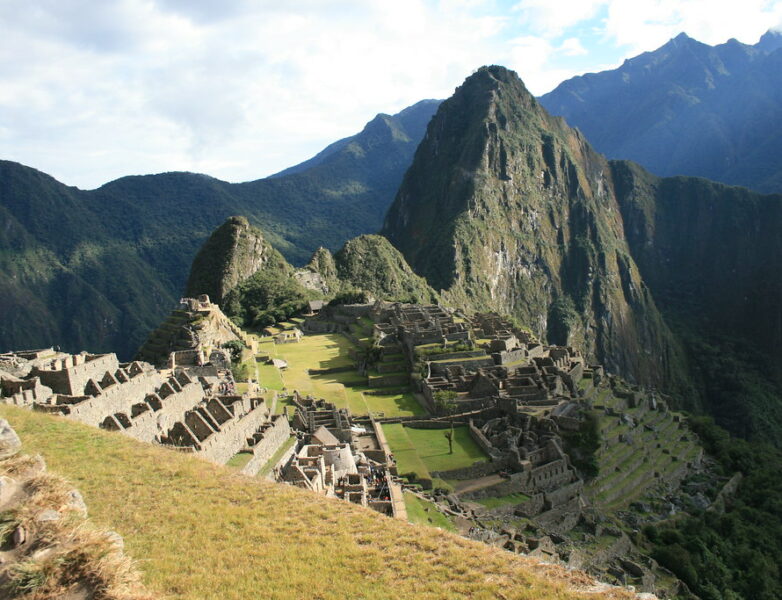 Top three reasons to hike the Salkantay and Inca trails
Each step reveals new scenery and historical sights

Witness the seasons changing before your eyes in a matter of hours

Beautiful views, centuries of culture, and just about as close to the gods as you can get
This 46.7-mile-long trek to Machu Picchu will be an in-depth experience of life in the Andes. With jaw-dropping sights that change from lush valleys to peaks capped with snow, Salkantay links up to the legendary Inca Trail to create one of the best short thru-hikes in the world. Explore cloud forests and ancient ruins, ride horses, listen to the waterfalls roar, and find out for yourself why the Incas felt so connected to nature and the gods. Find out more about hiking the Inca Trail to Machu Picchu from Raul Ccolque, a Sacred Valley local and owner of Alpaca Expeditions.
Season

Year-round, peak season is April to October

Nearest city

Your adventure begins in Cusco, Peru
Book this adventure
Hike the Salkantay and Inca Trails to Machu Picchu
On this epic trip to the Lost City of the Incas, you'll spend seven days traversing anywhere from seven to ten miles, making your way through subtropical and alpine climates. Along the way, you'll experience the best the Inca Trail has to offer, while also getting a more first-hand experience of the local culture. On your last day, you'll stop at the Sun Gates of Machu Picchu and watch the first sun rays reach the ancient ruins.
Itinerary
Day 1: Cusco –Marccoccasa – Sorapampa
Before sunrise, you'll be picked up from your hotel. At the porters' lodge, you'll eat a hearty breakfast and start your 7-day Inca and Salkantay Trails hike. Today, you'll hike 6.8 miles and experience the temperature drop from warm to cold. The views along the Salkantay vs Inca Trail change drastically as you go. The trailhead is all green, lush valleys, but in the afternoon, you will be right at the foot of the Humantay snow-capped mountain. After arriving at the Soyapamapa campsite (3,800 meters), your team will welcome you and provided warm drinks and dinner.
Elevation: From 2,900 to 3,800 m
Walking Distance: 11 km / 6.8 miles
Day 2: Sorapampa – Humantay Lake – Ichupata
Your second day is all about exploring the alpine landscapes. Get ready for towering peaks, glacier lakes and even hearing some distant avalanches. You'll reach the campsite after hiking for 8 miles. This will be the best day, or rather, night, for stargazing!
Elevation: From 3,500 to 4,300 meters
Distance: 13 km / 8 miles
Day 3: Ichupata – Inca Chiriasca Pass – Inca Canal
Today you'll embark on the most challenging day of the entire combined trek, traversing for 8.6 miles uphill, then downhill. Your guide will take you to the Inca Chiriasca Pass, where you'll be able to admire the glacier mountains, lakes and valleys. You'll make your descent to the next campsite through rolling valleys and many streams.
Elevation: From 4,300 to 5,000 meters, then to 3,750 meters
Distance: 14 km / 8.6 miles
Day 4: Inca Canal – Pauccar Cancha – Wayllabamba – Ayapata
After wandering on traditional hillside paths used by Peruvian farmers, you'll link up to the Inca Trail. Make sure to take plenty of pictures as you make your way through the cloud forest dotted with waterfalls. You'll recharge your batteries in camp.
Elevation: From 3,750 to 3,000 meters, then to 3,300 meters
Distance: 14 km / 8.6 miles
Day 5: Ayapata – Warmi Wañusca- Chaquicocha
This will be the longest day, as you'll trek for almost 10 miles, but you'll barely notice it. On your way to the Dead Woman's Pass, you'll probably encounter llamas. After lunch, get ready for wild orchids and even hummingbirds, as well as scenic historic sites like the beautiful Incan ruins called Sayacmarca. From there, you'll trek through a jungle, before reaching the campsite.
Elevation: From 3,300 to 4,200 meters (the pass), and back to 3,600 meters (the camp)
Distance: 16 km / 9.9 miles
Day 6: Chaquicocha – Phuyupatamarca – Wiñay Wayna
You have a well-deserved relaxed day in front of you. You'll only walk for about 5 miles, with plenty to see along the way. The first ruins you'll encounter are those of Phuyupatamarca, a village above the clouds, where the Incas studied the stars. Your last campsite is the most beautiful one, located near Wiñay Wayna, an orchid paradise. You'll say goodbye to your porters and rest for the grand finale.
Elevation: From 3,600 to 2,600 meters
Distance: 10 km / 6.2 miles
Day 7: Wiñay Wayna – Machu Picchu – Cusco
In the early hours of the morning, you'll walk two more hours until you reach the Sun Gate. Once you're in Machu Picchu, you'll get to soak in the views of the mountains and ancient ruins. After sightseeing, you'll either hike up to the Huayna Picchu or make your way to Aguas Calientes and board your train back to Cusco.
Walking Distance: 5 km /3 miles
Meet your guide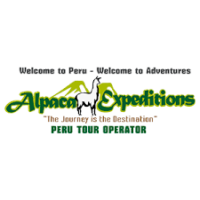 Alpaca Expeditions
Alpaca Expeditions is a local Sacred Valley company providing unique tours of the Andes, introducing visitors to the rich culture, history and natural beauty of Peru.
Best team
Paqui C
about
Alpaca Expeditions
on TripAdvisor
Did the Salkantay Trek solo with Alvin as my guide and couldn't have had a better experience, he knows so much about Peruvian culture and is passionate for his country which makes it easy to fall in love with it too.
Chacho (our cook) and Tiburcio went out of their way to make us as comfortable as possible so we could enjoy our trek to the fullest. It was amazing the meals they managed to whip up in the middle of the mountains!
Overall Alvin, Chacho and Tiburcio aren't only the best at their craft, but are also amazing human beings. Really lucky to have met them and have them guide me through Salkantay Trek.
Alvin and the Chinchillas
Julius
about
Alpaca Expeditions
on TripAdvisor
I had reservations about going on such an ardous trek considering that I dont work out or hike a lot. But with Alvin as our guide, i was able to tackle Salkantay trail. Alvin was so understanding, patient and was able to encourage us to slowly acclimate and then enjoy the trek. He possesses vast knowledge about the trail and the historical significance of the trail, He also has vast knowledge about the Inca culture, was able to anawer all the questions that we possed.
Our cook was Gregorio. I dont know how he did it but he was able to put out amazing, great tasting food in such a difficult condition. He kept on surprising us every meal time.
The other support group like Teburcio who, at his age has probably a heart of a healthy 25 years old. Jacinto, the horseman… they are all amazing. Thank you for showing us one of the best views and guiding us in this experience.
Amazing Time on the Salkantay Trek
Kate M.
about
Alpaca Expeditions
on TripAdvisor
We had an amazing time with Alpaca Expeditions. Covid restrictions are still in full force in Peru but they didn't take away from our experience and we felt very safe the entire time. Our guide, Flecher, was extremely friendly and knowledgeable. Our cook, Alberto, was amazing, and our porters, Juan and Antonio, were very helpful. The entire team was very accommodating.
I will say that the trek is very physically challenging. I strongly suggest training before you head to Peru and spending at least 48 hours in Cusco before your trek. Also, bring layers. It is VERY cold in the upper highlands but will get quite warm once you get lower elevations, even in the winter months. The views and experience are absolutely worth the tough hikes.
Things to know
Covid measures in Machu Picchu, Peru
57hours is committed to providing safe outdoor adventure experiences. We require all guides using our platform to have a COVID-19 safety plan and to make the details of that plan accessible to travelers. In most cases, group sizes will be reduced, guides will avoid overcrowded locations, and other safety measures will be met depending on the location and activity. 
We also expect clients to respect local regulations and take measures to protect themselves, guides and the communities they're travelling to. For more information on COVID-19 measures in Peru, please refer to the Peru Travel websites or the U.S. Embassy in Peru websites.
Please contact us if you have any questions or require further information. We are happy to provide you with the most up-to-date information!
What's included?
What you get in this adventure:
A local English speaking professional guide
7 days of hiking with a guide
Accommodations in tents along the way
Meals cooked by a local chef
Porters to transfer your belongings
Permits
Transfers to and from the hotel
Train from Aguas Calientes
Breakfast, lunch, dinner, and snacks each day for the trek
Water
Satellite phones
What's not included:
Transportation to Cusco
Rentals
Accommodation prior and after the trip
How fit do I need to be?
While previous hiking experience is unnecessary for hiking the Inca and Salkantay Trail, you'll need to be in considerably good shape. Each day you will hike between five and nine hours, on your most challenging day, you'll traverse almost 10 miles. There are no flat areas on the entirety of the trail, it's either uphill or downhill. Prior to your trip, you can prepare by exercising on steep inclines or even stairs.
What do I need to bring?
Here's a list of the equipment you need to bring:
Day pack large enough to carry all the items listed (around a 25-40L bag)

Hiking poles — optional

Water storage for 2-3 liters
Sleeping bag (can be rented for $35)
Inflatable Air Mattress (can be rented for $30)
Quick-dry towel
Battery charger (there is no place to plug in while trekking!)

Toiletries (sunscreen, hand sanitizer, bug spray, toilet paper, etc.)

Sunglasses

Camera — optional (but recommended)
Clothing and gear list:
Hiking boots (lightweight with good soles)
Shoes for camp
2-3 dry-wicking t-shirts
2-3 pairs of hiking pants
4 sets of undergarments
4 sets of hiking socks
Fleece jacket
Warm down jacket
Rain jacket and pants
Sun hat
Wool hat
Headlamp
Waterproof gloves
Waterproof jacket/rain poncho
High quality sunglasses
Trekking poles (can be rented for $30)
Dress comfortably and for the weather in clothes you can move in. We suggest bringing clothing appropriate for the season. Layers are best and don't wear jeans.
Regulations and permits
There is no other way to experience the legendary Inca Trail. To keep the history intact, not even horses are allowed on this one-of-a-kind thru-trek. There are easier ways to reach the Lost City of the Incas from Cusco, but this is the best way. Wander through lush forests filled with orchids, scale towering peaks, witness centuries of culture and find yourself along the way.
Due to strict government regulations, a guide must be present on all Inca trail trips. For you, this is a guarantee that you'll get the most out of your hike. Not only will you learn all about the history behind the sites you'll pass along the way, in case of inclement weather, your guide will know just what to do.
Group sizes and age requirements
Group sizes and prices:
For the private adventures, groups usually consist of eight people, but you can arrange a trip with up to 16 people.

It takes at least 3 people for the tour to operate.
If you are traveling alone, you can join a group tour for the same price.

All pricing is per person. The cost does not decrease as the group grows. 
Hiking in Peru can be arranged for larger groups. Contact us to make arrangements.
Min. age requirements:
If you are older than 17, you're good to go.

Minors younger than 17 may be permitted to join the hike on a case-by-case basis, but must be in the presence of a parent or legal guardian.
If your group has hikers under the age of 17, contact us prior to booking to make arrangements.
Getting there and meeting location
To get to Cusco, most people fly into Cusco International Airport. From there, you can rent a car or take a shuttle service to your accommodation.
Once you and your guide agree on the details of your itinerary, your guide will suggest the best place to meet, usually at your accommodation in Cusco, and take you to the trailhead. At the end of your adventure, you will return to Cusco via train.