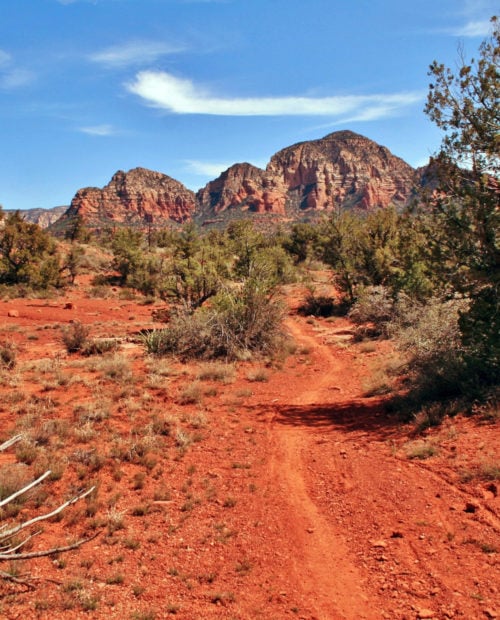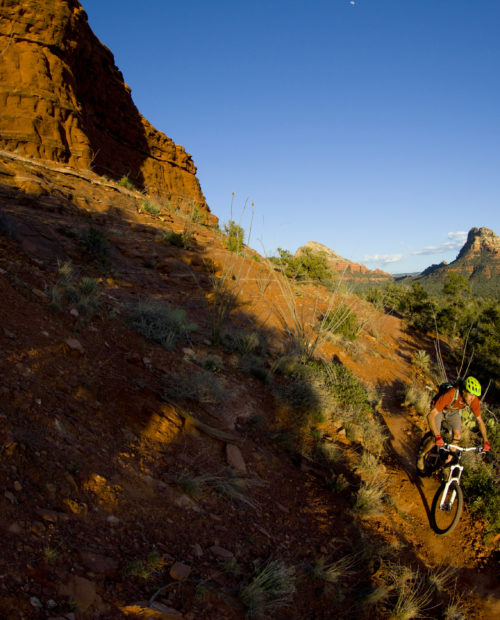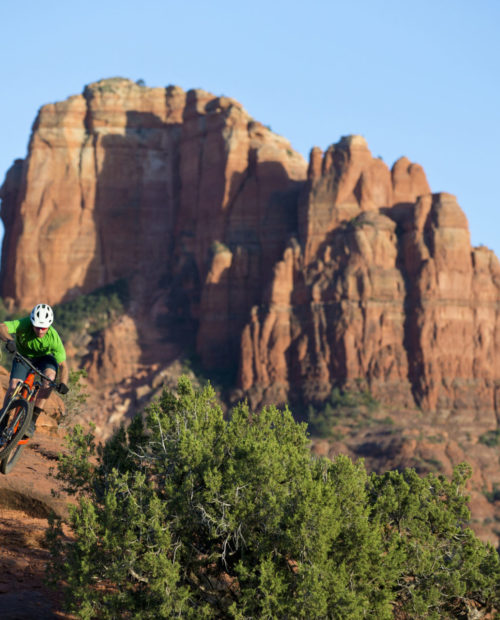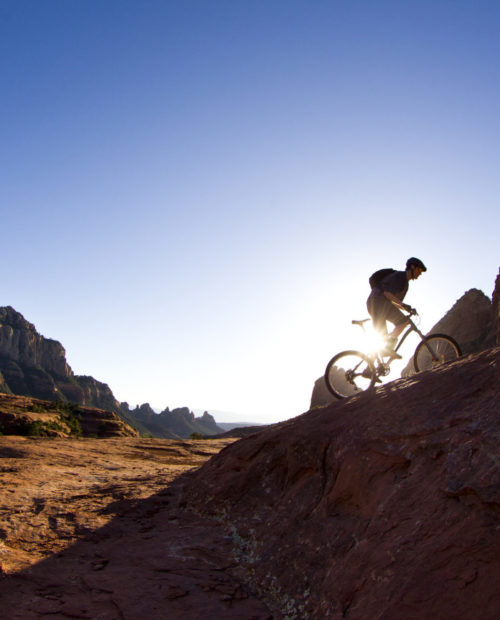 Sedona | Arizona
5-Day Sedona Mountain Bike Tour
Group size
Up to 13 people; solo riders are welcome
Epic bike trails paired with red sandstone cliffs and spires
At the heart of Red Rock Country lies Sedona, a wonder-filled oasis surrounded by iconic terracotta-colored buttes, energy vortexes and classic desert vistas. In rocky, rugged terrain lies a maze of exhilarating trails varying in difficulty. Each MTB trail is a technical puzzle waiting to be solved. Tackle prime mountain biking trails on this five-day adventure set in tricky desert terrain and sleep under the star-filled sky each night.
Most Popular Itinerary
5-Day Guided Singletrack Sedona Tour
$1295 per person
·
5 days
This epic five-day adventure will take you through miles of desert landscapes determined to push your limits and technical skills. The trails, first carved out by the area's original residents and local wildlife, vary from unkempt single tracks to rugged shelves requiring all your attention. You'll spend your days biking 8-19 miles and your nights camping under the stars.
Things you need to know
COVID-19 measures in Sedona, Arizona
As of June 1, if you are traveling through Phoenix Sky Harbor International Airport (PHX) or the Tucson International Airport you will be required to wear a mask.
If you are driving to Arizona or through the state – Navajo Nation has asked that you respect the sovereignty of the nation and not travel through the territory as they work to stop the spread of COVID-19.
Official COVID-19 updates by the American Government for Arizona are available on this link
Why should I book with 57hours?
With us, it's all play and no work for you! 57hours is an open platform that will connect you with trained and certified outdoor adventure professionals all over the world. Using our knowledge of technology, we make it super easy to find and book adventures worth tackling, led by pro guides, and complemented by free outdoor travel resources gathered from locals and first-hand experiences.
Why should I go mountain biking?
Mountain biking is fun! Feeling in control over bumpy and unpredictable terrain is an adrenaline rush all in itself. Once you ease into riding, you'll learn to read obstacles, manage momentum with your body and brakes, and maneuver over the trail with confidence. All your guides expect from you is a basic grasp of riding a bike, an open mind, and a lot of trust. A small price to pay to feel like you're practically flying, right?
What's included?
This is what you get on this adventure:
An experienced MTB guide with extensive local knowledge of the area
5 days of mountain biking based on your chosen itinerary
Transportation to and from trailheads
All meals and drinks
Camp chairs
Solar showers
Sunscreen & bug spray
Bike stand and lube
Extra equipment that you can bring or rent:
Mountain bike (rentals come with flat pedals)
Helmet (free with bike rental)
Tent
Sleeping bag
Sleeping pad
What to expect from hiring a MTB guide?
One of the reasons why mountain biking is so popular is the rush of adrenaline it sends through your veins. Sure, danger is part of the appeal, but you'll want to avoid any unnecessary risks by hiring a guide. They'll make sure you enjoy the ride and feel safe while doing it. There is no road map or GPS technology out there that's as good as having an experienced local guide to lead the way while mastering unfamiliar trails. There's always more to see, and your guides know just where to go to find it!
What's the itinerary?
Your days will consist of 8-19 miles per day:
8:30 am: Riding from camp
12:30 pm – 01:00 pm: Lunch (all meals included)
1:00 pm – 5:00 pm: Keep riding!
5:00 pm: Happy hour and campfire stories at camp
What do I need to bring?
Wear comfortable riding or athletic clothing, preferably moisture wicking or synthetic material
Sneakers or sport shoes
Breathable outside layer or jacket
Sunglasses
Bathing suit
Cheap PVC rain gear
Knee and elbow pads
Leg warmers & tall socks
Plenty of water in water bottle or hydration bladder
Optional: biking gloves
How fit do I need to be?
For this five-day guided tour you'll need to be able to bike up to 19 miles per day. Sedona's technical terrain, complete with loose, steep single tracks is one of its strongest selling points. That said, even the most experienced among the group can count on it to push their limits. There are plenty of other trails suitable for beginners, this option is designed for bikers with moderate experience.
What is the minimum age requirement?
Age limit for this 5-day trip is 14 and they would need to be an expert rider that can handle advance level trails easily.
What about group sizes and pricing?
For $1,295, you will be joining a party of up to 13 guests and 2 guides, although many trips are smaller than the maximum allowed.
What about bad weather?
Tours are scheduled to fit with the seasons and ideal cycling conditions. When the weather does not cooperate, your guide will know the correct course of action to take. Whether that's shifting to a more favorable location or postponing until conditions approve, your guide will know just what to do. In the event of predictably bad weather, you will be contacted prior to the trip to discuss suitable alternatives.
Cancellation policy
All policies regarding cancellation, rescheduling and trip insurance will be clearly laid out by your guide prior to booking your adventure. Contact us if you'd like more information on a specific adventure.
Getting there and meeting location
You will meet with a guide at Over the Edge Sports in Sedona. They have transportation to and from your adventure covered!
Guides we recommend
Western Spirit Cycling Adventures
Western Spirit Cycling Adventures
Mountain Bike Guides
Western Spirit mountain bike guides are experienced cyclists with mechanical skills...