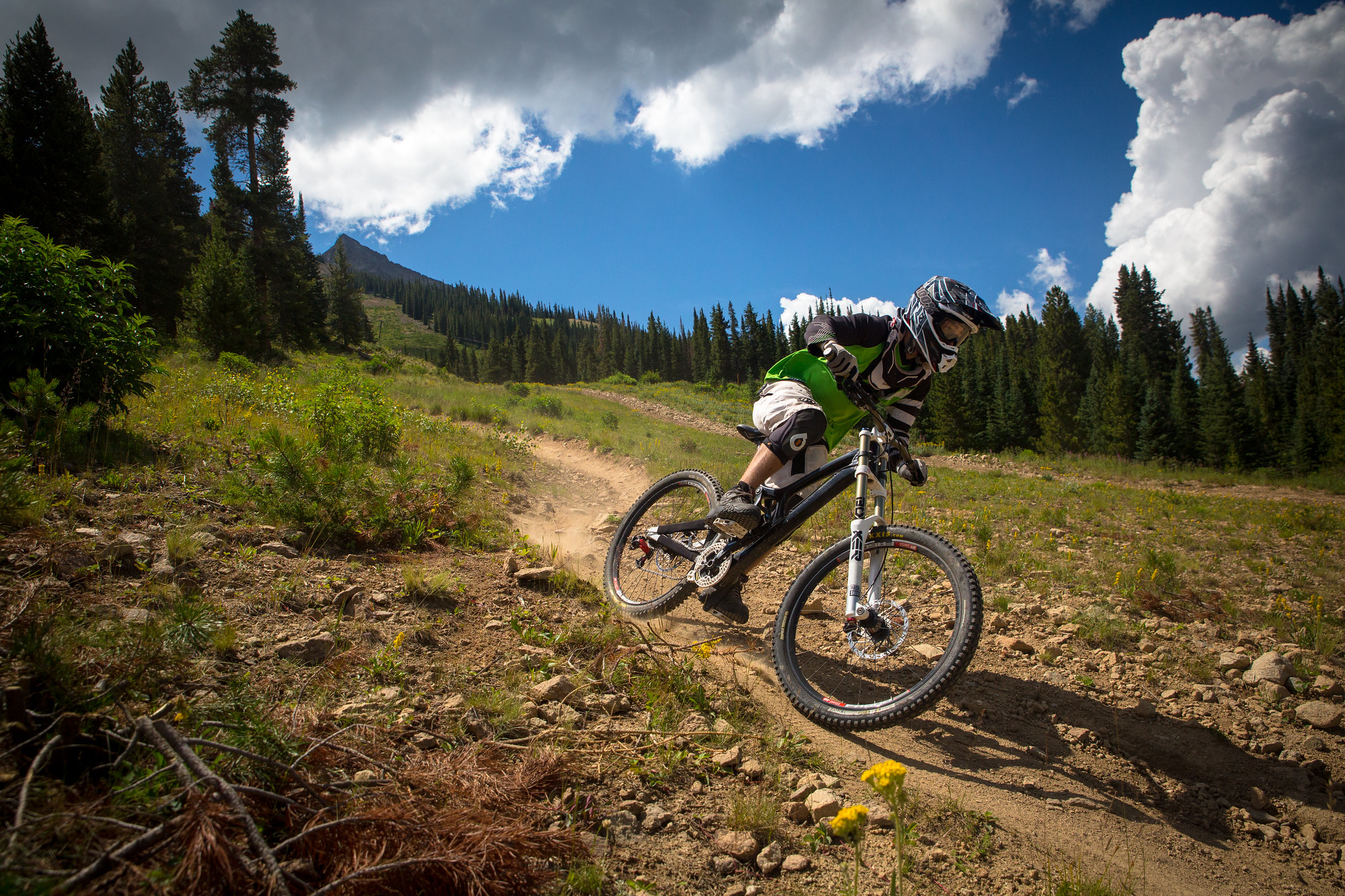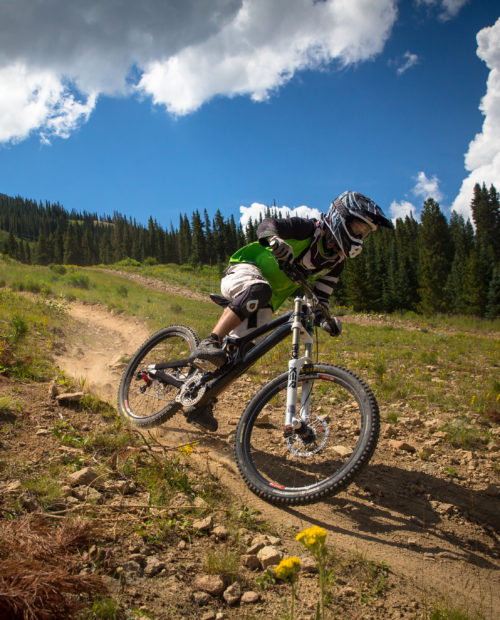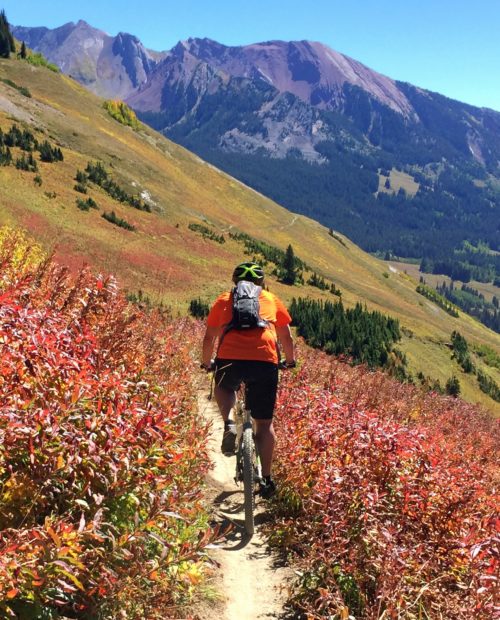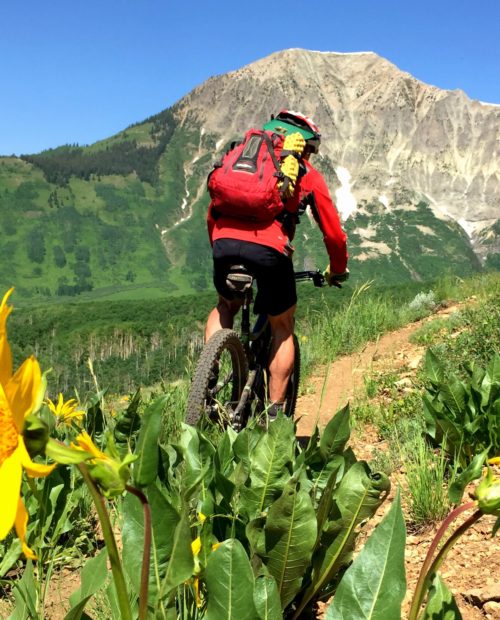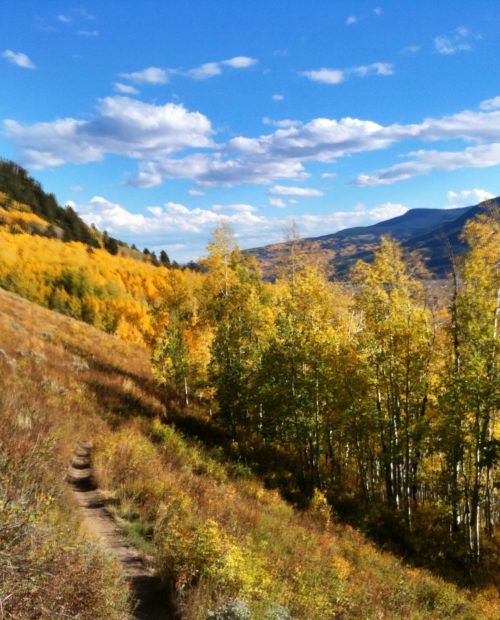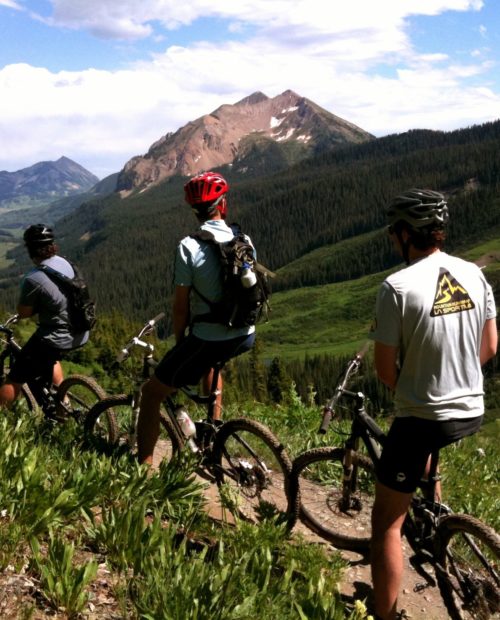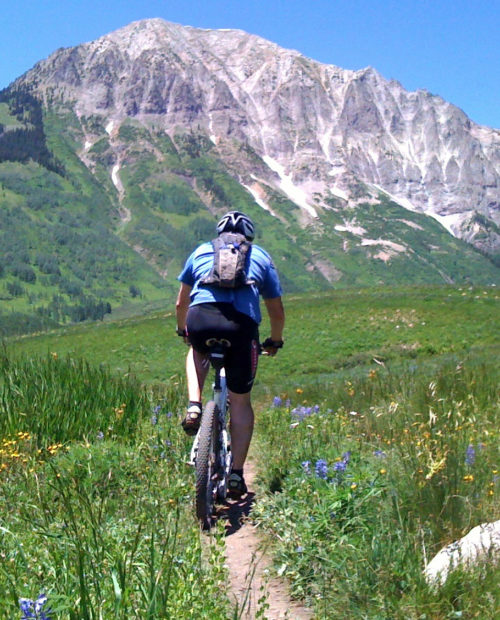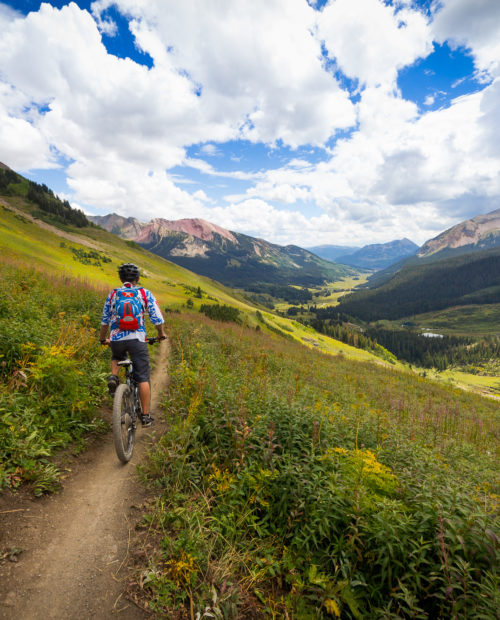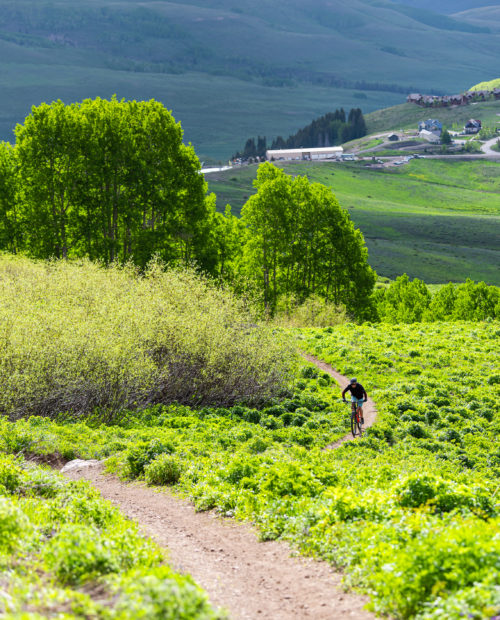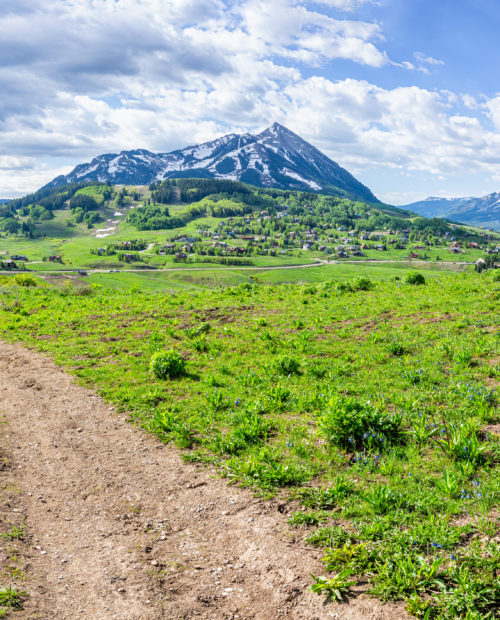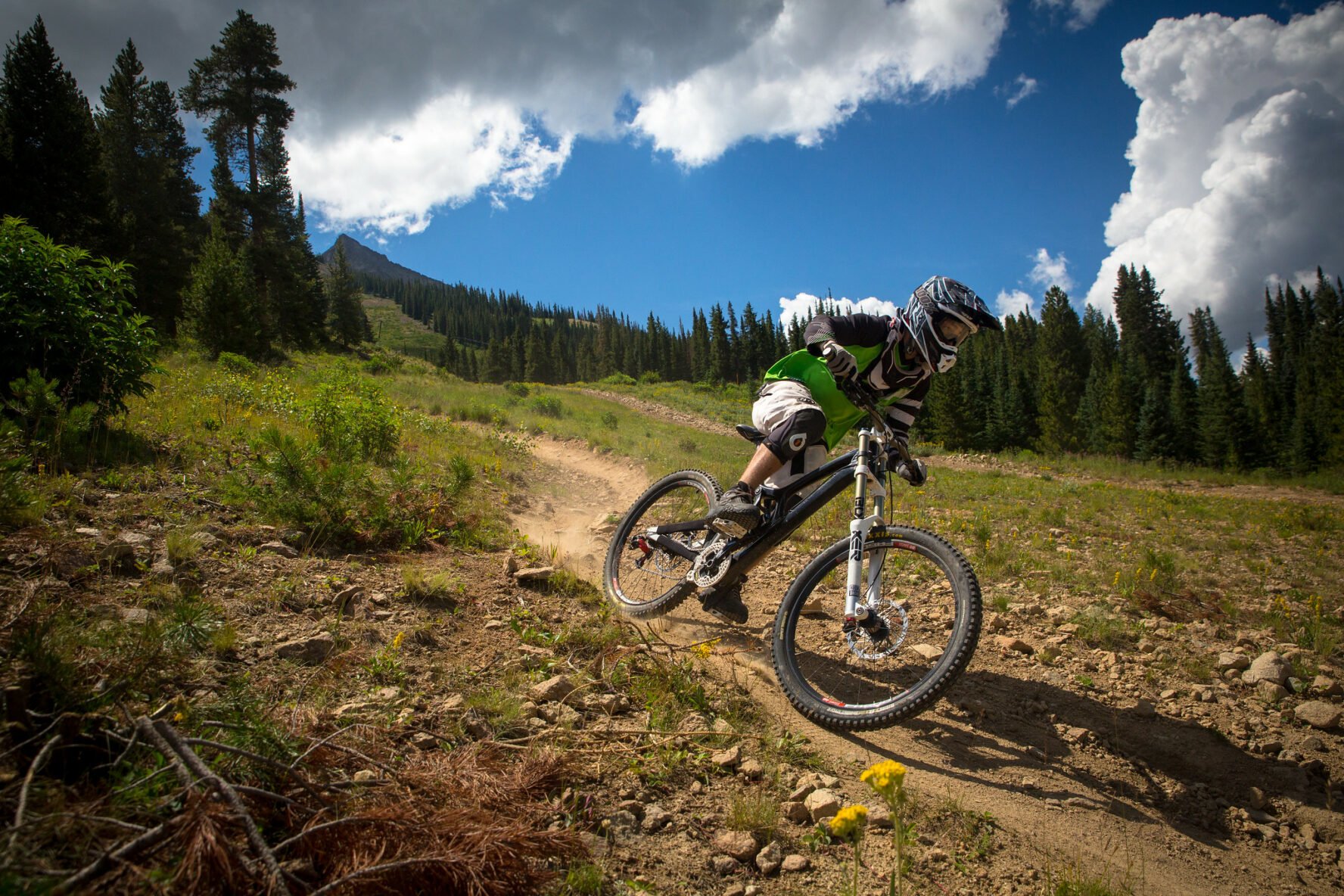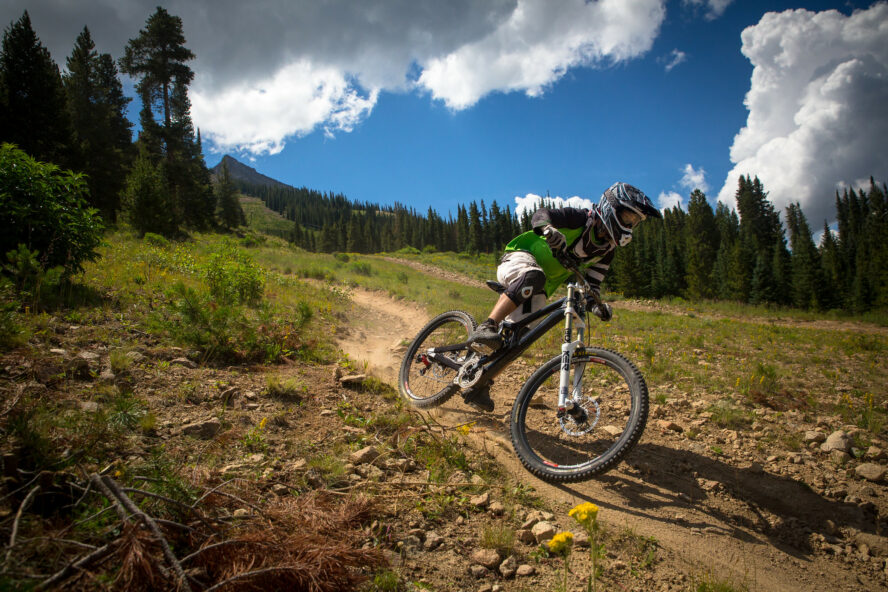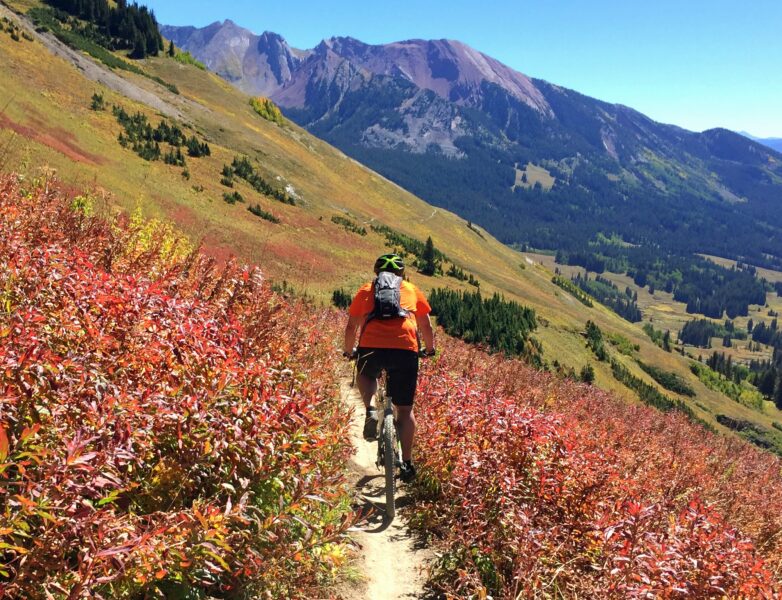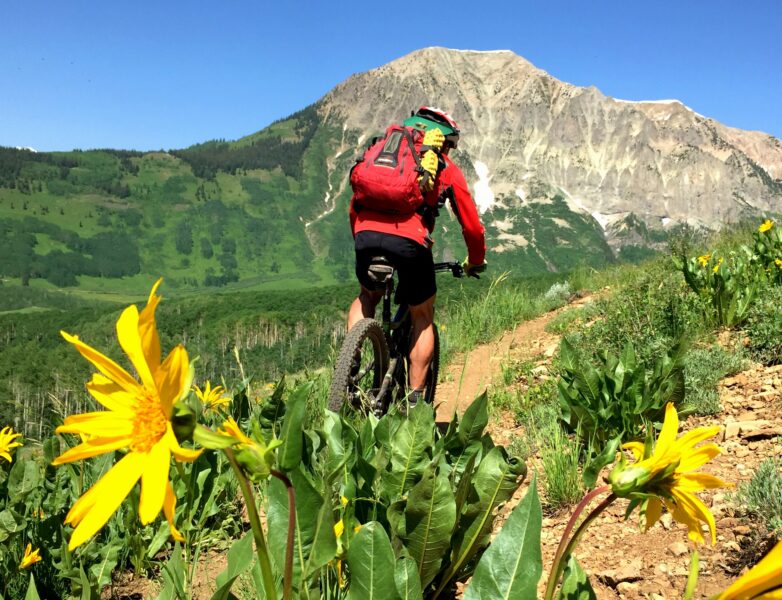 Multi-Day Mountain Biking Tours In Crested Butte
Nearest city
Crested Butte is a 40-minute drive from the Gunnison-Crested Butte Airport (GUC)
From $1,490 ()
/
4-6 days
Escape from reality on epic, fun-to-ride tracks in Crested Butte
Crested Butte mountain biking tours allows you to get away from it all without the headache of logistics or a scramble to secure your camp. Let the pros handle the logistics while you get out on the most renowned singletracks. With over 750 miles of trails, there are plenty of options for all skill levels. Tour some of the best singletracks in the US and experience some bucket list-worthy trails. Challenge yourself and experience some of the best mountain biking in Colorado alongside the very best experts in the field!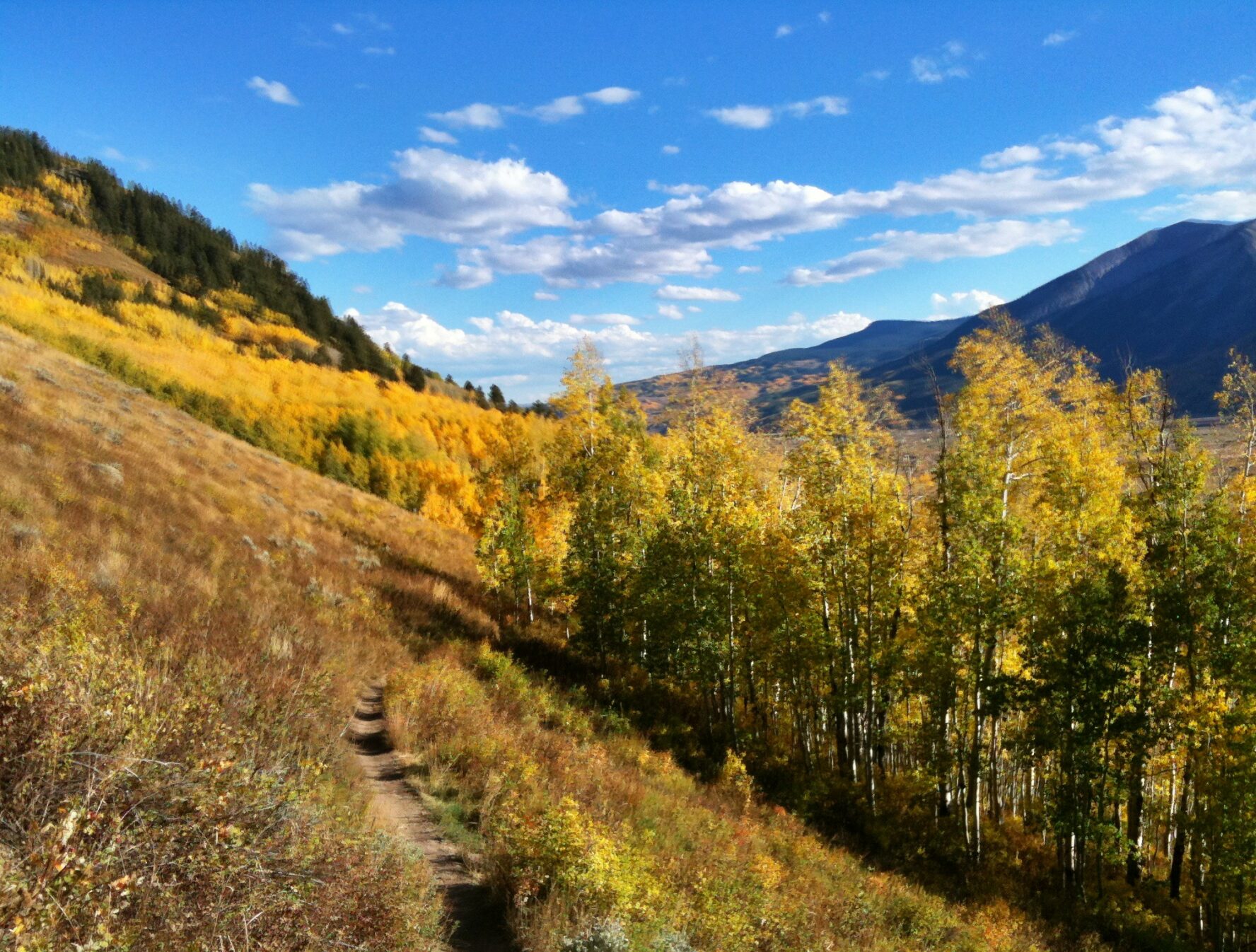 Four-Day Mountain Biking Tour
Riders of all levels will enjoy this multi-day singletrack mountain bike tour. Access harder-to-reach tracks in Crested Butte without the headache of schlepping in camp gear. Plus, you get delicious meals, great company and classic trails that will challenge and delight based on your skill level. Your professional guide will take care of accommodation and invest all their time in showing you the best mountain biking found in Colorado!
Five-Day Mountain Biking Tour
Several things make this place stand out — miles on end of tracks, lots of options with rock and tech, huge meadows and impressive landscapes. Spend five days testing your skill and endurance on some of the best trails in the country and enjoy the atmosphere of the place. Your guide will make sure you have the best time, and you won't have to waste a minute about the maps or logistics!
Six-Day Mountain Biking Tour
Overnight mountain biking tours allow you to accomplish bigger trails, completed with catered meals and vehicle-supported assistance. Your guides work directly with you to customize the trails best suited to your group's style, goals and skills. You'll get a mountain biking ride of your most adventurous dreams, and without the pain of managing boring logistics or worrying about accommodation!
Things to know
57hours is committed to providing safe outdoor adventure experiences. We require all guides using our platform to have a COVID-19 safety plan and to make the details of that plan accessible to travelers. In most cases, group sizes will be reduced, guides will avoid overcrowded locations, and other safety measures will be met depending on the location and activity.

We also expect clients to respect local regulations and take measures to protect themselves, guides and the communities they're travelling to. For more information on COVID-19 measures in Crested Butte, please visit Colorado's Department of Public Health and Environment website.

Please contact us if you have any questions or require further information. We are happy to provide you with the most up-to-date information!

This is what you get on this adventure:

An experienced MTB guide with extensive local knowledge of the area
4-6 days of mountain biking based on your chosen itinerary
Accommodation at Elk Mountain Lodge in downtown Crested Butte
Meals
Energy food and liquid refreshments
Forest service fees
Shuttles and mechanical support

What's not included:

Bikes and personal biking gear
Alcoholic beverages
Massage therapy

For these multi-day guided tours, you'll need to be able to bike up to 15 to 35 miles per day with additional mileage options available for advanced riders. Crested Butte's technical terrain, complete with loose, steep single tracks is one of its strongest selling points. That said, even the most experienced among the group can count on it to push their limits. While there are plenty of other trails suitable for beginners, this option is designed for bikers with moderate experience. If you wish to have a tour more suitable for beginners, contact us to make arrangements.

These tours are more appropriate for intermediate to advanced bikers. However, if you wish to have a tour suitable for beginners, contact us to make arrangements. A guide will explain the different mountain bike techniques and body positions to get you feeling comfortable on the trial. You will progress at a level that is consistent with your comfort. Once you finally get the hang of trail riding, you will only want more!

Wear comfortable riding or athletic clothing, preferably moisture-wicking or synthetic material
Sneakers or sport shoes
Breathable outside layer or jacket
Sunglasses and clear or low-light riding glasses
Bathing suit
Cheap PVC rain gear
Knee and elbow pads
Leg warmers and tall socks
Plenty of water, water bottle or hydration bladder
Biking gloves are optional but recommended
Toiletries (sunscreen, hand sanitizer, bug spray, toilet paper, etc.)

One of the reasons why mountain biking is so popular is the rush of adrenaline it sends through your veins. Sure, danger is part of the appeal, but you'll want to avoid any unnecessary risks by hiring a guide. They'll make sure you enjoy the ride and feel safe while doing it. There is no road map or GPS technology out there that's as good as having an experienced local guide to lead the way while mastering unfamiliar trails. There's always more to see, and your guides know just where to go to find it!

With us, it's all play and no work for you! 57hours is an open platform that connects you with trained and certified outdoor adventure professionals all over the world. Using our tech-savvy, we make it super easy to find and book adventures worth tackling, with guides worth booking, all gathered from the first-hand experiences of the locals who adventure in these amazing locations.

For this adventure, the usual client to guide ratio is 6:1. You will be joining a party from up to 12 guests and 2 guides, although many trips are smaller than the maximum allowed. All pricing is per person.

Custom mountain biking in Crested Butte can be arranged as well. Contact us to make arrangements.

Anyone over the age of 18 is welcome to book this course.
If your party has minors younger than 18 years old, contact us prior to booking to make arrangements.

Tours are scheduled to fit with the seasons and ideal cycling conditions. When the weather does not cooperate, your guide will know the correct course of action to take. Whether that's shifting to a more favorable location or postponing until conditions approve, your guide will know just what to do. In the event of predictably bad weather, you will be contacted prior to the trip to discuss suitable alternatives.

We highly recommended that you cover all your bases with both emergency medical and travel insurance. With medical insurance, if you have an accident or medical emergency on or off the mountain, you'll avoid paying out of pocket for costly expenses. This covers everything from hospital treatments to emergency air transportation and more.

As we've recently seen, travel plans can be abruptly halted, so it's a good idea to purchase travel insurance that covers cancelled flights, natural disasters and other scenarios that may interrupt your travel plans. For peace of mind, we suggest you consider both options of insurance.

If you need assistance selecting the right insurance for your group, let us know and we will be happy to help!

With 57hours, you benefit from both our own cancellation policy as well as that of the individual guiding service that delivers your adventure. All policies regarding cancellation will be clearly laid out by your guide after booking your adventure, but rest assured that our own cancellation policy will work on top of what is provided by your guide.

For this adventure, 57hours offers a Expedition Cancellation Policy, which states:
If Client cancels the Booking anytime prior to one hundred twenty (120) calendar days in advance of the trip contemplated by the booking, Client is entitled to a full refund. For cancellations ninety (90) to one hundred nineteen(119) calendar days in advance, Client is entitled to a refund in the amount of fifty percent (50%) of the total amount paid when Booking. For cancellations seventy five (75) to eighty nine (89) calendar days in advance, Client is entitled to a refund in the amount of twenty-five percent (25%) of the total amount paid when Booking. After that deadline, Client is not entitled to any refund. Any reimbursable expenses arising out of the Booking incurred by Guide prior to the date of cancellation (including but not limited to plane tickets, car rental payments, and lodging or transportation fees) are non refundable as soon as they are incurred by the Guide.

For more information on terms and conditions, please visit our Terms of Service page.

To get to Crested Butte, most people fly into The Gunnison – Crested Butte Regional Airport (GUC) is located just 28 miles from the town of Crested Butte. From there, you can rent a car or take a shuttle service. If traveling by car from Gunnison, turn right onto HWY-135 for 28 miles to the town of Crested Butte.

Once you and your guide agree on the details of your itinerary, your guide will suggest the best place to meet, whether that's at the guide shop or a predetermined location. From there, you'll head to your tour. The guide will choose the appropriate terrain dependent on conditions and ability of the group.
Other things to do in Crested Butte