Big Bear Lake | California
Mountain Biking Tours in Big Bear Lake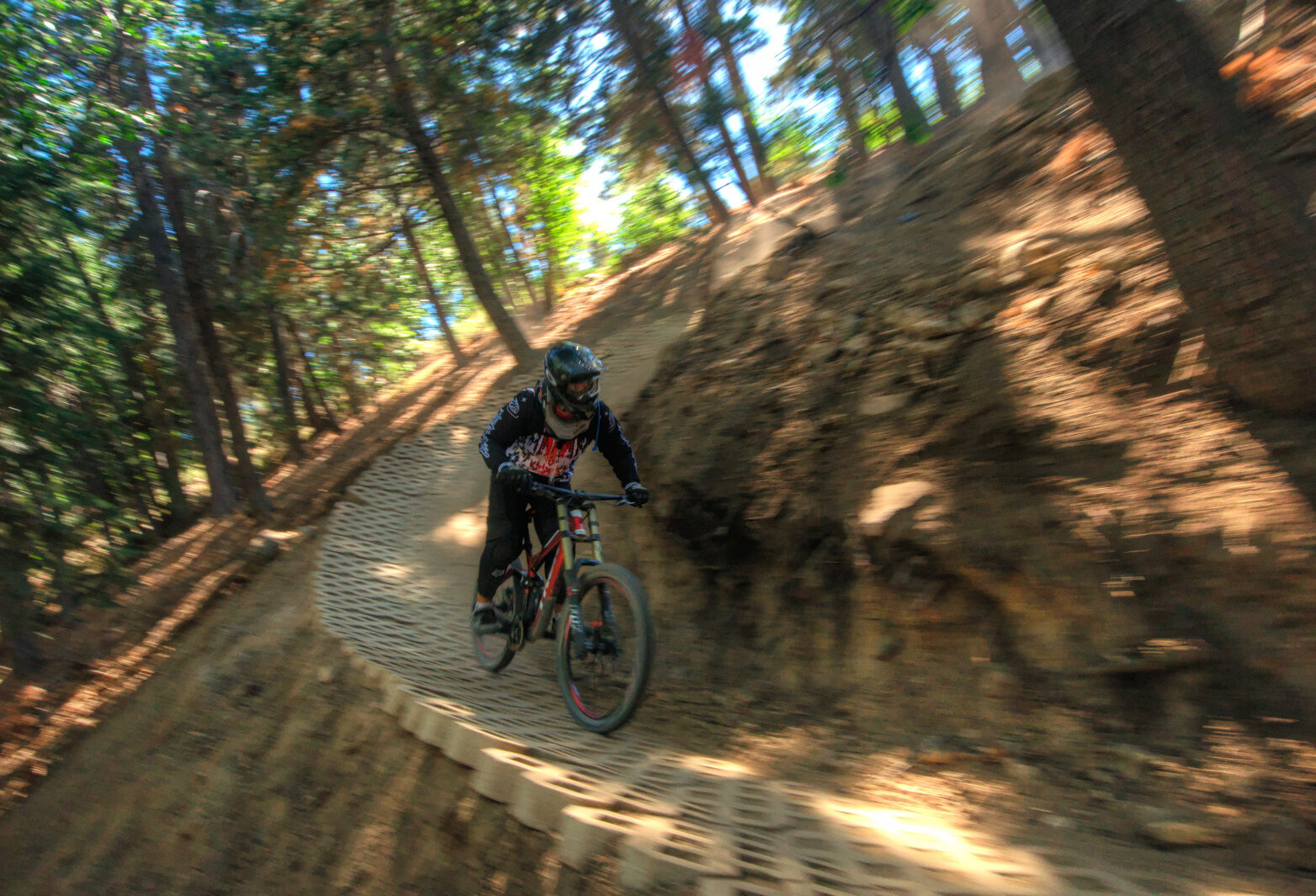 Skill level
All levels of rider are welcome
Mountain biking at its finest — with lift access!
Famed for its downhill bombs and easy lift access at Snow Summit, Big Bear Lake has trails for all levels of rider for most of the year! Nestled in the San Bernardino mountains, the area has become a coveted destination for mountain bikers in the Los Angeles area looking for an adrenaline-fueled weekend getaway — and the mountain biking community has taken note. Both the northern and southern sides of the lake are home to stunning singletrack with alpine and forest-covered riding. Discover why more and more riders are making Big Bear Lake an MTB destination.
Most popular packages and classes in Big Bear Lake
Fawnskin to Hanna Flats + Gray's Peak
A north side of the lake classic, this 8-mile loop on singletrack and fire roads is a local favorite – especially when adding Gray's Peak at the end for a 2.2 up-and-back. This ride is perfect for intermediate bikers and once you make it past the first descent, you'll be rewarded with singletrack all the way down.
Skyline to Pine Knot
from $75 per person
·
1 day
This ride takes you above and beyond the mountains behind Snow Summit and Big Bear Lake, with elevation ultimately topping out at 8,000'. Don't let the elevation intimidate you! Once at the top you'll be rewarded with stunning views of the whole region and pretty great singletrack too. While not too technical, this one's perfect for intermediate riders.
Santa Ana River Trail
from $75 per person
·
1 day
This is a perfect point-to-point trail with decent elevation gain at the end. You'll be rewarded with river views and flowy singletrack as you make your way through the San Bernardino Forest. It's another great ride for intermediate riders, but, really, it can be enjoyed by anyone in good fitness.
Things you need to know
When is the best time to go?
Spring through fall — that's the beauty of southern California. Of course, Snow Summit's closed during the winter, but there are plenty of other options in the area if you want to ride in winter.
What's a typical tour itinerary?
• Meet up with your group at the designated location
• Check your bike! Make sure everything's calibrated
• Anywhere from 10 – 40 miles of world-class mountain biking!
• On multi-day tours you can count meals, camping and a support truck being covered by your guiding service
• Depending on the group size there may be one or more guides
What about bad weather?
Inclement weather can very rarely get in the way of your mountain bike tour, so ask your guide or touring service for more information.
Group sizes and pricing?
Group sizes are for 1 – 4 people, with one guide. Pricing is for 1:1 guest/guide, and with more guests, the price drops considerably — it's the perfect chance to go riding with friends and family!
Getting there
Because of its relative proximity to Los Angeles, there are several airport options to consider, but the closest is San Bernardino International Airport (SBD), and Los Angeles (LAX) is just a two-hour drive away.
Guides we recommend
XEN MTB
Mountain Bike Guides
When you ride with XEN MTB, you're riding with a guides who have years of experienc...
Big Bear's trail network is perfect for a MTB getaway
Ride southern California classics like the South Shore to Santa Ana Loop, the Santa Ana River Trail, the Skyline Loop and Hanna Flats (you can always link to Gray's Peak for a stunning climb too) — all of which offer plenty of terrain options for any level of rider: berms, singletrack, rock gardens, alpine and trees. Between the legendary downhill bike park at Snow Summit and the generosity of the San Bernardino National Forest Office, it's easy to take a long weekend exploring the area's wealth of trails.
Who should go mountain biking Big Bear Lake?
Because of Snow Summit's lift access and tons of fire roads throughout the San Bernardino forest, there's really something for every level of rider.