Mountain Biking Day Tours of Magnificent 7
Moab | Utah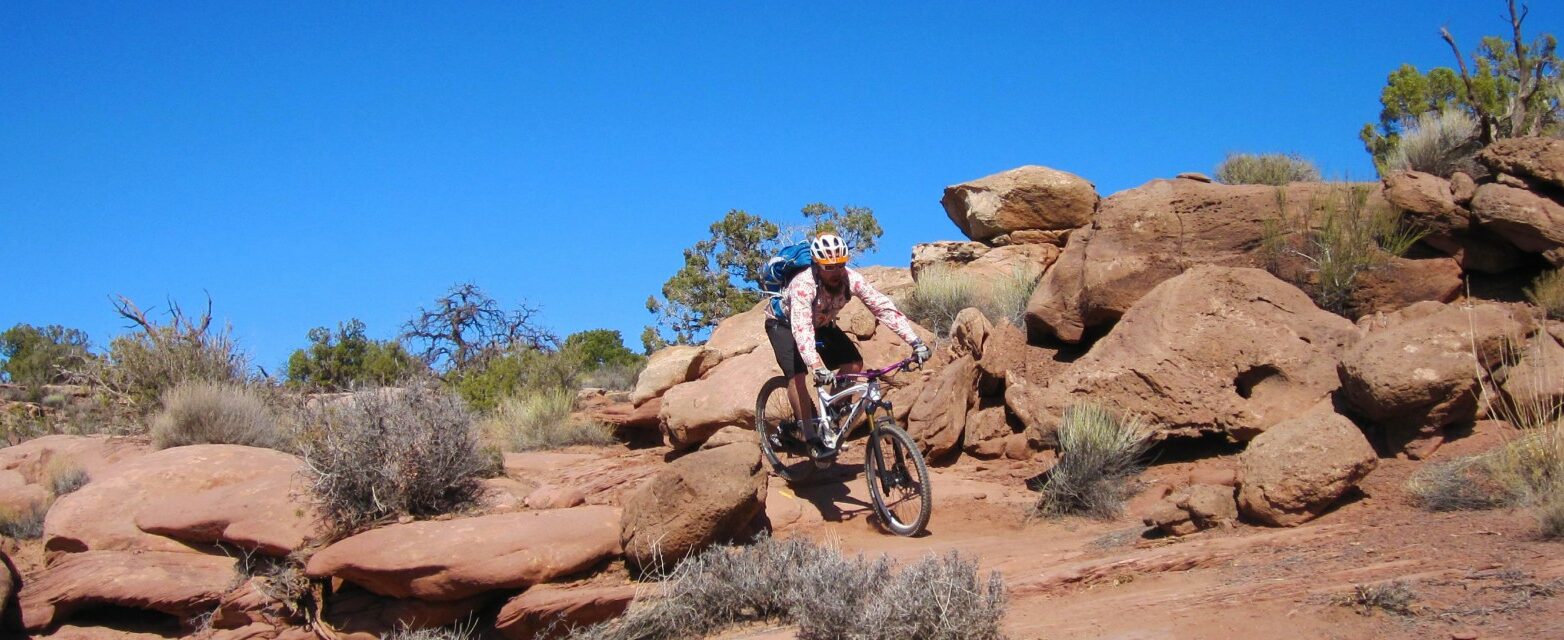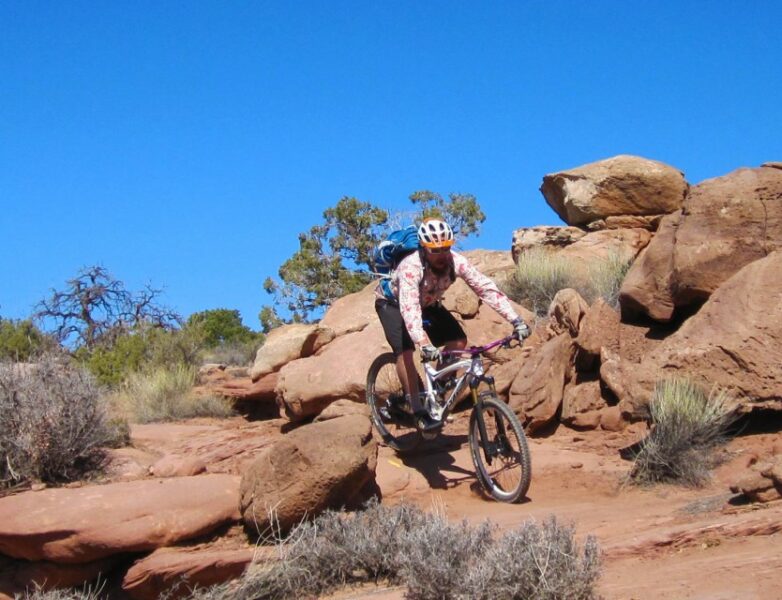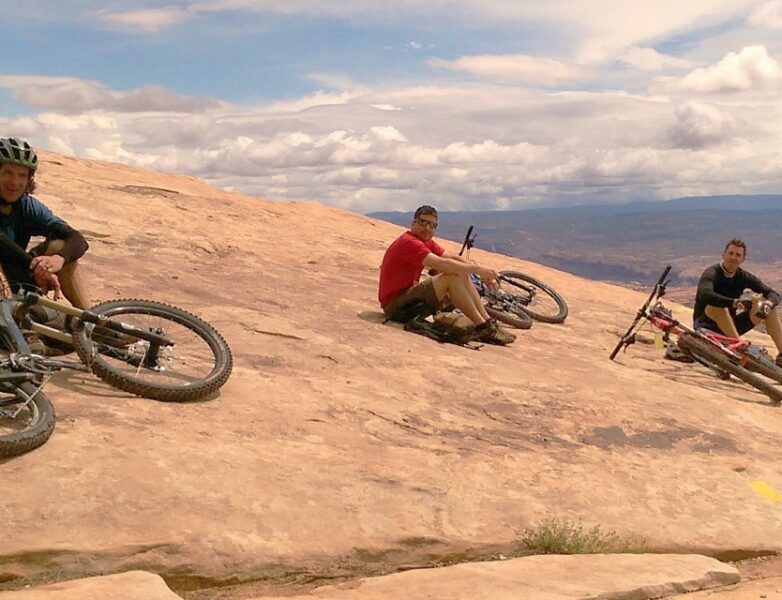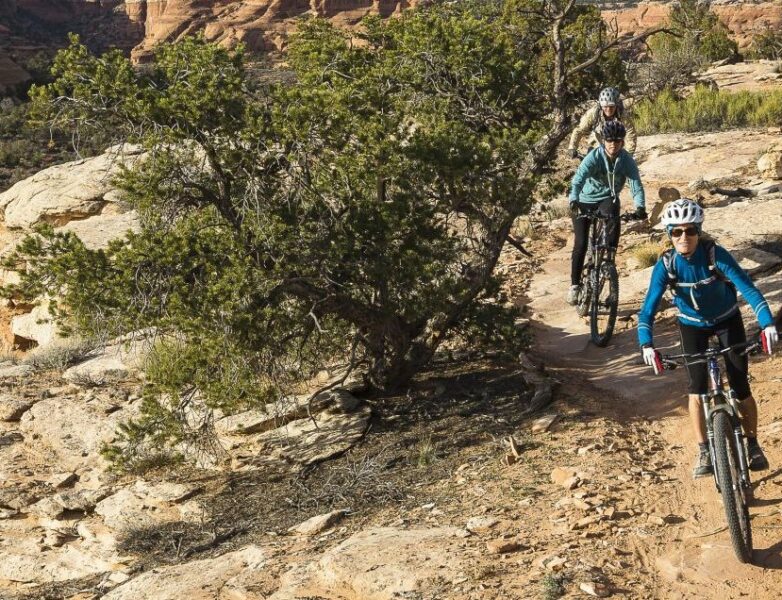 Top three reasons to mountain bike on Mag 7
Challenging but exhilarating cross-country style ride 

A network of premier trails linked into a spectacular traverse

Magnificent 7 delivers a variety of terrain including slickrock and sandy track
Moab incorporates everything a mountain biker could possibly want — dry mild temperatures in the spring and fall, beautiful canyons and mesa tops, and some of the best MTB trails in the US! The Magnificent 7 is an infamous Moab trail featuring incredibly steep climbs and descents, as well as amazing views. There are actually several different trail segments to connect and customise your ride — Bull Run, Arth's Corner, Little Canyon, Golden Spike, Poison Spider, Getaway, and Great Escape. Experts looking for a real challenge will probably want to embark on the Gold Bar Rim and Portal trails! Discover exposed riding, beautiful canyon-rim views, and fast ledgy sections that make this trail a bucket-list destination for MTB enthusiasts! Find out more about the best trails in Moab from Lily Krass, a backcountry skier, mountain biker, and hiker.
Nearest city

Moab, UT is a 4-hour drive from Salt Lake City
Choose how you spend your day
Group Half-Day Tour of The Magnificent 7
Explore one of the finest trails Utah has to offer, combining scenic views with fast, flowing, and technical riding. Spend 4 hours discovering the best segments of Mag 7 and feel the adrenaline as you bolt down the incredibly steep descents! Challenge yourself and upgrade your skills on some of the more advanced parts and use your day to the max with an expert local guide by your side!
PREREQUISITES: You should be comfortable riding up steps and off drops that are knee-high. This tour is for riders with very good fitness who mountain bike up to twice a week. This trail is not recommended to riders who do not mountain bike on a regular basis.
Group Full-Day Tour of The Magnificent 7
Join a group of MTB enthusiasts and have some serious fun on the Magnificent 7 trails! If you're looking for a good adrenaline boost and want to work on your downhill riding, this is the ultimate adventure for you. Put your skills to the test on various terrains and enjoy scenic views along the way. Mag 7 offers fast, flowing, and technical riding that will make even the most experienced riders want to come back asap. Let your guide plan out the perfect adventure for your group and create some epic memories!
PREREQUISITES: You should be comfortable riding up steps and off drops that are knee-high. This tour is for riders with very good fitness who mountain bike up to twice a week. This trail is not recommended to riders who do not mountain bike on a regular basis.
Private Full-Day Tour of The Magnificent 7
Experience Moab's slickrock with multiple sections of trails taking a break at Gemini Bridges and soaking in the Twin Arches. You'll take in views of the canyon rims on this Magnificent 7 trails singletrack. Choose between a flowy descent or technical rock descent — both with punchy climbs throughout. Riders with some experience on the bike will love this mountain biking loop. Challenge your skills and enjoy this famous trail that draws riders from around the world!
PREREQUISITES: You should be comfortable riding up steps and off drops that are knee-high. This tour is for riders with very good fitness who mountain bike up to twice a week. This trail is not recommended to riders who do not mountain bike on a regular basis.
Meet your guides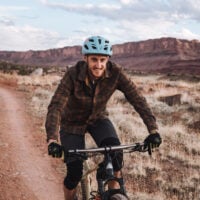 Kenny Gorham
MTB Guide
Kenny Gorham is a MTB enthusiast and the face behind Bighorn Mountain Biking. He st...
View details

Bighorn Mountain Biking
Bighorn Mountain Biking
Bighorn is Moab's one and only trailhead bike rental service that also offers guide...
View details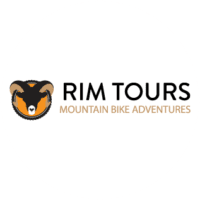 Rim Tours
Mountain Bike Guides
Rim Tours feels that one of the key factors for a successful bicycle vacation are t...
View details
Great Experience Mountain Biking
gd0214
about
Rim Tours
on TripAdvisor
This was our first time mountain biking and we did the Courthouse Loop. Brooks was our guide and he was fabulous. He introduced us to the bike and let us practice riding before we started out on our adventure. Being a newbie at mountain biking, it was definitely a bit strenuous at times, but we had such a fun time and shared lots of laughs and would do it again in a heartbeat. Brooks was so knowledgeable and helpful and made both of us feel extremely comfortable with the bike. We had a blast!
Family Moab Bike
Brian L
about
Rim Tours
on TripAdvisor
Great intro to mountain biking for never-Evers. Kids, 11 and 13, did fine. Scenery was beautiful. Ride was really fun. Jeff was excellent and quite funny.
Courthouse Loop Beginners
Serusthecat
about
Rim Tours
on TripAdvisor
Sam and Carl were great! Traveling alone and haven't Mountain biked in 3+ years, this was the tour for me. They both catered to each individual's level while keeping things moving. The scenery is incredible. A great introduction session. Varying uphills with fun downhills, all the while keeping an eye on where we all were. They both have excellent tips and were engaging. I highly recommend this tour.
Things to know
COVID-19 measures in Moab, Utah
57hours is committed to providing safe outdoor adventure experiences. We require all guides using our platform to have a COVID-19 safety plan and to make the details of that plan accessible to travelers. In most cases, group sizes will be reduced, guides will avoid overcrowded locations, and other safety measures will be met depending on the location and activity.
We also expect clients to respect local regulations and take measures to protect themselves, guides and the communities they're travelling to. For more information on COVID-19 measures in Moab, Utah, please refer to the Official COVID-19 updates by the U.S. Government for Utah.
Please contact us if you have any questions or require further information. We are happy to provide you with the most up-to-date information!
What's included?
This is what you get on this adventure:
An experienced MTB guide with extensive local knowledge of the area
A half-day or a full-day of riding a mountain bike
Full-suspension bike (subtract $25 if you have your own bike)
Lunch for full-day tours
Helmet
Snacks
What's not included:
Lunch for half-day tours
Transportation to and from Moab
Accommodations
How fit do I need to be?
You will need to be able to pedal between 12 and 20 miles, depending on the itinerary you choose. This tour are suitable for more seasoned mountain bikers with excellent fitness and very strong bike handling skills. Riding is primarily on rough doubletrack and singletrack with frequent obstacles that are typically larger than knee high. Sections of trail can be very challenging with frequent ascents and descents. After booking, your guide will determine the group's skill level and capabilities and cater the day to your specific abilities.
Keep in mind, opting for the full day option means more biking, which is strenuous even if you stay on the easier trails.
What if I've never mountain biked before?
This adventure is not appropriate for beginner mountain bikers. To book this adventure, all riders, regardless of age or height, should be advanced to expert riders. Singletrack trails add an element of technical difficulty because of the narrowness of the trails. If you are considering an intermediate or advanced singletrack tour, previous experience riding singletrack trails is essential.
If you are a beginner looking to upgrade their MTB abilities, we recommend you check out some of the beginner trails in Moab with a group or with a private guide! A guide will explain the different mountain bike techniques and body positions to get you feeling comfortable on the trail. You will progress at a level that is consistent with your comfort. Once you finally get the hang of trail riding, you will only want more!
What about required equipment?
You'll need:
Sneakers or sport shoes
Breathable outside layer or jacket
Bike tights
Biking shorts
A riding jersey or t-shirt
Windbreaker or light jacket
Two pairs of breathable socks.
Sneakers or sport shoes
Sunglasses
Water bottle or hydration bladder
Daypack with snacks
Biking gloves are optional but recommended
Bike repair kit
Toiletries (sunscreen, hand sanitizer, bug spray, toilet paper, etc.)
Wear comfortable riding or athletic clothing, preferably moisture wicking or synthetic material.
Dress comfortably and for the weather in clothes you can move in. We suggest bringing clothing appropriate for the season.
Group sizes and age requirements
Group sizes and prices:
For the group tours, the min client to guide ratio is 2:1 and the max client to guide ratio is 6:1. The tours are not private and cost is per person. The costs do not decrease as your group grows.
If you are a party of one but want to ride with a group, and if you are willing to pay the solo rate, we will guarantee that your tour runs — even if you end up being the only person on it. If someone else joins your tour, your rate will automatically drop!
For the private tour, the max client to guide ratio is 8:1. The tour is private and the cost is per person.
Mountain biking in Moab can be arranged for larger groups. Contact us to make arrangements.
Min. age requirements:
If you are older than 18, you're good to go.
Children as young as 10 are able to go on trips with a legal guardian. That said, if you have a young rider strong enough to handle sustained climbs (either riding or walking their bike) of hundreds of feet, and rough terrain, then they may be able to participate on a case-by-case basis.
If your group has climbers under the age of 18, contact us prior to booking to make arrangements.
Getting there and meeting location
To get to Moab, most people fly to Canyonlands Regional Airport (CNY) in Moab, UT. Other options include flying into Grand Junction, CO, about a two-hour drive away, and Salt Lake City, UT, which is four hours away. You can rent a car or use one of the local Moab shuttle companies to get to the trailhead.
When doing the Mag 7, most people opt for a car shuttle to the Poison Spider trailhead on S.R. 279 (an asphalt and dirt route also known as Potash Road). Independent commercial shuttle services are also available. The route usually begins at the trailhead on S.R. 313.
Once you and your guide agree on the details of your itinerary, your guide will suggest the best place to meet, whether that's at the guide shop or a predetermined location.