Long Island | New York
Beginner Kiteboarding Lessons in NYC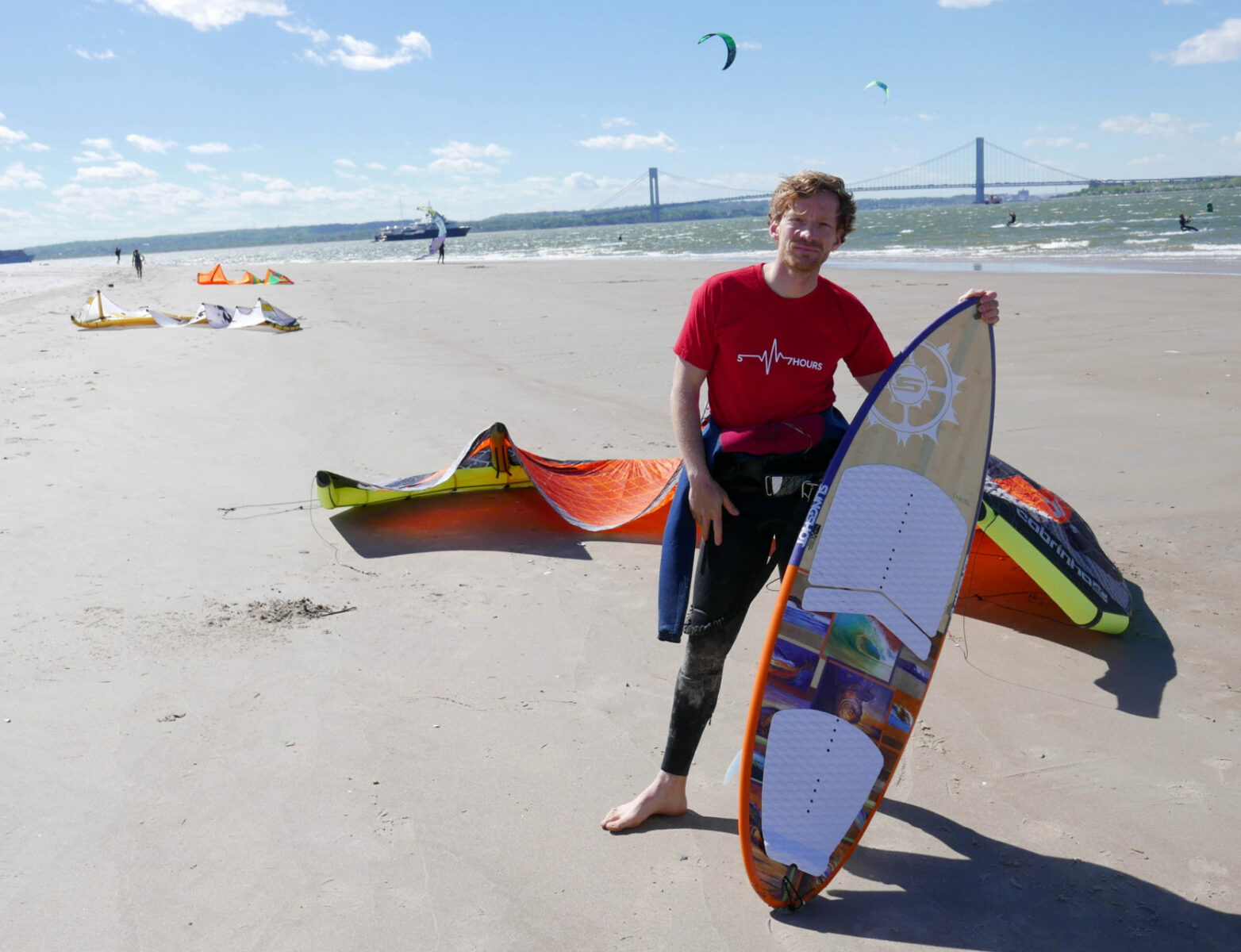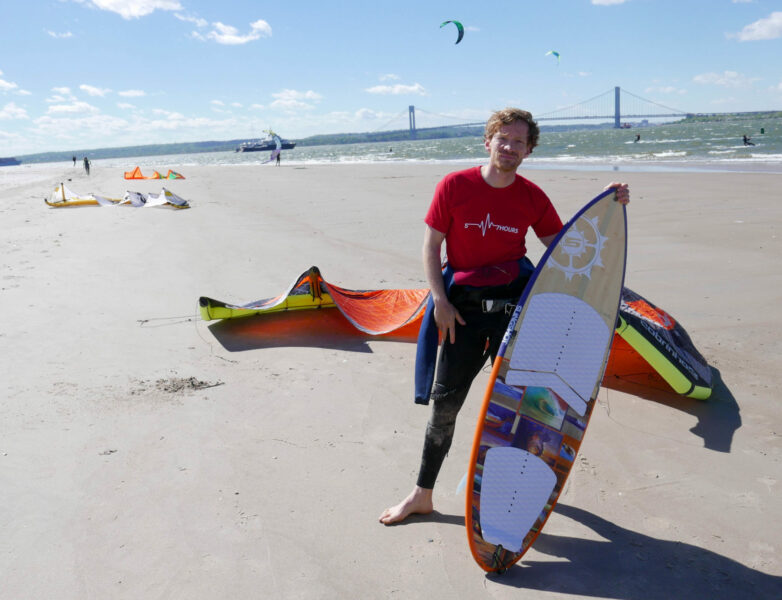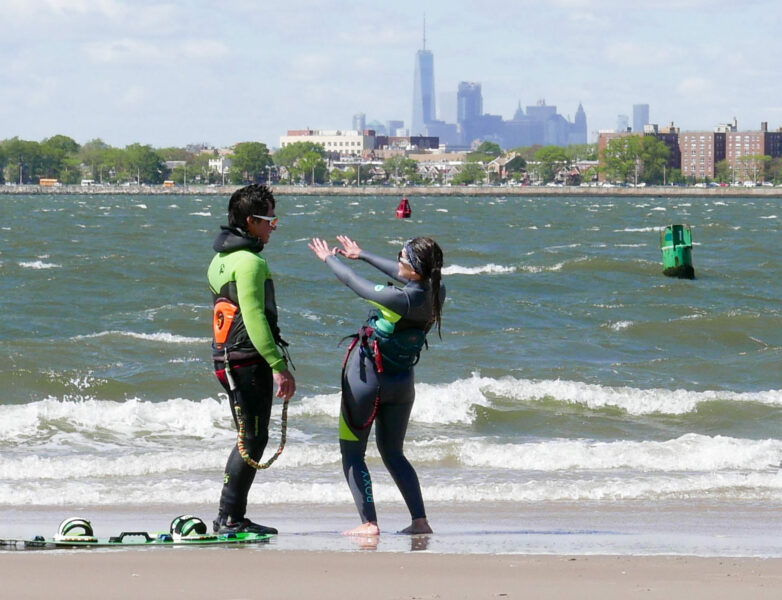 Season

Peak seasons are spring and fall

Nearest city

Less than an hour from Brooklyn or Manhattan by car
Grab a kiteboard and hit the beach for a fun day on the water
Known as the bustling urban metropolis that never sleeps, New York City is also home to some world-class kiteboarding spots. For urban adventurers, kitesurfing in NY takes the cake. Knee-deep bays miles long, combined with flat waters and thermal winds from the ocean make it the perfect spot for beginners to learn. Whether you've never touched a kite or you're looking to brush up on your skills for an upcoming vacation, a few days of instruction on the water in NY will have you shredding waves like you've been doing it for years.
Most Popular Itineraries
Beginner Three-Day Kiteboarding Clinic
$1330 per person
·
3 days
Become a kite surfer in three days! If you've ever watched kiters on the water and longingly wondered what it would feel like to glide through the air on a board, this is the crash course for you. Three courses distilled into one clinic, you'll pack in all the basics, covering all the beginner techniques it takes to have you riding off into the sunset all by yourself.
Beginner Five-Day Kiteboarding Clinic
$2000 per person
·
5 days
If you're new to kiteboarding but want to become an independent rider quickly, this five-day clinic will show you the ropes of kiteboarding, and then some. You'll not only master the basics, you'll learn to kiteboard upwind and develop the techniques needed to successfully kite on your own. When all is said and done, you'll officially be able to call yourself a kiteboarder… and you'll have the skills to back it up, ready to take on the big Carribean waves.
Guides we recommend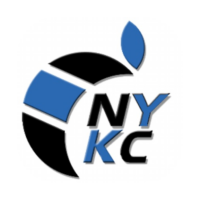 NY Kite Center
The NY Kite Center is an IKO (International Kiteboarding Organization) affiliated s...
View details
Things you need to know
Why should I book with 57hours?
With us, it's all play and no work for you! 57hours is an open platform that connects you with trained and certified outdoor adventure professionals all over the world. Using our tech-savvy, we make it super easy to find and book adventures worth tackling, with guides worth booking, all gathered from the first-hand experiences of the locals who adventure in these amazing locations.
Why should I take kiteboarding lessons?
Gliding through the air, while wind and waves rush past you sounds heavenly, but trust us, it feels even better! So don't blame 57hours when you get addicted.
Kitesurfing is fun and it's a great workout. Everyone can do it, no matter your previous skill level with any water sports — you pick your own pace and the conditions you feel comfortable in. And no, you can't fly away! The equipment is designed to move how you want it to move, but it will seem like you're flying, which is the best part. If you ask us, there's really no reason not to try it!
What's included?
What you get in this adventure:
For all kitesurfing clinics and courses, you'll be paired with an experienced local instructor with extensive kitesurfing knowledge, all the technical kiteboarding gear you need, and a helmet and life vest.
The three-day kitesurfing clinic includes 8 hours of lessons:
2-hour land lesson
6 hours of kiteboarding lessons on the water
The five-day package includes 13 hours of lessons:
2-hour land lesson
11 hours of kiteboarding lessons on the water
Wetsuit and booties are mandatory to wear during lessons as protection from the sun and green flies, but they are NOT included in the price. Both are available to rent for an additional fee.
What should I bring to the beach?
Swimsuit, towel, sunscreen, water, snacks and good vibes — we'll take care of the rest.
Wetsuit and booties can be rented for an additional $50. Let us know in the booking process if you need this gear as it is mandatory equipment for the lessons.
What if I've never kiteboarded before?
If you're new to kiting, lessons will benefit you immensely. Technically, all you need to know to kiteboard is how to swim and how to stand on the board, but it's much more doable if an instructor teaches you about the weather conditions, selecting a proper launch site and gear. An instructor will make sure you're safe while you get the hang of it, and will teach you the skills needed to progress quickly and get you out there on your own in no time.
How many lessons until I learn to kiteboard?
Kiteboarding requires a combination of patience and motivation. You actually need to learn two sports: board riding and kite flying, so give yourself plenty of time to do it properly. All students progress through lessons at their own pace, but a three-day beginner clinic should have you seeing massive improvement in your abilities. Some students require an additional lesson or two to work on their upwind skills, but the basics are usually mastered after three days on the water. If you're looking to become an independent rider, the five-day clinic is your best value. You'll learn more advanced techniques and be confident to hit the waves on your own by the time the clinic ends.
What's a typical lesson itinerary?
The three-day beginner kitesurfing clinic includes 8 hours of lessons:
2 hours on land, where you'll learn about wind, weather and flying power kites.
3 hours in the water, reviewing basic concepts taught on land. You will learn how to do controlled directional body drags, re-launching kites in the water, self rescue, and possibly get up on a board!
3 hours in the open water with the constant company of your instructor. This is your big chance to get up on the board and ride off into the sunset!
The five-day package includes an additional 5 hours of lessons:
2 hour board riding lesson without the wind. You'll be hooked to the boat just a few feets away from the instructor. This lesson helps speed up the learning process and can get you riding more quickly.
3 hours of instruction in the open water with, receiving riding technique tips to become more efficient and eventually learn how to stay upwind.
How fit do I have to be to kiteboard?
The only thing your instructor will expect from you is that you know how to swim, but of course, being in good shape helps. Strength isn't a necessary component to successful kiteboarding; it's all about the technique, which is why it's the perfect sport to lake lessons as a beginner.
Is there a minimum age requirement?
While there is not necessarily a minimum age to kiteboard, there are minimum requirements, such as height and weight. You can't be too heavy or too light to kiteboard, weight is merely a factor for selecting the right board and kite size. Prior to booking, let us know the youngest ages in your party and we will let you know if it's safe for them to get on the water.
What about group sizes and pricing?
The cost of the beginner kiteboarding clinics are priced per person.
If you choose the three-day clinic, you'll be learning in pairs with a 2:1 student to instructor ratio.
If you opt for the five-day clinic, you'll get two more core lessons, but you'll be learning in a group of four. Don't worry, you still get an individualized approach, you just have more people to share in the stoke with.
What if there is no wind?
Lessons are subject to wind conditions, and despite instructors' best forecasting efforts, sometimes fickle wind requires that lessons need to be called off. In this case, your remaining booked hours will be rescheduled for a more favorable day.
Cancelation policy
All policies regarding cancellation, rescheduling and trip insurance will be clearly laid out by your instructor prior to booking your adventure. Contact us if you'd like more information on a specific adventure.
Getting there and meeting location
The kiteboarding school is located at 334 South Bayview Avenue.
If traveling by car from NYC, it takes around 90 minutes to get there. Please park on the gravel along the baseball/soccer fields.
If getting there by train, take the Long Island Rail Road (LIRR) on the Babylon Line from Penn Station. Get off in Amityville and there you will find taxis that can bring you the short ride to our location.
Be sure to arrive about 15 minutes early so you can check-in, put on a wetsuit and start your lesson on time.