Kiteboarding in La Ventana, Mexico: A Destination for All Around Riders
La Ventana is a laidback beachside community where the water is warm, the wind is smooth, and the sunsets take your breath away. If you're planning a kiteboarding trip here, here's everything you need to know to make the most of your time.
Last winter, I was fortunate enough to spend two months in this kiter's paradise and I fell in love hard. The alluring triple-hit of great wind, warm water and a welcoming, laidback community makes it a truly special place. Between November and March, the wind blows in almost every afternoon. In fact, if you're perched high enough, you can see it rolling in along the ocean. It starts building in the morning, gaining momentum as it ripples across the bay, and arrives in town in the early afternoon. It's typically smooth and consistent without a lot of gusts. You can kite most days between noon and 5pm. Not only that, the food is cheap and delicious; the people are extra friendly, and the sunsets will take your breath away. La Ventana is rightfully listed as one of the best kiteboarding locations in the world.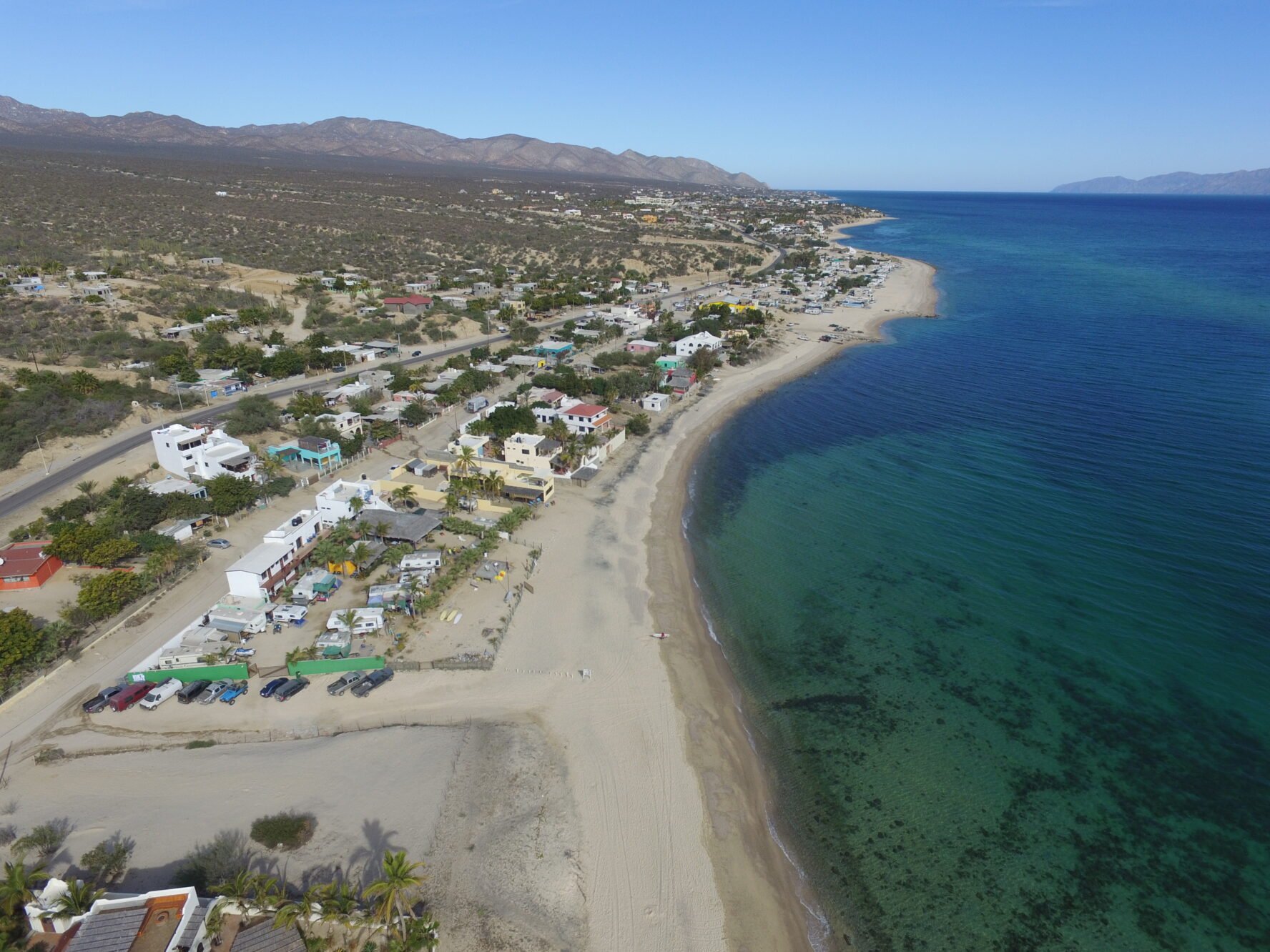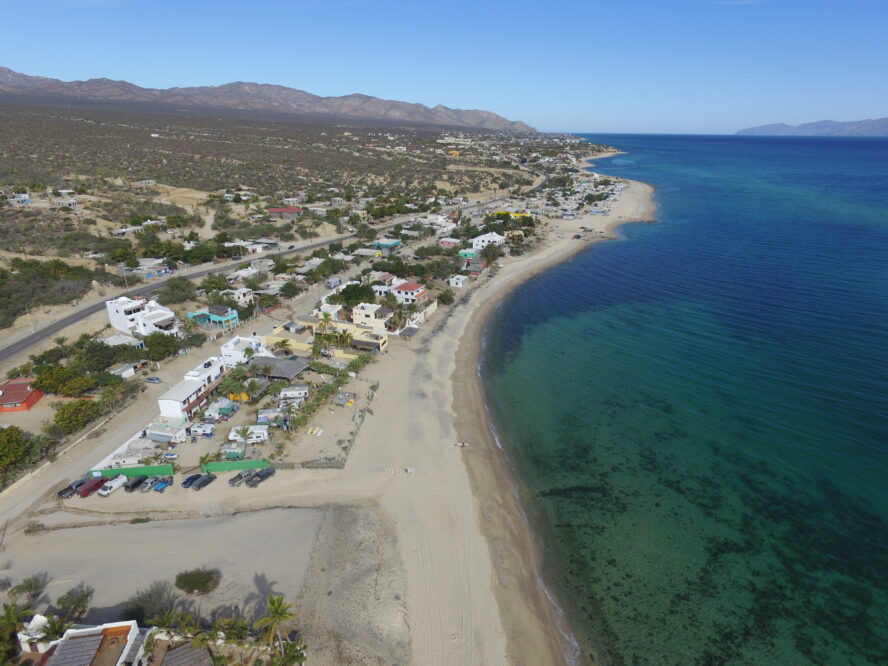 Pros and Cons of Kiteboarding in La Ventana
Plenty of no-wind day options
Hard to get to without a rental car
No taxis or local transport
Some of the beaches have private property in front
What is La Ventana like?
La Ventana is a breezy, blue-watered beach town set in a half-moon bay on Baja's Sea of Cortez. During the day, the coastline is dotted with colorful kites zipping back and forth along the water. By night, it's a mishmash of kitesurfers mingling over fish tacos and mango margaritas, swapping stories and building bonfires.
The nearby hills feature world-class mountain biking trails, as well as thermal hot springs to soak your achy bones. Just be prepared that for the latter, you'll have to gather the stones yourself. This DIY vibe penetrates everything in La Ventana. It's not a place with five-star resorts or sprawling mega-hotels. This is a community of down-to-earth, do-it-yourself types who've all come for the same thing: the phenomenal wind.
Come for the wind, stay for the kite scene
The beach itself runs for about six miles from El Sargento in the north to La Ventana in the south. It's a perfect setup for downwinders, and there are also plenty of stay-and-play kiting spots. When you first drive into town, you'll know you've arrived by the cluster of RVs and camper vans on the right side of the highway. This is the main campground and serves as a meeting place for the community.
There, you'll see kiters of all ages, and backgrounds — sunkissed teenagers, grey-haired hippies, European kite instructors, Mexican locals. People will be milling about in surf ponchos winding up their lines, playing with dogs, and drying out wetsuits in the sun. It's a great scene with a fun, supportive community that rivals the best kiteboard places in the US, its northward neighbor.
There's kiteboarding spots for all levels of riders
Upon arriving in town, I quickly discovered that La Ventana is a classic example of a "something for everyone" destination. If you're a beginner, you'll benefit from the many kite schools around and the forgiving "L" shape of the coastline. Locals call that part the "Catcher's Mitt" because it curves eastward out to sea and scoops up all the newbies. More advanced kiters will enjoy the smooth, three-hour downwinders and fun, playful swells — not to mention Choco Lake, a marshy kite park you can find with the help of a local.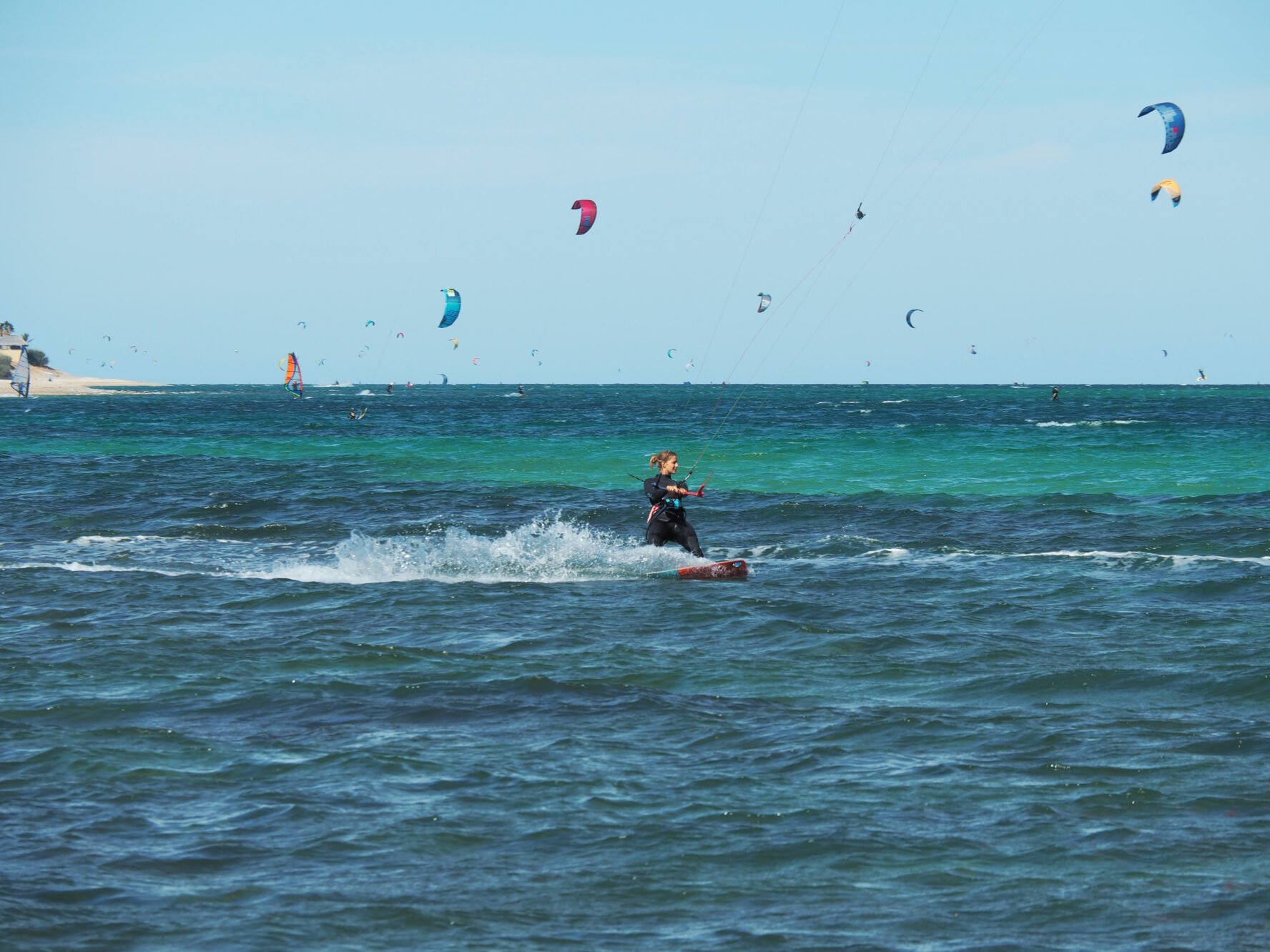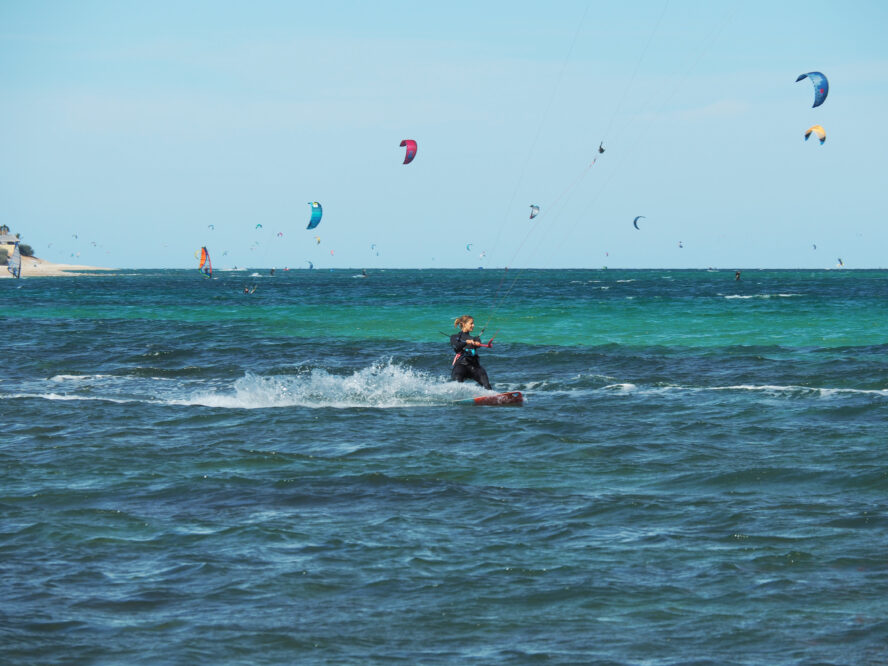 The kiting conditions in La Ventana
The thermals blow in around noon every day and usually last until sunset. Occasionally, a cold northern front arrives to crank things up a notch but, generally speaking, the wind is smooth and even, blowing side-onshore and allowing long, fun tacks out and back. Wind speeds average 15 to 25 mph, although a strong northerly will bump it upward of 35 mph. The air temperature is usually about 72 to 88 degrees Fahrenheit and the water temperature ranges from 70 to 75. Some days are overcast but La Ventana is usually shorties weather year-round — I only broke my full suit out once, in fact, during my two-month stay. The only drawback is that many of the beaches have private property in front of them, so you'll have to be more selective about your launching spots. (The beaches are legally public but getting down to them is tricky with homes or businesses in front).
Kiteboarding schools in La Ventana
Whether you're a beginner who's never touched a kite, or a more advanced rider interested in taking your skills to the next level, La Ventana is full of kite schools that can help you get your skills where you want them.
Playa Central Kiteboarding is one of the best and most centrally located schools, situated in the middle of town next to the main campground. Taking lessons there is great because, aside from the central location, it has a rooftop bar with some of the most stunning sunset views in town. After your lesson, you can change your clothes and head upstairs for breezy cocktails overlooking the ocean. Most nights their downstairs restaurant hosts events such as karaoke, salsa nights, or live bands. I never took lessons there, but I spent a lot of time out front and in the bar and can vouch that it's a great group of people who know a lot about kiteboarding.
If you'd prefer lessons that include lodging, just up the road you'll find Palapas Ventana and Pelican Reef Ventana (formerly Capt. Kirk's), both of which offer packages that combine instruction with overnight stays. The best part of these schools is that the beaches have fewer people so there aren't as many people on the water whizzing by you while you're trying to learn. Palapas Ventana has a pool-jacuzzi setup with free snorkeling gear, kayaks, and a daily downwinder. Pelican Reef offers snorkeling and kayaking as well, along with stand-up paddleboarding and complimentary yoga. Both schools have restaurants on site and day tours available.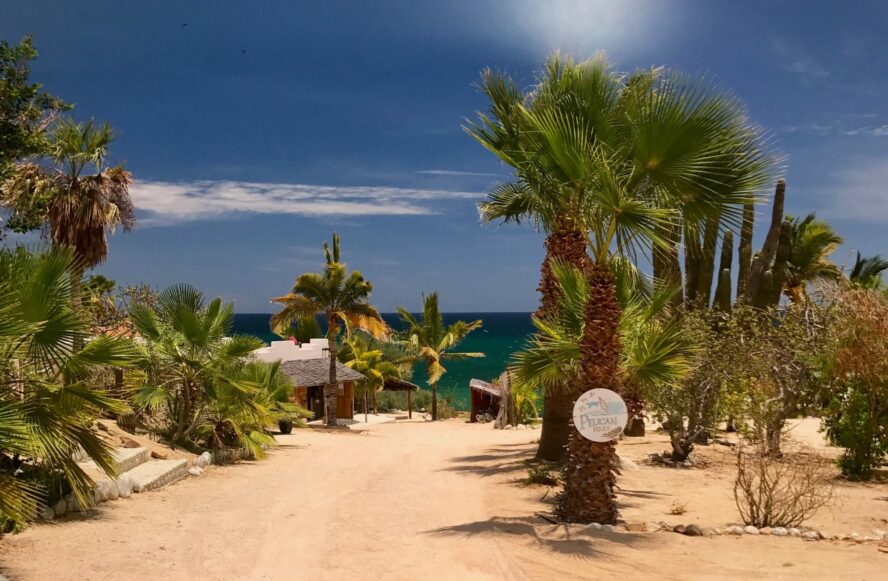 How to get to La Ventana
La Ventana is located in the southern part of the Baja Peninsula on the Gulf of California. It's about 2.5 hours north of Cabo San Lucas and 45 minutes south of La Paz. You can fly into either city — La Paz (LAP) is closer but flights are limited. Cabo (SJD) is farther but the flights are cheaper and more varied. Both locations are easy to fly into; however, getting to La Ventana from the airport is trickier than some kiting destinations. There are essentially two options: you can rent a car or take a shuttle taxi. Each comes with some challenges.
The most common option for La Ventana-bound travelers is renting a car. I would highly recommend reaching out to rental companies beforehand to make sure you know what you're getting for the price (you should also check with your auto or credit card insurer first to see if you're covered for rentals in Mexico). Also keep in mind that the holidays get extremely busy and cars often sell out, so if you plan to travel during peak times, make your reservations early. The other option is to take a taxi. Unlike most airports, neither SJD nor LAP have taxis waiting at the front door — and even if they do, most drivers won't go to La Ventana. Unless you know people in the area, you'll need to arrange a taxi shuttle ahead of time. This can be done through agencies like Road Runner Shuttle Service. (There are buses too but, for first-timers to the area, they're not the greatest option.) Once you're in La Ventana, there are no taxis or other public transport options.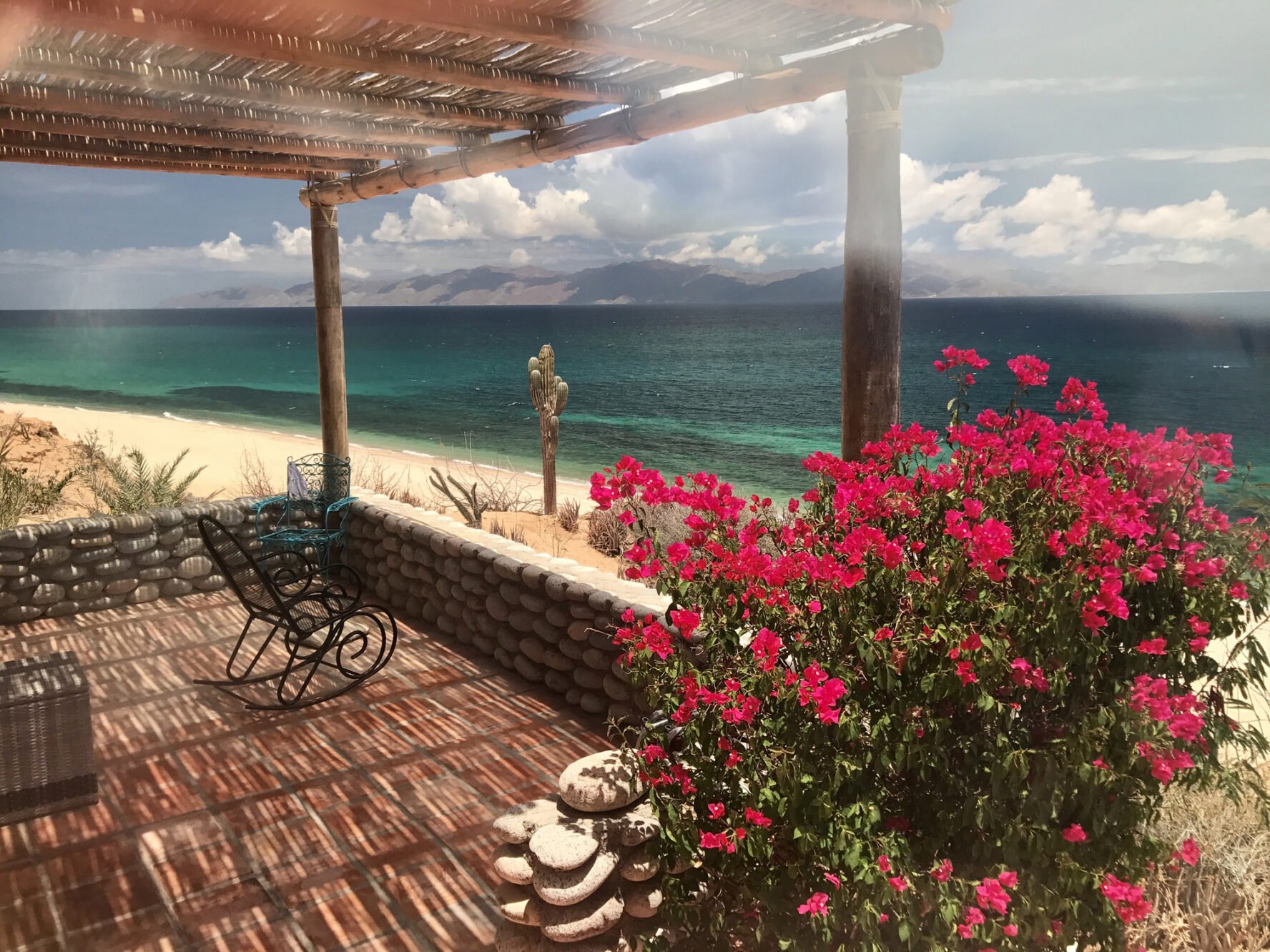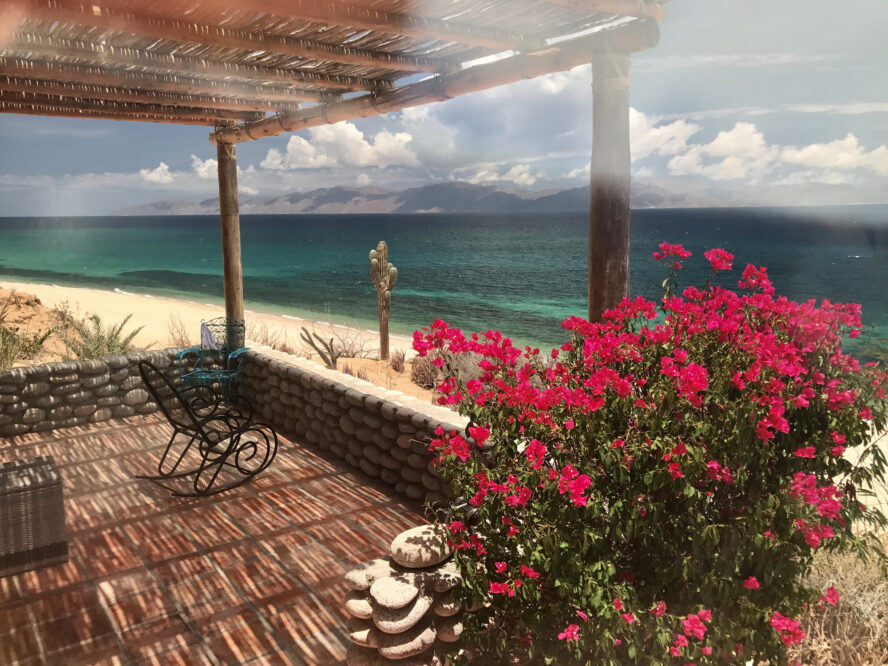 Where to stay in La Ventana
It takes about an hour to walk from the northern tip of El Sargento to the southernmost tip of La Ventana. You'll rarely do this walk, but it's still a good idea to plan your lodging accordingly. I personally didn't have a car during my stay, but I had a place on the beach to store my kite gear. This way I didn't have lug it with me, which made things much easier. Carrying kite gear gets heavy fast, so make sure that wherever you're staying is either centrally located, or has a beach to launch from. Also aim to make sure restaurants, grocery stores, and other attractions are within walking distance. Fortunately, many of the lodging options feature their own kite beaches, restaurants, and other amenities on site.
Although there aren't any big resorts, La Ventana still boasts a wide range of lodging options, depending on your preferences and budget. If you're indeed interested in a luxury vacation, you can stay at one of the beachfront villas at Casa Cortez. If, on the other hand, you want to crash on a sleeping pad under the stars, you can do it for eight bucks a day at La Ventana Campground. This is the central-most camping option with lots of long-term campers and RVs. Other places to camp include the Arroyo, Kurt 'N' Marina, and Yoyo's. There's also fancier "glamping" at places like ChiloChill, and shared housing at La Ventana Hostel, which rents both dorms beds and private rooms. The nice thing about camping or staying in dorms is that these options come with a built-in community. If you're traveling solo, it can be a great way to meet people.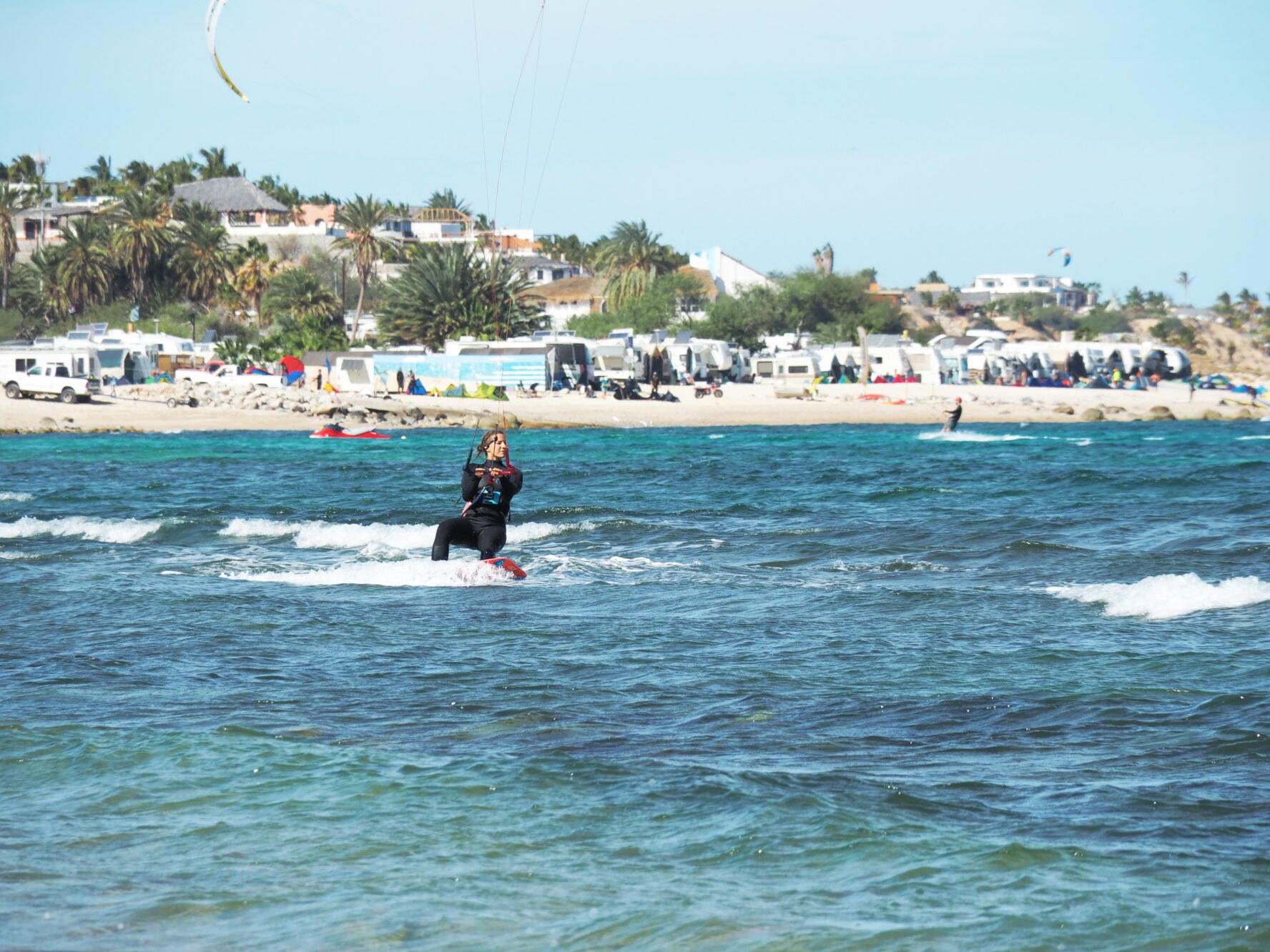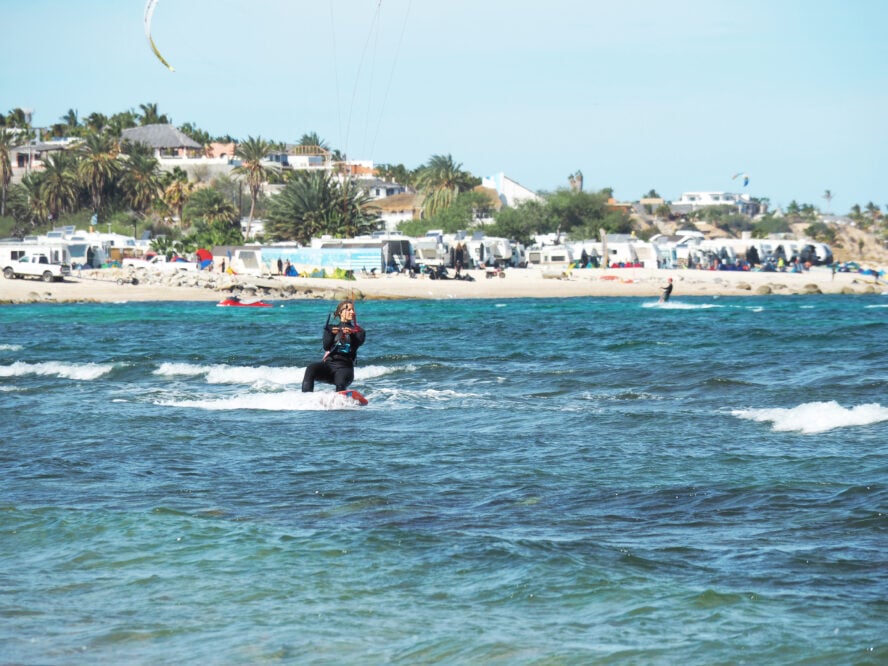 In the mid-range you'll find hotels, casitas, bungalows, and others options all throughout town. Look for Casa Verde, Villa Paraíso or the slightly more upscale Casa Tara Wellness Retreat. Several restaurants and music venues also have lodging attached like Baja Joe's and Dalaney's. There are also condo rentals like Club Cerralvo and dozens of private homes for rent via AirBnB such as Casa Mañana.
Eating & nightlife in La Ventana
Once you've come off the water for the day, you won't be hard-pressed to find a delicious meal at an affordable price in La Ventana — this is something the town does well. For an amazing cheeseburger, check out Marlín Azul or head to my personal favorite Mariscos El Cone for shrimp quesadillas. Adelita's has great chili rellenos and for a mango margarita, you can't beat Teddy's rooftop bar at sunset.
There are also tons of local carts and small food stands with things like tacos al pastor or cheap hot dogs. Just keep in mind that many of the smaller restaurants and food stands don't serve alcohol so if you want a Tecate with your meal, stop at the market on the way.They'll typically let you drink outside beverages—and some will even pop them open them for you.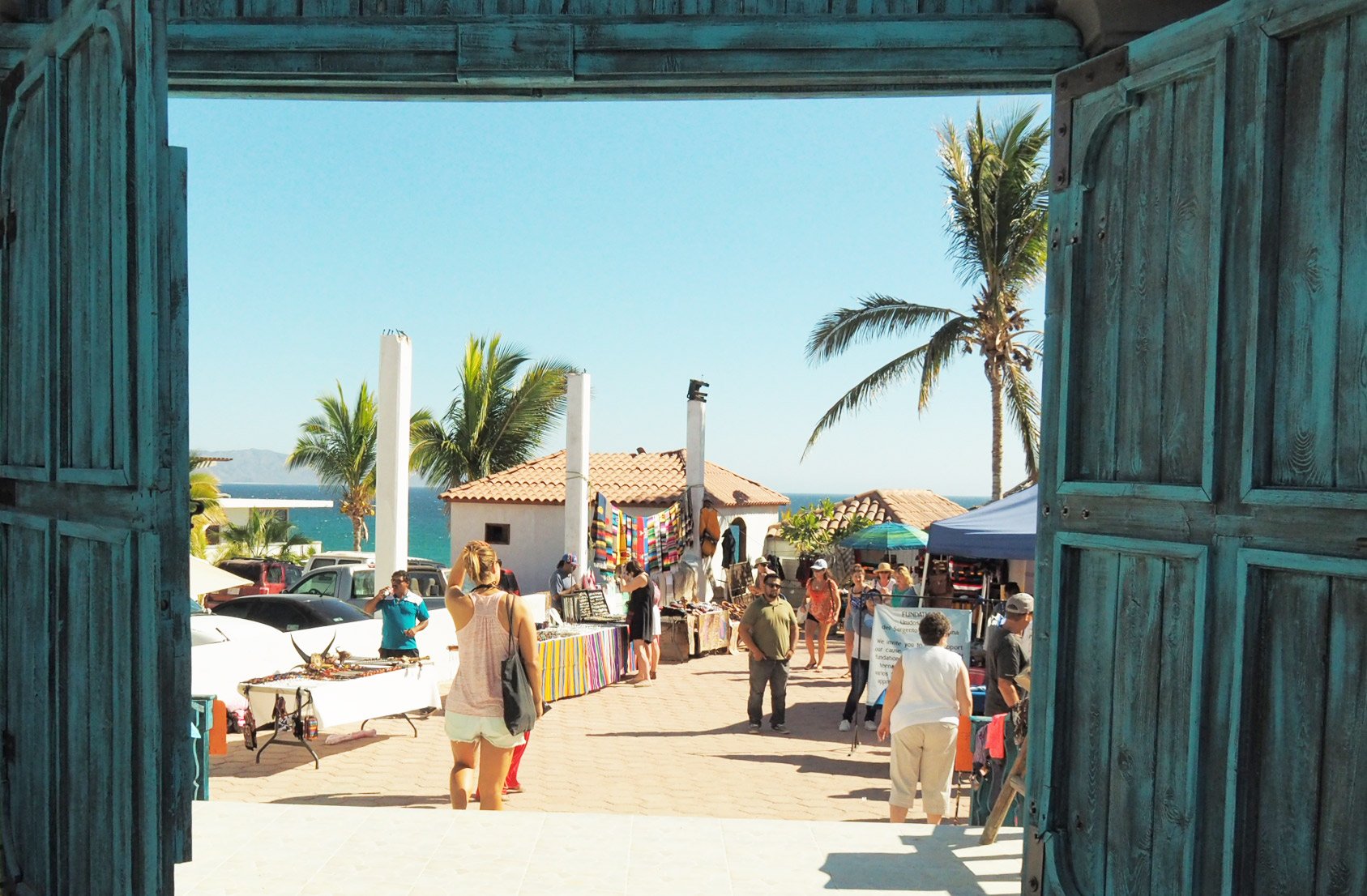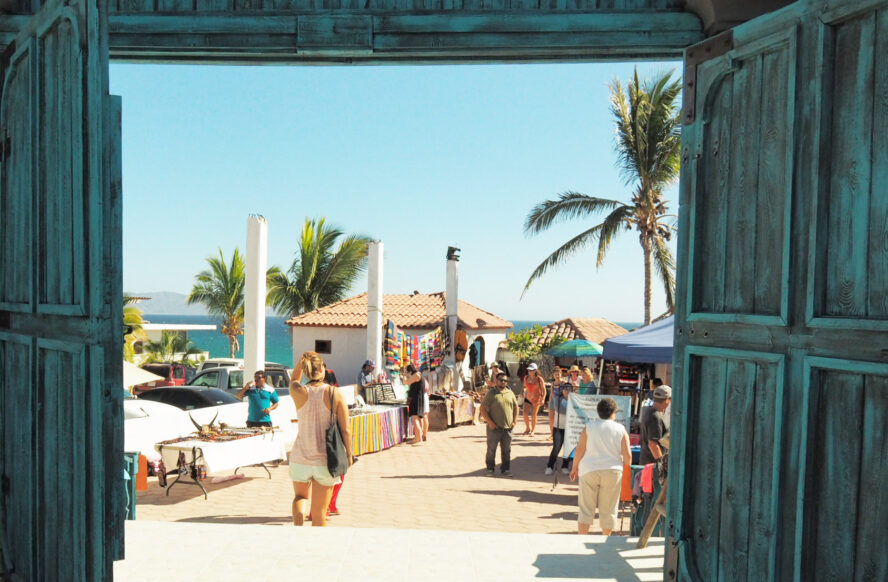 Once evening falls, you can find nightlife at places like Baja Joe's, which often has live performances or movie screenings, or Dalaney's with backyard bonfires and regular full moon parties. Although these venues occasionally turn rowdy (Dalaney's has been known to break out the Jell-O shots from time to time), by and large La Ventana is not a big party town. In fact, the locals have a joke that " Baja Midnight" rolls in at 9pm when everyone goes to bed. Rather than wild parties, folks here are usually more interested in eating a good meal, catching the sunset, and turning in early so they can do it all again tomorrow.
Nearby attractions in La Ventana
Although kiting eclipses most activities in the town, there's equally impressive mountain biking nearby, as well as great surfing, snorkeling, and paddleboarding. And don't forget the famous whale sharks. There's plenty to do on days the wind doesn't blow. Here are just a few examples of nearby attractions: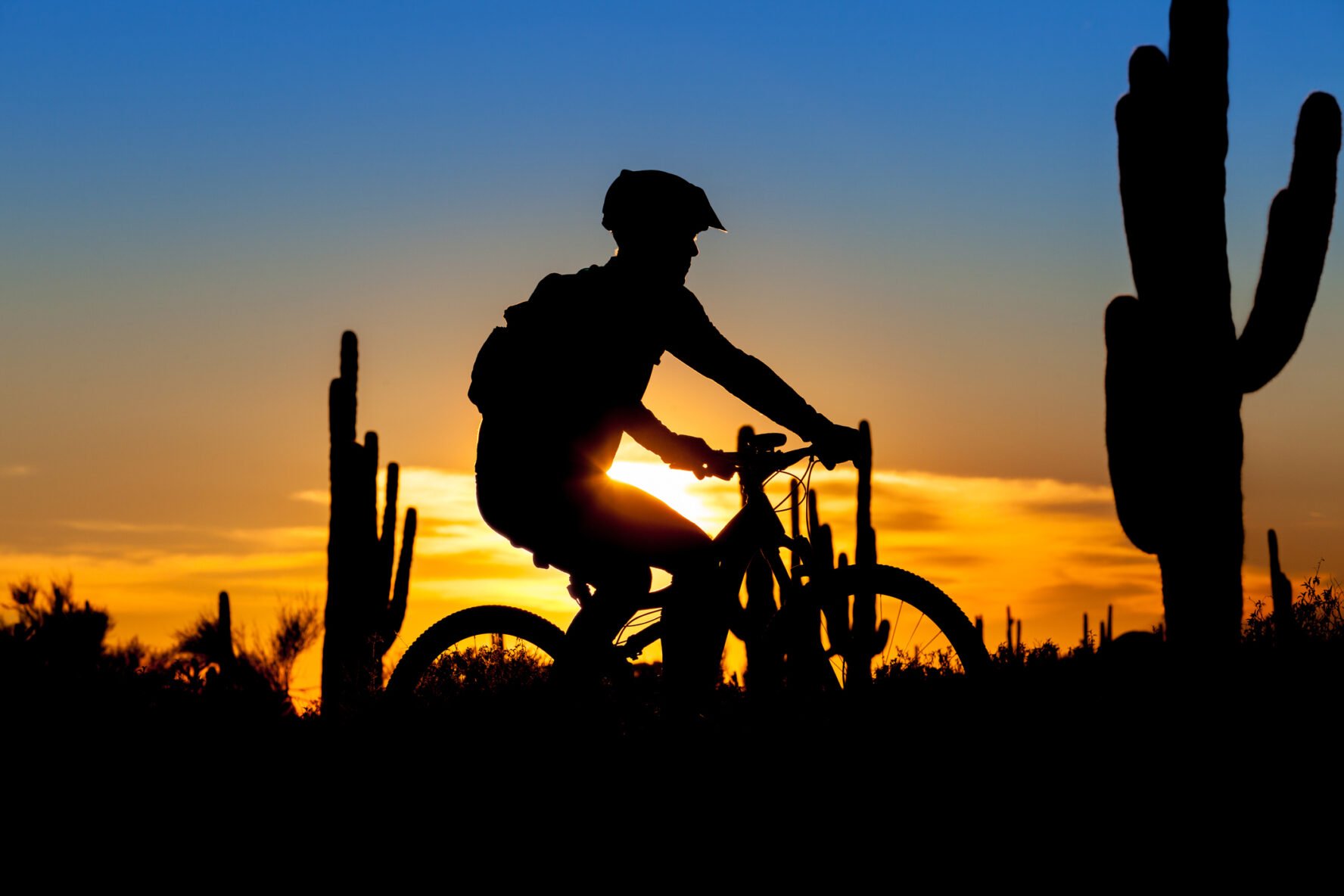 A note about money
Although the name sometimes leads people to mistakenly think that Baja is a part of California, La Ventana is in fact in Mexico, and the currency is in pesos. Some bigger establishments accept U.S. dollars but it's not widespread, so be sure you have plenty of local currency. The ATMs in town are notorious for running out of money, so either bring enough pesos with you to last the trip, or withdraw them at the airport before you head to town. Many places take debit and credit cards but you'll still need cash for smaller establishments and day-to-day items.