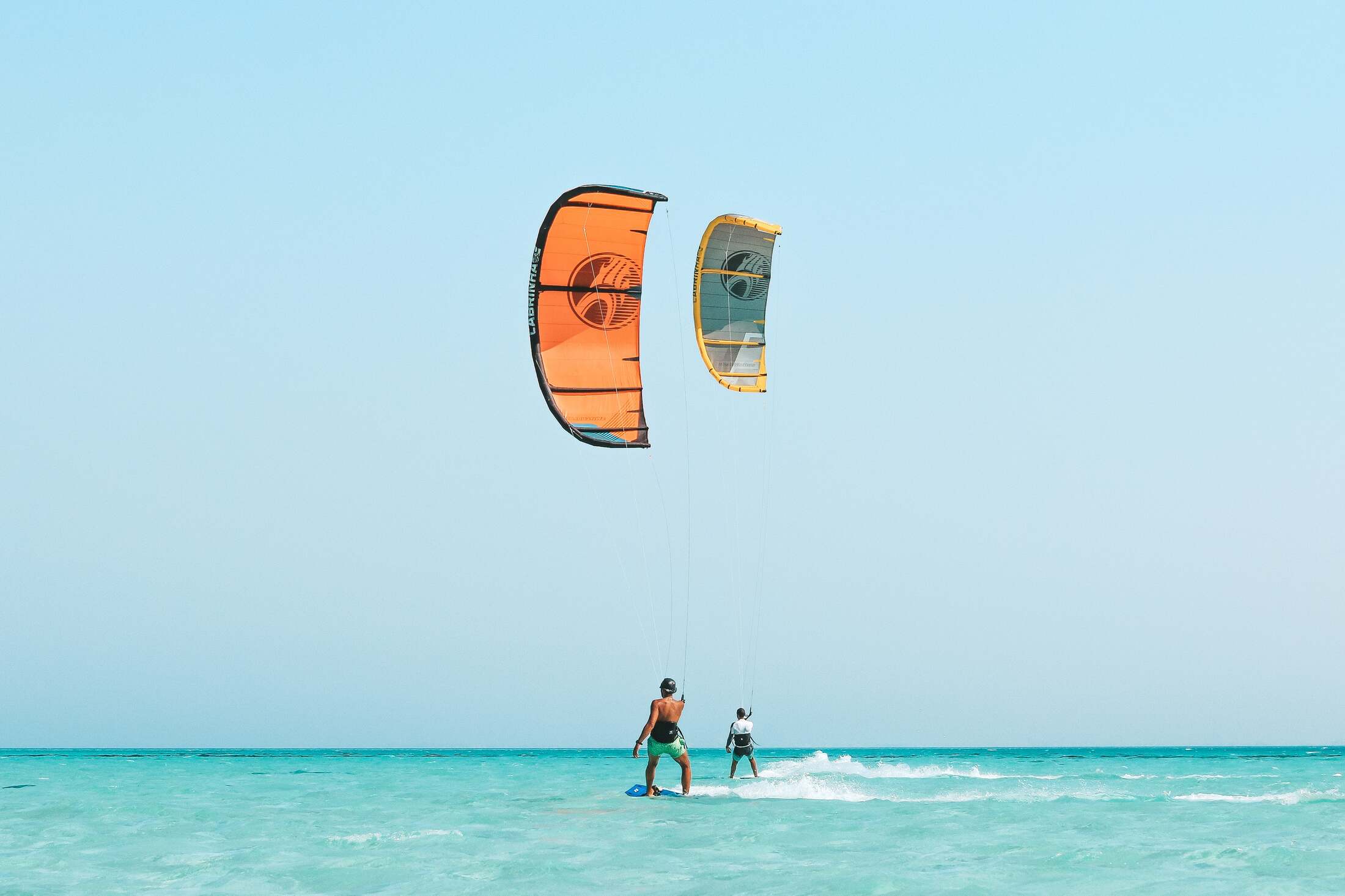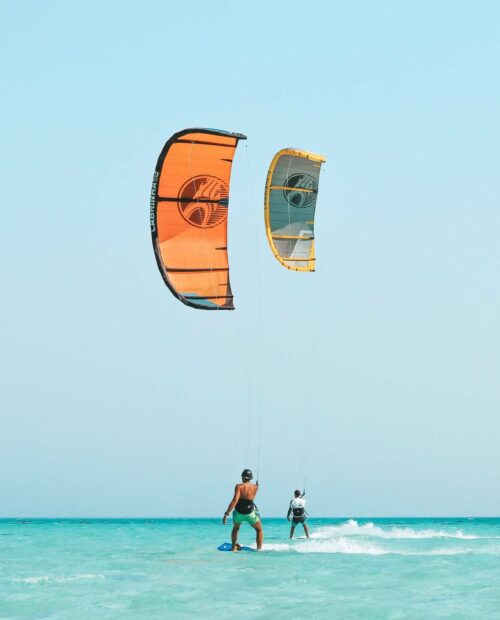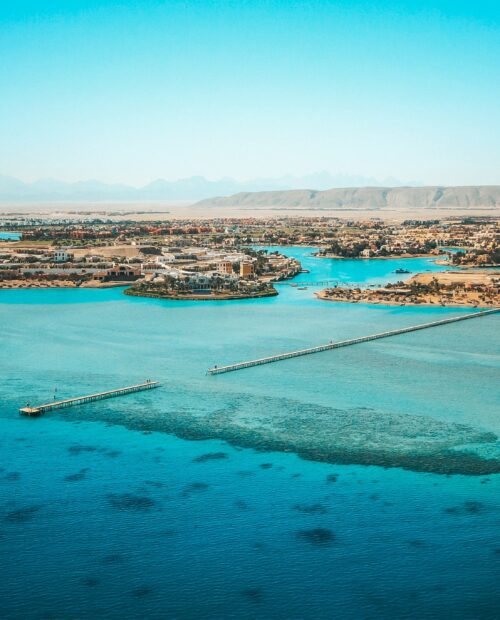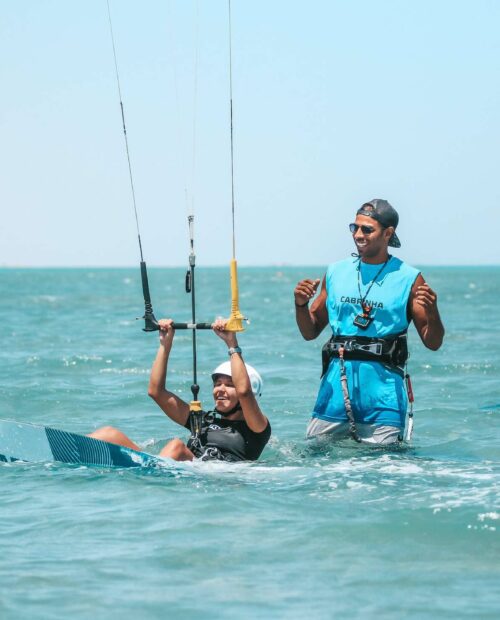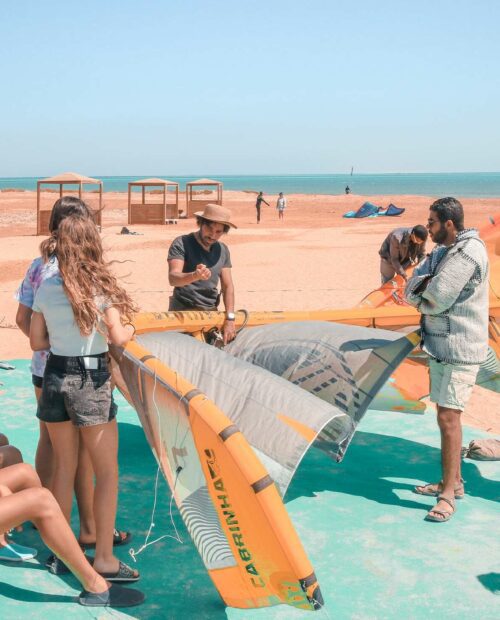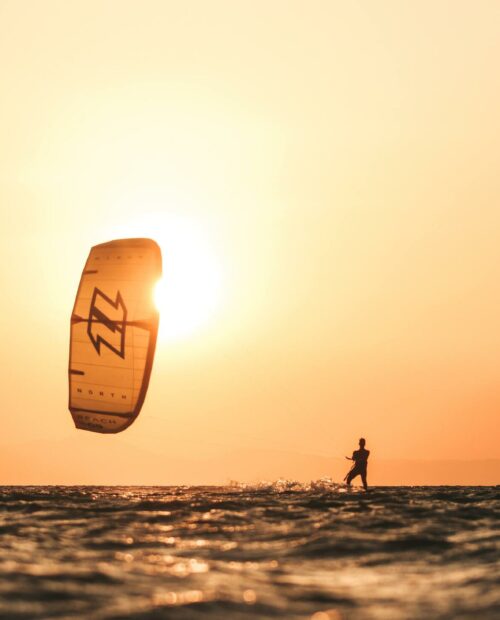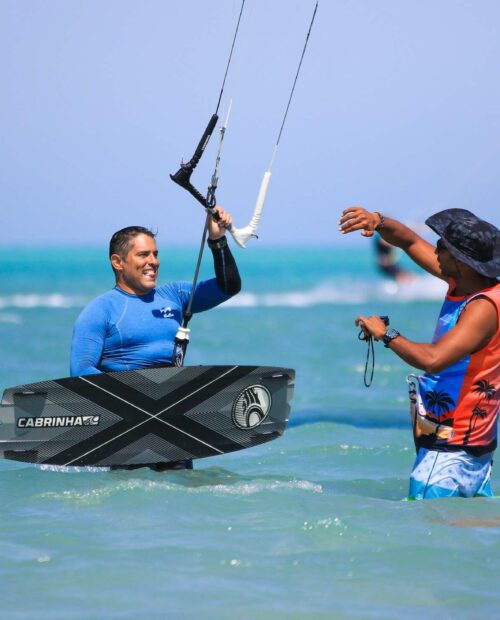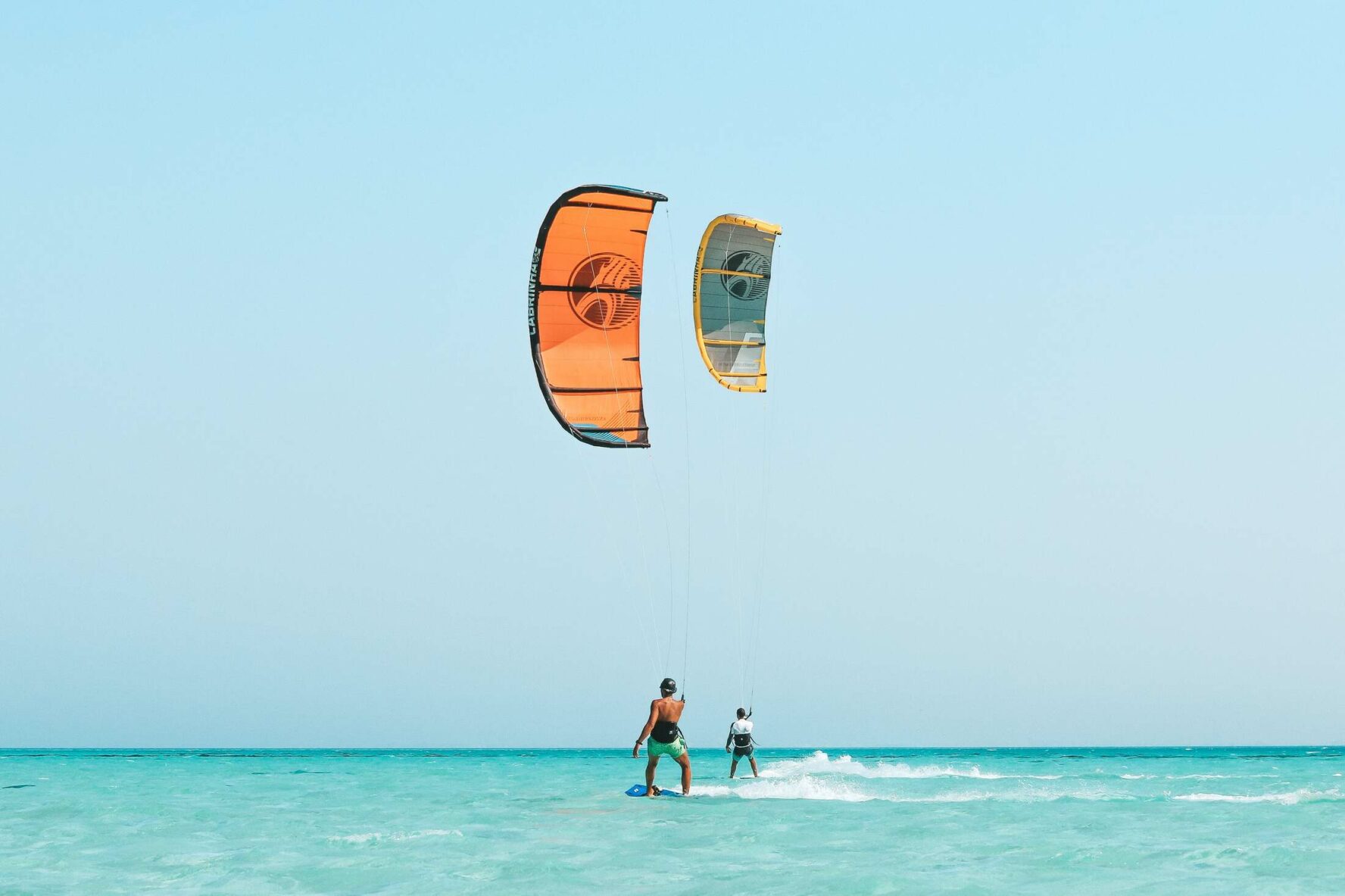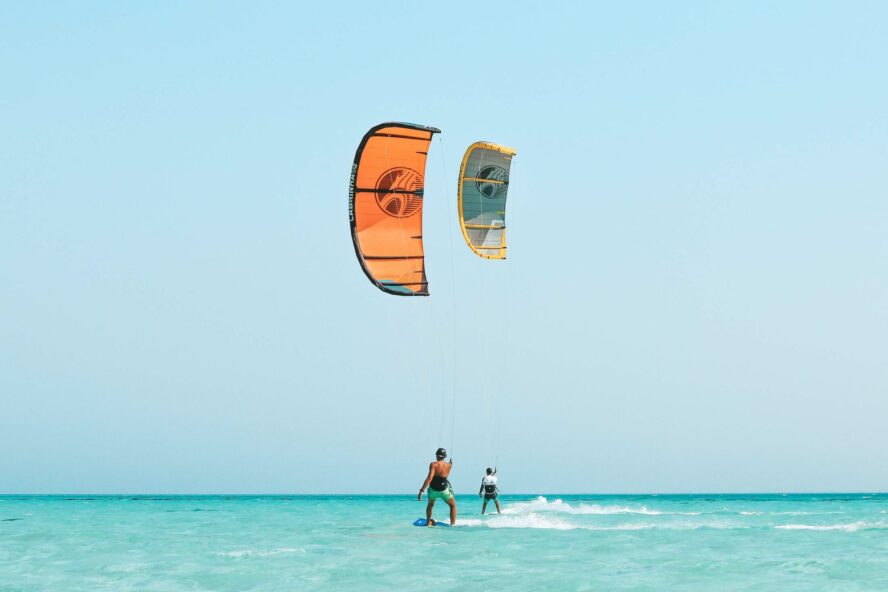 With miles on end of sandy beaches, salt-scented winds, and perfect weather conditions, El Gouna has built up an enviable reputation as one of the go-to destinations for kitesurfing in Egypt. This breathtaking tourist resort boasts spectacular coastline, shallow lagoons, crystal blue seas, and winds that offer plenty of opportunities to discover the thrill of kitesurfing or expand your existing skill set. Due to these favorable conditions, riders of all levels can chase winds in a safe and comfortable manner while making memories that will last a lifetime. El Gouna's hot desert climate combined with the turquoise sea means you can witness some of the most phenomenal tropical vistas in the world and hit the beach whenever you feel like it. Join an expert guide and shred the waves of El Gouna's stunning sea bathed in warm sunshine!
Explore an established watersports and holiday destination

Soak up the views of stunning beaches surrounded by the azure sea

Frequent onshore winds and ideal weather offer endless kitesurfing opportunities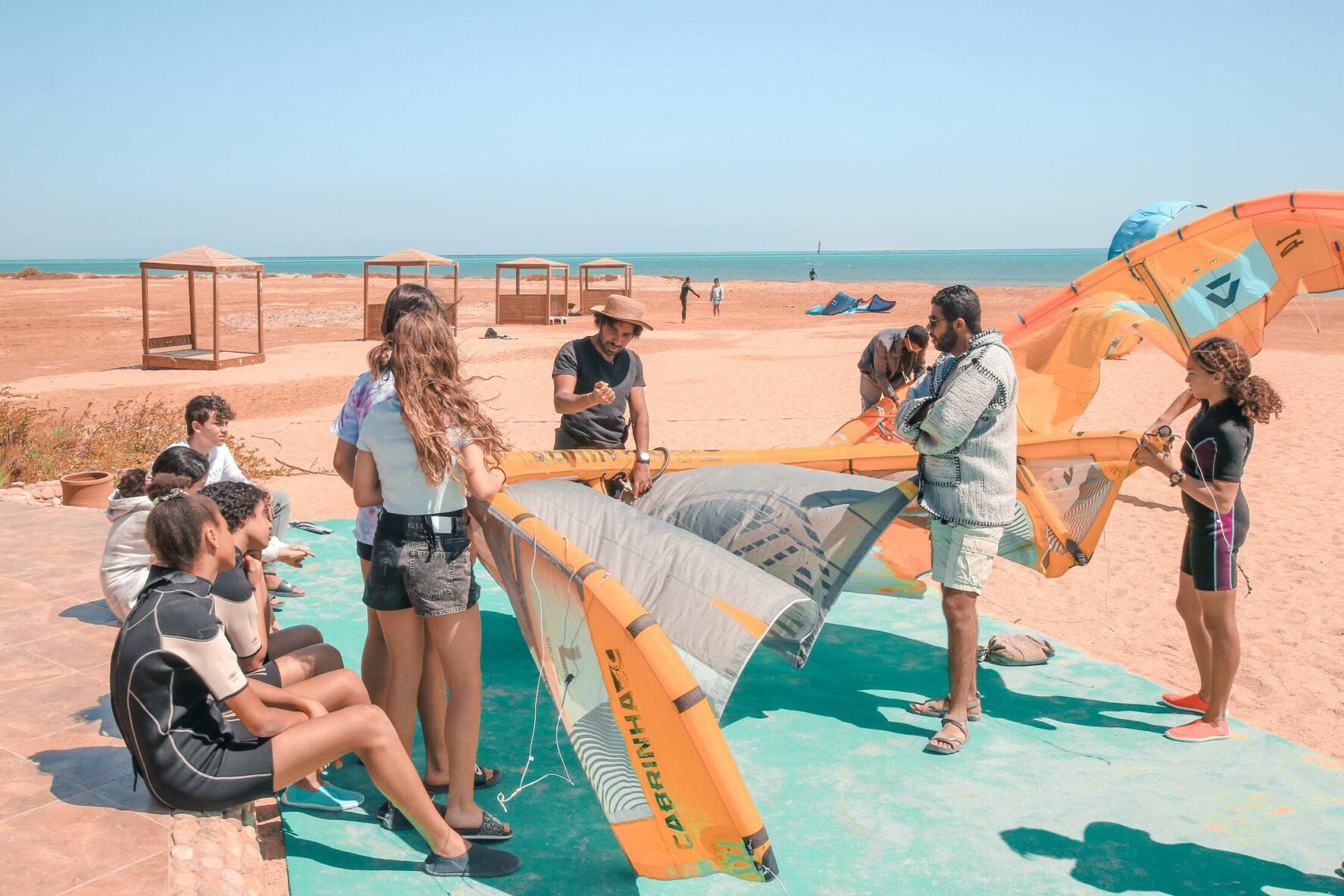 Choose itinerary
Intro Course to Kitesurfing
Feb 05 onwards
Week-Long Kitesurfing Camp
Feb 05 onwards
Week-Long Kitesurfing Camp with Accommodation
Feb 05 onwards
Meet your guide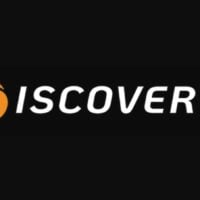 Discovery Kite team has a dedicated team of professional IKO instructors with many years of kitesurfing teaching experience. They put the highest efforts to turn your holidays into the most beautiful experience and make sure you make some unforgettable memories. The instructors will ensure an optimal learning environment and teach you how to become a safer and more confident kitesurfer.
Went 3 times and many more to come to Gouna where we met and spent our holidays/home office with our now friends Alice and Momo from Discovery Kite! I recommend eyes closed their kite school and the kite safaris they propose! Having done both with them I had a blast every time! Thank you habibis for all ! See you soon again!
Best kite school of Egypt
Great on site support and perfect coaching by the best kite instructors in El Gouna.
The kite instructors are super professional and the equipment from the different manufacturers (North, Cabrinha, Peter Lynn, etc.) is state of the art.
The shallow water area is also suitable for beginners.
The best kitesurfing experience
We had an amazing time and enjoyed our stay to the fullest! Our children (14-16-19 years old) had beginner courses and some private lessons with Momo. They finally started to ride up-wind and had so much fun! We really loved the spot and the area for kitesurfing, there was no reef or stone 🙂 We truly recommend!
Very good Trainers, top equipment, nice atmosphere, best places to kite.
It was a great event with Discovery Kite. Momo was a great instructor! Very friendly, smiling every time, and always knows what you want to do.
Thanks for everything!!
Best kitesurfing school, super friendly, helpful and professional!
Discovery Kite has been amazing to us, we came the first time in March and learned kitesurfing with Momo, Alice and their team. They are the best, so helpful and responsive! + I learned how to kite.
Things to know
57hours is committed to providing safe outdoor adventure experiences. We require all guides using our platform to have a COVID-19 safety plan and to make the details of that plan accessible to travelers. In most cases, group sizes will be reduced, guides will avoid overcrowded locations, and other safety measures will be met depending on the location and activity.

We also expect clients to respect local regulations and take measures to protect themselves, guides and the communities they're traveling to. For more information on COVID-19 measures in El Gouna, Egypt, please refer to Egypt's Travel Restrictions Due to the COVID-19 Pandemic website.

Please contact us if you have any questions or require further information. We are happy to provide you with the most up-to-date information!

For all kitesurfing clinics and courses, you'll be paired with an experienced local instructor with extensive kitesurfing knowledge

What's included in the Intro Course to Kitesurfing in El Gouna:

Learning with a professional IKO instructor
12 hours of kitesurfing lessons
Use of the newest Cabrinha & North Kiteboarding equipment
Lessons with a complimentary radio system
IKO license with a level mastered during the lessons

What's not included:

Accommodations
Meals and snacks
Transportation
Entry VISA at the airport ($30)
Extra lessons or equipment rental after finishing kitesurfing course

What's included in the Week-Long Kitesurfing Camps in El Gouna:

6 days of learning with professional IKO instructors
IKO license with a level mastered during the lessons
Transfer from/to Hurghada Airport (HRG)
Workshops about kite material and self-rescue
Use of the newest Cabrinha & North Kiteboarding equipment
Photo session on the water
7 days of accommodation at the 4* hotel with breakfast in El Gouna for the Week-Long Kitesurfing Camp in El Gouna with Accommodation

What's not included:

Accommodations for the Week-Long Kitesurfing Camp in El Gouna
Meals for the Week-Long Kitesurfing Camp in El Gouna and meals except for breakfast for the for the Week-Long Kitesurfing Camp in El Gouna with Accommodation
Transportation before and after the trip
Entry VISA at the airport ($30)
Extra lessons or equipment rental after finishing kite camp

The only thing your instructor will expect from you is that you know how to swim, but of course, being in good shape helps. Strength isn't a necessary component to successful kiteboarding; it's all about the technique, which is why it's the perfect sport to take lessons as a beginner.

If you're new to kiting, lessons will benefit you immensely. Technically, all you need to know to kiteboard is how to swim and how to stand on the board, but it's much more doable if an instructor teaches you about the weather conditions, selecting a proper launch site and gear. An instructor will make sure you're safe while you get the hang of it, and will teach you the skills needed to progress quickly and get you out there on your own in no time.

Here's what you'll need:

Day pack large enough to carry all the items listed (around a 40L bag)
Water bottle
Food you can eat on-the-go
Toiletries (sunscreen, bug spray, toilet paper, etc.)
Sunglasses
Swimsuits
Towels
Sweater
Camera — optional

Wetsuit and booties can be rented for an additional fee. Let us know if you need this gear as it is mandatory equipment for the lessons and we will make arrangements.

Kiteboarding requires a combination of patience and motivation. You actually need to learn two sports: board riding and kite flying, so give yourself plenty of time to do it properly. All students progress through lessons at their own pace, but a three-day beginner clinic should have you seeing massive improvement in your abilities.
Some students require an additional lesson or two to work on their upwind skills, but the basics are usually mastered after three days on the water. If you're looking to become an independent rider, the five-day clinic is your best value. You'll learn more advanced techniques and be confident to hit the waves on your own by the time the clinic ends.

Group sizes and prices:

The usual guest-to-guide ratio for these adventures is 2:1.
The max. group size for the 7-day adventures is 5 people.
Cost is per person and it doesn't decrease as the group grows.
If joining alone, you'll be placed with peers that share a similar level of experience.

Kitesurfing in El Gouna, Egypt, can be arranged for bigger groups. Contact us prior to booking.

Min. age requirements:

If you are older than 18, you're good to go.
While there is not necessarily a minimum age to kiteboard, there are minimum requirements, such as height and weight. Prior to booking, let us know if you'll be traveling with minors and we will let you know if it's safe for them to get on the water.

If your group has minors under the age of 18, contact us prior to booking to make arrangements.

To get to El Gouna, most people fly into Cairo International Airport. From there you can take a 1-hour flight to Hurghada International Airport (HRG) about 40 minutes away from El Gouna. For the 7-day adventures, your guiding service will transfer you from the airport to El Gouna. At the end of your adventure, your guiding service will transfer you back to the airport.

Another option is to drive from Cairo to El Gouna (approximately a 5-hour drive).