Sailing and Kitesurfing Camp in the Cyclades, Greece
Cyclades | Greece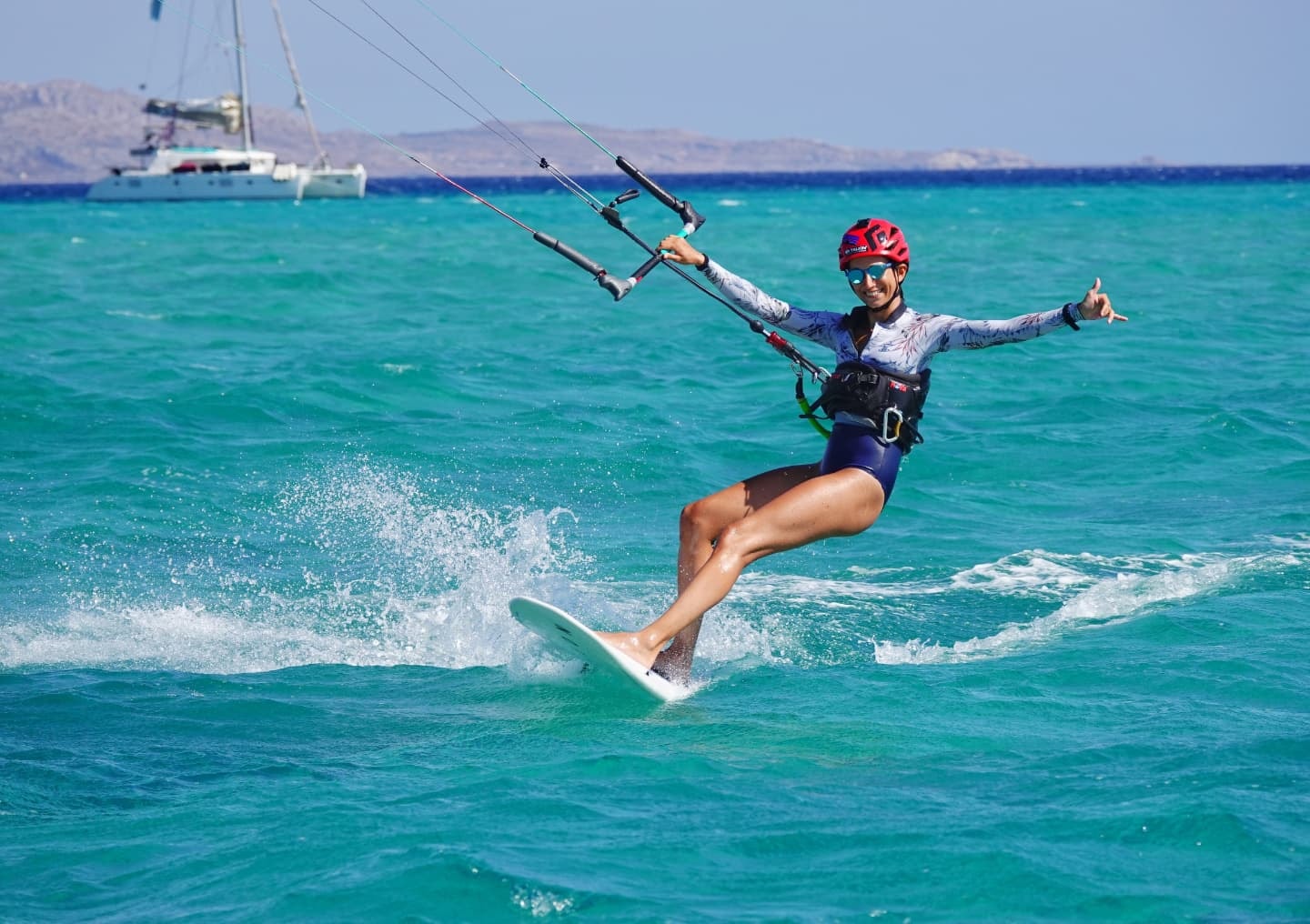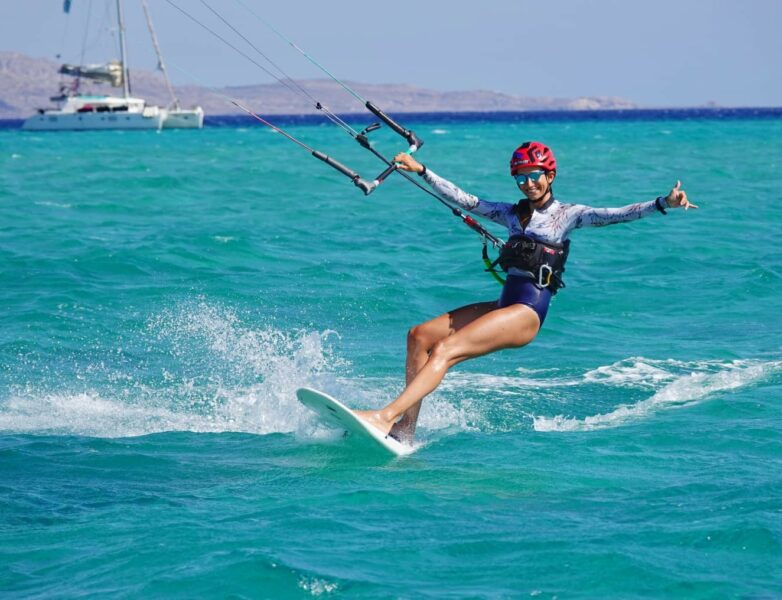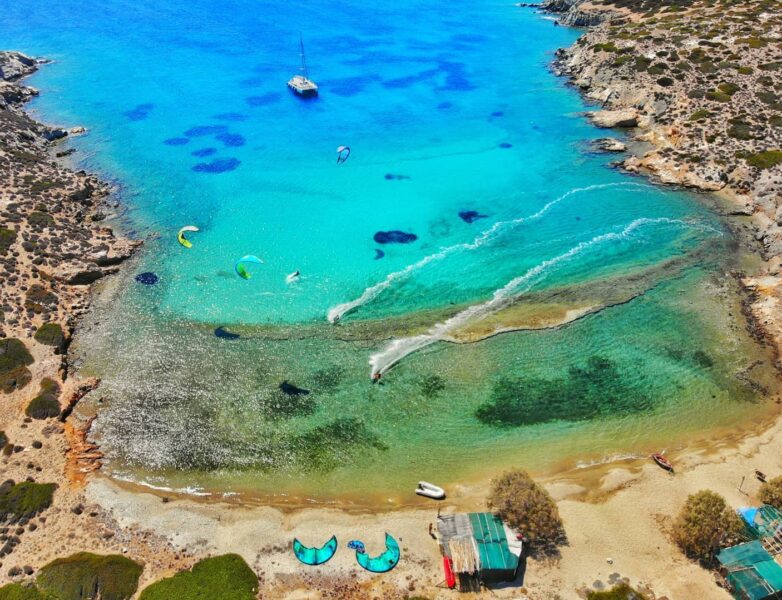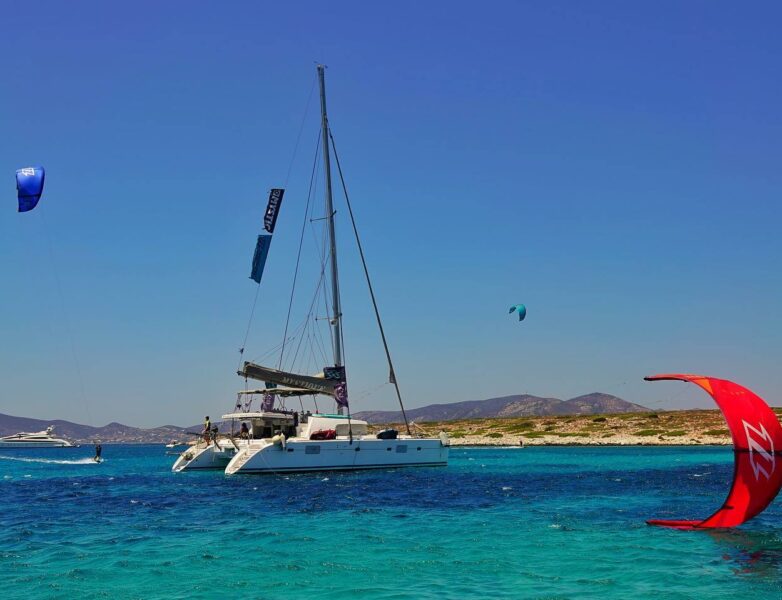 Top reasons to go sailing and kiteboarding in the Cyclades
Discover both secluded and popular kitesurfing spots

Perfect kitesurfing conditions thanks to the constant meltemi winds

Master new sailing and kitesurfing skills against the backdrop of azure sea and sandy beaches
Located in the Aegean Sea southeast of mainland Greece lie the Cyclades, a cluster of islands where stretches of sandy beaches are surrounded by the azure sea bathed in warm sunshine. With the strong and dry meltemi winds blowing steadily during the summer, this archipelago becomes a veritable playground for kitesurfers. Hop on board a sailing catamaran with your expert guides and learn all about anchoring, route planning, safety on board, and more as you head towards both hidden and well-known kitesurfing spots. You'll visit Paros, Antiparos, Mykonos, Rinia, Milos, and countless other hidden gems to work on various kitesurfing skills such as toeside, downloop, jibe, hooked jumps with rotations, as well as learn the basics of wave riding. Head to Greece and discover what makes the Cyclades one of the premier kitesurfing spots in the world with the help of your experienced guides.
Nearest city

Your adventure begins on the island of Paros, Greece
Choose how you spend your days
Sailing and Kitesurfing Camp in the Cyclades
Embark on an 8-day voyage to learn the basics of sailing navigation and improve your kitesurfing skills as you visit epic spots in the Cyclades. Let a professional guide teach you advanced kitesurfing moves as you revel in the views of the turquoise waters and enjoy the idyllic beach ambiance. Visit the islands of Paros, Antiparos, Mykonos, Rinia, Milos, Syros, and other secret spots as you take advantage of the ideal meltemi winds and develop your skills.
Private Sailing and Kitesurfing Camp in the Cyclades–Entire Catamaran
Set out on an 8-day adventure in the Cyclades and have a whole catamaran to yourself with your group of fellow kitesurfers to learn the fundamentals of sailing navigation and improve your kitesurfing skills. Let your friendly and professional guides teach you how to do some advanced moves as you visit the islands of Paros, Antiparos, Mykonos, Rinia, Milos, Syros, and other hidden gems the area has to offer and capitalize on the strong and reliable meltemi winds.
Learning outcomes:
During this week-long camp, your instructors will cover the following topics:
IKO safety standards and procedures

Different techniques on how to launch and land from a sailing boat

How to define a spot to be able to anchor and kite from the boat

Self-launching, self-landing, self-rescue

Safety procedures to manage unconventional spots like onshore, offshore and tiny beaches

How to plan and run a downwind in open sea

Safety procedures to rescue a kiter by the catamaran in open sea

Effective upwind body drag in very low or strong wind
Meet your guides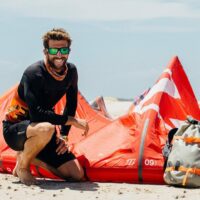 Federico
After getting a degree in engineering physics, Fede decided to follow his passion f...
View details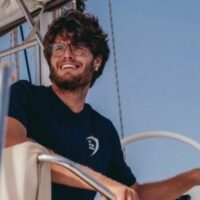 Davide
Davide has been passionate about the ocean since he was a child and this is one of ...
View details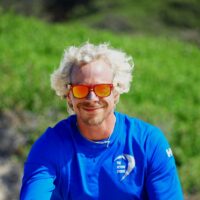 Jordane
Jordane is a Level 2 IKO Kite Instructor an an avid kitesurfer who prepares delicio...
View details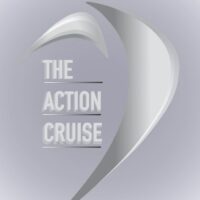 The Action Cruise
The Action Cruise organizes various kite and sail camps in unconventional and hidde...
View details
Zach P.
about
The Action Cruise
on Google Reviews
Awesome Greece cruise with The Action Cruise. It was a fantastic week. Great staff, great food, great kiteboarding. The crew really went out of the way to make sure we were getting the best kiteboarding every day. I've already booked another cruise with The Action Cruise.
Alice F.
about
The Action Cruise
on Google Reviews
Amazing experience. A full immersion of kite in the most beautiful spot of Cyclades, Greece. Enjoy and go beyond your limits in a safe environment, 30 knots, extreme downwind and wild spot with a wonderful crew!
Oscar J.
about
The Action Cruise
on Google Reviews
Things to know
Covid measures in the Cyclades, Greece
57hours is committed to providing safe outdoor adventure experiences. We require all guides using our platform to have a COVID-19 safety plan and to make the details of that plan accessible to travelers. In most cases, group sizes will be reduced, guides will avoid overcrowded locations, and other safety measures will be met depending on the location and activity. 
We also expect clients to respect local regulations and take measures to protect themselves, guides and the communities they're travelling to. For more information on COVID-19 measures in the Cyclades, Greece, please refer to the Discover Greece or the Greek National Public Health Organization.
Please contact us if you have any questions or require further information. We are happy to provide you with the most up-to-date information!
What's included?
What you get on this adventure:
Experienced, professional IKO instructors and crew members managing sailing and kiting activities and food

7-day sailing and kitesurfing camp with coaching and training

Accommodations on board a catamaran

Spot guidance and rescue

Photos and videos (to improve kiting level through media analysis)

Breakfast, lunch, dinner throughout the camp

SUP

Wakefoil and wakeboard on light wind days

Tender for rescue and assistance

The Action Cruise ASD annual membership
What's not included:
Transportation

3-4 dinners on land

Alcoholic beverages

Technical kitesurfing gear (can be rented from your guiding service on request)

Wetsuits

Booties
NOTE: Private kiting lessons for beginners, intermediate, and advanced kiters, the Assistance Plus package, as well as the North KB 2022 kite gear can be demanded and purchased on request. The Assistance Plus package is for independent riders who need help to start from onshore beaches or to come back to offshore beaches, or who want to feel safer during days with demanding conditions or in technical spots. It consists of 3 lifts per day.
How fit do I need to be?
The only thing your instructor will expect from you is that you know how to swim, but of course, being in good shape helps. Strength isn't a necessary component to successful kiteboarding; it's all about the technique.
What if I've never kiteboarded before?
In order to participate in this sailing and kitesurfing camp in the Cyclades, you need to be an intermediate or advanced kitesurfer. You are expected to be able to ride upwind consistently in all wind conditions, control the kite on land, body drag upwind, relaunch the kite from the water, body drag to your lost board, and self-land the kite with chicken loop quick release.
NOTE: If you're not comfortable with these skills, you must declare your ability and take a leson for beginners or the Assistance Plus package during the camp.
Even though this camp is for intermediate and advanced kitesurfers, 1 beginner can join as well. The lessons for beginners are carried out by IKO instructors and the student is assisted and followed by a tender (safety boat) with radio communication. The lessons last for a maximum of 1h per day. More lessons for beginners are possible in case of groups of kiters requesting a camp with the entire catamaran.
What about required equipment?
The complete kite gear set (kite set, bar, twintip board, and harness) can be rented from your guiding service for an additional fee on request and is available only for experienced kiters. It has to be requested in advance and is subject to availability. They also offer the equipment separately (e.g. twintip boards, surfboards, foil boards, kite sets, and one kite size).
When it comes to the equipment you need to bring, here's what you'll need:
Day pack large enough to carry all the items listed

Water bottle

Clothing for 7 days

Wetsuit

Booties

Food you can eat on-the-go

Toiletries (sunscreen, bug spray, toilet paper, etc.)

Sunglasses

Swimsuits

Towels

Sweater

Camera — optional
Wetsuit and booties can be rented for an additional fee. Let us know if you need this gear as it is mandatory equipment for the lessons.
Can I rent equipment?
You can rent complete gear (kite set, bar, twin-tip board, harness) from your guide for $470 for the duration of the camp. You can also rent separate equipment:
Twintip board for $170/camp

Surfboard for $225/camp

Foil board for $275/camp

Kite set for $330/camp

One kite size for $170/camp

One kite size/day for $60 
Gear is available only for experienced kiters. Damages or loss will be charged (reparation costs + devalue).Gear insurance is available on request, but it does not cover loss of the gear.
Group sizes and age requirements
Group sizes and prices:
The max. number of participants for the sailing and kitesurfing camp is 9 for group tours and 8 for private tours.

The cabins on offer (single cabin, double cabin shared with another kiter, or a double dedicated cabin) can be selected according to availability. The tour price is based on a Shared Double Cabin. 

Cost is per person and it doesn't decrease as the group grows.

If joining alone, you'll be placed with peers that share a similar level of experience.
There are three available cabin sizes:
Small Single cabin — $2,300 per person

Shared Double Cabin (double occupancy) — $2,650 per person

Dedicated Double Cabin — $5,100 per person
As for the Small Single Cabin, keep in mind the following:
It is well ventilated with 2 windows and has a little shelter to store personal items and clothes

It doesn't have a private bathroom, you will share the toilet of the crew's or other kiters' cabin

The access is only from the external deck throughout the hatch on the bow of the boat

The cabin has no floor, when you will enter you will step in directly on the mattress

There is very little space to store clothes, you will have to keep them partly in the small cabin partly in a small bag in the living area
If you would like to be placed in a Single Small or Dedicated Double Cabin, contact us prior to booking to make arrangements.
Min. age requirements:
If you are older than 18, you're good to go.

While there is not necessarily a minimum age to kiteboard, there are minimum requirements, such as height and weight. Prior to booking, let us know the youngest ages in your party and we will let you know if it's safe for them to get on the water. 
If your group has minors under the age of 18, contact us prior to booking to make arrangements.
Deposits and cancellation policy
If you wish to secure your place on a group tour, a 50% deposit to secure your place is due upon the confirmation of your booking. The remaining 50% is paid 90 days prior to the trip.
If you wish to come on a private tour with a group of max. 9 kiters and request this camp with the entire catamaran, a 30% deposit to secure your place is due upon the confirmation of your booking, 20% before March 1st, and the remaining 50% 60 days before the trip. 
Once the trip is confirmed by the guide, the cancellation policy stated below applies. This policy applies to any reason of cancellation by the member including Covid positivity or illness: 
If you cancel 120 days before the date of beginning of the camp, you'll get a refund of 90% of the amount paid

Between 120 days and 75 days before the date of beginning of the camp, you'll get a refund of the 50% of the amount paid

After 75 days before the date of beginning of the camp, the refund is not possible 

The Action Cruise will make a reasonable effort to find a substitute member and provide a partial refund voucher. The amount of the voucher is established by The Action Cruise. No voucher will be given if your guiding service is unsuccessful in finding a substitute kiter. 

A voucher in the value of the amount paid will be provided in case the guide has to cancel the entire Kite and Sail Camp Cyclades 2022, due to impossibility to enter Greece and perform activities due to restrictive measures imposed by Greece as a consequence of Covid-19 epidemic
The voucher is not provided if impossibility and cancellation occur after May 10 for periods May 15 – May 21; May 22-28; May 29-June 4, 2022 or September 20 for periods September 25-October 1 or October 2-8, 2022.
Getting there and meeting location
To get to your meeting point on Paros Island, Parokikia Marina, most people fly into Paros National Airpot (PAS) 15 minutes away from Paroikia Marina. From there, you can rent a car or take a taxi to get to Paroikia Marina.
Other options include flying into Mykonos-Manto Mavrogenous Airport (JMK) and then taking a 1-hour ferry from Mykonos harbor (MYK) to Paroikia. You can also fly into Athens International Airport Eleftherios Venizelos and take a 4-6 hour ferry from Athens Harbor (ATH) to Paroikia.
Once you and your guide agree on the details of your itinerary, you will meet your guide at a predetermined location in Paros. You will check in at 6 pm on the first day and the catamaran will depart from the Paroikia Marina the next morning. On the last day, you'll check out between 9 am and 10 am. The catamaran will arrive in the marina either the evening before the last day or the morning of the last day.