Become a Wave Rider Kiteboarding in Cape Verde
Cape Verde is for adrenaline junkies who want to get into wave kiteboarding. Once you master the waves of Cape Verde, you can go anywhere and do anything.
With its no stress and laid back vibe, Cape Verde is home to some of the best kitesurfing in the world. It's not a complete beginner spot, but once you learn to kiteboard in Cape Verde you're ready for anywhere. There are nice easy waves with onshore wind for those intermediate kitesurfers who want to improve their skills. More experienced kiters can head to Ponta Preta for a beautiful wave break. Cape Verde is also the home of strapless kiteboarding. One visit, and you're guaranteed to learn the skills you need to kite around the world. Here is some insider info to help you plan your Cape Verde kiteboarding trip.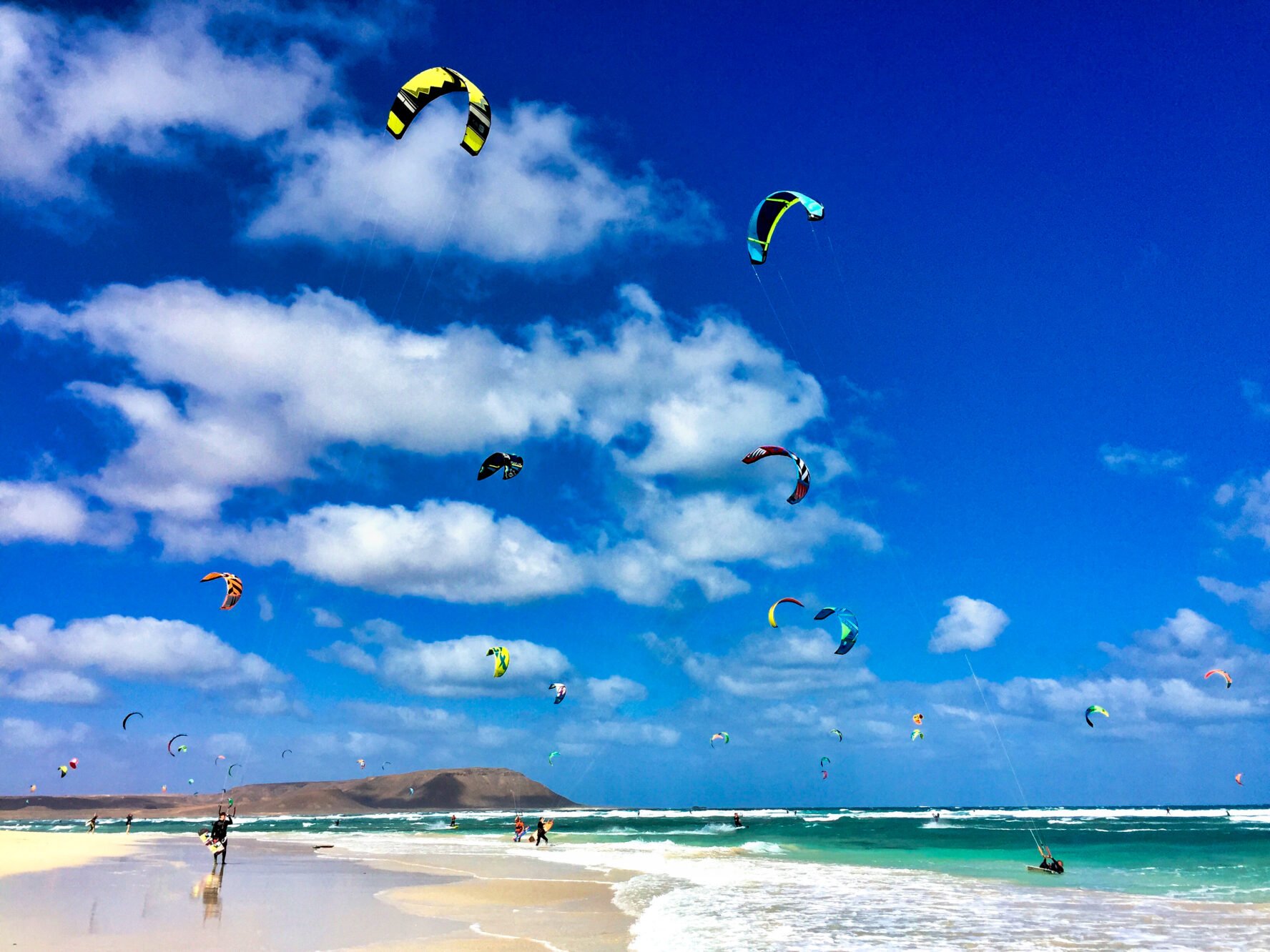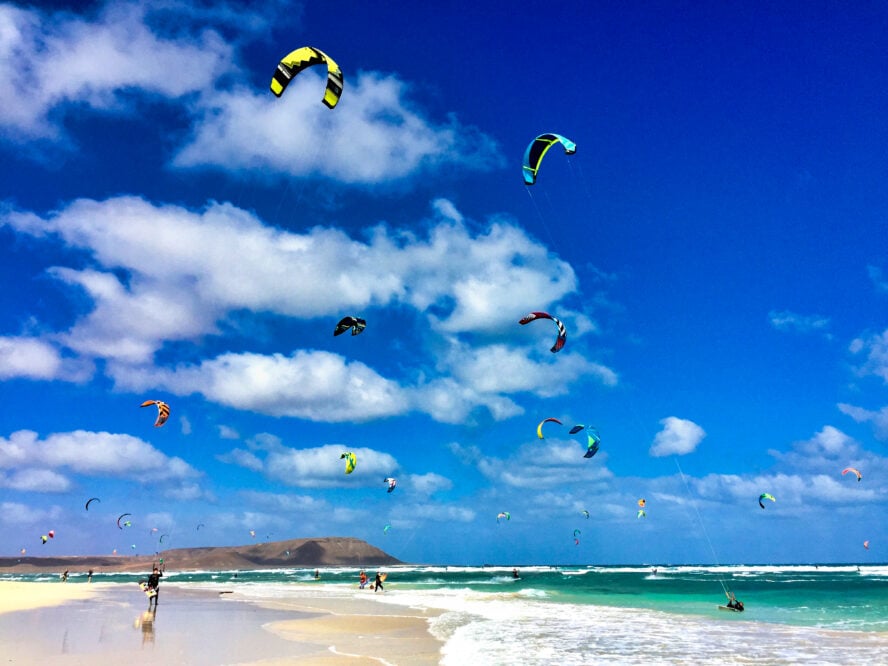 Pros and Cons of Kiteboarding in Cape Verde
Perfect place for learning wave kiteboarding
Great vibes, culture and interesting history
Not a lot of no-wind days during peak season
Everything revolves around the watersports so you won't find much else to do
Putting down roots in Cape Verde
Born and raised on the northern part of the Croatian coast, I have spent most of my life near the sea. As a kid, I used to sail, and I slowly transitioned to kiteboarding as the sport grew more popular. The wind near my hometown in Croatia is not ideal, and as I started kiteboarding more, I began yearning for better conditions. At 19, my friend and I came to Cape Verde. I fell in love, and while my friend continued to travel, I decided to stay. I've now been here for the past seven years and I couldn't be happier. From my window, I can see the water, so I'm always keeping an eye on the wind for any chance I can to get out with my kite. I still come to Croatia over the summer for two or three months in between seasons, but Cape Verde is the place I now call home.
An overview of the islands of Cape Verde
Cape Verde is made up of ten islands about 500 kilometers off the west coast of Africa. Locally known as Cabo Verde — the Green Cape — it is a popular winter destination for many European, and more recently, Americans are also starting to venture to the islands.
Santiago is the largest and the main island of Cape Verde. This is also where the capital, Praia, is located. It is densely populated, and while there are no spots for water sports, there is lots of history. It was also an important place for Charles Darwin and also has plenty of pirate tales associated with it.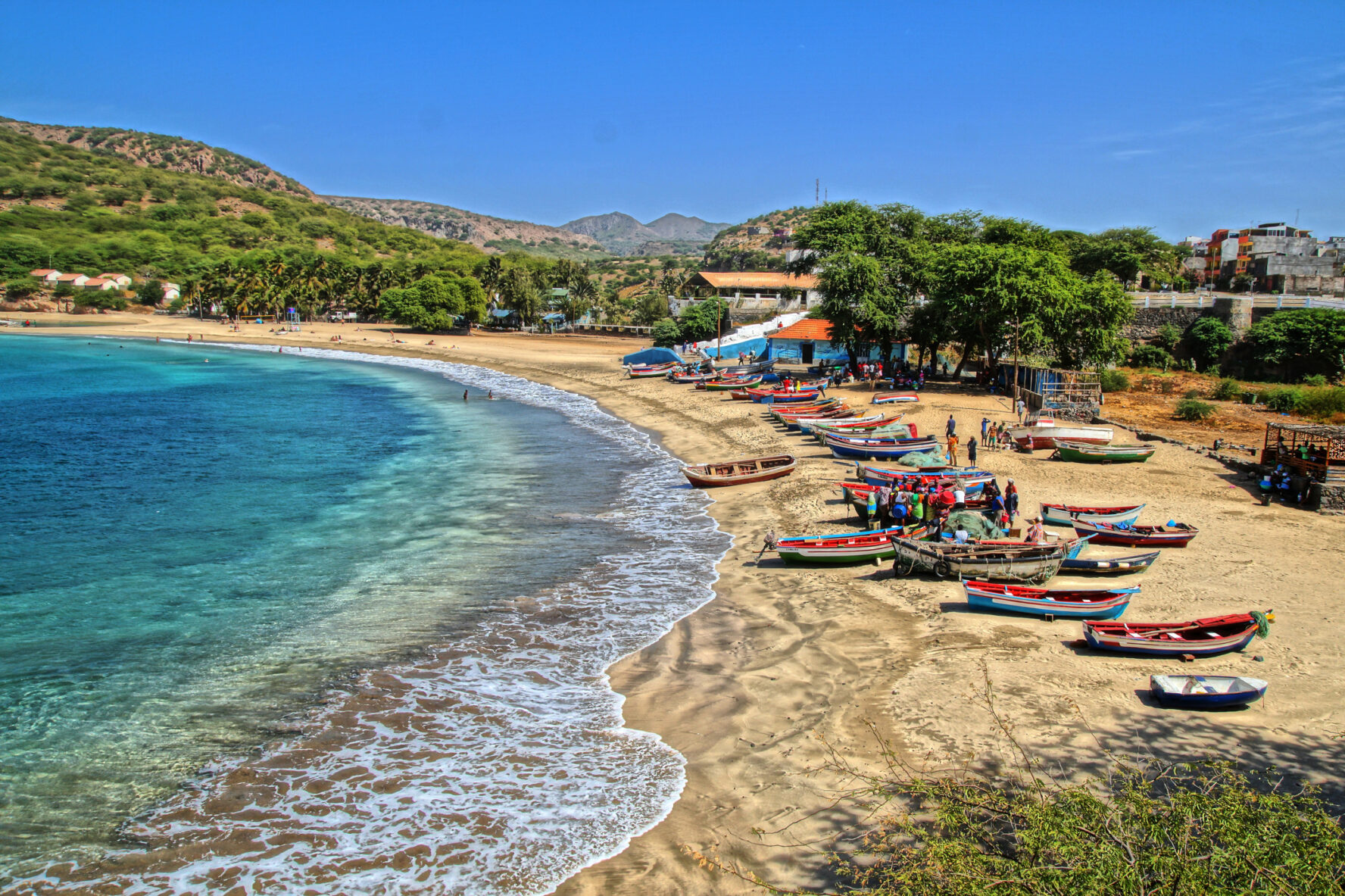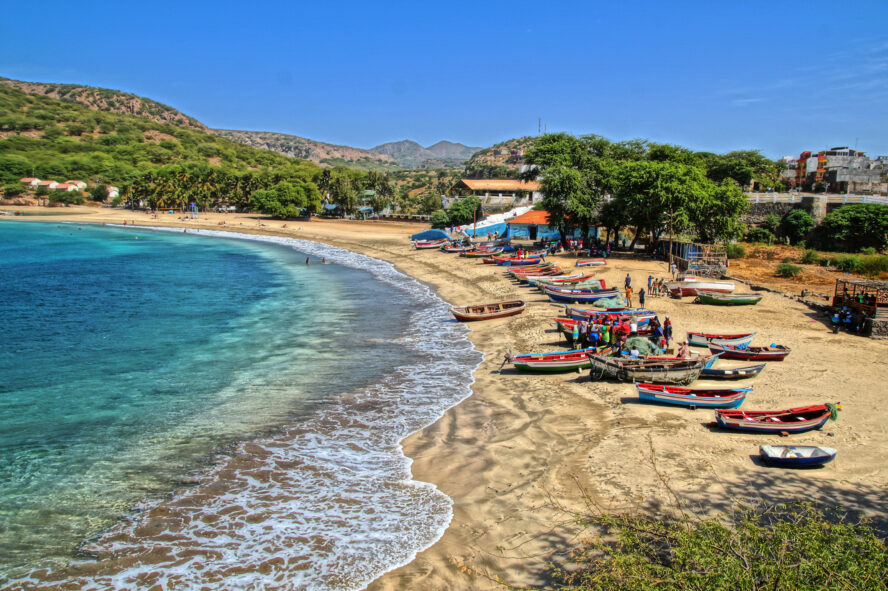 Sal Island is where most of the action happens. When visiting Sal, most people stay here for the whole duration of their Cape Verde trip because of the great kiteboarding spots. Sal's capital, Espargos, is in the center of the island, but the main beach area is in the south, in Santa Maria. This is also where our kiteboarding school is. We use the Kite Beach for most of our lessons, but we also venture out to other spots in the area.
Boa Vista has some of the more remote beaches. It is quieter and emptier than Sal and the beaches here are almost untouched. While Sal has some kiteboarding spots worth checking out, they are not as good, or as popular, as the ones on Sal.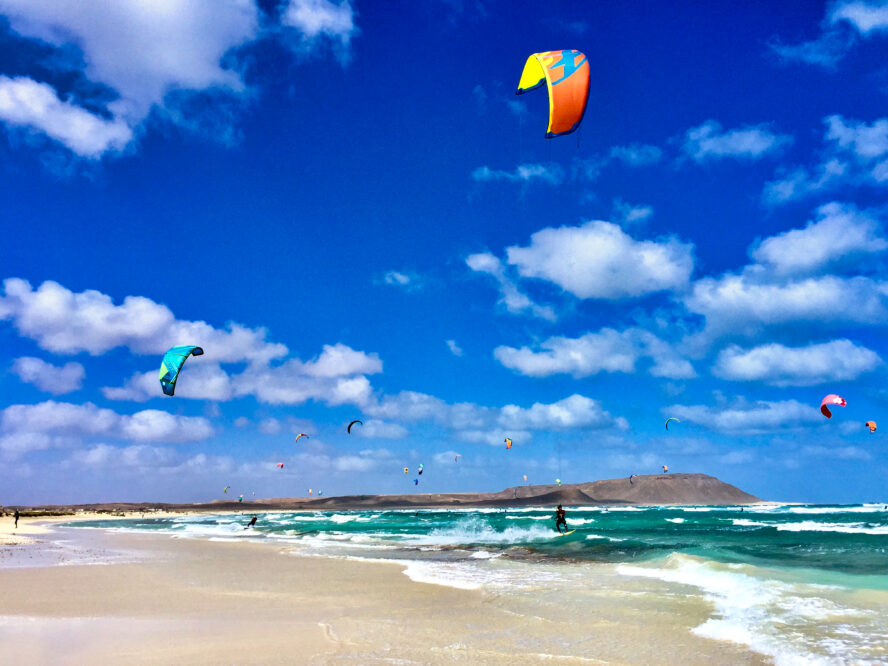 Sao Vicente is known as the cultural hub of Cape Verde. There is a deep tradition of music and art. You will always hear lively music throughout the streets. One side of the island is strictly for windsurfers and the other one is for kiteboarding. It is always blowing 10 knots more than it is on Sal. Still, the scale of the action on Sao Vicente is much much smaller than that of the other islands.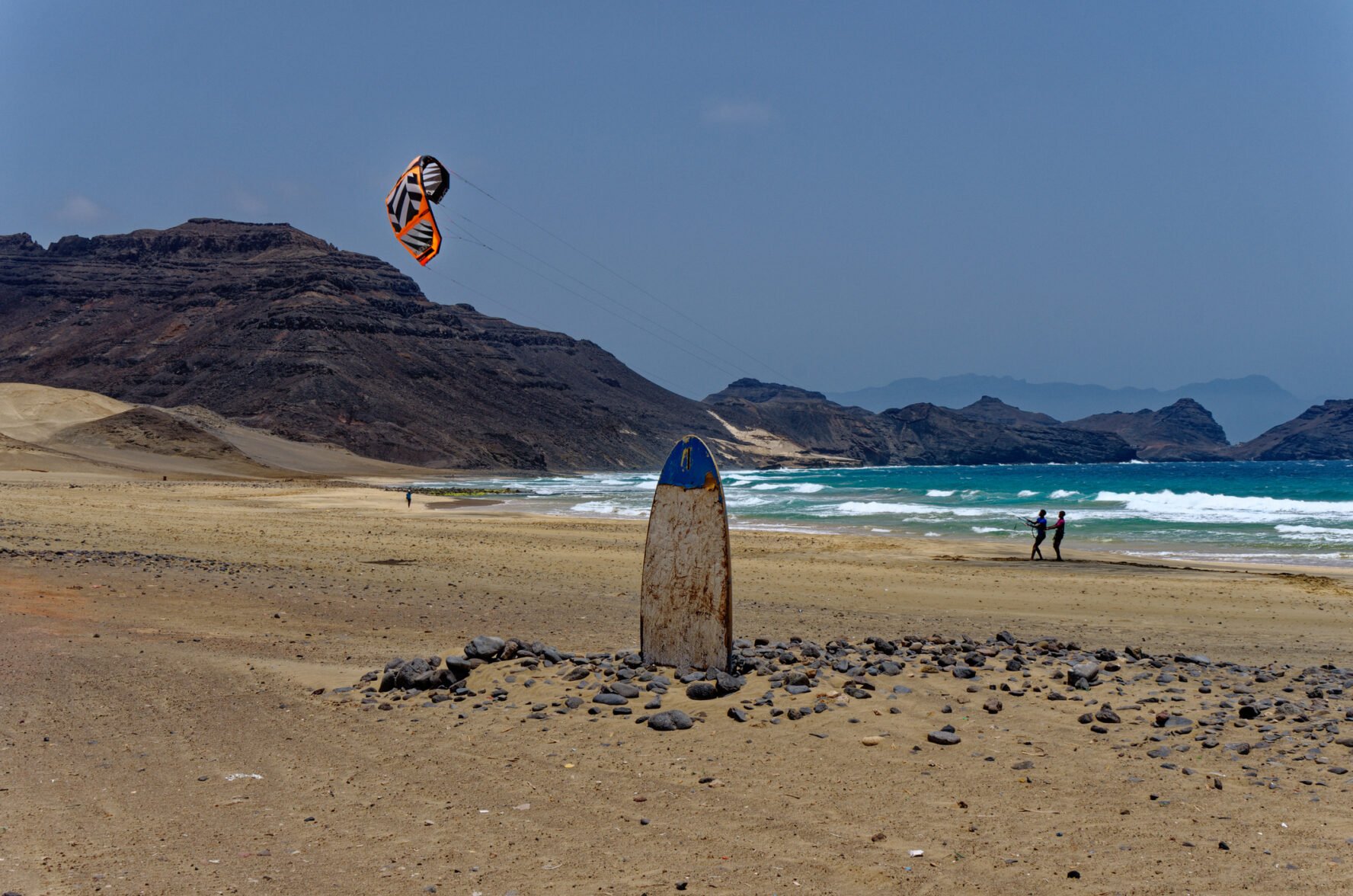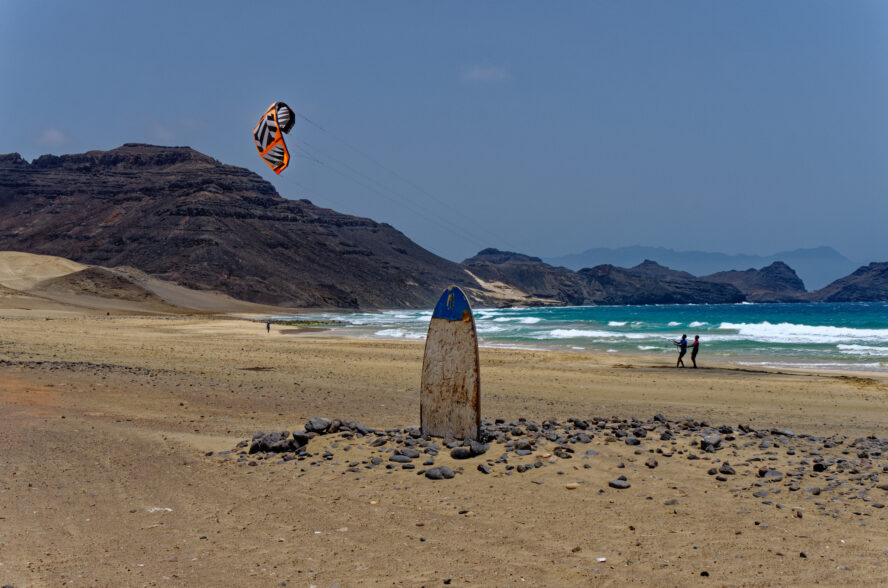 For those who want to do something other than water spots, Fogo Island is definitely worth a visit. Mount Fogo is an active volcano making it a great destination for trekkers. Santo Antao, the westernmost island of Cape Verde, is another destination for hikers. It has volcanic peaks and a big rocky coastline.
The other four islands are Santa Luiza, Sao Nicolau, Maio and Brava. They are all small islands, but the only one that is not inhabited is Santa Luiza.
1. Sal will teach you how to ride waves
The Kite Beach on Sal Island has side onshore wind and not much flat water. It's mostly choppy wind waves which are perfect for intermediate kiteboarders and those who want to challenge themselves. No wind days are rare and almost never happen in the winter. For the more adventurous, there are world-class wave spots all around Sal. The one that has been getting the most attention recently is Ponta Preta. Like I mentioned, these aren't the best conditions for beginners, but there is virtually no better place to learn wave kiting than Cape Verde. I tell a lot of people, if you can make it here, you can make it anywhere.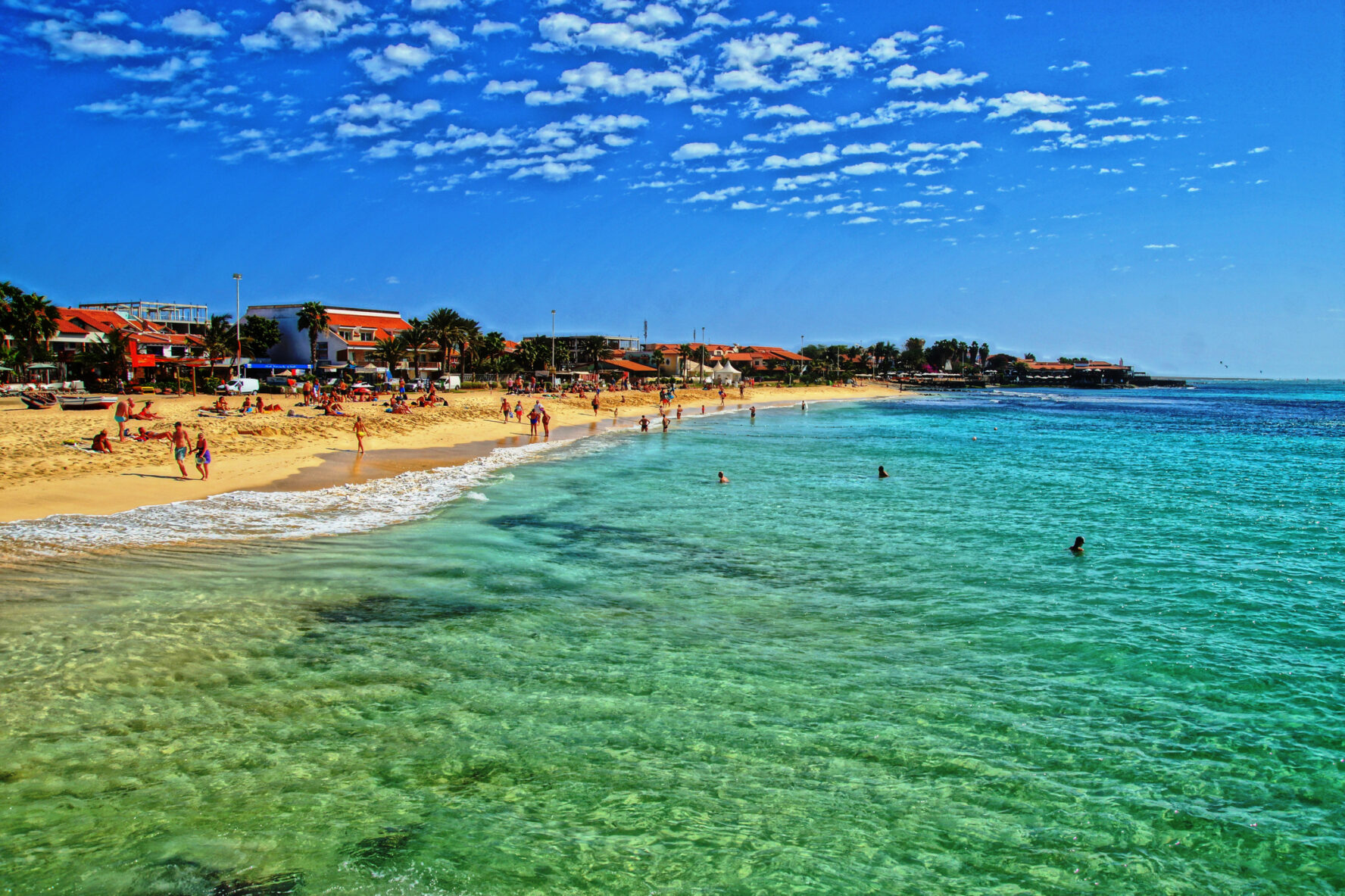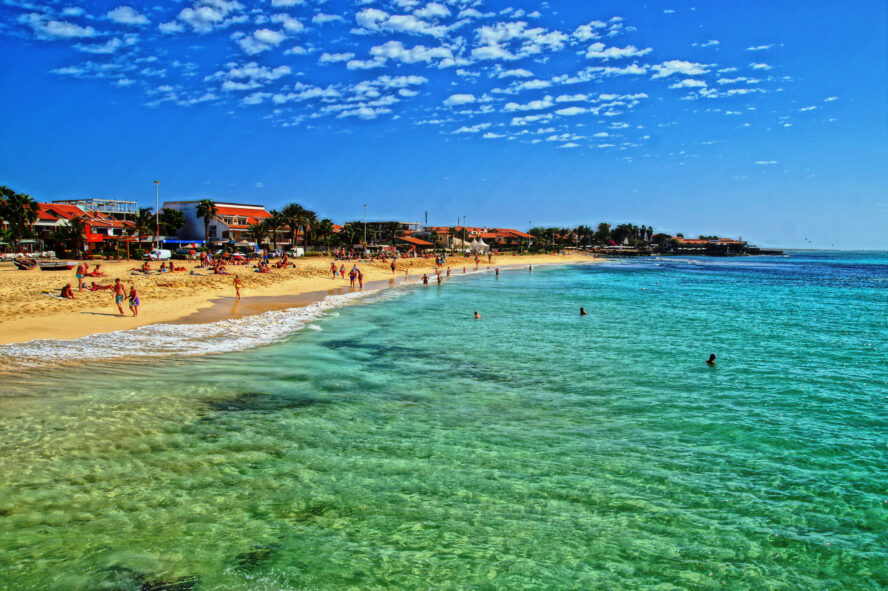 Kiting at Sal is a step up for someone who just started kitesurfing and wants to get into waves. The first lesson for most people coming to Cape Verde is to improve their fear of water. Waves look daunting, the entrance is tricky, and this is what most people are scared of. I truly believe once you master this place, there is nothing you won't be ready for.
If you are a beginner, don't be discouraged, there's still plenty for you. There are kite spots on different parts of the island that have flat water, however, the wind is blowing offshore. We do boat lessons in these areas for those who are not yet ready to venture into the waves.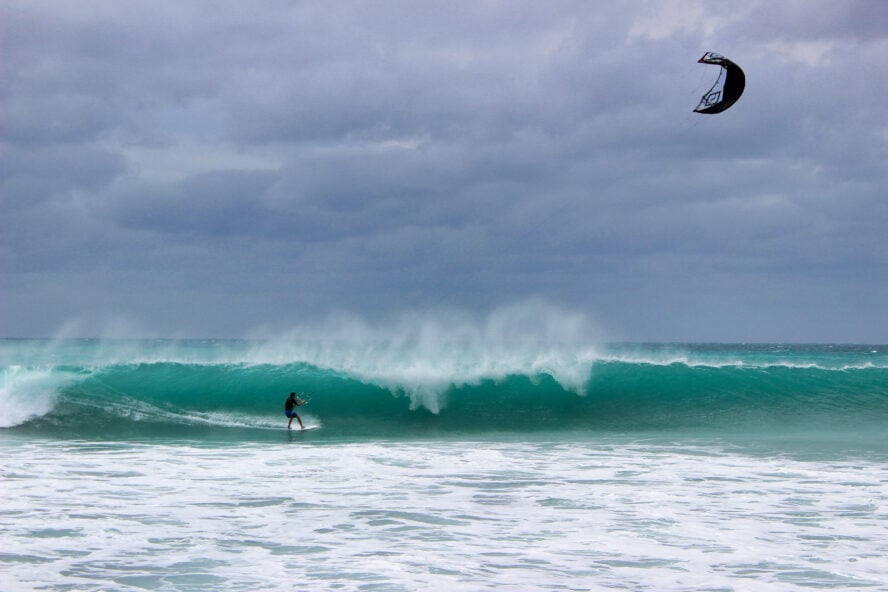 2. For advanced kiteboarders, head to Ponta Preta on Sal Island
Ponta Preta is the southernmost point of Sal Island. This wave break is for the most advanced. I think Ponta Preta is the most majestic wave in the world. So many pro kiteboarders come every year to tackle this beautiful but difficult wave. In good conditions, the wave can be up to 300 meters long, or about 985 feet. It breaks over a reef making beautiful barrel sections.
The 2020 GKA Kitesurf competition started at Ponta Preta. A part of the kiteboarding competition was also held at Ponta Preta, Cape Verde the year before and people called it jaw-dropping and iconic. Just look at any video on the internet of kiteboarding in Ponta Preta, and I'm sure you will agree.
3. Boa Vista has kiteboarding conditions for all skill levels
Boa Vista, or "good views" in Portugese, is a neighbor to Sal Island. And like Sal, Boa Vista has many kiteboard and windsurfing spots. There are different water conditions here — everything from flat spots that will improve your kitesurfing to conditions that are great for learning wave riding. Most of the hotels are in the city, and all of the kite spots close to the hotels have offshore winds. While Boa Vista most definitely has places to kiteboard, the infrastructure of Sal makes kiteboarding much more accessible. There are more places to stay and the kiteboarding culture is more developed.
Insider's Info About Kiteboarding in Cape Verde
Here is all the local information on kiteboarding in Cape Verde, compiled in one place:
The local legends of Cape Verde
Some of the biggest names in kitesurfing come from Cape Verde. The current GKA Kite-Surf World Champion, Airton Cozzolino is a Cape Verdean national. Former world champion, Mitu Monteiro, and Matchu Lopes, the 2016 GKA champion, are both locals. The list goes on and on, but it just speaks to the fact that Cape Verde is a place to visit — all of the legends kiteboard here, after all.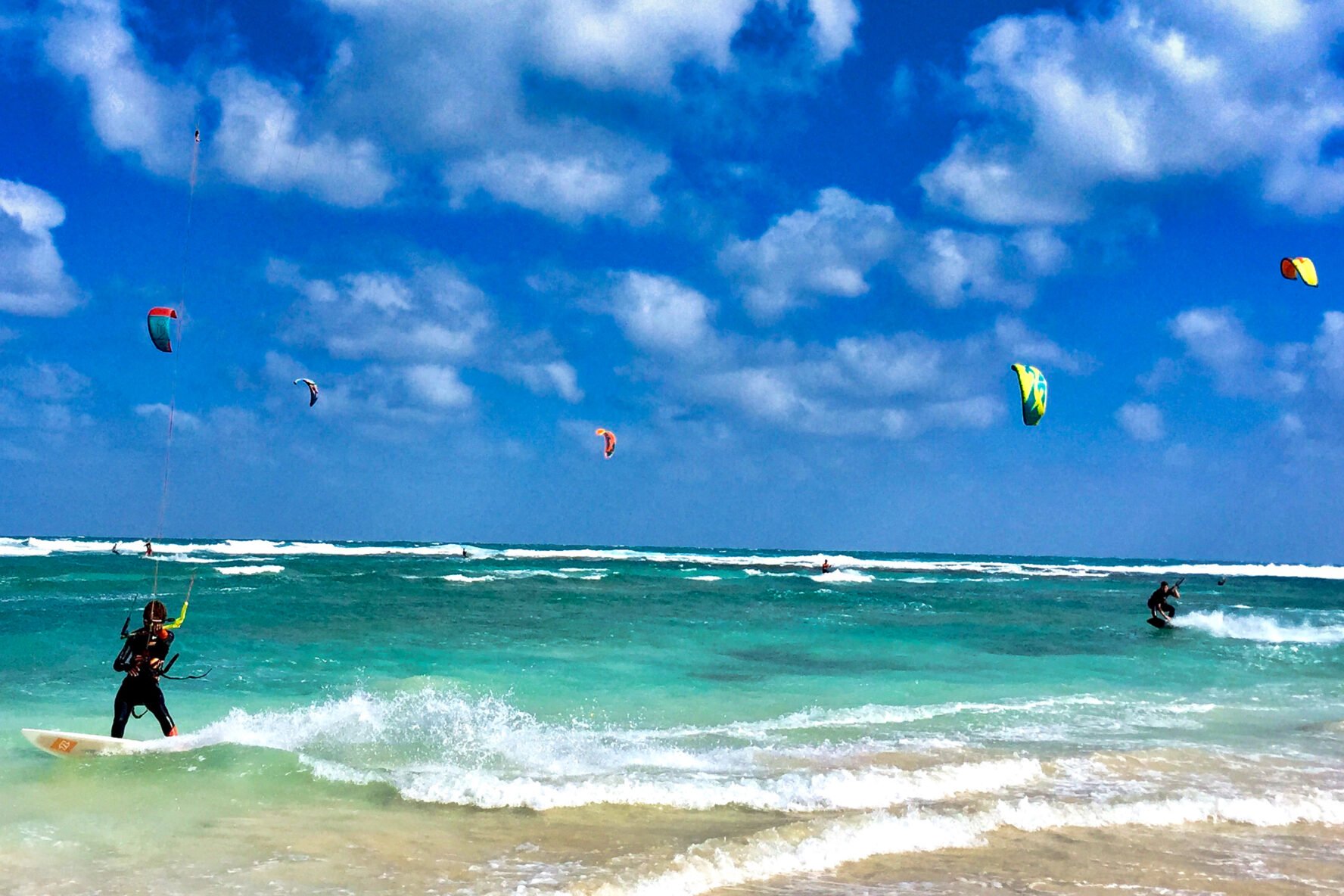 The start of strapless kiteboarding
Strapless kiteboarding was born in Cape Verde. All of the best strapless kiteboarders in the world are from Cape Verde. Mitu started up the fire of strapless kiteboarding in the early 2000s. Since then, millions of world class surfers and ordinary adrenaline junkies have followed.
What is the best month to go to Cape Verde?
The best time to visit Cape Verde is from late December to March, when the kiteboarding season peaks. The wind is the most reliable during these months and there is never a dull day. The season usually kicks off in October, but doesn't really get going under December. Depending on the year, the wind can be good all the way until the end of May. Just this past year, we thought the season was ending at the beginning of May, then we got two weeks of non-stop amazing wind every day.
Kiteboarding schools in Cape Verde
If you're new to the sport or wanting to take your skills to the next level, and try wave kiting, for instance, I recommend taking some lessons. There's no shortage of schools and kiteboarding instructors on Cape Verde — it's a place that lives and breathes kiteboarding. The kiteboarding school that I offer instruction at, ION CLUB Sal is centrally located in Santa Maria on Sal Island. All of our kiteboarders meet in the morning at the center and then we'll carpool to wherever we are kiteboarding for the day, or for some classes, we'll kite right in front of the center.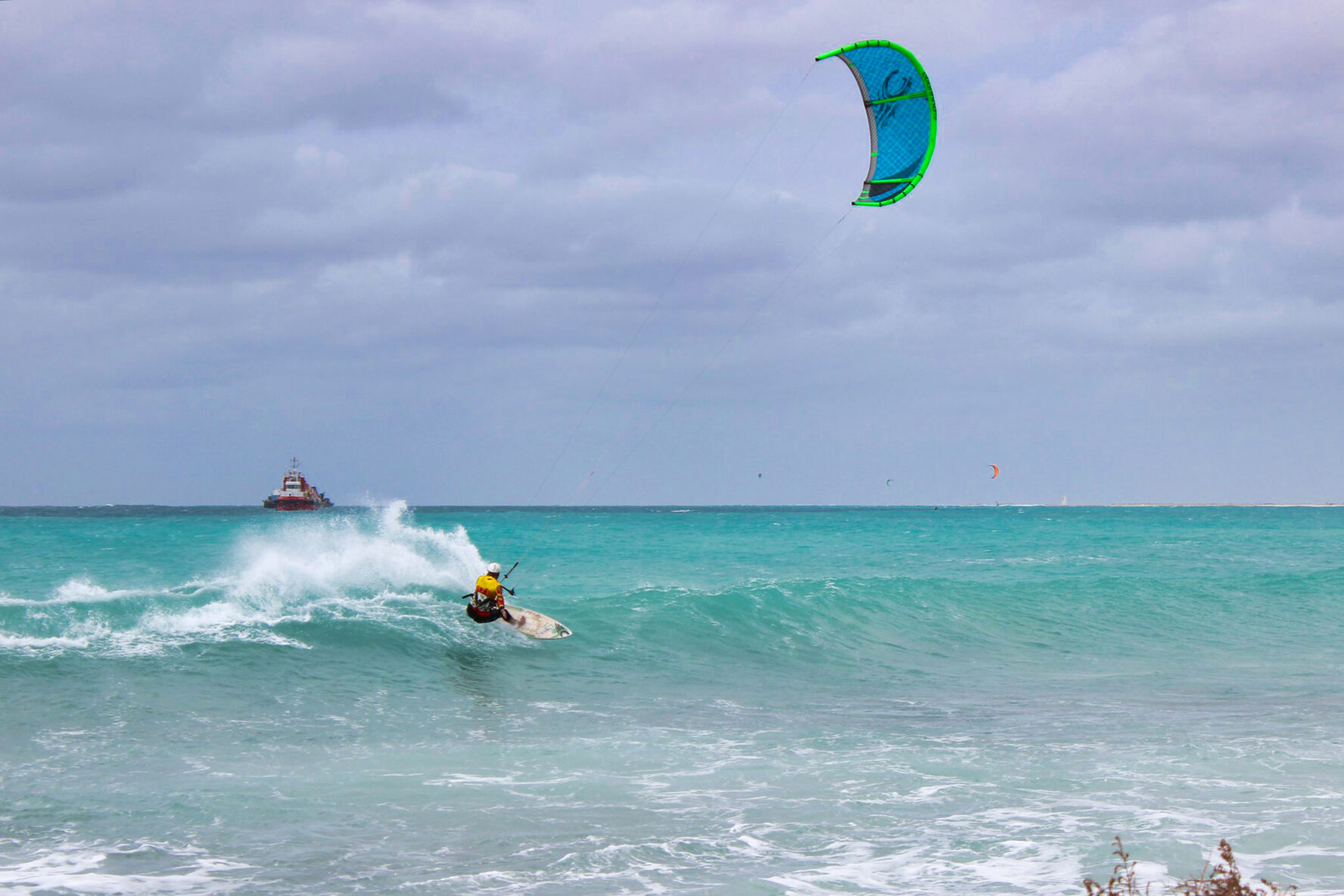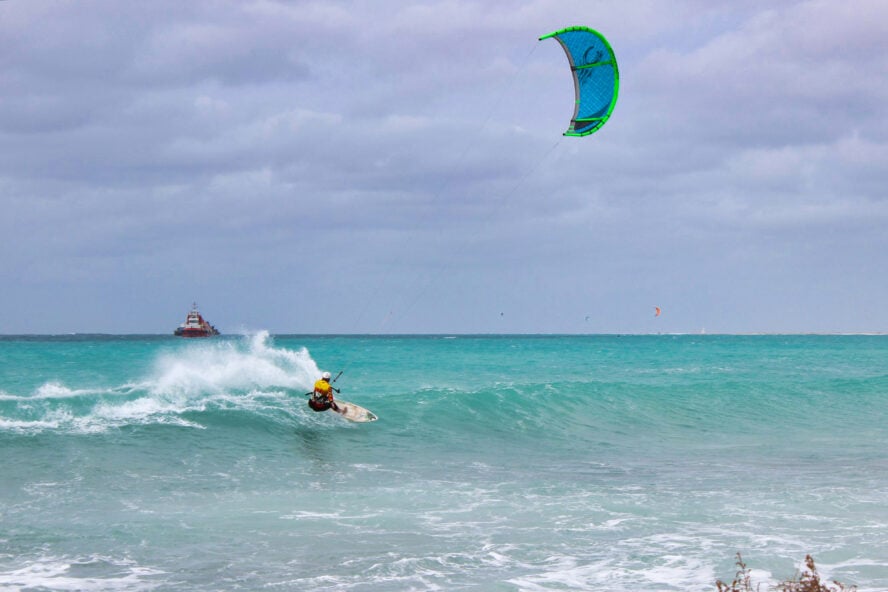 Coming to Cape Verde for a holiday
Lisbon is the main way to fly to Cape Verde. From Lisbon, you can fly directly to Sal or Boa Vista. There is also a good connection from Boston to Cape Verde for all of those coming from the United States. Cape Verde is becoming more and more popular with water sports enthusiasts so it is possible that more flight options will be added in the years to come. However you end up getting here, if you're looking for a fantastic kiteboarding spot, I can't recommend it enough!