Ever since my first kitesurfing trip to Cabarete, I find myself returning again and again — I even lived there for a year! No place has ever hooked me like this and it's pretty easy to see why.
When my friends and I decided on Cabarete for our holiday destination, I was already a passionate snowboarder and occasional surfer. This little resort town in the Dominican Republic ticked all the right boxes for our group — there was surfing, kitesurfing, and windsurfing. But it wasn't until we arrived on Kite Beach and saw the local kitesurfers flying through the air, that we dropped our surfing and windsurfing plans and booked kitesurfing lessons the very next day.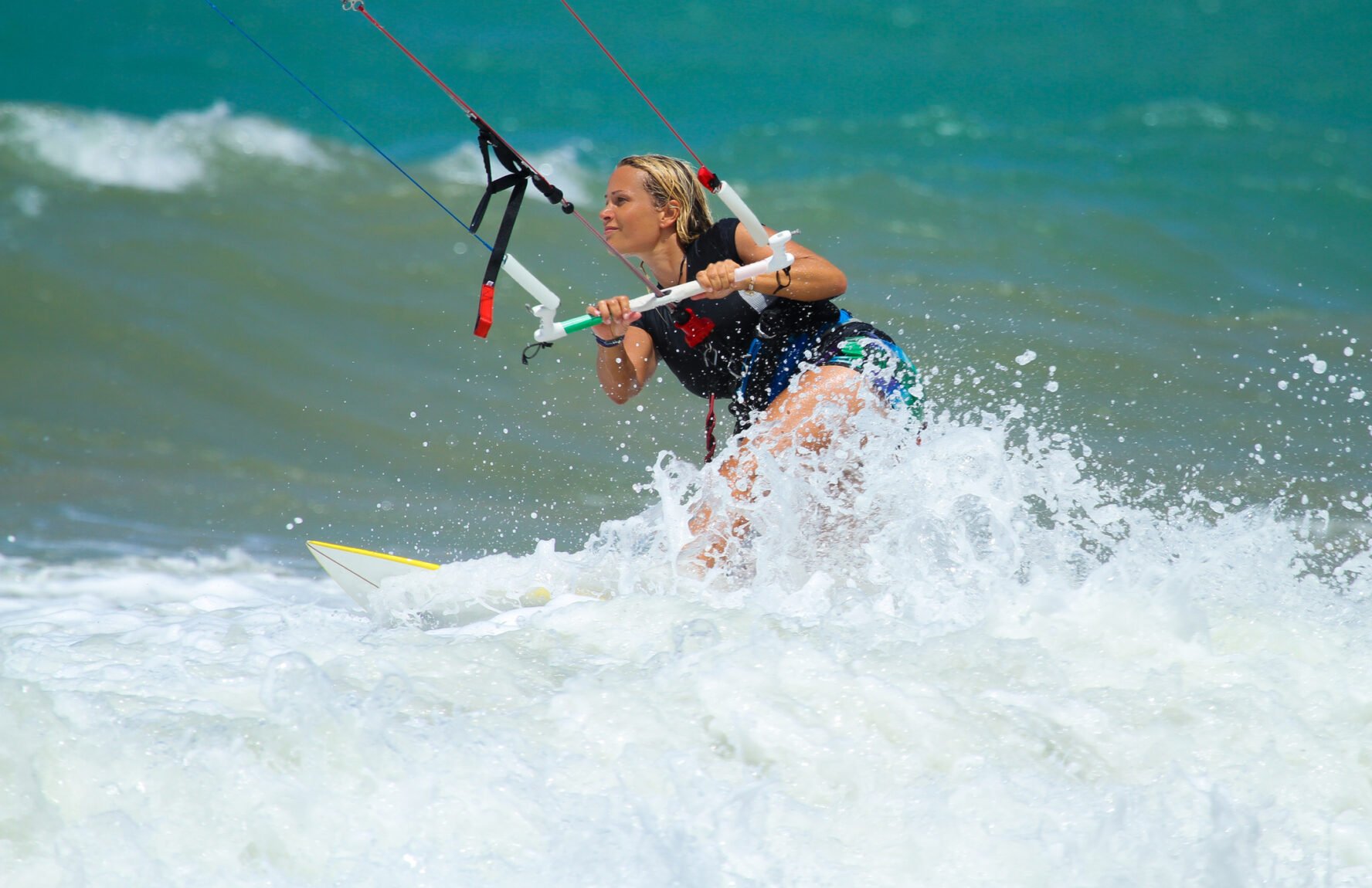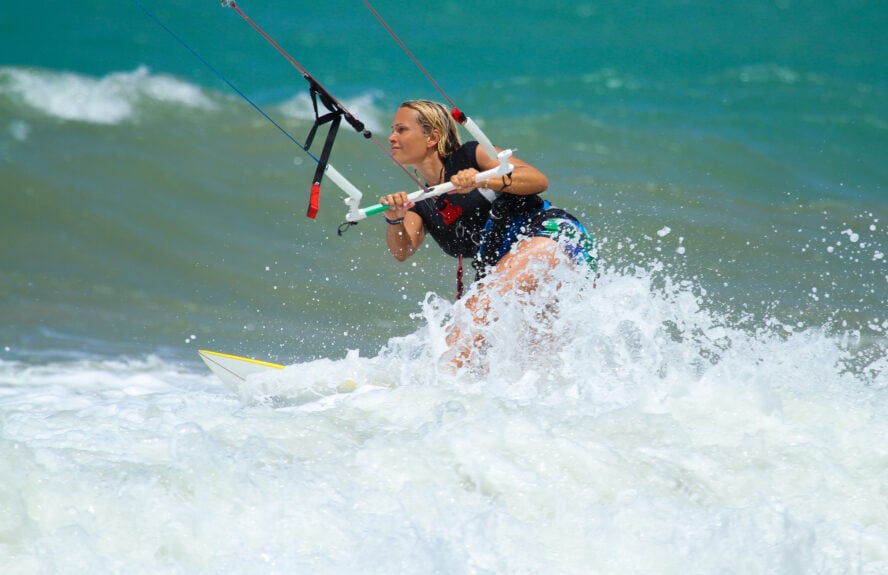 Pros and Cons of Kiteboarding in Cabarete
From bed to board — accommodations are in the heart of the action
There's lots of no-wind activities on rest days
There's healthy and sporty fun, and decent nightlife, too
Affordable for the Caribbean
Spots get very crowded during the high season
Cabarete has gotten a bit touristy
There's more lightwind during the winter
I've never been more enamored with any sport than I am with kitesurfing. I credit this to Cabarete's perfect combination of surfing conditions, Caribbean vibe, long sandy beaches, and Bachata and Reggaeton blasting out of every speaker, everywhere — which is why Cabarete tops the list of the best places to kiteboard in the world.
It doesn't matter if you're a solo-traveller, a vacationing family, kitesurf addict, non-kitesurfing addict, surfer, yoga-lover or partygoer — a trip to Cabarete promises something for everyone. For kitesurfers, specifically, the area has a unique vibe and is considered a mecca for the sport around the world.
The Top Kite Spots of Cabarete
La Boca: Flatwater lagoon, only for experienced riders
Cabarete Bay: Perfect for windsurfers (Windsurf in Cabarete Guide)
Bozo Beach/Punta Goleta Beach: There are a few kite schools here and the beach has room to maneuver. The shore break is challenging, especially during the winter.
Kite Beach: This is the most popular kite spot with a lot of kite schools to choose from.
Encuentro: Decent surfing spot with some good waves; you can also kite here.
For more detailed descriptions of the beaches, check out the Cabarete Beach Guide.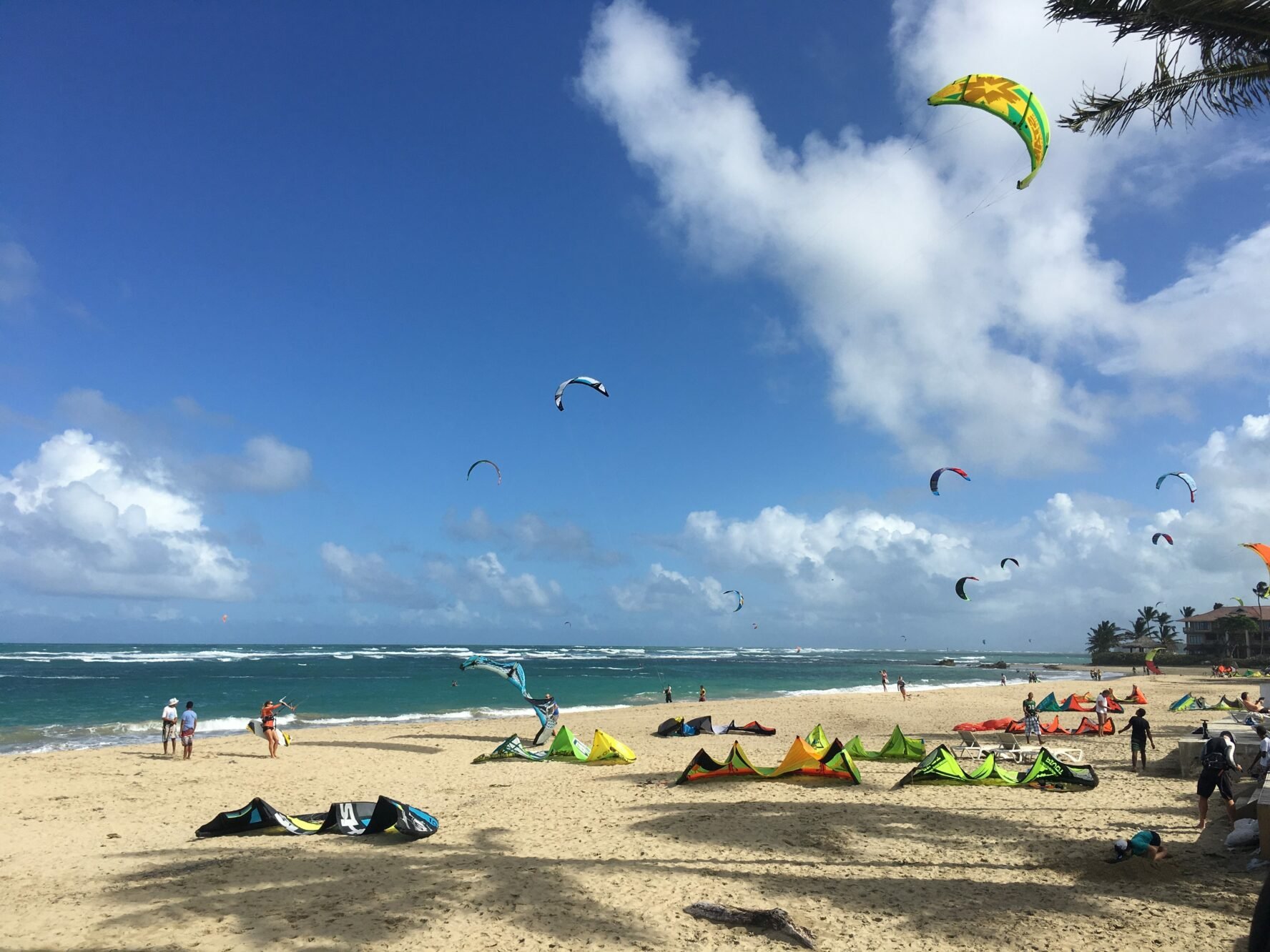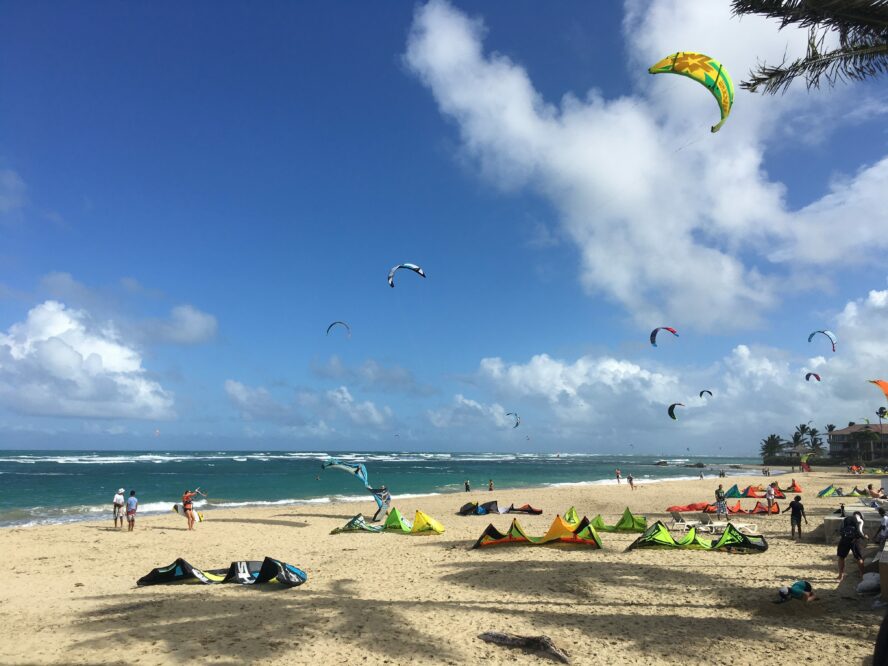 Kitesurfing at Kite Beach
When I visit, I prefer kitesurfing at Kite Beach because the beach break is small, and the reef, which has some great waves you can use as ramps for jumping, is closer to the beach.
During the summer months, the beach can go from small to almost non-existent, depending on how windy the previous seasons were and how much sand was washed away. Because of this, launching and landing your kite can get tricky — sometimes you may even have to utilize one of the hotel gardens right on the beach…
Kitesurfing at Bozo Beach/Punta Goleta Beach
Depending on beach wear and tear, consider heading to Bozo Beach — between Cabarete and Kite Beach. It has a much longer bay, and you'll definitely have more sand for launching and landing your kite. The beach break is small in the summer and there's also a reef, but it's a little more than a kilometer out.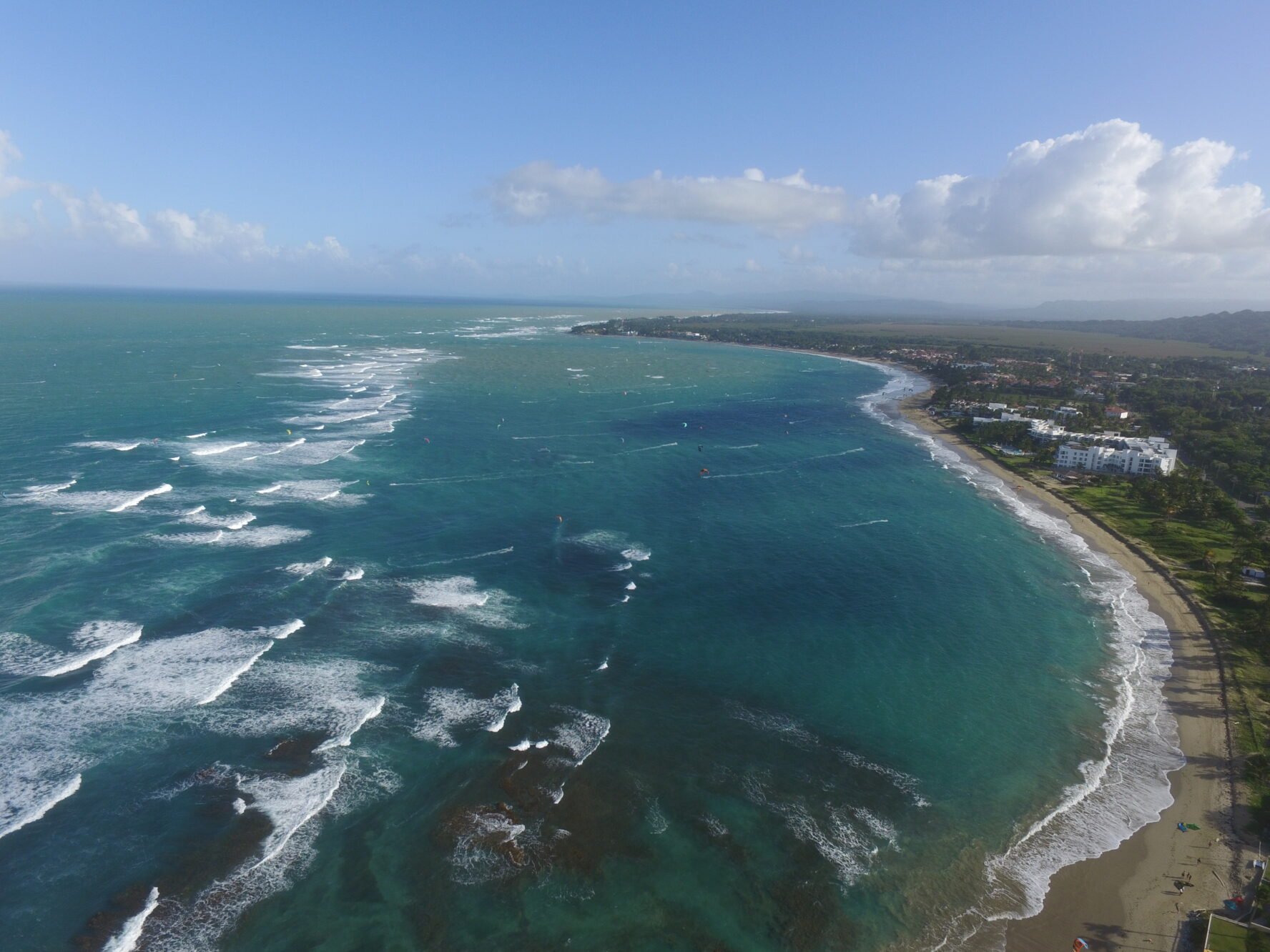 Learning to kitesurf in Cabarete
While I wouldn't say Cabarete is the best spot in to learn kitesurfing — no flatwater, no standing area, and it can get very crowded during the winter — the conditions are pretty ideal. After all, I did learn to surf there, and I can vouch that it's a stable area with moderate wind, and a big bay that that you can walk back on.
There are a lot of kite schools in Cabarete and here are a few that I recommend: Gokite Cabarete at the Extreme Hotel Cabarete, LEK Kiteboarding (in Cabarete Bay) and Kite Club or dare2fly (on Kite Beach).
Also, check out this Kitesurf Beginner's Guide for general tips if you want to learn more.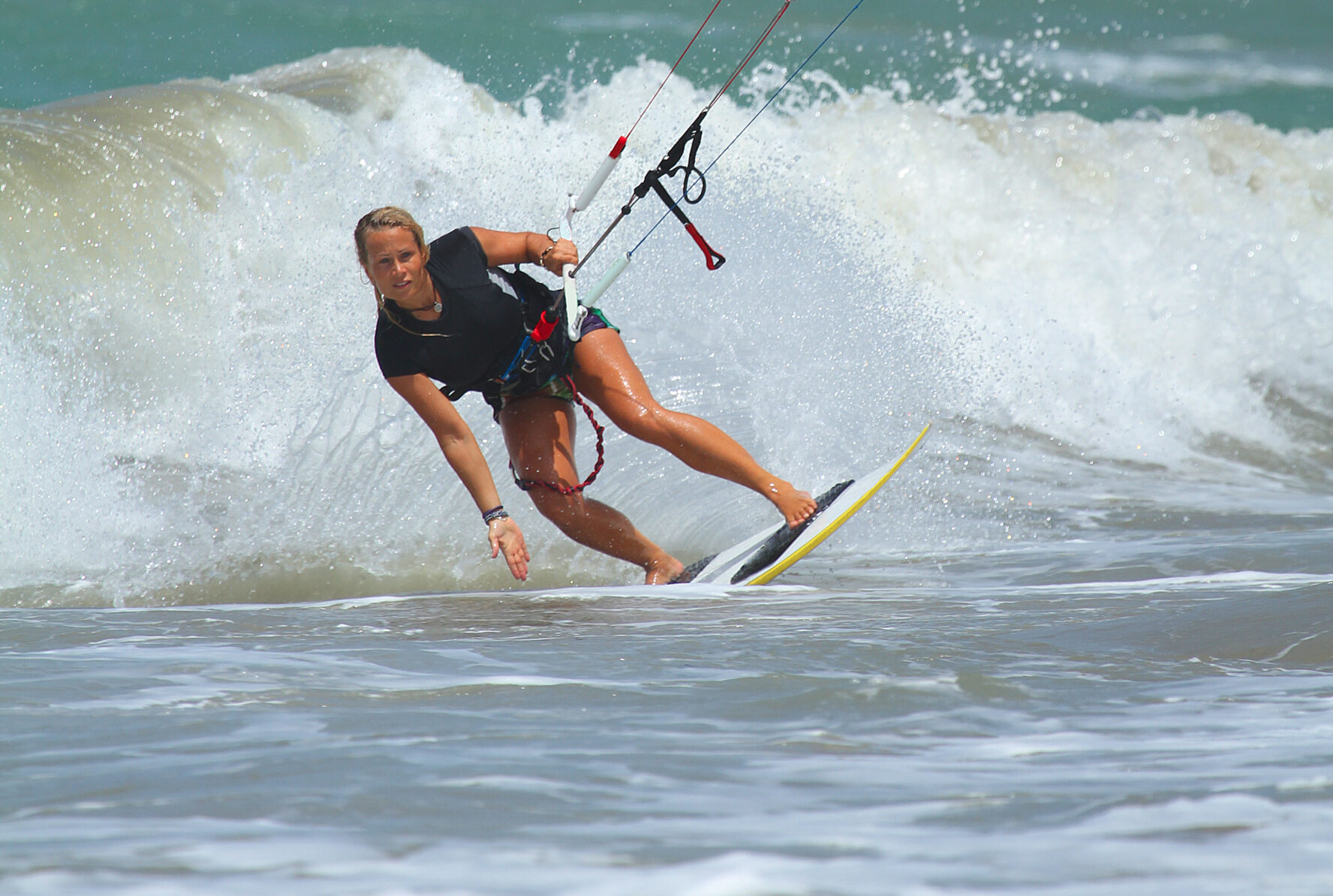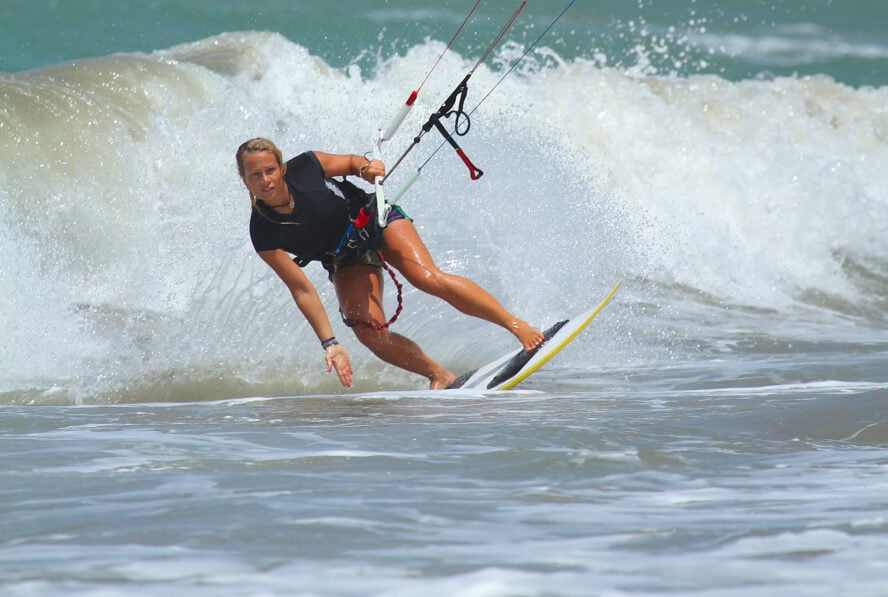 For the more advanced riders in your group
La Boca
If you want some flatwater to test your skills, check out the river mouth at La Boca. The lagoon is small and it doesn't fit more than 7 riders. There are also trees either side, so kitesurfing here is best left to experienced riders. If you have the chops, finish off your session with a downwinder from La Boca back to Kite Beach — if you have the energy.
Encuentro
Encuentro offers some really great waves, but it can get too windy to surf here, so make sure to ask at a local school to get the most current wind conditions and weather report. Sometimes, only downwinders from Kite Beach are allowed, so make sure you have the right info and that you arrange your ride back.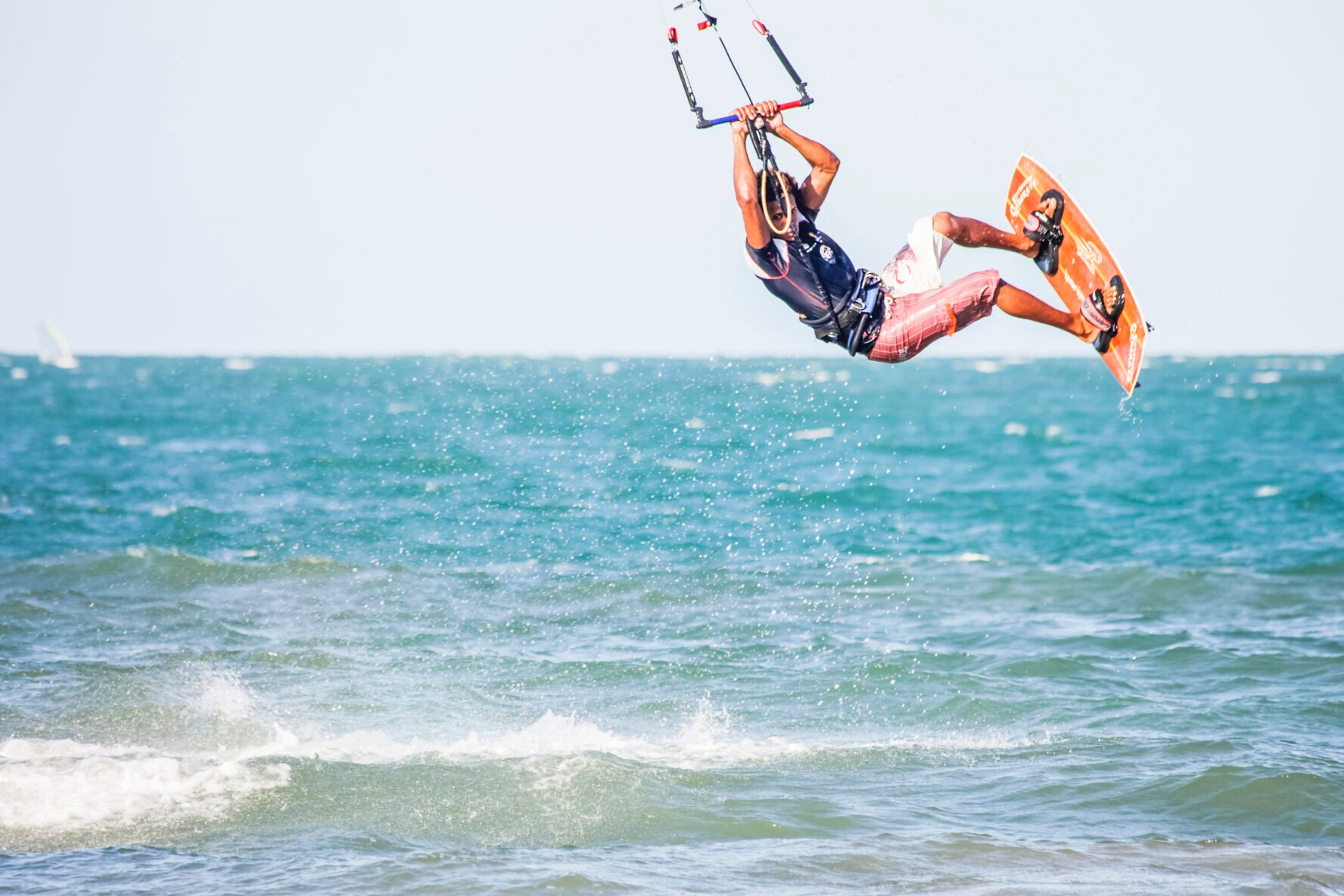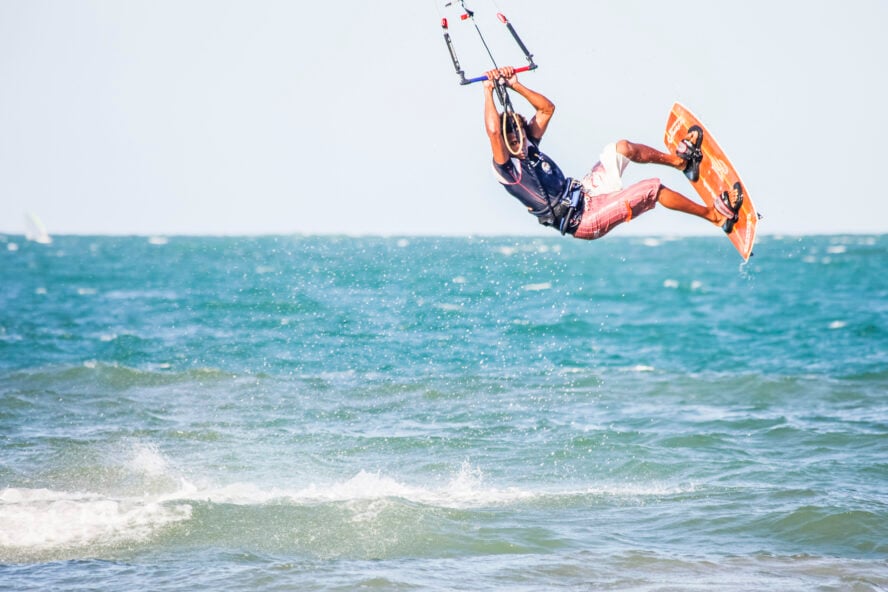 When's the best time to go?
According to the locals, Cabarete has 300 windy days a year. The best months by far are usually June and July, but generally you have good wind from December until April. The hurricane season starts in August, so you may encounter some storms, or even no wind at all. The rainy season in Cabarete is in May and September through November — so plan accordingly when you visit…
Wind speed and kite sizes
The wind speed during the winter months is around 14-24 knots, so it's best to bring bigger kites or even a foilboard — plan on needing anything from 9sqm up to 16sqm, though typically, you'll probably kitesurf be your 11sqm or 12sqm.
During the summer months, wind speeds range from 16-30 knots so bring smaller kites from 7sqm to 11 sqm.
Wind direction
Since the wind direction is side-onshore, start riding out to your right. If you're jumping to the right you'll love that the waves on the reefs create perfect ramps.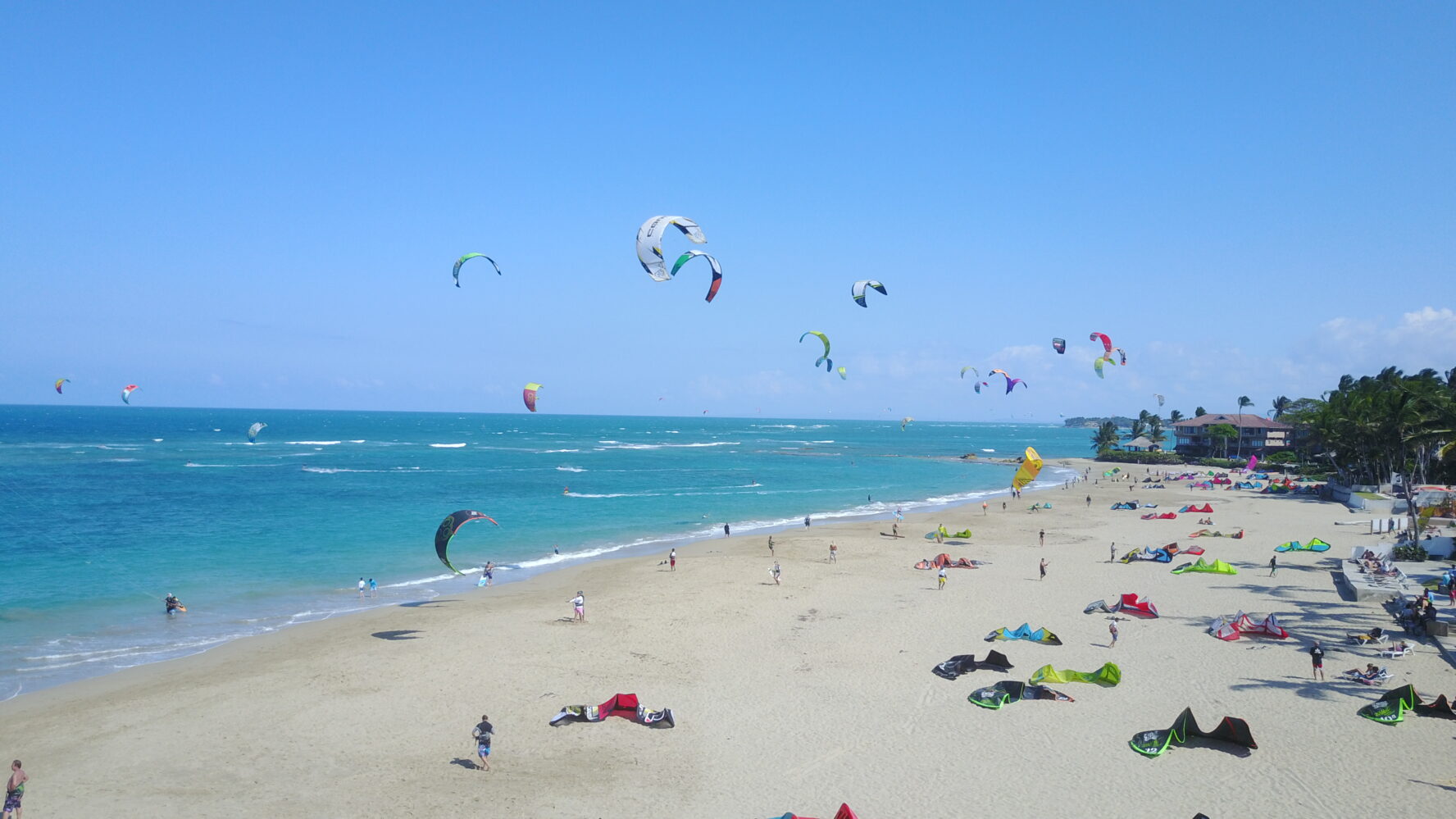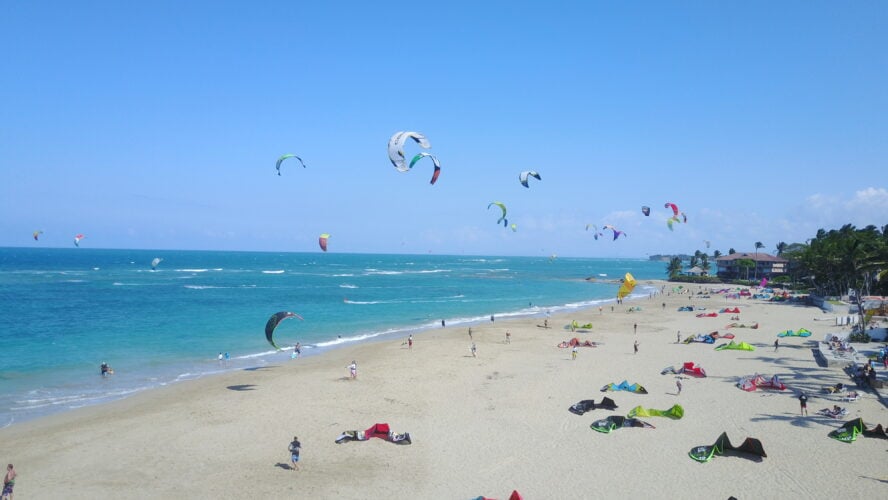 When does the wind pick up?
It doesn't matter if you're sleeping off last night's party or spending your morning at yoga, rest assured, the wind doesn't pick up properly until after noon (during winter months often 1:00 or 2:00pm), and will blow until sunset on a "normal" day. During the summer months the wind sometimes picks up even earlier, around 11:00a, or 12:00pm.
In Cabarete you'll find either choppy water or waves on the reef — and in winter some of those waves can get pretty big, but no so much during the summer. Because the reef protects Kite Beach, the chop never gets too big. Bring a shorty for the winter, and in the summer, a rashguard.
Safety and rescue boats in Cabarete
There are currently no rescue boats in Cabarete. If you're taking lessons, your teacher or school will send out another kite teacher for rescue. For independent kitesurfers, the locals have some impressive techniques in the event your kite needs rescuing.
Having kited in Cabarete for years now, I've needed rescue many times, and it always worked out. Usually, it's a group of kids working together to help: one rescues you, one gets your kite, and the other your board. After that, they'll wait on the beach for you and return your equipment for a well-earned tip.
Generally speaking, Cabarete is about as safe as the best places to kiteboard in the US, but don't leave equipment unattended. You can leave your stuff on the beach if you're going for a break, but I wouldn't leave my bar disconnected anywhere — keep all your gear in one spot.
Getting to Cabarete
Flying into Puerto Plata (POP) is the fastest and easiest option, which is a 20-minute cab ride from Cabarete. You can also pre-arrange your taxi with your lodging accommodations and have your driver meet you at the airport. If you're traveling light and looking to save money, you can walk to the main road and take public transportation for less than $1 USD — more about that here.
Accommodation in Cabarete
You can find something for any budget in Cabarete. If you want accommodations right on a kiteboarding spot, look for something at Bozo Beach or Kite Beach. In Cabarete proper, you have to walk downwind to get to its kite spot, and there is a small wind shadow at the top. I personally prefer Kite Beach to kite and sleep, but you can find much nicer apartment options around Bozo Beach.
Getting around town
While you can walk the distance from Cabarete to Bozo Beach to Kite Beach, you'll likely need a motoconcho, guagua (local shared mini bus) or taxi at some point. Check out this Cabarete Local Transportation Guide for options and prices.
Things to do when there's no wind
Cabarete is one of those spots that offers tons of activities apart from kitesurfing, some close by and some farther away. There's yoga, kickboxing, SUP Yoga, diving, a canyoning tour through its twenty-seven waterfalls, whale watching, etc. Here's a list of all the no-wind activities in the area.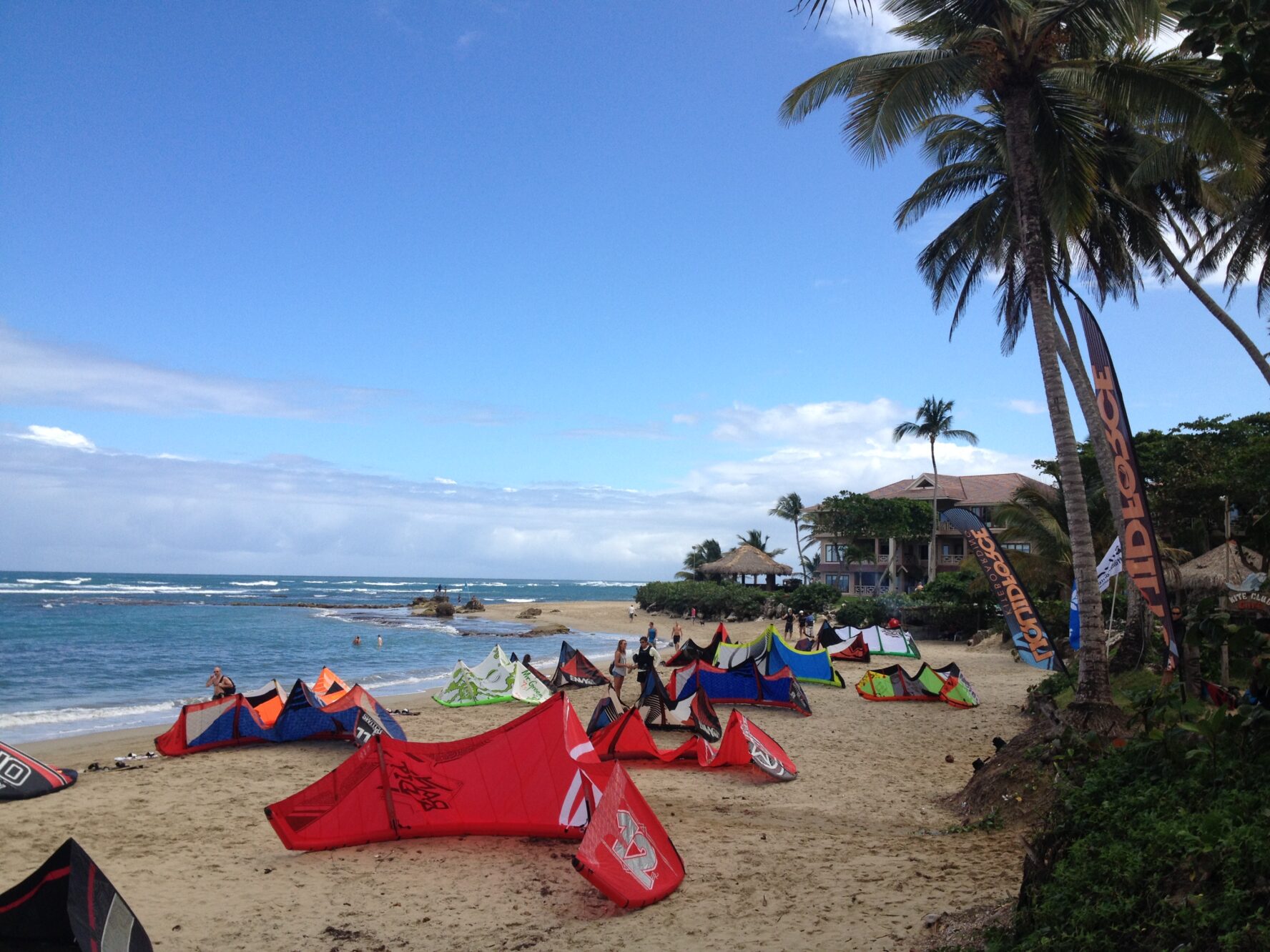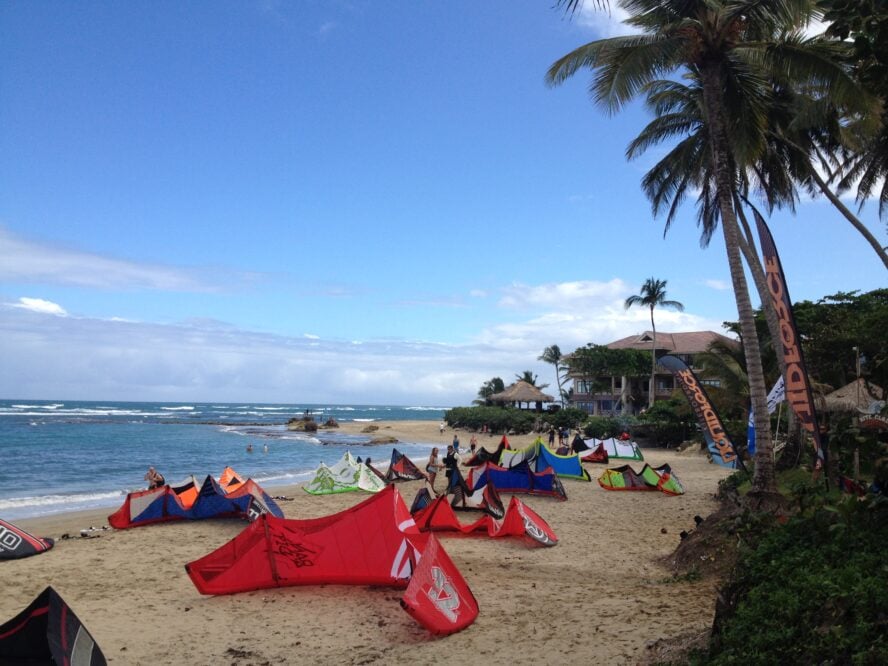 Are you up for an off the beaten path adventure? This 2-day guided trip will take you Buen Hombre and appropriately named Paradise Island, combining Cabarete's iconic vibe with must-ride hidden gems!