Kiteboarding in Squamish, BC – A Freestyle Rider's Playground
There's a reason the town of Squamish is world-renowned among kiters and home to Canada's largest kiteboarding competition. That reason is the Spit.
With exceptionally flat water and smooth, consistent wind, Squamish, British Columbia offers some of the best kitesurfing in the world if you're a freestyler. The lush scenery features turquoise, glacial-fed water surrounded by giant mountains and evergreen forests that stretch into the distance. It's a place where advanced riders can practice kite loops or other tricks amid stunning backdrops.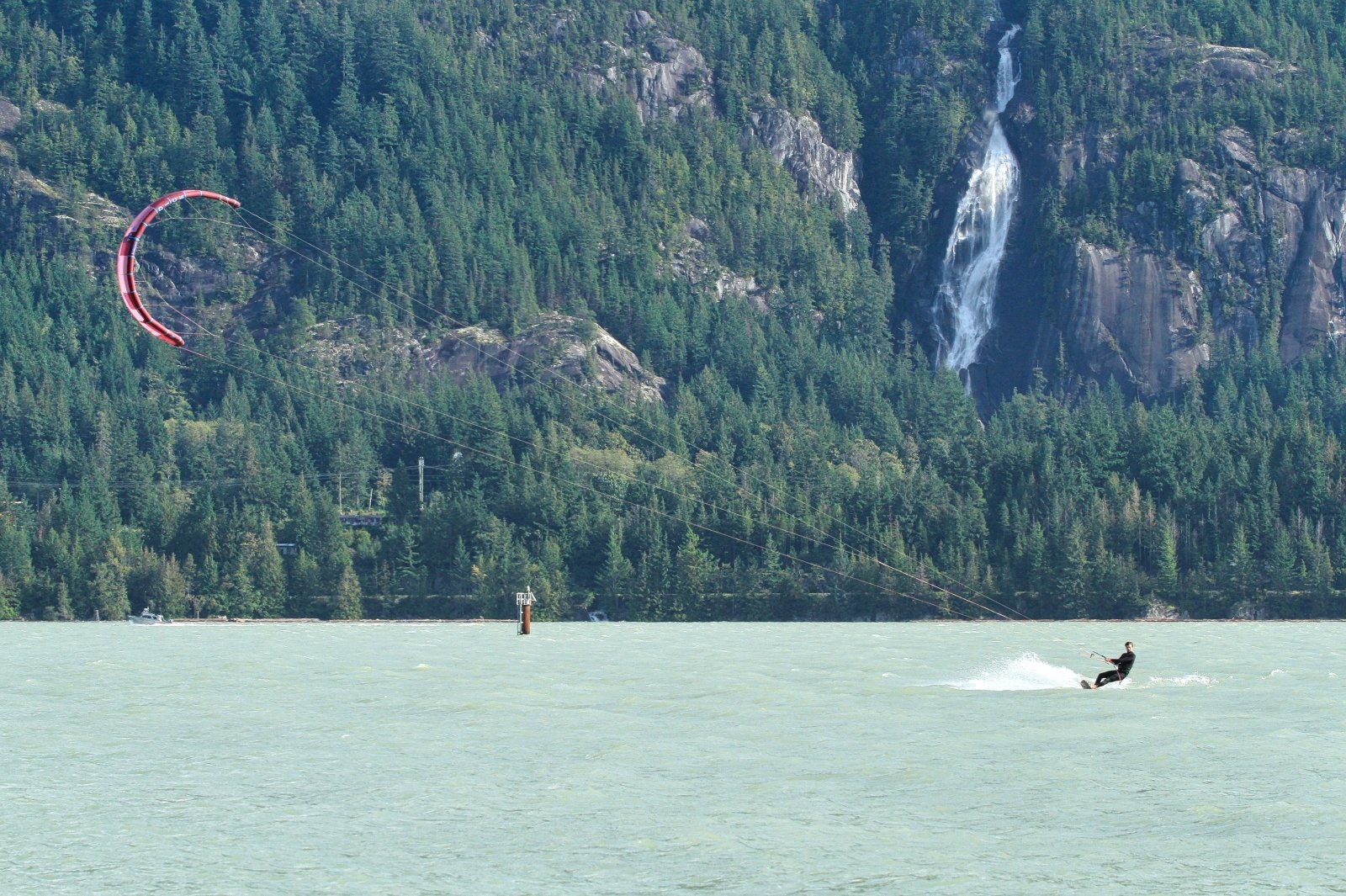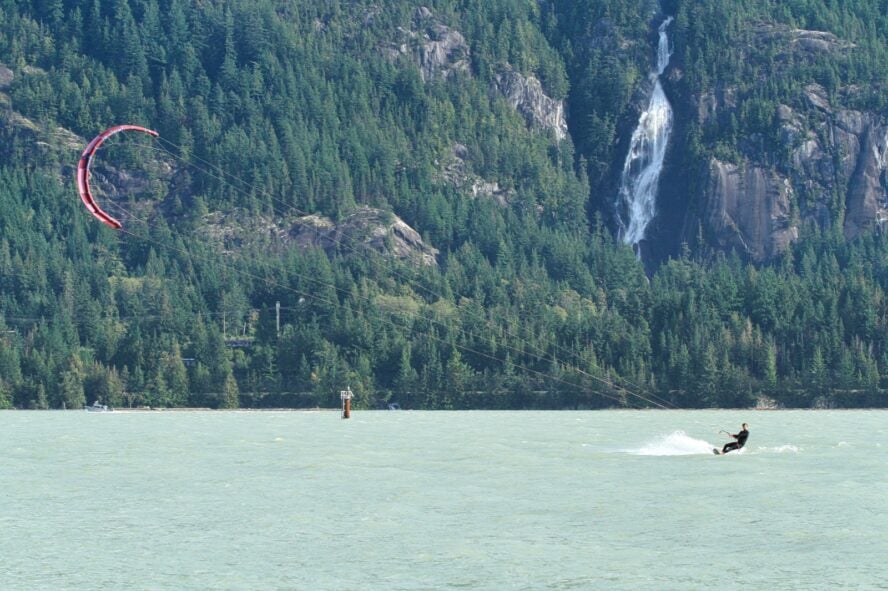 Pros and Cons of Kiteboarding in Squamish
World-class freestyle conditions
Stunning mountains and cliffs
Cute town with great outdoorsy vibe
Tons of no-wind activities
Not a lot of great beginner options
Food and lodging is expensive
Hard to get around without a car
Nestled between towering coastal mountains and huge granite domes, the wind in Squamish blows almost every day from May to September. You can head down to the Spit practically any time during those months and find a colorful collage of kites splatter-painted across the water.
This fall, I had the chance to spend a week in this wind sports mecca and it became immediately clear why its popularity rivals the best kiteboard places in the US. In addition to the amazing wind conditions, it's chock-full of other fun things to do such as rock climbing, mountain biking, and whitewater rafting. Not only that, the town itself is super charming, full of cute boutiques, brewpubs, coffee shops, cafés, and a farmers market.
On the east side of town, Stawamus Chief Mountain — better known as "The Chief" — offers gorgeous climbing and hiking opportunities (and a scenic gondola ride). Whistler is only 45 minutes away and the vibrant city of Vancouver is just an hour south. It's the perfect example of an adventure destination that offers a little bit of everything.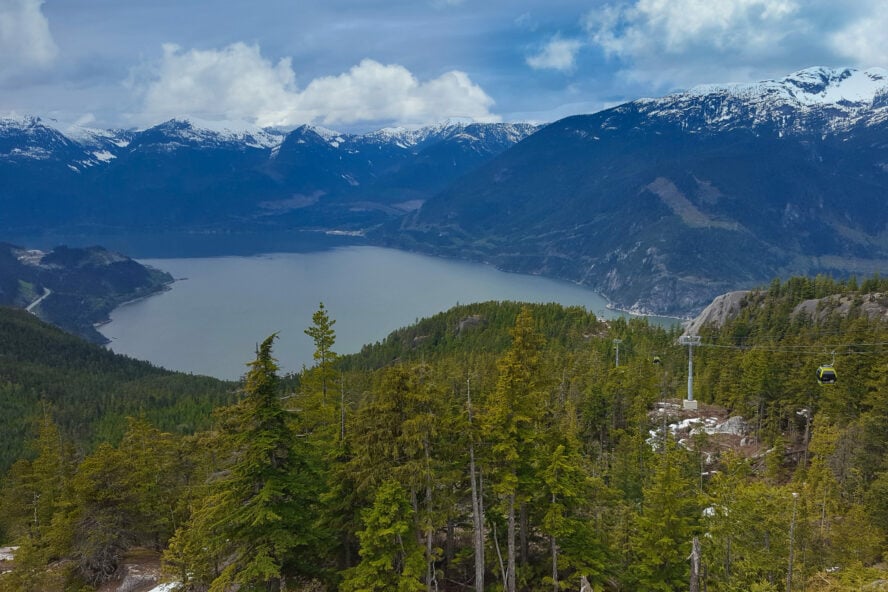 The kiteboarding conditions in Squamish
The wind turns on in Squamish around 10 to 11am most days, and sometimes it doesn't turn off until sunset. The thermals tend to be strong and consistent, typically blowing around 18 to 25 knots. It's smooth and not too gusty, although the wind speed can change quite a bit throughout the day so it's wise to bring a full quiver of kites. You can check the forecast at the Squamish Windsports Society's website.
Due to its cross-offshore wind and rocky, narrow launch, Squamish is best-suited for more advanced riders. That's not to say that beginners and intermediate riders shouldn't come. On the contrary, there are plenty of schools around to take beginners out for on-water boat launches, and intermediate kiters can arrange upwind drops or supervised riding sessions. It's just not advisable for less skilled riders to attempt to kite alone here.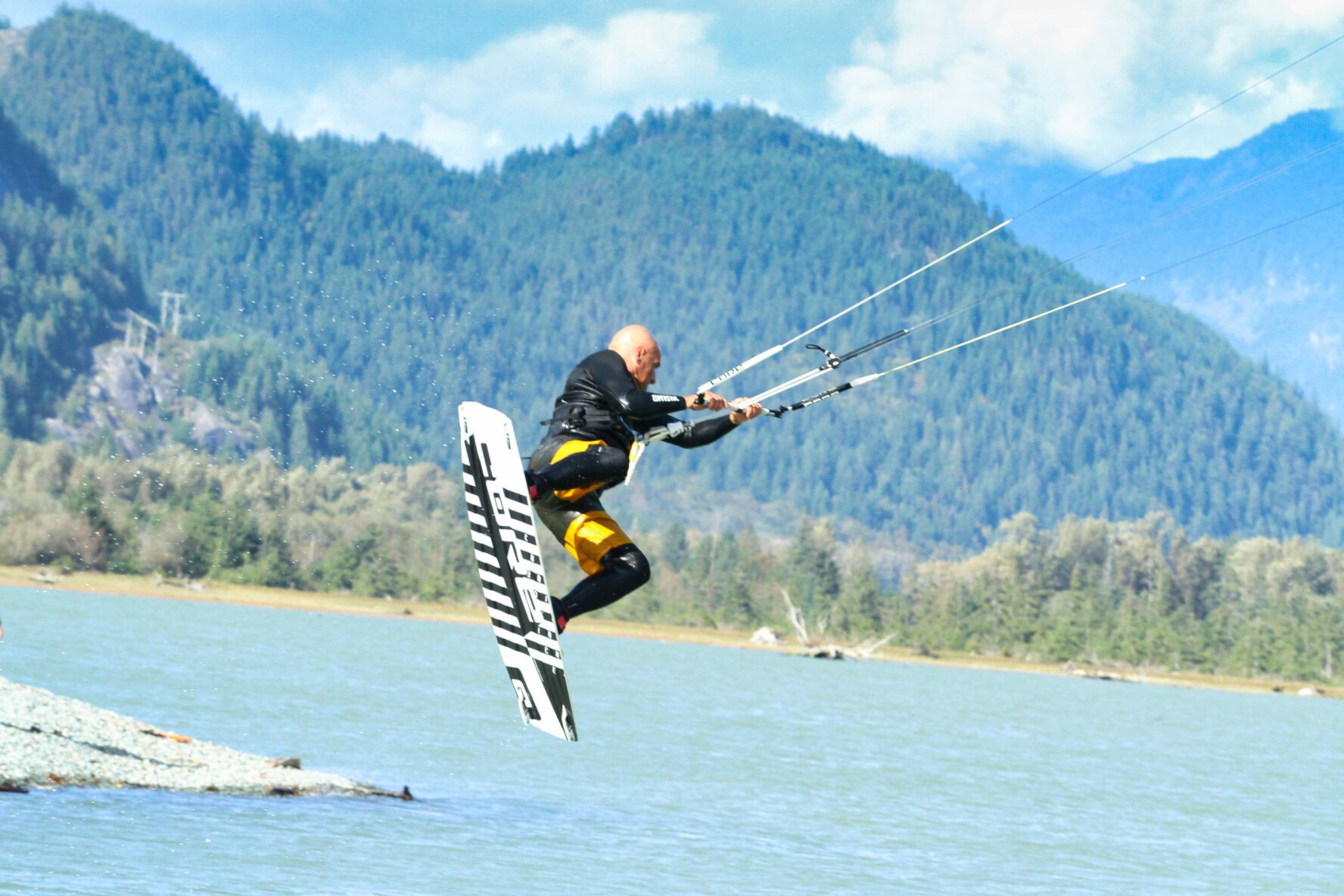 The biggest draw is the flat water which provides exceptional freestyle conditions. It attracts lots of pro kiteboarders throughout the summer seeking a consistent place to practice kite loops and unhooked tricks. Once a year, huge crowds descend on the town for Kite Clash, a huge Canadian kitesurfing competition.
The weather in Squamish
Squamish is sunny during the summertime but it's not particularly warm. The air temperature averages 65 to 75 degrees Fahrenheit — warmer than nearby Vancouver but definitely not sunbathing weather. At night, the air can get extra cold so be sure to pack puffy jackets and warm hats. The launch spot can get chilly too so if you plan to hang out after your session, you'll want a warm jacket. The water temperature hovers around 46 degrees Fahrenheit, so you'll need a thick wetsuit too, as well as gloves and booties. If you're riding during the shoulder season, you may want a cap, too.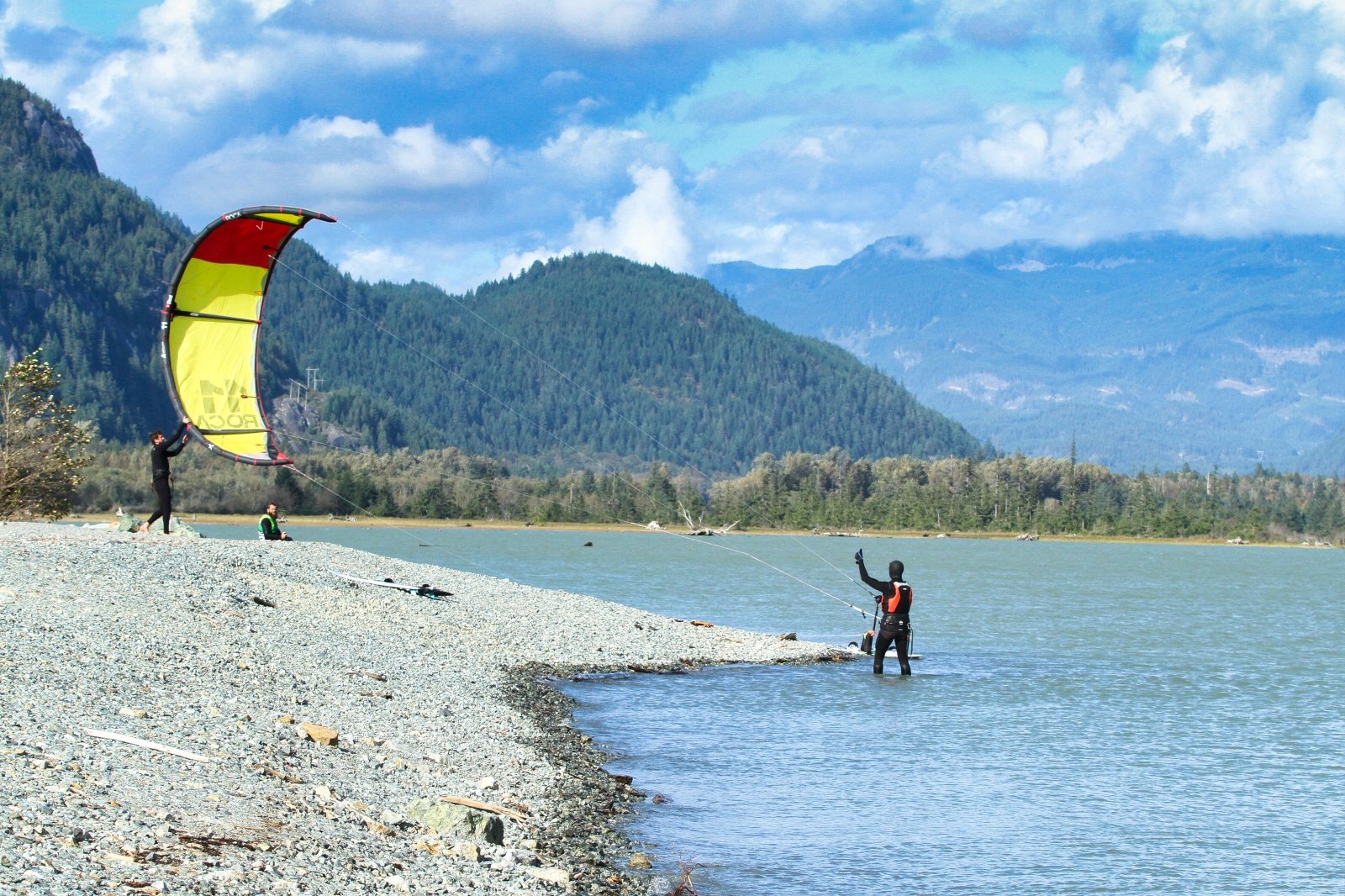 The best kiting spots in Squamish
There are two main spots to kiteboard in Squamish: the Spit and Nexen Beach. Here's what you need to know about the conditions at both places:
1. The Spit
The main kiting spot in Squamish is the Squamish Spit, a long, narrow stretch of land that juts out into the water where the Squamish River meets Howe Sound. Situated at the end of a long and bumpy gravel road, the scene out there is fun and laid-back — a colorful hodgepodge of kiters of different ages, languages, and nationalities. It tends to draw more advanced riders which is nice because you don't have as many beginners slamming kites down in front of you, or accidentally crossing your lines. That said, newbies shouldn't feel intimidated — there are lessons available (check out Aerial Kiteboarding School or Squamish Watersports), and the people are friendly and welcoming. The schools typically use zodiacs to launch students in the middle of the water away from the crowds.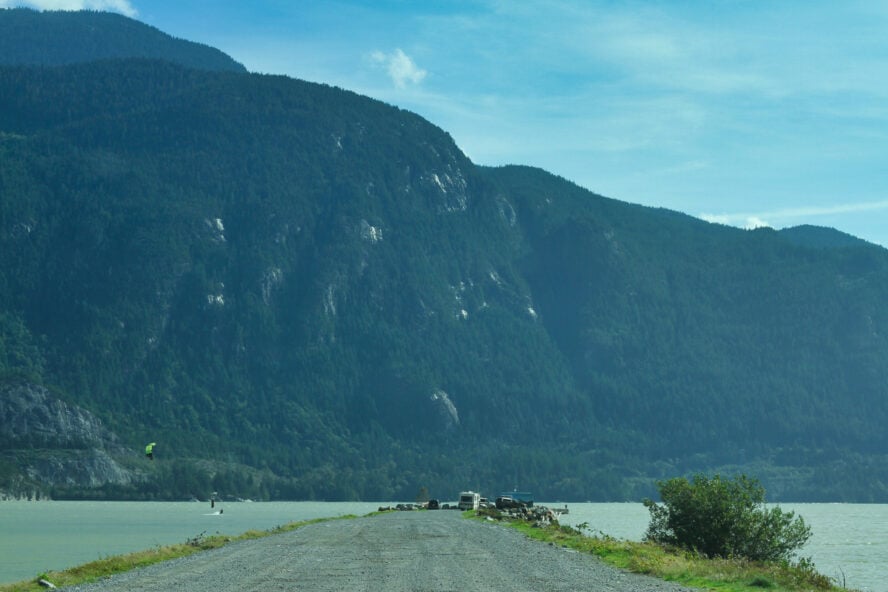 The launch at the Spit is mostly rocks and gravel so even if it's not cold, you may want booties. The rocks, combined with the cross-offshore wind, make it a challenging launch, although it can be easier at low tide. There's also a shipping terminal downwind with freight ships coming in and out. (You can check the freight schedule at the Squamish Terminals). Since the dock obviously isn't an ideal place to wash up, it's important for you to be able to stay upwind if you're going to ride unassisted. Just upwind of the shipping dock is a flatwater freestyle spot locals call the "Honey Hole."
High season at the Spit
From May 15 to Sept. 15 — Squamish's official kiting season — the Squamish Windsports Society (SWS) manages the launch, setting up bleachers and tables, bathrooms, and changing booths. Organizers place felt mats along the launch site to protect your gear from the rocks, and they operate rescue boats that will come scoop you up if you get into trouble. During the height of the season, it's not uncommon to find 150 to 200 people congregating there.
Keep in mind that the launch site isn't free — there's a $20 day use fee or $180 for the whole season ($95 with a student ID card). The money goes directly to SWS to run the rescue boats and keep the site maintained. I visited in September, about a week after they shut down for the season, so I never got to see SWS in person, but locals filled me in on how it works. You can find all of the rules at Squamish Watersports.
2. Nexen Beach
If the crowds at the Spit are too much for you, there's an alternative launch on the other side of the shipping terminal called Nexen Beach (sometimes called Newport Beach). This spot has onshore winds and obstacles in the water which make it tricky to launch from but once you're out, you don't have to work as hard to stay upwind. Plus, if the wind suddenly shuts off, you'll flush right back to shore.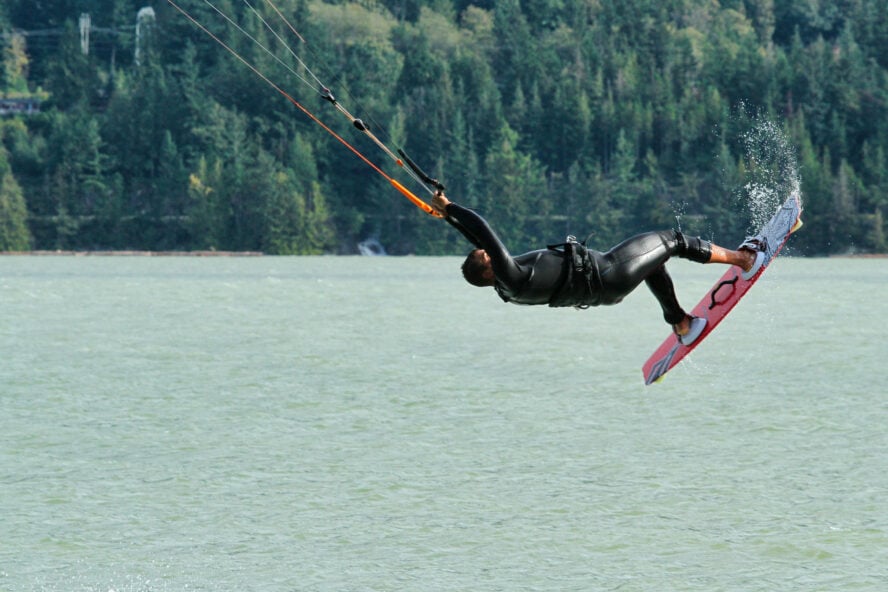 3. Vancouver
If these launch scenarios seem too daunting, there's also great kiting in Vancouver which is only an hour away. Spanish Banks Beach (with the launch at Dog Beach) has lifeguards on duty for most of the summer, and its side-shore winds are easier to navigate. Not only that, the area has a long stretch of beach for downwinders.
How to get to Squamish
Getting to Squamish is pretty easy — you simply fly into Vancouver International Airport (YVR) and drive about an hour north. Once you're in town, enter "Squamish Spit" into Google Maps to take you to the launch. It will guide you through town, down Bailey Road (which turns into Government Road), and right to Spit Road. After taking a left there, you'll follow a bouncy gravel road about a mile until you see the angled parked cars.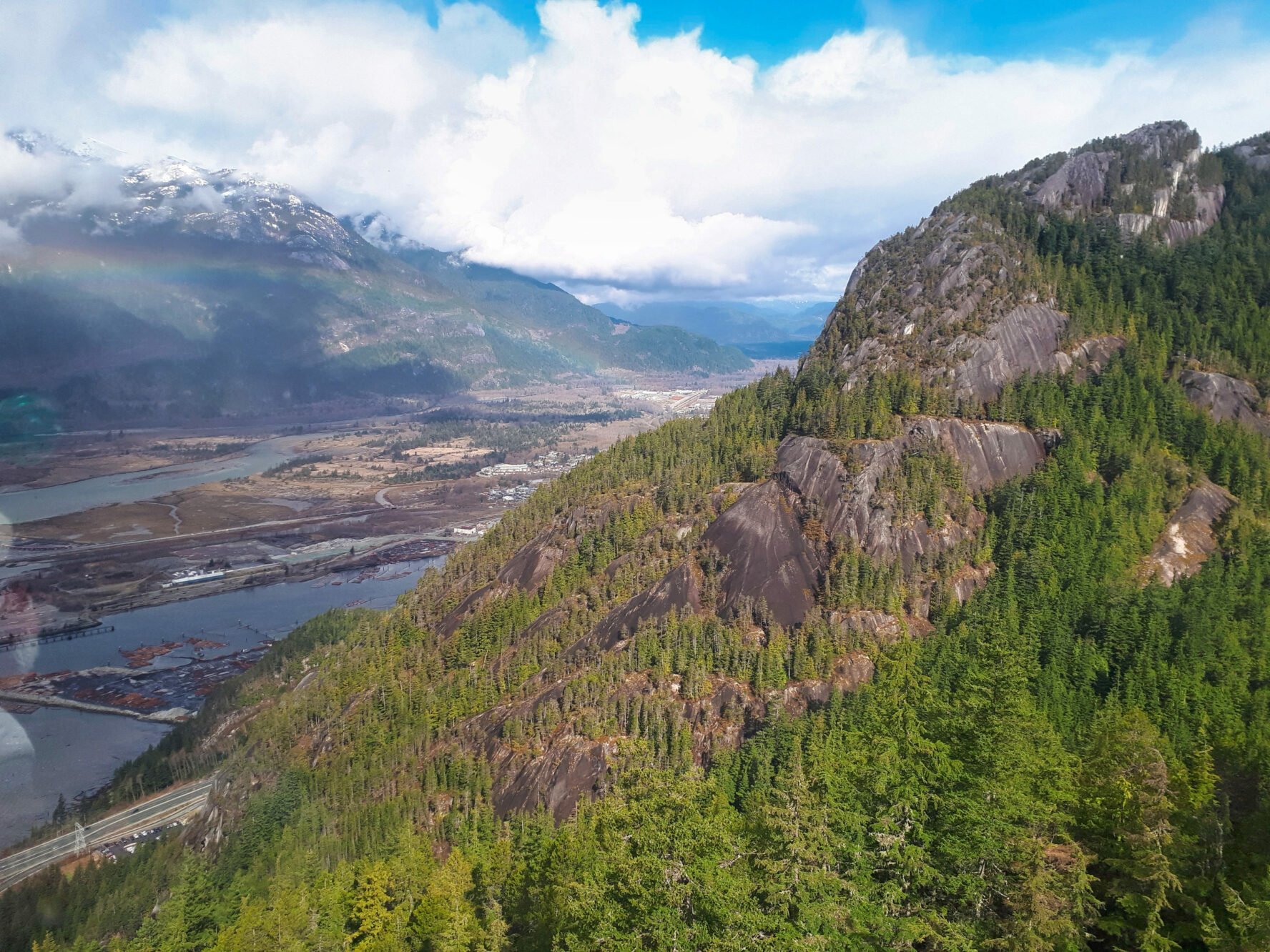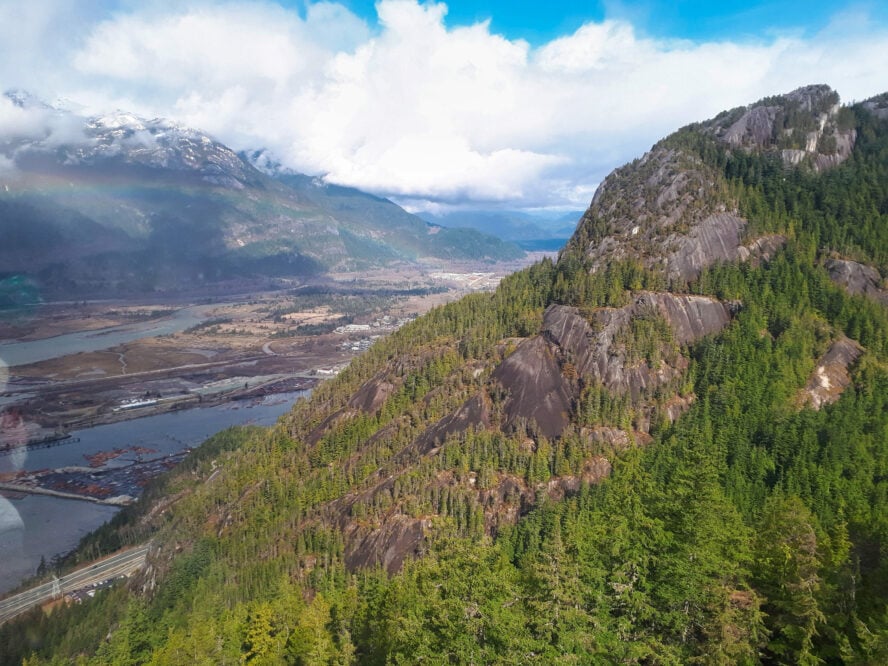 There's a bus that goes from Vancouver to Squamish too; however, it's difficult to get around once you're there without a vehicle. It's even harder to get all the way out to the Spit (although I did see one guy doing it on a bike). For this reason, renting a car is usually your best bet.
Where to crash after a day on the water
Squamish offers a wide variety of lodging options, ranging from higher-end hotel suites to simple budget hostels. I stayed at two places on opposite ends of the pricing spectrum to get a full sense of the options. I began at the more upscale Executive Suites Hotel & Resort ($179-259/night) where Tourism Squamish set me up in a one-bedroom suite with a full-service spa on site, along with a jacuzzi, swimming pool, and sweeping views of the mountains. The spacious private suite had a full kitchen, separate bedroom, living-dining room, and beautiful balcony overlooking the pond — the whole experience was amazing.
Next, I headed to the Squamish Adventure Inn ($33-99/night) where I was expecting a significant downgrade; however, I was delighted to find that it was in fact one of the cutest, cleanest hostels I've ever stayed in. In addition to the exceptionally friendly service, the charming riverfront hostel has a grassy lawn with a barbecue out front, walking path, outdoor gear storage, bike-SUP- kayak rentals, and laidback, welcoming vibe. The common spaces are clean and well-organized, and my single room had a cozy double bed, flatscreen TV, and private bathroom.
I didn't stay at any mid-range options myself, however, I talked to people in town who recommended either the Sandman Hotel ($125-$175) or the Howe Sound Inn ($110-$150). Both of those places also have high ratings on Hotels.com.
Where to grab a bite
Squamish has no shortage of excellent dining options. Zephyr Café offers homemade organic lunch delights (I had a delicious chicken avocado burger), and for dinner Backcountry Brewing serves pizza and beer options with eccentric titles like "Grandpa Joe's Insurance Fraud Pale Ale" or the "Your Mom Goes To College Boysenberry Pie Sour." If you're seeking something a little fancier, the The Salted Vine serves higher-end, farm-to-table options. Another long-time staple of Squamish is Fergie's Café—I didn't eat there personally but practically everyone I spoke to—including a friend who lives in Vancouver —said it's a must-visit Squamish institution. The café recently reopened after a fire last year.
What to do on no-wind days
One of the best things about Squamish is that on days the wind doesn't blow, there's plenty to do. The surrounding mountains and forests offer premiere rock climbing and mountain biking opportunities, as well as beautiful hiking and camping. There are also high-adrenaline activities like whitewater rafting, bungee jumping, kayaking, as well as the famous Sea to Sky Gondola.
Another fun no-wind day option is to take a trip to Vancouver which is only an hour away. I spent two days there during my trip and I had a blast doing city stuff. I stayed at an eccentric retro hotel called The Burrard (I didn't have my dog but read it was pet-friendly), and I spent time wandering the city with a friend. We checked out the Capilano Suspension Bridge which was beautiful (albeit crowded) with big old-growth trees, and participated in a boat tour of the city with Vancouver Water Adventures which included an excursion to a seal colony. Here are some links to a few of the best nearby attractions: