The Best Spots for Kiteboarding in NYC (Yes, you read that right!)
With waist-deep water and plenty of wind, NYC is the perfect place to learn how to kiteboard — if you know where to look. Luckily, I've spent years tracking down the best spots to launch from.
When you think of the Big Apple, "outdoor adventure city" probably doesn't come to mind. But, if you know where to look — and believe me, I've spent years searching — there are plenty of spots to get your adventure kicks in. When I took up kiteboarding (albeit, a little reluctantly), I was bit by the bug. After a vacation in Cabarete where I first took up the sport, I began searching around the NYC area for the best kiteboarding spots. Much to my surprise, there are plenty of amazing places to launch and learn from. Here's everything I've found out.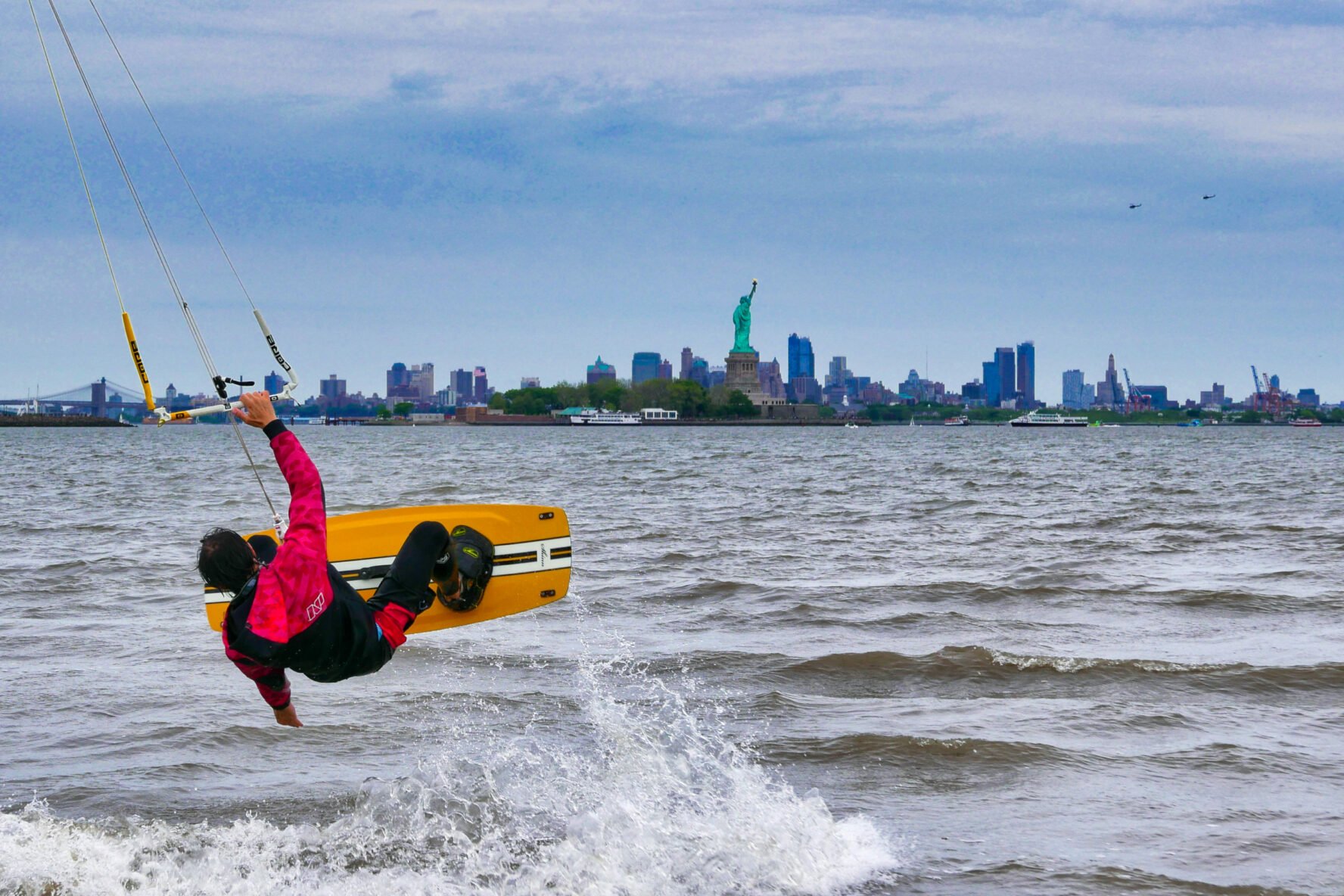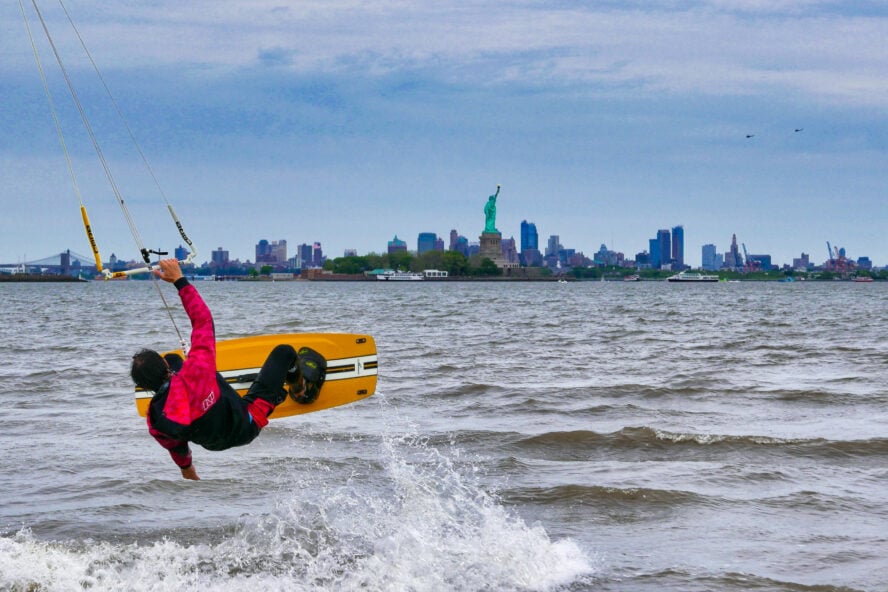 How I got into kiteboarding
Dominican Republic it was. Not Colorado, Jackson or Utah for my usual powder hunting and backcountry turns. When my wife tore her ACL, our winter plans for a ski vacation were put on hold. I was totally pissed I'd be missing early ski season, and brought tons of books with me so I'd actually have something interesting to do while there.
Boy, was I wrong. We had a blast on the warm, tropical Dominican waters! Once back in NYC, I started looking for spots for further kiteboarding tours. It wasn't easy. We traveled Long Island over days, months, and even years in search of the best spots. Now we have it all figured out for you. Read on to find the best spots to kiteboard around the NYC area!
Why kiteboarding in NYC?
When you think of kiteboarding or windsurfing, some of the best surfing spots in the world like Bonaire (Antilles), Maui (Hawaii), Canary Islands (Spain), Mauritius (Indian Ocean) come up first. Yes, if you like warm weather and warm oceans nothing can beat these top kite spots.
but cold water is not a dealbreaker for me (or most surfers, just look at the kiteboarding in Squamish) and NYC has plenty to offer as a training ground. If you live in New York and want to learn or sharpen up your skills, there are world-class spots available.
Knee-deep bays miles long, combined with flat waters and thermal winds from the ocean make it perfect for beginners in NYC to learn. There are places 40 minutes to an hour from Brooklyn or Manhattan by car, and some you can even get to by train. On the way back you can always hit Red Hook for some amazing food. Our favorite, since we're talking about the sea, is Brooklyn Crab.
Kiteboarding vs. kitesurfing
Is there a difference between kiteboarding and kitesurfing? While "kiteboarding" and "kitesurfing" are terms generally used interchangeably, kiteboarding seems to be the more common usage in the US, Canada, Argentina, France and the Czech Republic, while kitesurfing in Europe, Brazil and other areas. Kitesurfing sometimes refers to using a regular surfboard or non-traditional setup when kiting. Whether you call it kiteboarding or kitesurfing, the sport combines a bunch of different components: surfing, sailing, windsurfing, wakeboarding, snowboarding, and even a little paragliding.
Absolute Beginners: How to Get Into Kiteboarding
Kiteboarding is very hard to learn on your own. Nearly impossible, I'd say. I'm an active outdoor adventurer and it took me three days to get on the board and surf for 50 yards. Unlike my colleague Perica, who gushed about his surf camp in the Rockaways, I was frustrated, and if I didn't have a great instructor I'm not sure how I would have done it. If you have wakeboarding experience, which I didn't, you're at a bit of an advantage. Count on 10-15 hours of lessons before you're comfortable out on your own.
Here are some options to start that I recommend based on my experience:
1. Book a kiteboarding vacation
Book a trip to a place like Maui, La Ventana, Mexico, or Cabarete in the Dominican Republic, and include a kiteboarding school in your package. The best way to learn is to spend a few hours on 4-5 consecutive days getting the basics nailed down. By the end of the week, you should be able to board upwind, a required bit of learning before you start soloing surfing spots around New York.
On a couple different trips, I've been to Extreme Hotel in Cabarete. This is arguably one of the best kitesurfing spots in the world to learn at, with near-guaranteed winds through all seasons. The "hotel" is more like a hostel and is run by a group of Canadians who make you feel like family. For Christmas, the whole hotel went on a bus to the mountains to have traditional dinner. It was amazing!
I also recommend Cabarete Kite Point Kite School. Tracy Shayhorn, the founder and co-owner, was a former professional race car driver that went to Cabarete on vacation to learn how to kiteboard and she never left! That's the kind of draw that Cabarete has. If you need more convincing on what makes Cabarete the perfect kiteboarding vacation, Tracy hosted a 57hours Epic Adventure Webinar that goes into all the details you need to know to plan a trip here.
2. Book kiteboarding lessons in NYC
Kiteboarding around NYC takes a bit of patience. Winds in NY are sporadic and rarely do you have great conditions a few days in a row. This means you'll often need to split your class into two or three visits. Be persistent, because it might take a while to get the skills you need to be on your own. We recommend the New York Kite Center — they have multi-day options that will have you up and kiting in no time.
Where to Kiteboard in NYC?
The million dollar question! We reviewed the top spots for kiteboarding in the NYC area. Read on to find out the best spots to launch from!
1. Plumb Beach, Brooklyn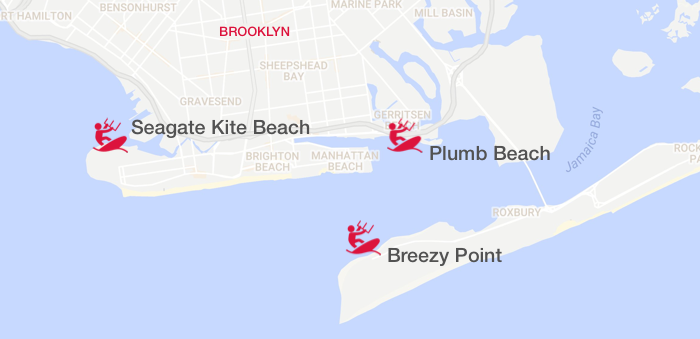 This is disgusting. But you get to be strong in New York. You can handle anything… I think. If you survive this, then we can go to the Caribbean and be in heaven.
I cannot stop laughing at that quote. This infamous spot has been popular with windsurfers and kitesurfers for a long time. It's much cleaner today than it used to be, but this funny video from 1977 will give you a good idea how this beach looked back then.
Plumb Beach is quite convenient, with parking right at the beach, and open all year long to kites. The tide makes it very shallow, so you can walk 100-200 yards from the shore at times. A great spot for learning, but not a contender for the best surfing spots in the USA list.
Best conditions for Plum Beach kiteboarding
The best winds for kiteboarding are those that blow parallel to the beach, known as side-shore winds. On-shore winds, those that blow from the city out to the sea, also create favorable conditions.
Winds: E, SE, S, SW
Months: March through May and September through November
Tides:
All
Getting to Plumb Beach

Directions

By Transit
1 – 1.5 hours
Take the Q to its last stop, Sheepshead Bay. Then hop the B to Shore Parkway / Brigham St. Walk south on Brigham Street across Emmons Ave and look for a path to the beach on your left.

By Car
30 min – 1 hour
From the bridges in Brooklyn, Take I-278W to the Belt Parkway. After Exit 9B, there's a small turnoff into the park.
Grab a Bite Around Plumb Beach

Clemente's Maryland Crab House

If seafood is your thing, Clemente's is a waterside joint offering up Maryland-style all-you-can-eat crab meals, clams & more, complete with bayside Tiki Bar.
2. Sandy Hook, New Jersey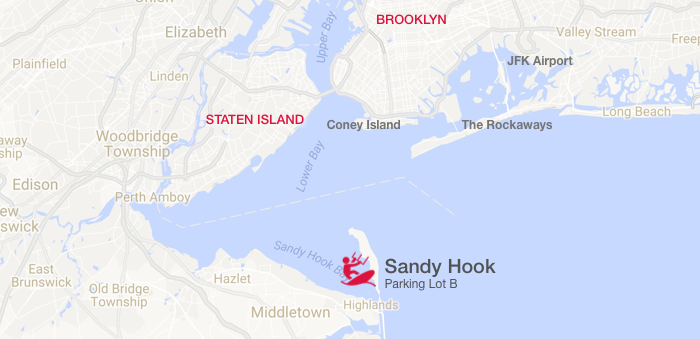 Sandy Hook is great for beginners in north or west winds."
This is a beautiful spot and it works well when the wind blows from North or South. You have some good wave riding not unlike what you get kiteboarding at Cape Verde, as well as some flat shallow water on the western shore, perfect for beginners, which is why it makes the list as one of the best spots to kiteboard in the USA. It's about an hour and a half drive from Manhattan or Brooklyn, but is definitely worth it.
Kiters should avoid launching kites at parking lot C, which is reserved for windsurfers and also dangerous because of power lines. The only exception would be during north winds. Most of the time you should launch from parking lot B, on the Sandy Hook Bay side.
Best conditions for Sandy Hook kiteboarding
Winds: N, S, SW
Months: March through May and September through November
Tides: All
Getting to Sandy Hook

Directions

By Transit
1 – 1.5 hours
Take the Ferry service from the East 35th St port in Manhattan. The Seastreak line will take you to Highlands, NJ. From there, grab a taxi or rideshare to Parking Lot B.

By Car
1 – 1.5 hours
Take I-278W through Brooklyn and Staten Island until Exit 5, taking NY-440 south. At the Garden State Parkway head east until Exit 117 NJ-36. Once on the hook, take Ocean Ave north to the lot.
Grab a Bite Around Sandy Hook

Chilangos

Mexican fare from a Mexico City native. Over 200 tequilas, and they make a killer post-kiting cucumber margarita. Fish tacos, chile rellanos, and sizzling fajitas.
3. Gilgo / Tobay Beach, Long Island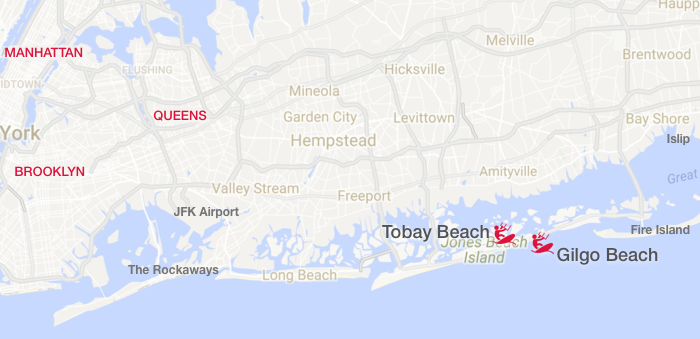 Gilgo Beach is an oceanside beach and it's the best place around for wave kitesurfers. I'm still learning how to ride larger waves, but I've seen people there ripping it. It's probably the best local spot to get some practice before heading to Maui for your big adventure week.
Across the road is Tobay Beach, where you park for Gilgo as well. Tobay is a nice small beach with a great launch area. The small initial bay opens up into a set of canals that offer the best flat water riding. Make sure that you have enough wind and can easily ride upwind, because if you lose power it's going to be hard to navigate through labyrinths back to the beach. You can also always stick to the first bay and do 100-200 yards runs.
Best conditions for Gilgo and Tobay Beaches kiteboarding
Winds: NE, E, SE, S, SW, W
Months: April to May and September through November
Tides: All
Getting to Gilgo/Tobay Beach

Directions

By Transit

1.5 – 2 hours

From Penn or Atlantic Terminal, take the LIRR east on the Montauk ride to Freeport. From the station, grab a taxi or rideshare to Gilgo Beach.

By Car

2.5 – 3 hours

Take Atlantic Avenue to Conduit Blvd and link up with Belt Parkway. The Belt turns into Southern State Parkway, which you'll follow until Exit 22S, Meadowbrook State Parkway. Follow the Parkway south to Jones Beach Island, and take Ocean Parkway east until you reach Tobay or Gilgo.
Grab a Bite Around Gilgo/Tobay Beach

Gilgo Beach Inn

There aren't many food options in the area, but we appreciate that the Gilgo Beach Inn is going strong. Breakfast sandwiches and yogurt bright and early. Burgers, BBQ, and other pub grub for lunch.
4. Napeague Bay, Long Island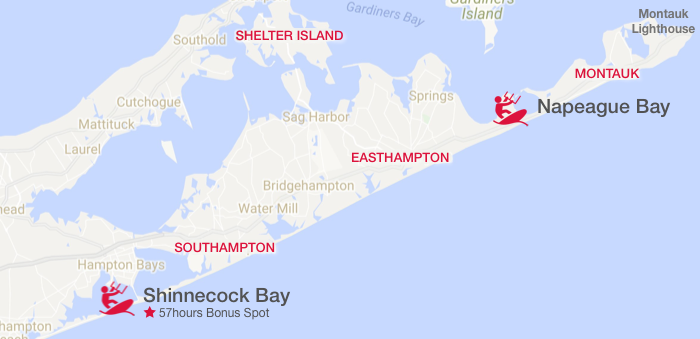 Napeague Bay is an amazing place to kiteboard, especially combined with a visit to the elegant Hamptons or a wild party at Montauk. It's a huge shallow bay that works in any wind direction. Because it's curved, you can always find a spot where the wind will be side-shore.
Kitesurfing may not be the only thing you want to do since you've driven two to three hours from the city. You can rent stand up paddleboards at local surf shops or go to Montauk to catch some waves by surfing kite-less. You can rent a sailboat or hire guides to go big game fishing. I personally love riding my road bike when on that end of Long Island. The road from Napeague to Amangasett, and then to the Hamptons is a really nice ride. If you head the opposite direction, Montauk Lighthouse is an interesting historical-themed visit with beautiful views.
There are a lot of things to do around the area, plus some of the best restaurants and interesting wineries to visit for dinner.
Best conditions for Napeague Bay kiteboarding
Winds: NE, NW, S, SW
Months: March through June and September through November
Tides: High (mid-afternoon)
Getting to Napeague Bay

Directions

By Transit
3.5 hours
Take the E, Q, or J to Sutphin Blvd, and walk a short distance to Jamaica Station. Take the LIRR east on the Montauk line to Amangansett. From there grab a taxi or rideshare to Napeague Harbor.

By Car
2.5 – 3 hours
Take the BQE (1-278E) to the LIE (I-495E) at Exit 35. Then, follow I-495 until Exit 70, take NY-111S a couple miles to NY-27E. Lastly, follow NY-27 for around 30 miles and look for signs to Napeague Harbor.
Grab a Bite Around Napeague Bay

Clam Bar

It's in the name! A seafood bonanza specializing in clams on the half-shell. Lobster salad rolls and swordfish sandwiches. If it's from the sea, they fry it and plate it. A perfect protein addition after a long day of kiting.

Wölffer Estate Vineyards

Visit this winery's tasting room and sample their award winning riesling and rosé. Catch a sunset at the "Wine Stand" and sip wines and ciders.
Bonus: My Secret Spot
Shinnecock Bay! A source at a surf shop in Southampton said that they teach people to kiteboard there. Of the half dozen times I've been there, maybe one or two kites would show up. I surfed at least a mile from the shore and the water was still knee deep. An outstanding place to learn!
Best conditions for Shinnecock Bay kiteboarding
Winds: W, NW, SW
Months: March through June and September through November
Tides: High (Noon)
Getting to Shinnecock Bay

Directions

By Transit
3.5 hours
Take the E, Q, or J to Sutphin Blvd, and walk a short distance to Jamaica Station. Take the LIRR east on the Montauk line to Hampton Bays. From there grab a 10 minute taxi or rideshare to Shinnecock Bay.

By Car
2 – 2.5 hours
Take the BQE (1-278E) to the LIE (I-495E) at Exit 35. Then, follow I-495 until Exit 70, take NY-111S a couple miles to NY-27E. Follow NY-27 for a couple miles, taking Exit 64S, Quogue Riverhead Rd, until it meets with Montauk Hwy. A right on Montauk, left on Quogue St, and left on Post Ln will lead you to Dune Rd. Take a left on Dune and you'll find the launch point around 3.5 miles down the shore on your left.
Grab a Bite Around Shinnecock Bay

Rumba

A Caribbean restaurant with a great terrace overlooking the calm bay. Surfing videos running non-stop on TV screens. Try the duck empanadas or the spicy jerk chicken platter.
Kiteboarding in NYC is a train ride away!
It's a sport you watch from the shore and think, "Wow… that's f*cking crazy." But part of you wants to experience the rush. So do it! Lessons and beaches are available as close as Brooklyn. Not into the water thing? Get the same thrill with snowkiting!
Are you ready to discover epic kiteboarding near the Big Apple? Book a beginner three or five-day clinic, grab a kiteboard and hit the beach for a fun day on the water!