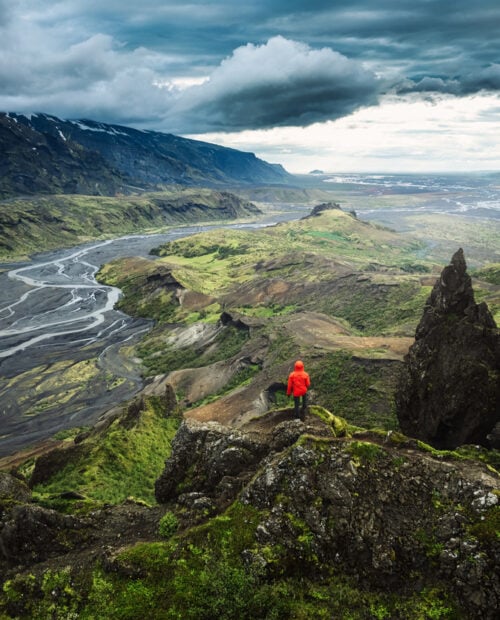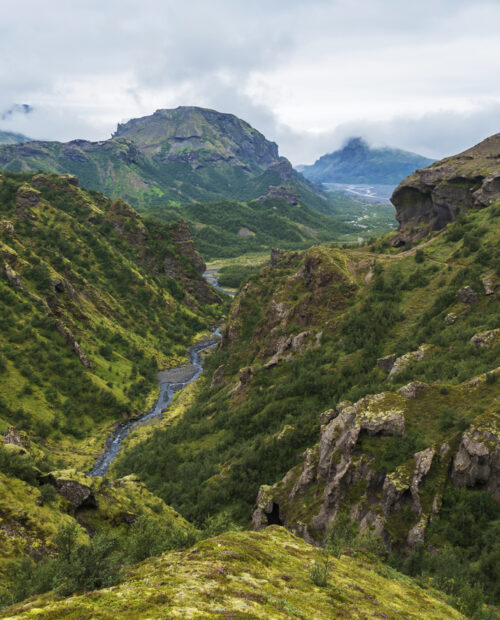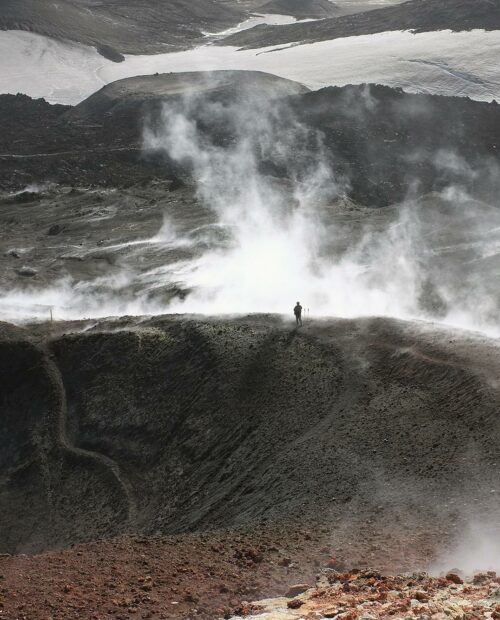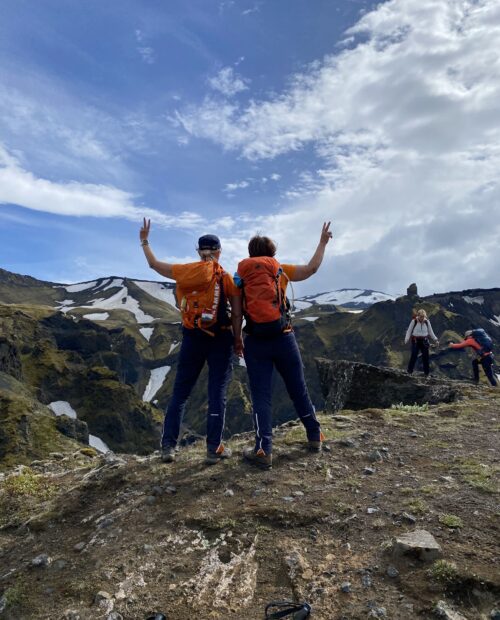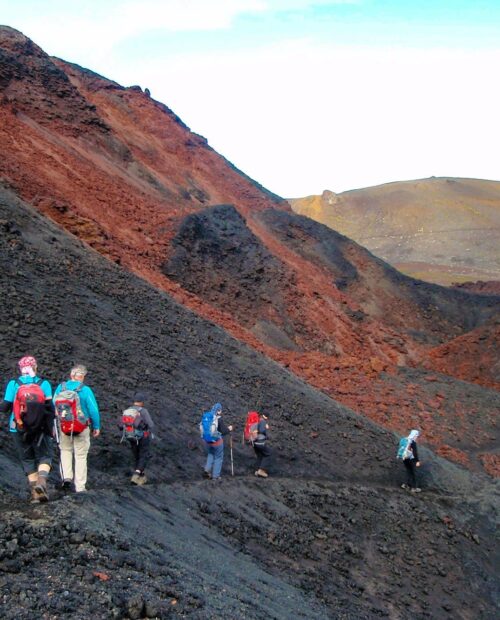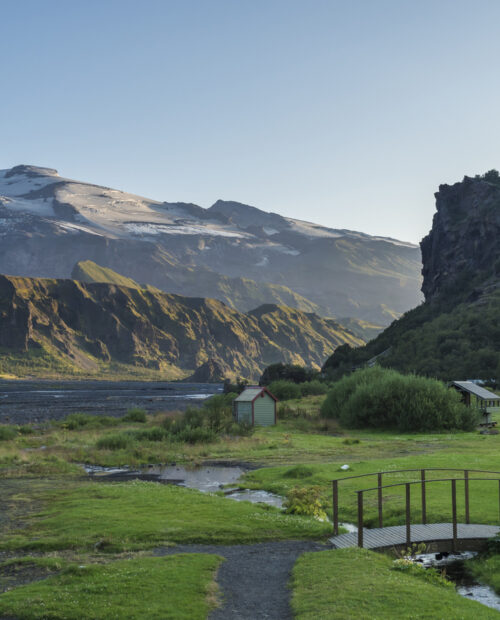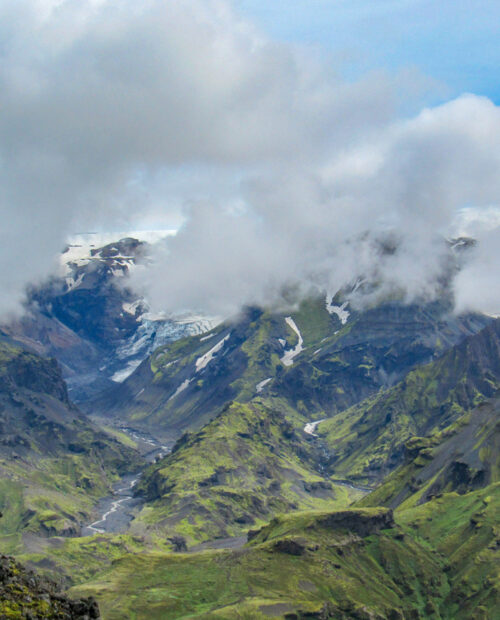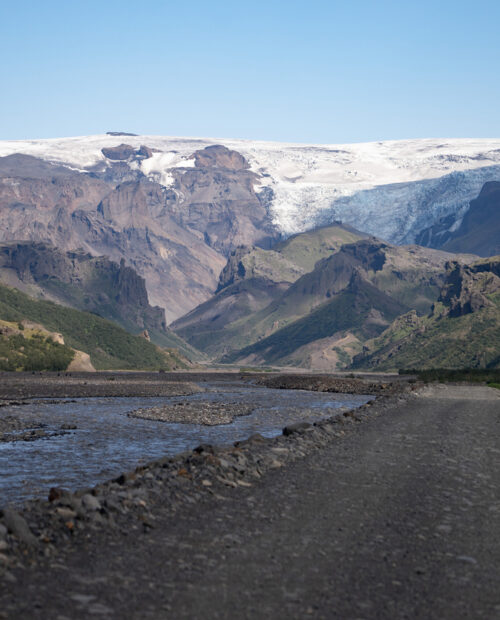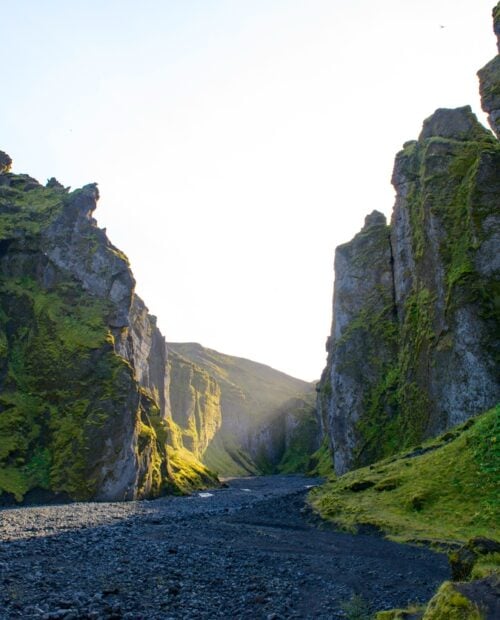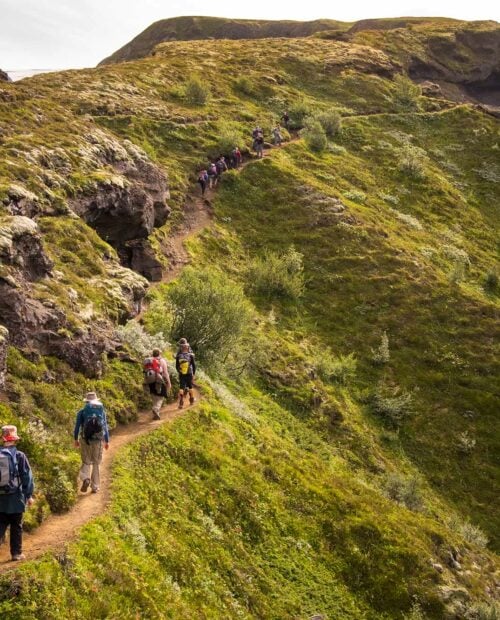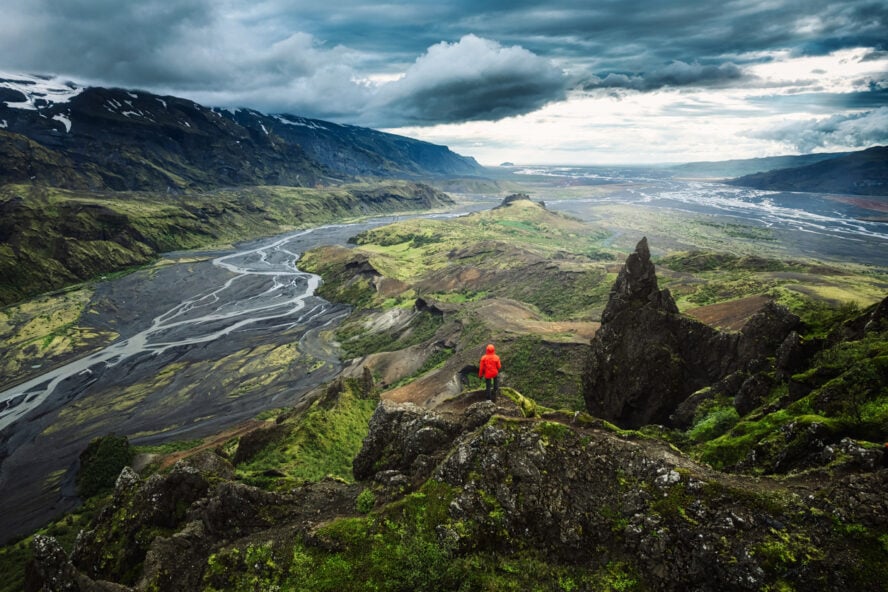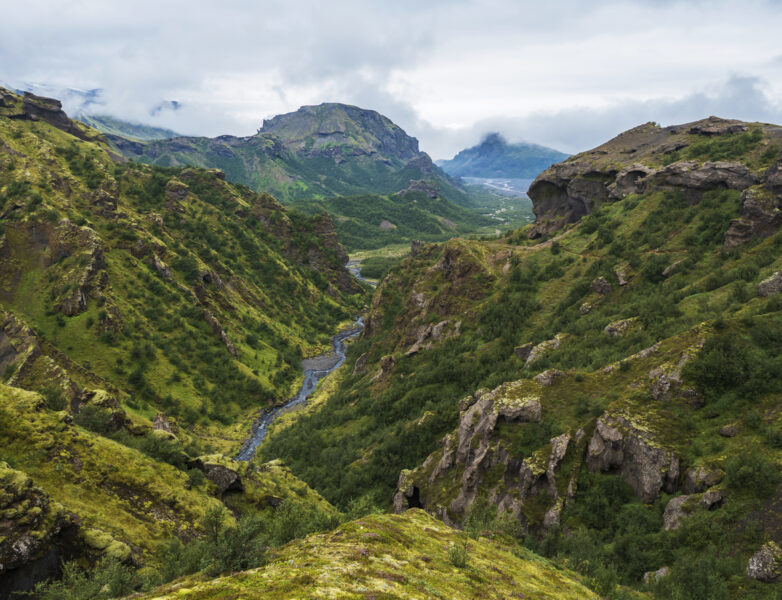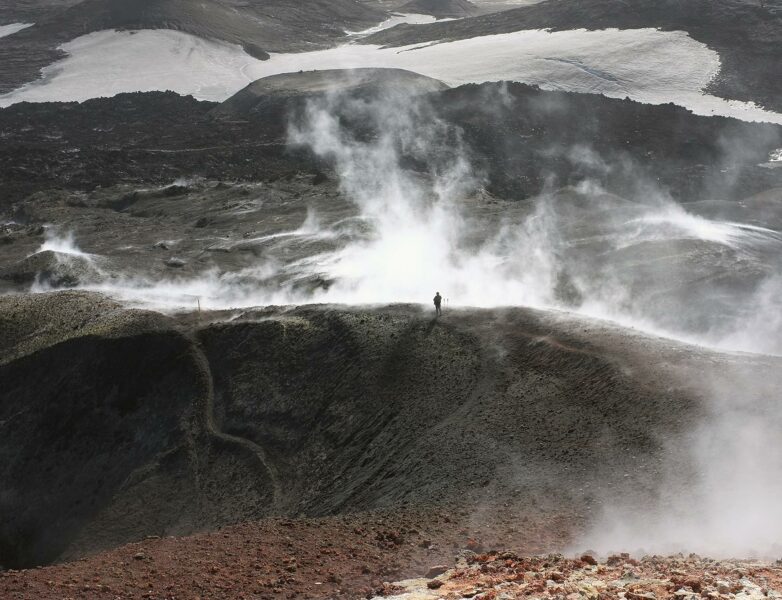 Thorsmork and Beyond Hiking Tour
5.00

()
Get thunderstruck by arresting vistas of Thórsmörk over 4 days on this hut-based adventure. Named after the hammer-wielding Norse god and nestled between three glaciers, this valley is Icelanders' favorite hiking destination—and for a good reason. Once you cross the unbridged rivers, you will have reached a remote fantasyland where jagged basalt peaks are veiled in impossibly green moss and electric blue rivulets form braided streams at the bottom of awe-inspiring mountain passes. You'll get to wander about lava fields before peaking into hidden caves and smell the sulfur near steaming craters while learning about Iceland's mythology and geological history. Join your expert guide and get an in-depth, yet fuss-free experience of Thórsmörk—one of the best places to hike in Iceland. 
The last section of Laugavegur, one of the world's best treks

Volcanic landscapes, lush forests, and spots only locals know about

Stay in a hut scenically located in the heart of Thórsmörk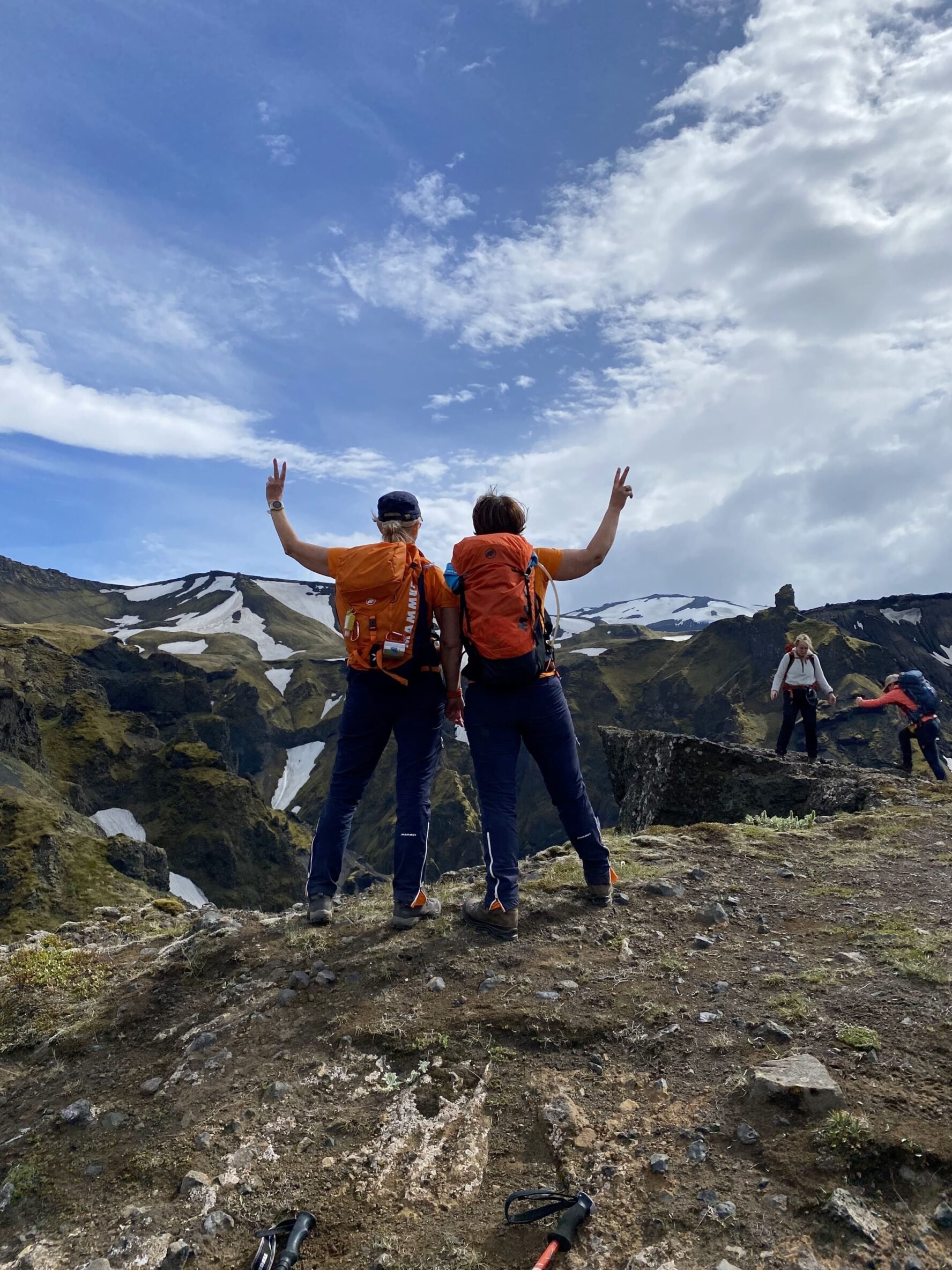 Itinerary
Thórsmörk is known for being the final and arguably most scenic section of the famous Laugavegur Trek. This adventure gives you a more in-depth experience of the famous valley, as well as nearby areas famous for volcanic activity—most notably Fimmvörðuháls. Every day, you will get to explore the different locations with epic natural phenomena and return to your hut conveniently located in the heart of Thórsmörk to enjoy freshly prepared meals.
Your journey starts with boarding the highland bus from BSI bus terminal in Reykjavik which will take you to the glacial valley of Thórsmörk. En route, your group will pass by the picturesque villages of Selfoss, Hella and Hvolsvöllur and finally get to the Langidalur hut, your accommodation for the next 3 nights. Your hiking starts after lunch with crossing the bridge over the Krossá river before visiting Tröllakirkja ("Troll church")—a unique rock formation with a small cave underneath it. Later, you will choose with your guide to hike either into the spectacular Hvannárgil canyon or up to Mt. Réttarfel, which offers great views of the surrounding landscapes. After your hiking expedition, your group will return to the hut in time to prepare dinner.

Meals: Lunch and dinner
Hiking: 5-8 km/3-5 miles, active walking time: 3-4 hrs
Ascent/descent: 400 m/1,310 ft

On Day 2, you will explore the areas which remind you of the ever-continuing volcanic activity in Iceland. Climb up the hills leading you to the pass of Fimmvörðuháls, walking along the Kattarhryggir ridges surrounded by sprawling views over the impressive mountain of Útigönguhöfði up to the Morinsheiði heath. Reaching the end of the Morinsheiði plateau, enjoy the views of the petrified lava that flowed down from the Fimmvörðuháls volcano in 2010. You will also go to another lava field and the two craters—Magni and Móði—which were formed before the main eruption from the Eyjafjallajökull crater.  Head back to Thórsmörk with the views of the glaciers surrounding the valley. After dinner, get a good night's sleep at Langidalur Hut.

Meals: Breakfast, lunch and dinner
Hiking: 18 km/11 miles, active walking time: 6-7 hrs
Ascent/descent: 1,000 m/3,280 ft

On Day 3, you will walk the scenic trail offering great views over Goðaland, the glaciers, and the inner part of Thórsmörk. Afterwards, your group will climb Mt Rjúpnafell before heading down following the sinuous Krossá river, bringing you back to the hut for a barbeque party with your guide and fellow hikers!

Meals: Breakfast, lunch and dinner
Hiking: 14-16 km/8.5-10 miles, active walking time: 4-7 hrs
Ascent/descent:  450 m/1,480 ft

After spending the morning in Thórsmörk, you will climb up the mountain of Valahnúkur to get the last chance to relish the dramatic views over the surrounding landscapes. From there, your group will descend to the Sönghellir cave ("Song cave") and to Húsadalur. Head back to Langidalur and board the afternoon bus to Reykjavík. You're expected to arrive in Reykjavik at 19:20. Say goodbye to your group and to Iceland, or continue touring on your own!

Meals: Breakfast and lunch
Hiking: 5-6 km/3-3.7 miles, active walking time: 3 hrs
Ascent/descent: 200 m/650 ft
Get free trip brochure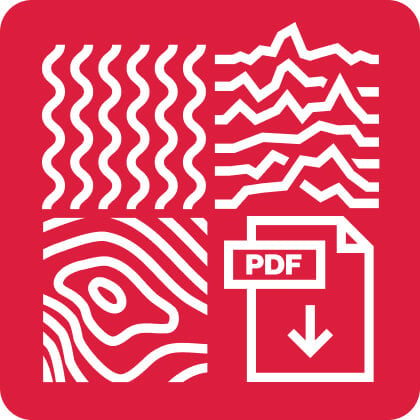 The brochure contains:
Adventure and location overview, itinerary, available dates, what's included, how to prepare, and much more.
Brochure sent, check your inbox
Talk with us
and let one of our adventure experts help you plan your perfect adventure.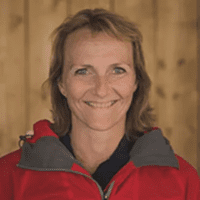 Þóra Jóhanna Hjaltadóttir
Þóra Jóhanna Hjaltadóttir
Þóra is a native Icelander who's been working as a guide for more than 20 years. She became a guide because of her passion for outdoors exploring and love for Iceland's unique nature. Þóra's hobbies include running, tennis, biking, and knitting. She is a certified guide and a Wilderness First Responder.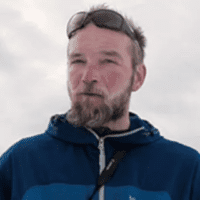 Jón is a very experienced summit and glacier guide for both summer and winter. He's been leading and co-leading expeditions in Iceland and Greenland and he has been an instructor to junior grades. Jón is an IMG and AIMG-certified glacier guide, a level II hard-ice guide, and a Wilderness First Responder.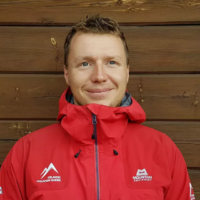 Michal comes from the Czech Republic, where he worked as a ski instructor. Prior to joining IMG in 2017, he was also working as an instructor in Austria and Japan. He enjoys skiing, running, and cycling in his free time. Michal is a Wilderness First Responder and a Hard Ice Guide Level One.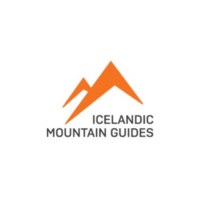 Icelandic Mountain Guides
Icelandic Mountain Guides
Hiking Guides
Icelandic Mountain Guides offer the perfect variety of experiences to satisfy anyone's desire for adventure. Whether you want to relax in the unparalleled beauty of Iceland's nature or take a more challenging adventure, they've got you covered. The possibilities are endless and the memories will last a lifetime.
Stephen Neil
about
Icelandic Mountain Guides
on 57hours
Stefan was an excellent guide. Very knowledgeable and experienced , with an understated sense of humour. He made good decisions to alter the itinerary when the weather changed. Met our expectations.
Tracy Hammond
about
Icelandic Mountain Guides
on 57hours
Things to know
What you get on this adventure:

An experienced, local hiking guide with extensive knowledge of the area

4 days of hiking 

Meals as indicated in the itinerary

Bus transportation to and from Thórsmörk (from Reykjavik)

Accommodation in the mountain hut

What's not included:

Transportation to and from Reykjavik

Personal hiking equipment

Showers in the hut (payable on site)

Sleeping bag

Optional extras (have to be rented before the tour):

Sleeping bag

Hiking poles
Dietary supplement (vegan, vegetarian, pescatarian)

To participate in this guided hiking adventure in Thórsmörk, you should have previous hiking experience and a fairly good level of fitness. You should be prepared to hike for 3 to 7 hours a day (depending on the day) and walk between 5 and 18 km with 200-1,000 m of ascent/descent per day in sometimes challenging and exposed  terrain. You don't need previous experience of multi-day hikes but you should be familiar with full-day mountain hikes. Keep in mind that your guide will assess your group's fitness level and make adjustments when necessary, as well as make sure to take more breaks if hikes get too strenuous—all while taking you to the most spectacular places Thórsmörk has to offer. 

Clients takes full responsibility for meeting the physical fitness level requirement of the trip. Clients that are physically unfit or not equipped for their tour can be dismissed from the tour at their own expense.  

Here's a list of the equipment you need to bring:

Day pack large enough to carry all the items listed (around a 25-40L bag)

Sleeping bag — available to rent

Hiking poles — optional (available to rent)

Water bottle or hydration bladder (2L capacity)

Lightweight hiking boots or shoes

Spare clothes for layering (weather is very unpredictable in Iceland!)

Waterproof rain jacket

Sunhat

Toiletries (sunscreen, hand sanitizer, bug spray, toilet paper, etc.)

Headlamp or flashlight

Sleeping bag

Sunglasses

Camera — optional (but recommended)

Dress comfortably and for the weather in clothes you can move in. We suggest bringing clothing appropriate for the season. Layers are best and don't wear jeans.

You will spend your three nights in Thórsmörk in a simple and authentic mountain hut, where you will also prepare great meals from fresh ingredients provided by your guide. You will sleep in dormitory-style rooms in sleeping bags. If you don't have a sleeping bag or don't plan on bringing one, you can rent it from your guide for an additional fee—let them know in advance. Shower is available in the hut for an additional fee payable on site.

Group sizes and prices:

For this group adventure, the maximum number of participants is 16.

It takes a minimum of 4 people for this tour to operate. 

The cost is per person and does not decrease as the group grows. 

Hiking in Thórsmörk can be arranged for larger groups. Contact us to make arrangements.

Min. age requirements:

If you are older than 18, you're good to go.

Minors as young as 14 may be permitted to join the hike on a case-by-case basis, but must be in the presence of a parent or legal guardian.

If your group has hikers under the age of 18, contact us prior to booking to make arrangements.

For regular dates, register for an adventure by paying a 50% deposit. The balance of program fees will generally be due 90 days prior to the starting date of the program. It is your responsibility to adhere to the fee payment schedule. Late payment will result in cancellation of program reservations and forfeiture of all fees paid.

All cancellations must be made by letter or e-mail. In conformity with business practices within the Icelandic travel industry, the travel agent is obliged to charge cancellation fees to passenger(s). If clients formally cancel their participation:

70% of the price of the trip is refundable more than 59 days prior to departure

50% of tour price is refunded if cancelled 30-59 days prior to departure

25% of tour price is refunded if cancelled

16-29 days prior to departure

0% of tour price is refunded if cancelled less than 16 days prior to departure

Secure your spot for next year with a 10% deposit!

This tour gets sold out very quickly, but with early-bird booking, you will be the first one to know about any new upcoming dates. Pick your preferred dates without the risk of your bucket list adventure selling out!

Only 10% of the total amount should be paid as a deposit upon booking. This deposit is non-refundable, but can be transferred to another 57hours adventure any time in case the dates don't suit you.
Once the dates are set, you can confirm your booking by the end of this year by paying another 20% of the total amount.
The final balance is due 3 months (90 days) prior to departure.
Once the trip has been confirmed, the regular cancellation policy applies.

After the invoice has been issued, the price is guaranteed against any surcharge, unless an increase is due to government laws or currency changes. Your guide will absorb an amount equivalent to 5% of the package price. Amounts that exceed the 5% will be charged and clients will be entitled to cancel their booking with a full refund if the surcharge exceeds 10%.

Icelandic Mountain Guides reserve the right to alter tours and itineraries due to weather or road conditions. All programs can be changed or canceled at any moment during the trip to assure the safety of the clients and staff. 

No responsibility is accepted for losses, expenses due to delays, changes of flights, or other services or because of strikes, accidents, sickness, damage, negligence, weather, war, changes in schedules, or other similar causes. Icelandic Mountain Guides does not assume responsibility for accidents or death that can be traced to the participant's negligence, acts of third parties or exterior circumstances such as weather, natural occurrences, war or other similar causes.

To get to the starting point of this tour in Reykjavík, most people fly into Keflavík International Airport. From there, you can take a bus, shuttle, or taxi to Reykjavík.

You will meet your guide at the BSI central bus terminal in Reykjavík where you will take a bus to Thorsmork which leaves at 6.30am on Day 1.

57hours is committed to providing safe outdoor adventure experiences. We require all guides using our platform to have a COVID-19 safety plan and to make the details of that plan accessible to travelers. In most cases, group sizes will be reduced, guides will avoid overcrowded locations, and other safety measures will be met depending on the location and activity.

We also expect clients to respect local regulations and take measures to protect themselves, their guides, and the communities they're traveling to. For more information on COVID-19 measures in Iceland, please refer to these official COVID-19 guidelines for traveling to and from Iceland.

Please contact us if you have any questions or require further information. We are happy to provide you with the most up-to-date information!
Get free trip brochure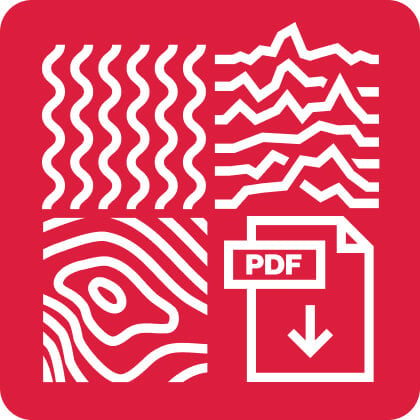 Adventure and location overview, itinerary, available dates, what's included and much more.
Brochure sent, check your inbox
Talk with us
and let one of our adventure experts help you plan your perfect adventure.
Other things to do in Thorsmork