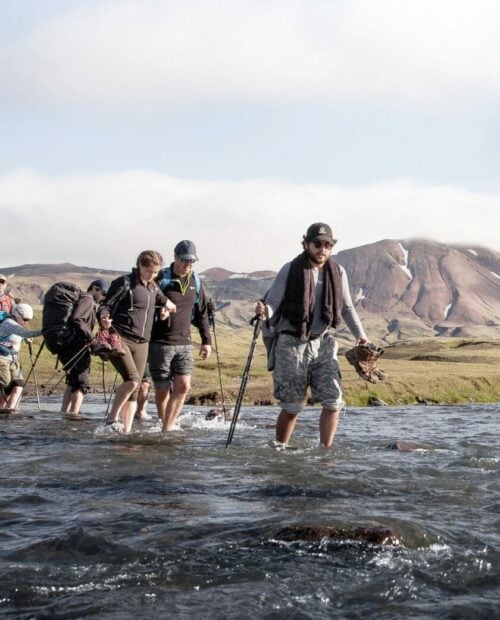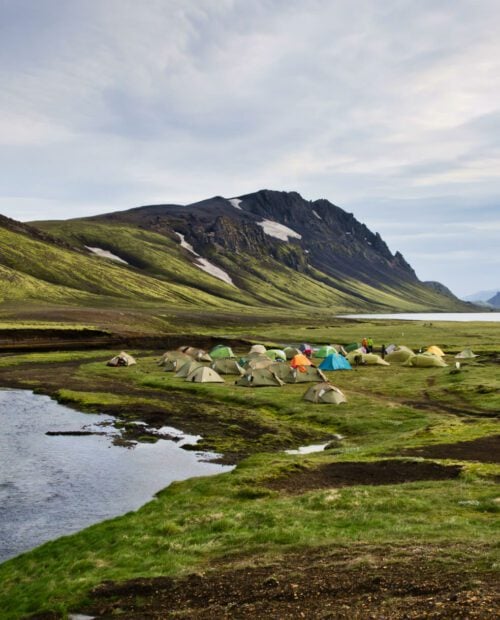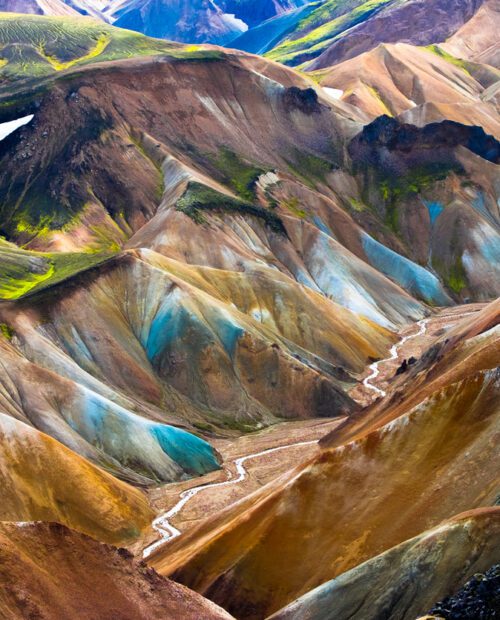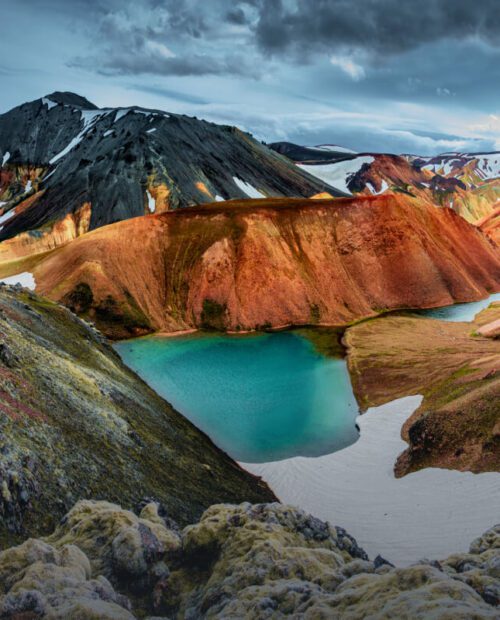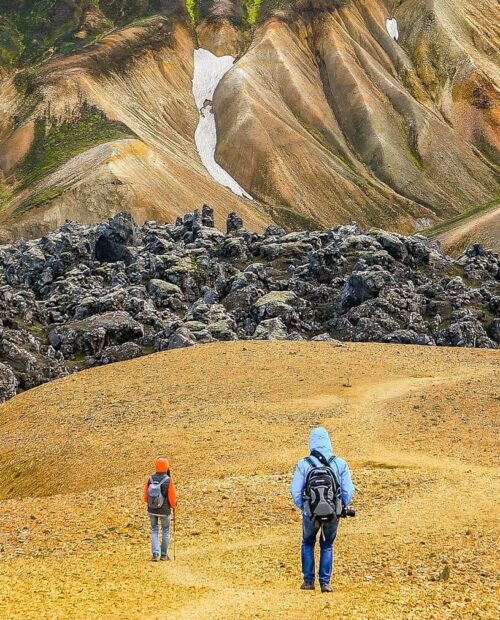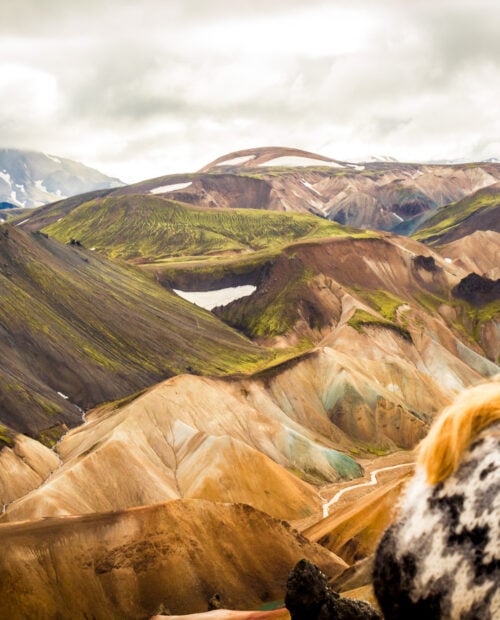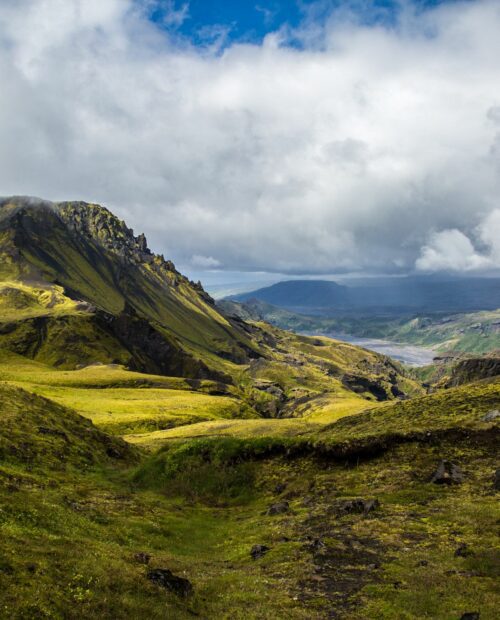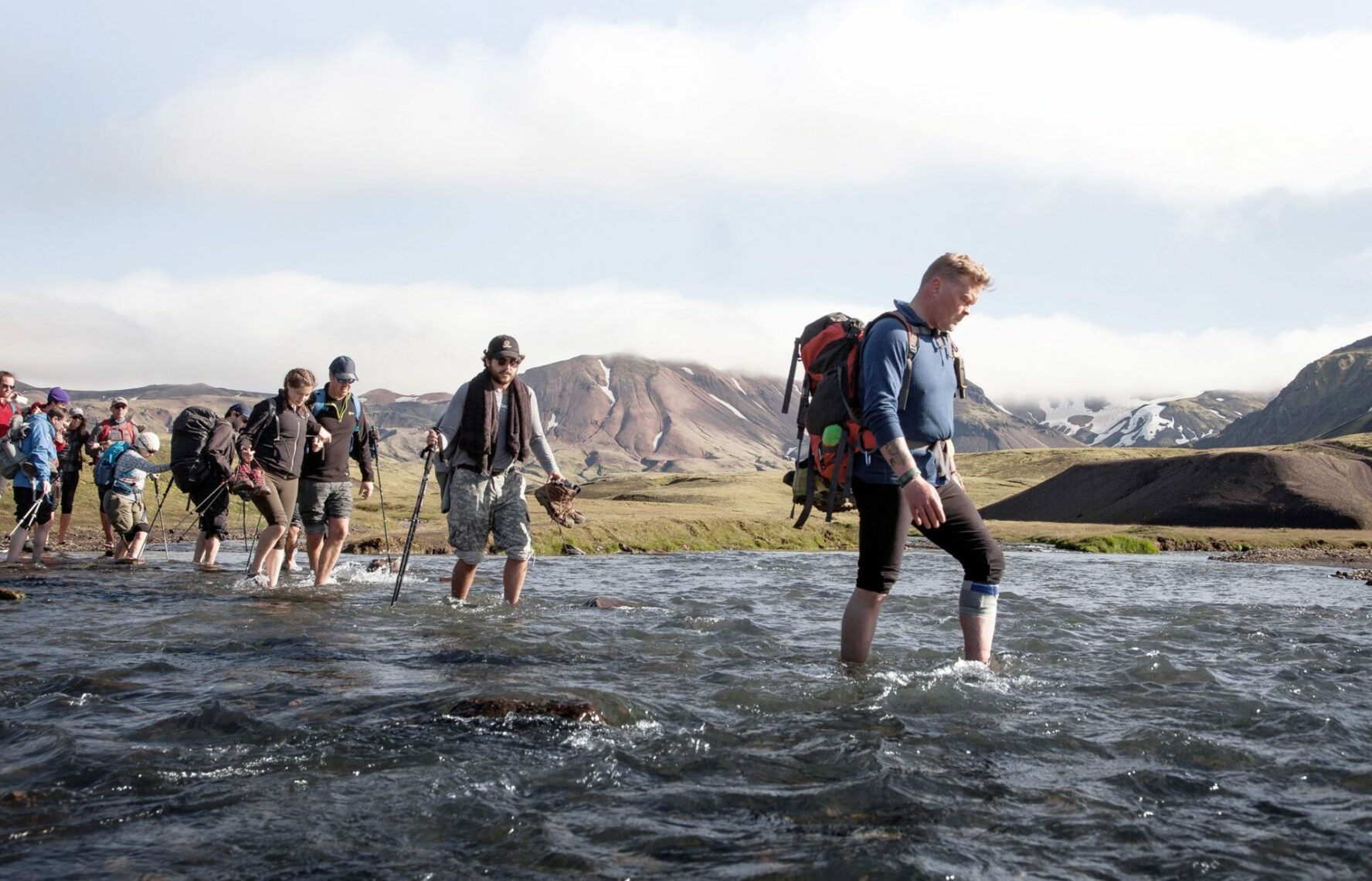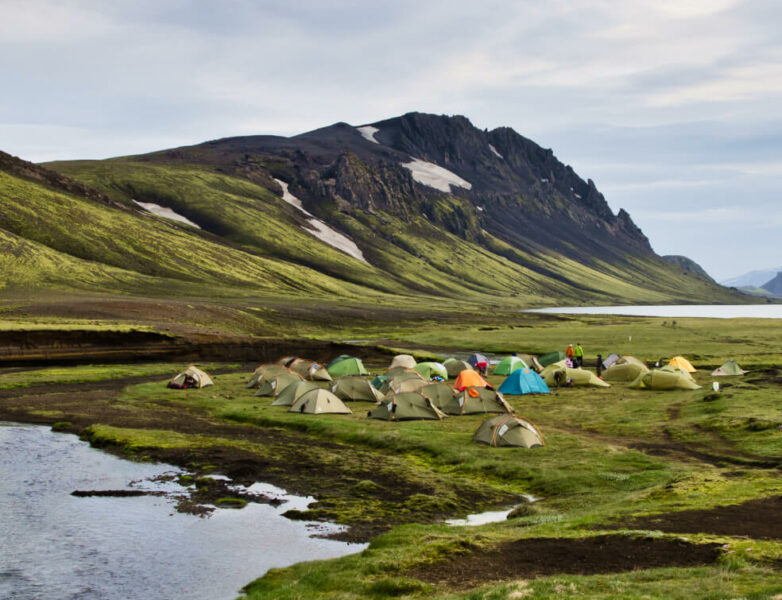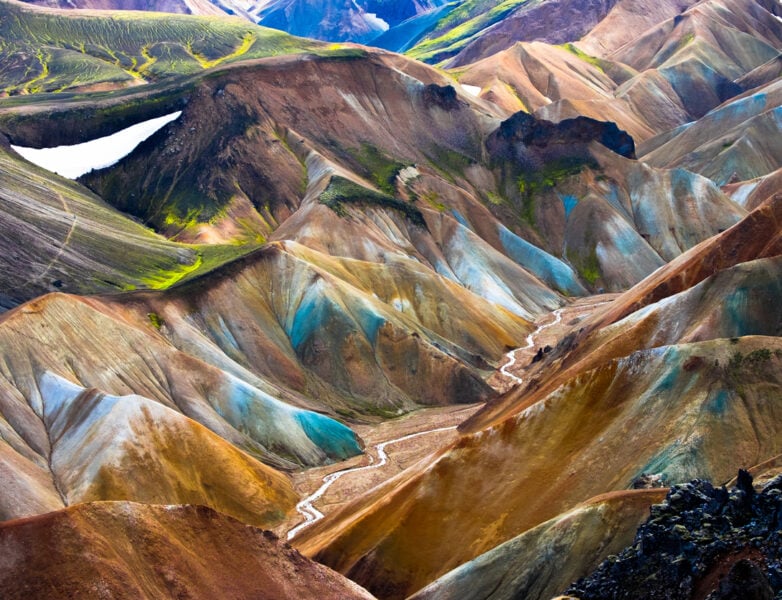 4-Day Laugavegur Trail Tent-Based Tour
5.00

()
Nearest city
Your tour starts in Reykjavik, Iceland
If somebody would just describe Laugavegur to you, you'd be sure it's a made-up place. But it's not. National Geographic praised it as one of the world's greatest hikes—and you'll find out why by joining this supported, 4-day backpacking trip along the testing, 34-mile trail. Electric hues tinting the Landmannalaugar mountains—your starting point—will win you over as soon as you set foot in the valley. And with each new day, you'll discover another one of Earth's peculiarities: bubbling hot springs, black sand deserts, glistening glaciers, colossal volcanoes, or a surprisingly lush oasis of Thorsmork, among many, many other ones. Explore this rugged trail and blend into the wilderness by pitching your tent under the stars each night. Read more about hiking the Laugavegur Trail by Saga Líf, a local Iceland hiking guide and founder of Viking Women Tours.
Lose count of all the ever-changing landscapes you'll be passing through

By fording rivers and crossing rough terrain, the trail makes you work just a bit harder to discover its riches

Supported backpacking adventure—sleep under the starry sky, but without the hassle of carrying your gear
Itinerary
Backpacking the world-famous Laugavegur Trail is a promise of a true rugged adventure in Southern Icelandic Highlands. From the geothermal wonderland of Landmannalaugar to lush moss and forests of Thorsmork, you'll see one natural marvel after another on this 34-mile trail. And you can join a fantastic local guide on this 4-day supported tour, which means that you won't have to make the trek harder by carrying your camping gear—your extra luggage will be transferred to campsites! All food is taken care of, it's just up to you to help with the prep, mingle, and bond with your group!
Meet your guide and your team in Reykjavik. From there, drive 3 hours along the South Coast to Landmannalaugar. You'll pass by Hekla, the most active volcano in Iceland, which has erupted every 10-15 years throughout the last century. Once you reach Landmannalaugar, the starting point of the Laugavegur Trail, make your way through the Laugahraun lava field and Vondugil canyon. Rhyolite mountains, most notably Mt. Brennisteinsalda, will offer incredibly vibrant colors. On your way back to the campsite, you'll see Graenagil gorge and climb up the Blahnukur Volcano if time allows. Get to know each other in the evening while enjoying your delicious dinner.

Meals: Lunch and dinner
Distance: 8 km / 5 miles
Elevation gain: 470 m / 1,540 ft
Hiking: 4 hours

After a hearty breakfast, the first stop of the day is the pitch-black obsidian desert Hrafntinnusker, after which you'll reach Reykjafjoll rhyolite mountains and the Jokultungur area. Geothermal activity has turned these craggy gullies into vivid yellows and reds, which dramatically contrast pale sandy hues around them. The top of Jokultungur is a great place to enjoy views of the entire Fjallabak area and Alftavatn lake (Swan Lake), where you'll be spending the night. To reach your campsite, you must ford a river, which is a fantastic experience for hikers.

Meals: Breakfast, lunch, and dinner
Distance: 24 km / 15 miles
Elevation gain: 900 m / 2,952 ft
Hiking: 7-8 hours

Begin by wading across another stream as you proceed onto Maelifellssandur and the volcano country. Pass by Storasula and Hattafell volcanoes on your way to Emstrur. Provided there's good visibility, you'll have a spectacular view of two very famous volcano mountain glaciers Myrdalsjokull and Eyjafjallajokull, with the latter one disrupting air traffic in 2010 and with the former one shrouding the much-feared Katla under its ice cap. On your way to Botnar, a green oasis in the midst of a black sand desert, you'll see Markarfljotsgljufur, a 200-meter deep canyon, carved by a glacial river. Your campsite is in that area.

Meals: Breakfast, lunch, and dinner
Distance: 15 km / 9.5 miles
Elevation loss: 40 m / 130 ft
Hiking: 6-7 hours

After your final breakfast, leave the Emstrur area and continue along to Thorsmork. As you go through the Almenningar, a gorge by Mt. Einhyrningur (the Unicorn Mountain), you'll still have a great view of the glaciers as you advance towards Thorsmork. As you get closer to it, the landscape and nature change. And once you reach it, you'll see the characteristic dense birch forest for which Thorsmork is famous. Celebrate your completion of the Laugavegur Trail! On the way back to Reykjavik, you'll get a glimpse of the powerful waterfall Seljalandsfoss. Arrive back in Reykjavik at around 9:30 p.m., drop-off is at the BSI bus stop in town.

Meals: Breakfast and lunch
Distance: 15 km / 9.5 miles
Elevation loss: 300 m / 985 ft
Hiking: 6-7 hours
Get free trip brochure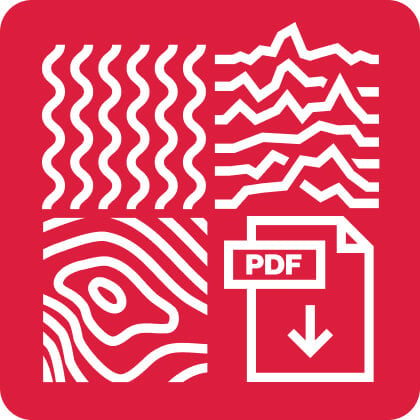 The brochure contains:
Adventure and location overview, itinerary, available dates, what's included, how to prepare, and much more.
Brochure sent, check your inbox
Talk with us
and let one of our adventure experts help you plan your perfect adventure.
Meet your guide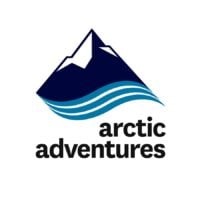 Arctic Adventures
Certified Guides
The Arctic Adventures family consists of adventurous and highly qualified people from all over the world. Some people are passionate river rafters or mountain climbers, while others really thrive on numbers and calculations. There is one thing, though, which they all have in common: a tremendous love and passion for outdoor adventures and total respect for nature. 
Hayley M
(source: Tripadvisor)
We did the Laugavegur tour with Caroline as our guide. I was supposed to be doing this tour with a friend and last minute they couldn't not attend so I was a bit anxious about going alone with a group. Caroline was great, I immediately felt at ease and the group itself were super nice. The scenery was absolutely stunning. Highly recommend.
Corinne D
(source: Tripadvisor)
The views. The people. The experience. Everything was magical. A great place to step out of your comfort zone and learn more about yourself. You walk A lot, and every step is different. Every day is different, but it's also the same : breathtaking views. Our guide, Jono, was sensational. And he is an AMAZING COOK. I didn't think it was possible to eat so well in the middle of a sand desert in the artic. Seriously, if you are looking for an adventure of a life time this is the one.
marciacarlsonpack
(source: Tripadvisor)
This journey of a lifetime in the land of fire & ice was the fodder of fairytales! There is a mystery & magic in the Icelandic highlands which allows one to be and to see oneself, and it profoundly changes you from the inside out. Tough trek? Yes. But it was amazing and astounding as I proved myself to myself with every step. Exhilarating and life changing in ways only those on the alpine trek can know. I am eternal grateful to Jono, our most capable guide, for keeping us safe, adding his unique sense of wonder to the trek, and for the gourmet meals he prepared. There is not a better man to be found. To my fellow trekkers, yes, we are family ~ all of us, bound by a knowing that happened up there. If you are looking for a superb, top of the world, adventure, don't delay! Arctic Adventures & Jono will inspire you to do the greatest of things! It is with deep gratitude, that this "senior citizen" leaves such a rave review.
Dina T
(source: Tripadvisor)
Did the Laugavegur Trek with this company. As a solo traveler wasn't sure what to expect but it was amazing! I was fortunate to experience this hike with a fantastic group of people and our hiking guide was outstanding; she was always positive and cheery, and was very knowledgeable about the geography along the trail. The meals provided along the trek were better than I would have ever expected and the back country huts were quite clean and comfortable. I would definitely book with this company again.
Great guide! Very knowledgeable and friendly and kept a good pace that everyone could achieve! Made the experience very enjoyable
Loved the hike.
Things to know
What you get on this adventure:

An experienced, local hiking guide with extensive knowledge of the area
4-day backpacking adventure in Laugavegur
Accommodation in tents
All meals from lunch on day 1 to lunch on day 4
Luggage transport

What's not included:

Transportation to Iceland
Sleeping bag — let us know if you need one
Showers (usually cost $3.50)
Guide gratuities — optional

In order to join this supported backpacking tour in Laugavegur, Iceland, you need to be able to hike for 4 full days, carrying just a daypack with things you'll need throughout the day. Every day you will hike between 6 to 8 hours, which means great fitness is required. On top of that, volcanic terrain can be challenging. If you are looking for adventure and are up to the task of multiple days of full-day trekking, you'll be rewarded immensely!

In terms of daypack weight, you will only need to carry a smaller daypack with your lunch, water bottle, medication, sunglasses, river crossing shoes, rain gear, and other items or clothing you might need for the day. The rest of your luggage will be transported by the guide from camp to camp.

If you'd like to stay in mountain huts, check out this hut-to-hut hiking tour of the Laugavegur Trail. If you'd like to focus on Thorsmork, this hiking tour of Thorsmork might be for you. There's also an all-female version or a co-ed tour of Thorsmork for over 50s. If you'd like a bit more flexibility with duration, check out our hiking tour of Laugavegur and Iceland's South Coast.

Here's a list of the equipment you need to bring:

Day pack large enough to carry things you'll need throughout the day (around a 25-40L bag)
A travel sack for the transport of your overnight gear (up to 20 kg)
Waterproof hiking boots
Water bottle or hydration bladder (2L capacity)
Spare clothes for layering
Sleeping bag — possible to rent (let us know in advance)
Travel pillow
River crossing shoes (old sneakers or similar for fording rivers)
Thermal underwear (top & bottom), at least 2 sets of shirts
Gaiters — optional, but recommended
Wool or fleece thermal mid-layer
Hiking pants
Waterproof and breathable pants and jacket
Wool or fleece hat
At least one pair of gloves
2-3 pairs of thick socks
Personal medical kit, including personal medication
Towel
Hiking poles — optional
Sunhat
Toiletries (sunscreen, hand sanitizer, toilet paper, etc.)
Headlamp or flashlight
Portable charger — optional, but recommended as access to electricity is very limited
Sunglasses
Camera — optional (but recommended)

Dress comfortably and for the weather in clothes you can move in. Iceland is home to infamously unpredictable weather, so it's best to be prepared with the right gear. It is recommended to dress in layers. 3 or 4 upper layers are highly recommended such as a light T-shirt (preferably wool) next to the skin, then a fleece or heavy wool garment, topped off with a waterproof windbreaker.

There is a limit of 1 piece of luggage per participant that can weigh up to 20 kg (+your daypack). Since there is limited space on the luggage trailer, try to pack light out of consideration for other passengers and use a waterproof duffel bag which is easier to store. If you have extra luggage that you would like to leave, we recommend storing luggage at the BSI Bus terminal (fees apply) or another luggage storage space in Reykjavik.

Meals will be prepared by all participants, guides, and the team—make food and friends at the same time!

Special dietary supplements, such as vegetarian, pescatarian, vegan, gluten-free, or other supplements, can be ordered at some extra cost. It is suggested that you purchase the special food extra. This will help your guides in supplying the best meals possible for everyone. If you have any special dietary requirements, please let us know prior to booking to make arrangements.

Bring a water bottle that you can then fill with the tap water at the huts/campsites. Iceland's water is perfectly safe to drink. There are also several streams along where people tend to get more water from!

Group sizes and prices:

For this backpacking tour in Laugavegur, the maximum number of people is 14 with one guide.
The cost does not decrease as the group grows.

Backpacking in Laugavegur, Iceland can be arranged for larger groups. Contact us to make arrangements.

Min. age requirements:

If you are older than 18, you're good to go.
Minors older than 14 may join the hike, but must be in the presence of a parent or legal guardian.

If your group has hikers under the age of 18, contact us prior to booking to make arrangements.

Reserve your spot with a 30% deposit. The remaining 70% of the amount is paid the latest 3 months (90 days) prior to departure.

Upon checkout, you can choose one of our 57hours flexibility options:

Basic: Fully refundable in the first 48 hours after the booking has been made. Deposit non-refundable afterwards. If Client cancels the Booking anytime prior to ninety (90) calendar days in advance of the trip contemplated by the booking, Client is entitled to a second payment refund. After that deadline, Client is not entitled to any refund. Date change is available 3 months (or earlier) before the trip for additional 10% fee.

Flexible: If Client cancels the Booking anytime prior to sixty (60) calendar days in advance of the trip contemplated by the booking, Client is entitled to a full refund. For cancellations thirty (30) to fifty nine (59) calendar days in advance, Client is entitled to a refund in the amount of fifty percent (50%) of the total amount paid when Booking. For cancellations one (0) to twenty nine (29) days in advance, the Client is not entitled to any refund.

Super Flexible: If Client cancels the Booking anytime prior to fourteen (14) calendar days in advance of the trip contemplated by the booking, Client is entitled to a full refund. For cancellations one to thirteen (13) calendar days in advance, Client is entitled to a refund in the amount of fifty percent (50%) of the total amount paid when Booking.

All cancellations must be made by e-mail. You can read more about our Terms of service here.

All rates are based on current purchasing prices in Iceland. Your guides reserve the right to change prices without notice due to inflation, changes in prices, taxes, or any other cost increases that are outside the guide's control. Your guides will absorb an amount equivalent to 5% of the price. Amounts that exceed 5% will be charged and clients will be entitled to cancel their booking with a full refund if the surcharge exceeds 10%. Eventual changes in rates will not be made with less than 4 weeks' notice before departures or on already confirmed bookings.

Your guides reserve the right to alter tours and itineraries due to weather or road conditions. All programs can be changed or canceled at any moment during the trip to assure the safety of the clients and staff. No responsibility is accepted for losses, or expenses due to delays, changes of flights, or other services or because of strikes, accidents, sickness, damage, negligence, weather, war, changes in schedules, or other similar causes.

To get to Laugavegur Trail, you'll fly into Keflavik Airport (KEF). From there, you can rent a car, take a taxi or hop on a bus. It takes about 45 minutes to reach Reykjavik.

It is recommended to arrive at least one day before the tour. If you're flying in from the US or will be landing early (4-6:30 am) you should be able to join the tour, but some risks would follow (i.e if the flight gets delayed) and could, therefore, miss out on the tour.

You've got several options regarding the meeting location. If you're getting picked up from the Reykjavik City Hall, Hallgrimskirkja, or Reykjavik Campsite in Reykjavik, you should be at the station at 7 a.m. You can expect the bus to be at Selfoss N1 Gas Station at 8:15 a.m. or if you'll be waiting at Hella Bus Stop, the bus should be there at 9 a.m. Note that it can take up to 30 minutes before the bus departs the given locations. After joining your guides, a scenic 4-hour drive is the only thing separating you from your hiking adventure!

57hours is committed to providing safe outdoor adventure experiences. We require all guides using our platform to have a COVID-19 safety plan and to make the details of that plan accessible to travelers. In most cases, group sizes will be reduced, guides will avoid overcrowded locations, and other safety measures will be met depending on the location and activity.

We also expect clients to respect local regulations and take measures to protect themselves, their guides, and the communities they're traveling to. For more information on COVID-19 measures in Iceland, please refer to Iceland's COVID-19 information.

Please contact us if you have any questions or require further information. We are happy to provide you with the most up-to-date information!
Get free trip brochure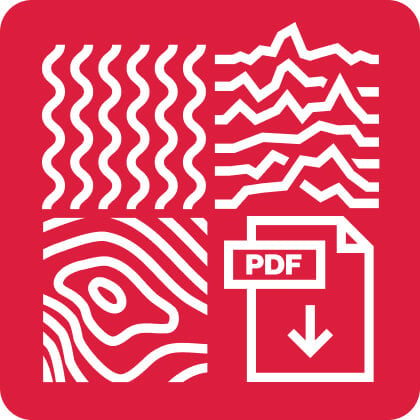 Adventure and location overview, itinerary, available dates, what's included and much more.
Brochure sent, check your inbox
Talk with us
and let one of our adventure experts help you plan your perfect adventure.
Other things to do in Laugavegur