Things to Do in Utah for Outdoor Adventurers
Utah's natural features are renowned for their unparalleled diversity. From the snowy shoulders of the Wasatch Range to the endless slot canyons, the red sandstone heart of the Mighty Five to the sweeping landscapes that vanish into the horizon, the Beehive State serves sweet outdoor things to do and savory places to see.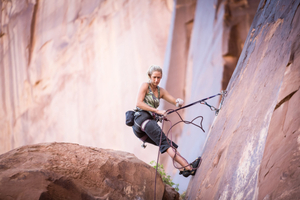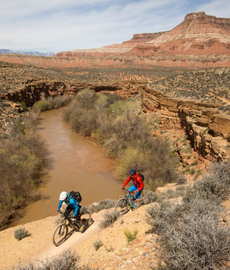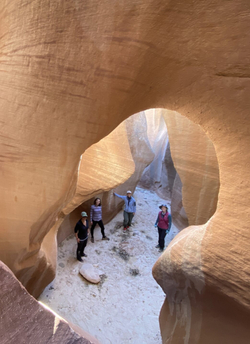 Recommended by locals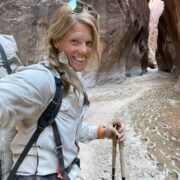 Sunny Stroeer
Lead guide and the owner of AWExpeditions
Cody Bradford
AMGA Rock Guide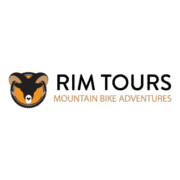 Rim Tours
Mountain Bike Guides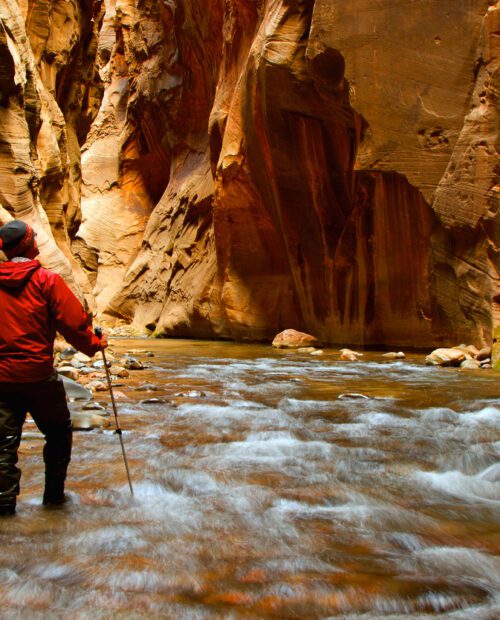 Hiking in Utah: a Chorography of Red Rock
With spectacular national parks like Zion, Arches and Canyonlands to its name, Utah earns its rightful place in the pantheon of hiking. Setting foot inside these fiery sandstone paradises of multi-colored cliffs, looming arches and towering spires feels like entering an open-air colosseum of geology and mythology.
Utah hiking adventures
"Adventure in Utah means the quintessence of the American West, following the footsteps of native people who have roamed these parts for millenia. Hiking, backpacking, canyoneering, rock climbing, horseback riding, mountain biking, fishing – Utah has it all."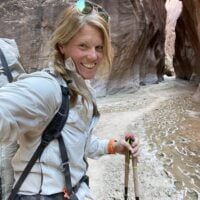 Sunny Stroeer
Lead guide and the owner of AWExpeditions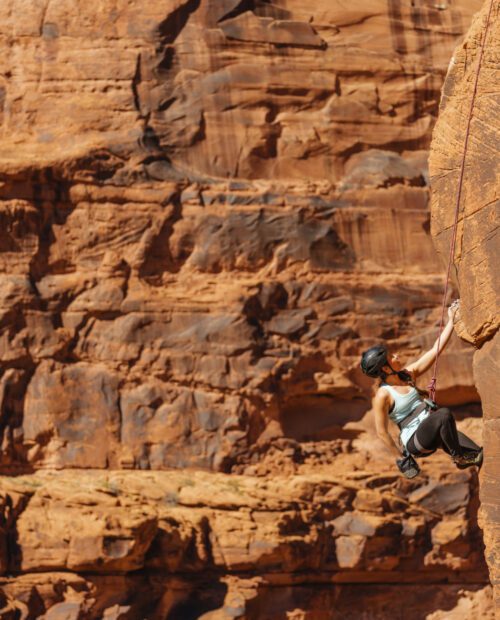 Rock Climbing in Utah for Endless Variety
Welcome to Utah, home to the hardest granite and softest sandstone in the country! To single out any type of climbing would be a disservice to the state's iconic big walls, classic boulder problems and spidey-sense-tingling towers. Lime, sand or granite? Have your pick of stone and style among the many places to visit in Utah.
Utah rock climbing adventures
"Mighty desert towers and splitters, huge alpine cirques, and impressively tall limestone monoliths can't begin to describe the variety of climbing here."
Cody Bradford
AMGA Rock Guide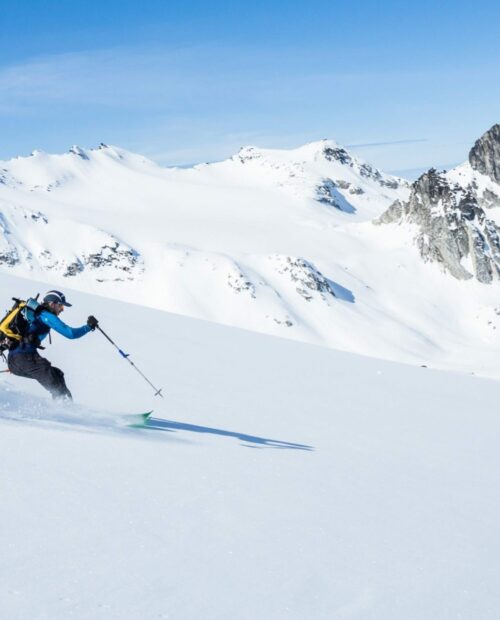 Backcountry Skiing in Utah for Perfect Powder
Utah lays claim to the "Greatest Snow on Earth." In fact, 10 out of 10 of skiers who hit the slopes for an afternoon powtinee at the Wasatch Range agree! Whether you're gliding between trees or bombing down couloirs, earning your turns is pure backcountry bliss and one of the top things to do in Utah!
Utah backcountry skiing adventures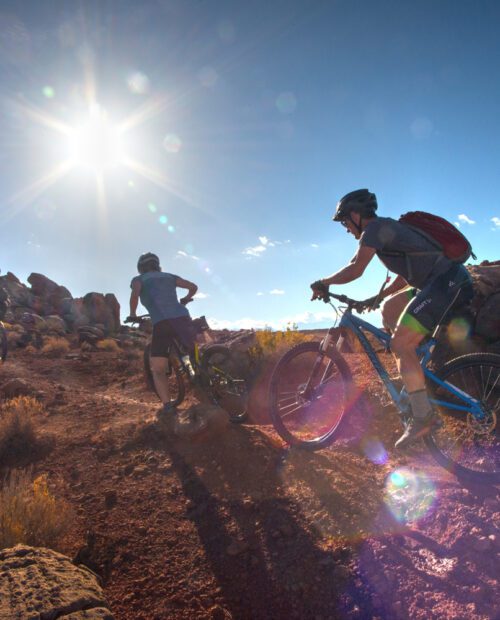 Mountain Biking in Utah: the Mountain West Mecca
With over 1,200 trails strewn across the state, Utah is an unmissable MTB destination. Moab's technical routes and otherworldly red rock need no introduction, while Salt Lake City and Park City boast quick mountain access and attractions galore. Then there's the year-round riding near Hurricane that is M-T-B-yootiful!
Utah mountain biking adventures
"One of the things I love about mountain biking in Moab is that no matter what trail you are on, the views are spectacular. You can experience so many different types of riding, views and terrain within an hours radius. It is really unlike anything I have experienced anywhere else in the world!"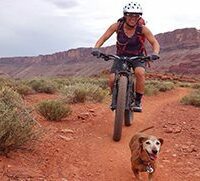 Julie Cornelius
Day Mt. Bike Guide at Rim Tours
Frequently Asked Questions about Utah
What Is the Number 1 Attraction in Utah?
Zion National Park takes the crown as Utah's number one attraction, beating out the rest of the state's "Mighty Five" national parks. As one of America's most beautiful natural wonders, Zion is an unmissable destination. Awaiting you are spectacular sandstone cliffs overlooking an enormous canyon packed with jaw-dropping hiking trails, world-class singletrack and big wall climbs.
What is Utah best known for?
Utah is best known for its world-class skiing, with the Wasatch Range right outside Salt Lake City receiving around 500 inches of snow every year. Whether it's the iconic objectives of Mount Superior, superb dry powder of Alta and Snowbird, or the champagne snow of the Cottonwood Canyons, you can't go wrong with the "Greatest Snow on Earth." Besides its vibrant winter sports scene, Utah also hosts many other exciting outdoor activities. The town of Moab is a gorgeous red rock oasis whose world-famous slickrock MTB trails are considered by many to be the best in the country. Equally brilliant are the sandstone formations which invite rock climbers from all over the world to test their skills on Moab's iconic desert towers.
What Can You Do in 5 Days in Utah?
Utah's myriad of attractions could fill a lifetime, so imagine what thrills a five-day trip can hold! Salt Lake City is the hub of activity and a perfect homebase for your outdoor adventures. A day of rock climbing near Salt Lake would be a great introduction to the sport, while avid snow-seekers would enjoy a mellow day of tree skiing in the Wasatch Mountains.
Trekking enthusiasts looking for multi-day trips will be eager to try out hiking and camping in Zion National Park or, for an even bigger challenge, backpacking through the Paria River Canyon. Additionally, there's a wide variety of single-day hiking trips available in Utah's stunning national parks and monuments.
Outside the realm of sports, for ten days every January Salt Lake City and Park City host the Sundance Film Festival, the largest independent film festival in the U.S.
What Is the Best Month to Go to Utah?
May is probably the best month to visit Utah. As the last snowfall on the mountains sends off the ski season in style (yes, Snowbird boasts a pretty long winter), and the pleasant temperatures invite hikers and rock climbers out into the state's gorgeous national parks. Also by then, most of the mountain biking trails are free of snow and finally rideable.
What Months Does It Snow in Utah?
The first snowfall of the season usually hits Salt Lake City in mid-to-late November, although one in four Octobers happen to see some flakes. The bountiful snows continue until April, with the bulk of it coming in January and February.
Utahns pride themselves on the quality and quantity of their snow. A prime example is the backcountry skiing at Alta, which averages around 550 inches annually
What to pack for hiking in Utah?
Summer:
In the summer, sun exposure can be a big issue. Make sure to bring a ball cap or sun hat, as well as some sunglasses. Also, don't forget to bring sunscreen, lip balm and bug spray—sunburn and mosquitoes can easily ruin an otherwise great hiking experience. Keep in mind that, even though it's summer, the weather can be unpredictable, especially at higher altitudes. Make sure to layer up and check the weather report as often as possible.
Shoulder seasons (spring and fall):
No matter the season, you'll need well-fitting and durable hiking boots—you don't want to get blisters in the wilderness. Also, you'll need a daypack large enough to carry all of your gear, and a water bottle is always a must. Hiking poles usually aren't required, but they make challenging hikes a lot more manageable. If you plan on hiking in the colder seasons, make sure to bring a wind-resistant and waterproof jacket, waterproof pants, and some spare clothes for layering. A warm hat, gloves, and some extra socks are recommended.
Winter:
There are plenty of fun things to do in Utah in the winter, as long as you have adequate clothing and equipment. Bring a warm fleece or down jacket (a good quality ski jacket will do). Make sure your outer layers are waterproof and of decent quality. A warm hat is a must, and bringing a scarf or buff won't hurt. Some warm gloves or mitts and a pair of thin liner gloves are also recommended. Layering is key here, so you should bring plenty of spare warm clothes with you. Wearing a fleece top or hiking shirt is a good idea, as is bringing some leggings, thermal bottoms, or running tights for added warmth. Getting wet is always a possibility in the winter, so aim to bring several sets of underwear (cotton is not recommended) and several pairs of good-quality trekking socks, especially for multi-day trips.
When to go mountain biking in Utah?
May to October is the prime time to hit the tracks in Utah and make the most of its varied terrain. After the last April snow melts and the trails are sufficiently dry, the mountain biking season kicks off with a bang on Park City's uphills and downhills, Moab welcomes a sustained flood of riders that lasts through the summer, while southern stalwarts of the scene like Hurricane and St. George stay warm and crowd-free even in the winter months.
When to go rock climbing in Utah?
The best time for rock climbing in Utah is spring and fall, when the weather is stable enough and the temperatures grow mild. Dead of winter tends to be too cold for hitting the rocks, while summers get prohibitively hot, especially in the desert. The period from mid-March to late April is enjoyed by climbers due to infrequent rain, while the fall months see the landscape awash in the bright hues of changing leaves. It bears mentioning that some spots, such as climbing at Indian Creek, stay warm enough for wintertime.
What is the backcountry ski season in Utah?
The ski season in Utah usually kicks off mid-November and lasts through April. The region typically gets 500 inches of snow and, in a good year, conditions can be favorable all the way through late spring. The best month to ski in Utah is February. It typically sees the most amount of snow, with conditions generally staying prime until mid-March.
Which ski resort is best for backcountry skiing in Utah?
Salt Lake City is blessed with four fantastic ski resorts located in the Little and Big Cottonwood Canyons—Alta, Snowbird, Brighton, and Solitude—with even more resorts to be found just beyond their borders. All of them provide great access to a wide variety of ski terrain, as well as Utah's finest slack-and-backcountry lines. If you're looking for the deepest snowpack, however, Alta and Snowbird are your best bet.
Where is the best mountain biking in Utah?
Utah first gained worldwide recognition thanks to the wide-open desert rides of Moab's Slickrock Trail, but it's fast becoming known for the diverse, wildflower-lined alpine biking trails near Salt Lake City. You can't go wrong with either. Just keep in mind that with great acclaim come even greater crowds. If you'd like to learn more about Utah's MTB scene, check out this review of the state's best locations for mountain biking.
Where is the best hiking in Utah?
Utah is located at the convergence of three geological regions—the Rocky Mountains, the Great Basin, and the Colorado Plateau—which shaped the Beehive State into a geological marvel chock-full of spectacular hiking destinations. Thousands of miles of trails guarantee an unforgettable outdoor experience. Utah has it all—from pleasant family-friendly hikes in the hoodoo haven of Bryce Canyon or the sandstone gorge of Zion National Park to rugged treks most suited for multi-day trips, like backpacking through the colorful Paria River Canyon. Just remember: when in doubt, you can't beat the Mighty Five!
Where is the best rock climbing in Utah?
Hold on to your ropes, rock climbers, because Utah will blow you away with the sheer quality and variety of its offerings! This is the land of the hardest granite, the weirdest conglomerate, and the softest sandstone in the entire country—all reachable within a 6-hour drive! If you're coming in to Salt Lake City, you owe it to yourself to try the single and multi-pitch routes on the bomber quartzite of the Cottonwood Canyons. Of course, Moab's red rock towers offer some of the best climbing in the world and are just a sandstone's throw away. And if you venture southwest, you'll discover limestone caves, basalt, and every kind of sandstone face and crack you can think of!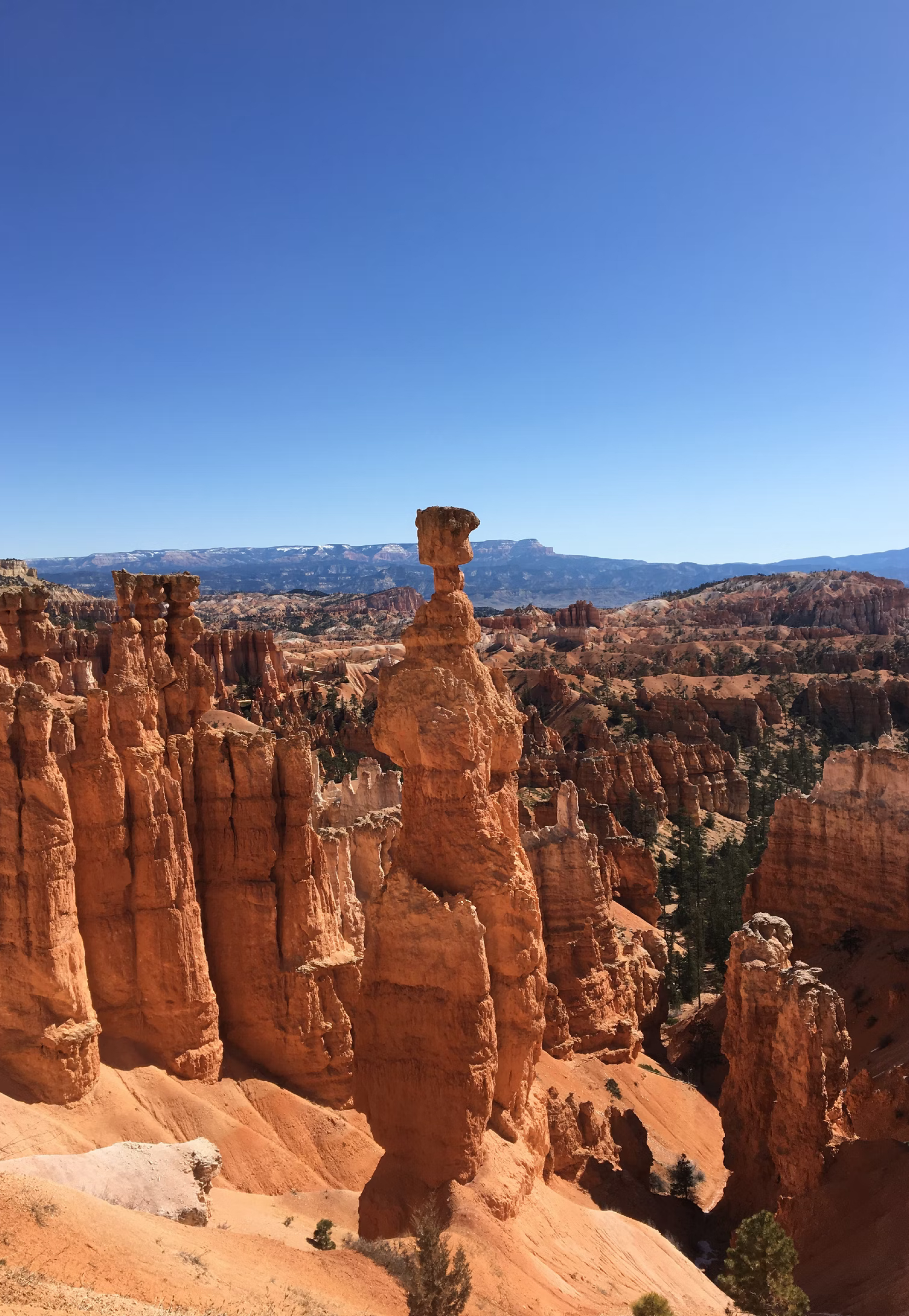 Read More About What to Do in Utah
Utah is Calling!
Utah has a lot more to offer! Contact us for an adventure of a lifetime.
Ask an expert