Climbing the Matterhorn: Everything You Need to Know
Matterhorn is a picture-perfect natural monument with monumental mountaineering history. Climbing it is, naturally, a monumental achievement.
Matterhorn might be the most recognizable peak in the world thanks to its near-perfect triangular summit—but it comes with a not-so-perfect climbing history.
Until the late 1800s, the crown of the Alps was considered cursed, and possibly unclimbable. As the last mountain in the range to be summited, competition for who would be first became fraught with controversy.
It's easy to see what kept aspiring ascensionists going: the aesthetic relief—a towering ice-laden shark's tooth that seems to rip at the sky—remains one of the most sought-after and pictured peaks. You might even recognize it from the Toblerone packaging.
Today, climbing the Matterhorn is a rite of passage for mountaineers. If you're looking to be a part of its history too, let's talk about what it takes.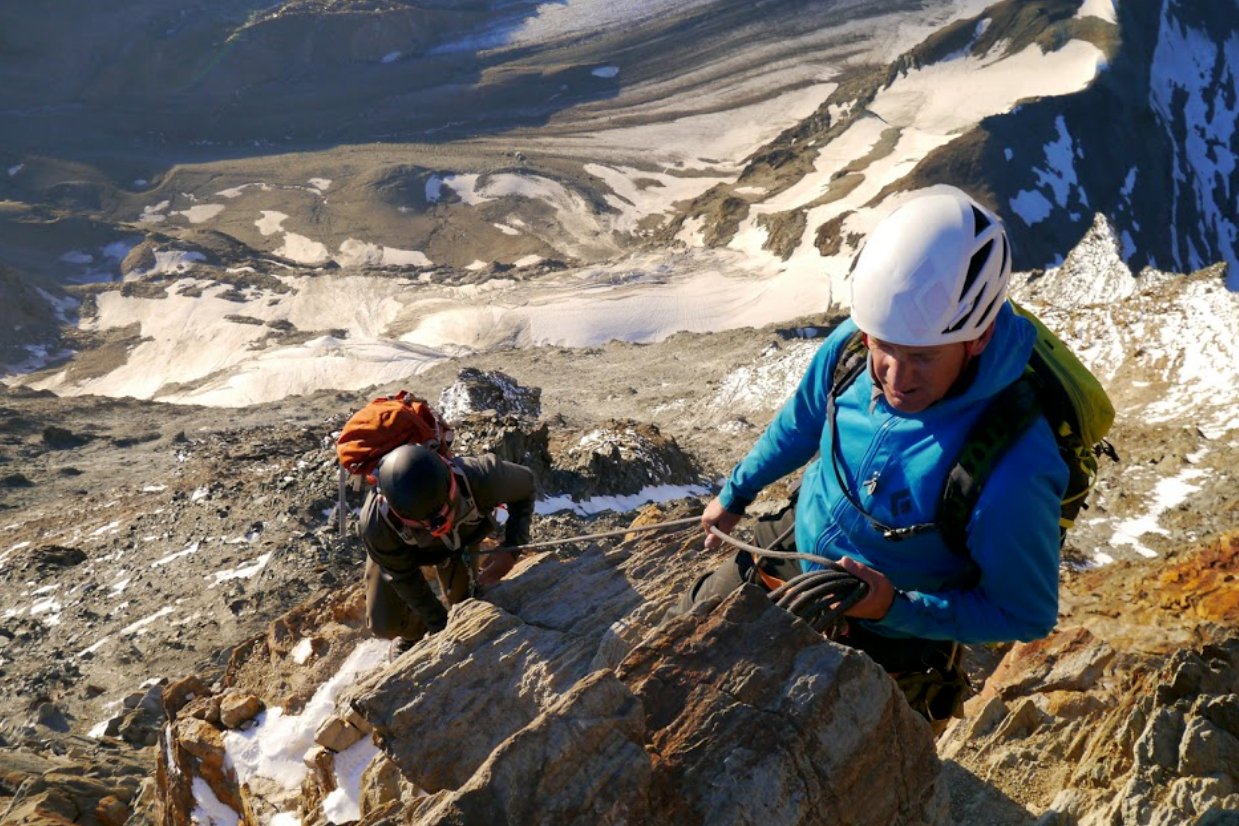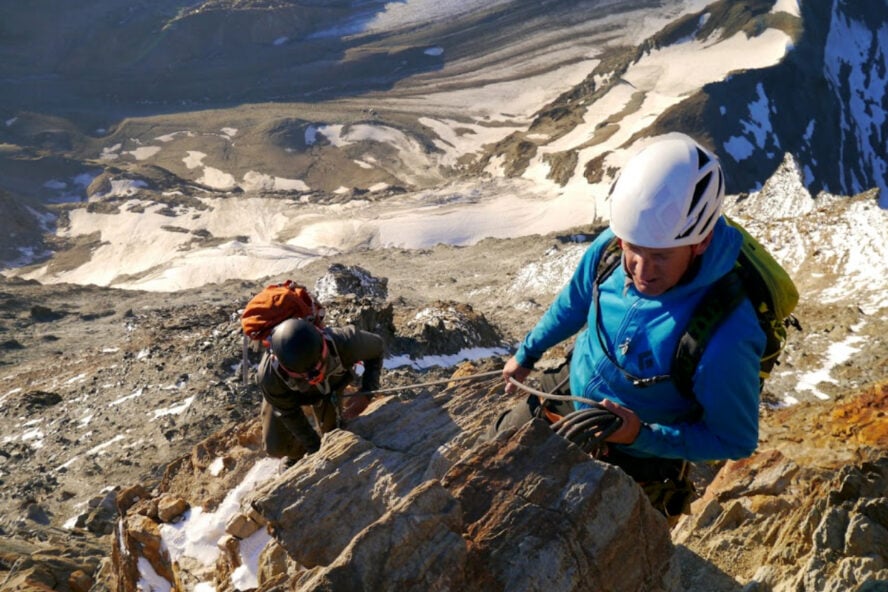 Pros and Cons of Climbing Matterhorn
A classic Alps summit and one of the most aesthetic peaks around
Good for beginner and intermediate climbers to develop alpine skills
No glaciers or crevasses—only a mixture of snow and rock climbing
Can be very crowded in the summer
Expensive to stay at the Hörnli Hut
While not technically difficult, requires a lot of overall physical strength
The Great Pyramid (and Compass) of Europe
Perched above the Zermatt Valley, the imposing Matterhorn stands at 4,478 m (14,692 feet) and marks the border between Switzerland and Italy. As if meticulously sculpted to coordinate compasses by, its picture-perfect faces point (nearly) to the cardinal directions: north, east and west towards Switzerland, and south towards Italy. The faces are split by ridges, the most common routes to the summit.
3D tour of Matterhorn (for your viewing pleasure)
Characterized by steep faces that tower over glaciated terrain, it's no wonder climbing Matterhorn is an alpinist's dream.
A Quick Overview of Climbing Matterhorn
Matterhorn is a popular classic in the Alps—and the most challenging. Each year, about 3,000 climbers attempt it, and during peak summer season, up to 150 people head out each day.
Most people take one of the four ridges to the summit:
Hörnli

(

Hörnligrat

in German): Northeast—considered the easiest route, and the most popular

Lion

(

Leone

): Southwest—the Italian route and a step up in difficulty from Hörnli

Zmutt

(

Zmuttgrat

): Northwest—TD (very difficult) on

the French mountaineering scale

Furggen

(

Furggengrat

)

: Southeast—the most challenging
The four pillars: Matterhorn's ridges
While there are many ways to the "peak of the meadows", I'm going to focus on the ridges, which are more commonly climbed than the faces.
As a typical Alps climb, you can expect technical mixed climbing (alpine rock, snow, and ice) which means, generally, you should be comfortable on crampons and with scrambling, have experience with route finding, and mindfulness for objective hazards like rock fall.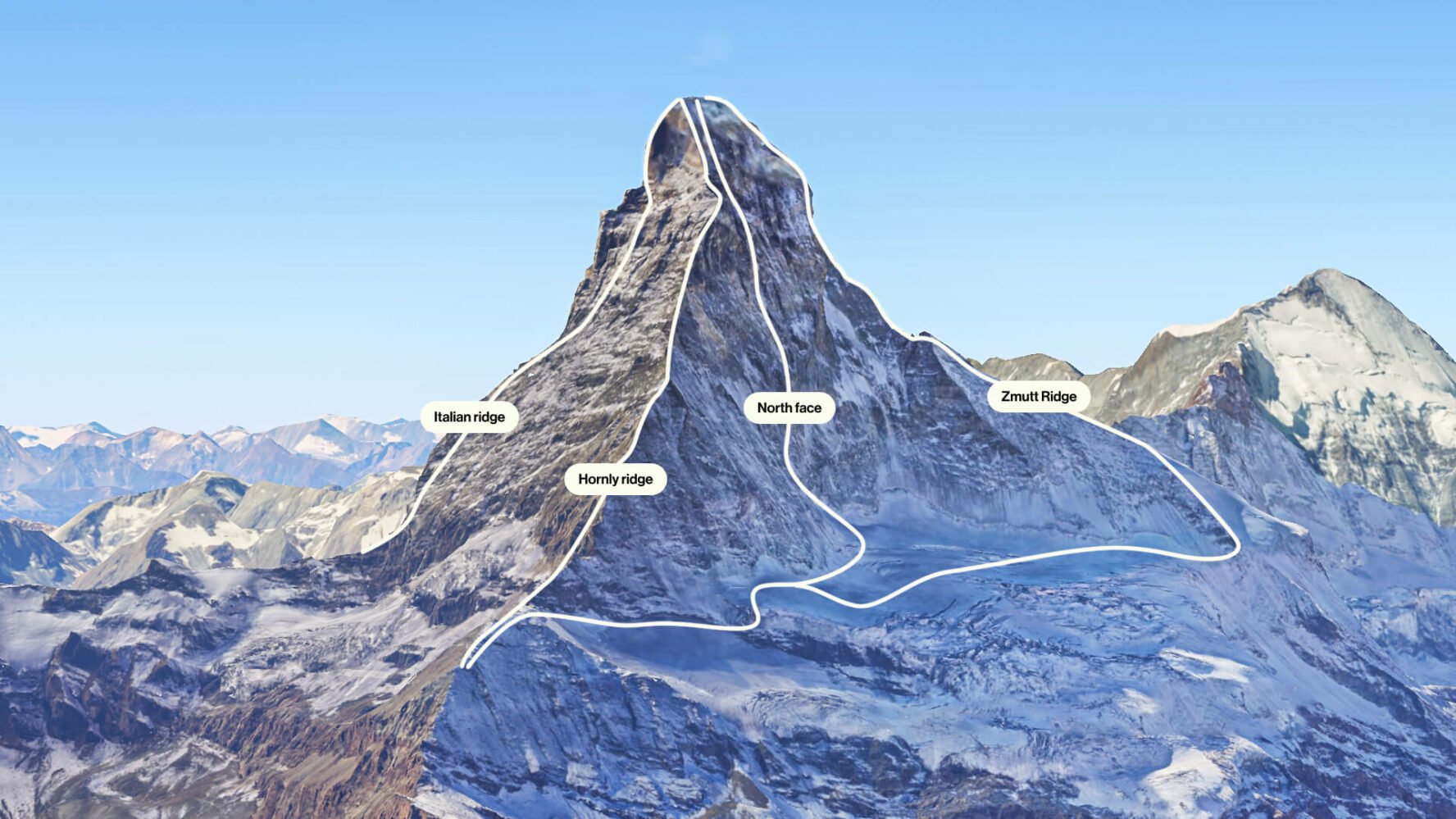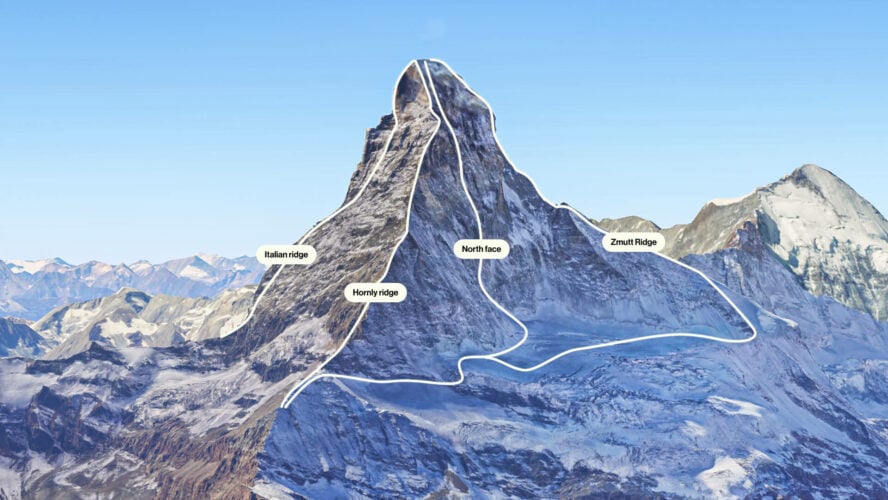 Hörnli Route from Zermatt, Switzerland is the easiest, rated 5.4 YDS or AD (assez difficile or fairly difficult) in the French scale—and is the common route. This is not considered particularly difficult by mountaineering standards (with fixed ropes along the way), but don't be fooled by the rating as you need to be in excellent physical shape and prepared for high-altitude with cold temps.
From the base there is a cable car to Schwarzsee, the "Black Lake", located below the mountain ridge at 2,583 m (8,474 ft). Then to high camp, Hörnli Hut, it is a 2-3 hour trek. When starting from the hut, there is an elevation gain of 1,200 m (4,265 ft), and an ascent typically takes 4-5 hours with another 5-6 for the descent. The climb is usually done over two days.
Even if you are not an enthusiastic mountaineer, you can come to the hut to experience the alpine life (for a bit) in the shadows of the symbolic peak. For our guided Matterhorn climbing trips, we take this route—I'll cover a typical itinerary in more detail below.
Lion, or the Italian route, is the second most popular line. It has an entry point from Breuil-Cervinia of the Aosta Valley lying in the northwest. This was part of the historical first-ascent competition and was climbed two days after the Hörnli line. This route also requires 2-3 days; on day 1 it is a 1,800 m (5,905 ft) ascent to Carrel Hut (3,829 m / 12,562 ft). The next day comes with a 5-hour strenuous hike to the summit with 650 m (2,132 ft) elevation gain. Descend on the same trail.
A common progression is to first climb the Hörnli route to gain familiarity with the mountain and altitude, then summit from the Lion's route.
Zmutt, lies to the northwest and is the most remote. It is also the longest ridge of the peak. Owing to the harsh northern conditions and because it is not equipped with fixed ropes, the path is less attempted. The beginning of the climb is commonly from the Hörnli Hut, or sometimes Schönbiel Hut. The ascent alone often takes 10 or more hours, and the descent is challenging. It was first climbed 14 years after the FA.
Furggen is the scariest, most difficult with D+/TD (difficult or very difficult) grading and the least popular route. It is known for loose rock.
For modern mountaineers, the huts are the primary launching point. But neither these, nor the cable cars, existed when the mountain was first attempted.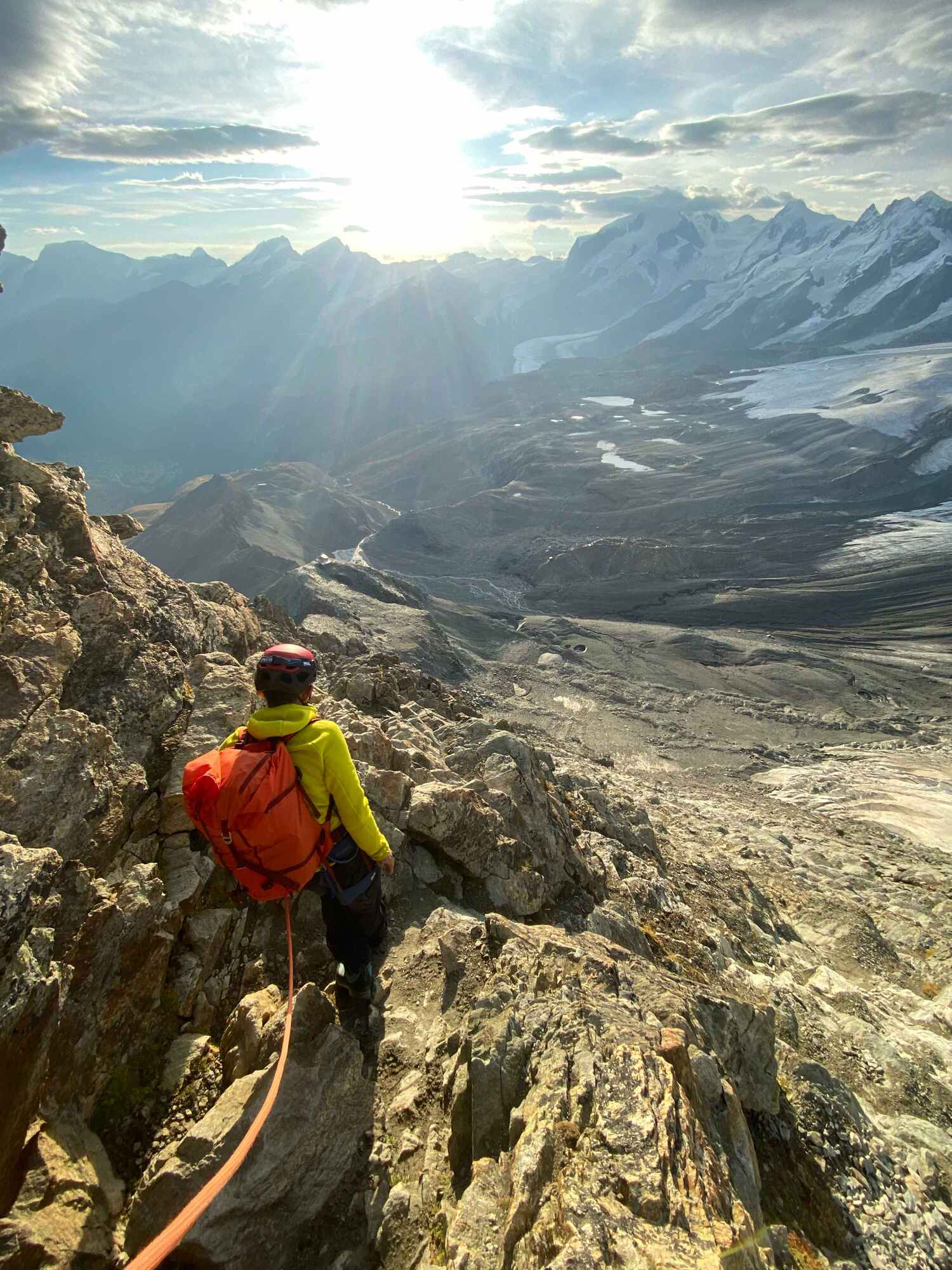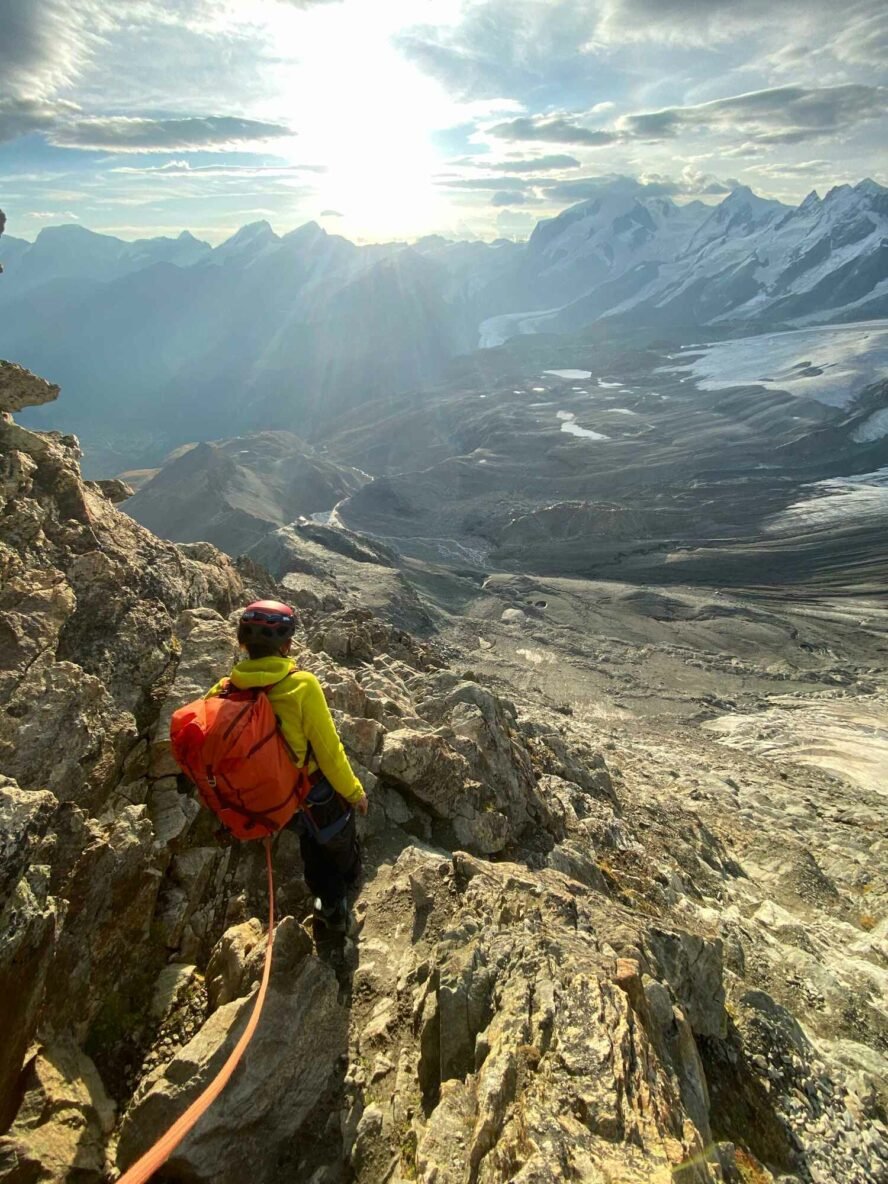 History of Climbing Matterhorn: The World-Famous Race to the Top
Matterhorn was attempted later compared to the other classics of the Alps, largely because of its perceived difficulty. As a result, it was one of the last 4,000-meter peaks to be climbed—on July 14th, 1865. By comparison, the first Mont Blanc climb happened in 1786.
The first ascent of Matterhorn was spurred on, in part, because of a historic competition between an ambitious British artist and the Italian Alpine Club. As Edward Whymper, a mountaineer from England, and six other team members left from the Hörnli ridge, an Italian team started from the Lion ridge (Italian side), led by climber and guide, Jean-Antoine Carrel.
Whymper had been eyeing the Horn since 1861, and he and Carrel made an attempt in 1863. Due to subsequent failures from the Italian ridge, Whymper decided to climb from the Swiss side (Hörnli). However, after the inauguration of the Italian club in 1865, there were secret plans to outrun Whymper.
Whymper and company ultimately reached the top first—his seventh attempt—with the Italian team just 400 meters below. More controversy would ensue however.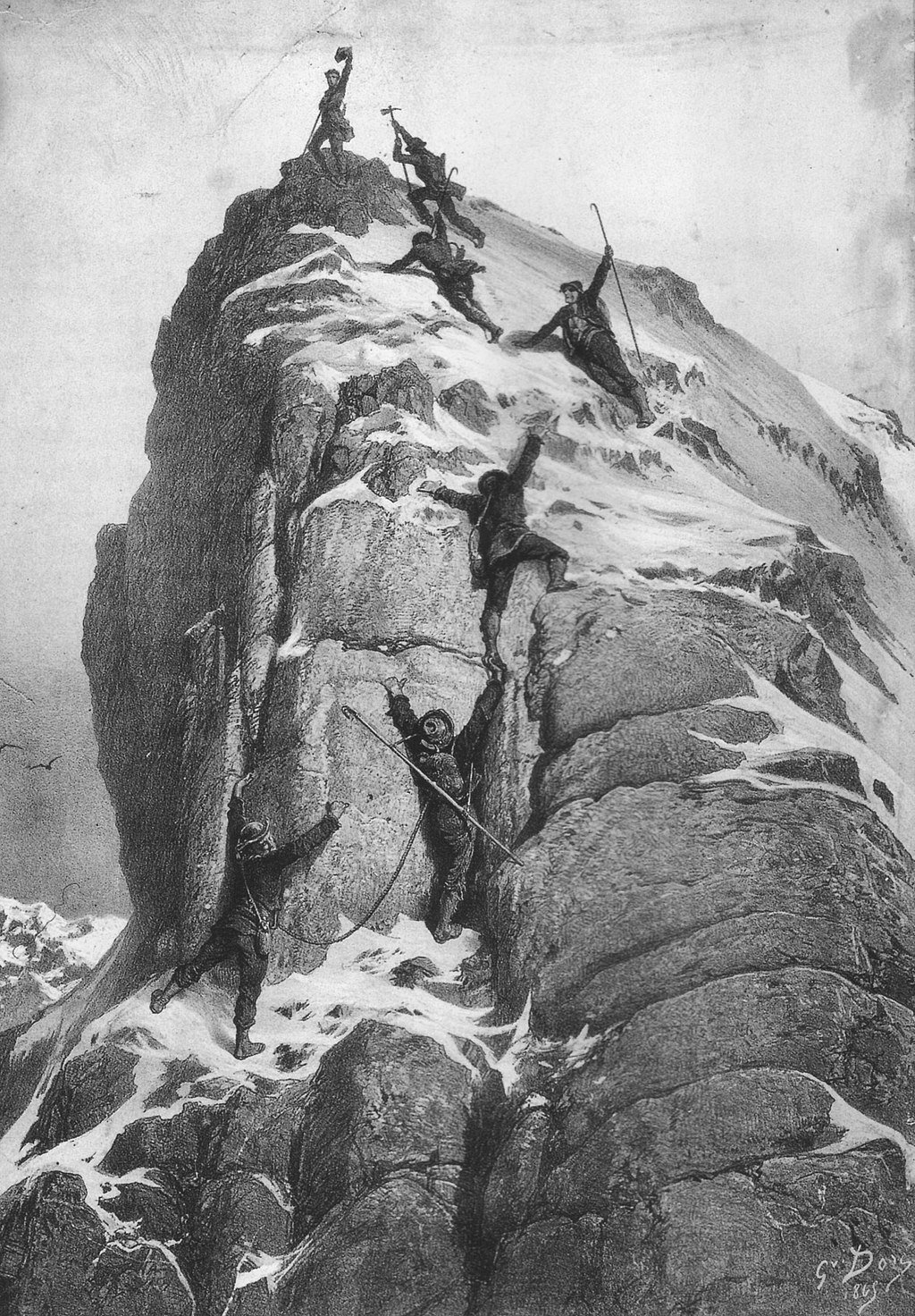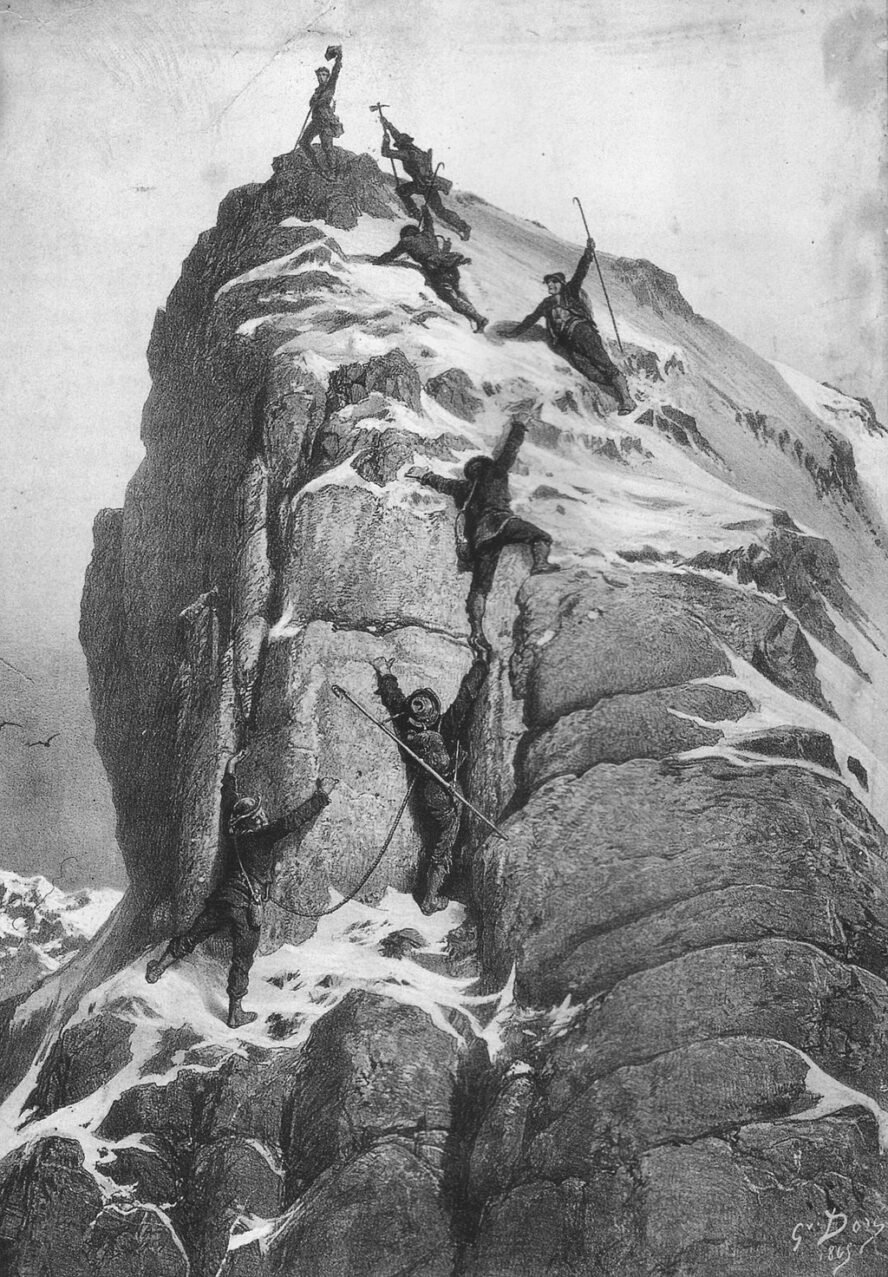 The fall out
It was not the feat but subsequent contention that grabbed global attention. On the descent, the rope broke between Whymper, the Taugwalders (two guides from Zermatt) and the rest of the party, resulting in the death of the other four members. There were rumors, and a series of allegations, that the surviving members purposefully cut the rope, all of which were proven false.
Two days after the first ascent, Carrel achieved his dream too, via the Italian side.
My Story: Alone on the Mountain
I can understand the drive to climb Matterhorn.
As an IFMGA guide, I've spent a lot of time in the Alps, yet the Horn has stood out as a symbol of enlightenment in many ways—especially recently. This past summer, 2022, for the first time in two decades, there were almost no traces of snow on the mountain, and glaciers across the range took a beating. Many peaks were closed owing to the risk, with Matterhorn having a "soft closure" for its upper portion (where snow helps stabilize the rock).
Still, a few clients wanted to experience the mountain, knowing they wouldn't be able to reach the pinnacle—there's so much history, they were motivated simply to be on this classic.
Some days only a handful of people were up there; we had no time constraints, no hurrying up. I could relax and relish the moment—the landscape, winds, weather, rock, the route. And I was able to understand a little bit better what a first-timer is feeling because we had the time to explore that.
Once you know a route well, you tend to overlook the surrounding beauty and focus more on the technicality of serving your clients. Climbing up and down becomes almost mechanical and you forget why a mountain is so significant for others.
I regained that beginner's perspective, and a renewed view of guiding.
Ready to Climb Matterhorn? A 2-Day Itinerary of the Hörnli Ridge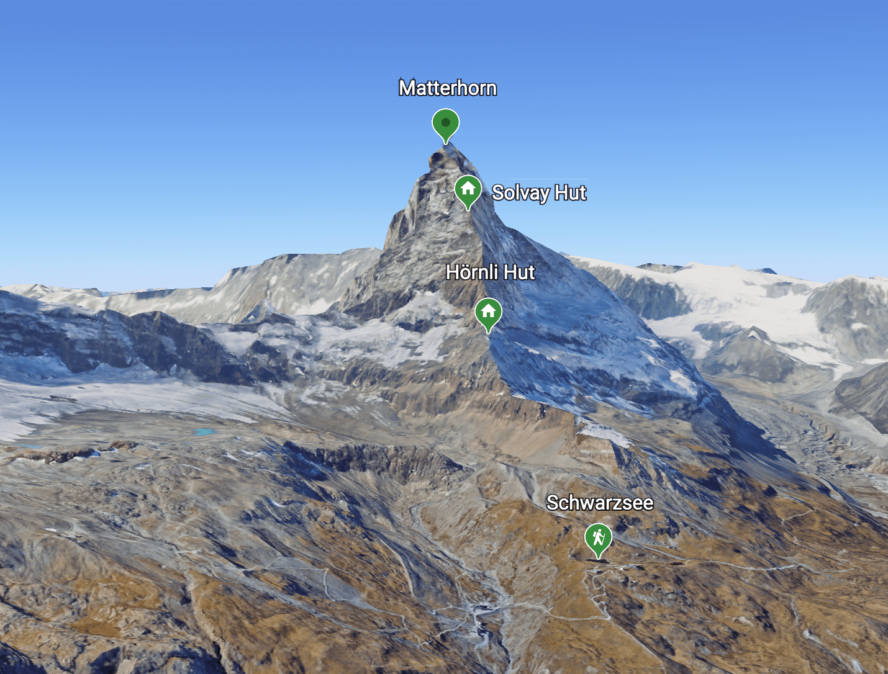 Day 1: Climbing the Matthorn starts at the Hörnli Hut
We begin with a cable car ride from Zermatt, at around 1,600 m (5,249 ft) to Schwarzsee, an alpine lake at 2,583 meters (8,474 ft). You'll be whisked up in about 20 minutes, which saves time, and your legs, for summit day. Right away you'll notice a little bit thinner air, and colder temps.
From Schwarzsee, it is about 3.5 km (2.25 mi) and 725 m (2,380 ft) of elevation to the world-famous Hörnli Hut at 3,260 meters (10,695 ft). It takes about 2-4 hours of hiking along a well maintained and easy to follow trail, from dirt and crushed rock to metal walkways.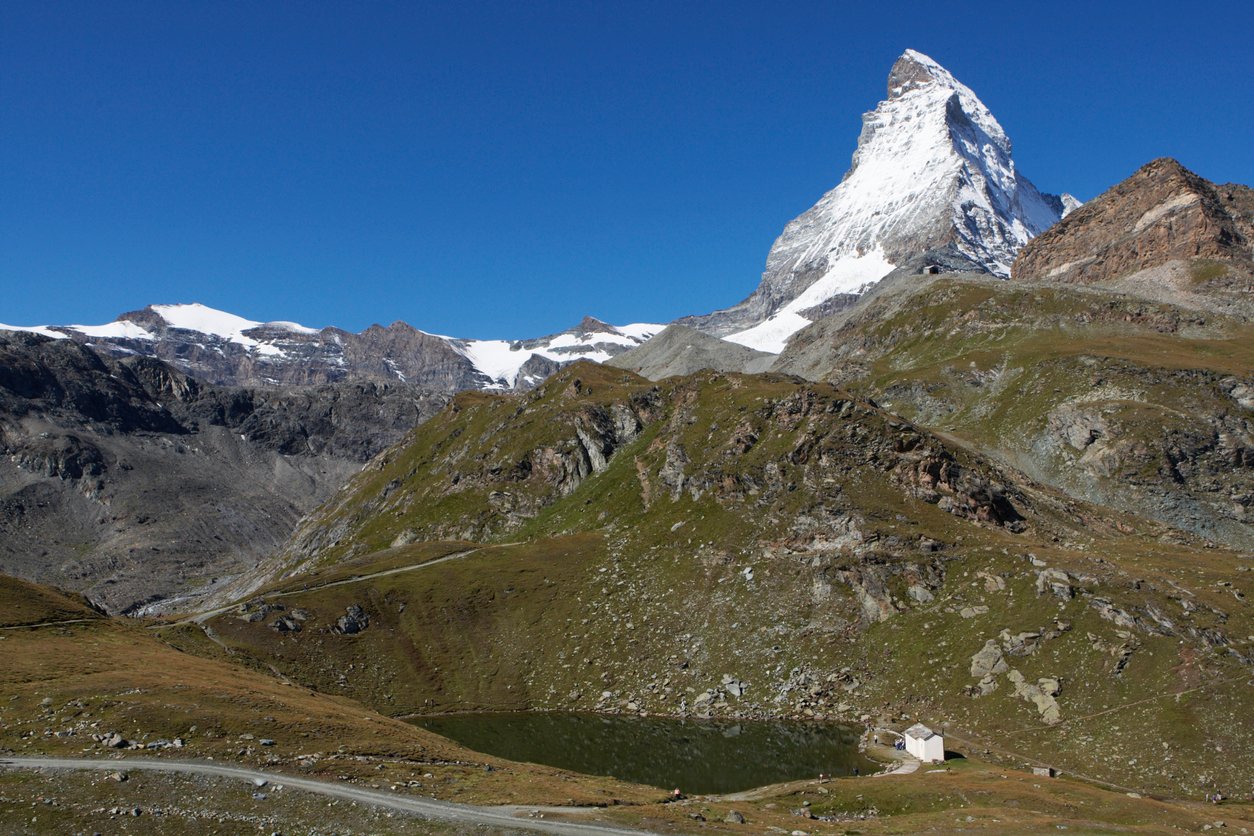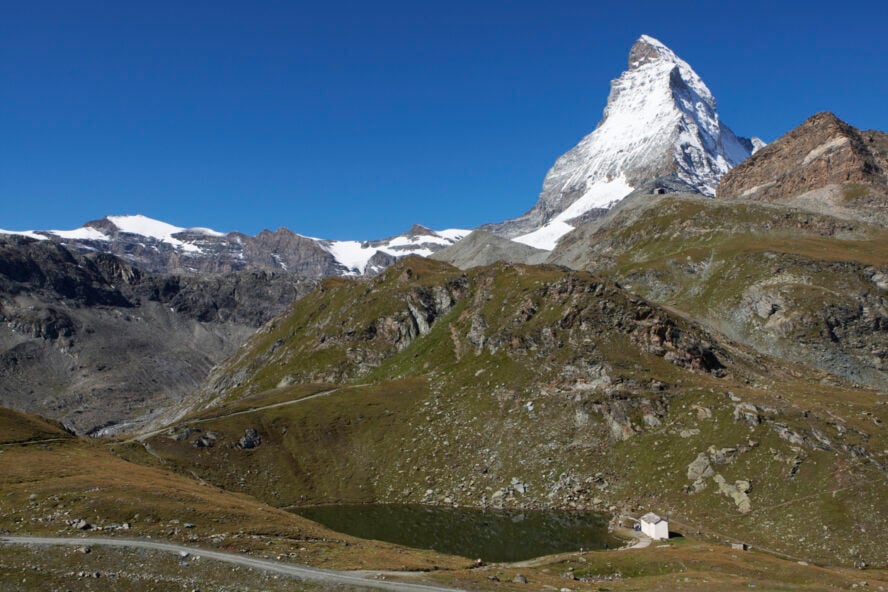 Under normal circumstances, the trail is popular with tourists, so we will often encounter many hikers at this stage. It's a great way to experience an alpine environment—surrounded by an amphitheater of 4,000 m peaks—and many people will make a day of it, having lunch at the hut before heading back.
For us, there is no rush today as guests can only check in at 3pm. After arriving, we have a discussion about summit strategy, offloading unnecessary items from one's pack, do a training on how to wear crampons and use an ice axe, and cover other important factors for the day.
Day 2: Summit day
We wake at 4:00 AM, and after early breakfast we are out the door at 4:30. There is a unique process to regulate the traffic, in order to avoid bottlenecks higher up. The doors of the hut are opened at 4:30 AM with local guides allowed to depart first, followed by other guides, then unguided recreational parties leaving last. This initial staggering is set at 20 minute intervals—the idea is to avert constrictions at narrow sections and allow people to come off the mountain as quickly as possible.
The climb from the hut to the top is 1,200 meters (3,937 ft), and we aim to get up and down in 8-11 hours. This is important because the mountain creates its own weather, and we want to be off before a system comes in. Even though the climbing is only rated 5.4 AD, it's a full-on experience because of all the terrain we're covering; it's a mix of aerobic, anaerobic, and climbing fitness.
To facilitate moving quickly, there are a few distinct characteristics of Matterhorn: fixed lines and the usage of metal eyelets known as stanchions, and other fixed protection, allow for simul-climbing and quicker belays.
From a navigation perspective, following the ridge will get you to the top, but expect many braided trails. However, there are plum lines that are easier and take you through better rock quality (which you can find in guidebooks). Lower down, the best line actually deviates quite a bit from the ridge at points—it can be counter-intuitive.
Once we reach the Lower Moseley Slab we begin more technical climbing. Up to this point, it's a lot of Class V scrambling and ascending via fixed lines. Above the slab is the Solvay Hut at 4,002 meters (13,130 ft), the highest mountain hut owned by the Swiss Alpine Club. This is used for emergencies only so don't expect any amenities.
To get here it's about 700 m (2,297 ft) from Hörnli, and while this is a bit more than half-way altitude wise, we consider this the mid-point by time. Typically, we aim to get here around 6:00 AM (or 2.5 hours maximum. If you're moving slower than this, you want to consider turning back now because things are only going to slow down). From here, we continue up the ridge to the summit. The climbing becomes more difficult, but the route-finding is much simpler.
Starting around the Schulter Plateau you start to shift over towards the North Face. Usually, this is where the snow will start mid-summer. At this point, you're putting on your crampons, making adjustments to layers because it's getting colder and you're in the shadows. There are many fixed lines through this section, to the roof, then you're on to the top.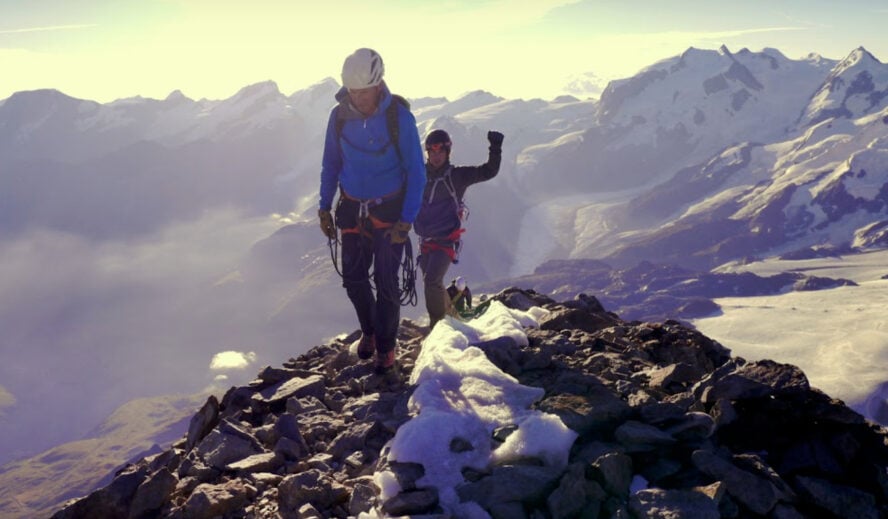 Additional Information About Climbing Matterhorn From an IFMGA Guide
What is the best time to climb Matterhorn?
The best time to climb Matterhorn is summer to early fall, from July to September when there is enough snow to hold the rocks together, but it's still warm. After July, the lower sections of the Hörnli route are typically dry and free of snow.
Training for Matterhorn
The best way to prepare for a climb like this is to do climbs like this. Often, we do our training days climbing in Chamonix, focused on moving in the mountains in mountaineering boots, working on rock climbing with a backpack, getting comfortable in crampons, and building up the capacity for big days out. Because Matterhorn has a lot of fixed lines, you want to build your upper body pulling strength. Regular climbing in the gym, pullups, and pushups will be invaluable.
A basic scale to measure your fitness is to be able to walk uphill with a 15 lb. pack for 1,000 m (3,300 ft) or capable of running 10 km (6.2 miles) in 60-70 mins and being able to climb 5.6+ routes in the gym. Climbing Cotopaxi, Mount Shasta, or any other technically forgiving objective is always a good idea. Albeit a longer trip, trekking Kilimanjaro is a good endurance exercise.
How much does it cost to climb the Matterhorn?
It costs around $2,500 to $6,500 to climb the peak with a guide, excluding the travel and lodging charges.
Packing & Gear List
For your personal climbing kit:
Mid-summer alpine or mountaineering boots (something you can actually climb in—half-shank, mid-range stiffness. You don't need something full-shank, that you'd use for ice climbing, or something overly warm)

Lightweight climbing helmet

Headlamp

Trekking poles

Crampons

Hybrid mountaineering ice axe (50-59 cm)

Harness with a locking carabiner, belay device, and chalk bag

Personal anchoring system

Climbing hardware (quickdraws, cam devices, stoppers, etc.)
For personal items:
Non-insulated, fully waterproof shell jacket with a hood

Non-insulated, fully waterproof shell pants

Breathable but wind-and-weather resistant softshell jacket

Non-insulated softshell pants

Lightweight insulated jacket

Lightweight trekking pants

Lightweight fleece layer

Long-sleeved base layer top

Long base layer pants

Quick-dry athletic shorts

Expedition-weight bottoms

Travel clothes

Liner socks, hiker socks and warm socks

Leg gaiters

Running shoes (off-mountain use)

Approach shoes

Technical mountain boots that work with crampons

Fleece or wool hat

Sun hat

Balaclava and a buff

Neck gaiter

Lightweight synthetic liner gloves

Midweight, lightly insulated gloves

Leather climbing gloves (broken in)

An internal frame backpack (30-35 L)

Duffel bag (for gear not required on the trek)

Sleeping bag liner

Chemical hand and toe warmers

Glacier glasses and/or goggles

Water bottle or hydration pack

Plastic bowl, spoon and coffee mug

Energy bars, gels and Shot Bloks you can eat on-the-go

Pocket knife

Toiletries (hand sanitizer, blister kit, toilet paper, pee bottle, etc.)

Small personal First-Aid kit

Sunscreen (30+ SPF)

Lip balm (30+ SPF)

Camera — optional

Power-bank — optional
Getting there
Zermatt is a car-free area so the easiest way to get around is by rail. If you have your vehicle, you need to park it 5 km away in Tasch and hire a taxi from there. For the Italian side, you can reach Breuil-Cervinia in just two hours from Turin airport.
The closest airports are in Zurich and Geneva. You can arrive by rail in 3-4 hours from Zurich-Kloten and Geneva-Cointrin.
How dangerous is the climb?
The Horn is fairly dangerous. Each year, about 12 climbers die on the mountain, and more than 500 have died since the 1860s.
Pricing for the the mountain huts
Hörnli Hut is the most expensive resort as it charges CHF 150 ($164) per night which includes accommodation, dinner, and breakfast. One important point to remember is that no camping is allowed around the hut.
It was built in 1880 with 17 beds and expanded to 130 beds in 2015. However, it is the first high-altitude refuge in Europe that reduced its capacity to deal with the surge of tourists.
Do you need a guide to summit Matterhorn?
You don't need a guide for Matterhorn, and I understand the many reasons someone wouldn't want to hire one. With that, I've always said if money was of no concern and there was unlimited time and budget, I'd hire a guide everywhere.
Primarily, you're working with someone with years of accumulated experience who understands what you're getting into, will help you prepare, and plan for (and knows how to respond to) contingencies—so for the most part, you can enjoy the day without having to be gripped the whole time.
On Matterhorn, going with a guide lets you get out first from the hut, and because you need to move fast on this mountain in particular, they will help you navigate the terrain via the plum line and safest route.
For more information, you can see my Q&A about climbing the Matterhorn on the 57hours Adventure Talk.
Other things to do around Matterhorn
Zermatt is the winter capital of Switzerland and one of the best backcountry skiing destinations in Europe. Other activities include mountain biking around Switzerland or the Gornergrat-Zermatt marathon (which has a ridiculous 1,800 meters of elevation gain, ending at the highest-altitude finish line in Europe at 2,585 m). Horu Trophy, the continent's largest open air curling tournament held in January, is known for the mesmerizing views of the horn. Culturally, the Matterhorn Museum is a historical treasure of mountaineering and alpinism.
Over 150 Years of History and Just Waiting for You to Climb It
Without a pinch of knowledge, you could have pointed out this masterpiece on a map. But now that you know everything about climbing the Matterhorn, I am sure you are feeling confident about experiencing it yourself—no jealousy or betrayal required.
Ready to tackle this crown of the Alps? Join Nino on a guided climbing tour of Matterhorn today!