Rock Climbing NYC – Our Favorite Spots
Rock climbing in NYC has never been easier. We've spent years seeking and climbing the best spots around New York, and are eager to share the logistics with you.
Everything you need to know about rock climbing and indoor climbing gyms in NYC is here: where to go, what you need, who to call, where to have a coffee in the morning, and what to eat after the workout. The wall is your oyster!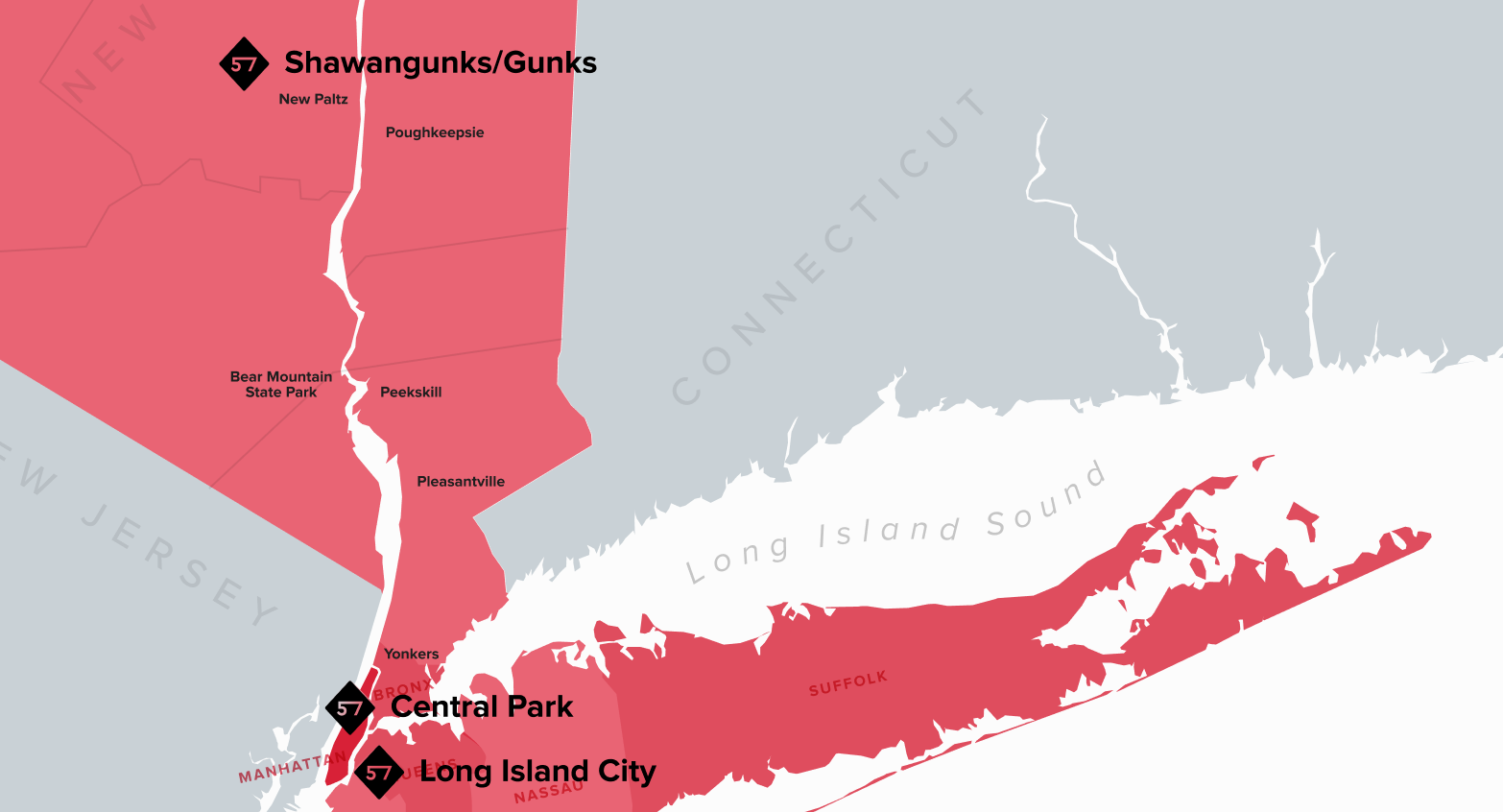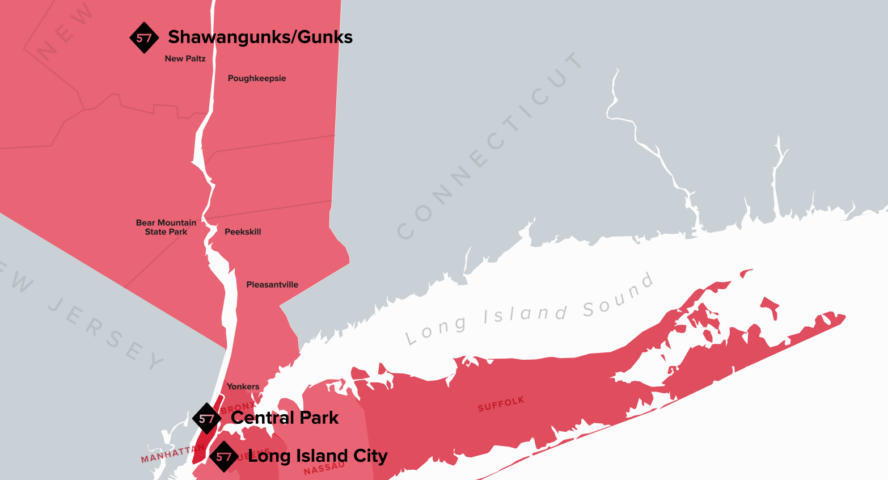 Climbers in New York are fortunate, because rock climbing's popularity in NYC has led to local expansion of the sport. Amazing indoor climbing gyms have been built over the last few years, there are excellent bouldering spots in Central Park, and some world-famous crags live a few hours away from the city in upstate New York.
For me, nothing beats climbing outside on real rock, but recently more people are starting indoors. Grab your gym bag and let's head to Queens!
1. Indoor Climbing at Cliffs, Long Island City
Cliffs is our favorite rock climbing gym in NYC. World-best female climber Ashima Shiraishi climbs here. Climbing celebrities like Tommy Caldwell, Jimmy Chin, Alex Puccio visit every now and then. Don't be intimidated! A majority of those that climb at Cliffs are beginners with a few runs under their belt. You'll fit in perfectly.
Cliffs provides useful intro classes lead by knowledgeable instructors, rentable gear, clean lockers and showers… all roughly 100 yards from E and G train stops. I'm at the gym couple of times a week, proudly wearing my red 57hours shirt.
If you've never climbed before, I'd suggest one of their intro classes. It's inexpensive, takes a couple hours, and you learn what's happening on the walls. For example, there are different letters or grades for routes. Also, colors of holds correspond with your exact path up the wall. Ropes and lead climbing are related to rock climbing as most of us know it. Bouldering uses no ropes, and you're protected by a cushy "crash pad".
If you're an experienced climber and looking for a place to train indoors, Cliffs doesn't get any better."
Why? The climbers and staff are friendly. No matter the season, it's climate controlled. There is an auto-belay device – a DIY climbing mechanism – so I can do "laps" without having a partner. The gym's lead wall is huge. New routes on both lead and bouldering are rotated often. This means that you get about 3-4 weeks to work on a specific problem, but every week there is a new sector with new settings. A perfect balance for me.
Want a first-hand account? 57hours' own Josh Wolff, who had little climbing experience, wrote about his intro to climbing class at Cliffs.
Cliffs Pro Tip

Don't get frustrated by climbers around you. Like traditional gyms, there are climbing "gym rats" that train everyday. But don't be discouraged, you'll get there! It just takes time and practice to develop the skills to move with ease around the walls.
Grab a Bite around Cliffs

The Mill

Grab some caffeine before your climb for an extra energy boost. Just across the street you'll find good espresso and light meals. If you get in early, they have nice prosciutto sandwiches – although I can't figure out exactly when they make them.

John Brown Smokehouse

Don't forget post-workout protein. Shortly after Cliffs opened, this BBQ joint extended its hours until 11pm. Brisket, baby-back ribs and baked beans are a must. Sit all the way in the back if you want to watch a game.
Cliffs Logistics

Gear Rental

You can rent shoes and harnesses at the counter, they are well stocked for all sizes. Also, there's a shop where you can buy shoes, chalk and chalk bags, and even ropes and belay devices.

Alternatives

If Cliffs doesn't work for you in terms commute or reason – like not keeping your hands on your grigri and gaining the gym's "strike one" – I also like Brooklyn Boulders. They have two locations, one in Gowanus and another in Long Island City.
Who knows one day I'll be looking for a new place to climb. 🙂
2. Bouldering in Central Park, Manhattan
My first ever rock climbing day in NYC was in Central Park. I don't remember how I heard about it, but it seemed like the whole world knew you could climb in Central Park. One afternoon, I took my daughter to the park and we discovered Rat Rock – a popular bouldering spot in the SW corner of the park. We climbed for a couple of hours without knowing the grades or routes. It was a blast!
Our next few visits were more focused. We consulted a local guide book, brought a crash pad and tackled some of the harder problems and routes. This extra information opened up us to new climbing spots in Central Park – Chess, Cat, and Tooth Rocks. It pays to solve the logistics first!
To start in Central Park you don't need a crash pad, just shoes and some chalk for better grip on the rock. You can purchase chalk at any local climbing gym, REI in Soho, or Paragon Sports near Union Square. Once you get into it, you can work on some of those problems for weeks. It took us three full-day visits to finish the famous Polish traverse – a V5, feels like a V6/7.
To find your way around the park's rock, we suggest a recently published book called NYC Bouldering. It's available to buy at Cliffs LIC. Also, it's easy to find online resources by searching for "Bouldering Central Park". If you want to cheat like my buddy Perica, you can browse YouTube to learn all the moves.
Central Park Pro Tips

Buy the NYC Bouldering book.
Go on a cooler day for less sweating and better friction (try to stay below 70F, ideally below 60F).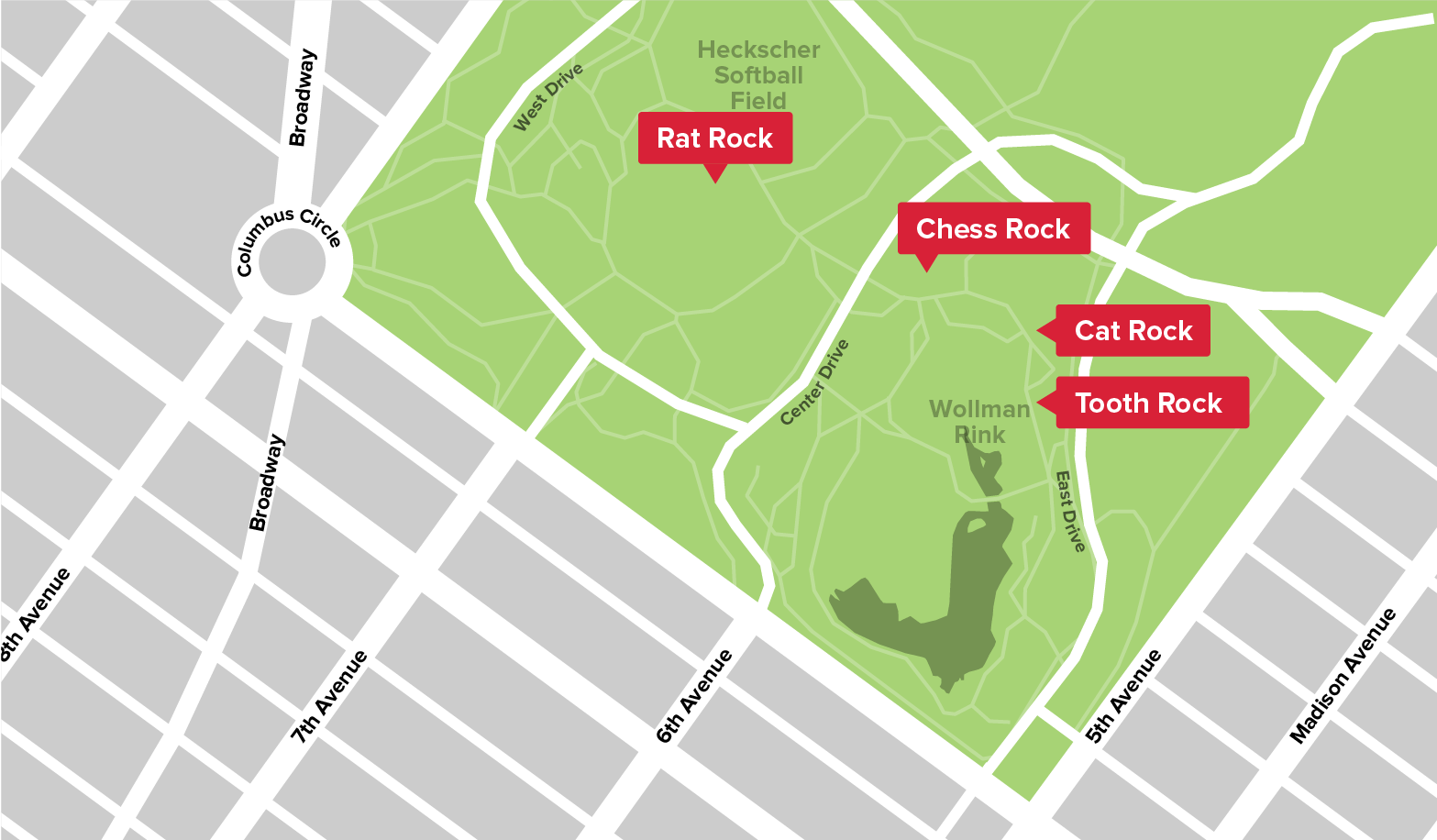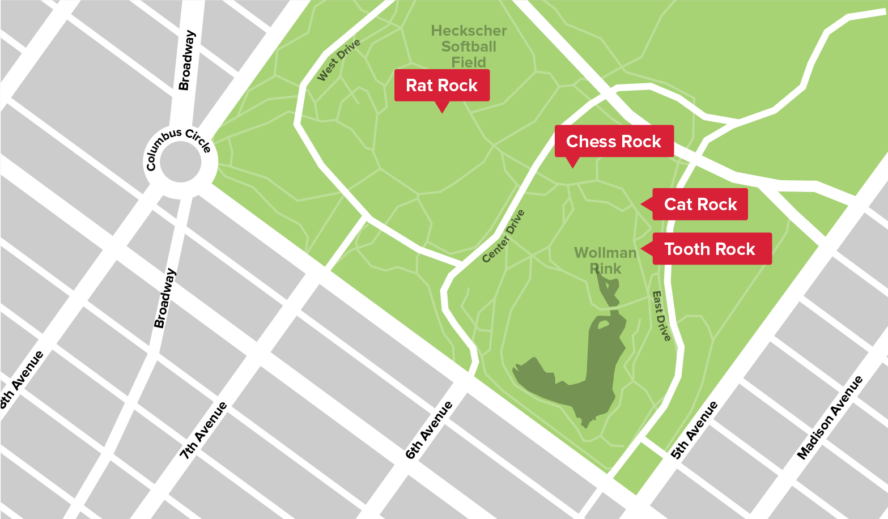 Grab a Bite around Central Park

Xi'an Famous Foods

A 57hours team favorite for many years. This regional take on Chinese combines fat noodles with spice-laden sauces. Spicy Cumin Lamb Noodles (N1) is a must. Liang Pi Cold-Skin Noodles are refreshing on a hot day. This location serves beer, and you'll need it to cool your tongue.

The Smith

If you're in an early rush to boulder, they do breakfast right. Don't sleep on the Vanilla Bean French Toast. Dinner is amped up American fare with twists like a vegetable bibimbap. Regional taps and cocktails.
Central Park Logistics

Recommended Gear

For beginners, shoes and chalk are sufficient.

For more advanced routes, one or more crash pads. We did just fine with a larger crash pad at the Polish traverse.
3. Rock Climbing in The Gunks, New Paltz, NY
Scaling real, vertical rock face is what every climber lives for. The Shawangunk Ridge in upstate New York is a world-renowned climbing spot, with a relatively long local climbing history. It's affectionately know as "The Gunks". According to the American Alpine Club, Austrian climbers set the first routes in The Gunks back in the 1930's. It attracts notable names from climbing world and outside, including Nobel Prize winner and transistor inventor, William Shockley.
A rock climbing weekend in The Gunks is one of the best outdoor experiences available near NYC. Start your day with a strong espresso in New Paltz in the morning. Climb world-class routes all day. Try some amazing restaurants in Hudson Valley on the trip home. It's worth the trip.
When in doubt, run it out." – Lynn Hill
Before moving to New York from Croatia in 2010, I was climbing mainly sport routes – those with pre-drilled bolts for protection. But soon I figured that to continue rock climbing in NYC it would require little bit more skill and learning. The Gunks were a place for traditional climbing: no bolts, no pitons, no permanent gear, no route name… it was intimidating even for an experienced climber. I packed up and went home frustrated a couple times. Climbing is as much a mental game as physical.
It took me three years to make my way back to the Gunks, but the next time I hired a guide and went out with a few friends. Our guide provided the extra boost of local knowledge I needed, and from then was hooked on the ridge. Since that experience, I climb at The Gunks once or twice a month. It's starting to feel like my home crag. Once you know all the routes, places where climbers go for breakfast and beer, and some local people, it really is something else.
Curious about climbing lessons at the Gunks? Read about Karmen's experience with Women's Climbing Lesson in The Gunks.
Gunks Pro Tips

Take a sick day during the week and avoid the crowds.
Winter climbing works quite well on a sunny day, no crowds guaranteed.
Buy a Gunks App guide. Contains the best routes to climb, with GPS navigation route to route, beta and hi-res topo photos.
Getting to the Gunks

Directions

By Train
The closest transit stop is Poughkeepsie via Metro North. Take the county bus to New Paltz, and/or cab directly to the Gunks.

By Car

Head north from the city on I-87, which will take you to New Paltz at Exit 18. Take a right on NY HWY 44/55 toward Mohonk Visitors center.
Grab a Bite near the Gunks

Mountain Harbor Deli

If there is a nice weather this is a classic place where climbers hangout before going to climbing. Great selection of breakfast sandwiches, cheap and a pretty good freshly brewed coffee.

Mountain Brauhaus

For a snobby European like me, the German theme was ridiculous idea at first. When we finally went there we loved it! Traditionally dressed waiters delivering bratwurst and sauerkraut, mixed with crowds chatting about skiing and climbing moves. It felt like home.

Tip: Get there early, it gets crowded.

Huckleberry

Another place that will feel like home for any Brooklyn/Williamsburg climber. Great selection of beer, great atmosphere.
Gunks Logistics

Guides

First time in Gunks I would recommend a guide unless you are a really experienced climber or have a friends who climbed there before.

Gear Rental

Rock and Snow
The best local selection of climbing gear and clothes. [map]
We'll See You on the Walls!
There's a reason over four million Americans a year participate in rock climbing or bouldering. It's an efficient workout, tests your personal limits, and you'll meet some chill new climbing partners.
If you're interested in lessons, our teammate Josh wrote a comprehensive review of a Cliffs LIC intro class. It's a great resource to get started!
Find world-class climbing just outside the Big Apple. Spend an amazing day or half-day climbing the iconic Gunks, with an expert local guide by your side. This is how you take your Gunks adventure to the next level!