Bear Mountain | New York
Hiking in Bear Mountain State Park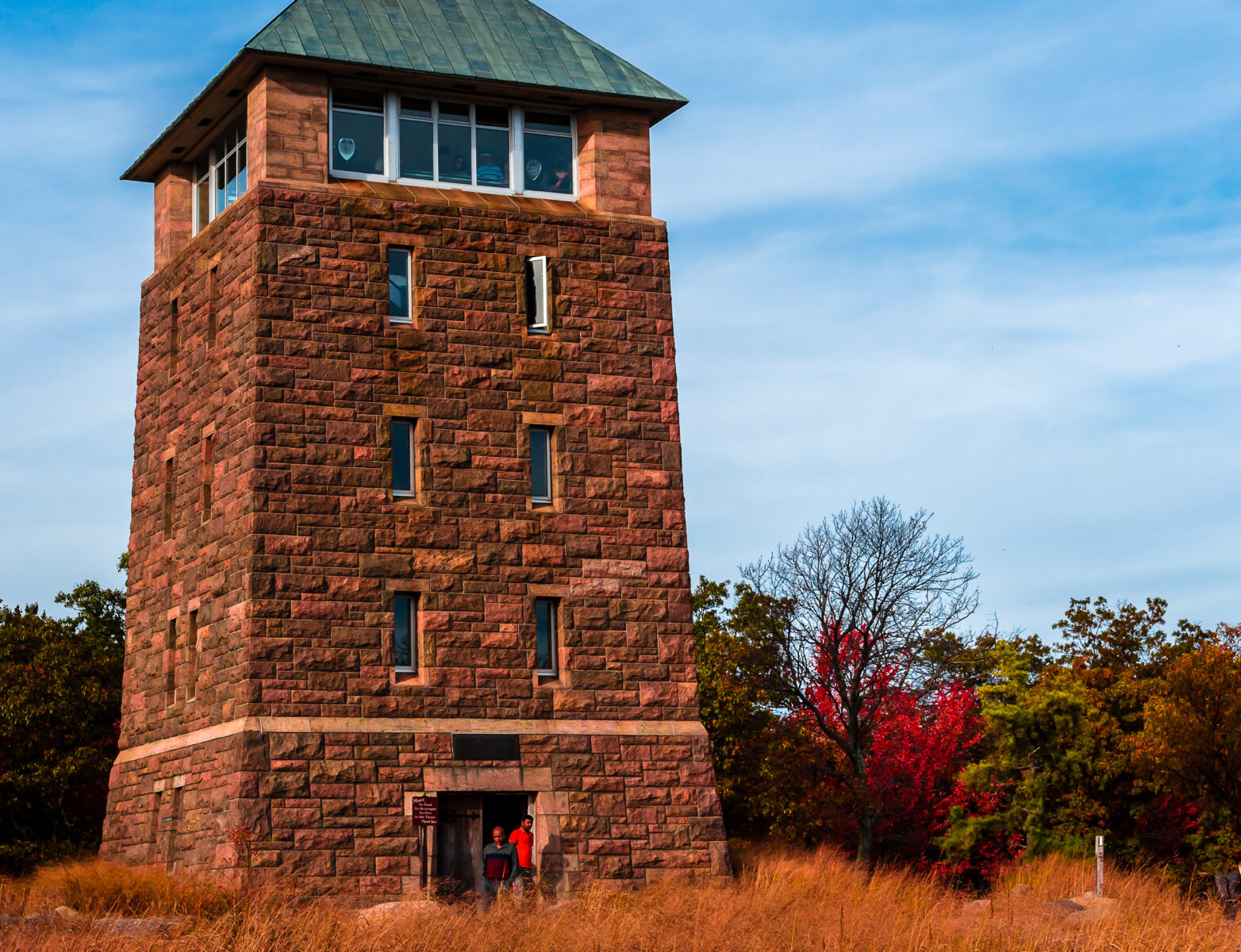 Season
Open year-round, but spring through fall is ideal
Nearest city
NYC is an hour's drive away
An outdoor adventurer's wonderland just an hour north of NYC
Just up the Hudson River, Bear Mountain is home to the oldest section of the Appalachian Trail with over 1,000 stone steps! The park is also home to a wealth of trails, an outdoor ice rink (in winter), a zoo, Bear Mountain Inn and countless other outdoor attractions for the whole family making it one of the best family-friendly hiking destinations in the US. On either side of the Hudson are stunning views of the Purple Heart Memorial Bridge with the historic Revolutionary War-era Fort Clinton to the west and Anthony's Nose to the east. Hike on these historic trails, just a short 50-mile drive from NYC.
Book This Adventure
The General's Fortress Guided Day Tour
$249 per person
·
8 hours
Calling all history buffs! On this three-mile guided hike, experience the historical importance of Bear Mountain as you trek along the 1777 Trail — a trail that dates back almost 250 years. After the hike and taking in the sites of the Hudson Valley, you and your group will be treated to a farm-to-table lunch at the Bear Mountain Inn, followed by a private tour of West Point, farther north up the Hudson.
Trip Highlights
Departing from NY, you and your guide will make your way to Bear Mountain State Park, situated on the west bank of the Hudson River. You'll hike on the 1777 East Trail, exploring remnants of the former 18th century settlement, Doodletown. It's here, where British troops marched on their way to the Battles of Fort Clinton and Fort Montgomery. Your guide will explain the history while you explore the area, before breaking for lunch at the Bear Mountain Inn and finishing the day with a private tour or the U.S. Military Academy West Point.
Things you need to know
COVID-19 measures in New York
Why should I book with 57hours?
With us, it's all play and no work for you! 57hours is an open platform that connects you with trained and certified outdoor adventure professionals all over the world. Using our tech-savvy, we make it super easy to find and book adventures worth tackling, with guides worth booking, all gathered from the first-hand experiences of the locals who adventure in these amazing locations.
Why should I go hiking?
Bear Mountain State Park is a great day-trip escape from New York City. With hikes for every level of adventurer, there are hundreds of miles of trails to explore within the park and plenty of other options for a fun day out. Some of the trails date back nearly 250 years and hiking is undoubtedly the best way to enjoy Hudson Valley terrain and experience the untouched nature around you.
What's included?
What you get in this adventure:
An experienced local guide with extensive knowledge of the area
Transportation to and from NYC
Lunch at Bear Mountain Inn included in price (*dietary restrictions can be accommodated)
What can I expect from hiking with a guide?
Hiring a local guide offers you the chance to experience Bear Mountain's beauty to the fullest. Local guides know all the hidden gems the area has to offer, will explain the history and geology during the historic hiking tour, and will transport you to and from the destination. And, if something unpredictable happens, your guide will know just what to do if the weather takes a turn or something unexpected happens.
What do I need to bring?
Here's a list of the equipment we suggest you bring:
Small day pack large enough to carry all the items listed (around 25L)
Water bottle or hydration pack
Hiking shoes or boots and proper hiking socks
Spare clothes for layering
Toiletries (sunscreen, insect repellent, hand sanitizer, toilet paper, etc.)
Sunglasses
Camera — optional (but recommended)
What's the itinerary?
8:45 AM: Arrive at the NYC pick-up location and meet your guide
9:00 AM: Transportation to Bear Mountain State Park
10:30 AM: Begin three-mile guided hike on the 1777 Trail
1:45 PM: Lunch at the Blue Roof Tapas Room in the Bear Mountain Inn
3:00 PM: Private-guided tour on West Point campus
5:15 PM: Arrive back in NYC at the drop-off location
How fit do I need to be?
This historic Bear Mountain State Park hike is for beginners and family-friendly. You need to be able to hike for around three miles over three hours with little elevation gain. It should be suitable for most people, but if you have any questions about whether this adventure is right for your party, please contact us.
What is the minimum age requirement?
Everybody is welcome on this hiking adventure. If you plan to hike with minors, please contact us prior to booking to make arrangements.
What about group sizes and pricing?
This hiking tour is for private individuals and groups only. Group size is between 6-11 people with one guide. Pricing is per person. If you're travelling with more or less people, please contact us prior to booking for pricing info and to make arrangements.
What about bad weather?
Tours are scheduled to fit with the seasons and ideal hiking conditions. When the weather does not cooperate, your guide will know the correct course of action to take. Whether that's shifting to a more favorable location or postponing until conditions approve, your guide will know just what to do. In the event of predictably bad weather, you will be contacted prior to the trip to discuss suitable alternatives.
Do I need an insurance policy?
It's highly recommended that you cover all your bases with travel and medical insurance. While hiking might seem like a low-risk outdoor activity, accidents can happen anywhere and we recommend insurance to avoid paying out of pocket for costly medical expenses. And as we've recently seen, travel plans can be abruptly halted, so it's a good idea to have cancellation insurance that also covers lost baggage. It's tried and tested and it works.
Cancellation policy
All policies regarding cancellation, rescheduling and trip insurance will be clearly laid out by your guide prior to booking your adventure. Contact us if you'd like more information on a specific adventure.
Getting there and meeting location
This tour departs from New York City, New York
Pick-up/drop-off location: Upper West Side (76th and Broadway)
Guides we recommend
The Explorer's Passage
The Explorer's Passage
Hiking Guides
The TEP experience is unique in that it tells a story. Their adventures offer a ste...