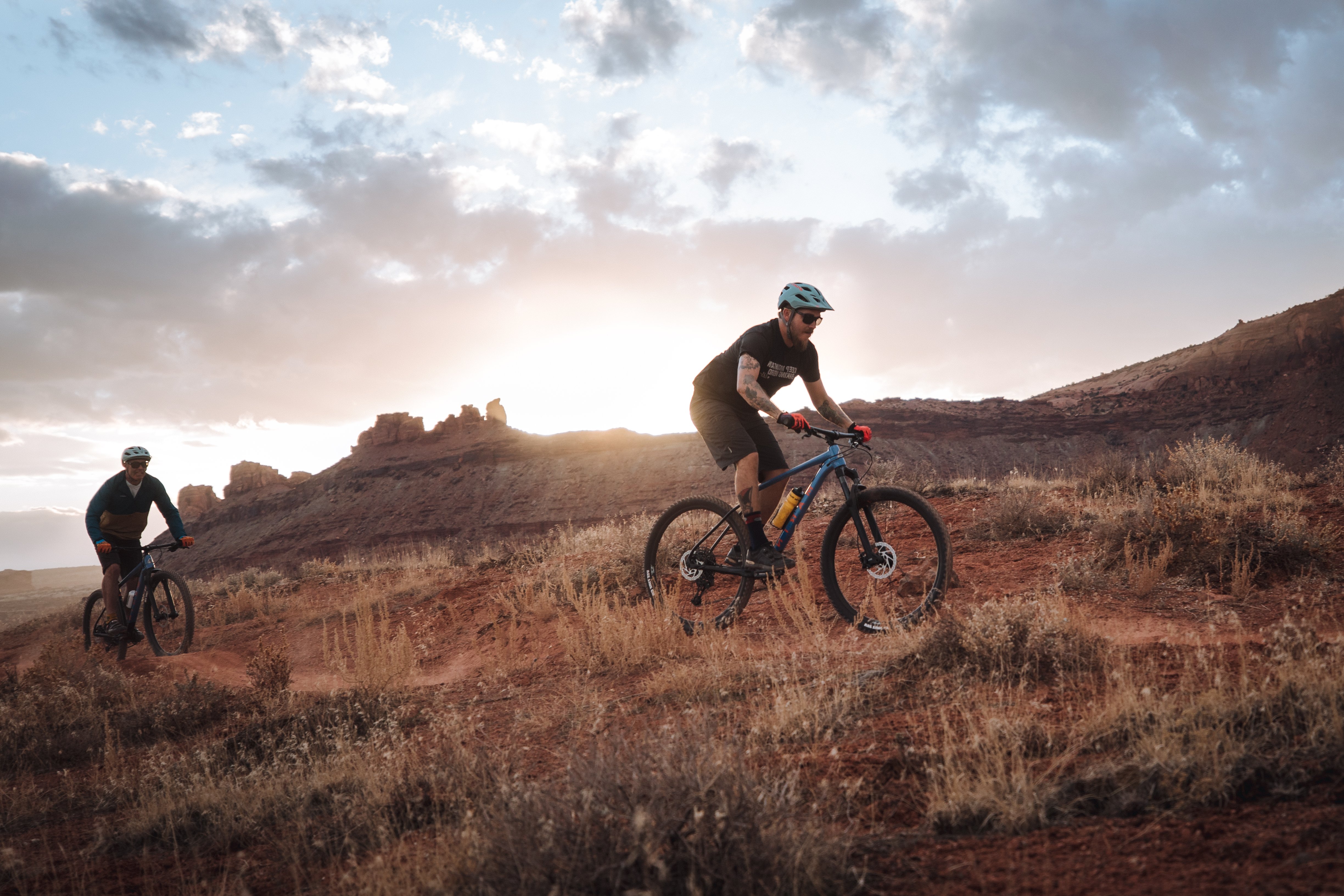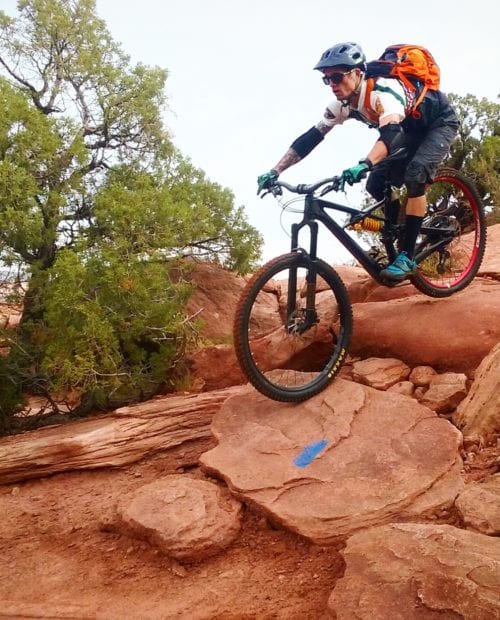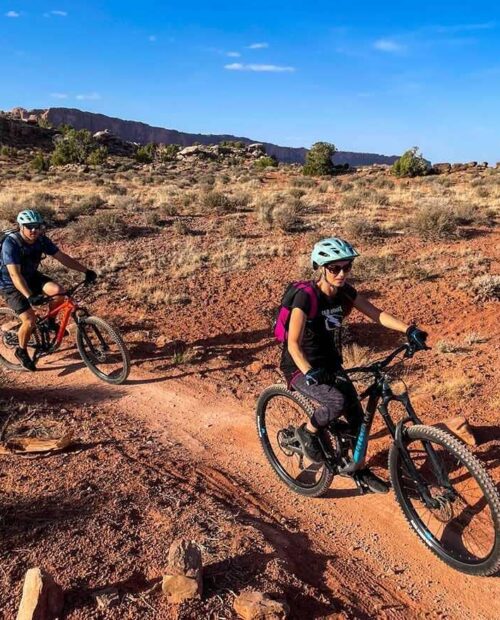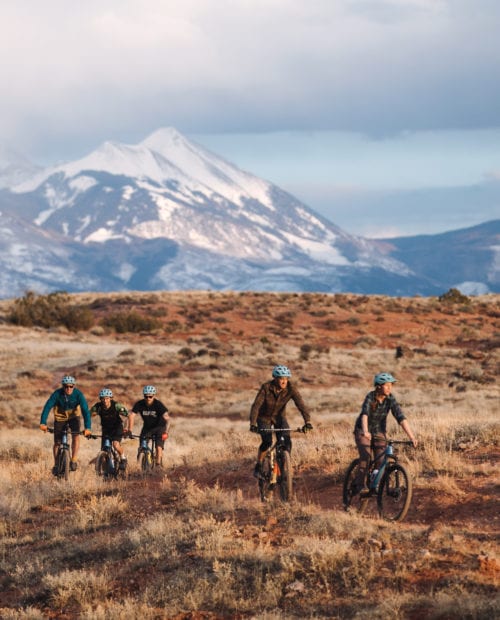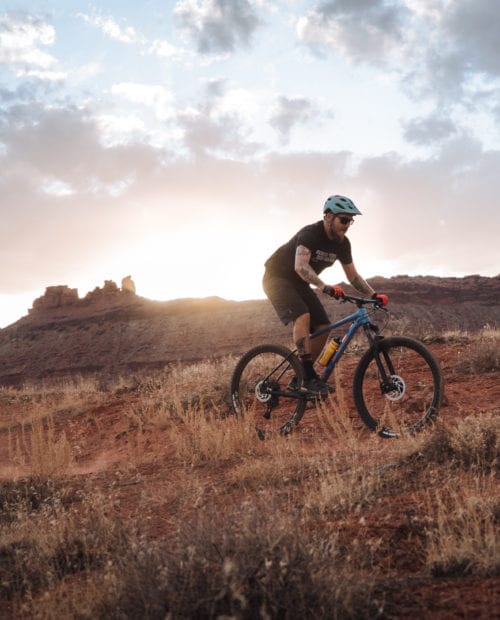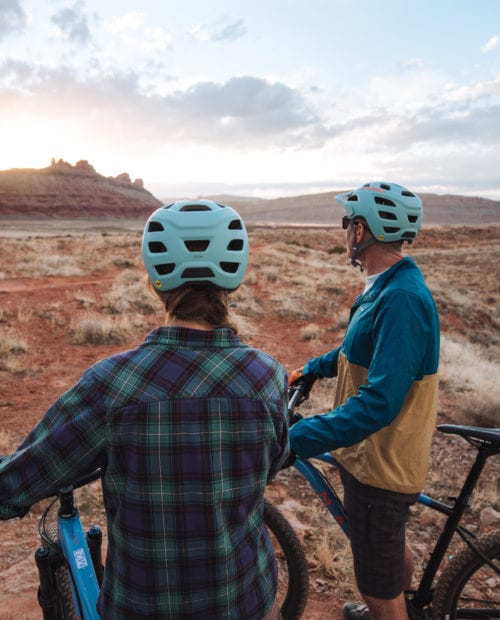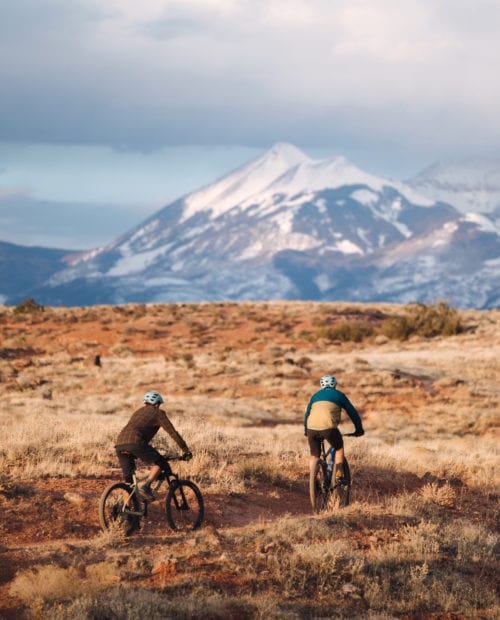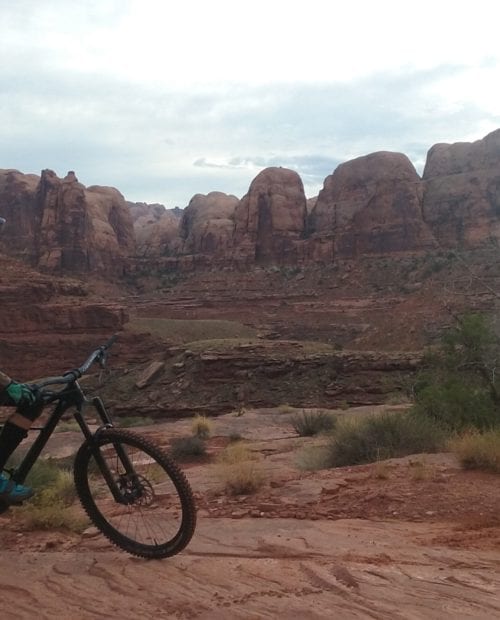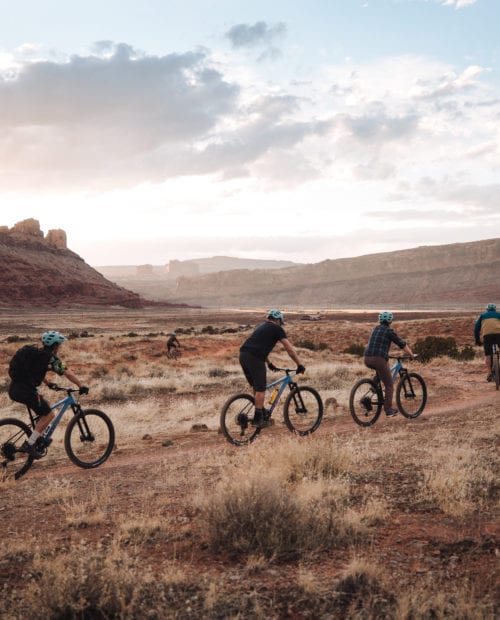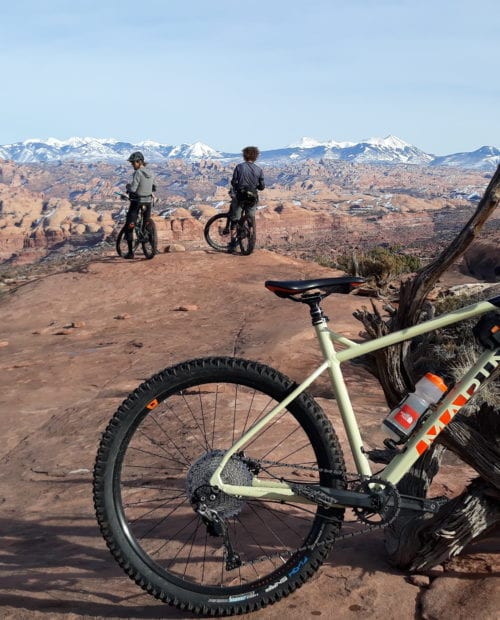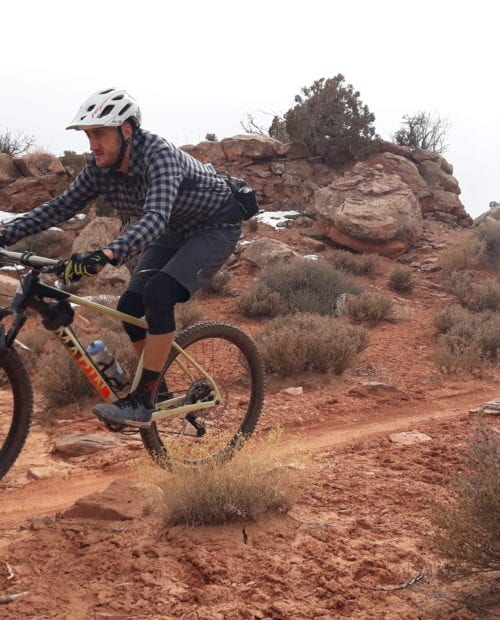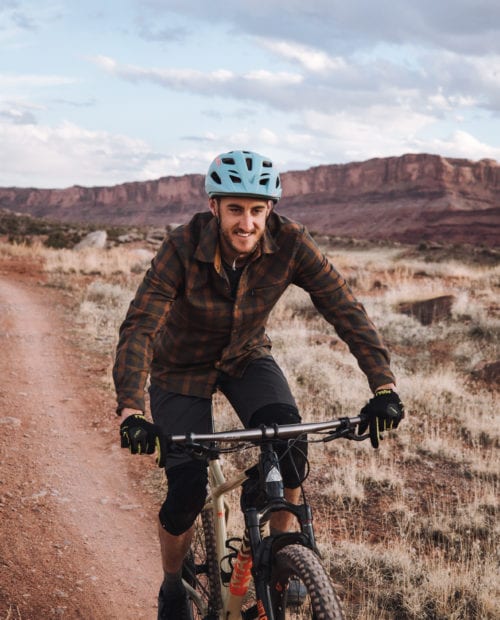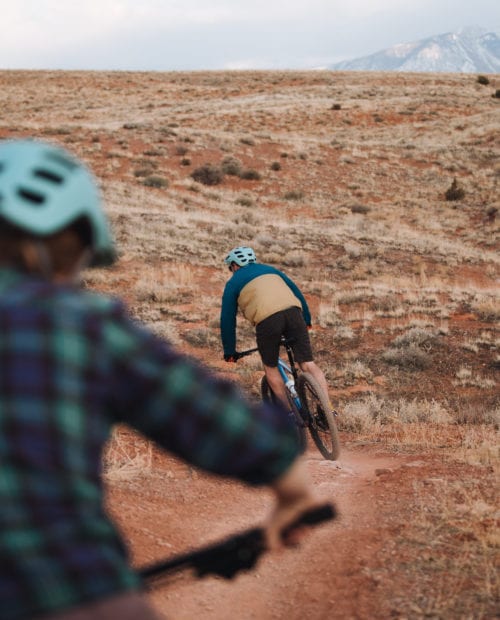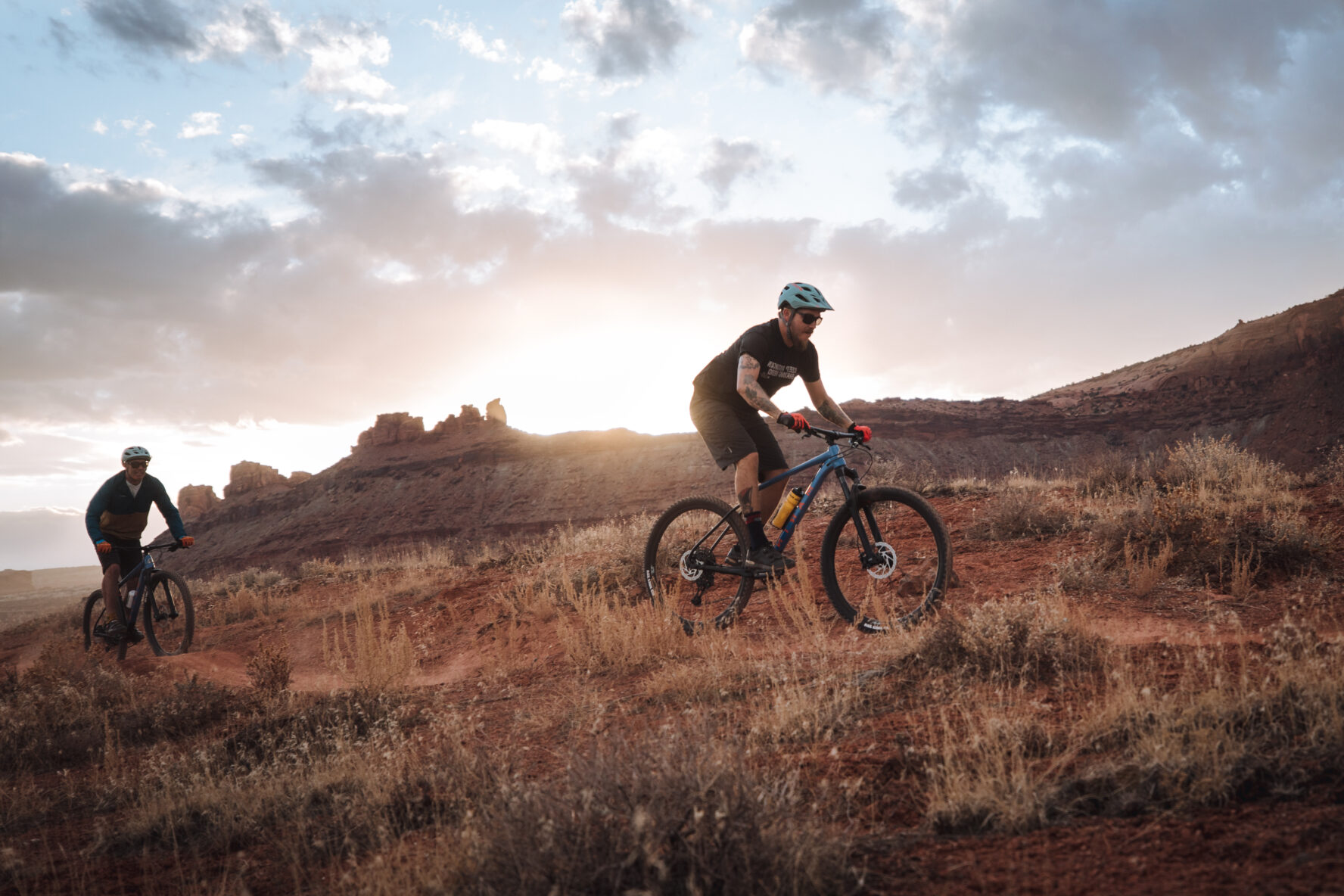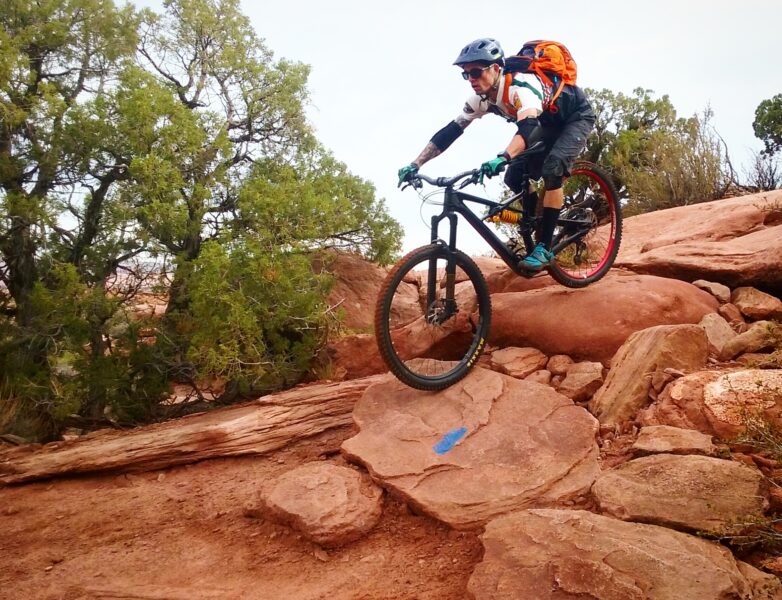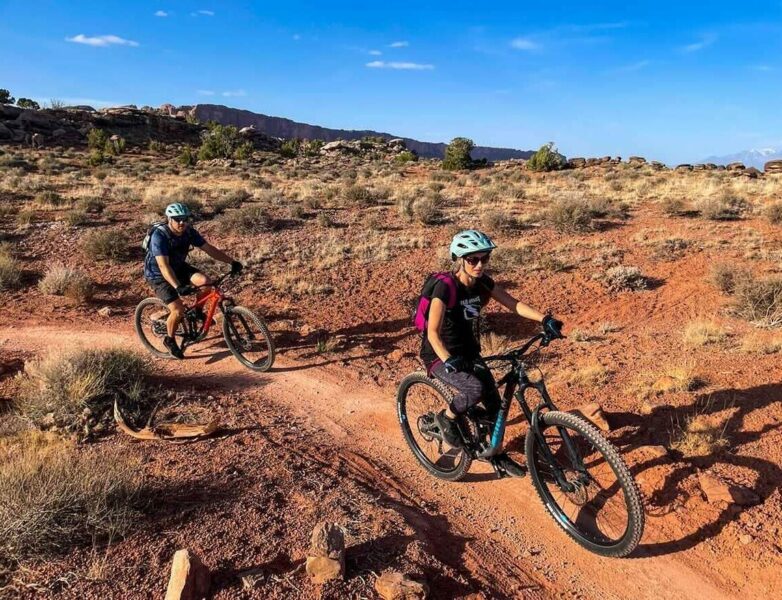 Private Mountain Biking Tours in Moab
5.00

()
Moab mountain biking tours will have you cycling some insane landscapes. Here, you'll traverse dirt, slickrock, and flowy descents, and if you want, experience tires clinging to walls of vertical red sandstone. Moab mountain biking day trips are plentiful for a range of skill levels — enough to keep advanced riders entertained and allow new and intermediate riders to sharpen their techniques in the world of desert riding. Find out more about the best trails in Moab from Lily Krass, a backcountry skier, mountain biker, and hiker, or listen to a local's guide to mountain biking in Moab by Kenny Gorham, a MTB enthusiast, guide, and the face behind Bighorn Mountain Biking.
Unique slickrock terrain, spectacular desert scenery, and tons of tracks

Advanced riders can try out the monstrous 64-mile loop

Solid place to push the boundaries of your riding
E-Bike Half-Day Tour: Dead Horse Point
Relax on the move with an e-bike on the beginner-friendly trails at Dead Horse Point State Park. This half-day tour takes you through beautiful overlooks and gives you a quick introduction to single track terrain, letting you enjoy the rush of air on your face without having to pedal too hard. Join your guide on the most modern and technically equipped e-bikes and explore Utah's MTB trails!
Tour duration: 4 hours
This tour runs with a three-person minimum.
Beginner Half-Day Tour: Dead Horse Point
Get acquainted with Moab, Utah on beginner-friendly mountain bike tours along exciting trails at Dead Horse Point State Park. Spend four hours biking from one scenic overlook to another and get introduced to singletrack terrain. Join your guide on this exciting cruise and feel the thrill of MTB!
Tour duration: 4 hours
Intermediate Half-Day Tour: Moab Brands Trails
Navigate the scenic gorgeous terrain presenting challenges along twisting and turning dirt trails. This four hour adventure explores popular desert trails with views of Arches National Park and the La Sal mountain range — home of the world-famous Whole Enchilada, as well as a growing network of connecting trails. Gain insight from the MTB experts to navigate the best lines and unforgiving rock drops and feel the thrill of mountain biking!
Tour duration: 4 hours
Advanced Full-Day Tour: The Magnificent 7
Experience Moab's slickrock on a multiple-section mountain bike trip,  unwinding at Gemini Bridges and soaking in the Twin Arches. You'll take in views of the canyon rims on this Magnificent 7 trails singletrack. Choose between a flowy descent or more technical rock descent — both with punchy climbs throughout. Riders with some experience on the bike will love this mountain biking loop. Challenge your skills and enjoy this famous trail that draws riders from around the world!
Tour duration: 6-8 hours
Get free trip brochure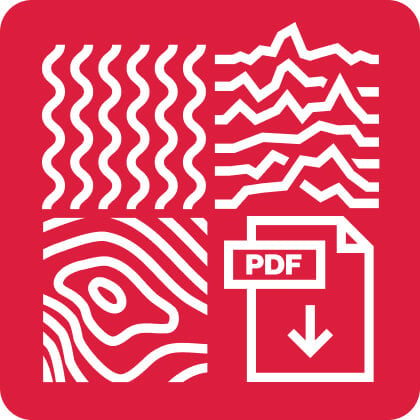 The brochure contains:
Adventure and location overview, itinerary, available dates, what's included, how to prepare, and much more.
Brochure sent, check your inbox
Talk with us
and let one of our adventure experts help you plan your perfect adventure.

Bighorn Mountain Biking
Bighorn Mountain Biking
Bighorn is Moab's one and only trailhead bike rental service that also offers guided MTB tours for all skill levels from beginner to advanced. They are located conveniently across from Moab's most popular trail — the Moab Brand Trail! Enjoy the adventure of Moab mountain biking with experienced guides!
Kenny Gorham is an avid mountain biker and a Moab local who has been a MTB guide since 2017. He started riding bikes in his mid 20s and realized he would trade his office job for mountain biking trails any day. After working in the cycling industry for a few years, he opened his own guiding company, Bighorn Mountain Biking. When he isn't advising people on the best MTB gear, he's raising dust in the Moab desert!
Jared and Heather Fisher started their bicycle business in 1992. The business grew until it became too much for the two college students so they created a three-pronged team of friends, cyclists, mechanics, and guides, all with the same passion for biking! This passion lives on, thanks to all the friendships and experiences gained throughout the years.
Bighorn rocks
W2467ICmollys
(source: TripAdvisor)
Our group rented bikes from Ike and Kenny and had an amazing time! They were super friendly and knowledgeable, the bikes were in great condition and the rental spot was very convenient. The trails (Dead Horse) were a lot of fun too (we had beginner to advanced riders in our group). Would highly recommend!
Private Mountain Biking Tours in Moab
The folks at Moab Cyclery were all very helpful and professional and our guide Jackie was outstanding. Organized a ride that met all our family\'s needs and experience level, was knowledgeable about the terrain and the Moab environment, and even helped with great tips about other hikes and experiences to consider. Highly recommended.
A Moab must!
Y4338QUtaram
(source: TripAdvisor)
My girlfriends and I rented bikes from Big Horn Mountain Biking and I had the best day I've had all year! Renting the bikes at the trail head takes all the fuss and planning out the trip, instead you get the enjoy the ride and the AMAZING VIEWS. The bikes were like new and perfectly tuned, and Ike was super friendly and helpful. Would love to go back and would definitely recommend as a Moab must!
Unforgettable
Up4Travels
(source: TripAdvisor)
I normally never rate anything but this topnotch mtb outfitter deserves credit for fixing a booking that failed because of the 3rd party booking firm, TripOutside, neglected to follow through and follow up from my initial reservation. Kenny called out of concern and allowed us to experience my dream MTBing in the Moab area. We had new top full suspension bikes that were set up perfectly for our riding at Dead Horse. Book directly with Kenny and his professional team members.You won't regret!
My guide Dominic was very personable and knowledgeable about the trails, and surrounding geology.
I had a blast riding with Dominic and would request joining his rides when next that I visit the Moab area.
I feel like I found a new friend.
Just what I was looking for as an introduction to the Moab area and Dead Horse Point
Things to know
57hours is committed to providing safe outdoor adventure experiences. We require all guides using our platform to have a COVID-19 safety plan and to make the details of that plan accessible to travelers. In most cases, group sizes will be reduced, guides will avoid overcrowded locations, and other safety measures will be met depending on the location and activity.

We also expect clients to respect local regulations and take measures to protect themselves, guides and the communities they're travelling to. For more information on COVID-19 measures in Moab, Utah, please refer to Visit Utah's COVID-19 guidelines.

Please contact us if you have any questions or require further information. We are happy to provide you with the most up-to-date information!

This is what you get on this adventure:

An experienced MTB guide with extensive local knowledge of the area
A half-day or a full-day of mountain biking
Bike rentals
Helmet

Beginner and intermediate rides come with a hardtail bike while advanced Mag 7 tour comes with a full-suspension bike. You can upgrade your bike to full-suspension for an extra $15. E-bike tours include full suspension e-bike rental.

What's not included:

Meals and snacks
Accommodations
Transportation

You will need to be able to pedal between four and six hours, depending on the itinerary you choose. Even the easy tours require that riders be fit enough to pedal up some rising terrain. After booking, your guide will determine the group's skill level and capabilities and cater the day to your specific abilities.

Keep in mind, opting for the full day option means more biking, which is strenuous even if you stay on beginner level trails.

To book this adventure, all riders, regardless of age or height, must be capable of operating hand brakes and shifting gears. A guide will explain the different mountain bike techniques and body positions to get you feeling comfortable on the trail. You will progress at a level that is consistent with your comfort. Once you finally get the hang of trail riding, you will only want more!

You'll need:

Sneakers or sport shoes
Breathable outside layer or jacket
Bike tights
Biking shorts
A riding jersey or t-shirt
Windbreaker or light jacket
Two pairs of breathable socks.
Sneakers or sport shoes
Sunglasses
Water bottle or hydration bladder
Daypack with snacks
Biking gloves are optional but recommended
Bike repair kit
Toiletries (sunscreen, hand sanitizer, bug spray, toilet paper, etc.)

Wear comfortable riding or athletic clothing, preferably moisture wicking or synthetic material. Dress comfortably and for the weather in clothes you can move in. We suggest bringing clothing appropriate for the season.

Group sizes and prices:

For this adventure, the max client to guide ratio is 6:1.
The tours are private and cost is per person.
The costs decrease as your group grows.

Mountain biking in Moab can be arranged for larger groups. Contact us to make arrangements.

Min. age requirements:

If you are older than 18, you're good to go.
Children as young as 10 are able to go on trips with a legal guardian. That said, if you have a young rider strong enough to handle sustained climbs (either riding or walking their bike) of hundreds of feet, and rough terrain, then they may be able to participate on a case-by-case basis.

If your group has climbers under the age of 18, contact us prior to booking to make arrangements.

To get to Moab, most people fly to Canyonlands Regional Airport (CNY) in Moab, UT. Other options include flying into Grand Junction, CO, about a two-hour drive away, and Salt Lake City, UT, which is four hours away. You can rent a car or use one of the local Moab shuttle companies to get to the trailhead.

Once you and your guide agree on the details of your itinerary, your guide will suggest the best place to meet, whether that's at the guide shop or a predetermined location.
Get free trip brochure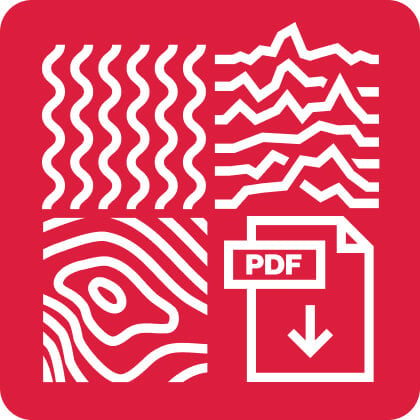 Adventure and location overview, itinerary, available dates, what's included and much more.
Brochure sent, check your inbox
Talk with us
and let one of our adventure experts help you plan your perfect adventure.
Other things to do in Moab Region