Epic Scenery Meets Rich Culture With Dolomites Hiking
The perfect mix of stunning scenery and rich culture, the best way to experience the charm of the Dolomites is on a week-long hiking adventure.
The Dolomites are a majestic mountain range in Italy, filled with long footpaths that traverse the mountains, iron bridges known as via ferratas, and overnight rifugios full of life and culture. Dolomites hiking doesn't just include scenery of jaw-dropping peaks, but interaction with the locals who welcome travelers by offering a taste of the Dolomite customs. Nicknamed the "Pale Mountains," this region is home to three different languages — German, Italian and Ladin — and home to artisans whose skills date back to the Middle Ages. All that is to say, hiking in the Dolomites is an experience full of culture and incredible natural beauty, and who wouldn't want a taste of that?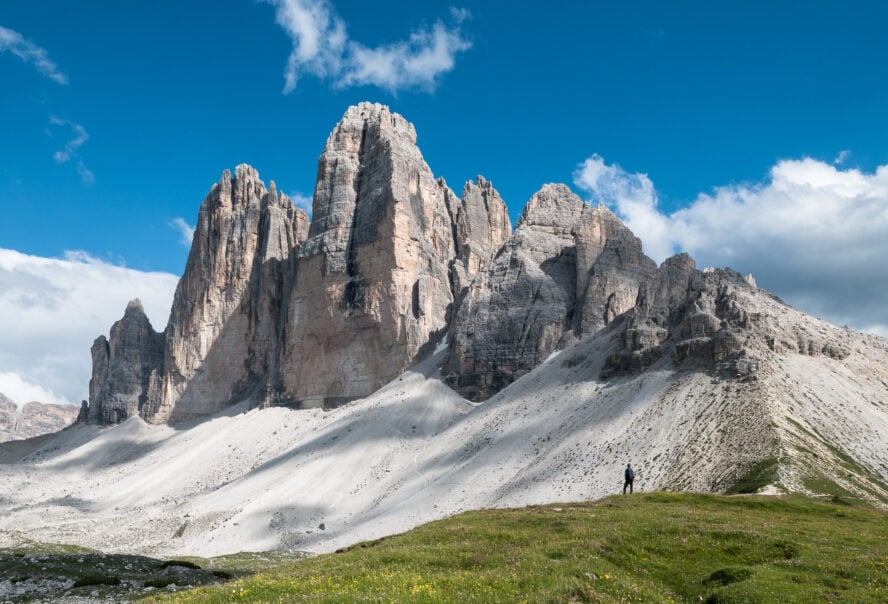 Pros and Cons of Hiking in Dolomites
Stunning surroundings, incredible history and plenty to do
Great variety in hikes, from day-hikes to multi-day options
Combines gorgeous mountains with outdoor adventure AND Italian culture
Can be crowded in the more popular months
Guiding brought me to the Dolomites, and I never left
I grew up in Argentina on a ranch. When I turned 20, I moved to California before heading to Toronto. I studied fashion design and photography but quickly tired of that world. Instead, I started guiding all over Canada. Guiding brought me to the Dolomites, where I stayed for the next 25 years. I live in the Dolomites year-round and love it. I travel to Argentina once or twice a year, but with technology, it is so easy to keep in touch and stay close with family. My parents are on a ranch in Patagonia and I am here, but we're able to talk all the time. Despite being on different continents, we are just as connected, and I love that — connecting people and being connected to people.
I started my own company ten years ago. At first, I only catered to the Italian market. After a little while, I decided I wanted to work with people outside the country in order to start bringing travellers to the Dolomites. My biggest goal is to share this culture with them, work 100 percent with local people, and give as much back to the land and the people as I possibly can. Sustainability is key for me.
Why the Dolomites deliver unparalleled hiking in Italy
I used to perform a lot of the guiding firsthand, but now as my company has grown, I've taken a step back. I guide when we have fun trips, or if someone specifically asks for me, but I just don't have time to balance it all. Yet, I still make sure to head out into the mountains as much as I can. The mountain in front of my house, Santa Croce, is one of my favorites. I've hiked, climbed, skied, and crossed the via ferrata. I've used up all of the options on this mountain, which speaks to how the Dolomites work. You are never limited to one path or one way of getting up the mountain.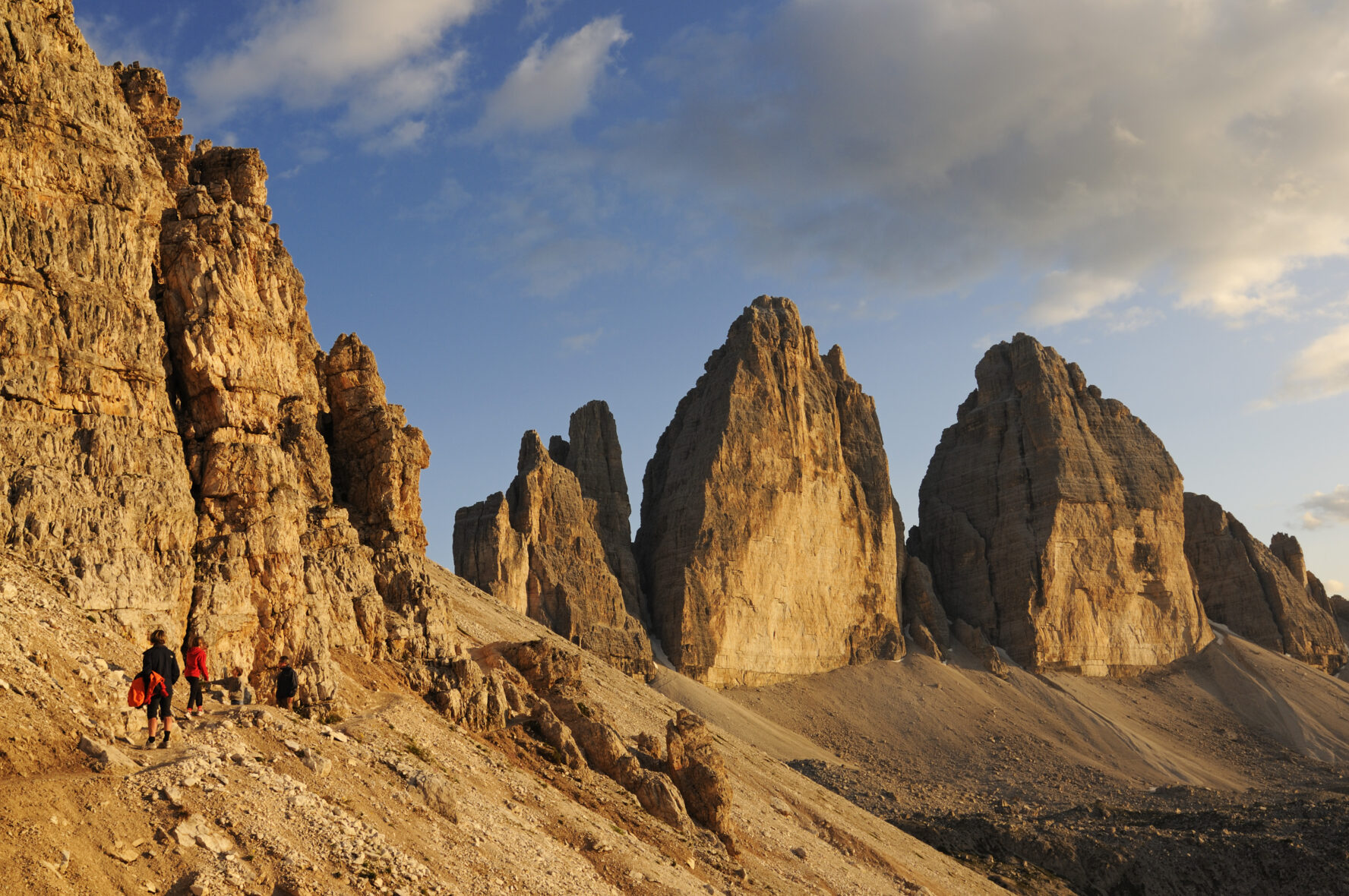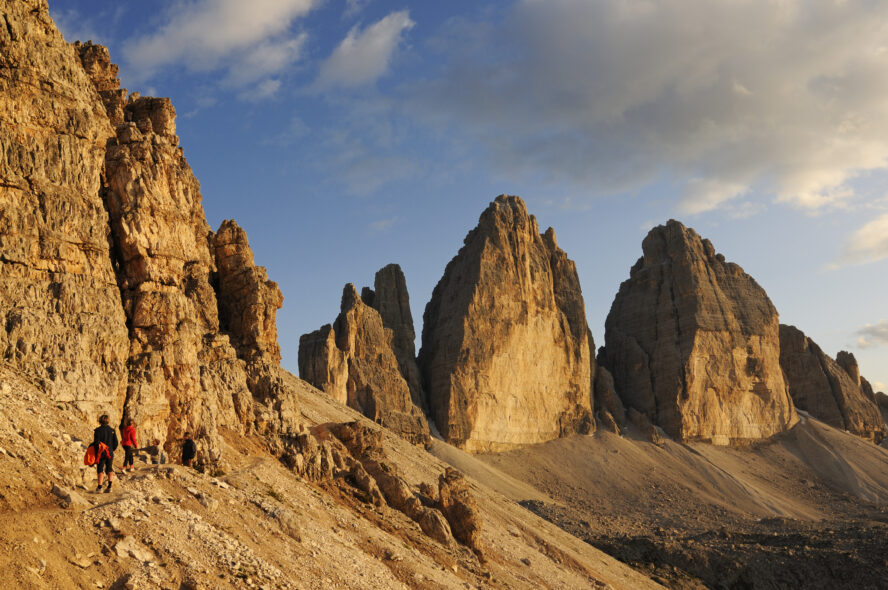 The Dolomites are one of the best hiking destinations in the world
I hiked in Argentina and over the world, but I have never seen mountains like the Dolomites. Wherever you look there is a massive beautiful rock. In summer, everything is green with unbelievable peaks piercing out. I used to live in cities, but I love looking at nature: mountains, caves, cliffs, valleys, meadows, greenery, whatever it is. The Dolomites has it all. Sure, you can attempt Europe's toughest hiking trail or climb icy glaciers while hiking Torres del Paine W Trek in Patagonia, but I believe the Dolomites beauty rivals the best hikes anywhere in the world. In addition to the thru-hikes of Patagonia, the Dolomites are also a UNESCO World Heritage Site but feature a character all their own.
The Dolomites are family-oriented. Even with tourism, it is all still extremely local. All of the people who work in tourism, including the hotels and rifugios, are typically from the region. In a way, we created a big family network, who will extend a helping hand whenever you need it. Three different languages have a big presence— Italian, German, Ladin — and they just create an even bigger mix of culture. Overall, the area is full of very down-to-Earth, simple people who are proud of where they come from and what they do.
Dolomites hiking features luxury in the middle of the mountains
The landscape of the Dolomites allows for a lot of variety. You can find easy trails that are low elevation and close to the town, especially if you're looking for something mellow and family-friendly. Anyone who wants a challenge, you'll easily find trails way up in the mountains that are more exposed. The mountains are still very accessible even with so much tricky, rocky terrain. At the same mountain, you can hike, go climbing in the Dolomites, or cross a via ferrata. In the winter, you can also skin and ski the same mountains.
The Dolomites Mountains also have a great network of rifugios, which are small chalets available to hikers traversing the high alpine. Rifugios allow you to go virtually anywhere. You have a place to sleep, eat, and the full comfort of luxury accommodations in the middle of the mountains.
Choose your own hiking adventure in the Dolomites
With so many options available, you can make hiking in the Dolomites very personalized. You can do hut-to-hut travel or a valley-to-valley trip. You can do tours from four days to seven days to upwards of fifteen days. There is hiking with a guide but also self-guided tours if you are familiar with the mountains and want a little more adventure to your trip, or a combination of both. Here, nothing is a barrier; it is like your own personal playground.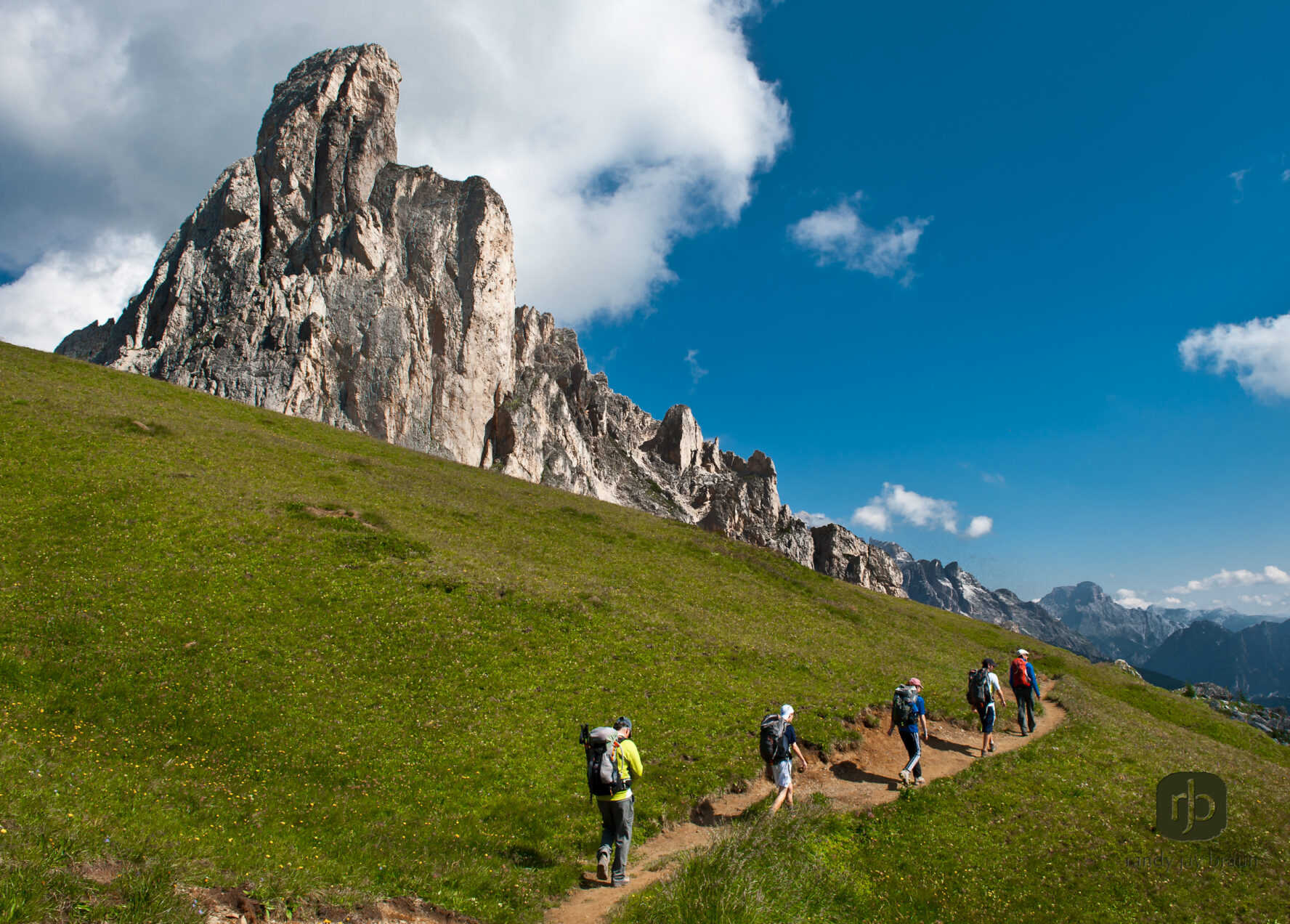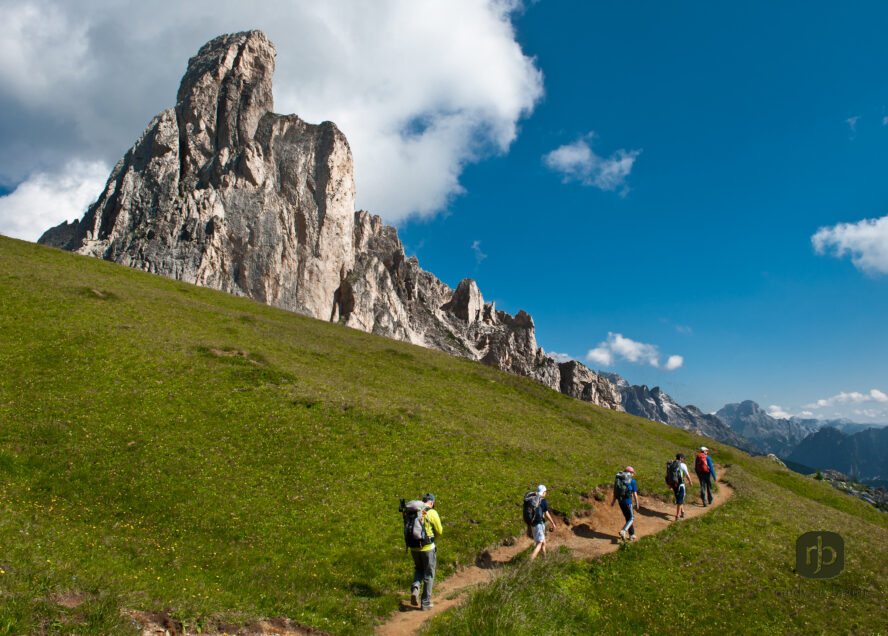 Hiking Alta Via 1: 120 kms from Italy's Lago di Braies to Belluno
The Alta Via is one of the classic treks through the Dolomites. It is a six-day, five-night, hut-to-hut hike. The days are filled with striking views, challenging terrain, narrow valleys and warm, friendly rifugios full of locals. The excitement doesn't loosen up. It is the perfect route for anyone who wants to fully experience the Dolomites but doesn't have a huge amount of time on their hands. We call Alta Via N. l is one of the "getaway" tours. It's short and sweet, but gives you a taste of what the Dolomites have to offer.
Meals consist of local and fresh meat, and of course, a lot of pasta. It is simple food, but all made with extreme love. If you have any worries about the food, don't. Here in Italy, we always — and I mean always — eat well.
Day 1: Arrive in the Dolomites at the Cortina d'Ampezzo alpine resort
One the first day on your tour of the Dolomites, you'll arrive at Cortina d'Ampezzo, an alpine resort town full of ski, hiking and rock climbing enthusiasts, but also home to shopping and gourmet food. This town hosted the 1956 Winter Olympics, so there are plenty of famous sites to explore such as the Ice Stadium, the Eugenio Monti bobsleigh run, and the Cortina Snow Park for jumps and tricks. Depending on how much time you have on your hands, you might be able to venture for a short hike in the surrounding area. In the afternoon, you meet your guide who will give you a brief overview of the trip, what you need, and what you should expect.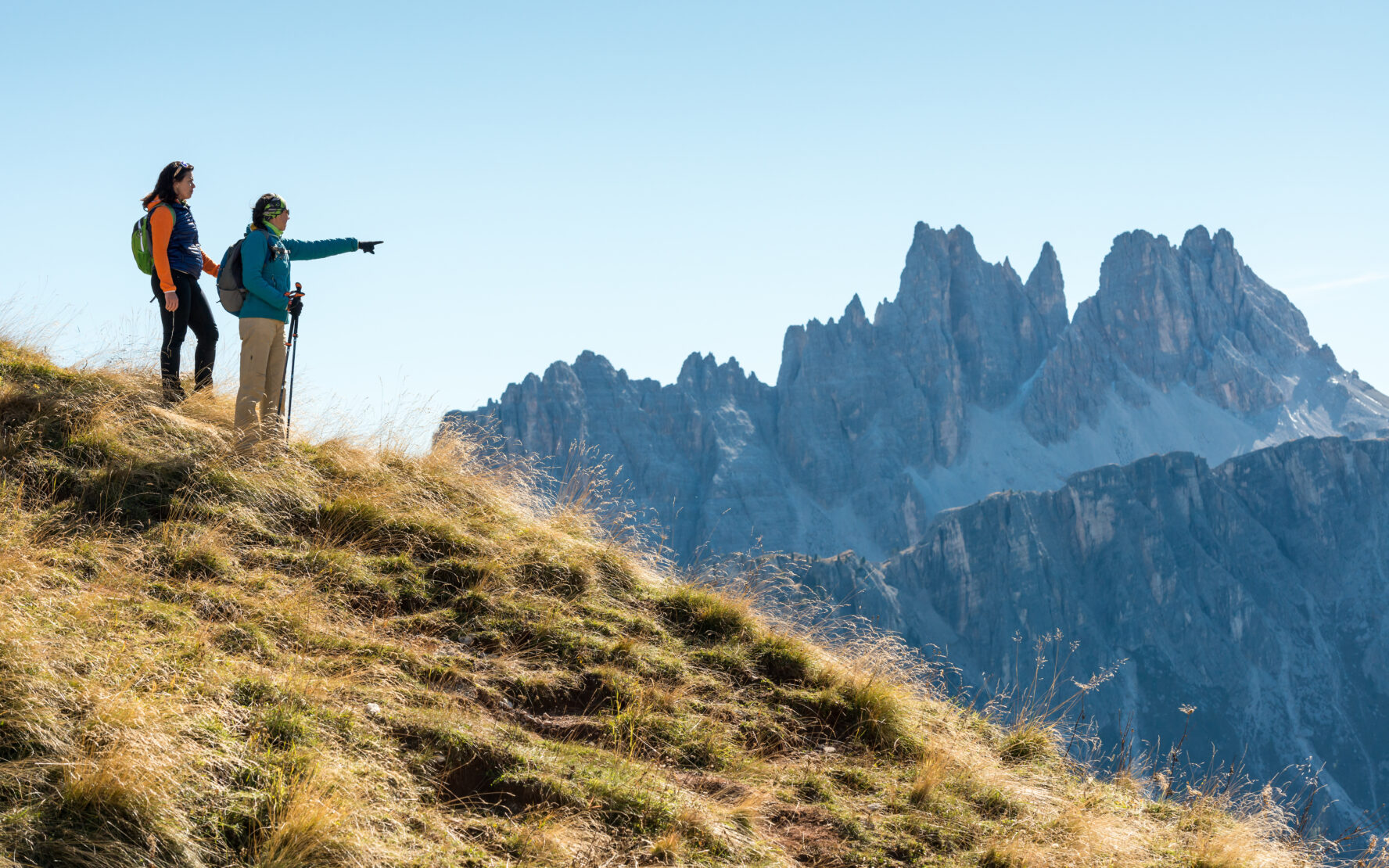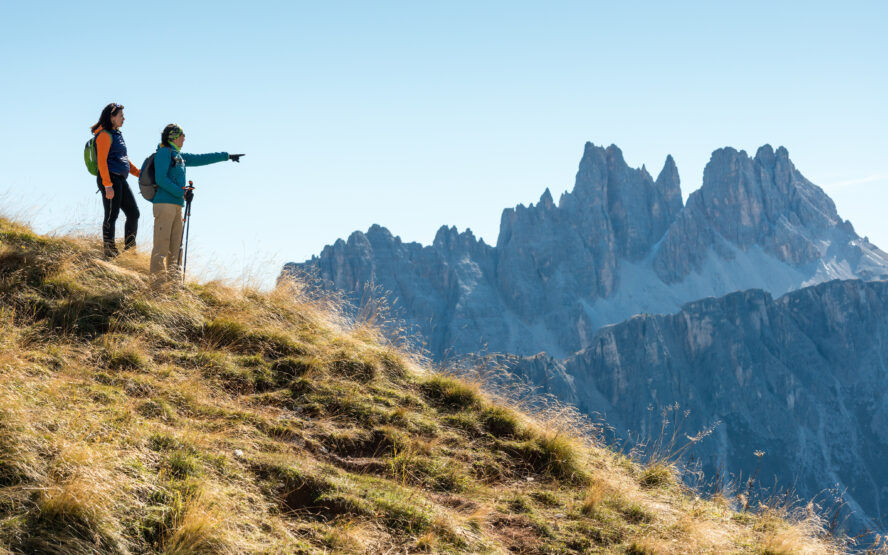 Day 2: Travel Via Alta 1 to high altitude plateaus and dwarf mountain pines
The second day starts off with a short transfer to Lago di Braies, a stunning alpine lake settled in between the mountains. Today is about five hours of hiking with steady elevation gain. The hike consists of walking on small broken rock fragments and being surrounded by mountain pines. You will encounter beautiful views of Val Foresta and as your hike nears the end, you enter Natural Park of Dolomiti d'Ampezzo which will lead you to your shelter for the night.
Day 3: View lakes and rounded mountaintops at Altopiano di Fanes
When you depart your rifugio on the third day, it is a steep downhill hike for about an hour until you reach Rifugio Pederù. From there, you head uphill until you reach a lake and you continue through a field of little lakes still surrounded by vast mountaintops. As you pass near the Ru d'Al Plan River, you can take a breath because your next rifugio and a warm dinner is very near. Tonight while you are settled and resting you will be enamored by the views of the Tofane Mountains.
Day 4: Gain panoramas of the Western Dolomites
On the fourth day, you hike through the Altopiano di Fanes, through meadows and a narrow gap in the rugged terrain to Lagazuoi Massif. Most of your views today will be of the Western Dolomites, and of course the breathtaking "Queen of the Dolomites." This is the highest summit in the Dolomite range, and many experts say that the record of prehistoric sediments the mountain offers is first-class. You will climb to the Forcella del Lago and then descend on the other side along its steep couloir. Once you reach Lago di Lagazuoi, take a moment to look over the lake to the walls of Cima del Lago and Cima Scotoni. After this, continue on your journey uphill running into ruins from the First World War until you reach one of the highest rifugios and your home for the night.
Day 5: Traverse forests and WWI sites in the Cinque Torri area
On the final day of hiking, you'll see reminders of WWI that left their mark on these mountains. The Dolomites are set on the border between Austria and Italy. Some of the most impactful battles were fought here, leaving behind structures built by the Italian army. Hiking along the traverse, you will descend to a line of old trenches. The hike continues up through a forest and descends to the south to Passao Giau. From here you need a transfer back to Cortina, where you initially started, and you get to spend one last night in the charming mountain town.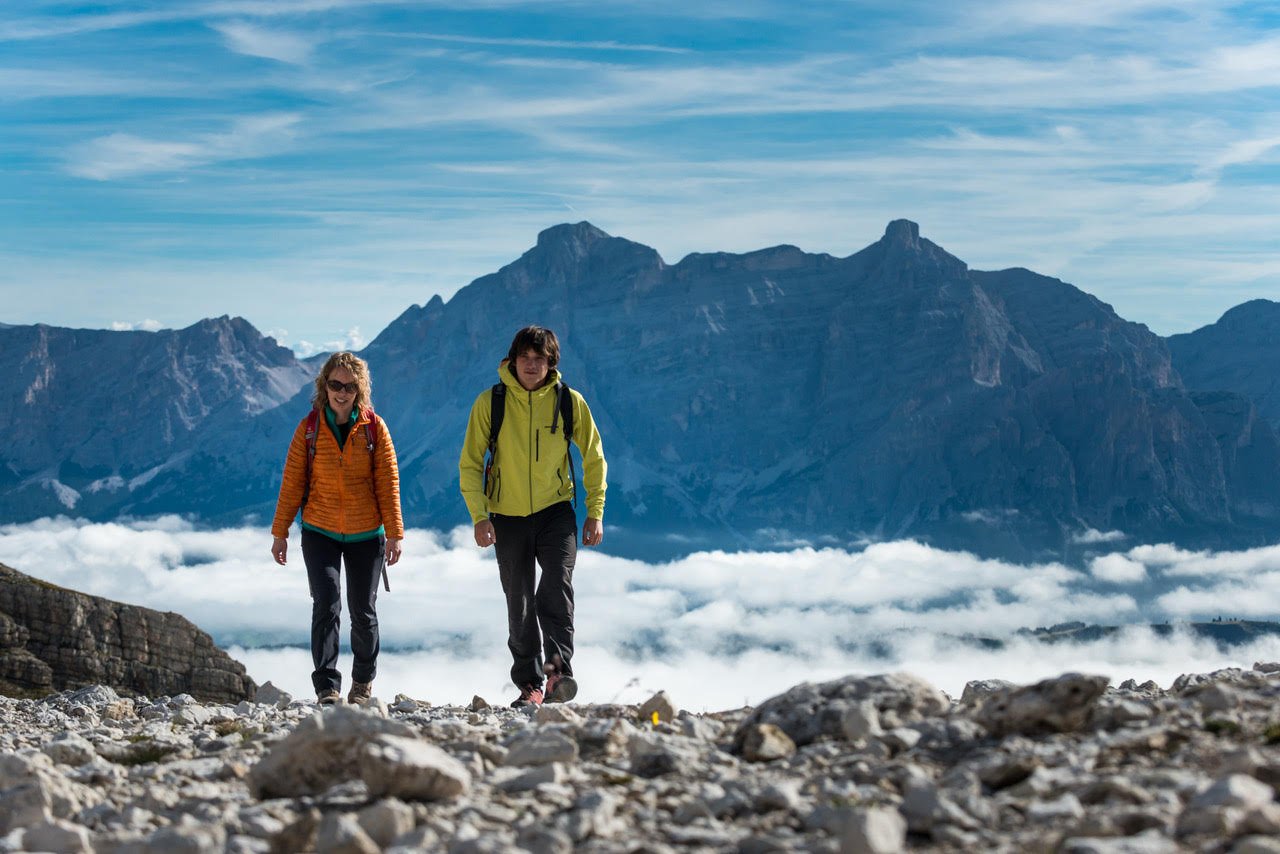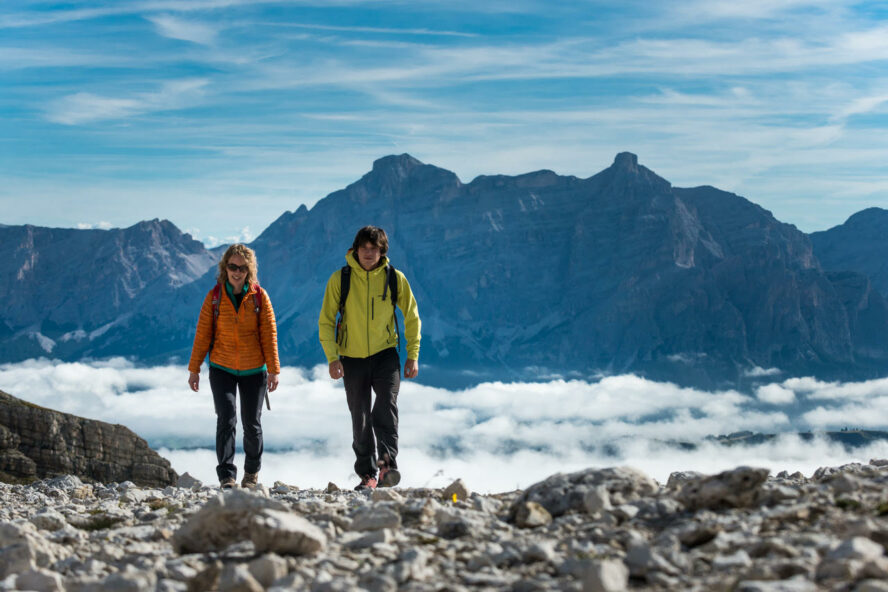 A Week of Cultural Hiking in the Dolomites
One of my favorite things to do is to combine the hiking that the Dolomites offers with visiting the many towns settled in between the mountains. Travelers flock to the Dolomite Mountains due the region's status as a UNESCO World Heritage Site. Encompassing over 90,000 acres of mountainous terrain, the Dolomites are home to refined South Tyrolean towns that you'll encounter during your daily travels. The hike will take you past towers and crags, alpine meadows, deciduous and evergreen forests, and high-altitude, lunar-like landscapes. This kind of hike is completed in either seven or nine days, and focuses more on the culture distinct to this region of Italy. Each night you sleep in a different history-filled village, in addition to exploring the passes and trails of the Dolomites.
Day 1: Arrive in Bressanone, Italy, a medieval town in the heart of the mountains
On the first day, you arrive at Bressanone in South Tyrol, only 45 kilometers (27-miles) to the Austrian border. Bressanone is the oldest city in the province with real medieval structures, including a preserved cathedral and cloisters, and baroque castle. This 1,100-year-old town is also surrounded by mountains on all sides. Due to its positioning and size, Bressanone is the home to a variety of cultures that settled in the area throughout its history. Your first day is designed for opportunities to explore the area.
Day 2: Hike the Chestnut Trail, "Keschtnweg," crossing the Isarco Valley
On your second day in the Dolomites, you'll explore the first quarter of the famous "Keschtnweg" trail. "Keschtn" means chestnut in the German South Tyrolean dialect. On your hike, you'll walk past old chestnut trees and colorful forest. The most special thing about this day however is the local farmers offering their produce for sale along the trail.
Day 3: Transfer to Santa Maddalena before heading to Adolf Munkel Trail
On the third day, you take a transfer to Santa Maddalena where you will drop off your luggage and then head to the Adolf Munkel Trail, or Adolf Munkle Weg, for the day. This hike is one of my favorites because of the diversity of plants you encounter on a singular hike. You also get up close and personal with incredible rock formations that are over millions of years old. The hike continues through a forest which gives off a very mysterious movie-like feel. Once hiking for the day is over and you are back in town, you should explore Santa Maddalena. This town is home to the famous Church of St. Magdalena, which was first mentioned in historical documents in 1394. According to legend, it is here that the image of Santa Maddalena washed up on the banks of a nearby river.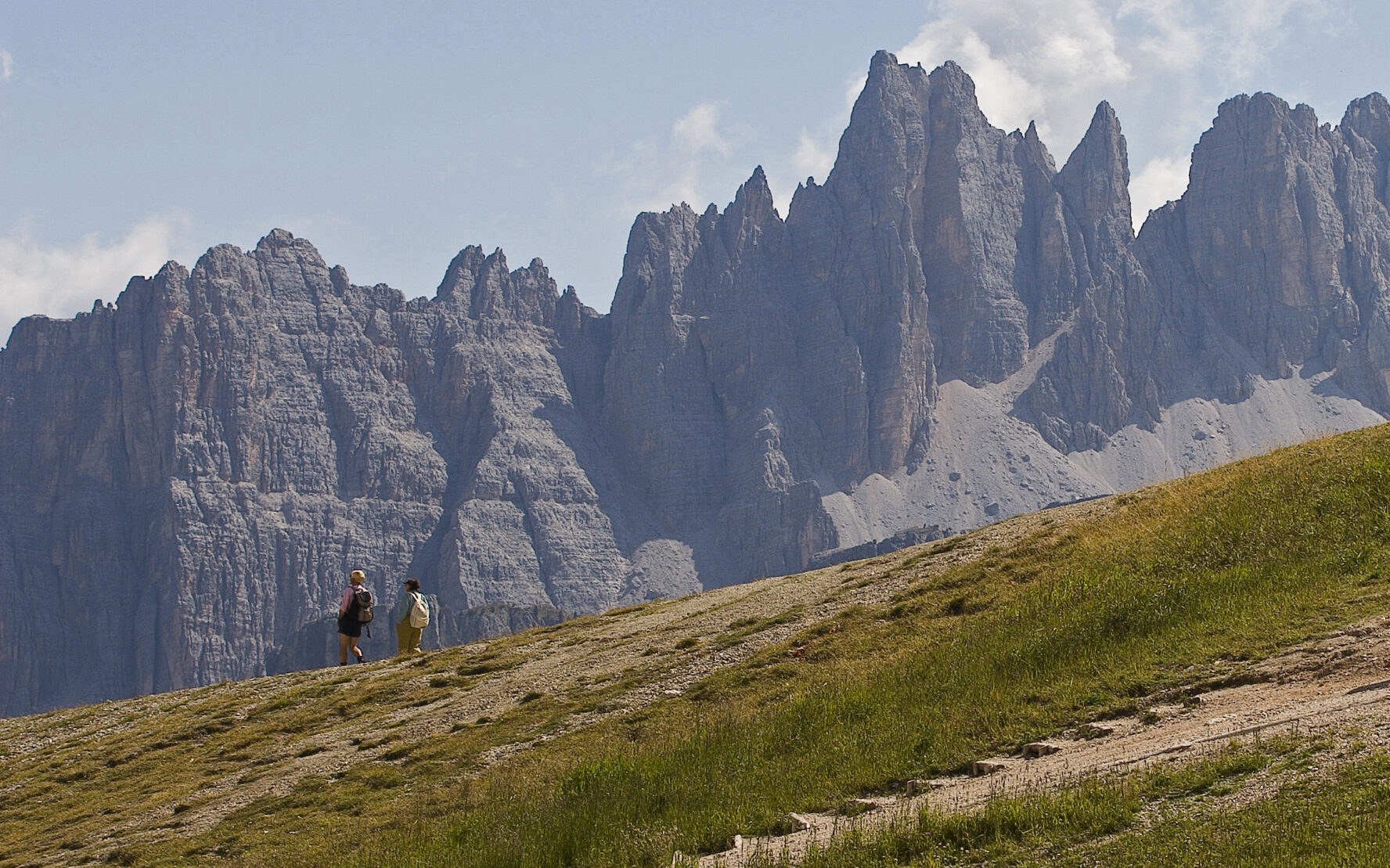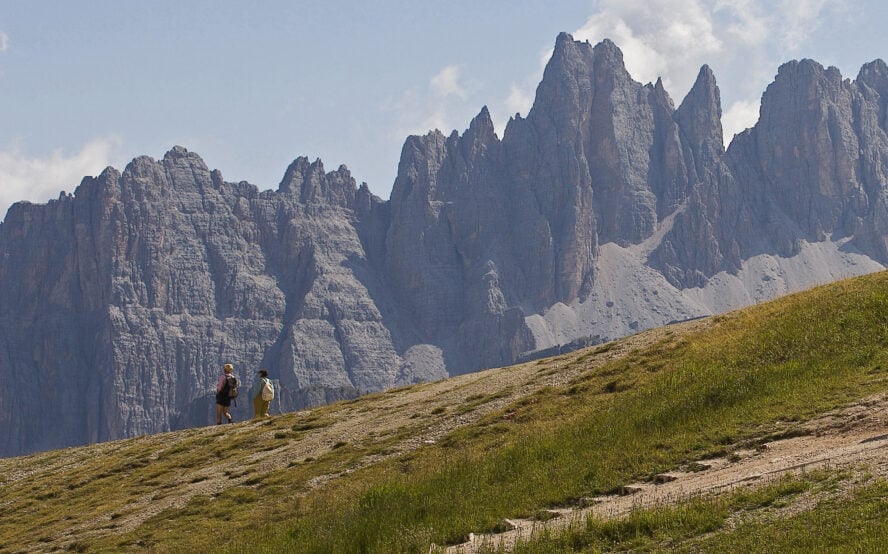 Day 4: Travel the Günter Messner Trail to a Passo delle Erbe rifugio
The fourth day consists of a transfer to Russis Brücke and a hike along the Günter Messner Trail. This trail was named after Günter Messner, the famous Italian mountaineer. Him and his brother grew up in the area and completed most of their first climbs in these mountains which put them in the global spotlight as some of the most successful climbers of their generation. You'll stay overnight at a rifugio on the Passo delle Erbe. This night of sleep will be one of the more majestic. The rifugio is settled on a saddle at the foot of the Peitlerkofel mountain — expect sweeping views and hospitality.
Day 5: Challenged by the summit of the Sass de Putia
On the fifth day, you make a loop around Sass de Putia, the most northern summit of the Dolomites. You start the hike from your rifugio at the Passo delle Erbe, first walking through meadows and then coming to more of a rock landscape once you reach Passo Goma. The hike finishes off with a forest landscape and brings you to the rifugio. If you have extra time, you can summit the Sass de Putia using one of the via ferratas. At the end of the day, you take a transfer to San Vigilio di Marebbe, one of Dolomite's quaint towns.
Day 6: San Vigilio di Marebbe — rich culture and many trail options
San Vigilio di Marebbe is tightly hugged by the Dolomite mountain range. The town sits in a valley with forests, jarring peaks, and rolling hills. It is a picturesque town with a church square surrounded by wooden homes. It calming and starkly contrasts the bustling loudness of some other Italian cities and towns. The town's culture is never ending, there is always a program of festivals, farmer's markets, and crafts. The hiking is up to you because of a large variety of options. You can choose a two hour hike, Lè dla Crëda, or something as long as six hours, like the Lago di Braies.
Day 7: The final trail day, with the option to extend your travels
The seventh day is departure day, unless you decide to extend your adventure for two more days. In that case, on the seventh day you take a ride to Rifugio Pederü, and from there, you go up to a family-run rifugio which offers views of exceptional red rock called Croda Rossa Massif.
Day 8 and 9: Extension options
In the morning, start your hike by going towards Rifugio Sennes, and continuing towards the beach of Cortina d'Ampezzo, Fiamese. Your day will finish in Cortina, which is an alpine resort town full of sport activities, but also good food and fun shopping. The ninth day you can spend some more time exploring Cortina because there truly is a lot to discover in this town, before saying goodbye to your adventure and heading out.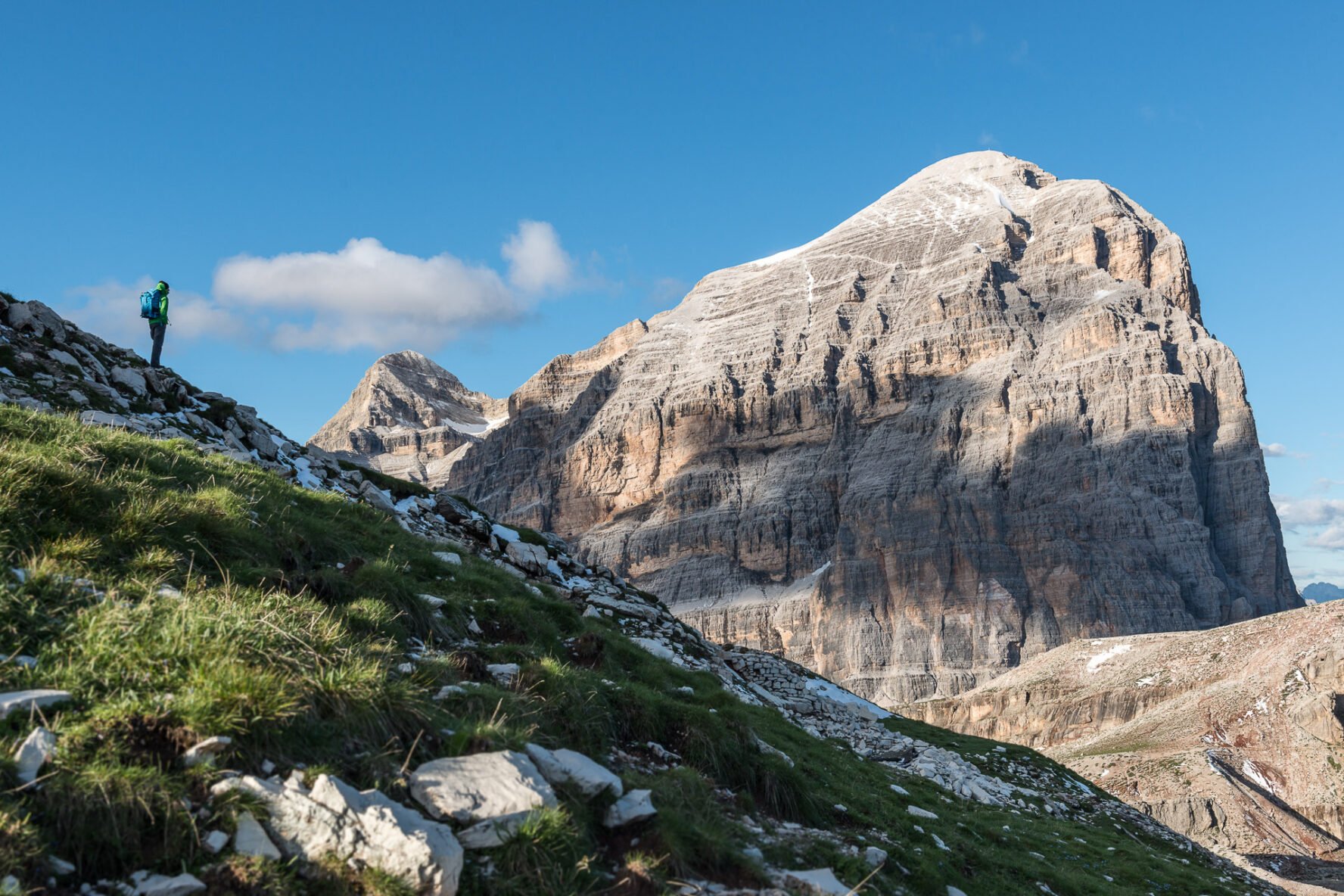 Advice for Planning Your Dolomites Hiking Trip
I might be biased, but the Dolomites are one of the most special places in the world. The mountains are extremely local and community-oriented. The people who live and work here are proud of their history and are willing to share it with travelers. Your hiking adventure won't just show you natural wonders, but will also give you a peek into the culture and customs of this region of Italy.
The one thing about the Dolomites that is special is that it is not limited to hiking. The mountains offer almost everything you can think. On top of hikes and treks, there is mountain biking, road biking, climbing, via ferratas, skiing, trail running, and even multisport trips. With that said, here are some of my travel planning tips:
Gear recommendations for hiking in the Dolomites
For hiking in this Italian alpine environment, here is the gear I suggest you bring:.
Long hiking pants
Light shorts for warmer summer days or just for lounging in the rifugio
Thermal layers: long sleeved top and long pants for the cold nights (even in summer)
Lightweight down jacket
A rain/wind jacket
Hiking socks AND refugio socks. There is nothing better than putting on a clean warm pair of socks after a long day in sweaty socks
Lightweight t-shirts
Warm hat and gloves for the winter months
Sturdy hiking boots, and make sure they're broken in before your trip
Flip flops (hiking boots are not allowed in most rifugios)
Sunscreen
Trekking poles (optional)
Sleepwear
If you want to cross a via ferrata or find some rock climbing in the area, you will need a harness and helmet. In the case of rock climbing, you'll need rock climbing shoes, rope, belay device, and carabiners. That being said, you'll find a lot of shops in most of the quaint towns in the high alpine. I personally think they are even better and offer much more than shops in major cities around the country.
Oh, and don't forget your camera!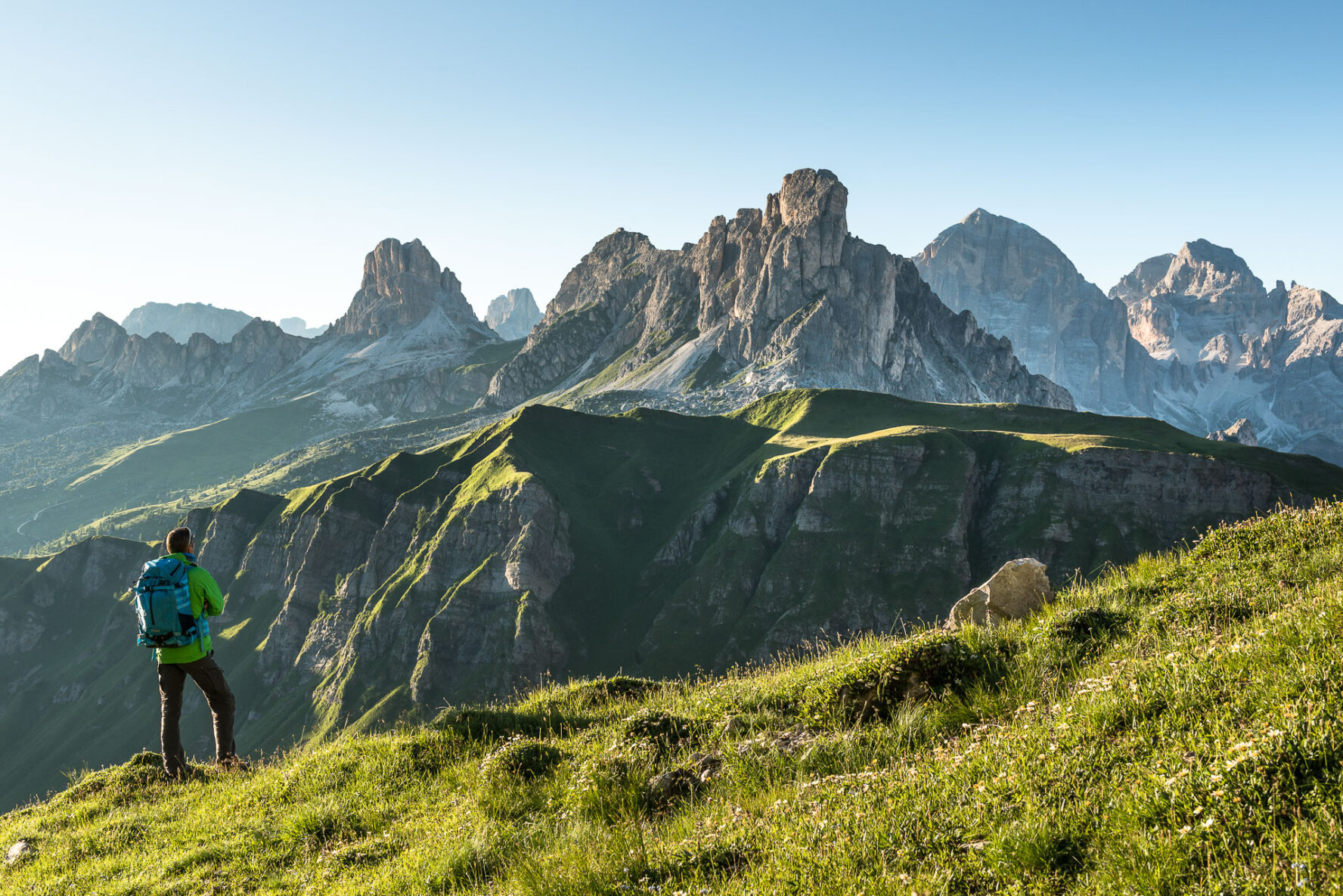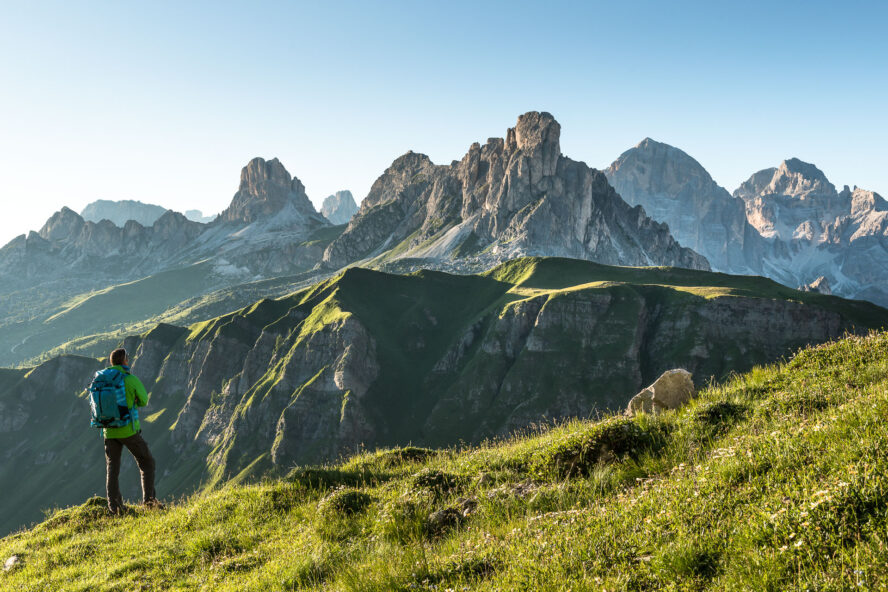 When can you hike the Dolomites?
The best time to visit the Dolomites is in the shoulder seasons, but you'll find outdoor activities year round. To avoid the crowds, I recommend planning your hiking trip in May or June, right before summer break hits its peak. You can also travel to the Dolomites in the autumn when temperatures start to get cooler. The timing of your travel also depends on whether you plan to do other activities in addition to hiking.
Weather in the Dolomites delivers classic high-alpine seasons
The weather in the Dolomites is similar to the classic weather of the Alps. It is not too cold in the actual towns, but the higher the altitude the colder it gets. The weather is also very unpredictable, so be sure to pack all kinds of layers when coming. June to September is prime time to hike in the Dolomites because the chances of the ground being snow free are the highest. There is a fair amount of rain that passes through the Dolomites, but June and September are known as the drier months. In July and August the maximum temperature is 25°C (77°F). The average temperature in June and September is around 20°C (68°F).
Where should I stay in Dolomites for hiking?
In the Dolomites, rifugios are mountain huts used as shelters for hikers, and knowing how to navigate the rifugio system is incredibly helpful. Rifugios need to be reserved, and have very little availability in terms of changing dates. One of the biggest jobs for a guide is to figure out all of the overnight logistics while on the trail. In terms of determining where to stay along your route, you'll need to research the rifugios in advance or look for a local guide. Most of the rifugios are family-run, but a few are run by the Club Alpino Italiano. Keep in mind, the private rifugios tend to give reservations to locals due to the tight-knit alpine community.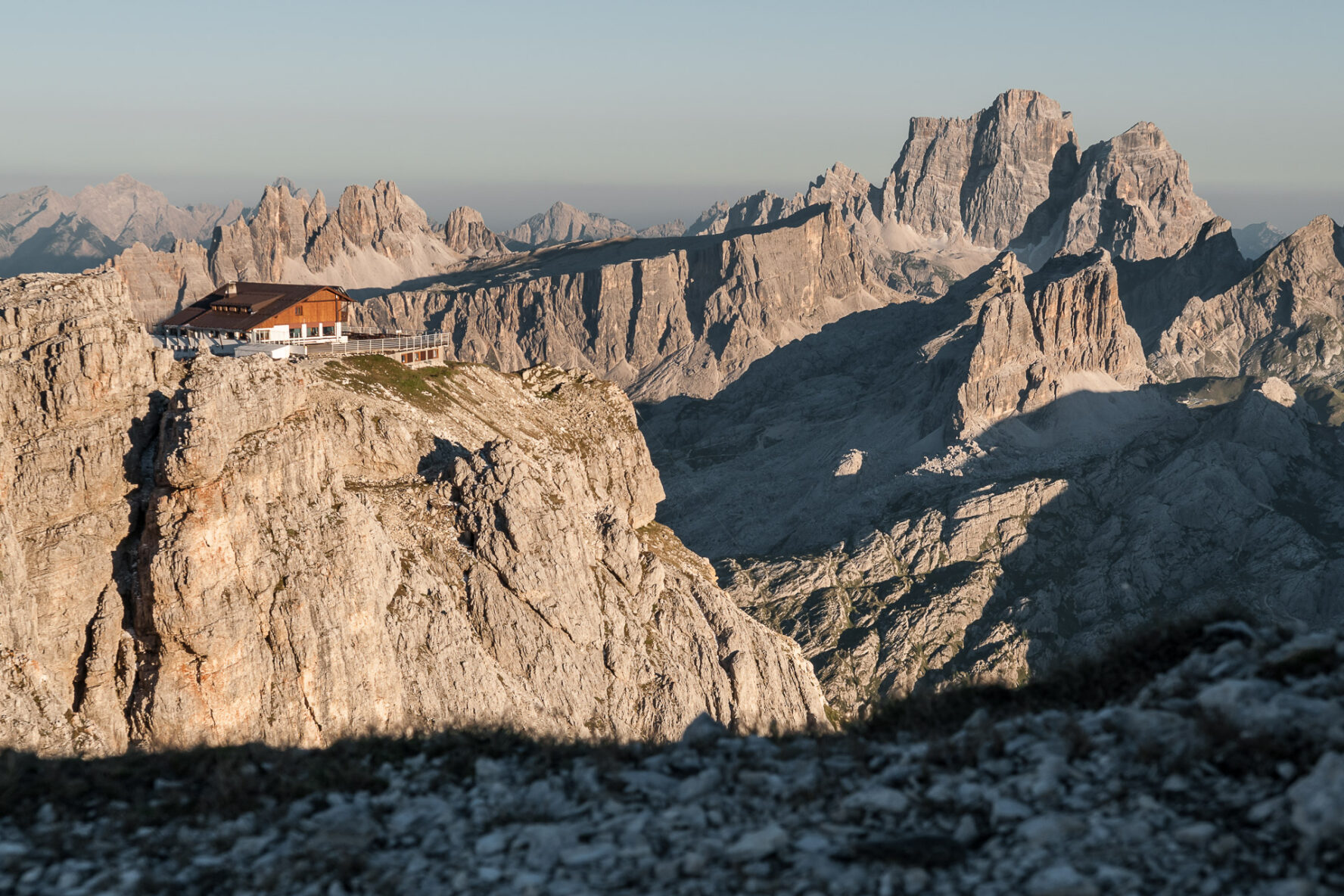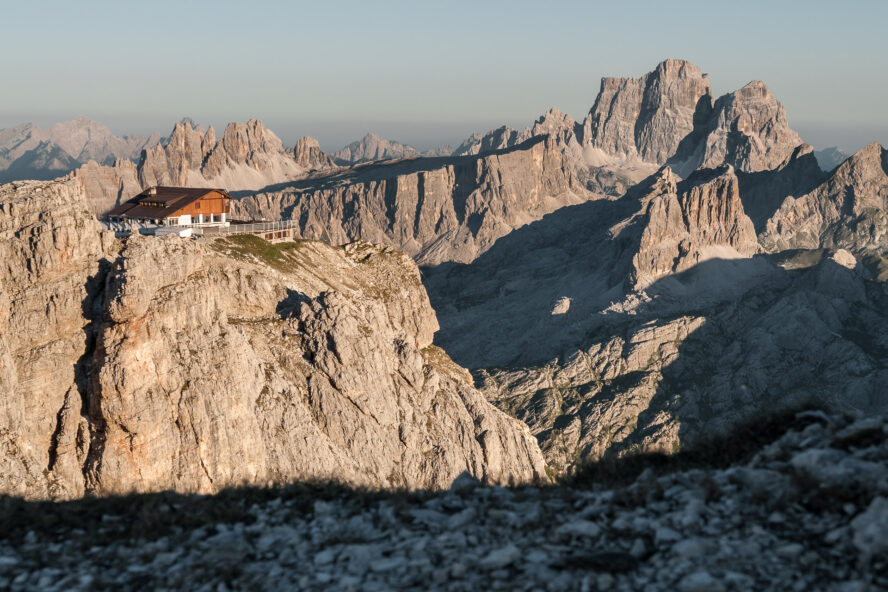 Do I need a guide to hike the Dolomites?
Hikers headed to the Dolomites will enjoy both the guided and self-guided tours. It really depends on what you want to do. If you feel experienced as a high-alpine, multi-day hiker, then you might want to do a self-guided tour in order to go at your own pace. For anyone new to multi-day hikes, then you might want a local guide who knows the land and the history of the region. Your travels can be a lot richer and you'll gain the full insight into the Dolomites. Also, one other amazing multi-day hike to check out is the Laugavegur Trail.
Another positive aspect of having a guide is that they have cultivated relationships along the trails. If you are in a rifugio, guides will talk with all of the people working there. They might start singing with the owner and ask you to join in. I believe a tour is more of a culturally immersive experience when a guide is involved.
Going on a guided 6-day Alta Via Route hiking adventure ensures you get the most out of your Dolomites experience. Just when you think it couldn't get more epic, it does!