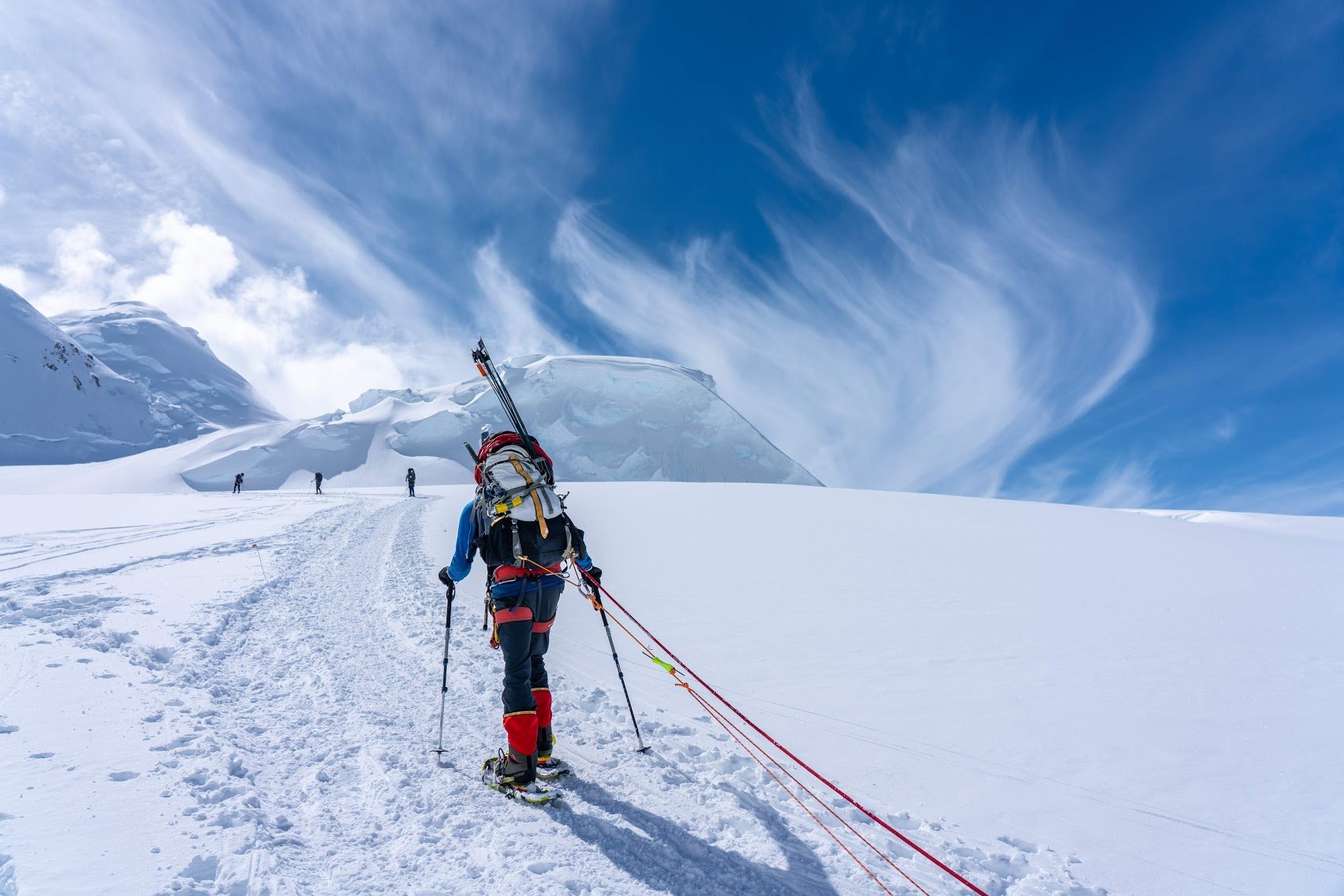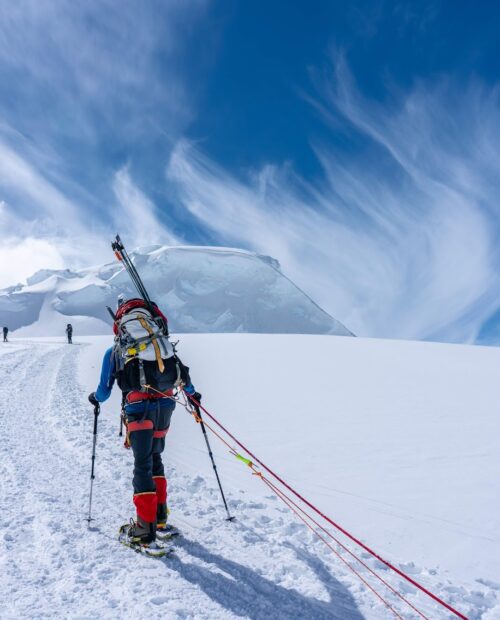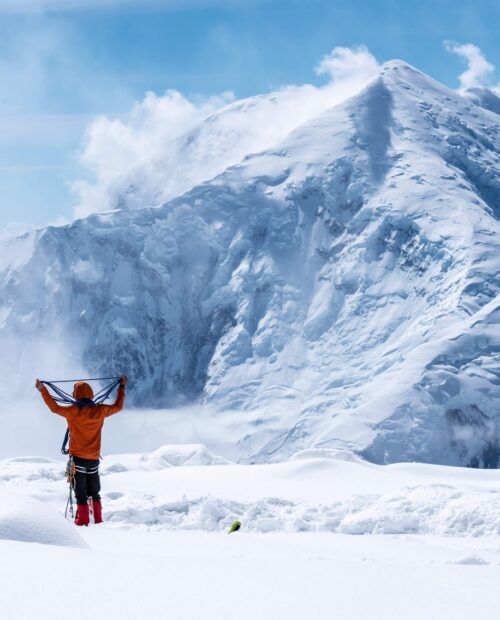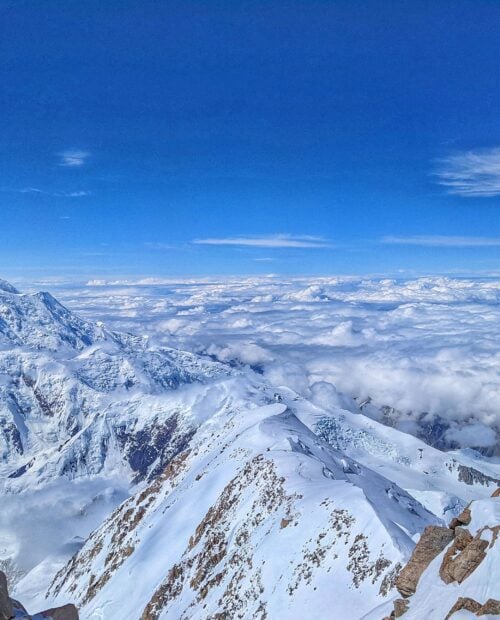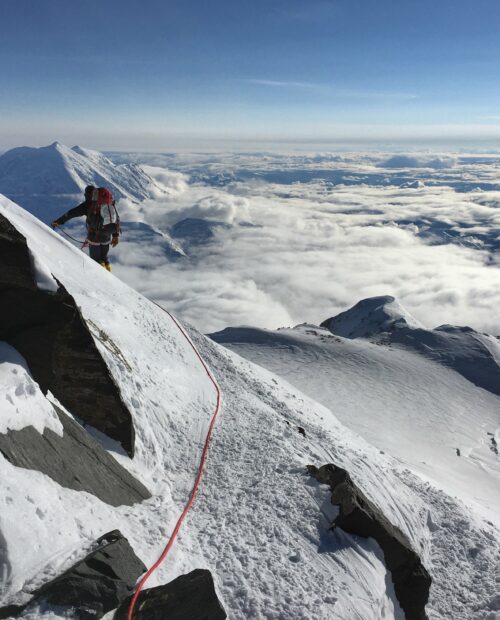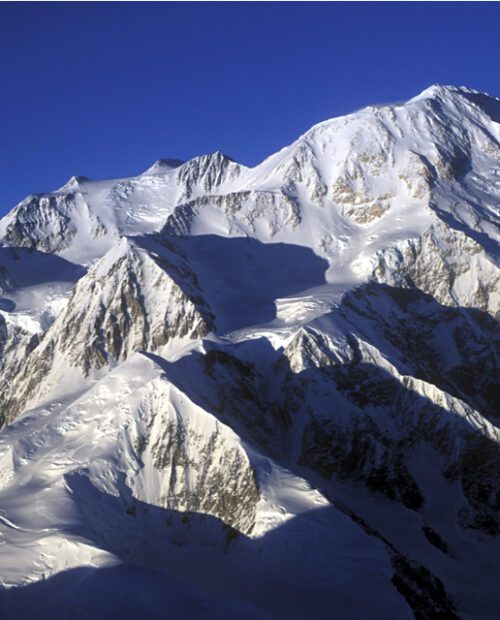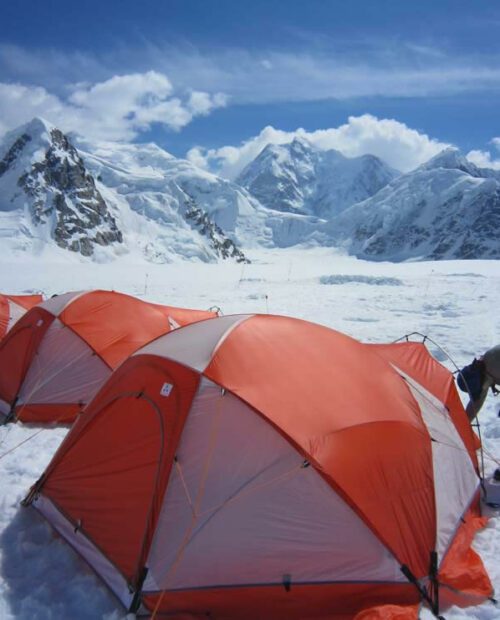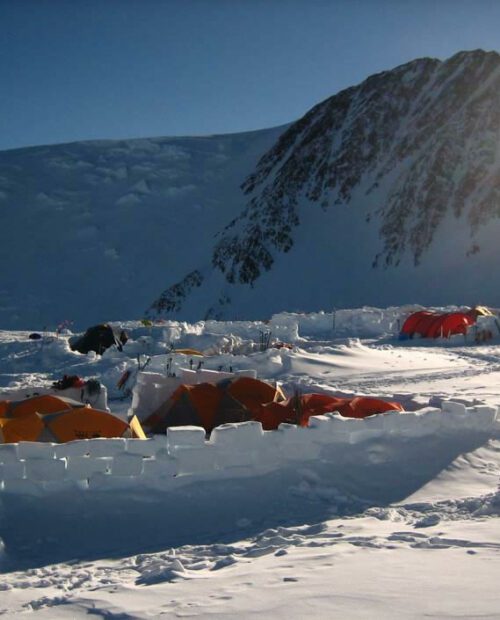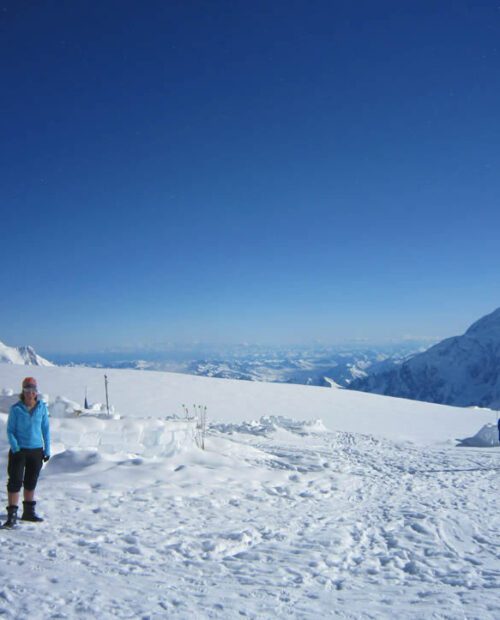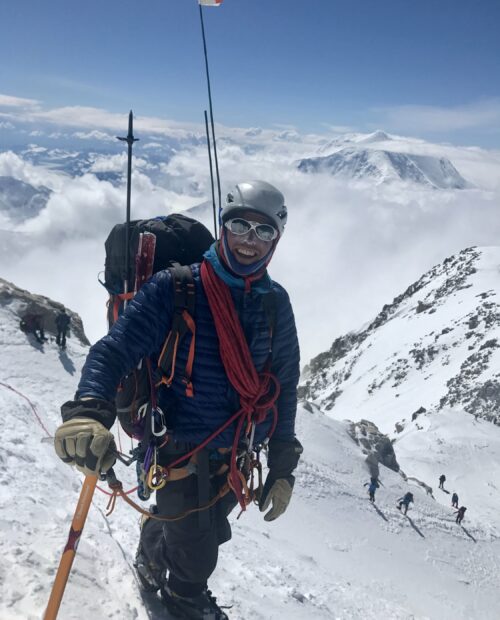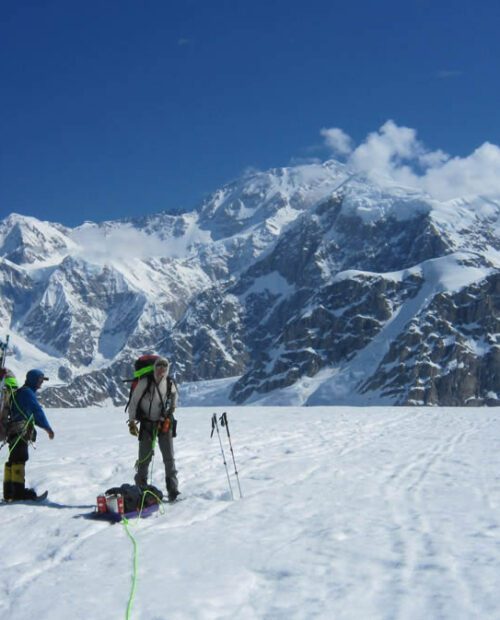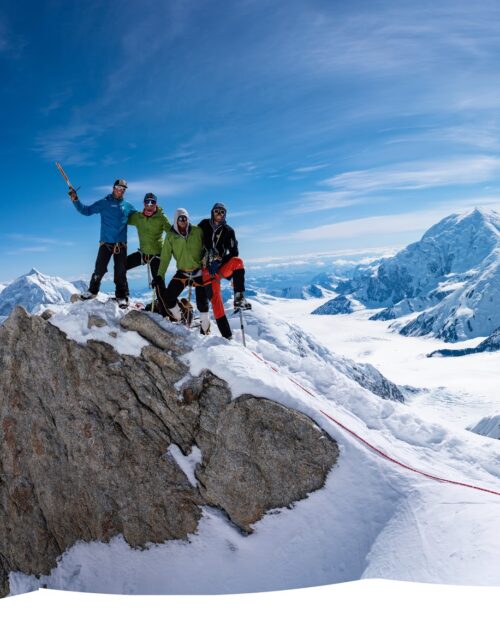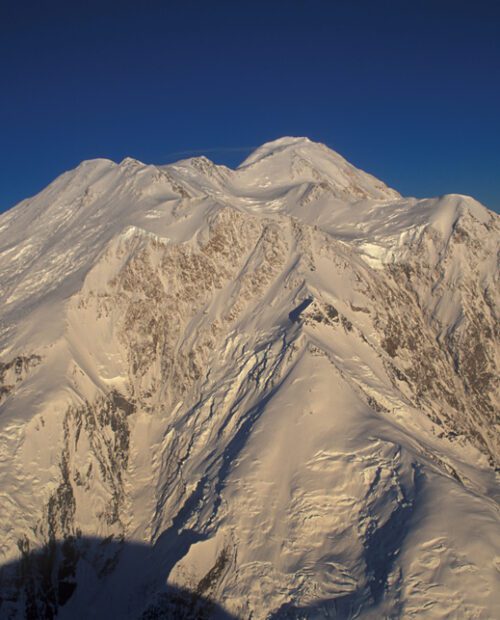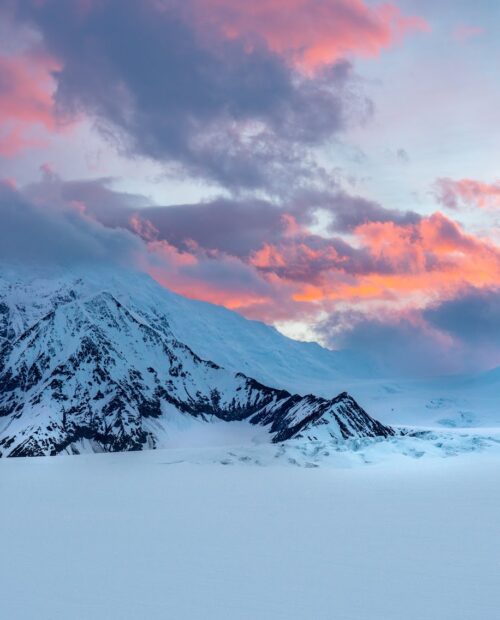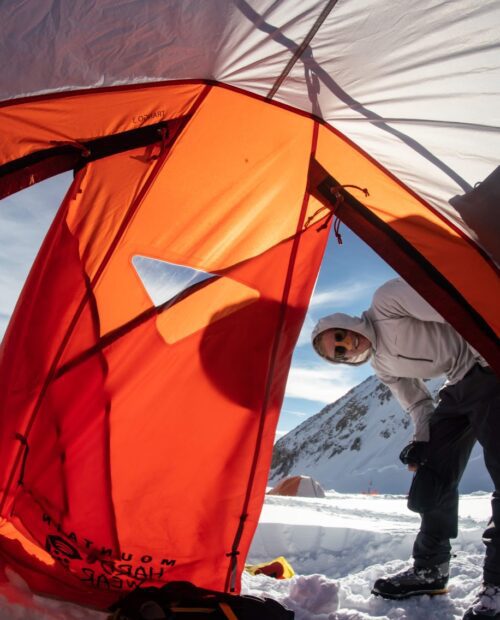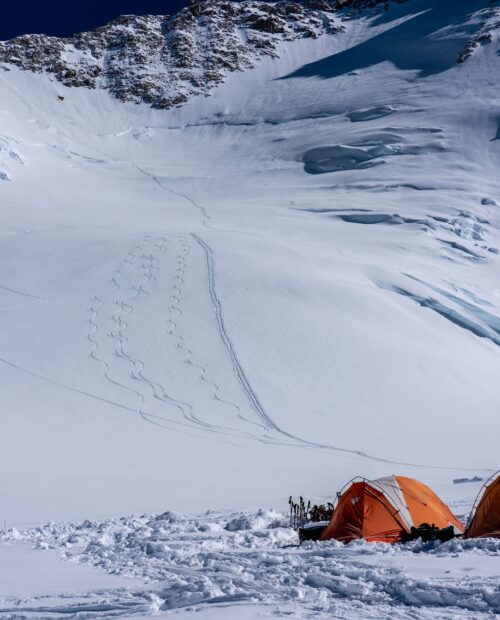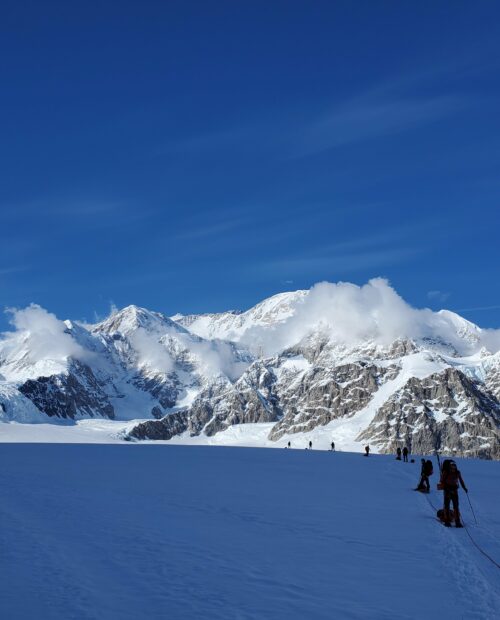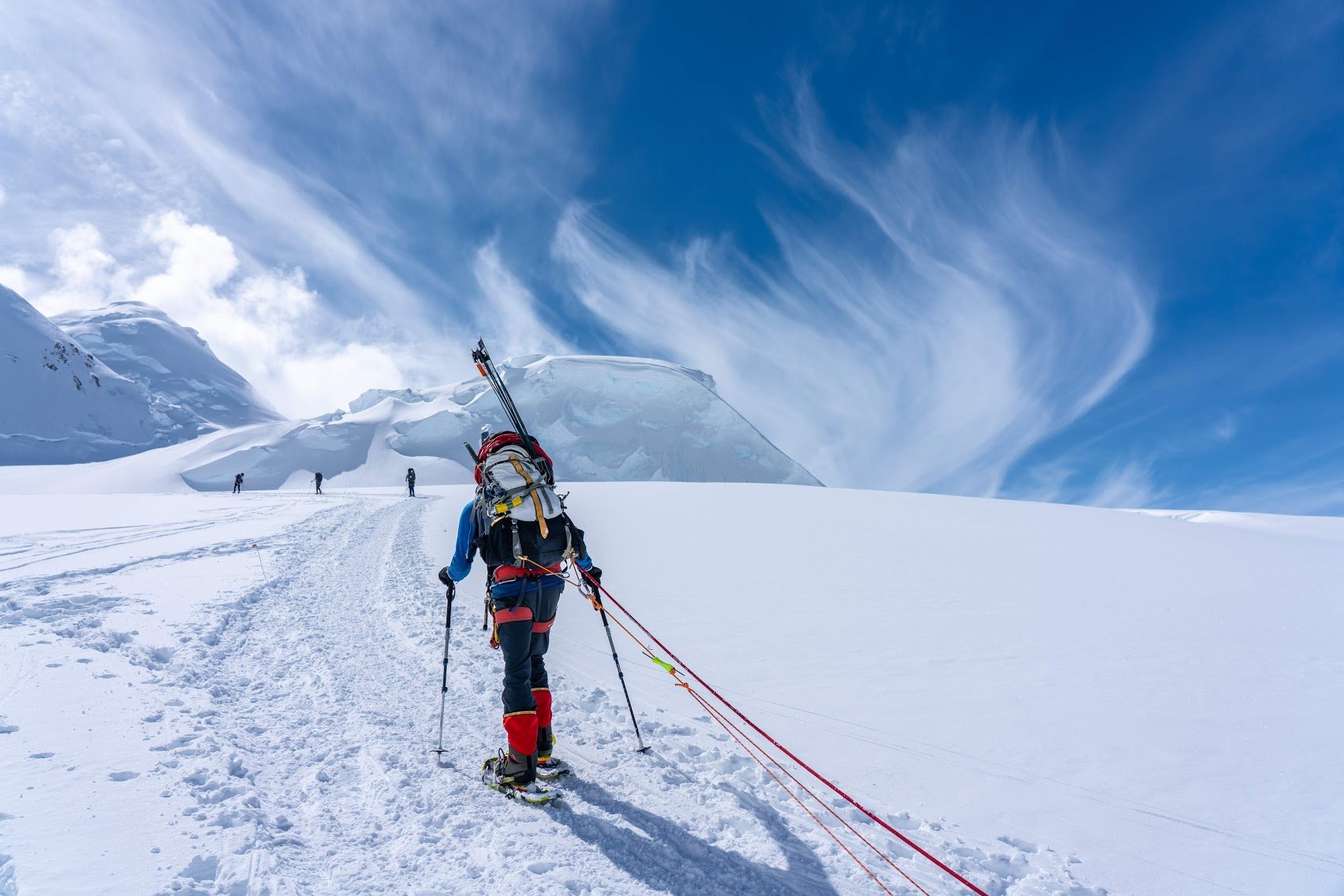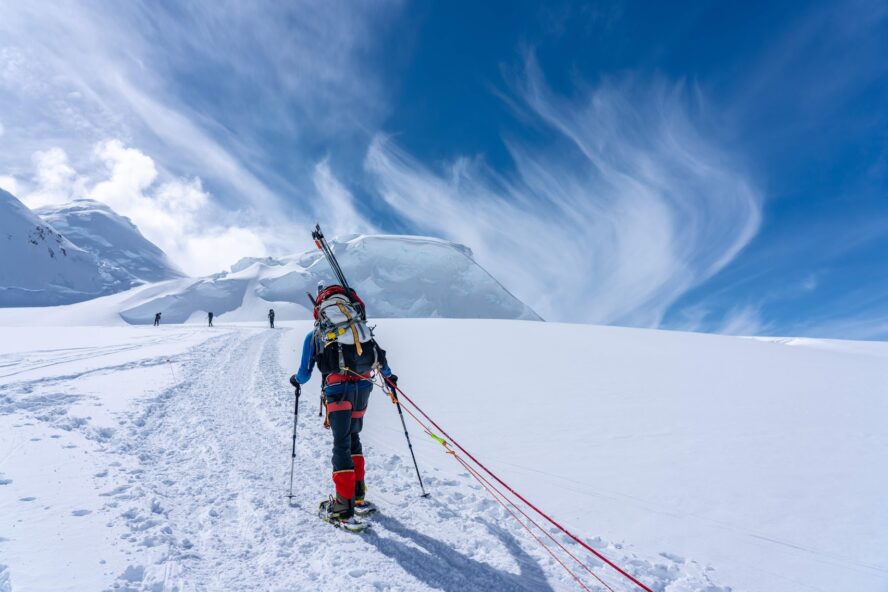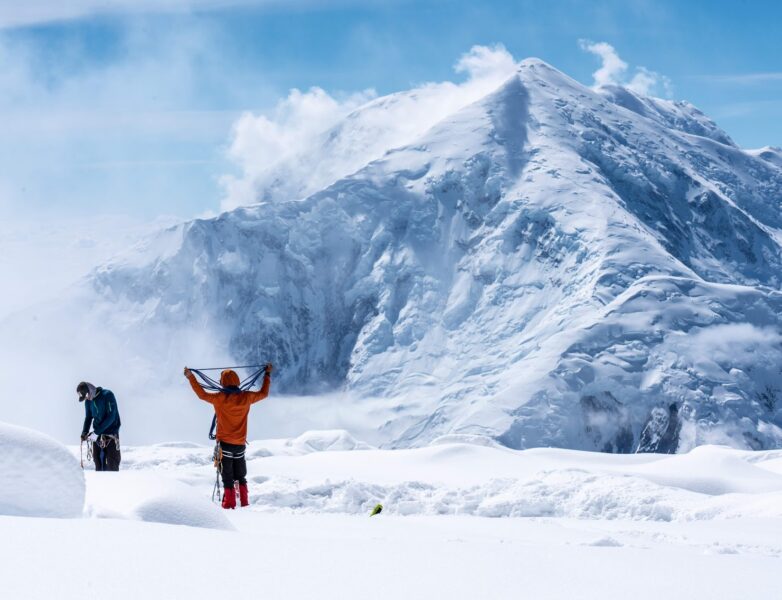 As one of the Seven Summits and the highest peak in North America, it is no wonder so many mountaineers and climbers dream of standing at the top of Denali at the marvellous 20,310 feet. Also called Mount McKinley, Denali is located in the Alaskan Range and has over 100 years of climbing history. Enjoy the vistas of braided rivers and colorful ridgelines, and cross tundra-covered valleys as you reach jagged snowy peaks. There are five popular routes to the top, but the West Buttress is the least technical and most classic option. Denali is a challenge even to the most experienced climbers, but the views are unparalleled, and the feeling of triumph as you reach the summit is beyond compare. Although the weather is unpredictable, the load heavy, and the winds extreme, many choose to embark on this endeavor and cross it off their bucket list. An experienced guide and enough contingency days make your chances of reaching the top higher, while good preparation, endurance, and top physical shape ensure you have the best experience possible.
Considered North America's most classic climb, it rises over 20,310ft

The spectacular West Buttress is one of five challenging climbing routes

The third most prominent peak on Earth after Mount Everest and Aconcagua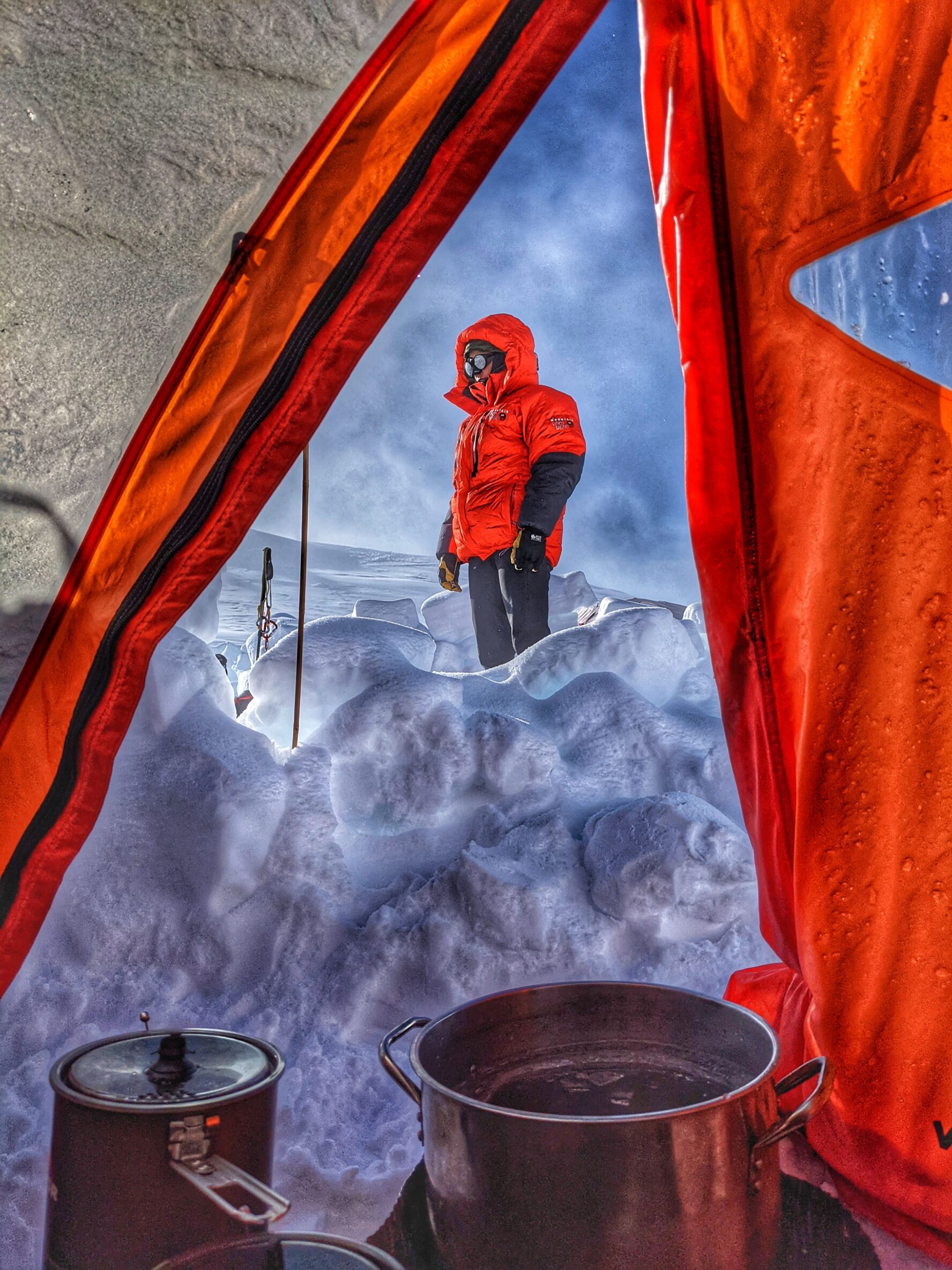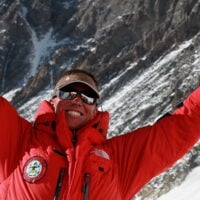 Bill Allen
AMGA Certified Ski Guide and Co-Owner/Lead Guide of Mountain Trip
AMGA Certified Ski Guide and Co-Owner/Lead Guide of Mountain Trip
An Oregon native, Bill grew up playing in the Cascade Mountains, where he fell in love with the outdoors. His guiding career started over 20 years ago in Alaska and has taken him to all of the Seven Summits (thrice to the top of Mount Everest). Althoug...
View details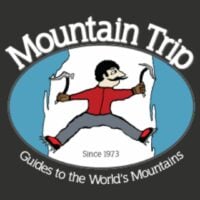 Mountain Trip has a lot of experience leading teams of climbers on the Seven Summits. Their professional certified guides are thoroughly familiar with each destination. They've been guiding climbers in Denali and the Alaska Range since 1973 and were on...
View details
Things to know
57hours is committed to providing safe outdoor adventure experiences. We require all guides using our platform to have a COVID-19 safety plan and to make the details of that plan accessible to travelers. In most cases, group sizes will be reduced, guides will avoid overcrowded locations, and other safety measures will be met depending on the location and activity. 

We also expect clients to respect local regulations and take measures to protect themselves, guides and the communities they're travelling to. For more information on COVID-19 measures in Denali, Alaska, please refer to Alaska's Department of Health and Social Services website.

Please contact us if you have any questions or require further information. We are happy to provide you with the most up-to-date information!

What you get on this adventure:

An experienced, local rock-climbing guide with extensive knowledge of the area

Up to 22 days in the field 

Unlimited pre-trip access to our office resources

Up to two nights lodging (shared room) at the

Lakefront Hotel

in Anchorage before your climb and airport transfer as provided by the Lakefront Hotel

Group med kit, satellite phone, GPS tracker, etc.

Uphill Athlete

24 week Mountaineering Training Program

All technical climbing gear

All regular, scheduled transportation

From Anchorage to the glacier and back to Anchorage

Round trip shuttle to and from Talkeetna 

Air Taxi flight to and from the glacier

All the group gear — tents, stoves, ropes, snow pickets and sleds

Food and snacks

Meals may contain such entrees as pad thai, chicken burgers with blue cheese and burrito night for dinner and french toast, omelets with bacon and chilaquiles for breakfast. Lunches are a combination of snacks on the run and more structured, sit down affairs. If you have any dietary restrictions, contact us prior to booking to make arrangements.

What's not included:

Transportation to Anchorage

Any additional lodging including post expedition lodging

Personal clothing and equipment

Meals while not on the mountain

Travel and/or rescue insurance

Mountaineering permit ($275 for climbers 24 years old and younger, $375 for climbers 25+ years old) 

Denali National Park entrance fee ($15)

The West Buttress route on Denali is not considered the most technical alpine climb, but it is a difficult mountaineering route where you need to have basic alpine climbing skills and excellent fitness. These can be learned on just about any introduction to mountaineering course. Don't underestimate the challenge — you will be on steep terrain for hours, and your skills with crampons and ice axe self arrest, etc. are important for the safety of you and your team. You should be able to demonstrate a high degree of familiarity with basic mountaineering techniques such as the rest step, French Technique, front pointing, running belays, and roped glacier travel techniques.

You need to be in very good physical condition to climb Denali. Summit day shouldn't be maxing out your strength and endurance, it should be well within your comfort zone. So many variables are out of your control (weather, etc.) and you need to be sure that you can manage the ones that you can control. Climbing big mountains is primarily an endurance event, but you do need strength as well. You'll often leave base camp with 50+ pound (22+ kilogram) packs, and drag almost as much in a sled behind you. You should train with a pack as a part of your training regime so that your body can adapt to it. 

Experience on a couple of other mountains prior to going to Denali will also help you understand where you are physically. Expeditions that you may want to consider before attempting a Denali climb are Mount Superior in the Wasatch Mountains and Aconcagua, the highest peak in S. America. This is a great chance to get expedition experience in high altitude in a much friendlier environment than Denali.  

Note: Guides may decide not to take climbers up Denali if their skill level or fitness are deemed inappropriate during the climb.

Denali is not for first-time climbers or mountaineers. It is a technical and physically demanding climb at high altitudes that will enable you to move on to even bigger objectives, but you must already have completed a mountaineering course and several climbs. 

If you're new to alpine climbing, there are plenty of options to prepare you for an expedition like this. Mount Superior in the Wasatch Mountains make for a great training ground to get the experience to move on to an expedition of this level.

All technical and camping group equipment will be provided by your guiding service.
You'll need to bring:

Helmet

Alpine climbing harness with a locking carabiner, belay device, and chalk bag

Ropes

Prussik cord (25-30 feet of 6mm-7mm accessory cord)

Double length (48″) runner

Snowshoes 

Climbing hardware (carabiners, quickdraws, cam devices, stoppers, etc.)

Ski/trekking poles

Ice axe

Crampons

Only bring good gear that is in very good condition, as it will all get tested, perhaps to the extreme!

Here's a list of the clothes equipment we suggest you bring:

Lightweight down fill booties

Mountaineering socks

Overboots

Custom insole

Mountaineering boots

Gaiters

Expedition down parka

Base layer top

Light fleece hoodie

Puffy light insulated jacket

Hard shell jacke

Soft shell wind jacket

Vest (optional)

Underwear

Base layer bottoms

Light fleece bottoms

Soft shell pants

Hard shell waterproof pants

Puffy insulated expedition pants

Heavyweight gloves

Medium weight gloves

Lightweight gloves

Summit mittens (thick, warm mittens made from synthetic fill)

Liner gloves (60 second gloves)

Buff / Neck gaiter

Warm hat

Face mask

Sun hat

Several sets of hand-warmers

Ski goggles

Glacier sunglasses

Nose guard

Here's what you'll need for camping:

Sleeping bag, pad (foam and inflatable) and liner

Compression stuff sack

Backpack for expedition ( a minimum volume of 85L)

Large duffel with a zipper (90 – 100L), lightweight, waterproof

Stuff sacks (for your clothes and personal items)

Cache bag (a very large stuff sack 30L + capacity)

Two 1L water bottles

Insulated bottle cover

Spork and a small knife

Large plastic bowl

Insulated cup or mug

Toiletries (sunscreen, bug spray, toilet paper, etc.)

P-Bottle / Pee funnel 

Toilet Paper (1-2 roles in ziplock bags)

Camera — optional

Battery for your electronics

Maps

Dress comfortably and for the weather in clothes you can move in. We suggest bringing clothing appropriate for the season. Layers are best and don't wear jeans.

Group sizes and prices:

The guest to guide ratio for  this climb is 2:1. Your group can be as large as 6 people with 3 guides.

Cost is per person and it doesn't decrease as the group grows.

Min. age requirements:

If you are older than 18, you're good to go.

Minors younger than 18 may be permitted to climb on a case-by-case basis, but must be in the presence of a parent or legal guardian.

If your group has climbers under the age of 18, contact us prior to booking to make arrangements.

All Denali expeditions require a $2500 deposit to secure a spot on the team. Your submission of a deposit constitutes your acceptance of this Fee Schedule, Refund and Cancellation Policy. The deposit includes a non-refundable $1500 administration fee.

Final payments for expeditions must be received 120 days prior to the adventure. Failure to pay expedition fees by the date they are due constitutes cancellation of your spot on the team and forfeiture of your deposit. If you register for a climb within 90 days of the trip, expedition fees will be due in full to secure your spot on the team.

Any cancellation 120+ days before your trip will be refunded in full, less the administration fee. If you cancel 120-90 days before your trip, you are eligible for a refund of 50% of any money paid, less the deposit. No refunds will be provided for cancellations occurring within the last 89 days prior to an expedition. 

Your guides reserve the right to cancel an expedition prior to the departure date for any reason. In such an event, all money for that expedition shall be refunded. 

For the 2022 Denali season, your guides require that all climbers are fully vaccinated prior to departing for Anchorage. A person is considered fully vaccinated greater than or equal to 2 weeks after completion of a two-dose mRNA series or single dose of Janssen vaccine. All climbers joining Mountain Trip Alaska for expeditions in Denali National Park and Preserve will be required to sign a COVID-19 Declaration stating the following:

You are fully vaccinated against the COVID-19, and;

You are not displaying any symptoms of COVID-19 , and;

You are not waiting for the results of a COVID-19 test, and;

You agree to comply with all Mountain Trip Alaska COVID-19 specific guidelines and protocols.

To get to Denali National Park, most people fly into Anchorage International Airport (ANC). You will meet your guides there on the first day at 10 A.M.

Once you and your guide agree on the details of your itinerary, your guide will suggest the best place to meet.