Full of Firsts: What I Learned from a BIPOC SPI Course
There's no guide to becoming a guide for those who are underrepresented. Perhaps it's time to create one.
As a BIPOC woman, it's impossible to separate my path toward getting certified as a climbing guide from my desire for community.
What I mean by community in the context of climbing is something less clearly marked by time and place, or even by a fixed group of people. Rather, to me it's something more akin to affinity. It's a feeling that lets me know: "I'm right where I need to be."
Finding My Place in a Familiar Space
Sitting inside Cedar Rock Base Camp, sunlight streamed through the large windows framing the namesake granite dome as our instructors assembled the learning space. We were here for an American Mountain Guides Association (AMGA) Black, Indigenous, People of Color Single Pitch Instructor course, the first of its kind on the East Coast.
While everyone around me was here for the first time, I knew this room well. Somewhere among the walls lined with an eclectic assortment of painted tiles—a tradition inviting students and staff to add a personal touch to the space—was one or two I'd once designed as a high schooler in Outward Bound, and later as an instructor.
Now I was back in a setting that would provide a transformative redirect to my career, yet again.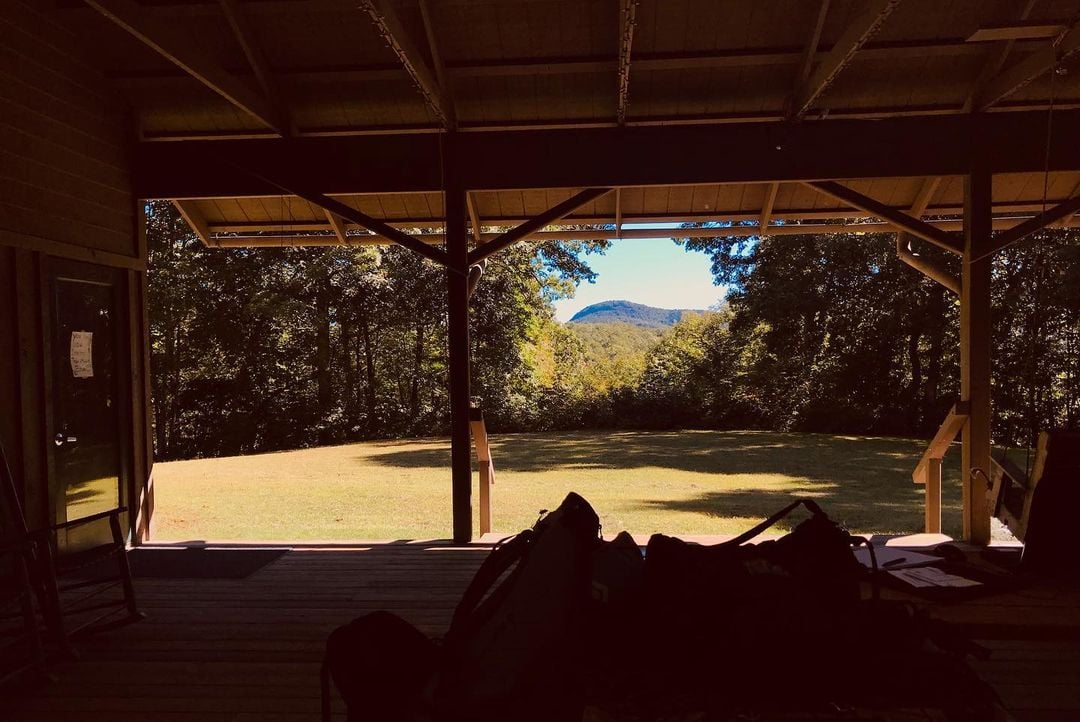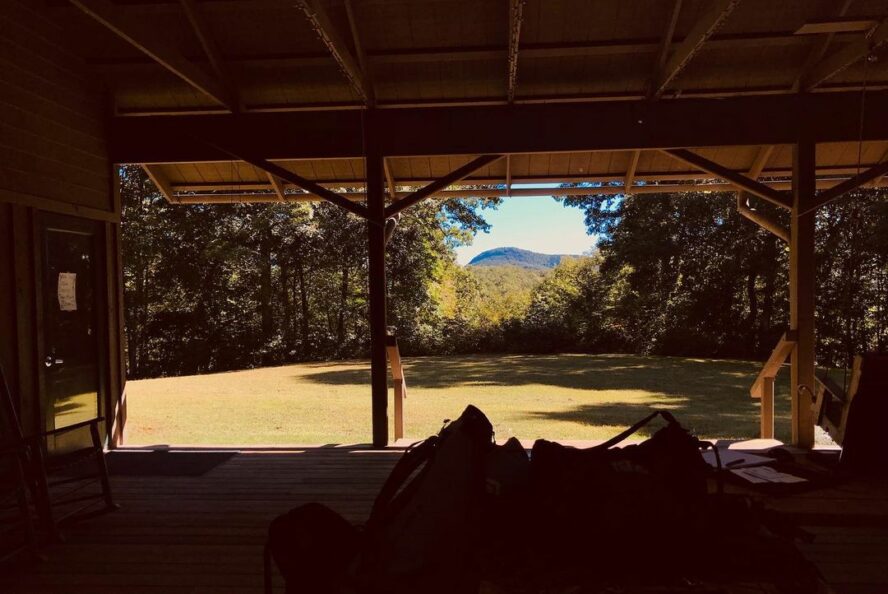 An Untraditional Start
My passion for climbing is deep. It paints a picture of empowerment and interdependence within my multiple communities. At the same time, this passion is characterized by a sense of struggle within the culture of old school climbing traditions this region is often known for.
The transformation I've experienced in the past three years… is precisely due to the cultural shift we see happening in the outdoors industry and community.
For me to be climbing at all—both on the personal and professional levels—was only made possible through recent developments in outdoors culture: the emergence of the Diversify Outdoors movement.
Affinity spaces, such as the Flash Foxy Women's Climbing Festival (to which I was awarded a scholarship in 2019, and recently had the opportunity to instruct for) and Brown Girls Climb, and structured pathways for BIPOC to become climbing instructors (which began in institutions such as the AMGA, NOLS and Outward Bound schools in recent years) originated in other regions of the country and are just now beginning to catch on in the Carolinas.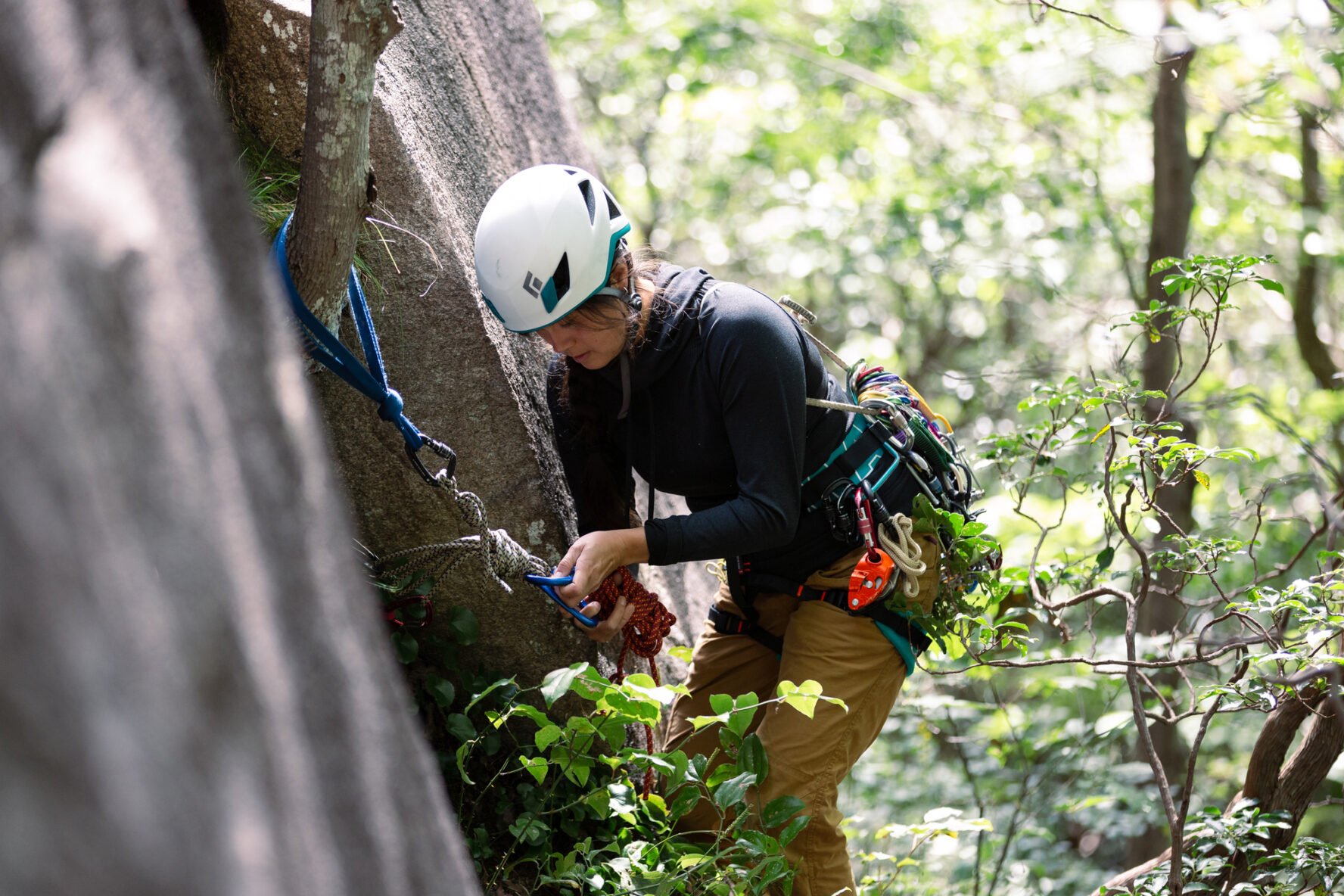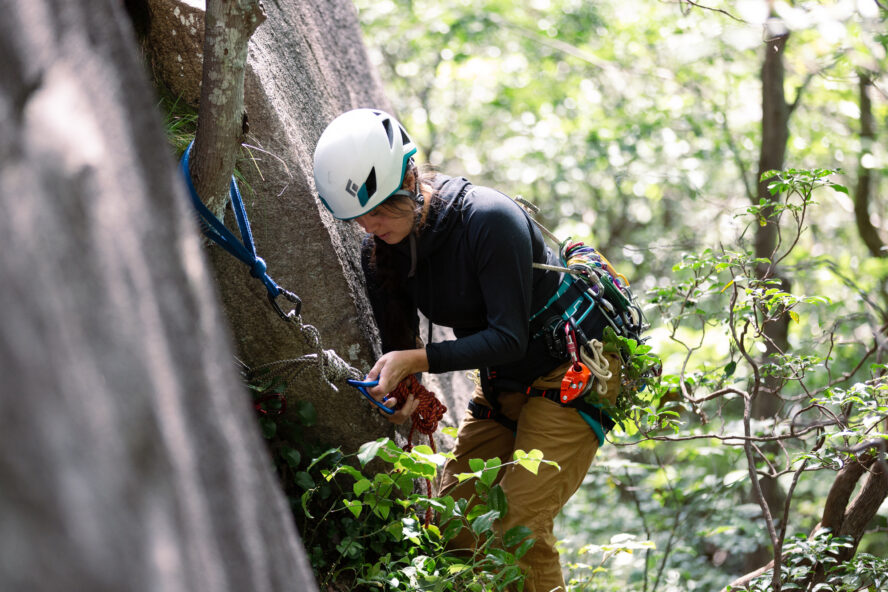 The transformation I've experienced in the past three years—from genuinely thinking, "wow, maybe I can try out this climbing thing because I see these ads of Women of Color doing it!" to harnessing every opportunity to challenge myself to grow and develop skills as an instructor—is precisely due to the cultural shift we see happening in the outdoors industry.
I must be clear that I wouldn't be here without it.
Barriers to Entry
The industry is only starting to become more transparent and accommodating in addressing the many barriers specifically experienced by women, BIPOC, LGBTQIA2SP+, adaptive, and other communities that are underrepresented in this field. These barriers are on top of the common obstacles to pursuing certifications, such as the time and money required to build technical skills, that everyone seeking to be a mountain guide or climbing instructor faces.
For perspective, the path is long, intensive, and nothing comes cheap.
Things like the SPI (Single Pitch Instructor) and the WFR (Wilderness First Responder) are common prerequisites of entry for work, and typically necessitate investments of thousands of dollars as well as a purposeful time commitment. In order to take an SPI course, participants are required to present a log of 15 traditional climbing leads. To take the exam, the résumé must be expanded to 40 leads, with the majority being at the 5.6 grade or higher. Just meeting these prerequisites assumes a high degree of access.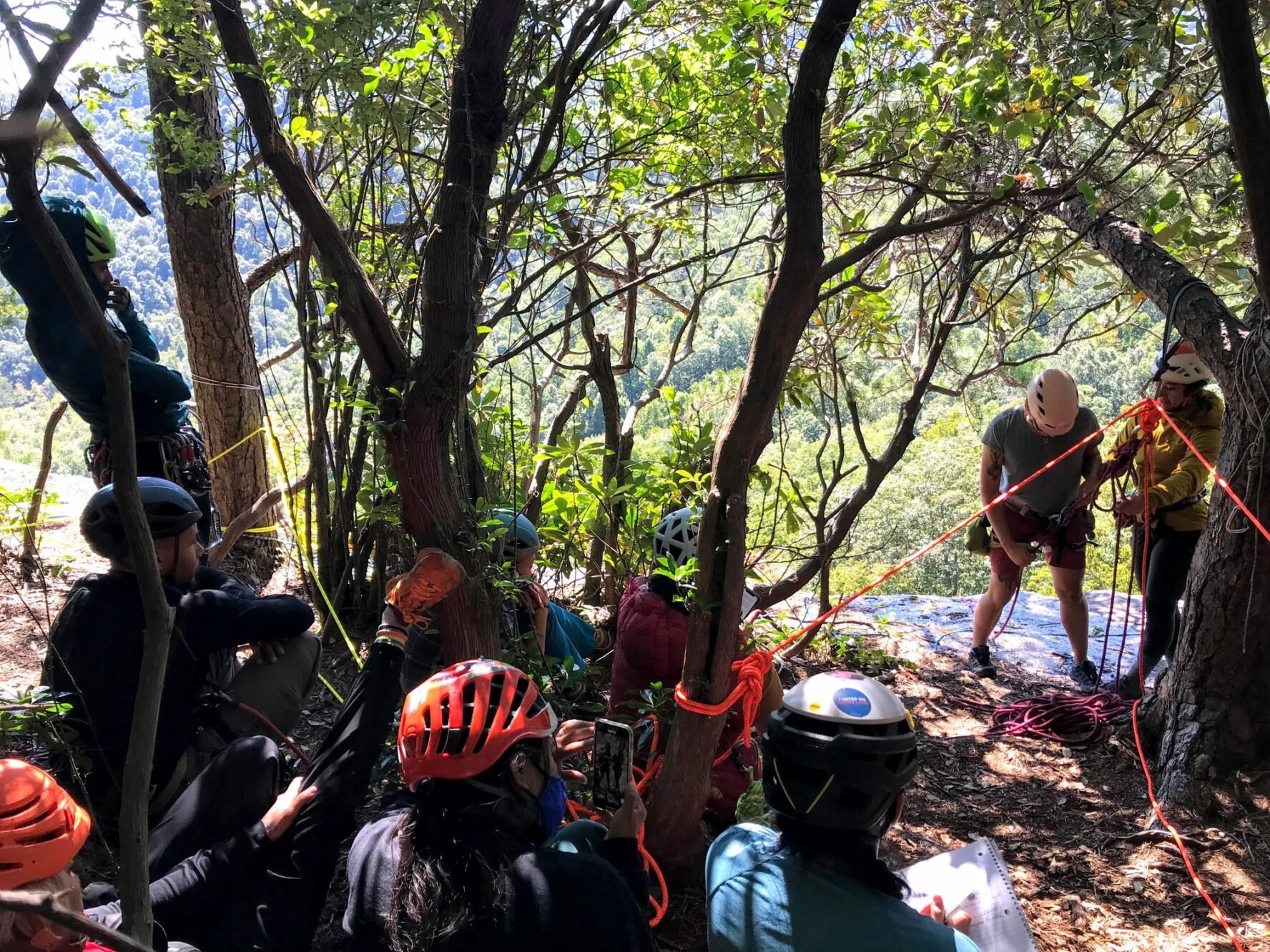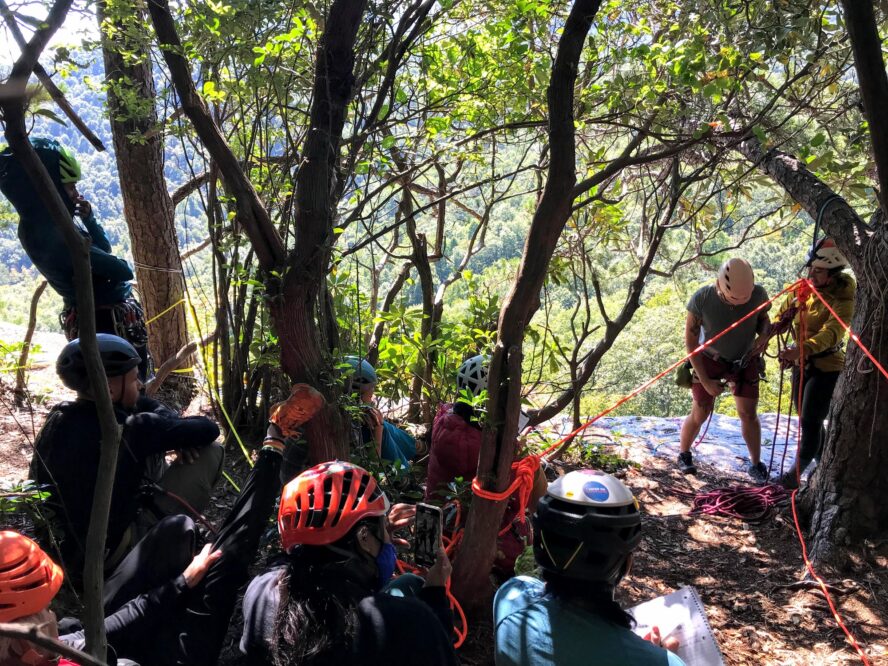 Over the past several years, the AMGA has offered affinity Single Pitch Instructor courses to help address some of these challenges. In 2018 they piloted the Women's SPI Course, launched the first LGBTQIA2S+ course in 2020, and just this past year, they held two courses for those who identify as Black, Indigenous, or People of Color (which were supported by gear sponsors).
The initial course was held earlier in the summer in Washington state, and the second took place near where I live in Asheville, North Carolina. And which I participated in.
So Much More Than Climbing
An AMGA blog article about why affinity courses are important notes that the association "considers diversity and inclusion to be a risk management issue."
In a sport that is overwhelmingly white (85%) and male (72%), according to the American Alpine Club's State of Climbing Report, it can be difficult to access climbing instruction and mentorship if you fall outside those demographics. More so, it can be incredibly isolating to enter learning environments where one's identity and social expression are outliers—i.e., "being the only one." Thankfully the AMGA's growing range of affinity courses and scholarships help to recognize this.
Over the span of three days together, our cohort learned from instructors, Sean Taft-Morales and Azissa Singh. Early on, the common awareness emerged that this was a setting in which—through both intentional and organic conversation—it was safe to talk about a number of concerns that would not be prioritized in a standard SPI course.
Through these discussions, it was evident that it's impossible to separate technical learning from dialogue on the realities we face in this field.
For example, a typical lesson memo on the topic of professionalism might otherwise be quite brief. However, in our group long discussions on experiences with code-switching and how to navigate microaggressions we inevitably encounter emerged.
In other subjects, our instructors drew additional attention to nuances in the language used and methods in which learning is framed: the industry itself is in the process of so much change, and our role as instructors is to constantly question why we do things the way we do.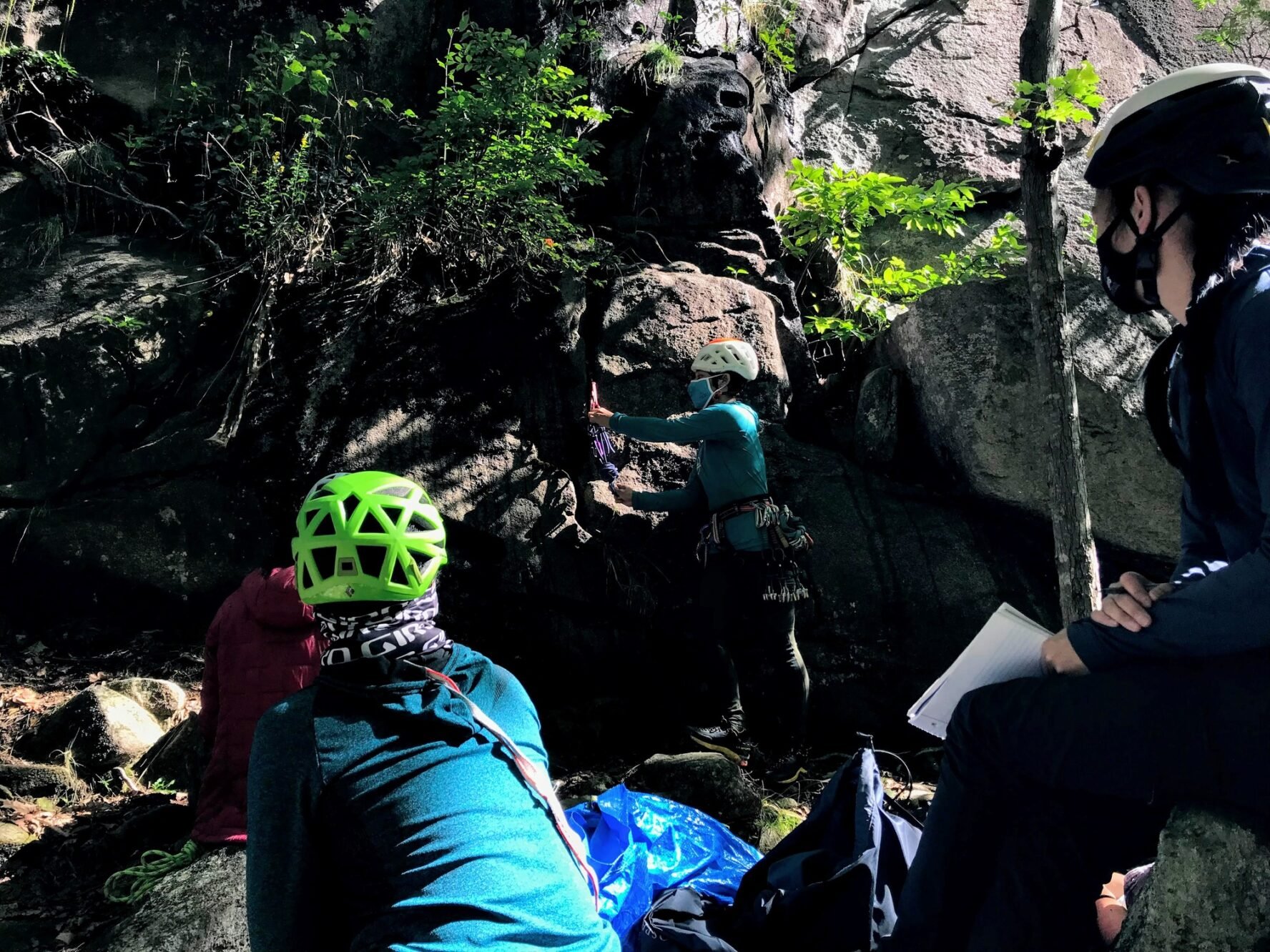 Each day of the course, we followed a tight schedule of reviewing, assessing, applying, and re-assessing technical systems in an intentional progression. During the segments—which included selecting what gear to use in different contexts, knots review, building anchors, rappel setups, fundamental belay takeovers and rescue skills, and terrain assessment—personalities emerged, and so did references to previous experiences, and stories.
Mutual support was the standout characteristic of our emergent crew culture. At the same time that certain members were quick to correct one another in instances such as the common use of a racial slur (an abbreviation of the word "carabiner"), or to remember to utilize an individual's correct gender pronouns, our group defined itself most by a sense that we all belonged there.
Each one of us had so much to share, and every person was there to grow.
Changing the Industry, One Guide at a Time
Some next steps for my SPI cohort include pursuing our exams (which some of us are in the process of arranging as an all-affinity assessment—the first of its kind), going deeper into leadership in our communities, and continuing to change the industry through advocacy, increased representation, and redistribution of resources.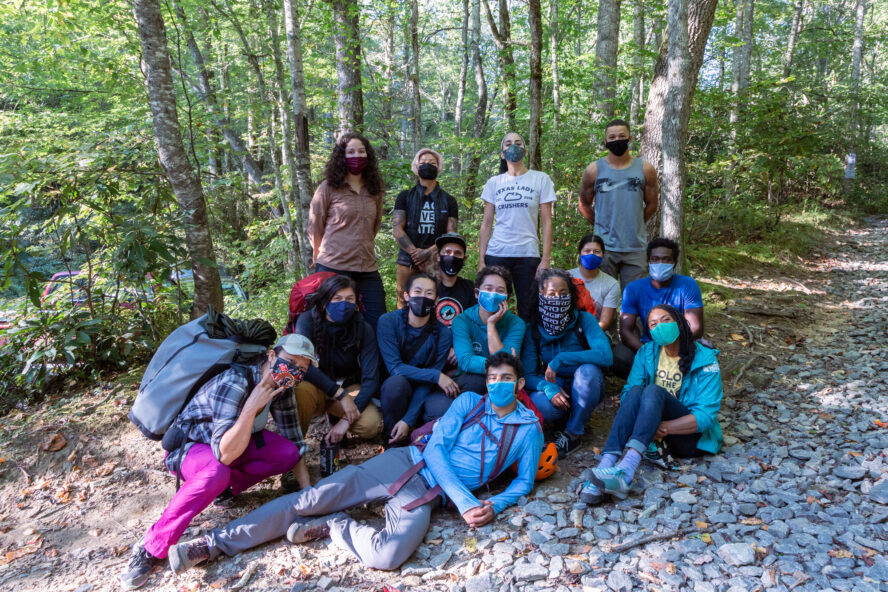 The opportunity to learn from and with leaders from such organizations as Brown Girls Climb, Flash Foxy, Memphis Rox, Texas Lady Crushers, and Rise Outside in the SPI setting was transformative and will only enrich how I work within my own community group, North Carolina BIPOC Climbers.
My hope is that as more of us enter the guiding community, it becomes a field in which anyone can find themselves represented. Until then, however, affinity spaces will continue to guide the way forward.
Want to Learn More?
Here are a few useful resources to help you go a little deeper on the state of the industry and important advancements.