Spend 3 Weeks Hiking the Annapurna Circuit Trek in Nepal
The Himalayan country of Nepal is a geographic and cultural miracle. Untold wonders spreading across every corner of the land make it one of the most magical destinations in the world. Here's what 20 days on the Annapurna Circuit Trek look like.
What is the first image that comes to your mind when you picture Nepal? The most common answers I get to this question are "mountains," "cliff faces" and "Sherpas." But what if I tell you that hiking the spectacular Annapurna Circuit Trek will have you traversing areas completely covered by dense jungle or treading across sprawling rice fields in the clouds? There is nothing quite like it anywhere else. Experiencing this trek feels like stepping into the world of an adventure novel. One second you're forging a path through dense undergrowth, the next you're walking on massive snow-covered rocks. With its unforgettable scenery and richly varied route, it's no wonder the Annapurna Circuit is considered by many to be the best long-distance trek in the world.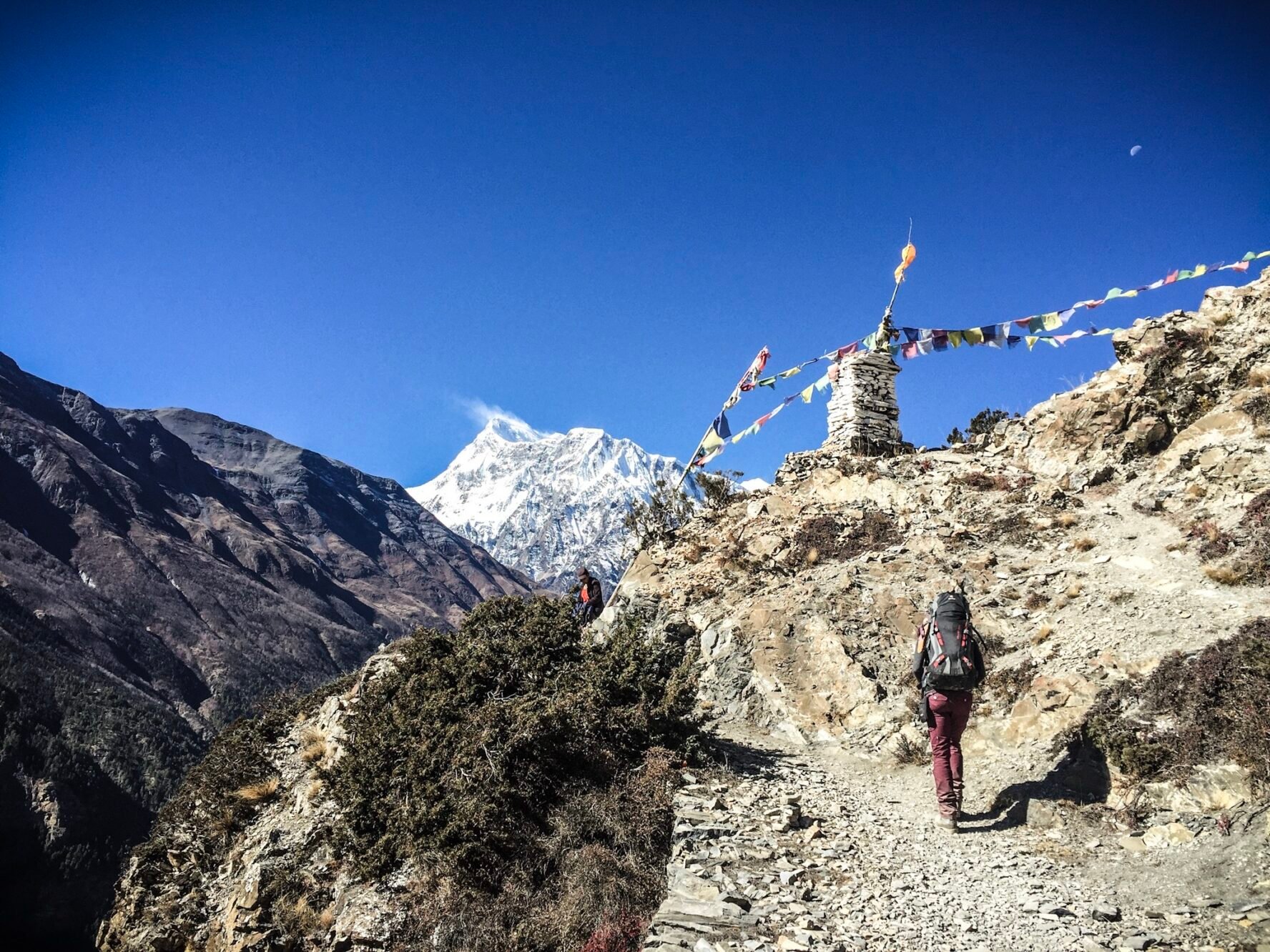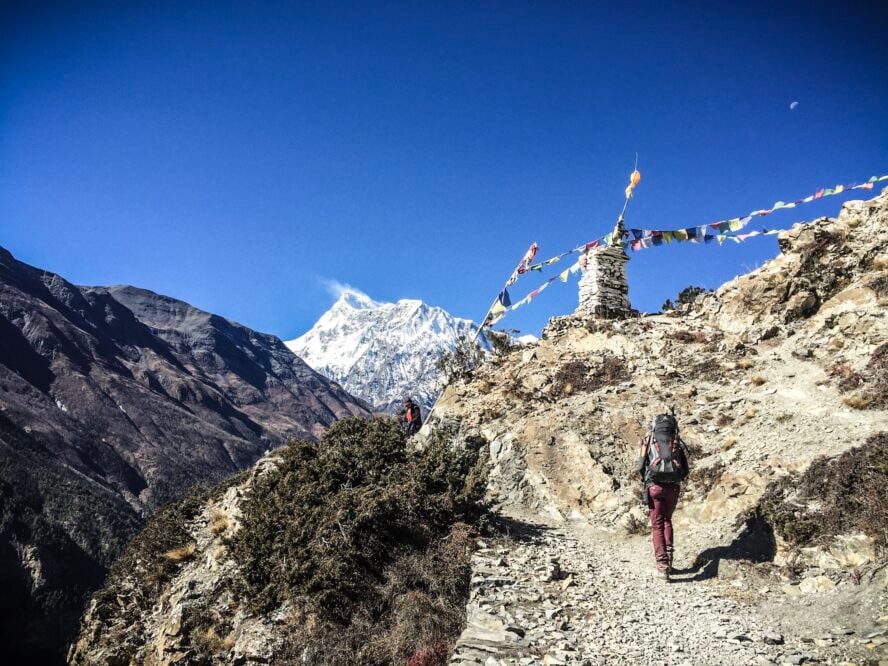 Pros and Cons of Hiking the Annapurna Circuit Trek
Arguably the world's best long-distance trek
The Nepalese are renowned for their excellent cuisine and warm hospitality
Anyone with reasonable fitness can tackle Annapurna
The steep elevation can prove difficult for some
Nepal is a small landlocked country nestled between India and China, lying along the southern slopes of the Himalayan mountain ranges. Around 75 percent of the country is covered by some of the most rugged and difficult mountain terrain in the world, which naturally makes it a favorite destination for hikers and mountain climbers. Due to great changes in elevation, Nepal's climate ranges from monsoon conditions in the Terai lowlands all the way to an alpine climate along the slopes of the Himalayas. These unique features give Nepal a very diverse flora and fauna — animals such as deer, buffalo, tigers, leopards, and even elephants and rhinoceros all make it their home. And depending on who you ask, there might also be the elusive Yeti hiding somewhere deep in the mountains!
What is the Annapurna Circuit?
The Annapurna Circuit is often touted as the best long-distance trek in the world. For centuries, Nepalese people have travelled this loop, connecting with the land, visiting relatives and making the pilgrimage to sacred ceremonial sites. It first opened to the international public in 1977, and this backpacking tour takes you around the Annapurna Massif in Nepal, crossing two different river valleys for a total of around 230 kilometers (145 miles) over the course of about 17 days. It's most often hiked counterclockwise, beginning in Besisahar, traveling through to the highlands of Thorung La Pass — the highest point — and ending in Pokhara. This trek runs the full gamut of conditions, from precipitous lush forest in the lowlands to the pine-forested highlands to grasslands, barren alpine mountains and more. Villages dot the circuit, and locals welcome trekkers, offering accommodation in traditional teahouses, incredible food, homemade yak-milk tea and friendly company.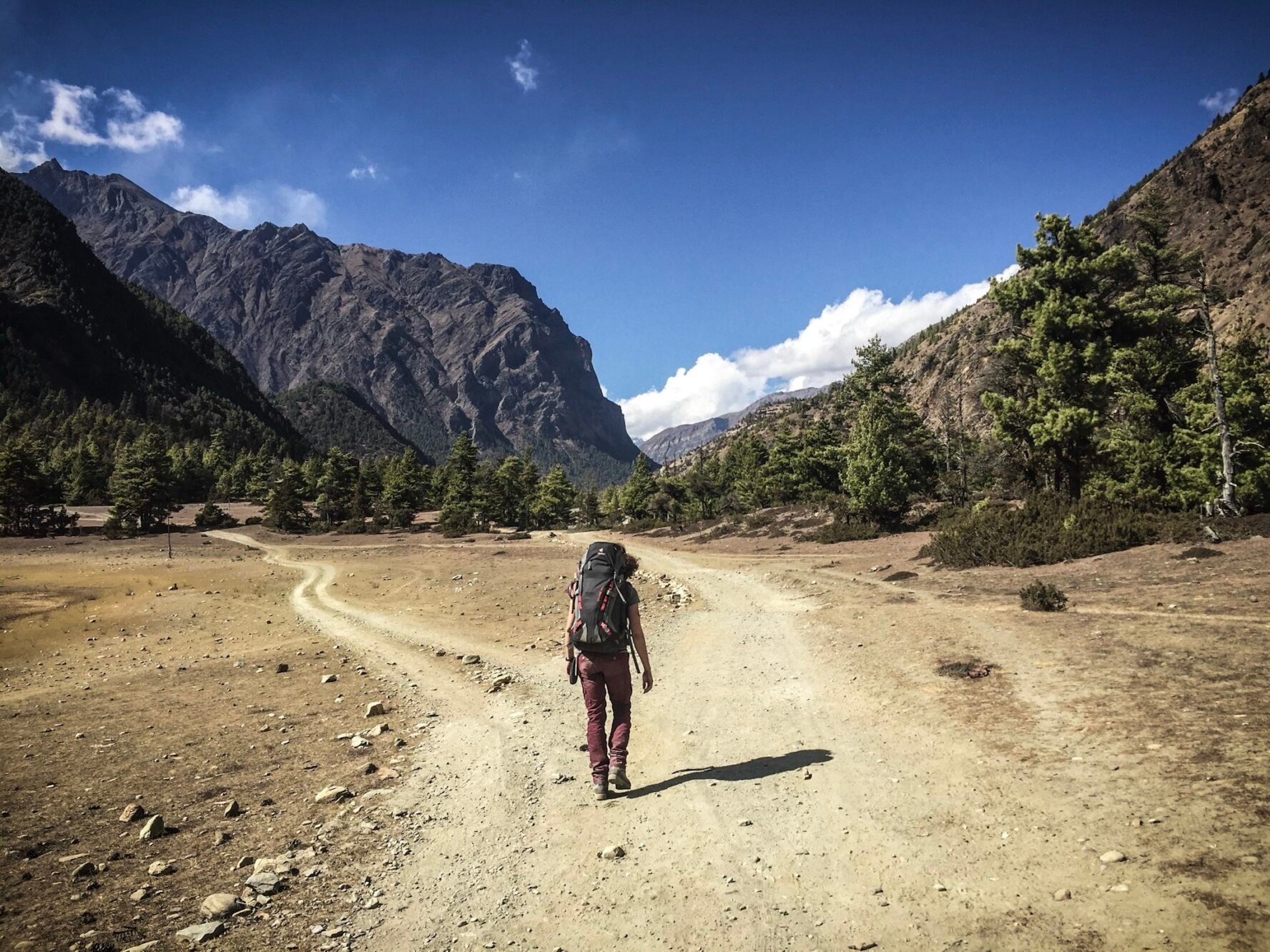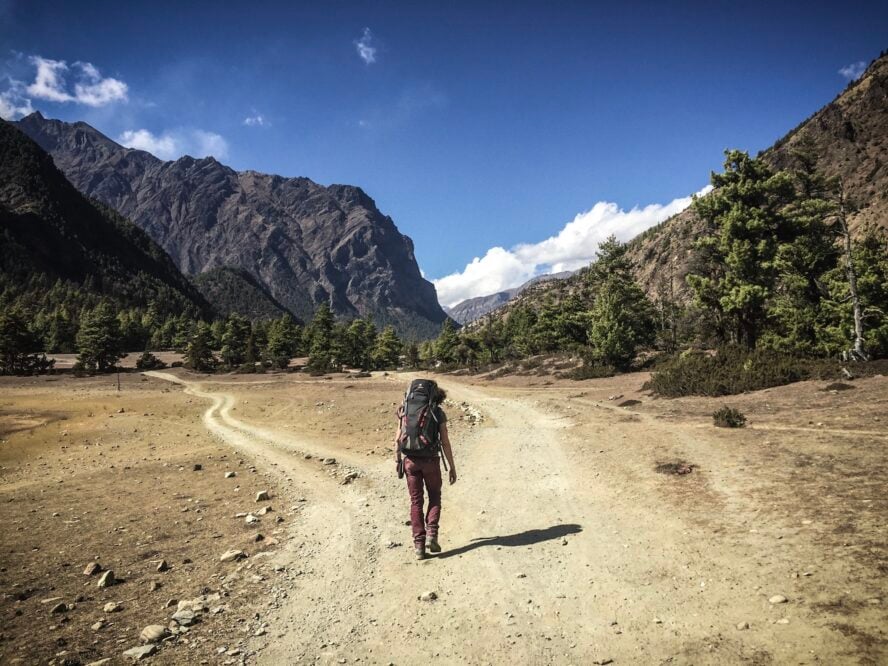 My experience as a hiking guide
I was born in Spain, but for the past 12 years I've been living in Iceland, where, along with my partner Mónica, I run Amarok Adventures, an outdoor adventure guiding service for mountaineering and hiking. We organize hiking adventures in Iceland, the Faroe Islands and Nepal, with more destinations coming up soon. We are both mountain and glacier guides belonging to the AIMG (Association of Icelandic Mountain Guides), while Mónica is also licensed by IFMGA (International Federation of Mountain Guide Associations).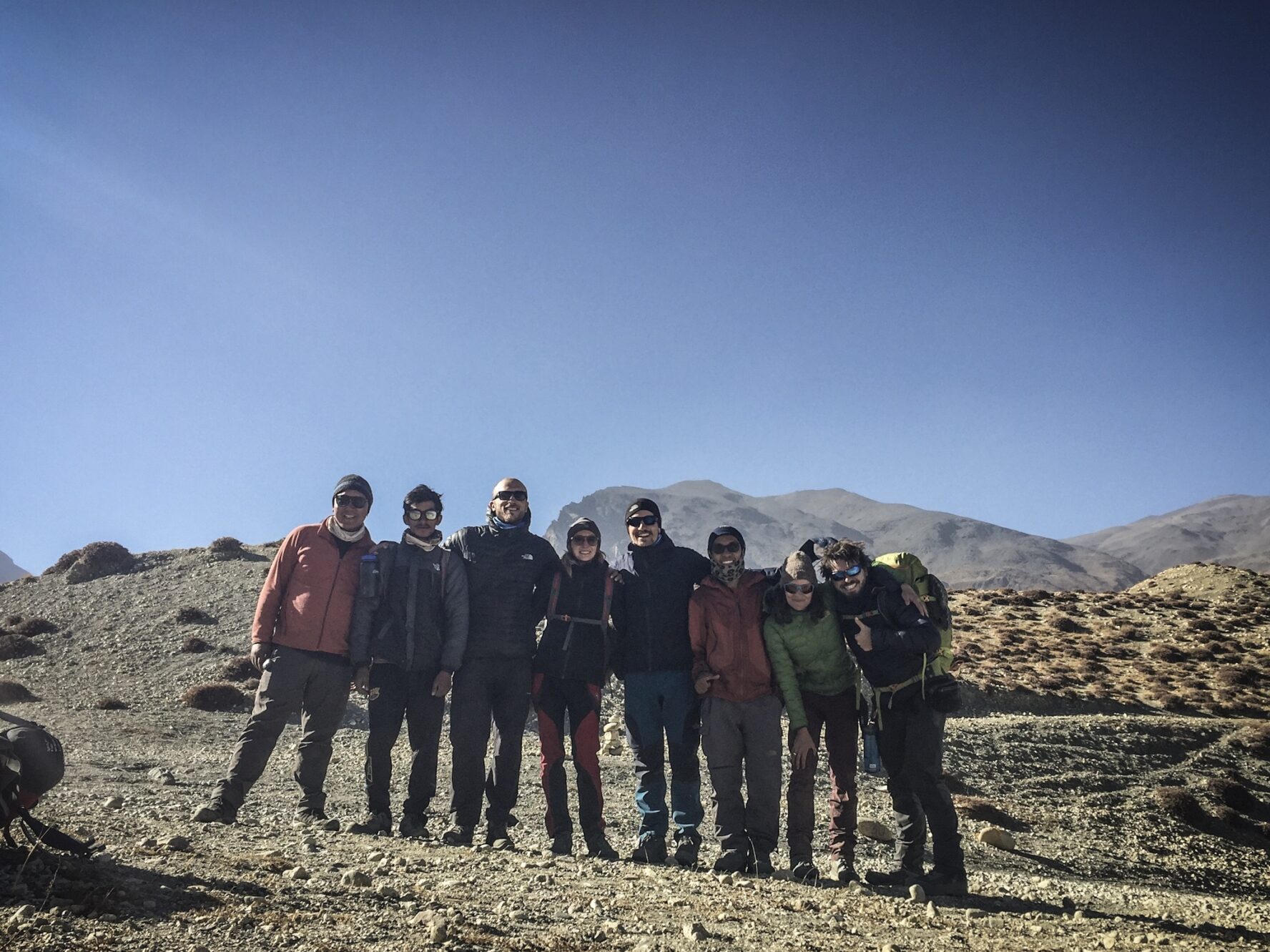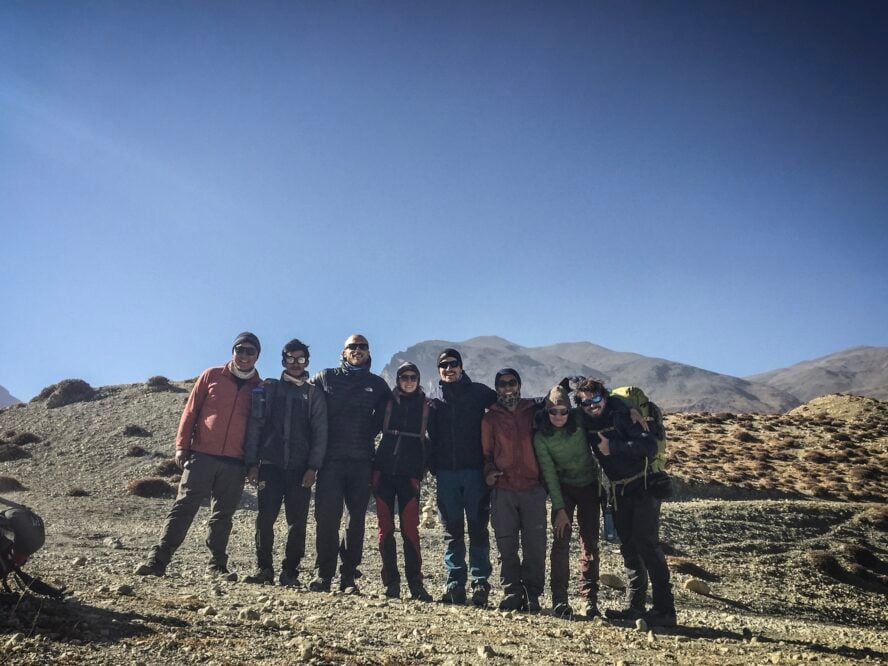 I inherited my love of adventure from my grandfather, a very accomplished skier who took us to the mountains whenever he had the chance. When I grew up, I naturally started applying for outdoors-related jobs. That's how I came to guide trekking in the Chilean Patagonia and kayak tours in Greenland. More and more exciting opportunities started coming my way, and when I met my partner Mónica on a trip to the Icelandic Highlands, everything fell into place. We decided to travel to Nepal together, and from there we returned to Iceland and ended up both working as guides for the biggest adventure company in Iceland. A few months later, we decided to make the leap and set up our own company. Since then we have been on many incredible adventures together, and leading trips to Nepal has always had a special place for us since it's been such a big part of our story, so you can imagine how much we love this trek.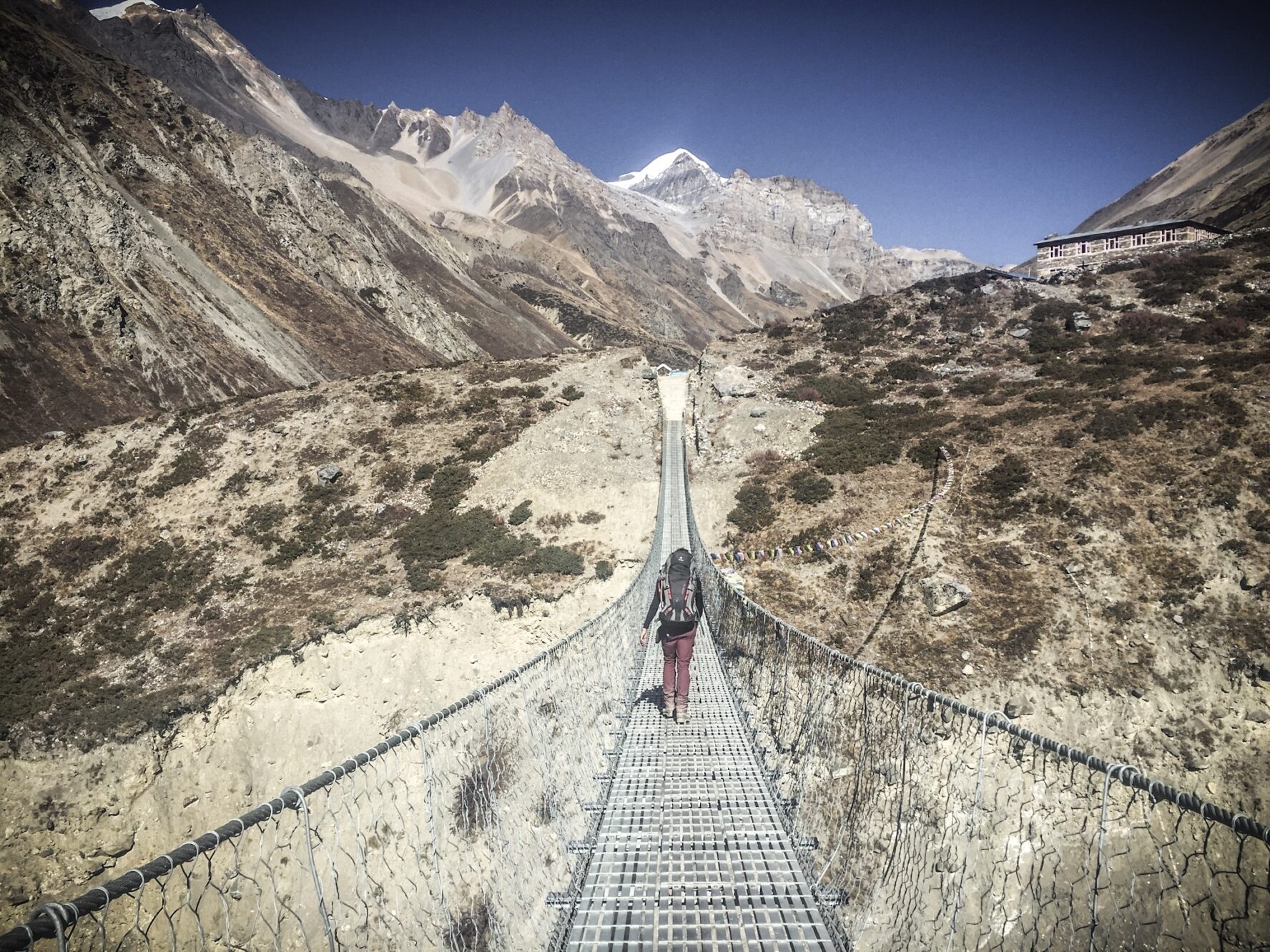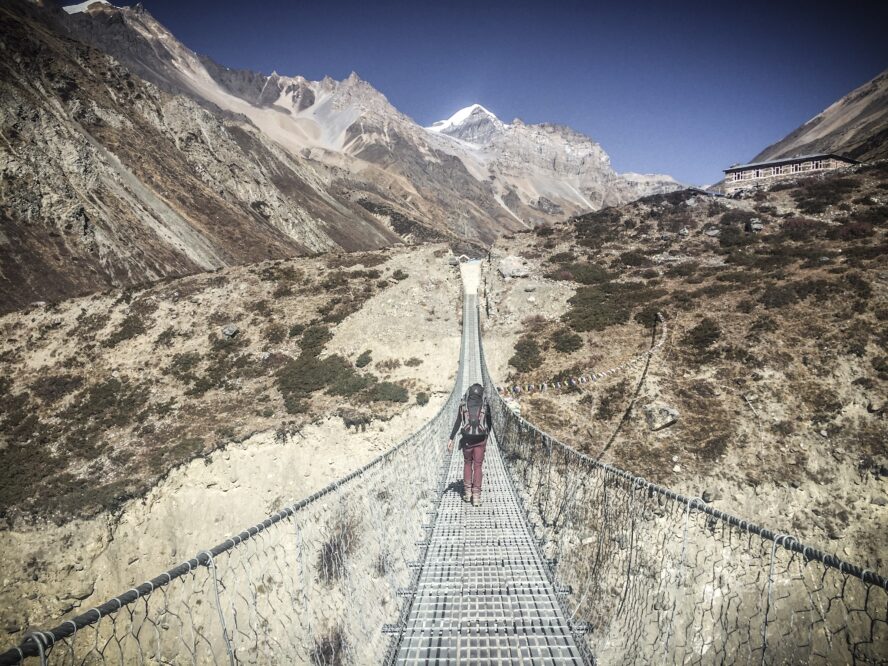 Nepal is a diverse society with a dazzling, rich culture
What I love most about guiding is the connection with the people. No group is ever the same, which is why every trip is a unique opportunity for people from all walks of life to gather in a spectacular remote location, share their stories and bond over a singular goal — exploring the vast beauty of the natural world around them. It's a very enriching experience and one I look forward to every time. One of my favorite things about the Annapurna Circuit Trek, especially compared to Everest Base Camp, is that there's much fewer people around. We always try to get away from large groups and take less-trodden paths, preferring to stay in small villages to avoid the noise of touristy spots, while also supporting small farmers and businesses.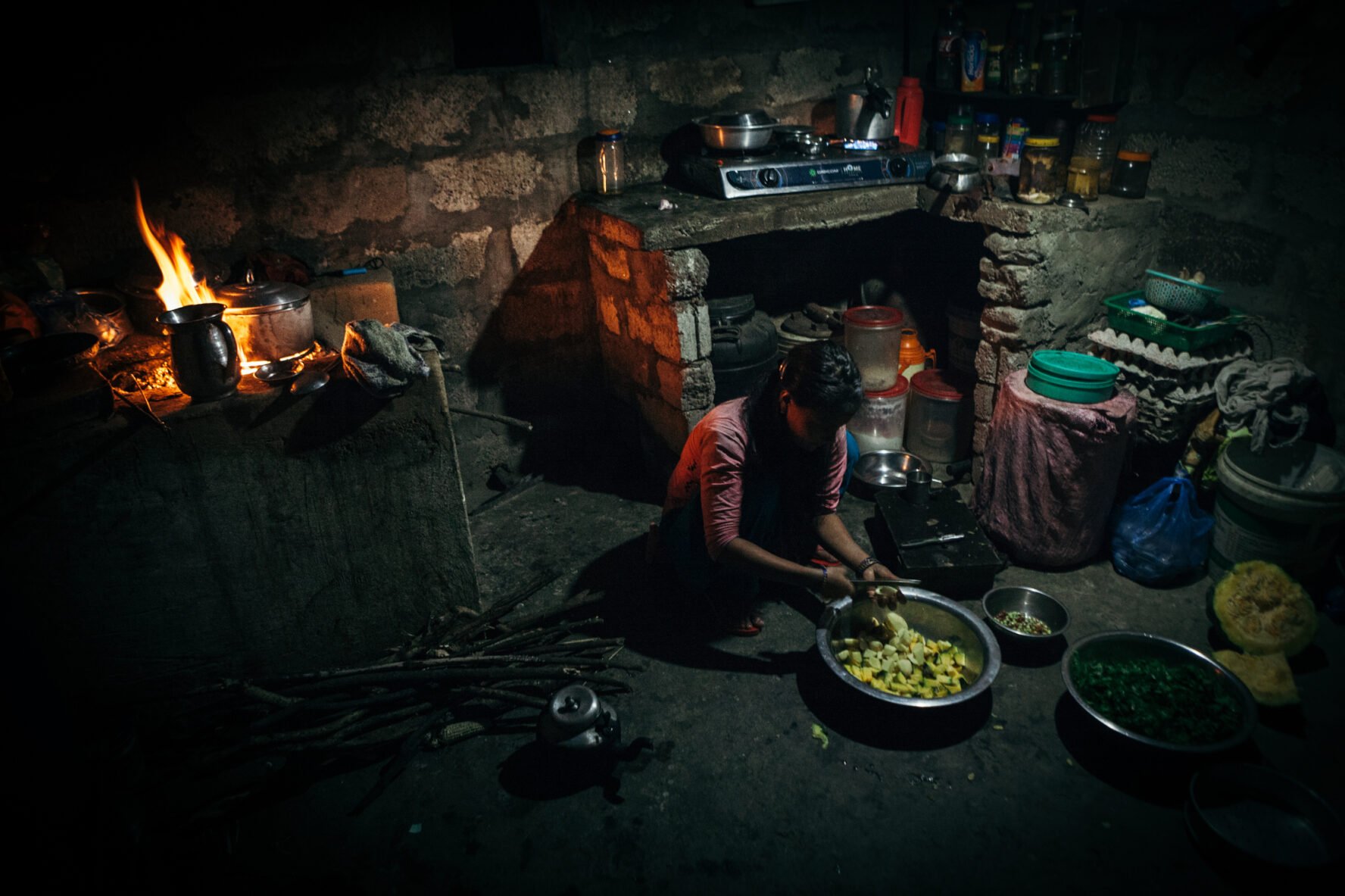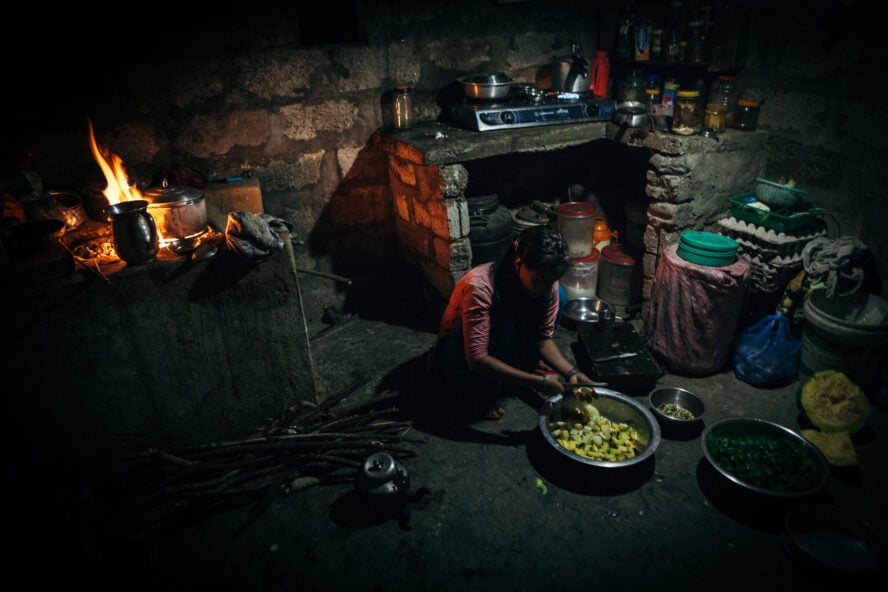 Nepal is a pluralistic society where different religions coexist peacefully and foreigners are welcomed with open arms. During your trip you might see religious rituals and practices not common in the West, but as long as you're respectful towards their culture, the Nepalese will treat you well. In our experience, unlike the big villages featured in guidebooks where the locals are used to tourists and can be indifferent towards guests, the people in smaller villages are extremely friendly. It's impossible not to fall in love with the Nepalese when you experience their generous hospitality, warm smiles and, most of all, their great cuisine. Seriously, they're the best cooks I've met in my life.
Hiking the Annapurna Circuit Trek
Now that I've given a bit of background of myself and the area, it's time to get into the Annapurna Trek itself. How long does it take to hike the Annapurna Circuit? I recommend blocking off three weeks to experience this hike fully. It can be done in as short as 15 days, but I feel this is too short to fully experience this magical place. With Amarok Adventures, my guiding company, this is how we lay out our 20-day Annapurna Circuit itinerary: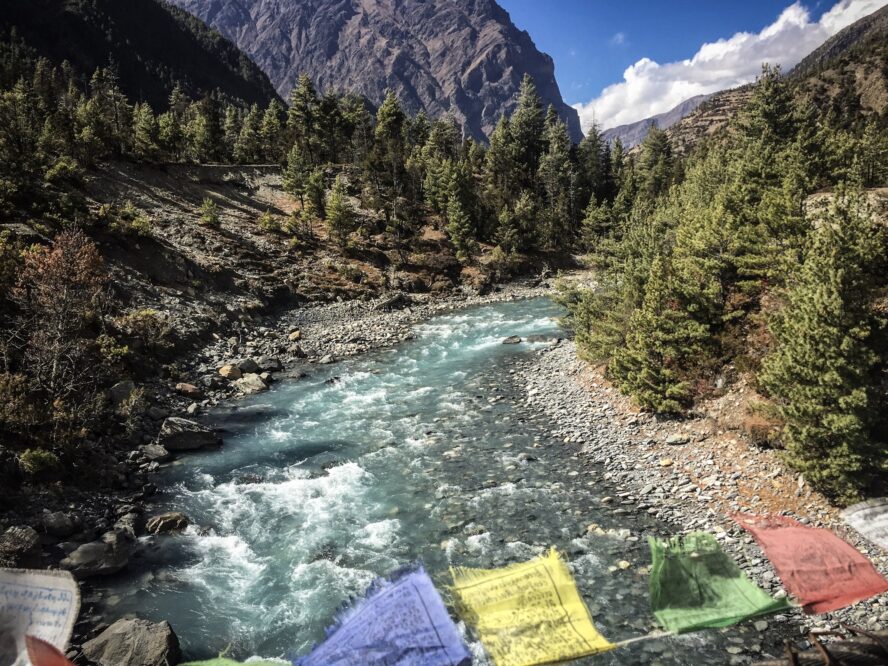 Days 1-5: Getting started on the hiking journey of a lifetime
For guests that hike with us, they arrive at Tribhuvan International Airport in Kathmandu, and we will provide transportation to a hotel in the city center. Once the entire group gathers, we have dinner together and discuss the details of our trip. This gives us the chance to get to know each other and make sure everyone's suitably prepared for the trek ahead.
Afterwards we have a day off to manage our permits, stock up on any additional gear we might need, and freely explore the vibrant city of Kathmandu. On the third day, a local bus will take us to Besisahar, where our trek will begin at an elevation of around 1000 meters. From here, it's a short ride to Ngadi where you start ascending to Bahundanda. You'll get to experience Nepal's jungle landscape firsthand before crossing the Marsyangdi River on one of the region's famous suspension bridges.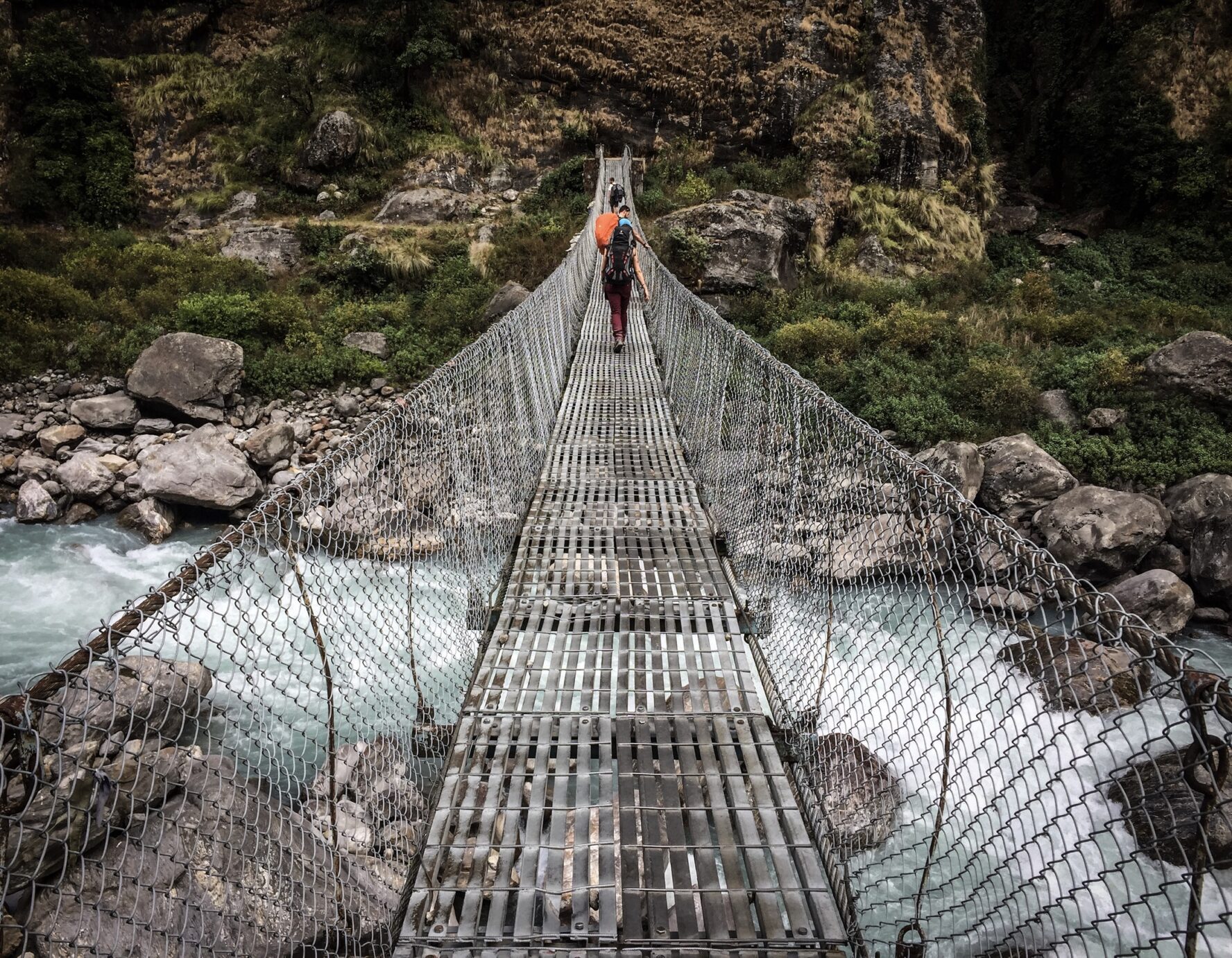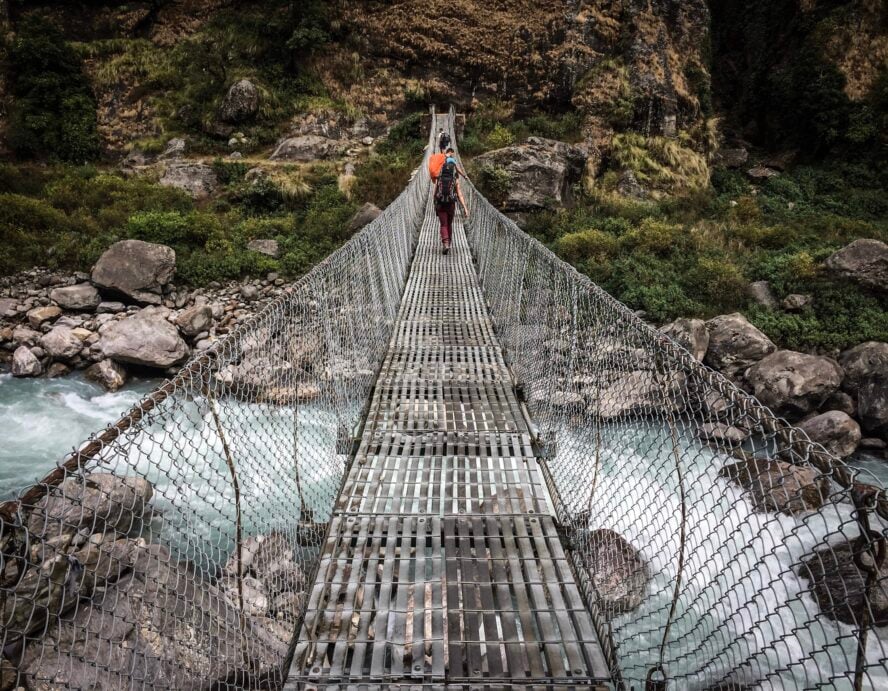 Following the route up a steep slope you'll pass through the villages of Jagat and Syange, continuing on to the village of Tal, located in an enormous glacial valley. The Tibetan symbology begins to appear along the way in the form of colorful prayer flags. On the fifth day, we eventually reach the small terraced town of Koto.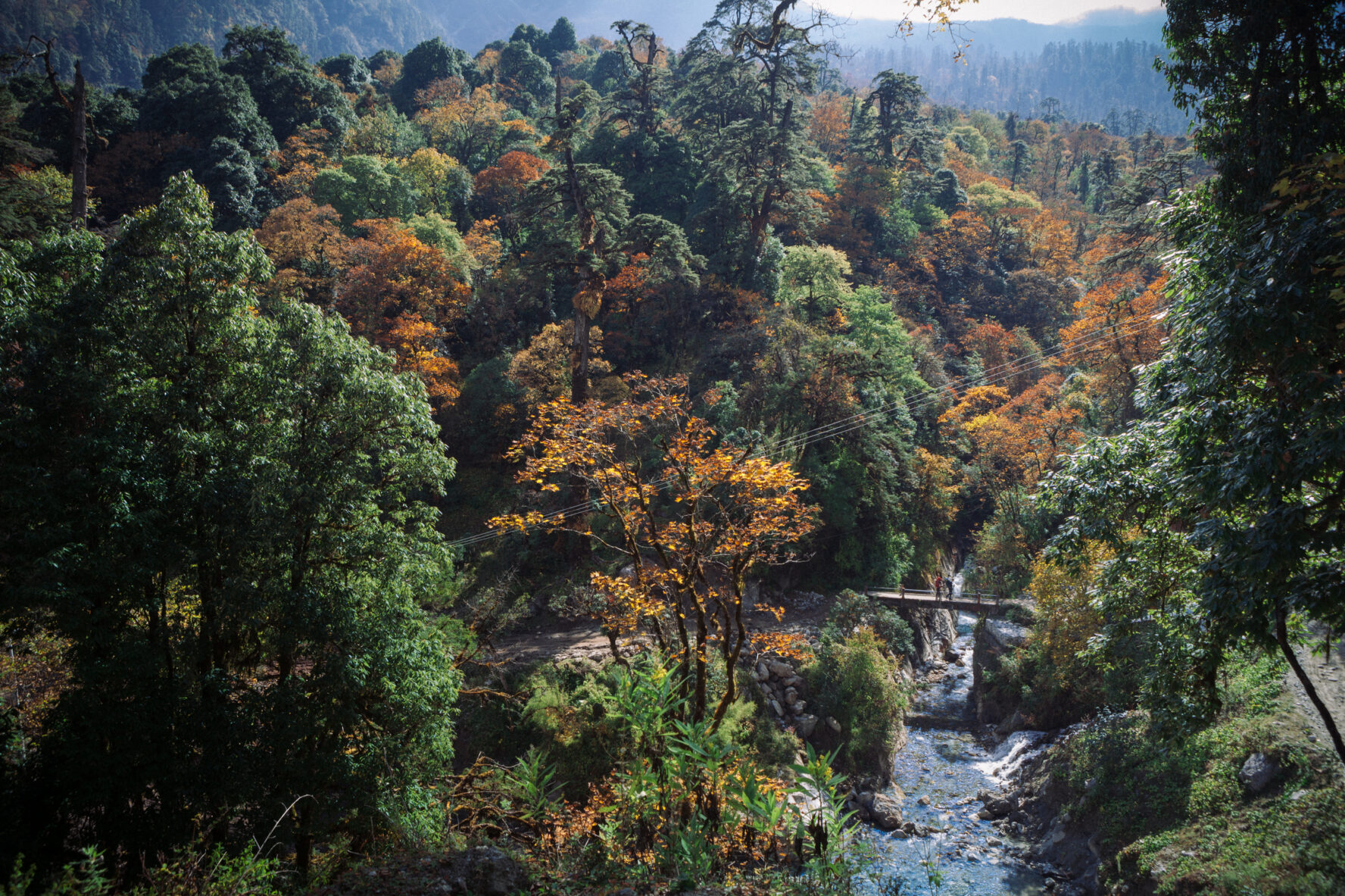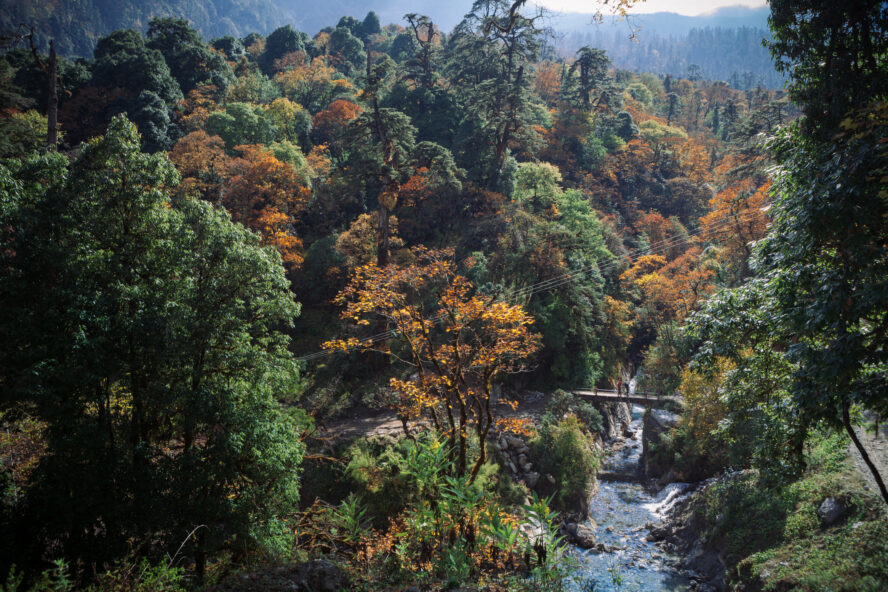 Days 6-9: Crowd-free hikes through charming mountain villages
Starting from the sixth day, the tall pine forest around us will slowly start to give way to low bushes before turning into a pure alpine environment as the road takes us to an elevation of 3000 meters. This is when we take it down a gear to give our bodies enough time to acclimatize. Spending the night in the beautiful village of Upper Pisang is a delight. Located at the the bottom of Annapurna II and Gangapurna, it's beauty is incredible. There's a free afternoon here, and a school nearby with a playground where we sometimes try playing football with the locals at an impossible elevation.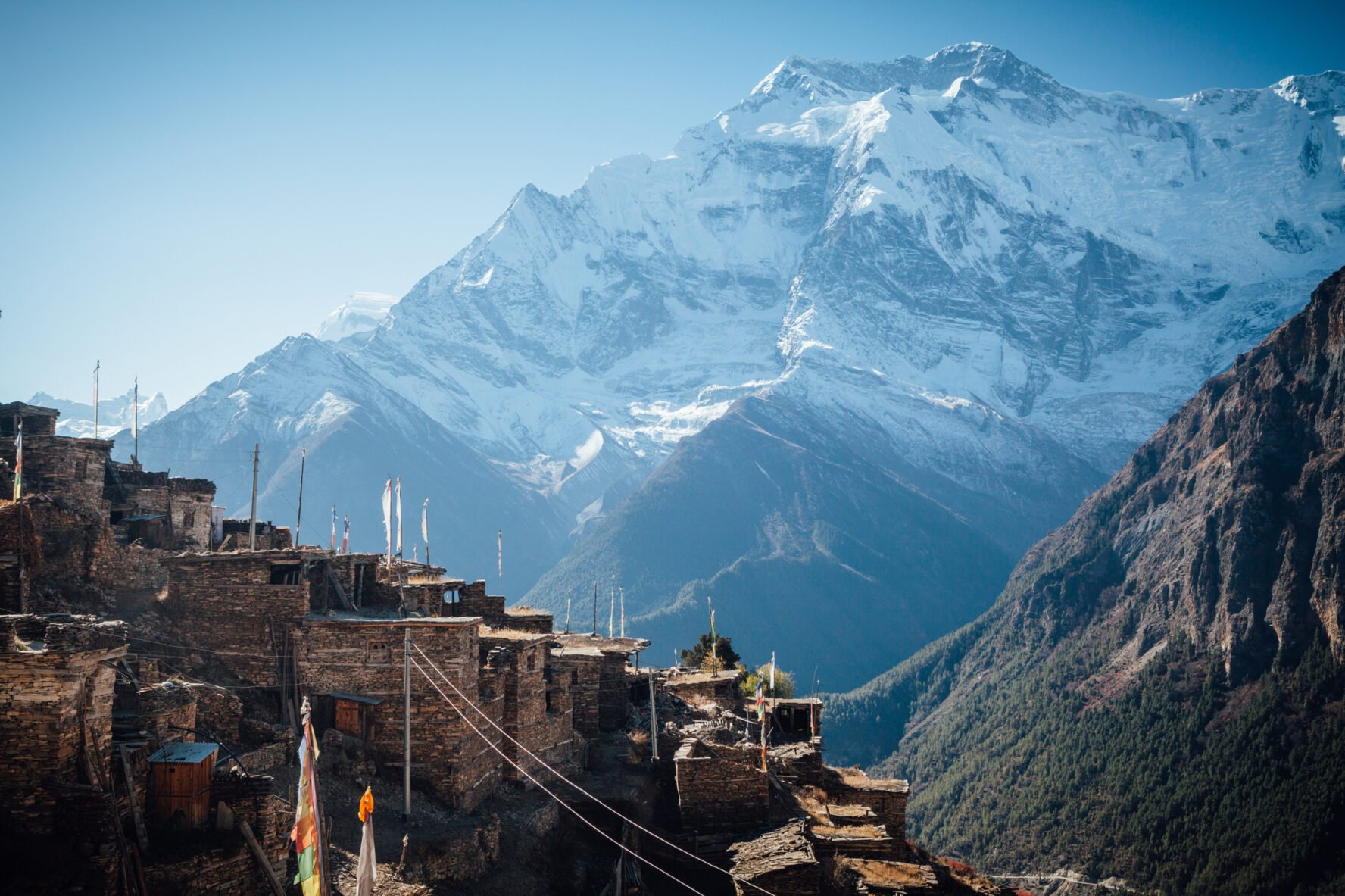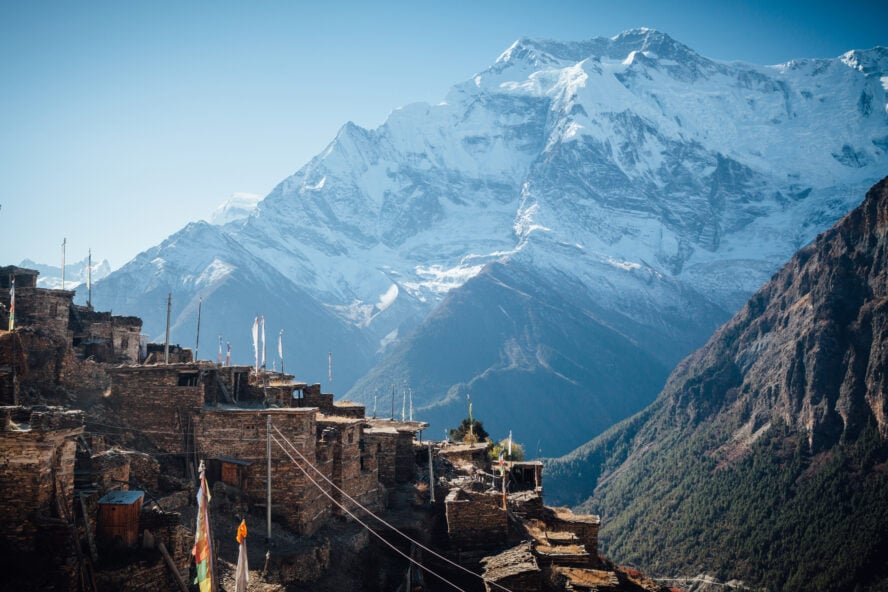 At the beginning of the next day, you will have an excellent view of the Manang Valley and Tilicho Peak (7,132 m) as you follow a comfortable road without large slopes towards the sunny town of Manang, famous for the yak herds you can find strolling the streets. We get the rest of the afternoon on this day to enjoy Manang.
The following days feature shorter hikes and plenty of rest time in between to avoid altitude sickness. Many people will spend an acclimatization day in Manang, but since we do that from the first day, we continue hiking, but just a short distance of three kilometers. If circumstances permit, I'll take my guests to Gunsang, a tiny village with only two houses, where we can enjoy the solitude and peace of the area. From there, we'll continue on, avoiding the bustle of Yak Kharka, which is always full of trekkers, until arriving at the small town of Ledar.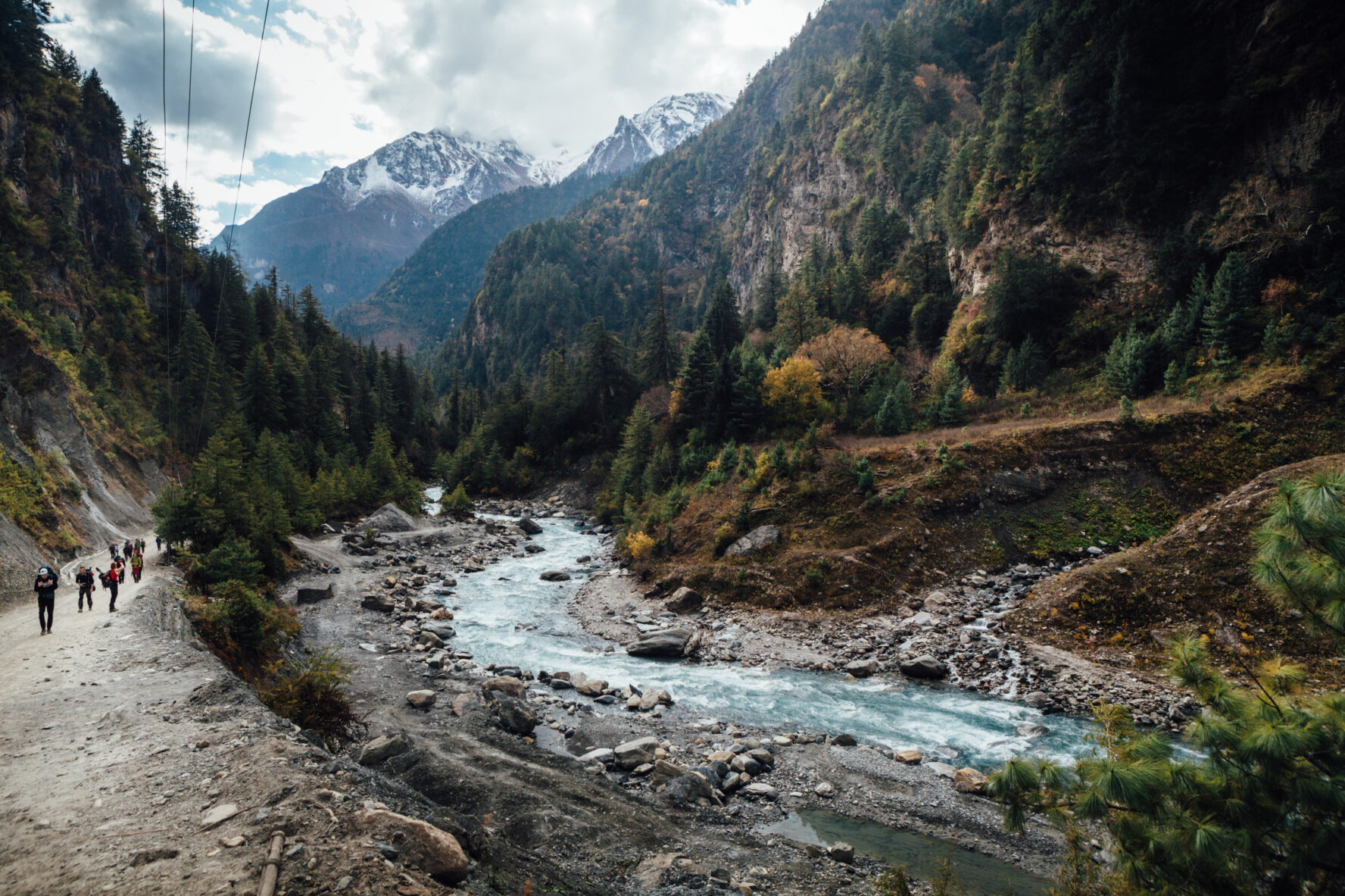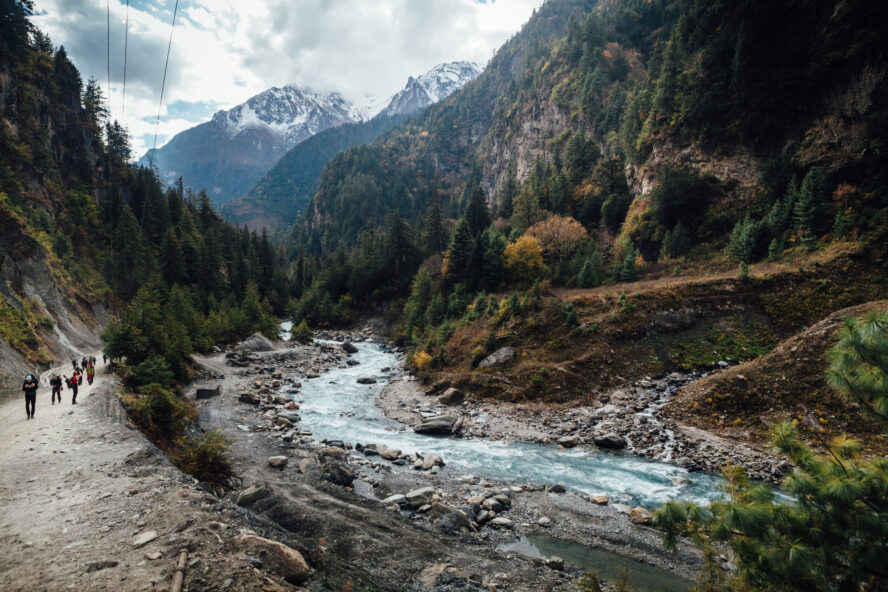 Days 10-12: Reaching the highest point of the Annapurna Circuit
On the tenth day we depart for Thorong Phedi Camp at the bottom of Thorung La, where we get some good rest before making our final, toughest ascent of the trek. This night, we stay in High Camp, at approximately 4,000 meters.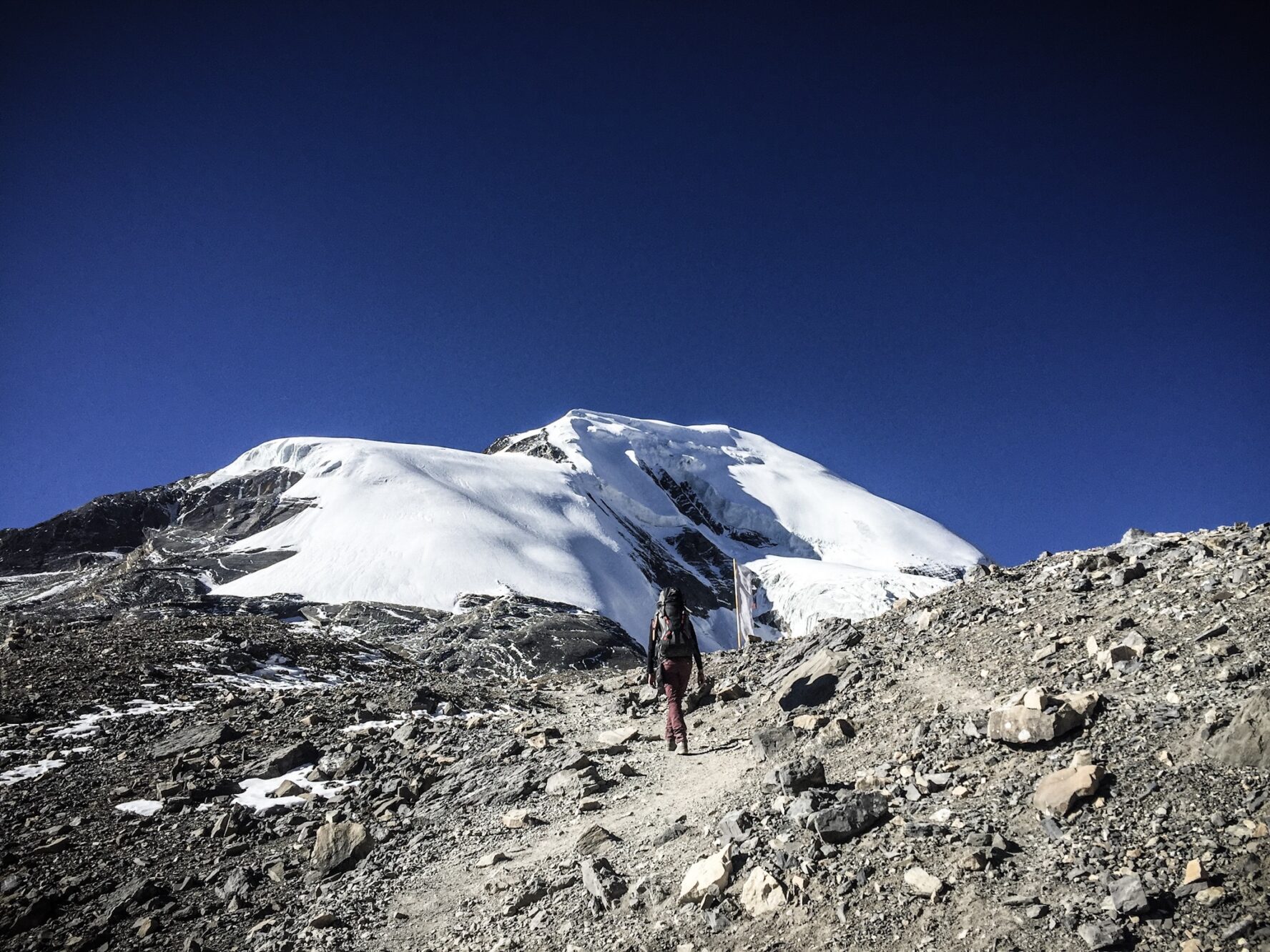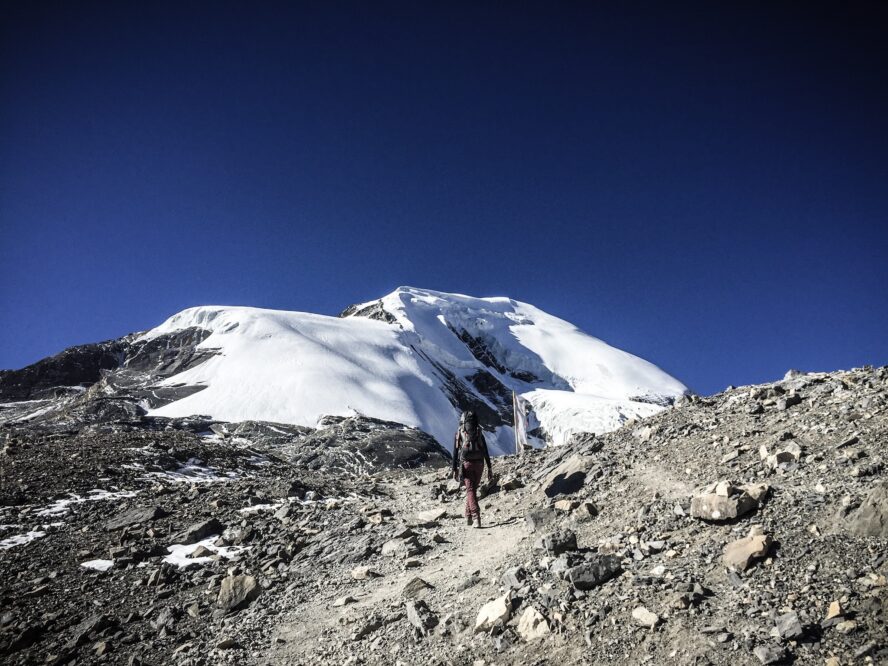 On the eleventh day, we're up bright and early, ready to make the three-hour hike to reach Thorung La, the highest point and highlight of the entire circuit. The indescribable beauty of Annapurna is one of the greatest gifts of the natural world. Taking in the breathtaking scenery around you, you'll realize that it was all worth the effort. After crossing the Thorung La Pass at 5,416 meters, we descend to Muktinath, a temple sacred to both Hindus and Buddhists, and one of the most important Buddhist pilgrimage centers in Nepal.
On the twelfth day, we proceed to the village of Kagbeni, the gateway to the Kingdom of Mustang, a famous historical site and one of the most beautiful cities I've ever seen. Many travellers avoid going through Kagbeni in order to arrive in Jomsom as soon as possible. However, I think this is a mistake because this one of the most beautiful cities of this entire trekking adventure, and it is not to be missed! We spend the night in Kagbeni before the last stretch of the trek.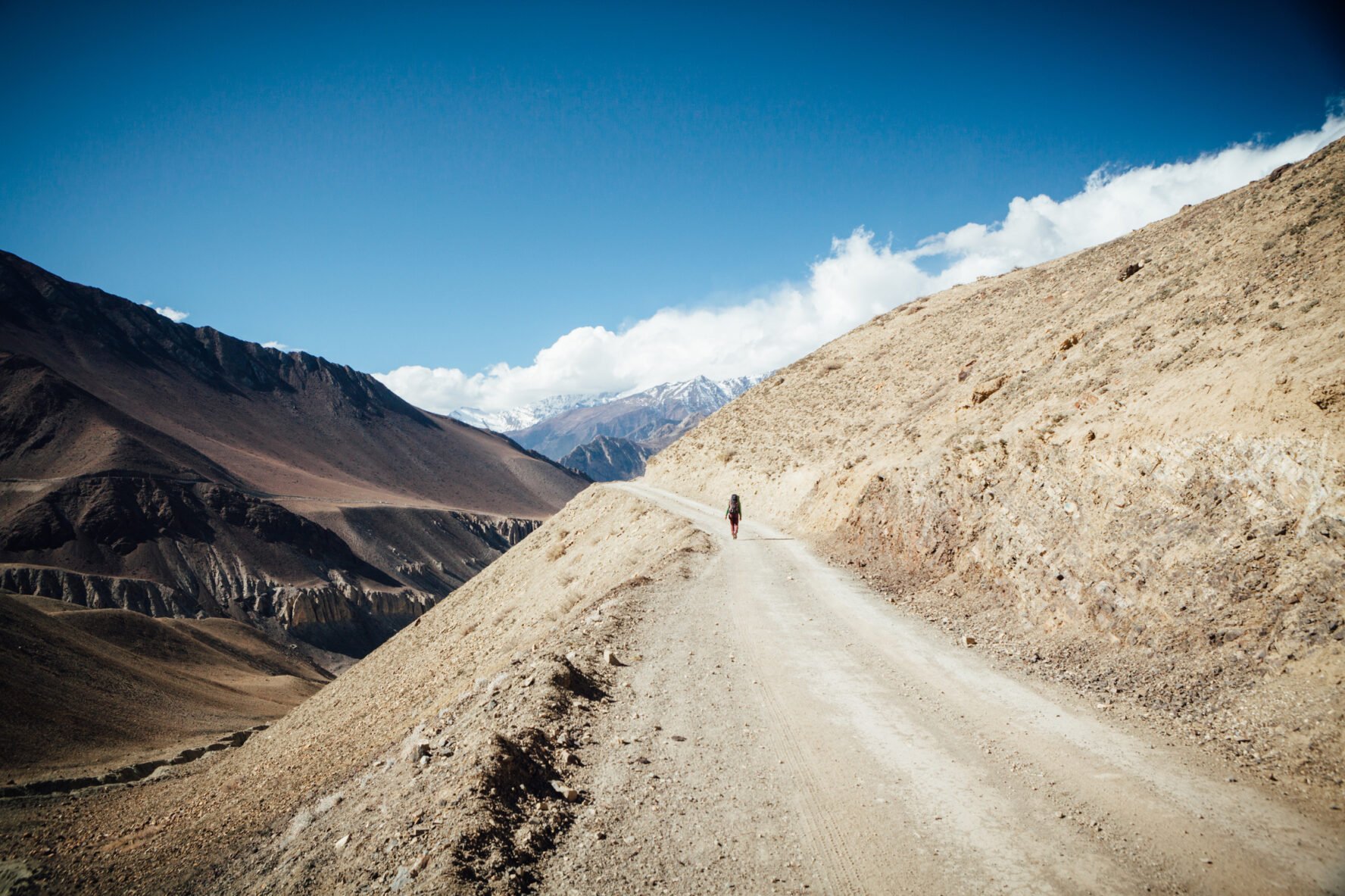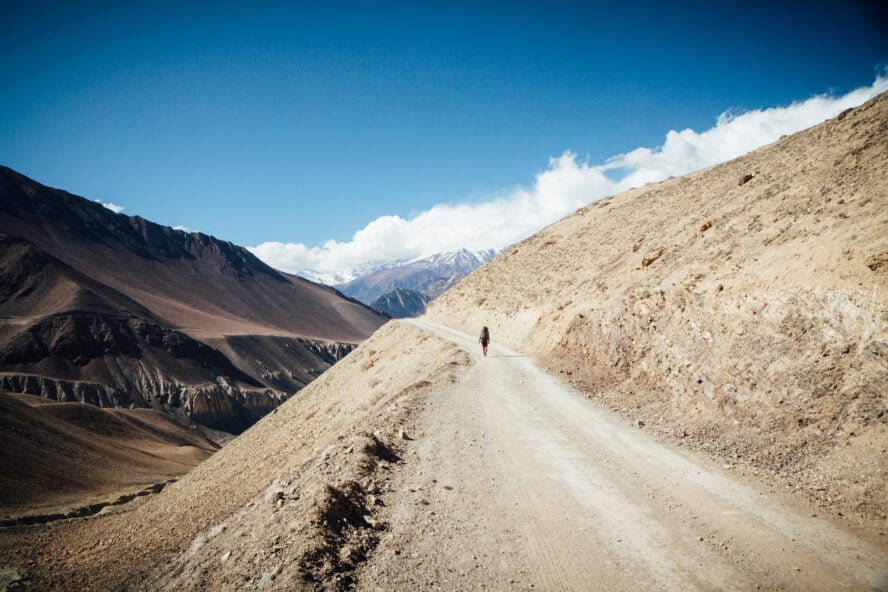 Days 13-17: The Kathmandu Valley holds centuries of fascinating history
On day thirteen, we make a short hike to Jomsom, the chaotic commercial hub of the district where merchants and government officials rub shoulders with the locals. Here, it's always nice to enjoy the view over the great Kali Gandaki River, which crosses the ancient Kingdom of Mustang, and was forbidden to foreigners until 1992. The next day an internal flight will take us to Pokhara, a famous relaxing station situated on Phewa Lake. Having spent the day under the watchful eye of Annapurna and Dhaulagiri, we leave for Kathmandu by morning bus.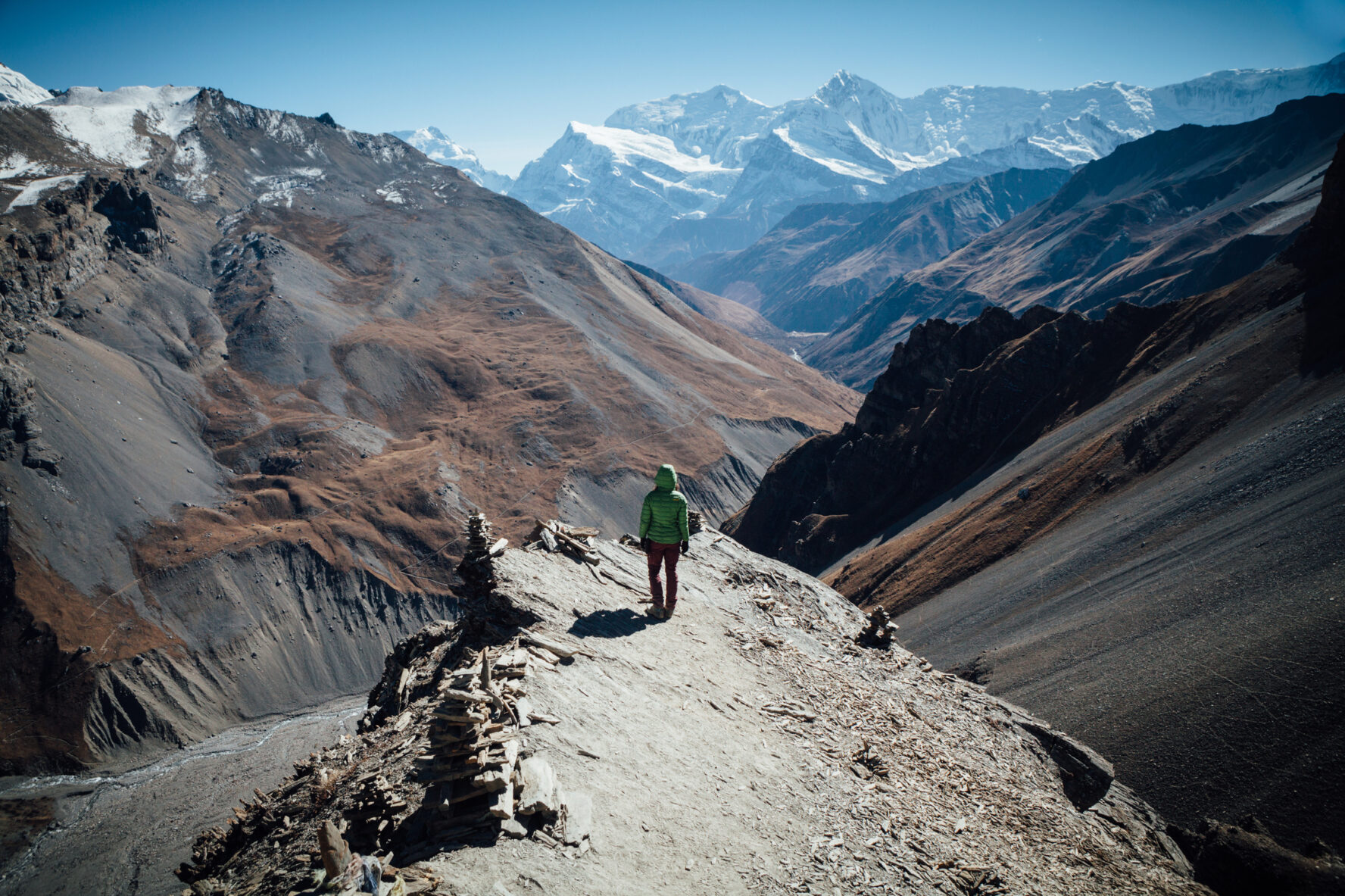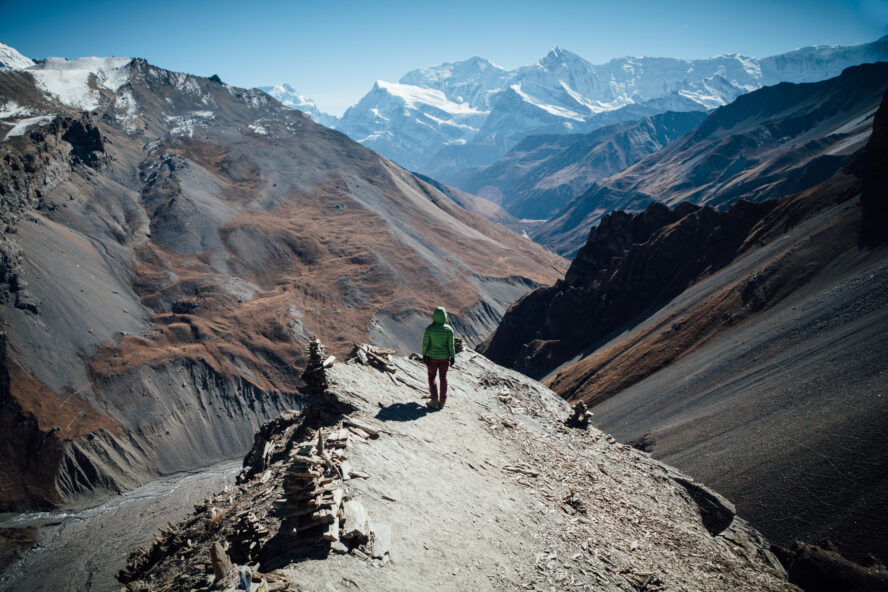 The last week of our trip is devoted to sightseeing in the Kathmandu Valley. We'll visit the ancient city of Bhaktapur, located 13 kilometers from Kathmandu. Once the capital of the great Malla Kingdom, (in the 18th century, King Shah unified Kathmandu, Patan and Bhaktapur, making Kathmandu the capital), today it is a UNESCO World Heritage Site famous for its architecture and handcrafts, although many of its medieval buildings were destroyed by the 2015 earthquake.
Next up, we travel to Patan, Nepal's third largest city, also known for its rich cultural heritage. The city is adorned with carved statues, fine art and is the site of large festivals. I love walking here and experiencing its streets of temples and stupas dedicated to the Hindu deities, and seeing the architecture of the Durbar Square, the jewel of the Newari culture of the Kathmandu Valley.
Days 18-20: Revisiting the capital for our final goodbye
Now it's time to turn our sights back to Kathmandu. Having experienced the Annapurna Circuit Trek and Nepal's diverse culture, we can explore the city once again with fresh eyes, feel its accelerated heartbeat, the movement of the bustling crowds flooding the pavement, the rhythm of the city's dusty streets and the noise of continuous traffic that flows out from every street corner. It's a city brimming with life. Getting lost in its labyrinthine alleys filled with shops and stores is a joy. We especially recommend visiting the Thamel neighborhood for a nice cup of coffee or a pint of cold Gorkha beer or Everest beer (my favorites!). Then, on the 20th day, it's time to say goodbye to Kathmandu and to Nepal. Our 20-day adventure has taken us through the heart of this beautiful country and filled our minds and souls with wonder. Leaving the spectacular landscape behind us, we return to the airport.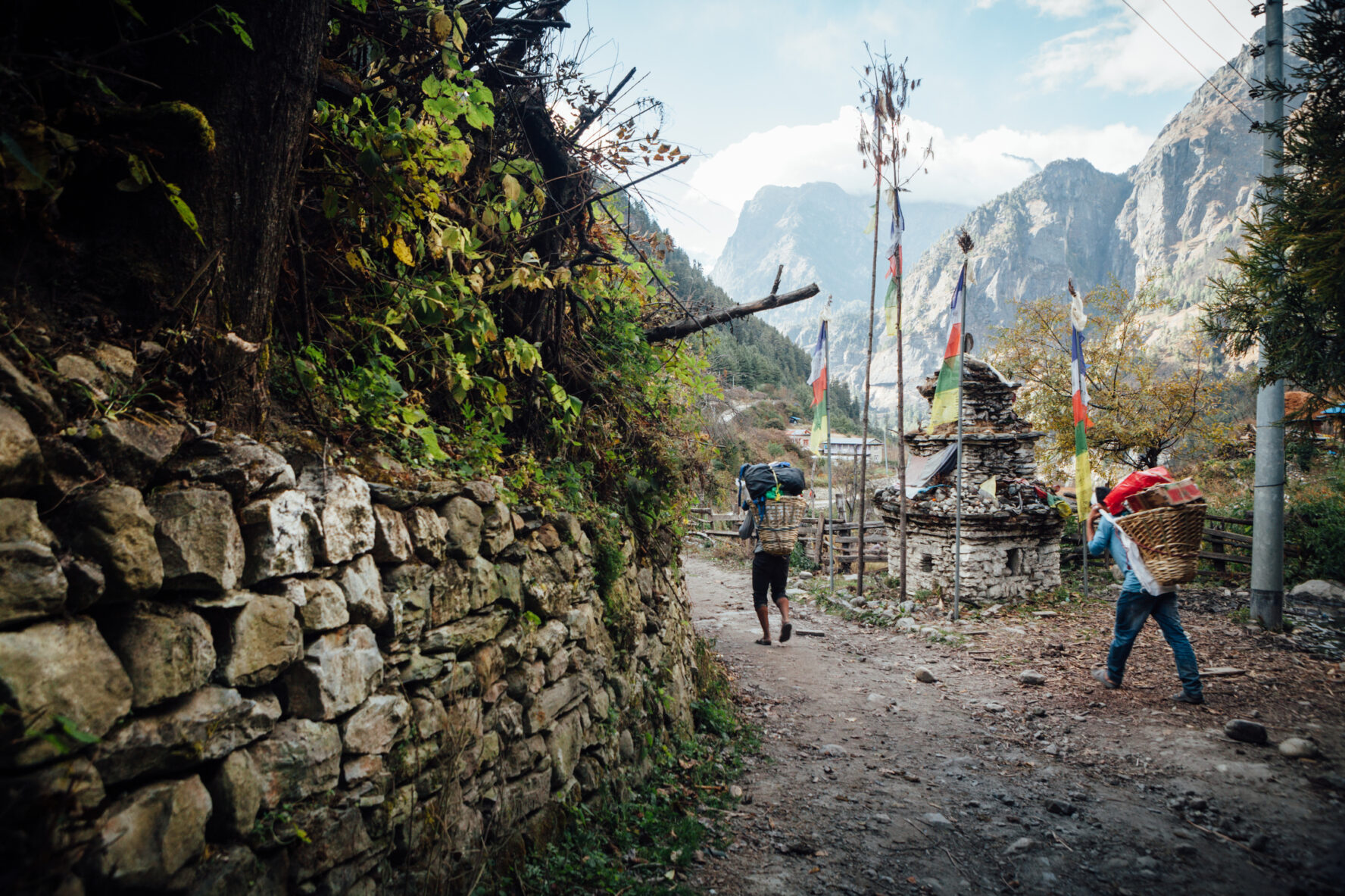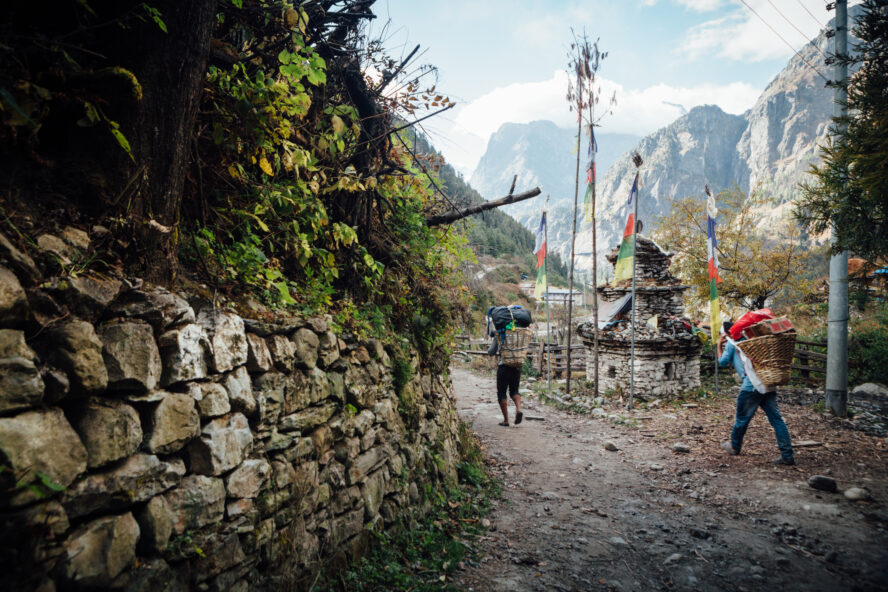 Helpful Info for Planning Your Annapurna Circuit Trek
Now that you know what's in store for you on this three-week adventure, here's some info that will make planning your trip easier. From permits to gear, fitness level to the optimal season, here's what you need to know: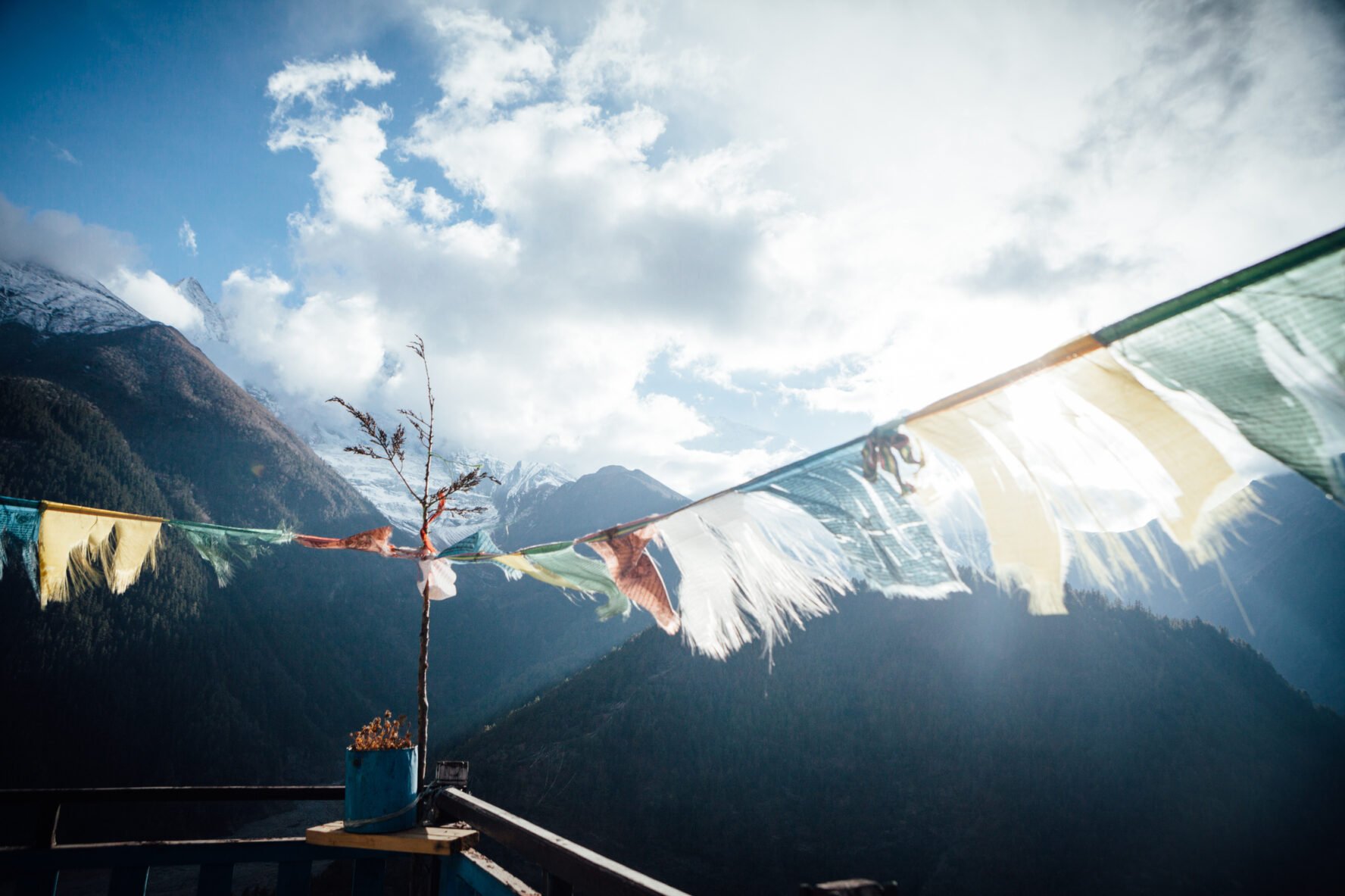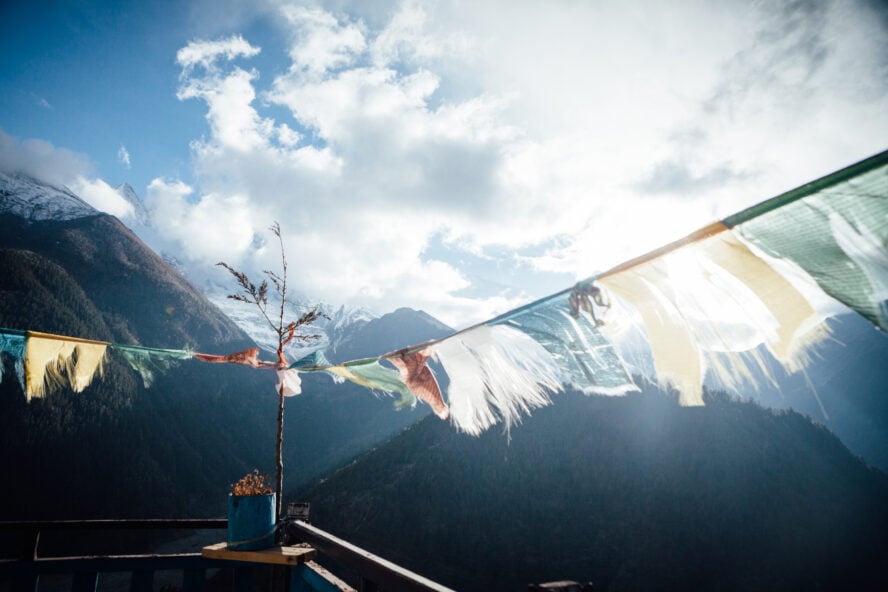 Despite its reputation, any hiker can tackle the Annapurna Circuit Trek
On our first trip to Nepal, during one the most difficult stages of the trek, we met these trail runners who just breezed past us like it was a light jog. We arrived at the teahouse three hours after them. The following day we continued our ascent, while they were so incredibly exhausted that they dropped out and had to hike back down. Not even drinking copious amounts of black mountain tea, which is said to relieve high-altitude fatigue, could help them in the end. The thing with altitude sickness is that, once it happens, you have no choice but to return.
We normally hike six to seven hours a day, but after passing the altitude of 3000 meters we take it easy. Slow and steady is the way to go on the Annapurnas Circuit. We adjust to the elevation at every checkpoint and pay close attention to our physical condition. Do bear in mind that you cannot prepare for the altitude beforehand, so there's no need to come to Nepal before the rest of the group. As for the required level of fitness, it's best if you're used to hiking in the mountains, but even those without much experience can handle the challenge if they're in great shape.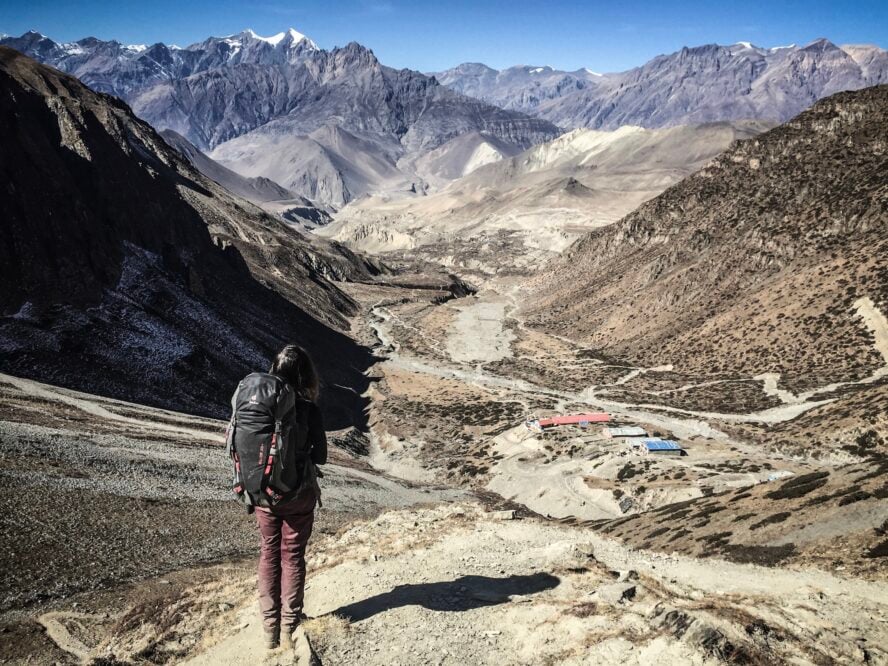 When should I go to the Annapurna Circuit?
When does the Annapurna hiking season start? I consider the two-month period between October and November to be the best time for hiking the Annapurna Circuit Trek. People usually want to come in the summertime, but that's when the rainy season starts in Nepal. Dry season is in fall, and there's a lot of sunny days with clear blue skies. Very occasionally, there will be light storms that pass quickly. During the day temperatures can rise to 15°C, while nights can get unbearably cold. The second most popular time for hiking is April, which is when the rhododendron — Nepal's national flower — blooms, covering the landscape with stunning blankets of pink and magenta.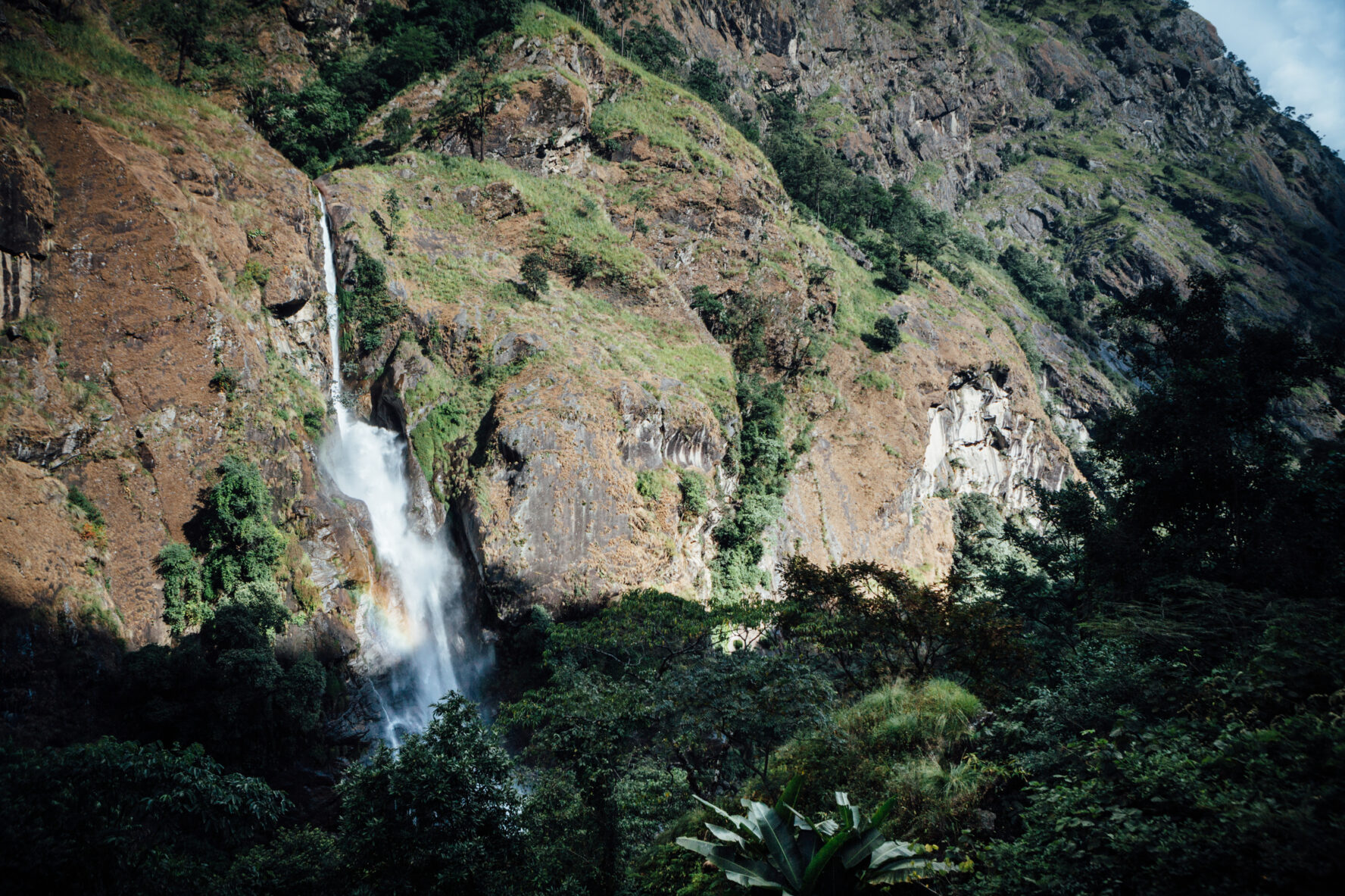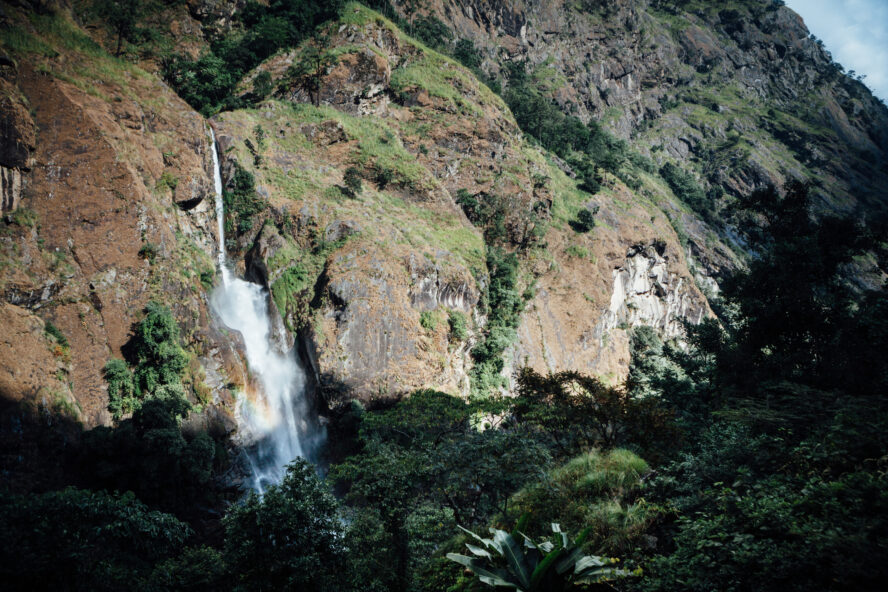 Annapurna Circuit accommodations
When we lead hiking groups on the Annapurna Circuit, we always stay in local accommodations such as guesthouses and teahouses, in twin rooms with shared bathrooms. Not all of these accommodations have heating, some have electricity and others have hot water. We use sleeping bags on the beds of guesthouses and teahouses, and hardly any of them have pillows, so I always recommend that people bring their own.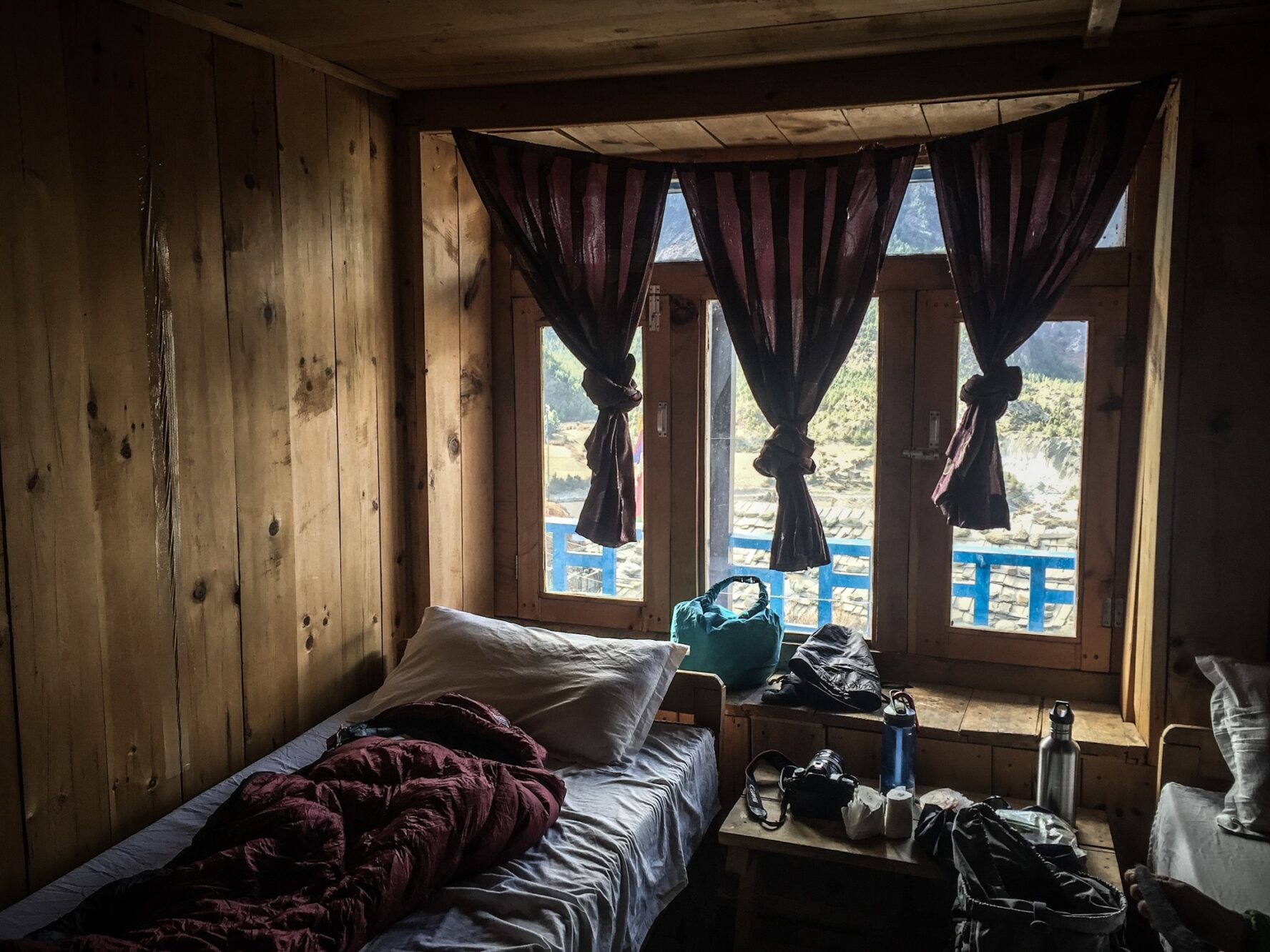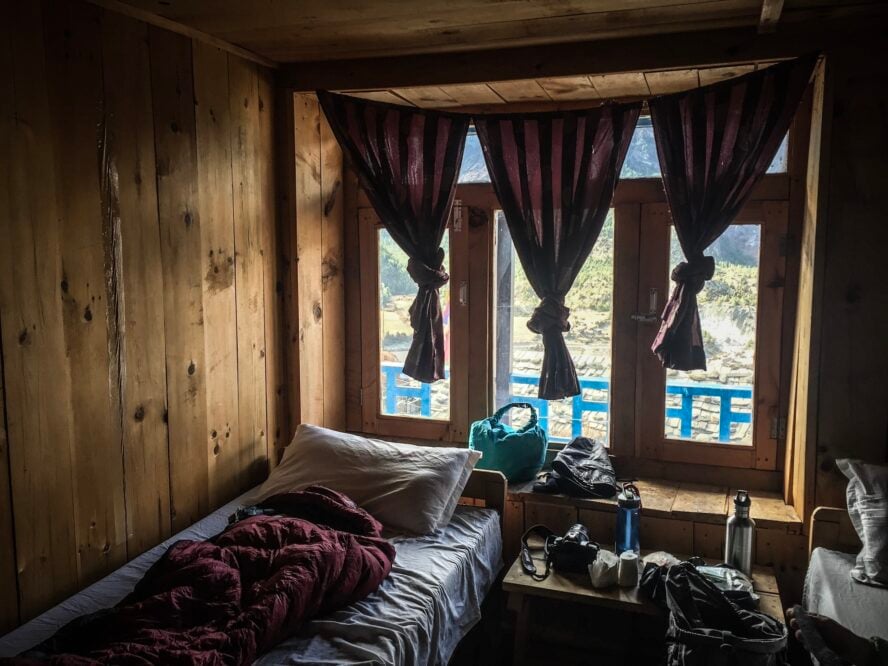 What do you need for the Annapurna Circuit?
I recommend packing light and smart; be minimalist. This is not a very technically advanced trail nor does it require speed. Endurance is key, so be slow, be safe and enjoy the landscape. It is essential to have a good sleeping bag rated to at least a temperature of -10℃. If you don't have the space in your luggage for a sleeping bag, we work with a local shop in Kathmandu that makes their own extremely high-quality sleeping bags for just a fraction of the price than most. Even now, for my trips in Iceland, I use the same sleeping bag I got in Nepal years ago. Buying the most expensive gear is not necessary, but make sure that at least your boots are comfortable and well-made.
There are a lot of stores in Kathmandu with seemingly identical equipment, but wildly varying prices. It's not until night falls on the mountain and you decide to get some sleep in your new sleeping bag advertised as suitable for -20°C that you find out it's actually useless. That's why we always steer our guests to the same friendly, affordable gear store with a proven record of selling only high-quality equipment.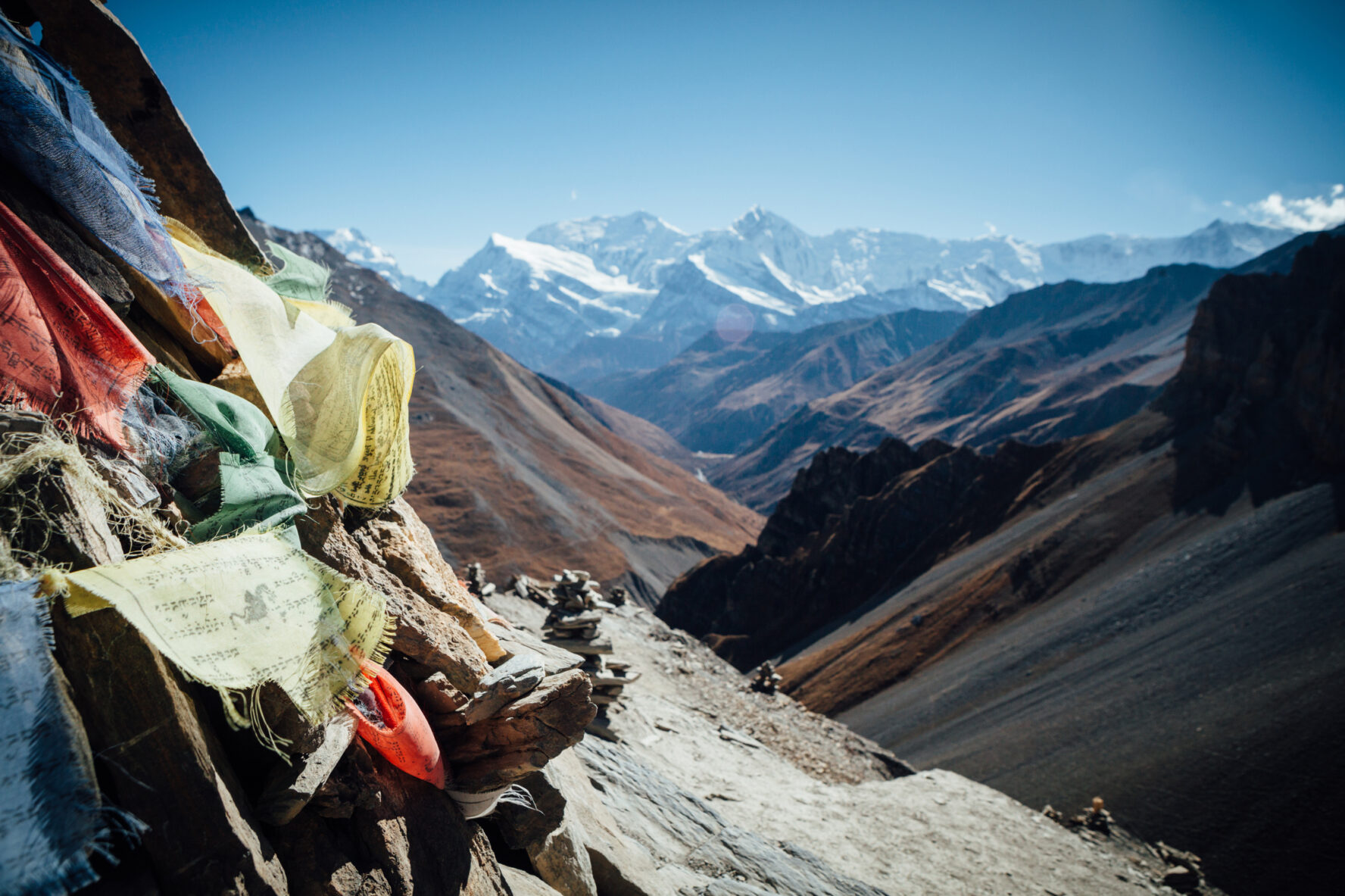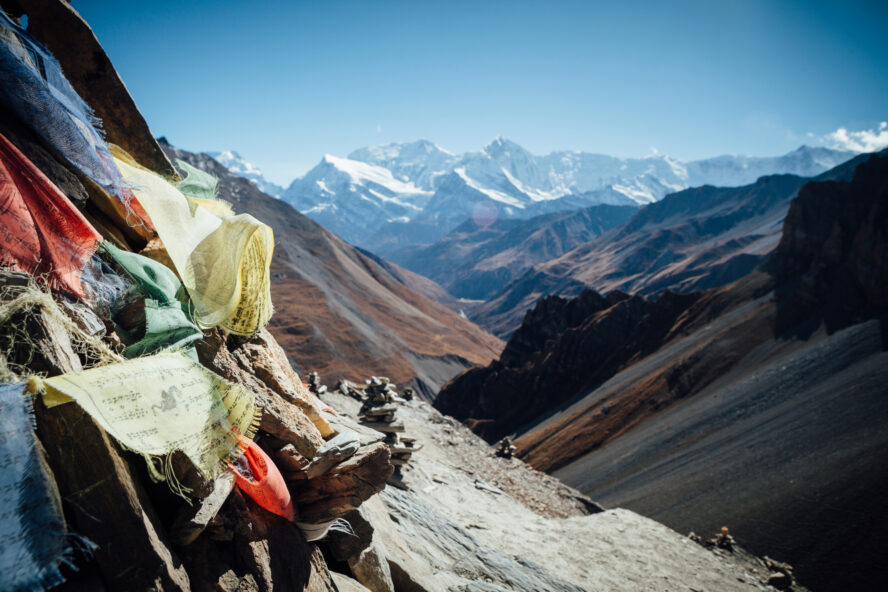 The permits you need for the Annapurna Circuit
As far as permits go, there are two you need to get. The first one is TIMS (Trekkers' Information Management System), which is about $20. To apply for a TIMS card, you need to bring your passport and two photographs. You can get these anywhere in Kathmandu for a couple hundred rupees. The other permit is the ACAP, which will cost you around $25. It's a national park permit for the Annapurna Conservation Area. You can apply for both of these trekking permits at the Nepal Tourism Board, located in Pradarshani Marg, and they'll be ready in just a couple of hours. There are checkpoints in every village where everyone has to show their papers, so having your permits in order is a must.
Do you need a guide for the Annapurna Circuit Trek?
Can you do Annapurna Circuit on your own? Sure, with a lot of planning and some physical fitness, most people can handle the difficulty level of this hike. But, with a guided Annapurna Circuit hiking tour, the experience is so much more rich. You'll get immersed in the culture, avoid the crowds, and have a better all-around time. And, you don't have to take care of all the pesky details. It's also important to note that at Amarok, we always work together with a local Nepalese person as the main guide apart from myself or Mónica. We have been working with him for several years and he's the most friendly, lovely and amazing person you will meet in Nepal, and his knowledge and wisdom are invaluable. Having the opportunity to connect and learn from him makes the experience all the more rewarding.
Interested in a guided tour of the Annapurna Circuit? Check out what's included in this 20-day adventure.