Pictured Rocks | Michigan
Kayaking in Pictured Rocks National Lakeshore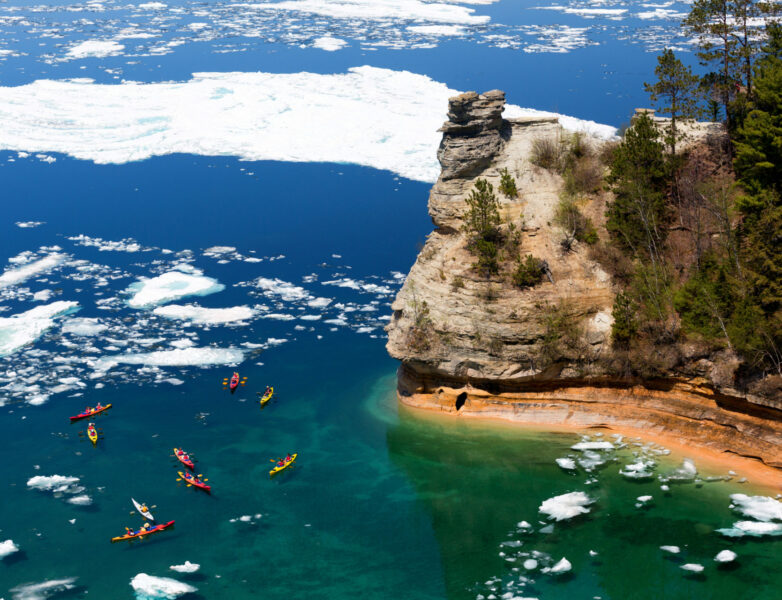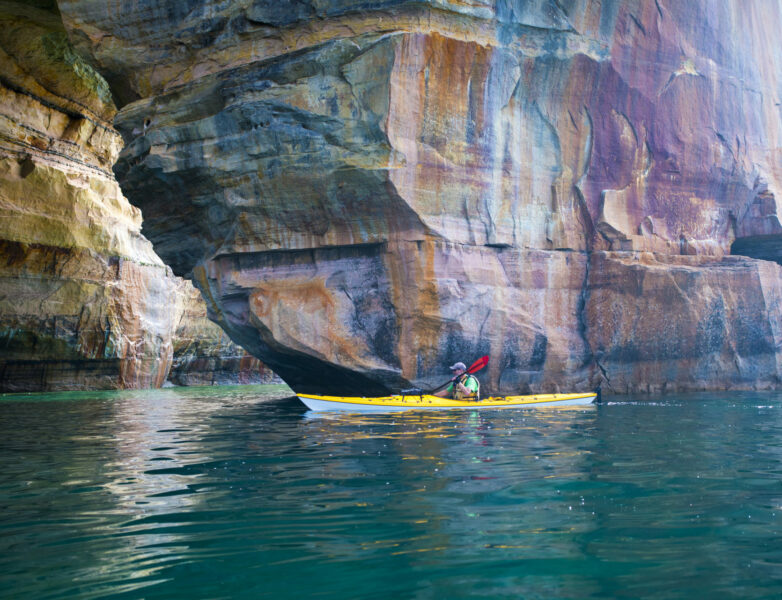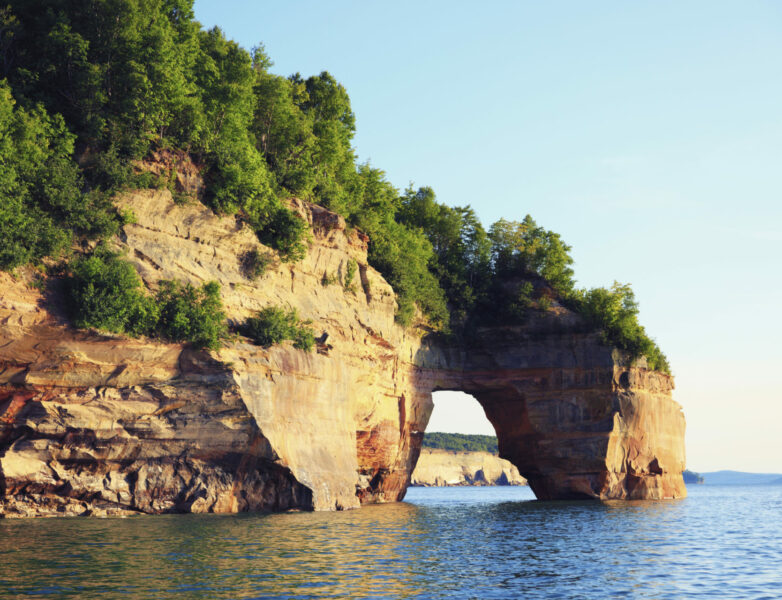 Season

Mid-May through the end of September

Nearest city

Marquette, MI, is an hour away by car
There's way more to Lake Superior than its namesake hiking trail
Tucked away on Michigan's Upper Peninsula on the southern shore of Lake Superior is Pictured Rocks National Lakeshore. The lakeshore gets its name from its 15 miles of colorful sandstone. Some of the cliffs comprising the shoreline are up to 60ft tall. In addition to vibrant colors of the cliffs, the area showcases a variety of geological features such as shallow caves, stony archways, human-like stone formations, and even rock-worn, castle-like turrets. There's no better way to take in the seashore and see the cliffs' beauty than by kayaking on Lake Superior's crystal-clear water! So, grab your paddle, hire a guide, and discover a hidden gem on Michigan's UP.
Our favorite kayaking tours in Pictured Rocks
Evening Guided Kayak Tour
$140 per person
·
4 hours
See the beauty of Pictured Rocks as you kayak on Lake Superior at dusk. The golden hour shines magnificent light on the rocks and water, guaranteeing countless photo-ops. No experience necessary, so all levels of kayakers are welcome.
With tandem kayaks as your sea-worthy vessels and an included offshore launch, get the most out of your kayaking experience. Morning or afternoon tours are available, and no prior kayaking experience is necessary. You'll learn all you need to know before you embark on your tour.
Things you need to know
When is the best time to go?
Mid-May through the end of September is the best time for kayaking on the Upper Peninsula. The UP can be kayaked in spring, but colder weather means colder water and further precautions must be made.
What's a typical itinerary?
Tour days start with meeting at the location of the selected guiding service and going through a brief lesson on safety and paddling techniques.
What about group sizes?
Group sizes are usually between 1 – 24 people, paired in two-person (tandem) kayaks.
What about bad weather?
Inclement weather can always get in the way of kayaking, but your guiding service will always make the right call whether to paddle or not.
Getting there
Getting to Pictured Rocks takes a little effort, but you'll find the journey to the Upper Peninsula scenic and lush with its surroundings. The Lakeshore is between the towns of Grand Marais and Munising. The closest airport is Marquette (MQT) which is a 44-mile drive from Munising.
Don't let Mosquito Beach deter you from a great day of kayaking!
Most tours begin at the sandy and breathtaking Miner's Beach, just outside of Munising. Paddling due east will take you to the stunning Bridal Veil Falls and then, after about 3 miles of paddling, kayakers will arrive at Mosquito Beach — it's not overrun with the bugs, despite its name. It's a great place to have lunch and take in the shoreline's panoramic views. From there, adventurers can discover the caves of the Bloody Chiefs, see the shipwreck of the Superior, and have a photo-op at the picture-perfect stone arch, Lover's Leap.