Tom covered:
The boreal landscapes of Manitoba and northern Saskatchewan
Getting to the rivers—an adventure in and of itself
Why you'll need a guide for your wild canoeing trip
What to pack and how to prepare
How experienced and fit you need to be
Few things go together as perfectly as Canada and canoeing. If you've ever dipped your toes into the world of paddling, you've heard all about the wondrous water trails of Ontario or the riotous rapids of Nahanni—and the crowds that flock to them.
But IFMGA Guide and canoeing instructor Tom Wolfe finds that the very best paddling is found elsewhere, on the less-known rivers of the taiga and boreal forests of Saskatchewan and Manitoba.
In this one-hour session, Tom introduces you to the best-kept secrets of Canadian wild canoeing—the Paull, Seal, Hawkrock, and Porcupine rivers. Follow him into the untamed wilderness of the Boreal Shield and find out how to reach these secluded spots for the canoeing adventure of a lifetime.
If you want to know how to take on Canada's pristine maze of shimmering lakes, channels and swift-moving waters, then grab your paddles and launch into Tom's webinar!
Webinar host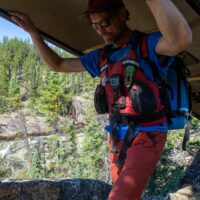 Tom Wolfe
ACMG/IFMGA Mountain Guide and canoeing instructor
Born in Canmore, AB, Tom Wolfe has spent nearly 25 years guiding mountaineering and ski touring trips all over the globe. Following a life-changing paddle down the Hawkrock River with his 14-year-old son, Tom decided to spend his summers away from the mountains, and on the rapids. He has now paddled all over northern Saskatchewan, Alberta, BC, and the USA, and holds Intermediate Tandem Moving Water Instructor and Canoe Camping Leadership certifications from Paddle Canada.