My Favourite Places to Kayak in Florida
Table of Contents
Florida ticks all the boxes on every paddler's checklist: there's pristine water conditions, plenty of locations to paddle, and its diverse flora and abundant, native fauna make it a world-class kayaking heaven.
What makes Florida stand out is that no matter your destination, even if two locations are relatively close to each other, you'll find something geologically different, something special. There's so much clear water paddling that it's hard not to look down into the water and stare at what's below you – there's always plenty of distractions wherever you look. This makes for a kayaking experience to rival the kayaking in Oregon. There are many places you can choose to kayak, but I heartily recommend the locations below, especially if you're looking to reconnect with nature and have a truly unique Florida experience.
Straight outta a Hollywood movie set
Unbelievable wildlife: monkeys, alligators, birds, turtles, manatees
Clear water and no development because its state protected
Not exactly a secret, you can expect other tourists
Don't feed the monkeys, seriously just don't
Located in Silver Springs State Park in Marion County, Silver River has been a tourist attraction since the 1880s. When you kayak on Silver River it looks and feels like you're kayaking on the set of a Hollywood movie. Because you are! Movies like Tarzan and Creature From the Black Lagoon were actually filmed here and Silver River gives out a true jungle vibe.
It's also rich with history, similar to the Rogue River, one of the top spots for kayaking in Oregon.
Because the Silver Springs area is state protected, the surrounding woodland is intact and the river water is clean and translucent – making for surreal kayaking conditions. Adding additional color to this untouched reserve is Silver River's abundant wildlife. Rhesus monkeys were introduced in the area in 1933, and ever since their population has grown. Take note: admire them from afar and do not feed them!. Other than these feral critters there's a wide variety of birds that can be spotted along Silver River and, of course, the area is the natural habitat of alligators. This is Florida after all. Another peculiar animal that's occasionally seen is the manatee, sometimes you'll see groups of them as they make their upstream and inland.
Silver River is my favorite place to tour. Sure, you can say I'm biased because my business, Discovery Kayak Tours, is right around the corner, but it's the most requested tour I get from returning clients. I don't know how many times I've kayaked over its clear waters, but Silver River shows no chance of getting old. Ever.
Kayaking tours in Silver Springs are about 5.5 miles long and they fall under the category of easy to moderate paddling. These tours are much more about enjoying the wildlife and the river itself and disconnecting from the hectic city life.
For camping and logging options, you can stay within Silver Springs State Park territory where you have several options.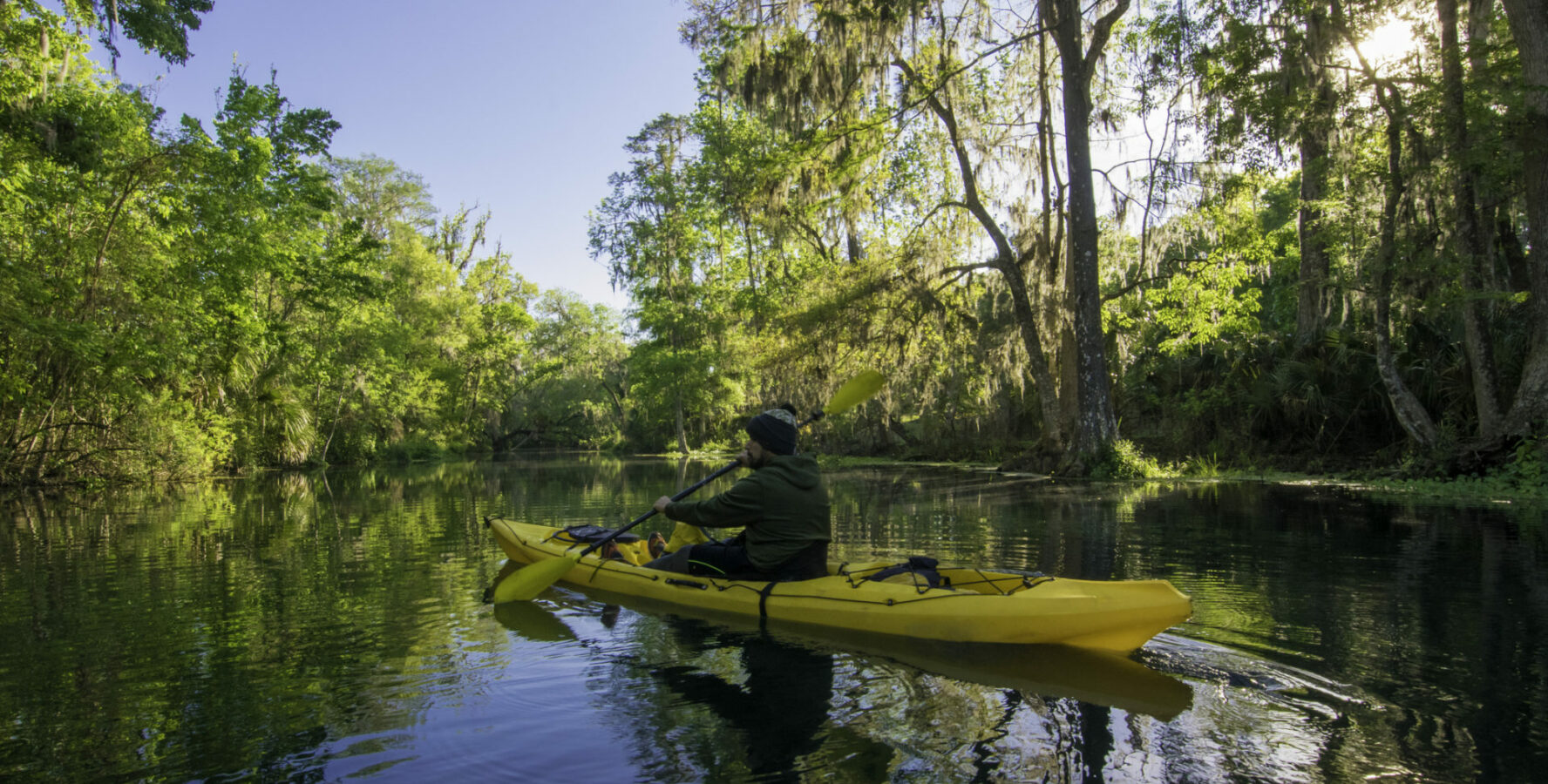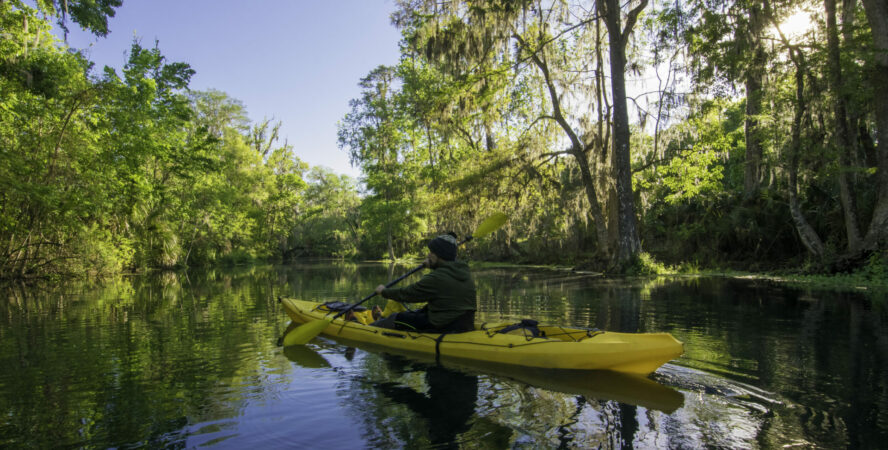 Kayking the Silver River in Ocala from Silver Springs State Park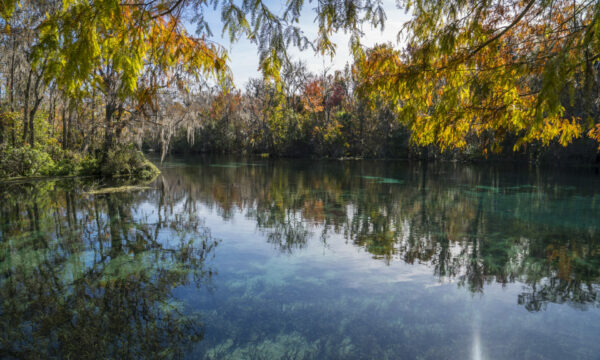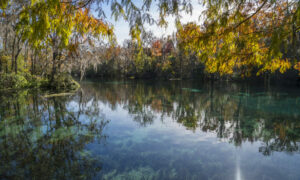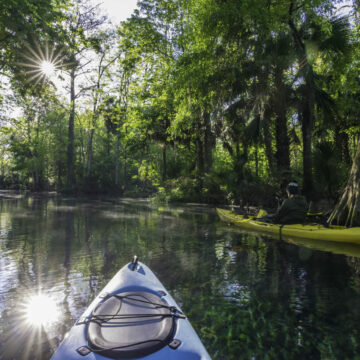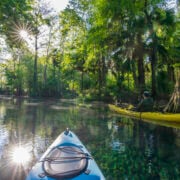 Silver River - Good to Know
Location:
Marion County, Florida
Skill level:
Easy to moderate
Location note:
Swimming is not allowed here
Florida
2. Chassahowitzka River
True adventure: paddling, swimming, and diving
Good for a geology lesson (underwater rivers and caves)
Not really a camping place
On the western Florida coast, in Citrus County, you'll find more wildlife and great kayaking on the Chassahowitzka River. This spring-fed river runs directly to the Gulf of Mexico, and becomes brackish as it approaches the delta.
The slow river flow makes for an easy and chill paddling experience, but you don't miss the opportunity to add extra adventure by paddling up the numerous springs and creeks along the way. Exploring the area's islands and shallow water is a fantastic way to get more out of your kayaking experience. There's even an underground river called The Seven Sisters with several springs connected through underground caves. For more advanced swimmers and snorkelers it is possible to dive and swim from cave to cave. But doing this isn't without risks and any swimming and diving needs to be undertaken with care and caution.
The Chassahowitzka River is the natural habitat for more than one hundred species of bird and it has been granted National Wildlife Refuge status. While on your journey, look out for bald eagles, great blue herons, egrets, otters, manatees and the odd alligator.
If one day here doesn't seem like enough, park your RV or pitch your tent in Chassahowitzka River Campground.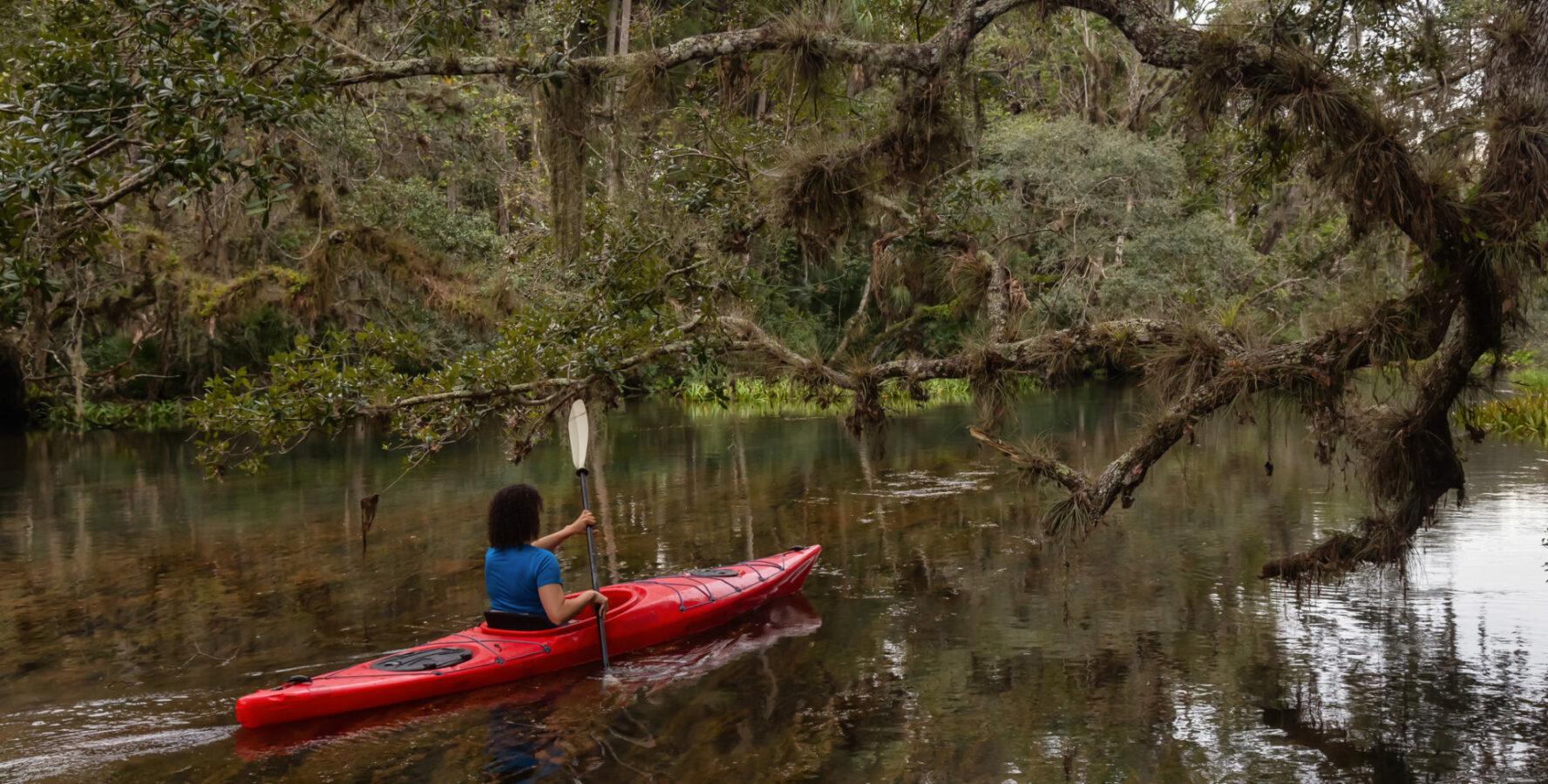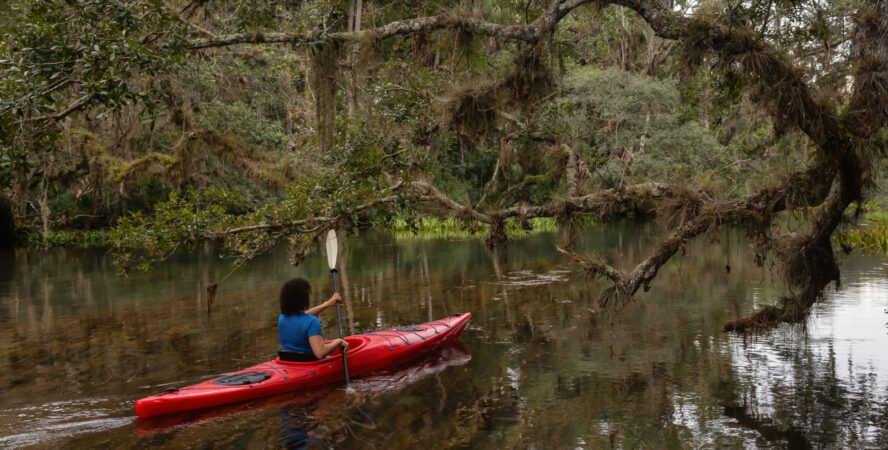 Chassahowitzka River - Kayaking, Springs and Manatees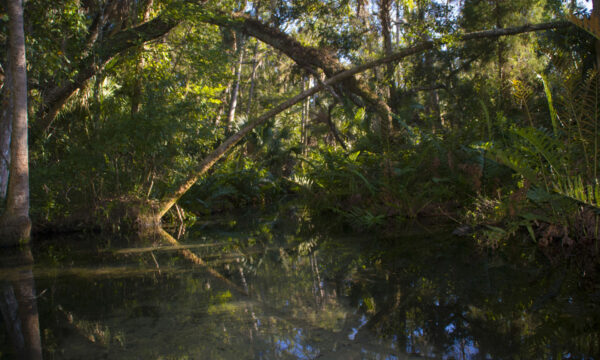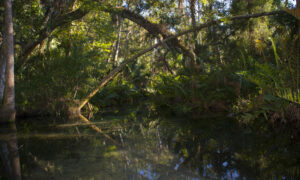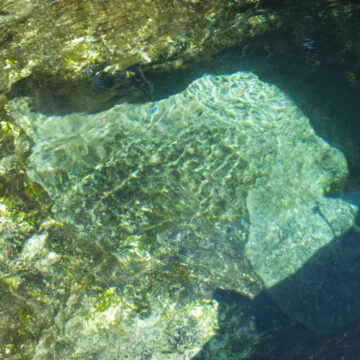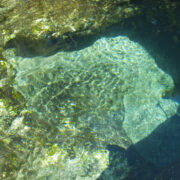 Chassahowitzka River - Good to Know
Location:
Citrus County, Florida
Skill level:
Easy to moderate
Tidal:
Yes (only near the Gulf)
200' underwater visibility
Great for 'paddle & snorkel' adventures
There is development on the one side of the river, so it's not as natural and quiet as other locations
Formed by first-magnitude spring (which comprised of lots of smaller ones) Rainbow River is a great place to paddle, swim and snorkel – the water retains a standing temperature of 72°. Not bad at all. If you stop paddling and look below your kayak, know that underwater visibility reaches as far as 200' so you can clearly see vast amounts of fish, wildlife and plants that call the river home.
Rainbow River's natural beauty and availability of multi-sport activities also attracts crowds, especially on warm spring weekends. Because of the crowds and the expanding housing development nearby, Rainbow River doesn't have that remote 'wilderness' touch, like other places in Florida have to offer. It's still worth kayaking there, though!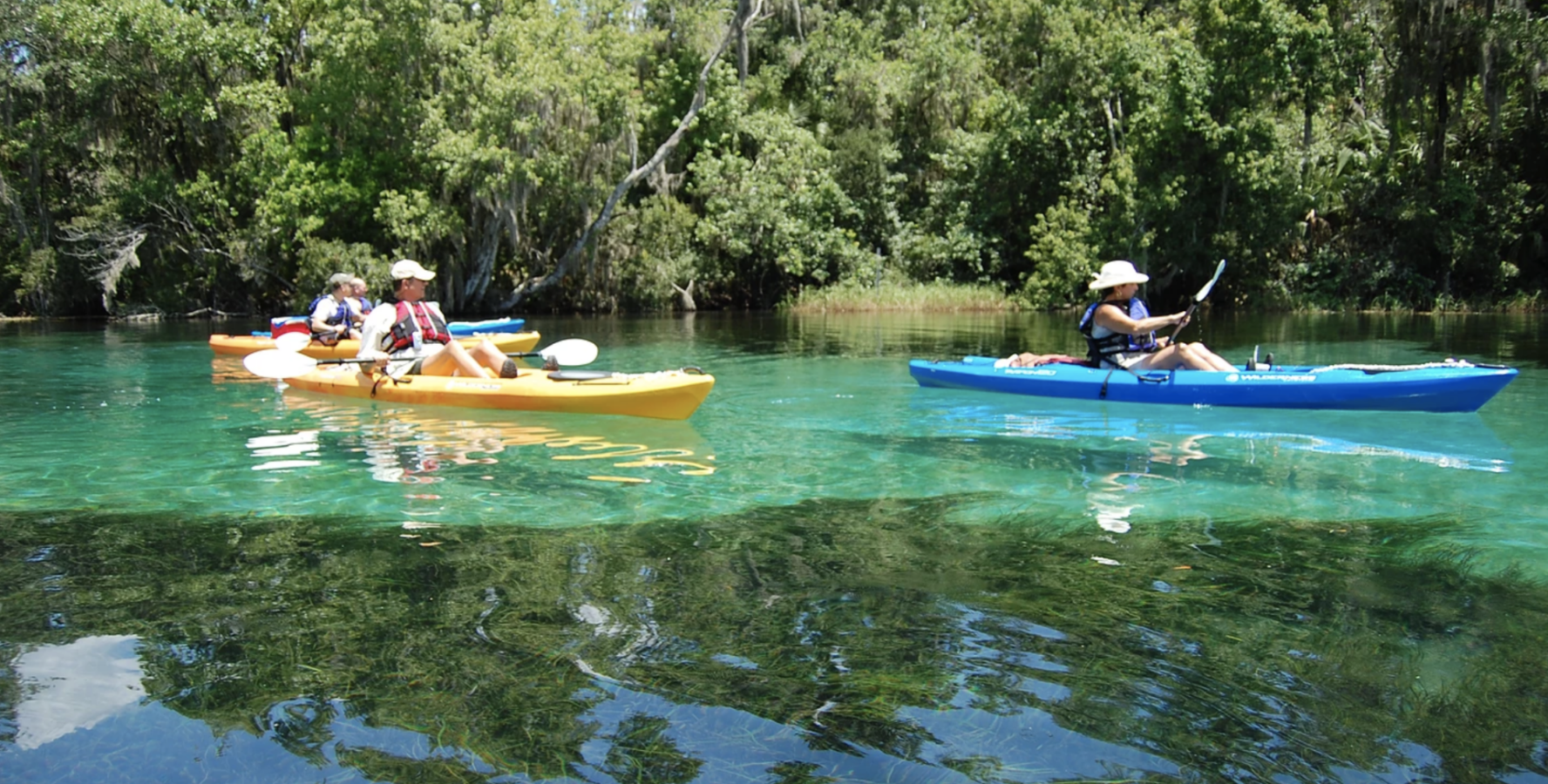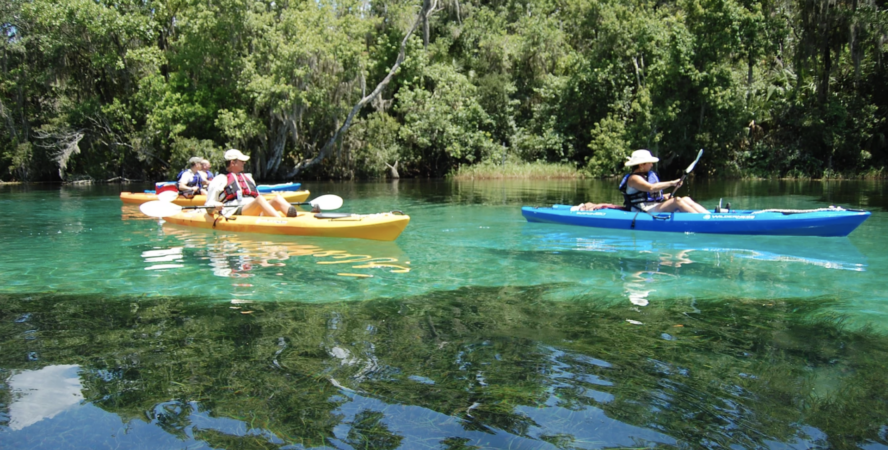 Kayaking in Rainbow River FL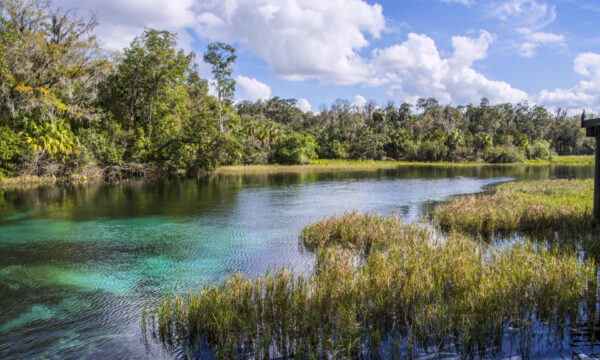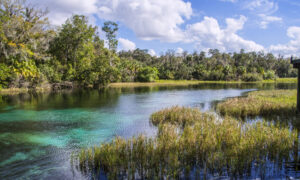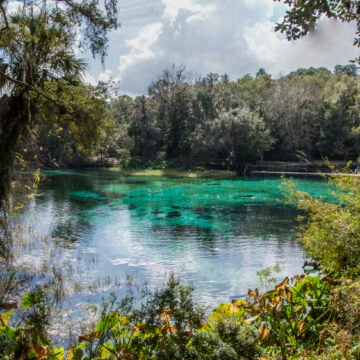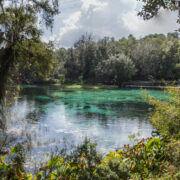 Rainbow River - Good to Know
Location:
Marion County, Florida
Florida
4. Gum Slough Creek
Has a different feeling in different times of year
It's a bit out of anyone's way
For those of you interested in something off the beaten path, Gum Slough is a spot worth checking out. It's a spring-fed creek off the Withlacoochee River, located near Inverness in Citrus County. Paddle up about a mile and you're there.
At first glance it's a 4-mile long, tight and narrow creek, but within there's a true natural kayaking experience. The wildlife and clear water will give you a sense that you're the only one there, that you're the first to discover the area. While fallen trees and tons of overgrowth make the area seem closed in, it's really part of Gum Slough's charm.
If you want to camp nearby, there's the primitive camping site, Potts Preserve, but you'll need a free permit from Southwest Florida Water Management District.
Gum Slough Creek - Good to Know
Location:
Citrus County, Florida
Skill level:
Intermediate to Advanced
800 year old cypress trees
Vibrant nature and wildlife
Can be crowded, especially in spring
Dora Canal is the inland waterway that connects Lake Dora and Lake Eustis and it holds historical significance to the area: the canal was integral to steamboat passage via the Harris Chain of Lakes, which, in turn, lead to St. John's River, Jacksonville, and finally the Atlantic Ocean. Located in the Lake County, Dora Canal is a beautiful natural preserve home to cypress trees that are over 800 years old! Due to the area's dense, jungle-like trees and plants, many a-paddler often feels like he or she is entering Jurassic Park. No joke.
If you don't include the lakes that comprise the entire chain, paddling the length of Dora Canal is a short and tranquil 1.25 mile journey. You can also expect other tourists there, especially in the spring and plenty of motorboats, but, if you plan it right you can venture off into some side canals to escape their wake. If you are looking for a place to spend a night or two, check out the nearby towns, Tavares and Eustis. For a Victorian era experience look into the Lakeside Inn, a historic hotel that was first opened in 1883.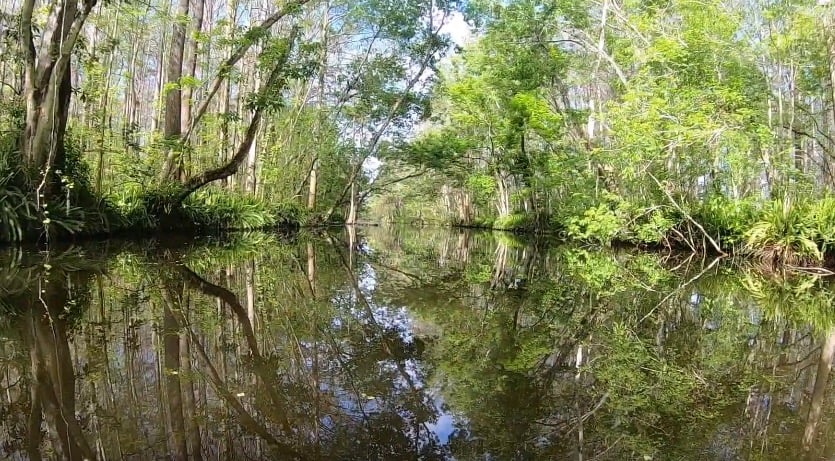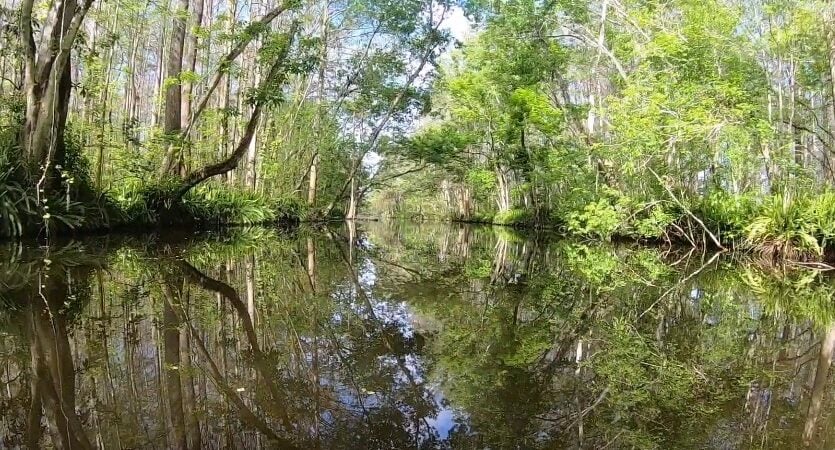 Dora Canal - Good to Know
Location:
Lake County, Florida