Riding the River: An Upstate Kayak and Cycle
Paddling the river made time seem to stop… It's almost meditative.
I'm not as "adventurous" as the rest of our team. I'm an explorer, not an adrenaline junkie. The two aren't mutually exclusive, but I prefer to enjoy my surroundings instead of fighting against them. In a New York minute on a Friday night, I chose a day of kayaking and cycling the next day because I needed a relaxing break from the city.
Up and At Em'
After rounds of Friday cocktails at Fresh Kills and a nightcap at Crif Dogs, I was up bleary-eyed at 7A on Saturday morning. You can see why I need a break from the city. After 45 minutes on the L and 2 trains, I arrived in the Upper West Side just in time to grab a coffee and check in.
Guides are among the most driven people I've met."
The van was at full capacity, and a few stragglers would be meeting us via car at our final destination of New Paltz. NY. I chose the front seat to get to know our guide, Megan. Lucky her…
Megan has been guiding for many years, and based on our conversation, this was among the tamer experiences she leads. Guides are among the most driven people I've met, but I'd imagine they appreciate a restful experience every once in awhile. Megan and I chatted about mountaineering, the exotic locations we'd visited, and about her upcoming move to Scotland for a Masters in Outdoor Education.
Ready for Launch
We pulled into New Paltz, set under the nearby Shawangunk Ridge. Thousands of climbers – including the 57hours team – take advantage of world-class climbing a few minutes from the town proper. New Paltz has all the charm of a mountain town, and it seemed abuzz with locals and NYC escapees, even at 9 AM.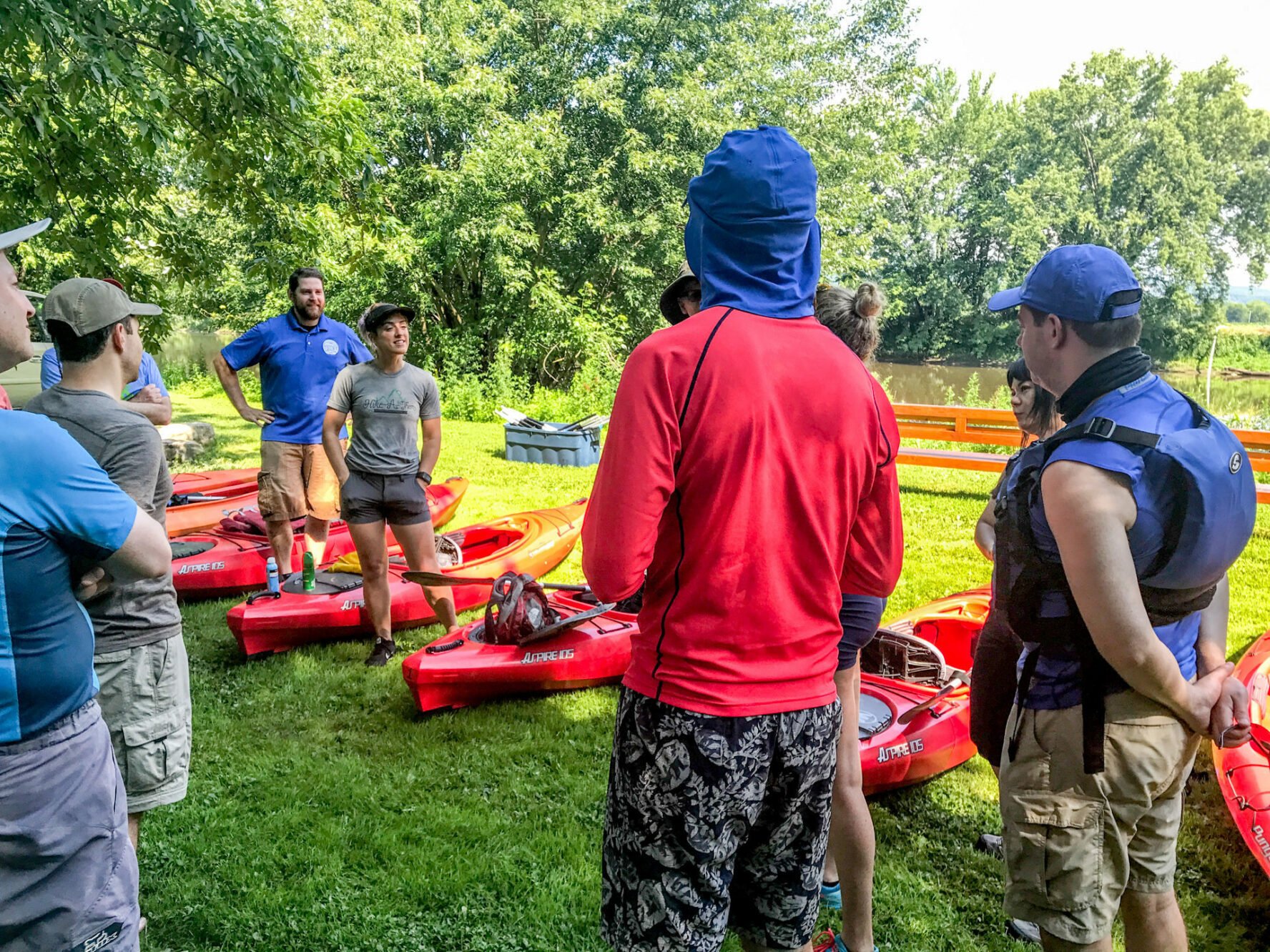 Pros and Cons of Kayaking and Cycling in Upstate
The pizza was the icing on the proverbial cake
Little shade on a super hot day
At a small park and boat ramp off Plains Road, a man was busy lining up kayaks on the dewy morning grass. Craig, a local business owner, provided our tour with kayaks and bikes for the day. While he checked our life vests and comfortability in the kayaks, we congratulated him on the latest addition to his young family: a three-day-old future adventurer.
We were given a brief introduction to our boats. These touring kayaks, also called "rec" or recreational kayaks, were around seven feet long. Their minimal design allowed only for adjustments to the seat and foot rests. Along with the lightweight dual paddle, it's quite a basic setup. Less gear to deal with meant more opportunity to laze our way down the river.
Getting Paddled
Kayak by kayak, we slipped into the muddy Wallkill River and started to drift north. This river is a curiosity, as the surrounding Hudson and Delaware Rivers flow south, or toward the city. The flow was gentle enough to give us time to adjust to the motions and movement of the boat.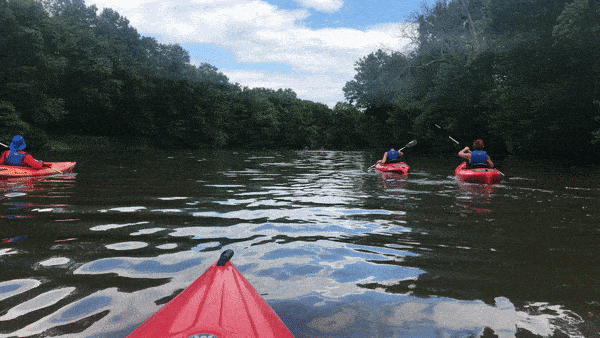 Kayaking is a blend of upper body and balance, but I never felt I was overexerting myself. Megan pushed ahead to center herself in our "pod", and I purposely hung in the back to chat with Akiko, a first-time kayaker. River kayaking is gentle enough that you can hold a conversation without getting winded. If you happen to bump into each other, a nudge to each other's boat creates space quickly.
To keep us occupied, we were on the lookout for local wildlife. I took watch with Ines, an adventurous spirit who entertained us with interesting facts and stories throughout the day. A minute or two after saying "I hope we see some big birds," a huge crane whizzed by our heads. I wondered what else she could conjure for us.
Paddling the river made time seem to stop… It's almost meditative."
Before we knew it, we came around a bend and spotted Craig waving his arms like a human lighthouse. Paddling the river made time seem to stop. I wasn't sure if we'd been out for an hour or three. It's meditative, and I was almost bummed we wouldn't spend the whole day on the water.
We docked with assistance from Craig and Megan, and headed up the boat ramp toward a huge rack of mountain bikes.
The Real Soul Cycle
After a short rest and refuel, the group was fitted with bikes and helmets. Megan wanted to hang back in the pack to make sure everyone was accounted for. A leader was requested, and we all silently stared at the ground until someone mercifully took on the duty. My take is that everyone was ready for nap-time after such a relaxing kayak, myself included.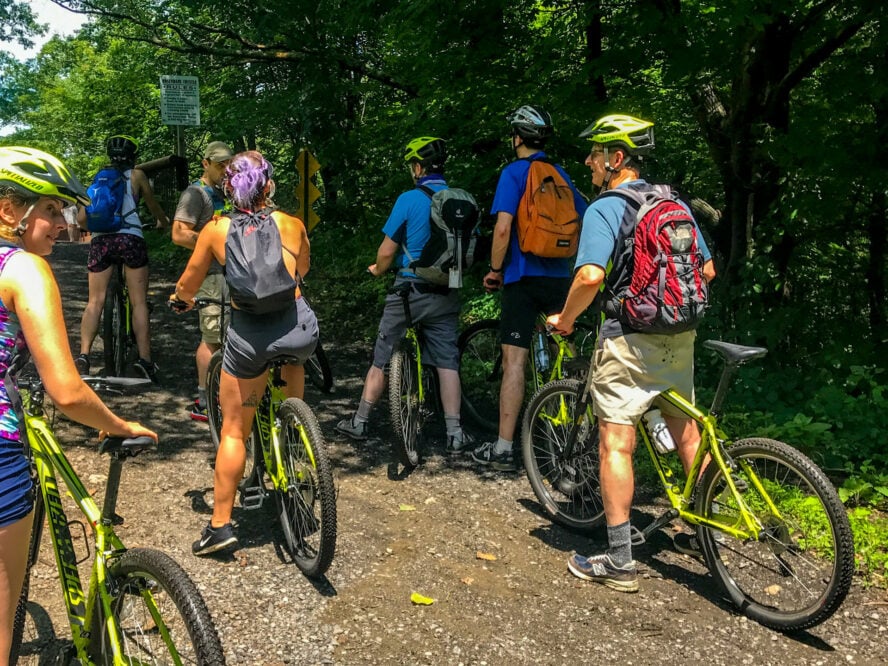 The Wallkill Valley Rail Trail is a 20-plus mile stretch of beautifully repurposed railroad path. A rain the previous night made some parts of the trail soft, and we navigated around puddles every couple hundred yards. Some navigated through them, which lead to muddy legs and back. Nobody seemed to mind, and we laughed at the mud on our faces at our next stop.
We rode over the Rosendale Trestle, at one point the longest span bridge in the entire U.S. To our left, gorgeous views of Rondout Creek, and to our right, music drifted from a street festival in namesake Rosendale, NY. A bit further, Megan stopped us at a geological oddity, a "refrigeration cave".
We laughed at the mud on our faces at our next stop."
Chilly, humid air rushed out from the cave, giving us a refreshing break on an increasingly sunny day. We never got a solid answer as to why this phenomena occurs, but local dolomite mines and water systems deep underground are a likely culprit. It's unadvised to explore them, due to years of disrepair and instability.
After our cooldown, we saddled up and headed back over the trestle bridge toward something I was sure I misheard. Pizza in the woods.
Pizza Oasis
The Rail Trail Cafe sits trailside, just southwest of Rosendale. If you've ever trekked or backpacked for hours a day, and said out loud "I wish they sold pizza up here", this is the oasis you dreamed of. After our large group rolled in, I touched the side of the cafe just to make sure it was real.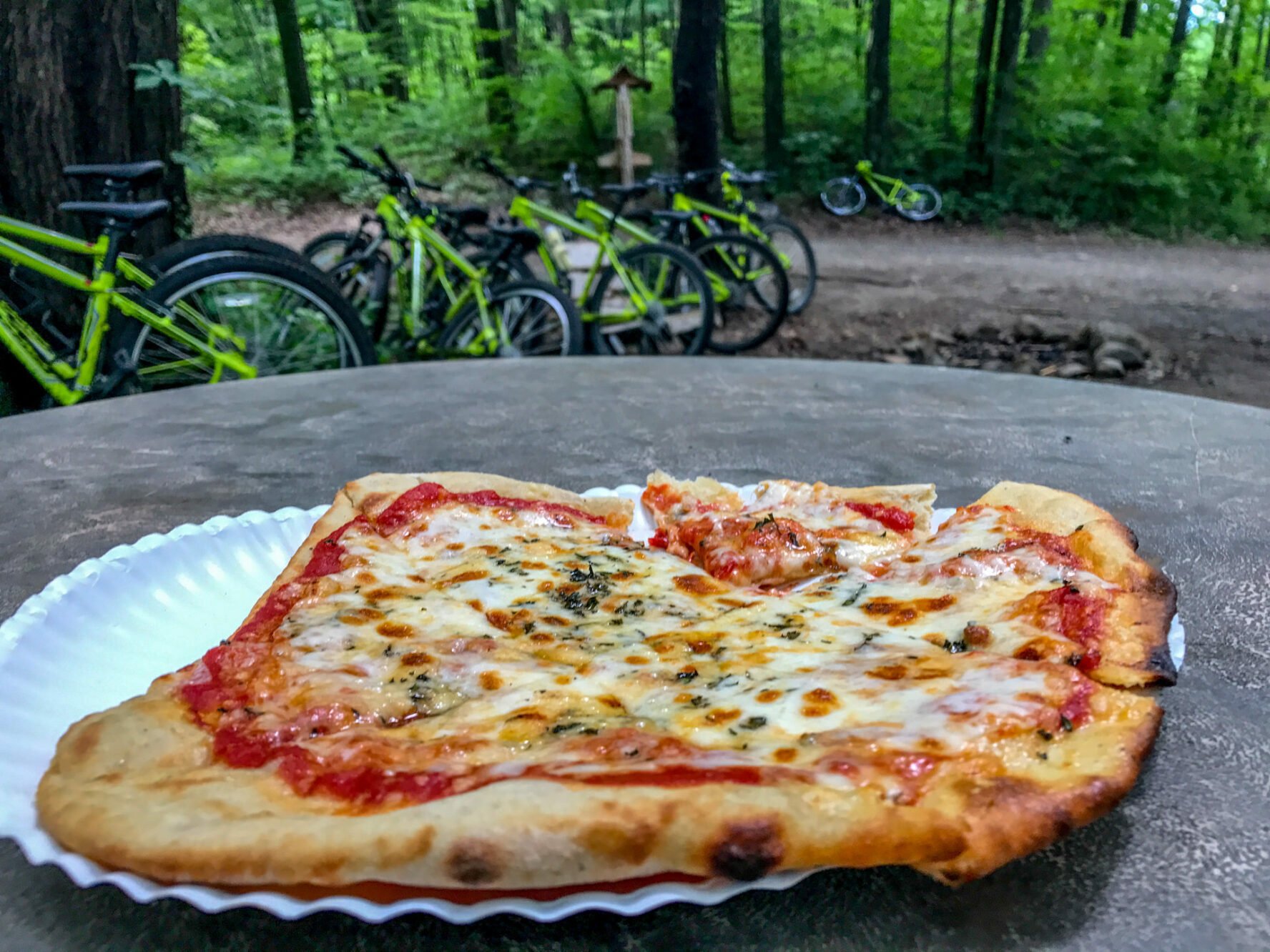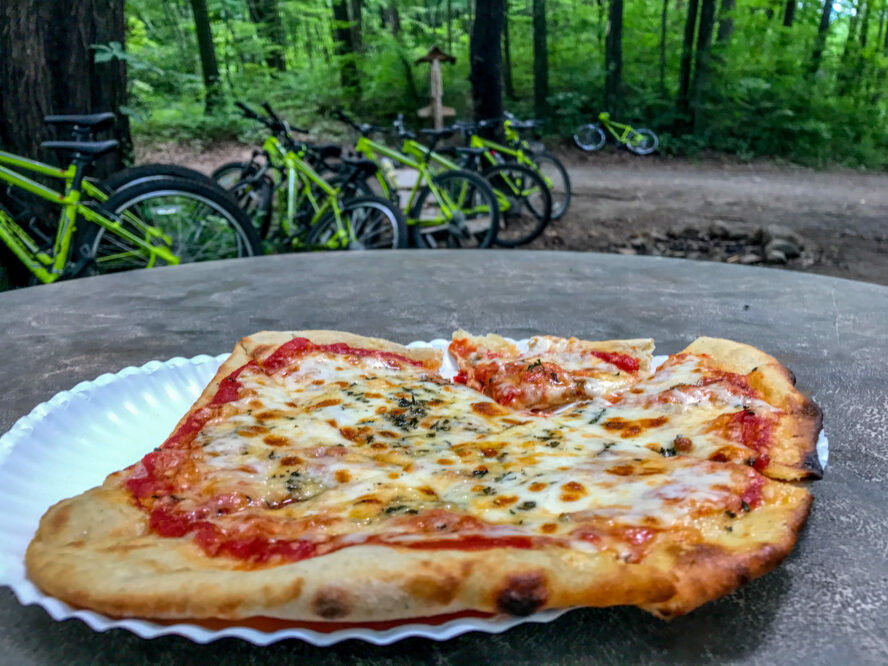 Tara Johannessen and Brian Farmer have created a unique dining experience in the middle of their local woods. Inspired by tiny roadside eateries while touring India, the duo serves wood-fired pizzas with personally-grown and locally sourced ingredients. Their Curry Pizza is an homage to their travels, although I opted for the "Simple" which easily stands up to NYC's top pizza joints.
The duo serves wood-fired pizzas with personally-grown and locally sourced ingredients."
Brian handmade his pizza oven using clay, sand, and straw. The oven's wood fuel is sourced from downed timber around the trail and farm. Scattered tables were appointed with small bunches of yellow sunflowers. In the four years Rail Trail has been around, Brian estimated that 75% of their business comes from foot and bike traffic off the trail. They invite local musicians to play almost daily.
I enjoyed getting to know Jess, a journalist in NYC, and joking with others over our delicious lunch. It's a perfect place to rest, and easily one of the coolest places I've eaten.
Malts in New Paltz
We rode back under the forest canopy to the boat launch where we originally grabbed our bikes. Megan counted us up, and we headed to New Paltz for some dessert and beer. Originally we'd planned to visit Bradley's Farm, but despite her meticulous planning and to Megan's exasperation, it was closed for the day. We peeked in at pigs while mourning for Megan, who has never been able to catch the farm in its open state.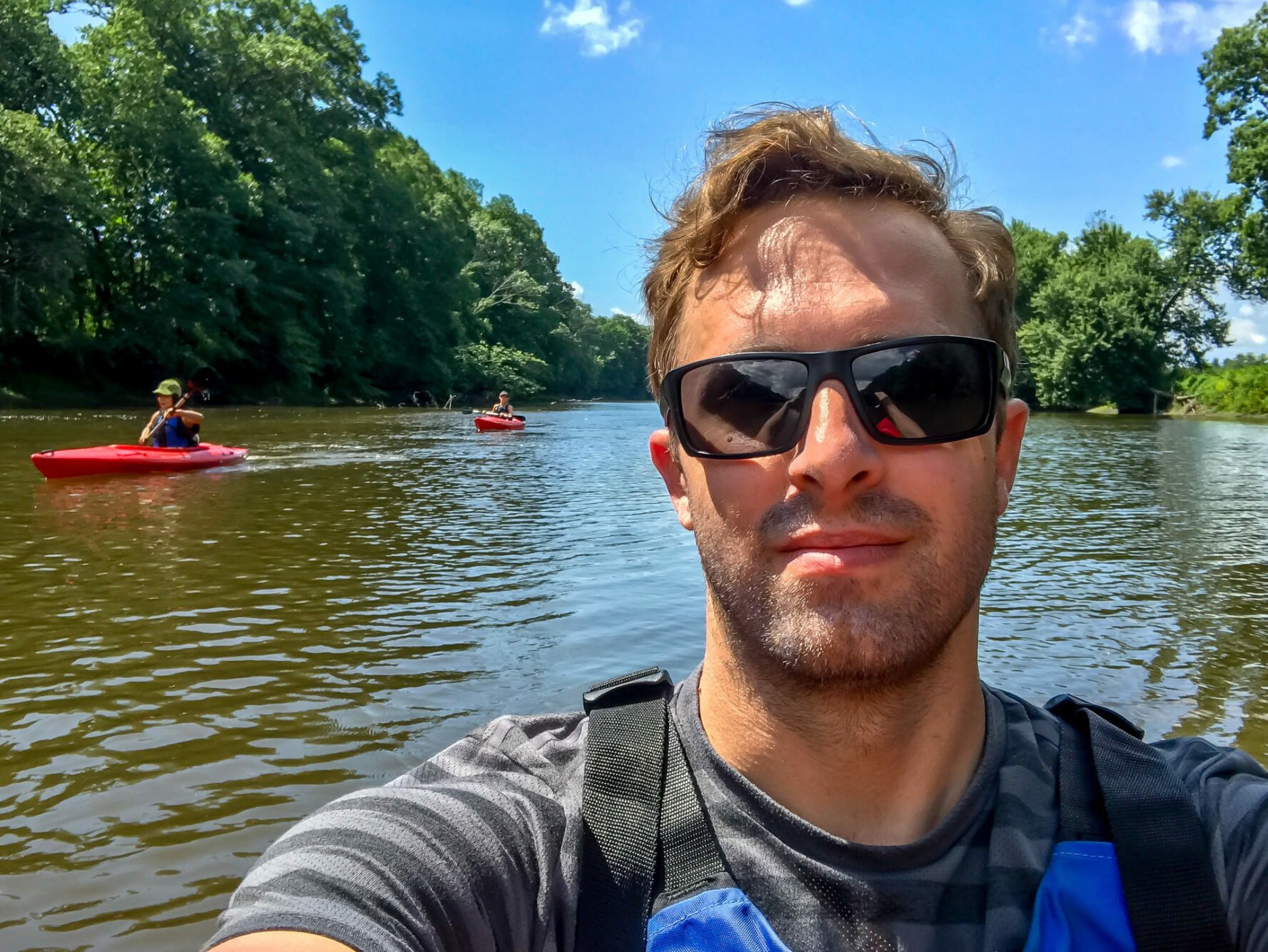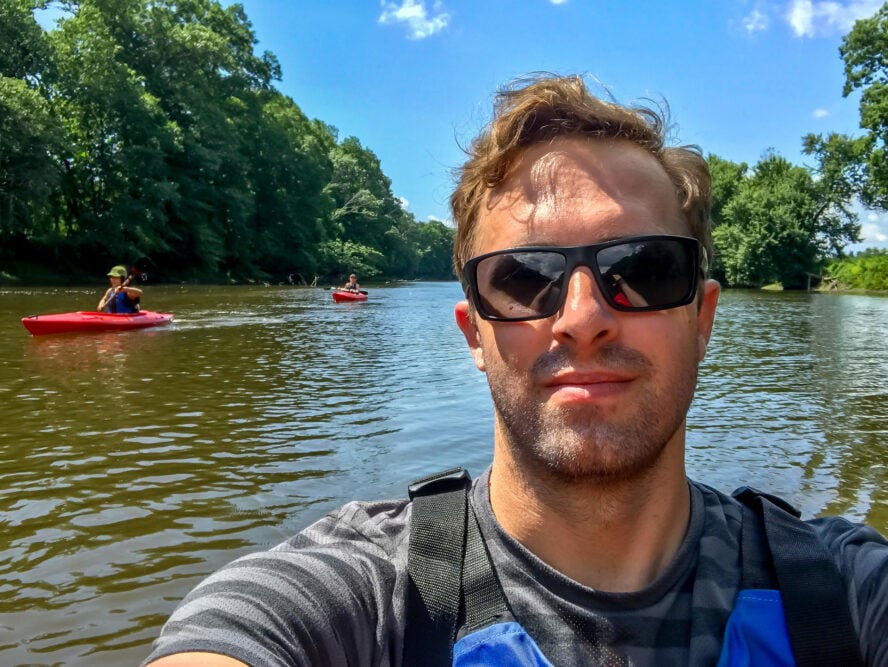 A small pack of us split off the beer group and headed for the much hyped ice cream at Hugenot creamery. I couldn't resist a cone of strawberry. It was creamy, rich, and full of natural strawberry flavor. Ines got a twist of their soft-serve, and I became slightly envious. You could tell owner Patty Walker loves new visitors to her cozy shop.
We all packed into the van and began our trip back to the city. Traffic was light, and so was the conversation. Although I don't remember everyone's names, we had some solid laughs on the trip back. I used the rest of my time with Megan to prod her for information on a potential visit to South America. Her love of the outdoors was infectious, and I left with great ideas on how to push my mountaineering skills forward.
Learn More About the Kayak and Cycle Trip

Guide

Megan

Group Size

One guide, 10 participants

What's Provided

Kayak, life vest, mountain bike, helmet

What to Bring

Daypack, 1-2 Liters of water, sunscreen, hat
Relax, Go Do It
There are trips, and there are lessons. This was a wonderful trip to upstate NY, and one I'd take again. If you're a hiker or someone who likes to take it easy in the outdoors, the Kayak and Cycling experience is perfect for you. Despite the fact we used mountain bikes, the trail we rode was wide, flat, and closer to a leisurely ride than a cross-country mountain biking experience.
Megan always made herself available if we had a question or concern, but for the most part she trusted the experience of the group and let us take things at our own pace. I appreciated the hands-off approach. The world could use more outdoor educators, and 57hours wishes her the best of luck in completing her degree.