Mount Superior | Utah
Climb Mt. Superior in the Wasatch Mountains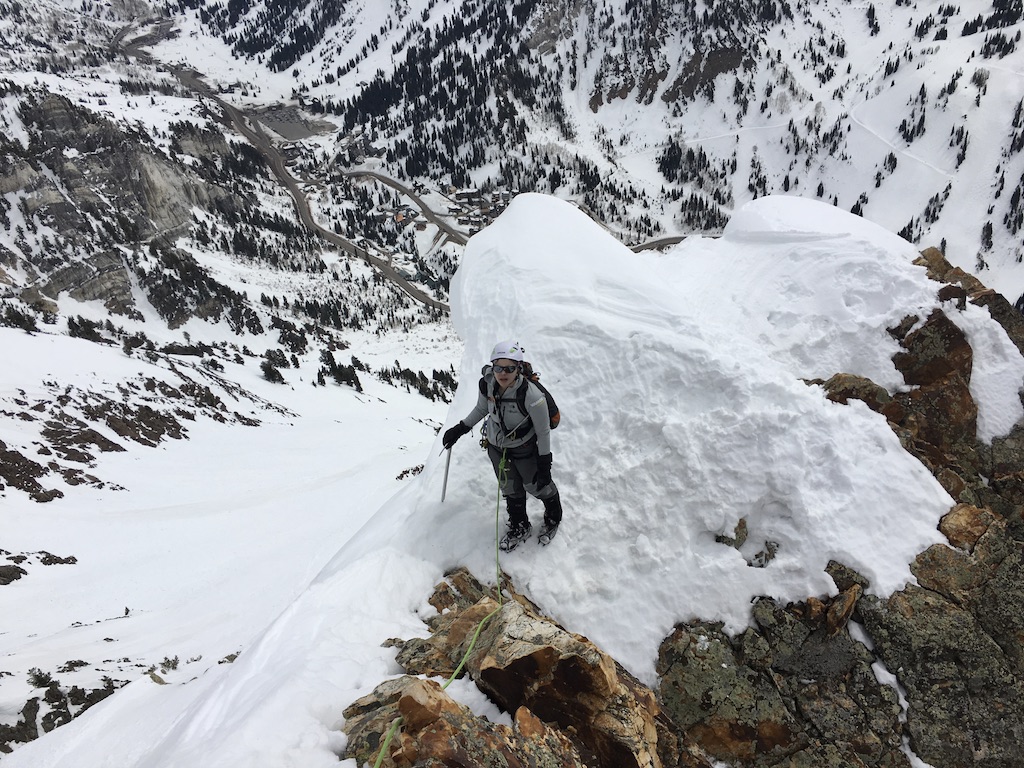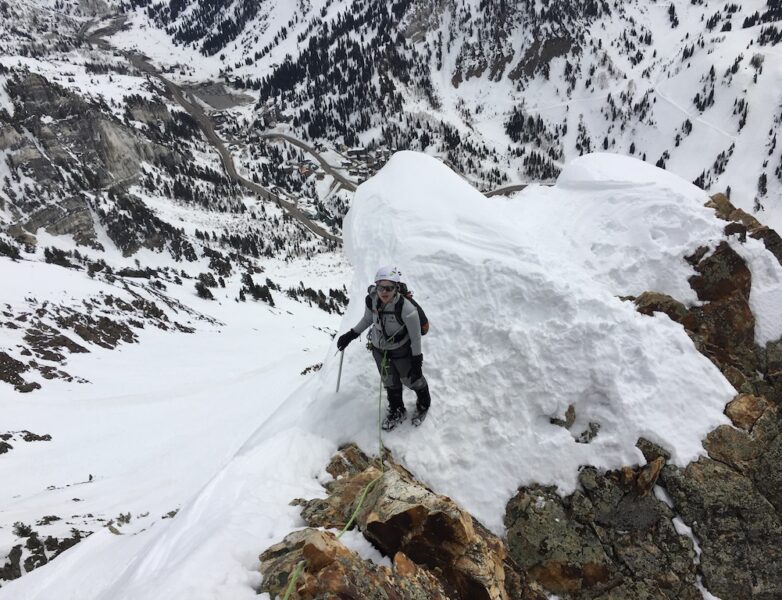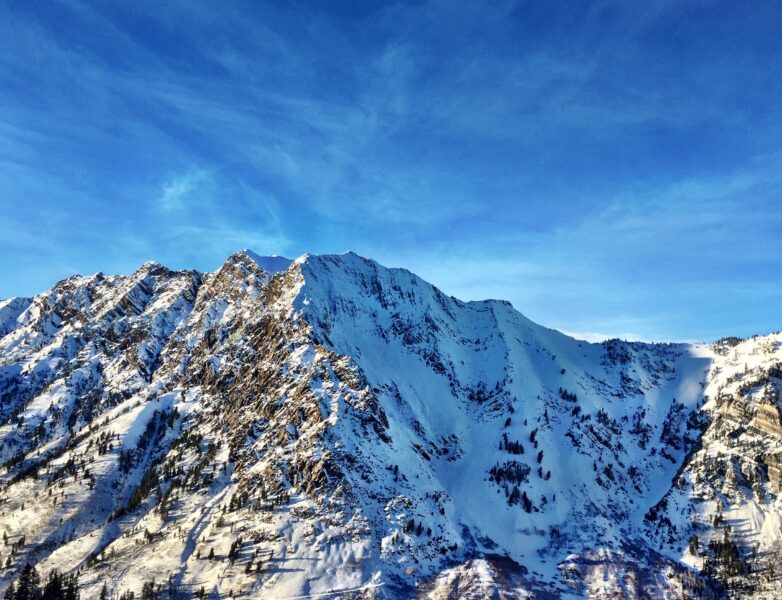 Season

Mid-November through June

Nearest city

Salt Lake City is 30 minutes away
Learn new skills and conquer the steep, snowy Mt. Superior
Climb the Suicide Chute of Mt. Superior and learn techniques essential to every alpine climber. The prominent east-facing chute can be seen from Little Cottonwood Canyon, and will have you climbing up its classic, rock-lined, 40-degree couloir. While climbing with a guide who lives and plays in the Wasatch range, you will learn snow climbing skills with at least 1,000 feet of climbing along the knife-edge crest. This is the most difficult and rewarding winter climb in the Wasatch Mountains and will prepare you for bigger mountaineering objectives. Learn about ice axe positioning, self-arrest techniques, avalanche hazard assessment, and enjoy your day in the fresh alpine air!
Book This Adventure
Alpine Climbing with Benegas Brothers: Mt. Superior
Rising above Snowbird and Alta ski resorts, the iconic Mt. Superior peak tops out at 11,132 feet. Use your day to learn relevant climbing skills from your guide, such as route finding and hazard assessment, or crampon use and snow climbing techniques. This classic winter route combines a steep snow chute and the upper rock ridge leading up to the summit. At the end of the day, be rewarded with incredible 360o views over the Salt Lake Valley, Cottonwood Canyons, and the rest of the Wasatch Range.
Trip Highlights
If you drive through the Little Cottonwood Canyon, you will definitely notice Mount Superior, the iconic 11,00-foot-plus peak. Located in the heart of the Wasatch Mountains, with a prominent ridge rising 3,000 feet, it looks plucked out of Alaska, with beautiful views over the surrounding snowfields and challenging knife-edge ridges. Ascent to the summit of Superior is a full day of moderately difficult alpine rock climbing in a delightful alpine environment, as well as a day full of challenges that will require a strong desire to succeed! 
You will learn about:
The selection and use of personal equipment, ropes, knots and harnesses

Crampon use and snow climbing techniques, ice axe positioning, and self arrest techniques (during winter ascents)

Route finding and hazard assessment including a discussion of objective vs. subjective hazards

Proper clothing and climbing gear for survival in the high mountains, mountain weather, alpine ecology, avalanche hazard assessment (winter)

Leave No Trace ethics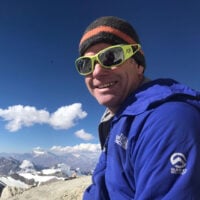 Willie Benegas
IFMGA mountain guide
Based out of Sandy, Utah, his home in the Wasatch Mountains, Willie is the co-found...
View details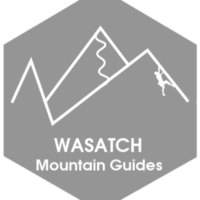 Wasatch Mountain Guides
Wasatch Mountain Guides
WMG is dedicated to demonstrating its passionate commitment to workplace sustainabi...
View details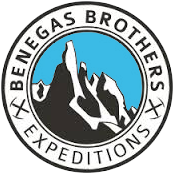 Benegas Brothers Expeditions
Benegas Brothers Expeditions
Benegas Brothers have focused on small strong teams, an unrivaled family feel, and ...
View details
Things you need to know
Covid measures in Wasatch Mountains
57hours is committed to providing safe outdoor adventure experiences. We require all guides using our platform to have a COVID-19 safety plan and to make the details of that plan accessible to travelers. In most cases, group sizes will be reduced, guides will avoid overcrowded locations, and other safety measures will be met depending on the location and activity.
We also expect clients to respect local regulations and take measures to protect themselves, guides and the communities they're travelling to. For more information on COVID-19 measures in Wasatch Mountains, please refer to the State of Utah official website.
Please contact us if you have any questions or require further information. We are happy to provide you with the most up-to-date information!
Why should I book with 57hours?
With us, it's all play and no work for you! 57hours is an open platform that connects you with trained and certified outdoor adventure professionals all over the world. Using our tech-savvy, we make it super easy to find and book adventures worth tackling, with guides worth booking, all gathered from the first-hand experiences of the locals who adventure in these amazing locations.
Why should I go alpine climbing?
Alpine climbing is the ultimate multi-disciplinary sport. Nothing can prepare you for the rush you'll feel when standing on the summit of a mountain. Combining rock climbing, ice climbing, hiking, and sometimes winter camping, nothing will test your physical stamina and mental fortitude quite like pushing through the elements to reach the world's highest peaks. But, it's more than just a sport; it's problem solving on-the-go. It's a balance of intuition, fluidity of movement, and putting learned skills into practice in the field. Glaciers, complex terrain and awe inspiring peaks will take your adventuring to a whole new level. If this sounds appealing to you, it's time to head above treeline and begin your mountaineering journey.
What can I expect from climbing with a guide?
A certified guide will take all of the guesswork out of your time on the mountain. From tour planning to route selection, terrain management, safety and gear knowledge, your guide's expertise and experience will ensure you have an unforgettable alpine climbing adventure.
It doesn't matter your skill level, whether you've never alpine climbed before or you're seasoned on the mountains, climbing with a guide has its advantages. Your techniques will sharpen, you'll learn how to navigate terrain safely, make smart decisions, and most of all, you'll remain safe in unfamiliar terrain.
What if I've never alpine climbed before?
This alpine climbing adventure is best suited for intermediate to advanced climbers. Excellent physical condition, a knowledge of mountaineering techniques and previous alpine and rock climbing experience ideal. Climbers should be comfortable on 40 degree snow and ice slopes and climbing on exposed ridges.
There is possibility of snow on the approach that may require ice axes and crampons, and exposed alpine rock. If you have some experience and have topped a minimum of 5.5, this is a route that you can successfully complete with the help of a guide. Let a guide plan the perfect day and focus on safety, so you can focus on having fun.
If you've never climbed outside but have gym climbing experience, please contact us and we can arrange a custom guided trip in the Wasatch Mountains to suit your skill level.
What's included?
What you get in this adventure:
A certified Mountain Guide with extensive knowledge of the area
Full day of alpine climbing
All meals while in the mountains
Technical gear for the group
Private ground transportation throughout the trip from Salt Lake City Hotel or Airport
Communication equipment
What's not included:
Any hotel accommodations e.g. in Salt Lake City
Climbing/trip insurance and rescue expenses as needed
Personal meals out of the mountains e.g. any meals in towns/restaurants
Snacks for the mountain
Any other expenses beyond control due to changes in the itinerary or clients needs
Personal climbing gear
Plane tickets
How fit do I need to be?
In order to enjoy this adventure, you need to have excellent physical condition, knowledge of mountaineering techniques and previous alpine and rock climbing experience. Climbers should be comfortable on 40 degree snow and ice slopes and climbing on exposed ridges. There is possibility of snow on the approach that may require ice axes and crampons, and exposed alpine rock. To ensure you have a fulfilling day, your guide will choose routes that best suit your skill and fitness level.
What equipment do I need to bring?
All technical climbing equipment will be provided by your guiding service. However, if you have your own gear, feel free to bring it. You'll need:
Harness for glacier travel
Ropes
Climbing hardware
Ice axe
Ski poles
Beacon
For personal items, we recommend bringing:
Fleece or wool hat
Neck gaiter
Hardshell jacket with hood (Gore-Tex or equivalent)
Lightweight wind shell
Down or synthetic jacket with hood
Long-sleeved base layer
Gloves
Long base layer pants (tights work well in the summer)
Hardshell pants (Gore-Tex or equivalent)
Softshell pants (wind-proof or wind-resistant)
Leg gaiters (ankle to mid calf height works best in summer)
Liner socks and wool socks
Mountaineering boots that work with crampons (available for rent)
Crampons (available for rent)
Climbing shoes (available for rent)
Daypack large enough to carry all the items listed (around a 25L backpack for a one day trip)
Sunglasses or a visor hat
Water bottle or hydration pack
Food you can eat on-the-go
Toiletries (sunscreen, hand sanitizer, blister kit, toilet paper, etc.)
Camera — optional
Can I rent equipment?
All mandatory gear will be provided by the guide if you don't have your own. As for the personal items:
Rental location is in Cottonwood Heights near Salt Lake City and should be picked up the night prior to your outing. If you need to rent gear, let us know and we can help make arrangements.
What's the itinerary?
Your alpine climbing adventure will be fully customized to match your skill level and objectives. You and your guide will discuss route selection, skills development, and whatever else you'd like to focus on. From there, your guide will plan the perfect day tailored just for you taking into consideration factors such as weather and snow conditions.
Depending on your objectives and chosen itinerary, full days may start earlier and end later, but in general, your day will look like this:
7:00 am: Meet your guide at the guide's recommended location
7:30 am: Head to Little Cottonwood Canyon and get ready to summit Mt. Superior
8:00 am – 4:00 pm: Gear up, go over safety considerations, and spend the day working on climbing skills as you push towards the peak of Mount Superior and then descend back down
4:00 pm: Back to the cars for debriefing and high fives
What is the minimum age requirement?
Everybody over the age of 18 is welcome to book this adventure.
Minors may be permitted to join private tours on a case-by-case basis. If you plan to adventure with anyone under the age of 18, please contact us prior to booking to make arrangements.
What about group sizes and pricing?
For this adventure, the max client to guide ratio is 3:1. A deposit of $100 per group is needed to secure your spot.
The cost per person decreases as the group grows, so it's the perfect opportunity to alpine climb with friends and family.
Alpine climbing in Wasatch Mountains can be arranged for larger groups. Contact us to make arrangements.
What about bad weather?
Mitigating risk in the backcountry is paramount for any excursion in the mountains — that's why it's best to tour with a guide! Rest assured, your guide will set objectives that are attainable for the weather conditions on that particular day. Of course, inclement weather can always get in the way of climbing, but your guide will know the best course of action to take if the weather takes a turn.
On the rare occasion of truly bad weather, your guide will present you with suitable, safe alternatives. The most common practice is to move to a nearby location if it exists, or to reschedule your adventure to a more favorable day.
If alpine climbing is not possible on your scheduled day and no options presented are viable, you will be issued a full refund.
Do I need an insurance policy?
We highly recommended that you cover all your bases with emergency medical insurance. With medical insurance, if you have an accident or medical emergency on or off the mountain, you'll avoid paying out of pocket for costly expenses. This covers everything from hospital treatments to emergency air transportation and more.
If you need assistance selecting the right insurance for your group, let us know and we will be happy to help!
Cancellation policy
With 57hours, you benefit from both our own cancellation policy as well as that of the individual guiding service that delivers your adventure. All policies regarding cancellation will be clearly laid out by your guide after booking your adventure, but rest assured that our own cancellation policy will work on top of what is provided by your guide.
For this adventure, 57hours offers a Flexible Cancellation Policy, which states:
If Client cancels the Booking anytime prior to fourteen (14) calendar days in advance of the trip contemplated by the booking, Client is entitled to a full refund. For cancellations seven (7) to thirteen (13) calendar days in advance, Client is entitled to a credit with that Guide for another identical or substantially similar Booking, or a full refund, minus a One Hundred-Fifty Dollar ($150) reservation fee. For cancellations one to six calendar days in advance, Client is entitled to a full refund, minus a One Hundred-Fifty Dollar ($150) reservation fee. For cancellations anytime less than 25 hours in advance, the Client is not entitled to any refund.
For more information on terms and conditions, please visit our Terms of Service page.
Getting there and meeting location
To get to Little Cottonwood Canyon, most people fly into Salt Lake City International Airport. From there, you can rent a car or take a shuttle to the canyon. SLC is less than 30 minutes away from both Big and Little Cottonwood Park and Ride Lots. Utah Transit Authority (UTA) offers Ski Bus with trips going up and down Little Cottonwood Canyon each day. 
From Little Cottonwood Canyon, you'll begin your guided day of summiting Mt. Superior!