Christopher covered:
What makes Costa Rica the adventure capital of Central America
Insider info on this coast-to-coast multisport tour
The breathtaking biodiversity of Costa Rica's landscapes
Monkeys, toucans, and crocodiles—the exotic wildlife you'll meet
Getting there and other essential logistical info
With 28 national parks, 50 wildlife sanctuaries, and 5% of the world's biodiversity, Costa Rica truly is a treasure trove of natural beauty. And while many choose to seek their fortune in the beachside resorts, the true wealth of the "Rich Coast" lies deep in its heart, where volcanoes and waterfalls are aplenty.
From tranquil coasts to cloud forests, whitewater paddles to hangbridge hikes—discover the lush and lavish natural world of Costa Rica on a coast-to-coast hiking, biking, rafting, and kayaking adventure.
In this one-hour session, you'll learn everything you need to know about this adventure from Christopher Lapcevic, a seasoned and knowledgeable trip leader with plenty of engaging anecdotes.
If you want to learn why Costa Rica is widely considered Central America's adventure mecca, don't miss out on this one!
Webinar host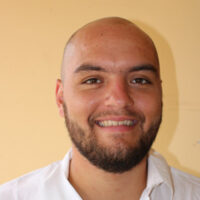 Christopher Lapcevic
Director of adventure and trip leader at Coast to Coast Adventures
Christopher has been involved with the adventure travel world since he was 12 years old, helping out his father Mike, the founder of Coast to Coast Adventures, on his tours. Now, he spends his late twenties guiding some of the most exciting and demanding multi-sport adventures in Costa Rica. When he is not leading trips, you can find him working in other countries like Cuba or the US or joining his dad on a crazy adventure.