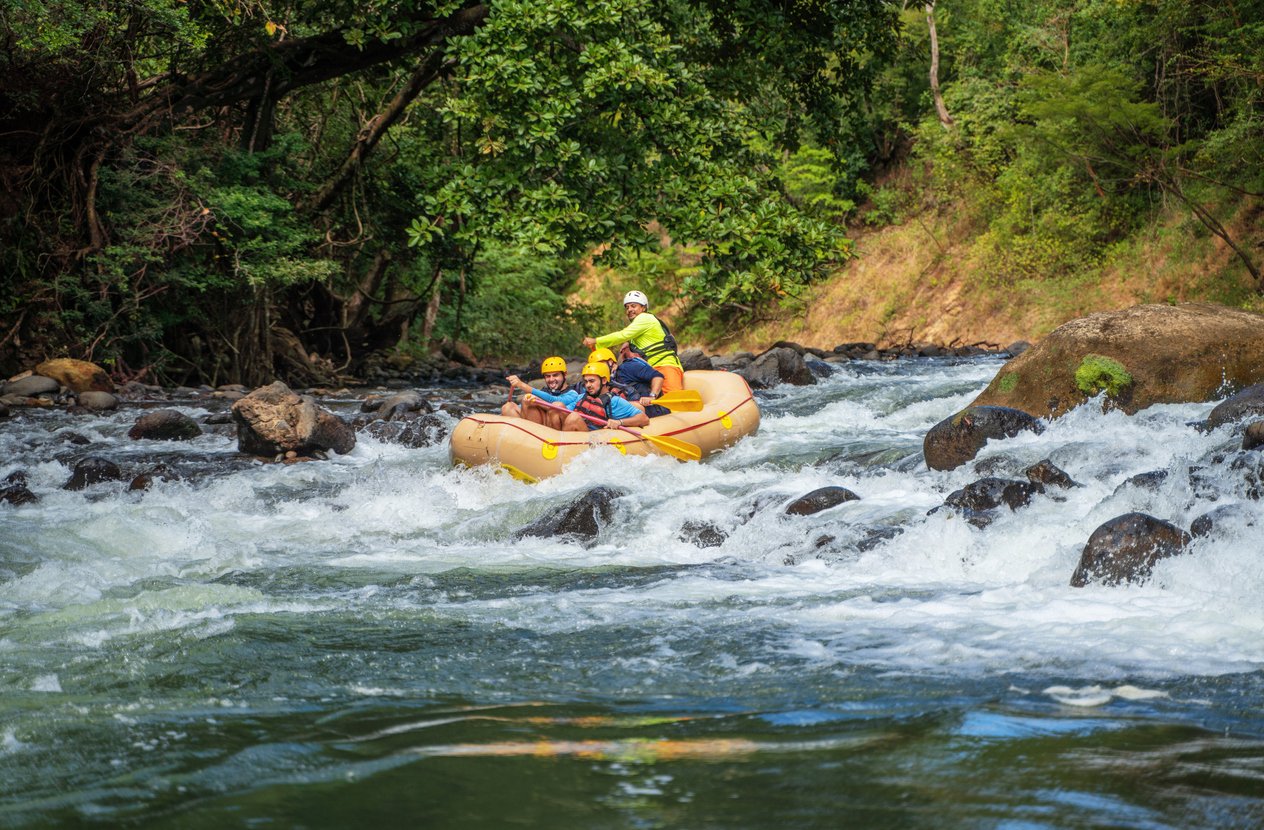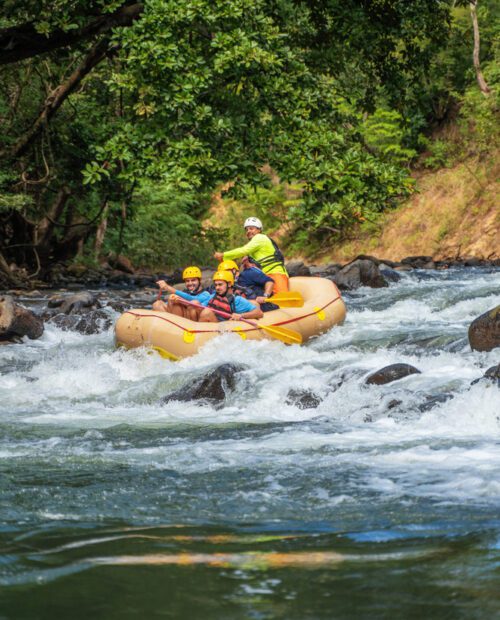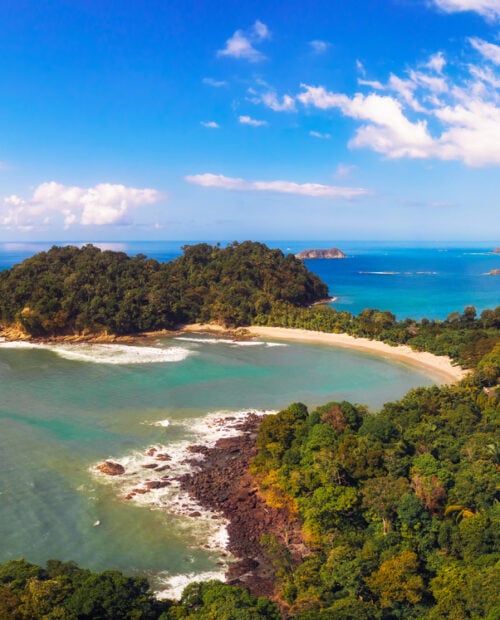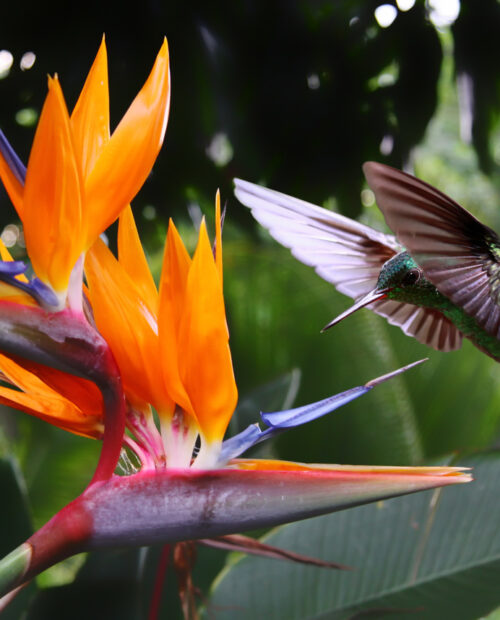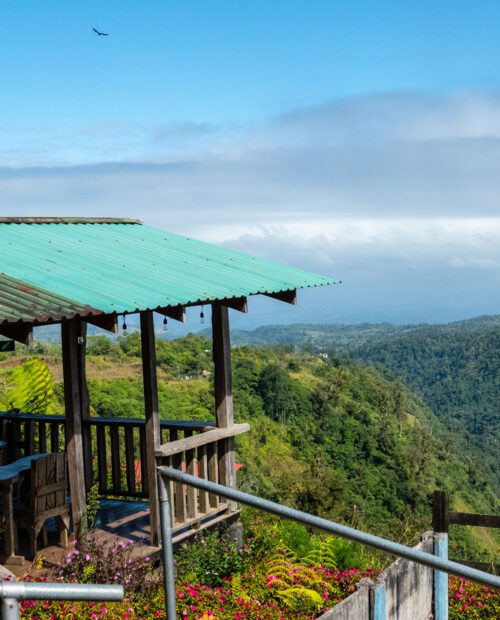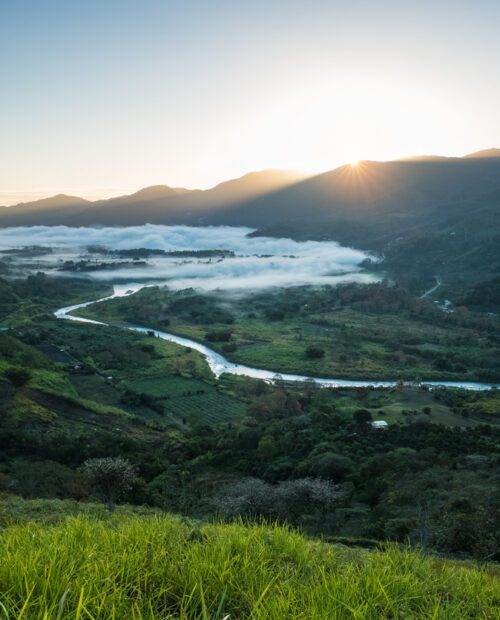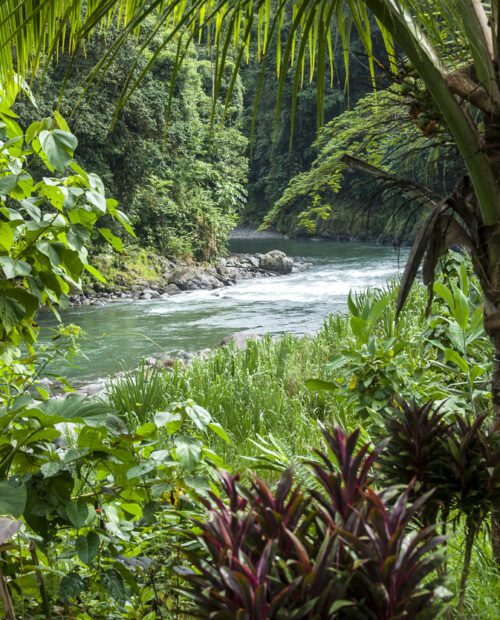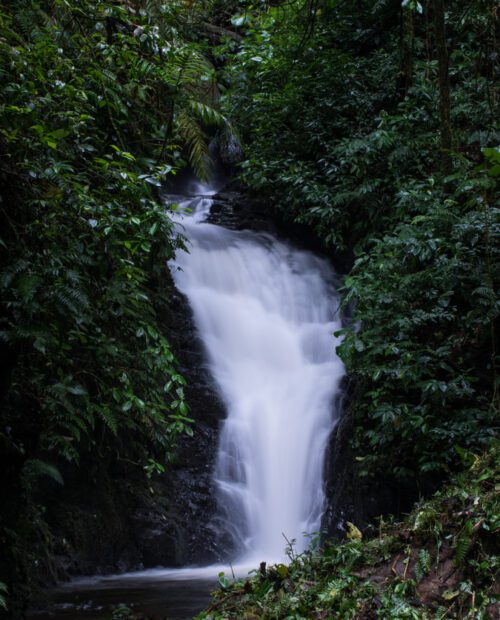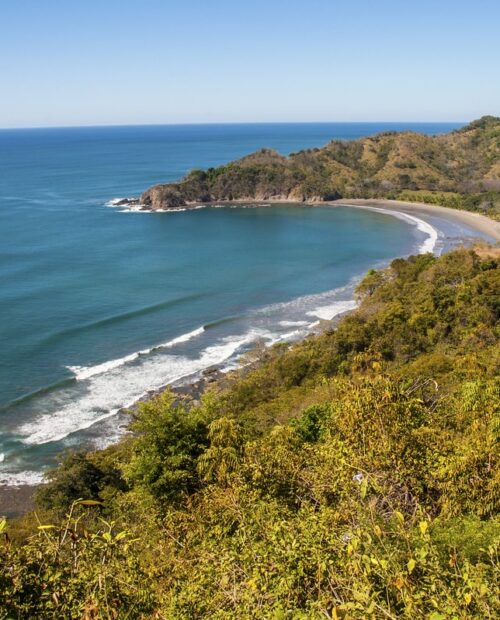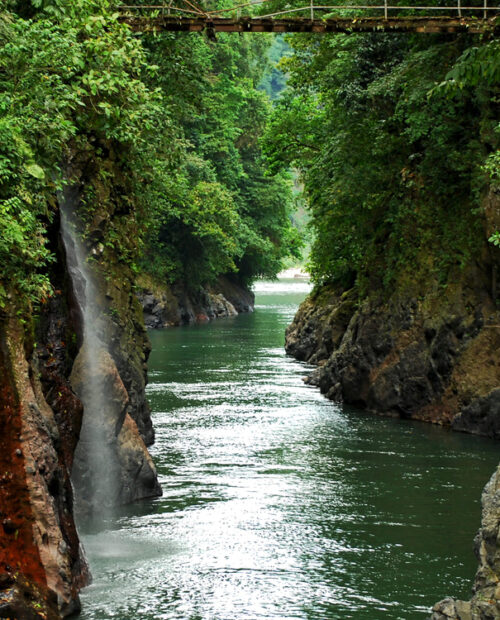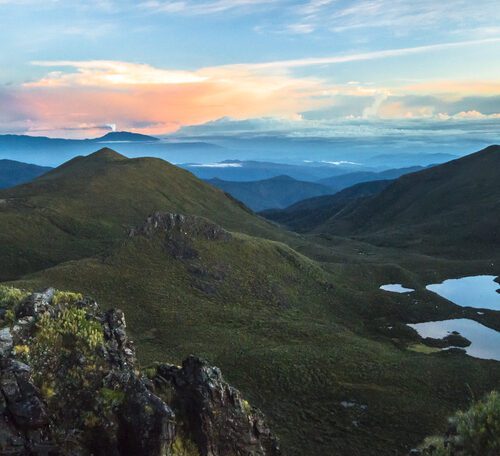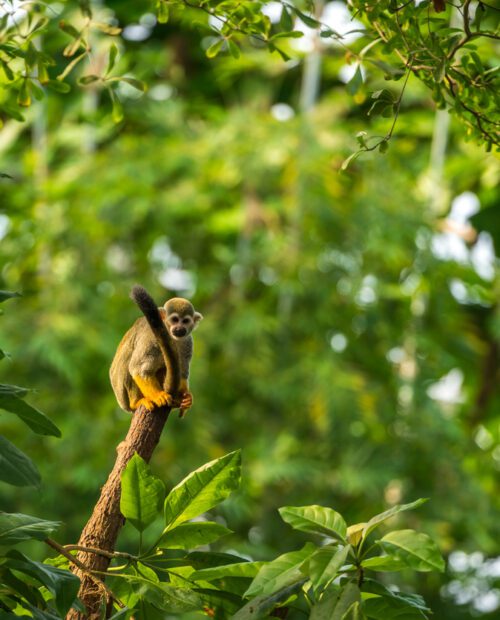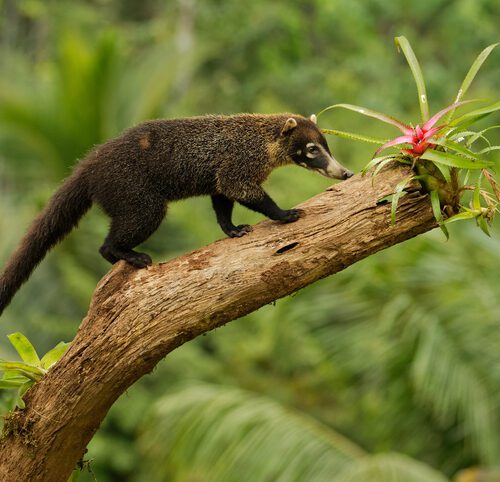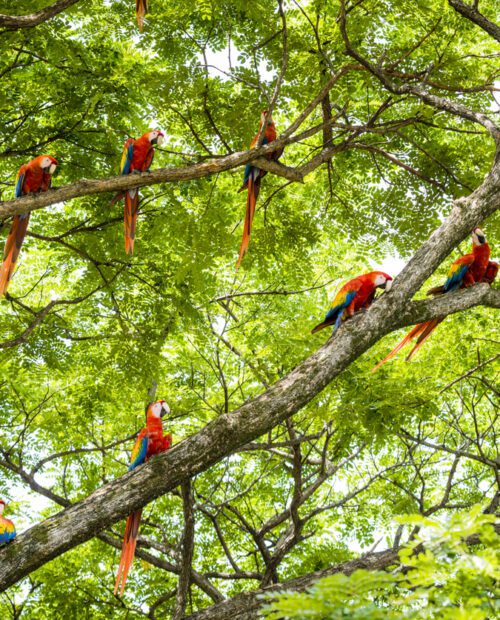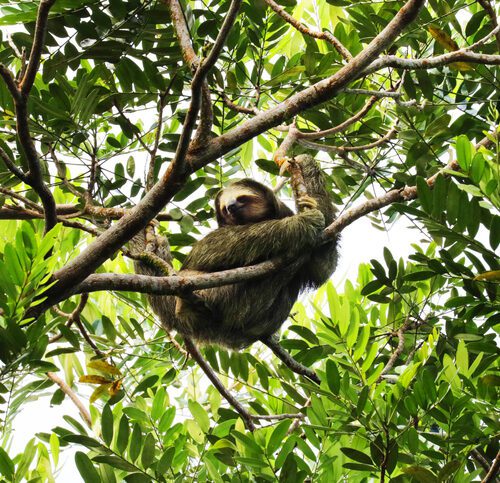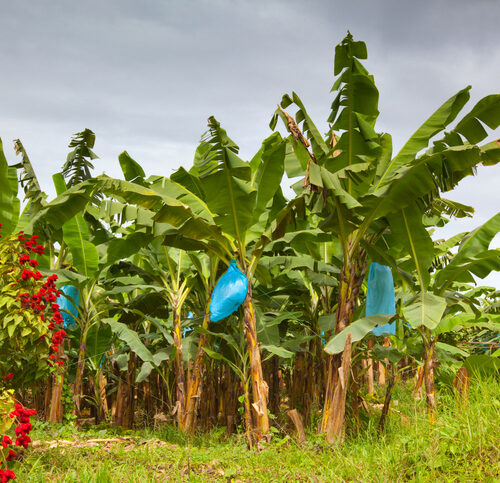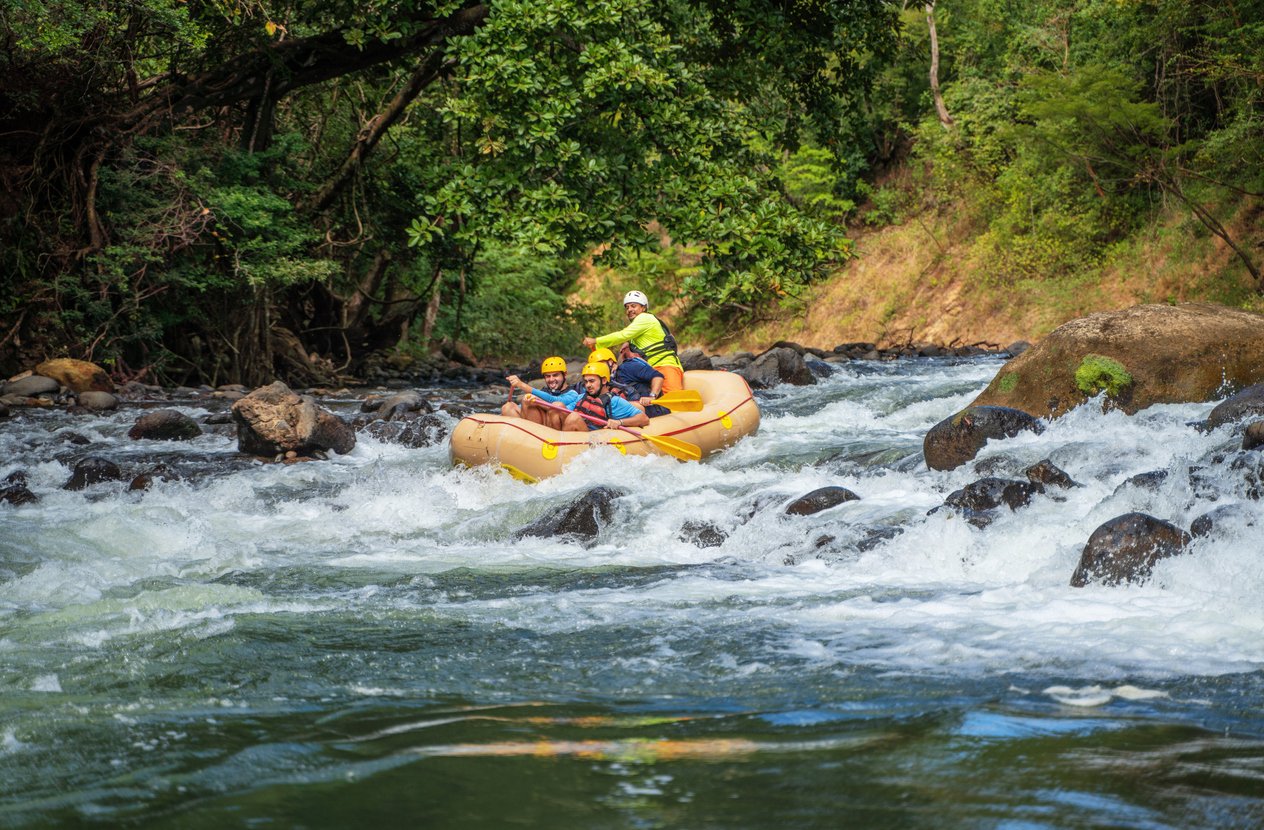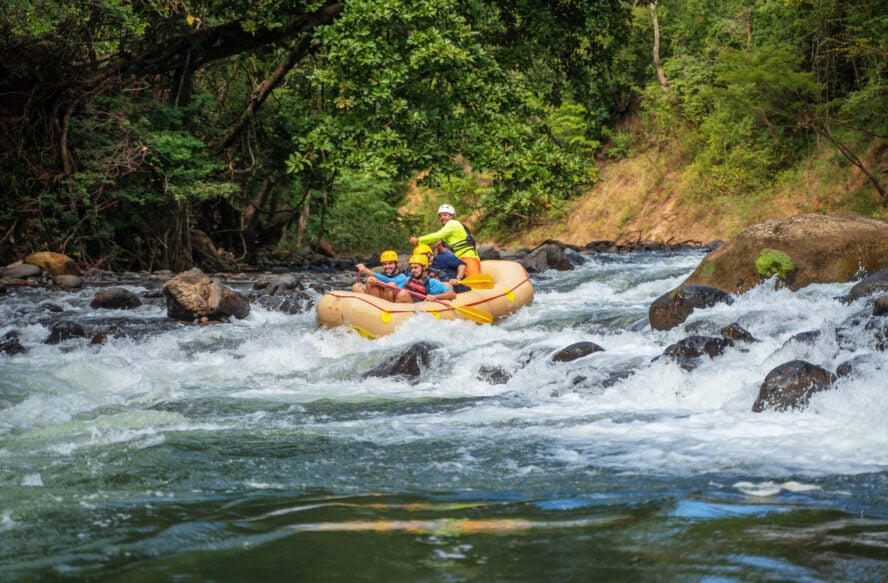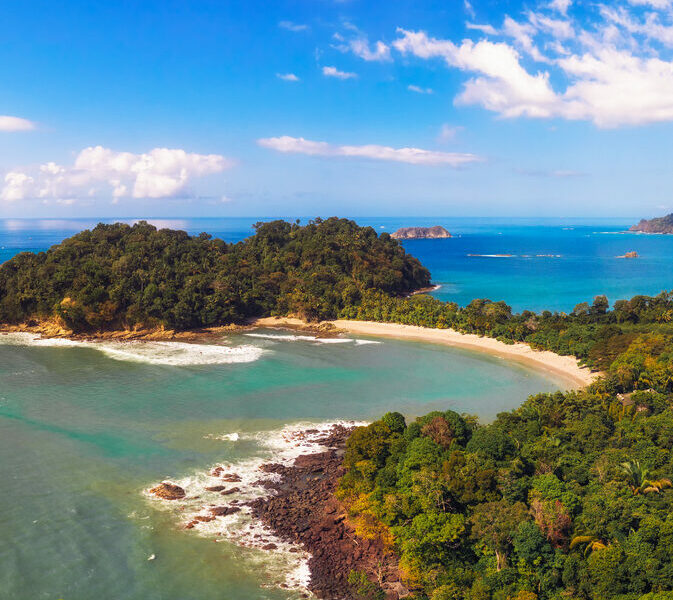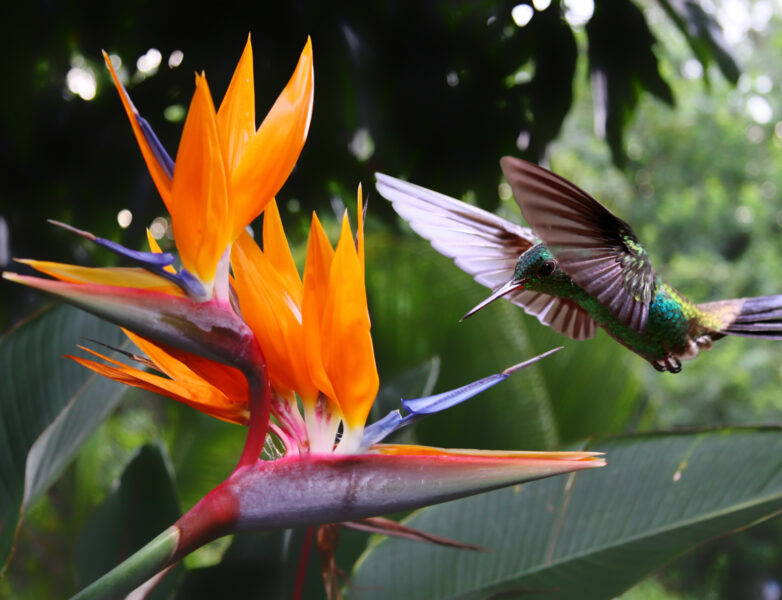 Hike, Bike and Raft from Coast to Coast of Costa Rica
5.00

()
Choosing between the Pacific and the Caribbean can be a tough choice—that you don't have to make. Traverse the lush Costa Rica coast-to-coast over the course of 12 days by foot, bike, raft, and kayak. That's right, no vehicles involved, as this is a sustainable, human-powered adventure taking you on a 154-mile ride from the country's west to the east. Apart from sun-splashed beaches, the country's intricate trails will allow you to see beyond the sea: paddle along the meandering Pacuare river, roam amongst fragrant coffee plantations, and feel the warm mist of cloud forests on your skin. Spotting a riot of curious-looking creatures whose vibrant shapes and colors sing of endless summer is also a given. Such a deep dive into this Caribbean country will start to give you an idea of why their national motto is pura vida—the pure life.
From the Pacific to the Caribbean, your legs will do all the work

With almost 6% of the world's biodiversity, Costa Rica is teeming with wildlife

One day you're sunbathing on golden beaches, the other you're taming wild waters cutting through the dense jungle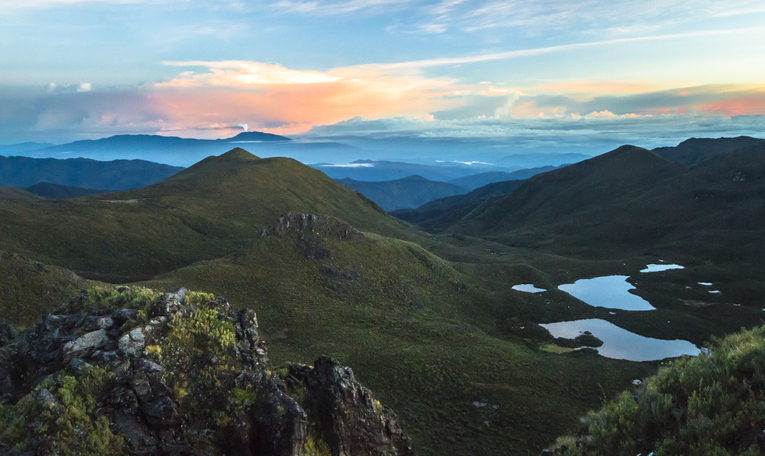 Itinerary
Travel coast to coast on this human-powered 12-day adventure! You'll cross 154 miles (248 km) by mountain biking, hiking, whitewater rafting and sea kayaking. The route traverses mountain villages, coffee plantations, and small riverside communities whose trails take you to virgin forests, immaculate beaches, and crystalline rivers and waterfalls.
Once you land in San José, your guide will meet you at the airport and drive you to your overnight accommodation in San José. Relax and prepare for the next week of adventure!
Accommodation: Hotel in San José

Leave San José by bus—which will be your last motorized vehicle for the next 10 days—to the fishing village of Quepos, right next to Manuel Antonio National Park. Relax on the beach or visit the park, famous for its abundant wildlife. Meet for dinner for a briefing and make sure your bikes are all set up.
Accommodation: Hotel in Quepos
Meals: Breakfast and lunch

Wake early and enjoy a light buffet of fresh fruit and coffee, after which you'll set off on bikes to climb the steep mountains of the Pacific Coast. After you've admired the views from the top, continue onto the small town of Esquipulas, where delicious breakfast awaits. Rest and prepare your day packs for the next leg of the day's journey. Trading your wheels for hiking boots, continue trekking into the cool mountains of Central Costa Rica. Camp overnight in the valley of Naranjillo.
Accommodation: Camp in Naranjillo
Meals: Breakfast, lunch, and dinner
Hiking: 9 miles / 14 km
Biking: 12 miles / 19 km

Begin your day with a trek towards the Continental Divide and the infamous Cemetery Hill, a strenuous 13-kilometer climb. Then head for the pueblo of San Lorenzo, switching to mountain bikes to reach the quaint village of Santa Maria, where you'll reenergize with some typical Costa Rican dishes and rest in comfortable cabins.
Accommodation: Cabins in Santa Maria
Meals: Breakfast, lunch, and dinner
Hiking: 7 miles / 12 km
Biking: 9 miles / 14 km

Today you tackle the hardest, steepest climb of the adventure: mountain biking a 14-kilometer (9-mile) stretch to the Continental Divide, bringing you to an altitude of 2,330 m (7,644 ft). The remainder of the day is mountain biking at its best—mostly downhill on dirt roads and singletrack trails. Reach Orosi Valley, where rich pastures and dark green forests of coffee carpet the land. Spend the night in the town of Orosi.
Accommodation: Hotel in Orosi
Meals: Breakfast and lunch
Biking: 30 miles / 49 km

After breakfast, mountain bike along a river to the Tapantí National Wildlife Refuge. This is an area of vast, rugged terrain covered with dense primary forest. Leave your bikes and continue trekking amongst thousands of trees covered with ferns, bromeliads, mosses, and other epiphytes. Finish the day by reaching the small settlement of Humo, where you'll stay for the night.
Accommodation: Camp in Humo
Meals: Breakfast, lunch, and dinner
Hiking: 10.5 miles / 17 km
Biking: 6 miles / 9 km

Once you've had breakfast, continue mountain biking towards whitewater rafting at La Cruz, the upper gateway to the raging Pacuare River. Eat lunch and then load up into the rafts to paddle through pristine rainforest, canyon cliffs, and thundering waterfalls. By afternoon, arrive at your comfortable riverside camp, El Nido del Tigre, nestled between the sounds of the rainforest and the hum of the river. Feel free to wander off, exploring the lush environment, looking out for toucans, boa constrictors, and sloths, or simply relax in a hammock to the sounds of the river.
Accommodation: Camp in El Nido del Tigre
Meals: Breakfast, lunch, and dinner
Rafting: 6 miles / 10 km
Biking: 27 miles / 43 km

How you spend your day today is up to you. You're going to be stationed on the banks of the Pacuare River, so there are multiple options here: hiking the hills, swimming in the Pacuare, or exploring primary forest, waterfalls, and swimming holes. You can also have a look at the giant ginger plants, named the same as the camp—El Nido del Tigre. Spend another night at this remote camp, which will give you a sense of isolation as not many people are here.
Accommodation: Camp in El Nido del Tigre
Meals: Breakfast, lunch, and dinner

Today you'll maneuver through the exhilarating rapids of the Pacuare River, taking you through virgin rainforest, cascading waterfalls, and river-carved canyons. Along the way, take time out to do some hiking to spectacular waterfalls and have lunch on the shore. In the late afternoon, head to the banana plantations at Finca Pacuarito and rest for the night.
Accommodation: Camp
Meals: Breakfast, lunch, and dinner
Rafting: 12 miles / 20 km

A short bike ride through banana plantations takes you to the town of Freeman, where you begin the final leg of the traverse in kayaks down the Pacuare, leaving the wild rapids behind as the river eases into the Caribbean lowlands. Pacuare slows down as you raft the last mile of the river, until it finally meets the Caribbean Sea. Enjoy your time at the beach, after which you will be picked up by a motorboat and transferred to Moin, from where you travel by vehicle to the beach.
Accommodation: Hotel
Meals: Breakfast and lunch
Kayaking: 7 miles / 12 km
Biking: 16 miles / 26 km

This morning relax around the hotel or on the beach. After lunch, head back to San José, which is around 4 hours away. Along the way, you'll pass a myriad of spectacular landscapes: high cloud forest, misty mountains, deep, steep, river-carved canyons, and Braulio Carrillo National Park.
Accommodation: Hotel in San José
Meals: Breakfast

After your final breakfast in Costa Rica, your guide will come pick you up at your hotel for your homebound flight. If you'd like to stay longer and explore the wonders of Costa Rica, just ask your guides for some recommendations!
Meals: Breakfast
Get free trip brochure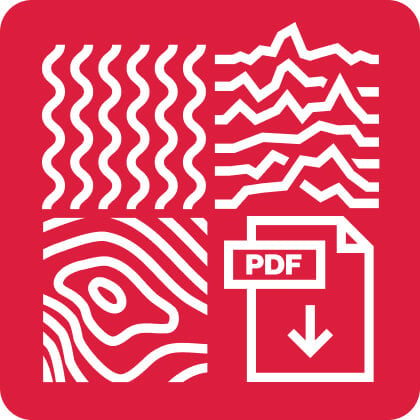 The brochure contains:
Adventure and location overview, itinerary, available dates, what's included, how to prepare, and much more.
Brochure sent, check your inbox
Talk with us
and let one of our adventure experts help you plan your perfect adventure.
Meet your guide

Coast to Coast Adventures
Certified Guides
With 25 years of experience, Coast to Coast Adventures designs and leads multi-activity vacations for just about anyone who wants to experience the natural beauty of Costa Rica. They take great pride in their attention to detail as well as the quality and safety of their varying adventures. For life-changing, inspirational journeys, the combination of the countless wonders of Costa Rica and the professionalism of Coast to Coast Adventures is the ultimate winning combination.
Patrick M
about
Coast to Coast Adventures
on Tripadvisor
Awesome experience in CR thanks to Coast to Coast! Randall helped us plan an amazing trip with a ton of fun, engaging activities. Carlos made sure we made it from one destination to the next, always sharing great insights and helping us to learn more about his country. We can't say enough about how great Coast to Coast was, I'd recommend them to anyone looking for a fun, active trip to CR!
Nora and Pat M
about
Coast to Coast Adventures
on Tripadvisor
We did the 12 day Coast to Coast trip across Costa Rica with Mike and Chris. It was one of our most memorable and amazing trips! We had to miss the first leg of the trip due to illness and Mike and Chris accommodated us joining a few days late. My being a novice bike rider wasn't a problem either – they were super supportive and encouraging. We have been on more than one trip with Coast to Coast, each one has been a special adventure AND we hope to join them again in the near future. If you are thinking of booking this trip – don't wait just do it, you will love it!
Glen and Joanne S
about
Coast to Coast Adventures
on Tripadvisor
We did the 12 day Coast to Coast Costa Rica Adventure trip with five of our friends. It was without a doubt one of the best trips we've ever experienced. We were impressed with the way CtoC took care of us right from picking us up at the airport, to sending us on our way after the trip concluded. They provided top notch equipment, accommodations and meals, which to us is good value for our travel dollars. On the adventure, the five guides made sure we were safe at all times, and gave us excellent assistance. We were a varied group – and all levels of skill were accommodated – we never felt rushed or hurried along. Our favorite section of the trip was staying at the river camps after rafting the Pacuare River. If you like adventure – then hike, bike, raft and kayak across Costa Rica!
Alexandra V
about
Coast to Coast Adventures
on Tripadvisor
We had such an amazing time in Costa Rica! I hadn't been abroad in decades and had so many questions and really no idea how to plan a trip. Randall at Coast to Coast was phenomenal! He set up a wonderful trip for us that was a perfect mix of adventure and relaxation. He responded to my millions of questions quickly, reminded us of things we had to do before travel, and helped us every step of the way. Definitely will be using Coast to Coast again!!
Things to know
What you get on this adventure:

Experienced bilingual hiking guides with extensive knowledge of the area

12-day multisport adventure

Transportation during the tour

Accommodation (hotels and campsites)

Airport transfers

Meals listed in the itinerary — gluten-free, dairy-free, vegan, and vegetarian diets can be accommodated at no additional cost, but make sure to notify your guides in advance

Group equipment (rafts, camping gear, etc.)

Meals: Eating is one of the wonderful experiences when traveling in Costa Rica. Included meals are a combination of restaurants, local food and delicious meals prepared by the tour guides. Rough costs for meals not included in the adventure are $10 to $12 for lunch and $12 to $20 for dinner.

All Coast to Coast Adventures' guides have First AID, CPR and Swiftwater Rescue and Head Guides have Wilderness First Responder.

What's not included:

Transportation to Costa Rica

Meals not indicated in the itinerary

Personal equipment

Guide gratuities — optional

In order to join the Coast-to-Coast Multisport Adventure in Costa Rica, you need to have an excellent level of fitness and good stamina. While no experience mountain biking or rafting is necessary, it certainly makes the trip more enjoyable. Keep in mind that during this 12-day tour, you'll be going on adventures virtually every day for which good fitness and good stamina are obligatory. The most you'll bike in a single day is 30 miles (49 km).

If you'd like to take it a bit easier in the Caribbean, check out this equally fantastic but more laid-back family multisport adventure in Costa Rica.

Here's a list of the equipment you need to bring:

Daypack for daily tours (around a 25-30L bag)

Daypack rain cover

Duffel bag

Sunglasses & keeper straps

Headlamp

Chargers & batteries

Additional small flashlight

Water bottle or hydration bladder (2L capacity)

Copy of your passport

Toiletries (SPF lip balm, insect repellent, hand sanitizer)

Waterproof sunscreen, SPF 30+

Gallon & quart size ziploc bags

Towel

Dry bag — optional

Camera — optional (but recommended)

Binoculars — optional

Here's a list of clothing we suggest you bring:

Shirts (polypro outerwear)

Short-sleeved and light-colored long-sleeved shirts for sun protection)

Lightweight rain jacket

Medium-weight wool or fleece sweater

Lightweight thermal underwear top (polypro or wool)

Lightweight comfortable pants

Shorts (quick-drying)

Lightweight rain pants

Sun / rain hat with brim

Bandana

Lightweight hiking shoes or boots

Sandals with snug straps (Teva type)

Lightweight fast-drying hiking socks

Hiking poles — optional

Water bottle or hydration bladder (2L capacity)

Lightweight hiking boots or shoes

Spare clothes for layering

Due to the terrain, it's recommended to bring good quality mountain gear. Your guides will contact you about any additional equipment at the time of contracting the trip.

Dress comfortably and for the weather in clothes you can move in. We suggest bringing clothing appropriate for the season. Layers are best and don't wear jeans.

Group sizes and prices:

For this Coast-to-Coast Multisport Adventure in Costa Rica, the maximum client-to-guide ratio is 12:1. The cost does not decrease as the group grows.

It takes a minimum of 4 people for this private tour to operate.

Multisport tours in Costa Rica can be arranged for larger groups. Contact us to make arrangements.

Min. age requirements:

If you are older than 18, you're good to go.

Minors older than 12 may be permitted to join the tour, but must be in the presence of a parent or legal guardian.

If your group has travelers under the age of 18, contact us prior to booking to make arrangements.

A 30% deposit to secure your place is due upon booking. The remaining amount is paid 3 months (90 days) prior to departure. Once the trip is confirmed by the guide, the cancellation policy stated below applies. 

If Client cancels the Booking anytime prior to one hundred twenty (120) calendar days in advance of the trip contemplated by the booking, Client is entitled to a full refund. 

For cancellations ninety (90) to one hundred nineteen (119) calendar days in advance, Client is entitled to a refund in the amount of fifty percent (50%) of the total amount paid when Booking. 

For cancellations seventy-five (75) to eighty nine (89) calendar days in advance, Client is entitled to a refund in the amount of twenty-five percent (25%) of the total amount paid when Booking. 

After that deadline, Client is not entitled to any refund. Any reimbursable expenses arising out of the Booking incurred by Guide prior to the date of cancellation (including but not limited to plane tickets, car rental payments, and lodging or transportation fees) are non-refundable as soon as they are incurred by the Guide.

To get to Costa Rica, most people fly into Juan Santamaria International Airport in San José. Your guide will then pick you up at the airport at a prearranged time and take you on your tour. On the final day of your adventure, your guide will also transport you back to the airport.

57hours is committed to providing safe outdoor adventure experiences. We require all guides using our platform to have a COVID-19 safety plan and to make the details of that plan accessible to travelers. In most cases, group sizes will be reduced, guides will avoid overcrowded locations, and other safety measures will be met depending on the location and activity. 

We also expect clients to respect local regulations and take measures to protect themselves, their guides, and the communities they're traveling to. For more information on COVID-19 measures in Costa Rica, please refer to Costa Rica's entry requirements.

Please contact us if you have any questions or require further information. We are happy to provide you with the most up-to-date information!
Get free trip brochure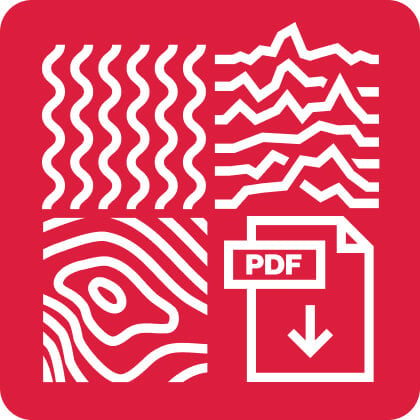 Adventure and location overview, itinerary, available dates, what's included and much more.
Brochure sent, check your inbox
Talk with us
and let one of our adventure experts help you plan your perfect adventure.
Other things to do in San Jose, Costa Rica