Igor covered:
Why

Croatia

provides the perfect setting for an active vacation

A look at the

Adventure Race Croatia

and how it became a regular tour

An in-depth look at the

itinerary

of the adventure

The different

regions

you'll encounter and what makes them unique

How to

train

and

prepare

for your journey

A local's tips for

planning your trip
Adventure Races are multi-day, multi-disciplinary marathons where the upper echelon of adventurers get to push their limits in spectacular outdoor environments.
While they're usually reserved for şeasoned endurance athletes, Igor Dorotić is bringing them closer to everyone — provided they're fit enough.
Adventure Race Croatia is one of the most popular races in the Adventure Racing World Series. Every year, competitors from 5 different continents paddle the roaring rivers, pedal the rolling hills, and trek the karsty trails of coastal Croatia, doing whatever it takes to take their team to the top.
By adapting it into a tour you can tackle at your own pace, Igor aims to share the addicting thrills of adventure racing and the endless potential of his homeland with a much wider audience.
If you want to know more about Igor's efforts to bring Adventure Race Croatia to the masses, hear the coolest stories from his previous races, and learn how you yourself can take part in this trip, tune in to this FREE WEBINAR!
Webinar host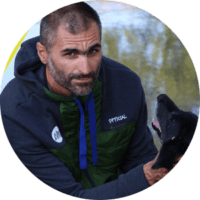 Igor Dorotić
MTB guide and creator of Adventure Race Croatia
Igor Dorotić was born to craft adventures, which he's been doing since 2008. Beside refereeing in the Adventure Racing World Series, Igor has also created "Adventure Race Croatia". His drive and passion for discovering new hidden gems is second to none, and it's safe to say nobody knows the secret spots of the Croatian outdoors better than him.