Chamonix | France
Climb the Alpine Classics of Chamonix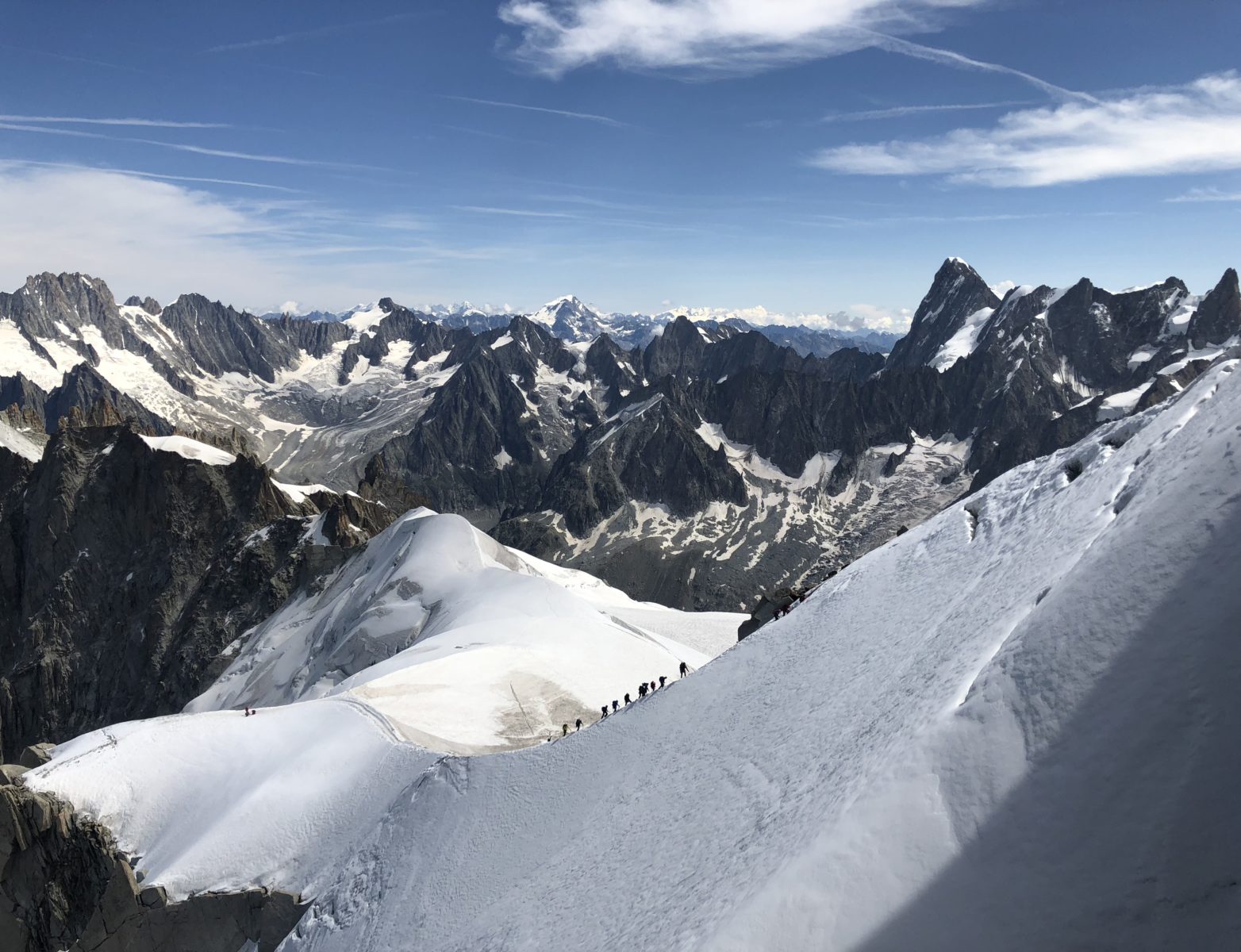 Season
Spring through fall is the best time for alpine climbing
Nearest city
Geneva International Airport (GGV) is a 1-hour drive from Chamonix
Chamonix — The Birthplace of Modern Alpine Climbing
For classic, world-renowned alpine climbs, Chamonix tops the list. With its perfect granite rock towers and snow-covered ridges that loom over the picturesque town, it looks like it fell out of a postcard. Whether you're looking to conquer your first climb or check a classic ascent like Mont Blanc off your list, Chamonix has something for everyone. With incredible routes, breathtaking views, loads of climbing history, and amazing food, wine, and culture, climbing in Chamonix will be the experience of a lifetime.
Climb One of Chamonix's Classics
The Mont Blanc massif and greater Chamonix area are synonymous with alpine climbing. Find yourself amongst a plethora of routes suited to seasoned climbers and rookies alike, all easily accessible. Some of the classics include:
The Cosmiques Arête & South Face of the Aiguille du Midi (Grade II, 5.6-5.9)
Classic climbs in the Vallee Blanche and Argentiere Basin (Grade II-IV, 5.6 – 5.10+)
Routes on and around the Aiguille du Tour (easy snow to technical mixed routes)
The Dent du Géant, Marbrées & Entrèves Traverses, Tour Ronde and more (easy ridge traverses & more difficult climbs)
The ultra-classic Midi-Plan Traverse (snow and mixed traverse to a beautiful summit)
A classic ascent of Mont Blanc, via the Dôme du Goûter or the Trois Monts Traverse
Most Popular Itineraries
A Customized Day of Private Climbing With a Guide
Tailored to your specific objectives and climbing experience, a day with a private climbing guide will ensure you make the most out of your time in Chamonix. Newer climbers can develop their techniques on handpicked beginner and intermediate routes, while experienced climbers test their skills in challenging alpine terrain on famous classics. Focus on whatever you want — in the world's greatest alpine playground, the choice is yours.
Climb the Iconic Mont Blanc
How empowering would it feel to conquer "The King of the Alps" — the highest peak of Western Europe? On this three-day trip, you can choose routes ranging from medium to extreme difficulty. Standing at 4,808 meters (15,774 ft), at a minimum, this peak requires strong cramponing and ice axe skills, paired with perseverance and determination to reach the summit. Prior acclimatization climbs are highly recommended.
Skills Development Course: Partner Rescue
Feel safer in the mountains and improve as a climber by learning the fundamentals of partner rescue. This one-day course covers everything you need to know to rescue a fallen or injured leader — from how to safely get to an injured climbing partner, to what to do when you get there, to how to safely retreat from the route. Bring your partner along and take this course together.
Skills Development Course: Crevasse Rescue
Crevasse rescue is a standard component of mountaineering education and a skill that every alpine climber should have. This course will introduce you to the key elements for safe travel on glaciers, including building snow and ice anchors, ascending out of a crevasse on a fixed line, and extracting an injured victim from a crevasse. Take the guesswork out and learn how to safely rescue yourself or someone else in the unfortunate event of a fall.
Things you need to know
Why should I book with 57hours?
With us, it's all play and no work for you! 57hours is an open platform that connects you with trained and certified outdoor adventure professionals all over the world. Using our tech-savvy, we make it super easy to find and book adventures worth tackling, with guides worth booking, all gathered from the first-hand experiences of the locals who adventure in these amazing locations.
What do I need to bring?
Here's a list of the equipment we suggest you bring:
Personal equipment:
Day pack large enough to carry all the items listed (around a 30L bag)
Glacier glasses
Sunscreen
Water bottle
Toiletries
Food you can eat on-the-go
Camera — optional
Technical equipment:
Ropes
Light rack
Crevasse rescue kit
Harness
Helmet
Belay device (your typical multi-pitch personal kit)
Hardshell
Ice axe
Trekking poles
Rock shoes
Headlamp
Clothing list:
Climbing pants
Base layers
Softshell
Gloves
Boots /Crampons
Puffy jacket
What if I've never climbed before?
Chamonix's versatile, easily accessed routes are part of its charm. While it's known for technically challenging and daunting terrain, there are plenty of climbs complete beginners can tackle. Regardless of your skill level, there is a peak to conquer waiting for you at Chamonix.
What does a typical three-day private tour look like?
Day 1:
In the morning, we'll take the Aiguille du Midi cable car from town
We'll spend the day climbing the Cosmique Arete, a classic of the Mont Blanc Massif
In the evening we'll have dinner, beers and sleep at the Cosmiques Hut
Day 2:
We'll face 9 pitches on Pointe Lachenal
After a day of climbing, we'll cross over to Italy for dinner
Day 3:
On our last day, we'll be climbing the 4013-meter Dent du Géant, one of the most beautiful peaks of the entire Massif
Return to Chamonix
Click here for a more detailed look at your three-day climbing adventure!
How fit do I need to be?
To be able to enjoy all Chamonix has to offer, you'll need to be on a pretty good fitness level. It's a good idea to prepare yourself with hikes that gain 1,000 vertical feet per mile for several miles to strengthen your legs, arm and back muscles. While you don't need to be a seasoned climber or have significant experience with winter mountaineering, it will immensely aid you in this challenging terrain. The routes are long; you can expect to spend about a third of the day climbing at high altitude, so prior to conquering the Alps, go out and climb!
Do I need an insurance policy?
It's highly recommended that you cover all your bases with travel and medical insurance. Serious accidents can happen in alpine terrain and we recommend insurance to avoid paying out of pocket for costly medical expenses. And as we've recently seen, travel plans can be abruptly halted, so it's a good idea to have cancellation insurance that also covers lost baggage. It's tried and tested and it works.
What about group sizes and pricing?
Rates for Chamonix alpine climbing are $330 – $660 per day depending on guide/client ratio, route length and difficulty.
Group sizes are usually between 1–2 people per guide depending on your skill level and objectives.
Climbing days can be arranged for bigger groups. Contact us prior to booking.
What about bad weather?
Rain clouds rarely appear on Chamonix's blue skies. If you happen to get unlucky with the weather, your guide will find suitable alternatives. The most common practice is to head to another climbing location nearby. The Italian Alps are just a short drive away, with excellent climbing opportunities to explore.
If there's no suitable alternative on a given day, you can reschedule with your guide to a more favorable day. Take the opportunity to explore the idyllic town of Chamonix. Or, try authentic gelato in nearby Italy. Don't let bad weather rain on your parade…there's plenty to experience in the area!
Cancelation policy
All policies regarding cancellation, rescheduling and trip insurance will be clearly laid out by your guide prior to booking your adventure. Contact us if you'd like more information on a specific adventure.
Getting there
Geneva International Airport (GGV) is a one-hour drive from Chamonix. If you're inexperienced with driving on mountain roads, consider hiring a driver. There's also private or group transfers between Geneva Airport and Chamonix. If you're traveling by train, the Chamonix Mont Blanc Station is located in the city center.
Jeff Witt
AMGA/IFMGA Mountain Guide
The founder of High Peak Adventures, Jeff has more than 25 years of professional gu...
View details
Rob Coppolillo
IFMGA/AMGA Certified Guide
Rob is a AMGA/IFMGA guide who is runs ski and climbing trips all over the world — f...
View details