Meet the Guides: 2023 Scholarship Recipients
The Guide Education Fund was designed to help guides build a sustainable career doing what they love. Through our scholarship program, we are able to help alleviate some of the financial burden associated with professional coursework.
Welcoming the Next Generation of Mountain Guides
57hours is proud to introduce you to the eight guides selected as our 2023 scholarship recipients through the Guide Education Fund.
They come from a range of backgrounds and disciplines, but one thing rings true, regardless of where they are in their career: guiding is their passion.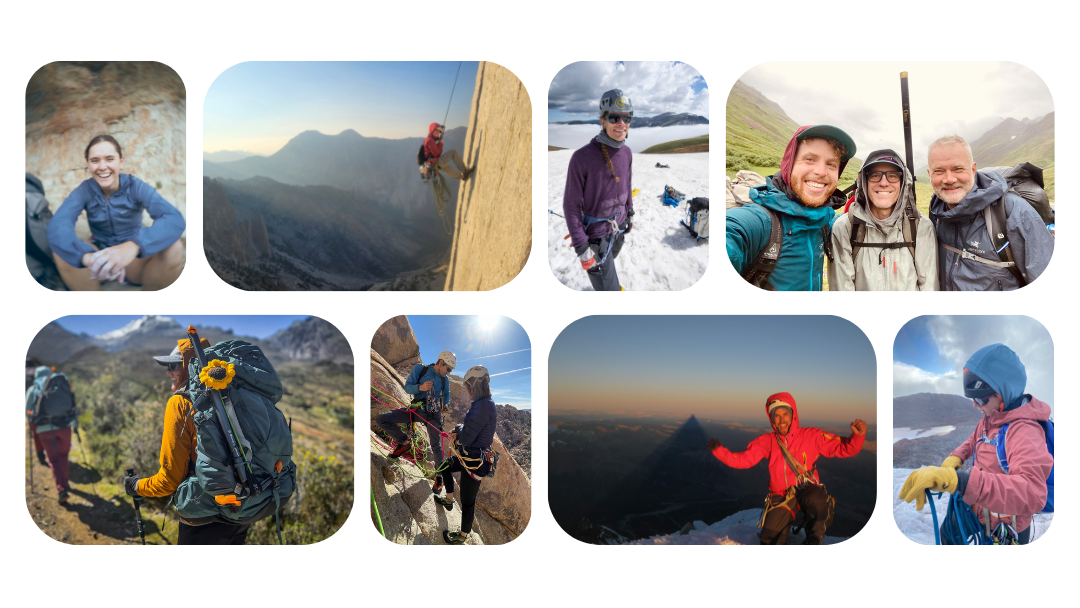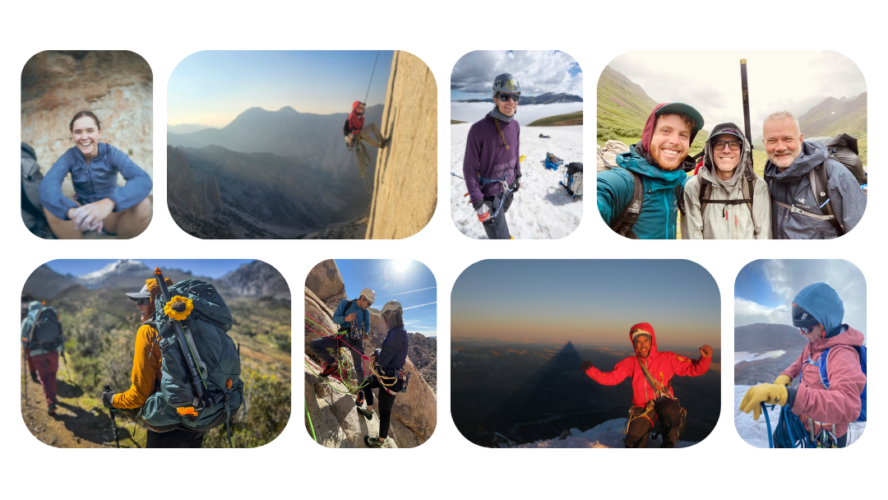 In 2023, they will all take courses through the American Mountain Guide Association (AMGA) and the International Federation of Mountain Guides Associations (IFMGA) in pursuit of their career. We are honored to be supporting guides at all different stages in their career, representing all three guiding disciplines: Rock, Alpine, and Ski.
Identifying a Need: Professional Courses Are Expensive
Here at 57hours, we recognize that professional guiding courses are expensive. That is precisely why we started the Guide Education Fund: to alleviate some of the financial burdens associated with entering the guiding industry and career advancement.
As applications rolled in, we were blown away by each guide. They shared personal stories, their struggles, and successes. In all, we received 55 applications, and over 100,000 dollars in scholarship funds were requested.
This tells us one thing: not only is there a need, but guides are actively searching for financial support from partners like 57hours.
Narrowing down our application pool to just eight guides was not an easy task. As we reviewed each application, we looked at not only their personal narrative but also assessed the potential impact that a scholarship would have on their guiding career.
To all the guides who applied: Thank you.
Thank you for trusting us to be a partner in your journey. By simply applying and making your voice heard, we can show a need for this type of support in the guiding community.
Celebrating Diversity in the Outdoors
In addition to alleviating some of the financial burdens associated with professional guiding courses, we have one more goal here at 57hours. We aim to support historically underrepresented communities and increase diversity representation in the outdoors, which means half of our Guide Education Funds are specifically for women, BIPOC, and LGBTQA+ guides.
Of the 170 certified IFMGA Mountain Guides in the U.S., only 16 are women, including just one woman of color: Norie Kizaki. We believe it's hard to be what you can't see.
When women see other women guiding, they can see themselves as guides. When people of color see guides of color, they might take the first step toward exploring outdoor spaces. Or, when an LGBTQA+ climber takes a course led by a fellow LGBTQA+ Rock Guide, they will know that they are welcome in this space.
These underrepresented and marginalized communities showed up in full force for the Guide Education Fund. Of the 55 applications we received, 45% were from women, 15% were from BIPOC guides, and 20% were from the LGBTQA+ community. Our 2022 scholarship recipient, Anthony Leong, highlights the importance of diversity in the outdoors in his article: Let the Teaching Be the Guide.
2023 Guide Education Fund: Scholarship Recipients
Without further ado, it is time to introduce our 2023 scholarship recipients. Read on to meet Anju, Avery, Boaz, Carlin, Ericka, Jack, Julián, and Nate.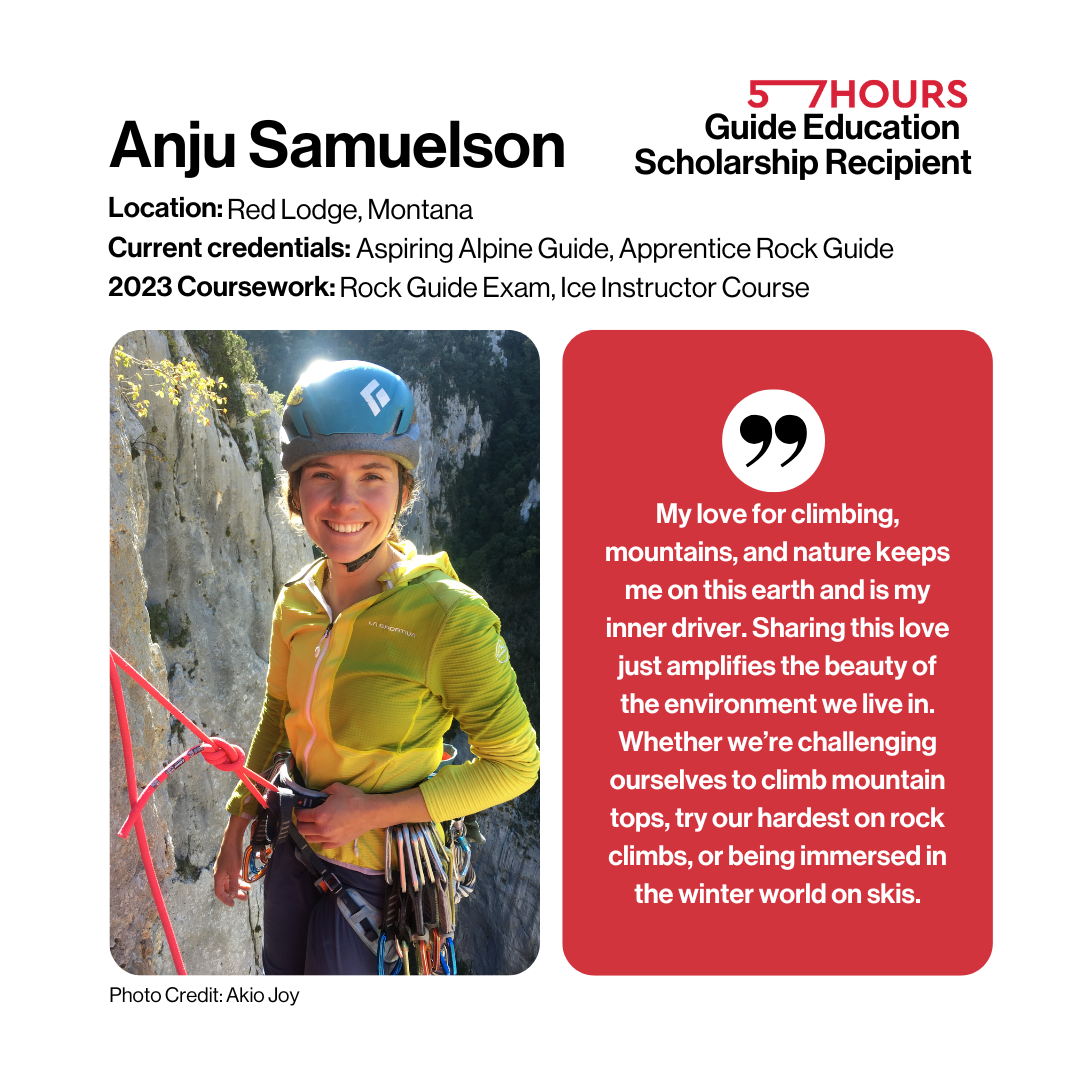 Anju Samuelson grew up in the concrete jungle of Berlin, Germany, with her three Turkish brothers. As a young woman, she struggled to be seen as strong and confident in a busy and chaotic world. These formative experiences taught Anju the value of community. Through her mother's support, she is now pursuing a career as a fully certified IFMGA Mountain Guide and founded the Montana Women's Climbing Festival. Anju is committed to strengthening and empowering women, genderqueer people, and minorities in the climbing community, and her work continues in 2023 with her AGMA Rock Guide Exam.
Get to know Anju @anjuuuusa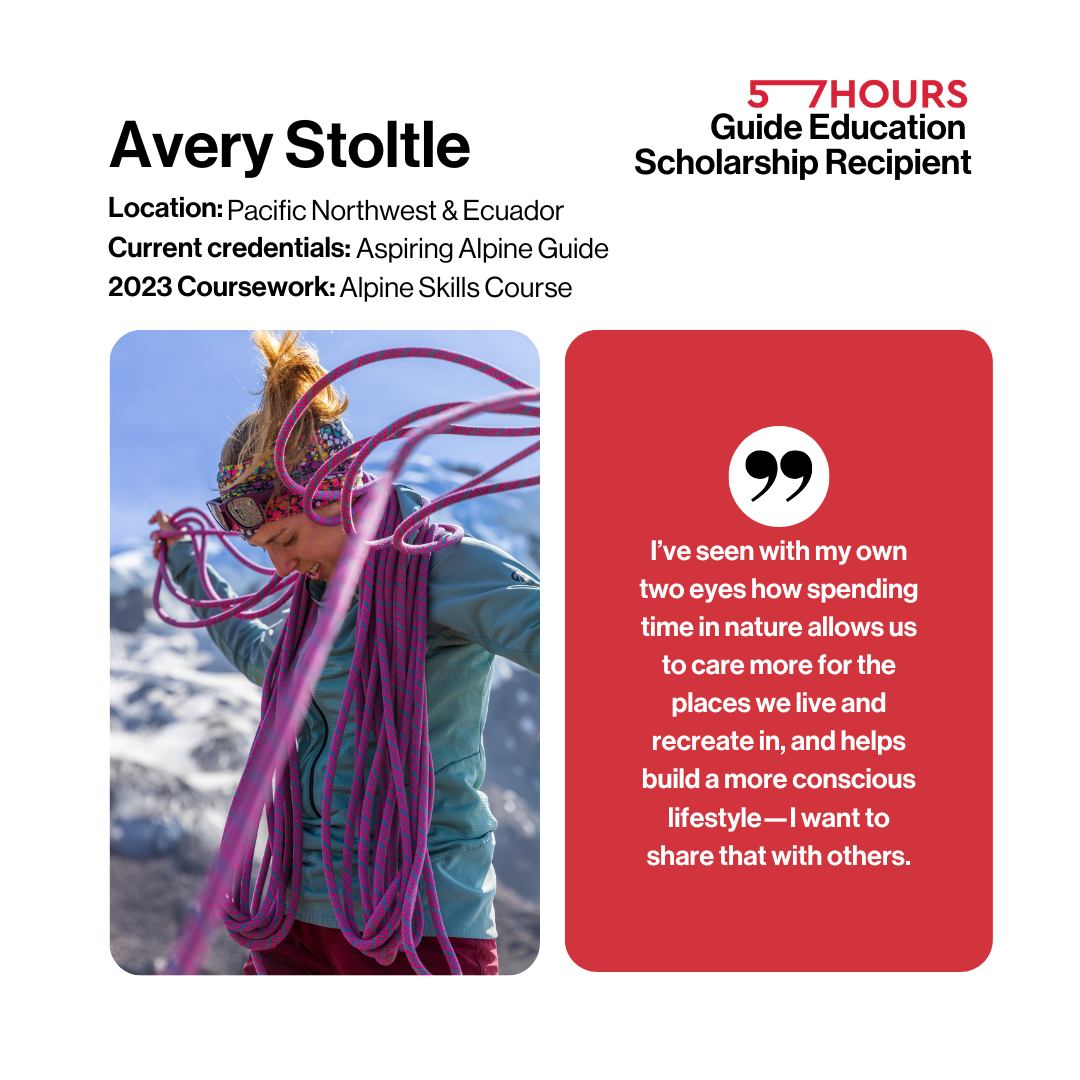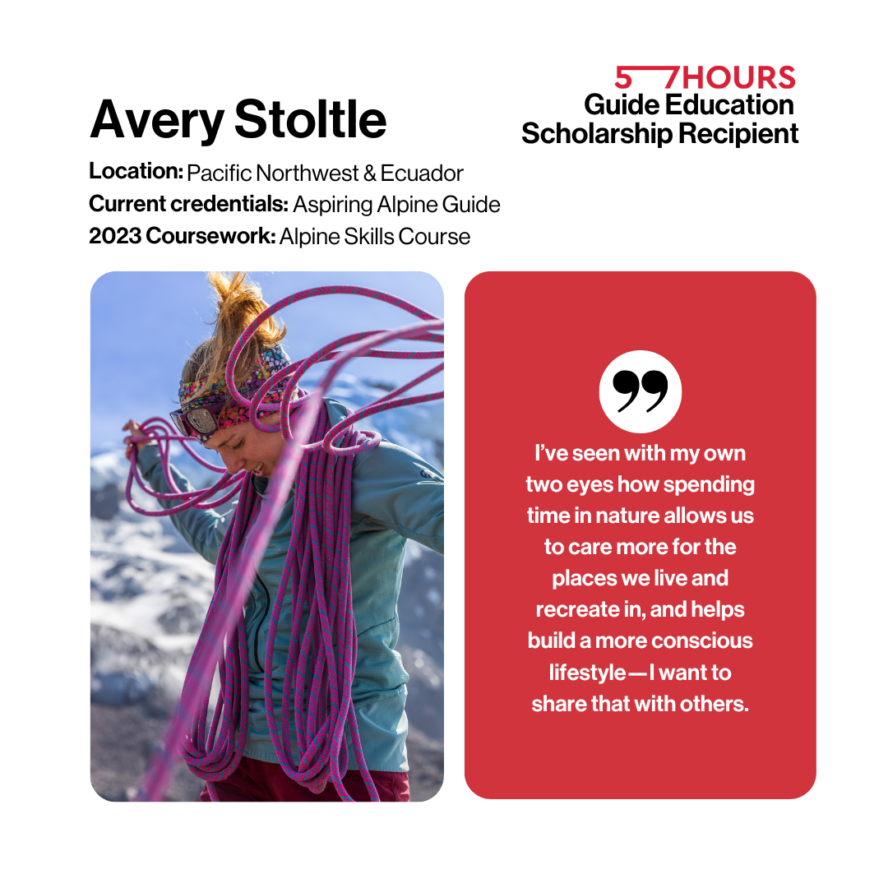 Avery Stolte found her love for mountaineering and climbing in the Ecuadorian Andes. She also found a love for sharing time in the outdoors with others and is a firm believer in its therapeutic power. Even though Avery is just beginning her journey toward becoming an AMGA Alpine Guide, she is already inspired to create trips and experiences for people who might not feel "welcomed" or like they "belong". As Avery embarks on her first AMGA Alpine Skills Course this year, she wants to show others that they don't have to have a specific personality or lifestyle to enjoy the outdoors.
Get to know Avery @aveeystolte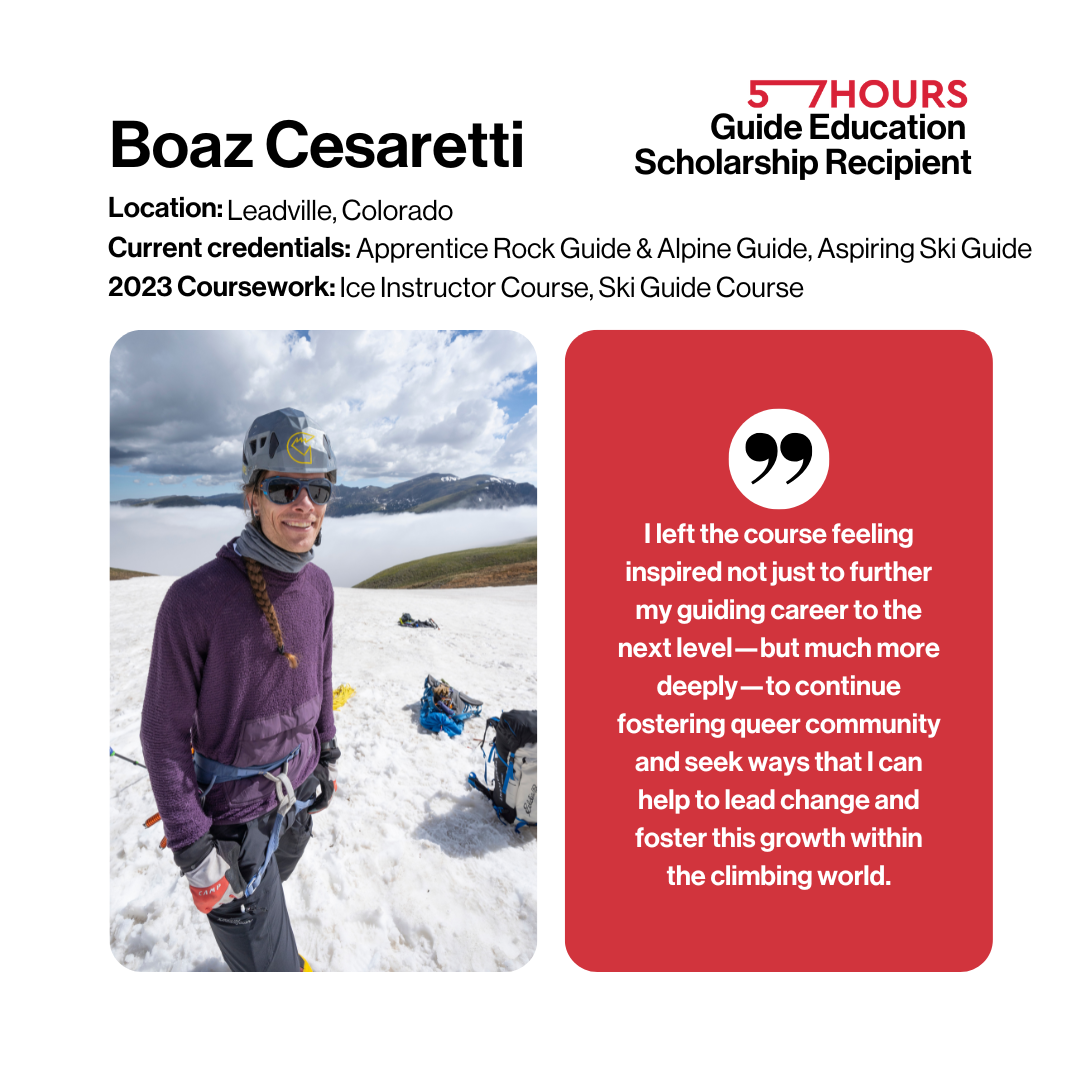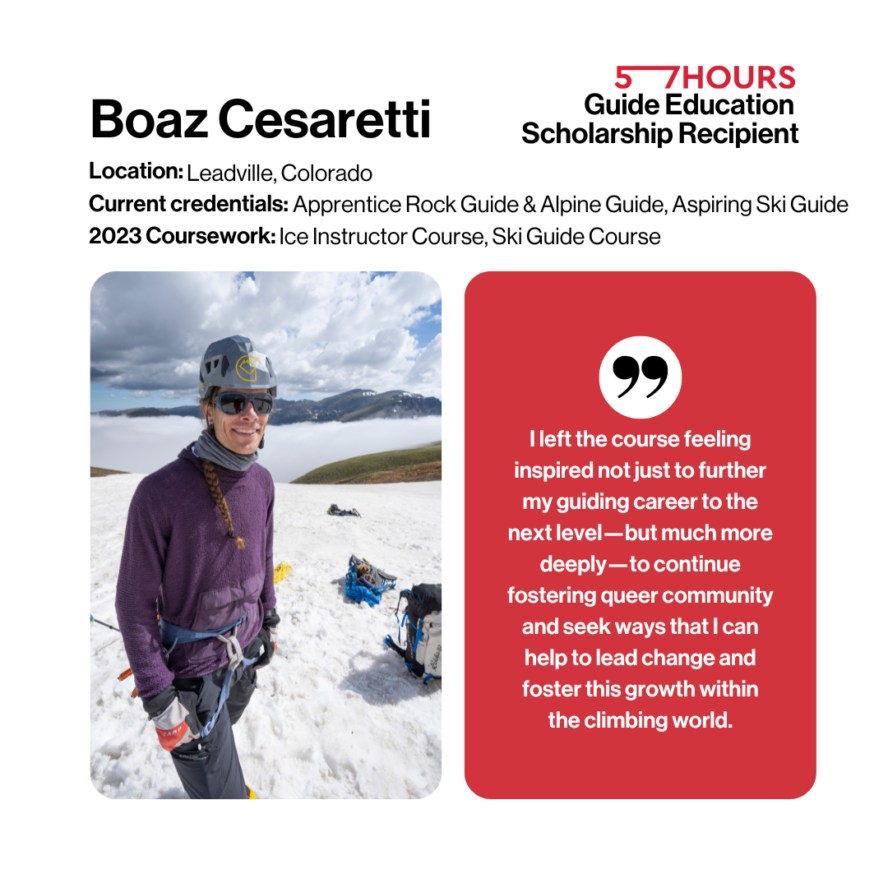 Boaz Cesaretti is passionate about increasing representation and ease of access to the outdoors. As a queer and gender-nonconforming person, Boaz has survived and even thrived because of other queer people, however, when Boaz entered the outdoor space, they mourned the lack of a supportive queer community—until recently. In 2022, Boaz volunteered at the All In Ice Fest, which focuses on elevating marginalized communities in the climbing world. They also took a first-of-its-kind AMGA affinity course explicitly designed for guides from marginalized backgrounds. These experiences continue to lift Boaz's spirit because they finally feel connected to a community within the outdoor world. Boaz dreams of becoming a fully certified IFMGA Mountain Guide, and 2023 showcases their commitment to this with an AMGA Ski Guide and Ice Instructor Course already under their belt.
Get to know Boaz @namaspliff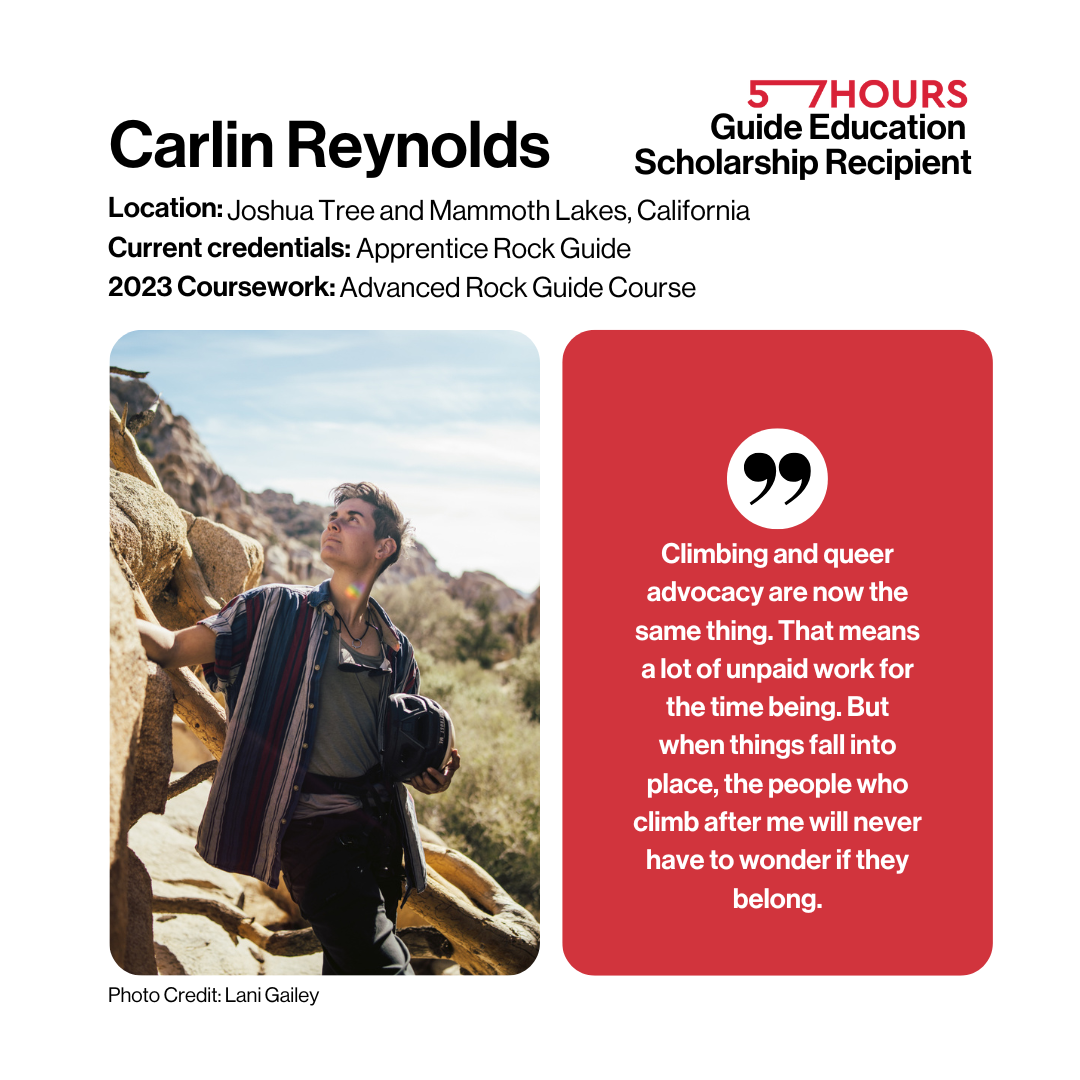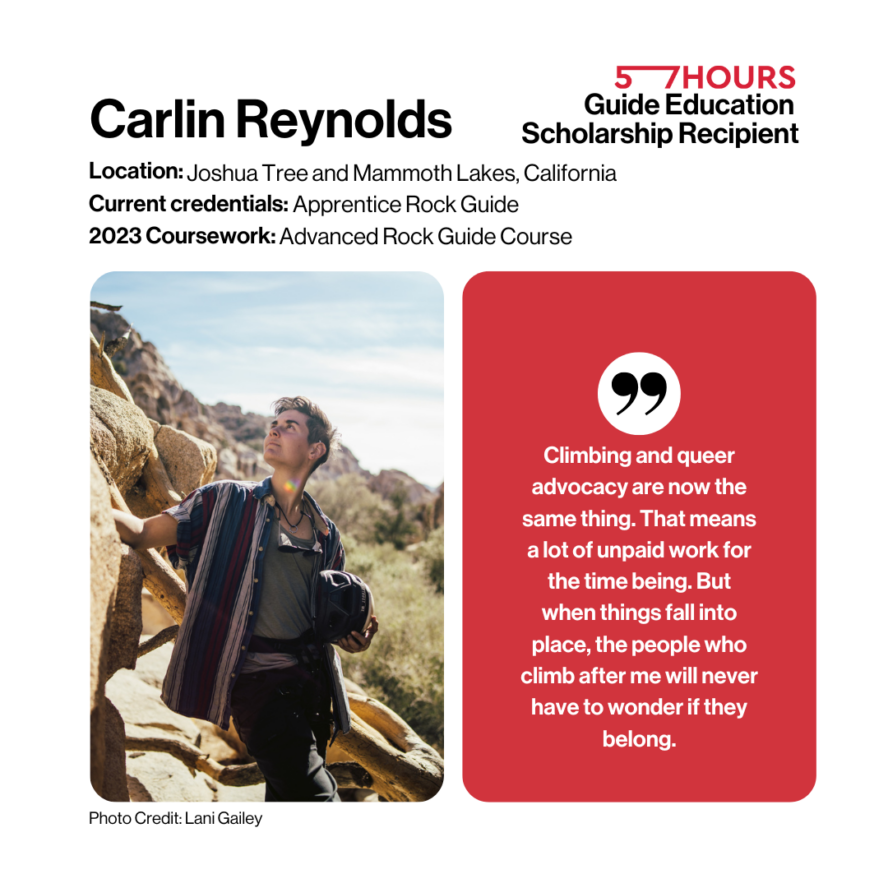 Carlin Reynolds wants to become the first publicly nonbinary AMGA Certified Rock Guide while also building a sustainable guiding career. During Carlin's first stint as a guide in the Eastern Sierra, their new employer asked Carlin to hide their gender in fear of losing their perfect five-star rating, drilling home, once again, a long battle with impostor syndrome and identity. For Carlin, the light at the end of the tunnel was a Climb OUT Campout in Joshua Tree. It was there when Carlin finally found their community, and their identity was neither a burden nor a diversity token—it was simply witnessed. Today, Carlin is proud to be the Technical Director for OUT in the Wild, and in 2023, they will take their AMGA Advanced Rock Guide Course.
Get to know Carlin @carlin.trustme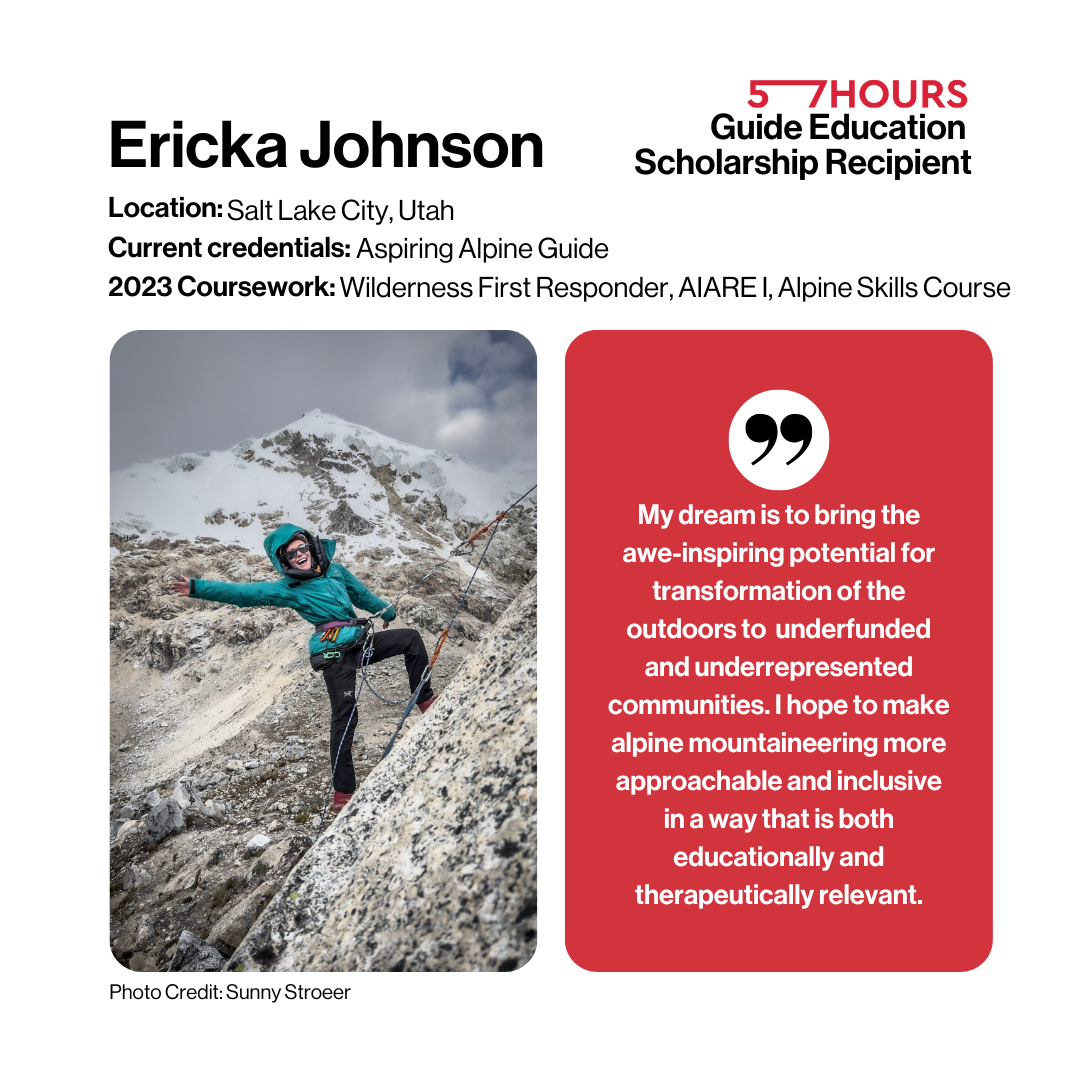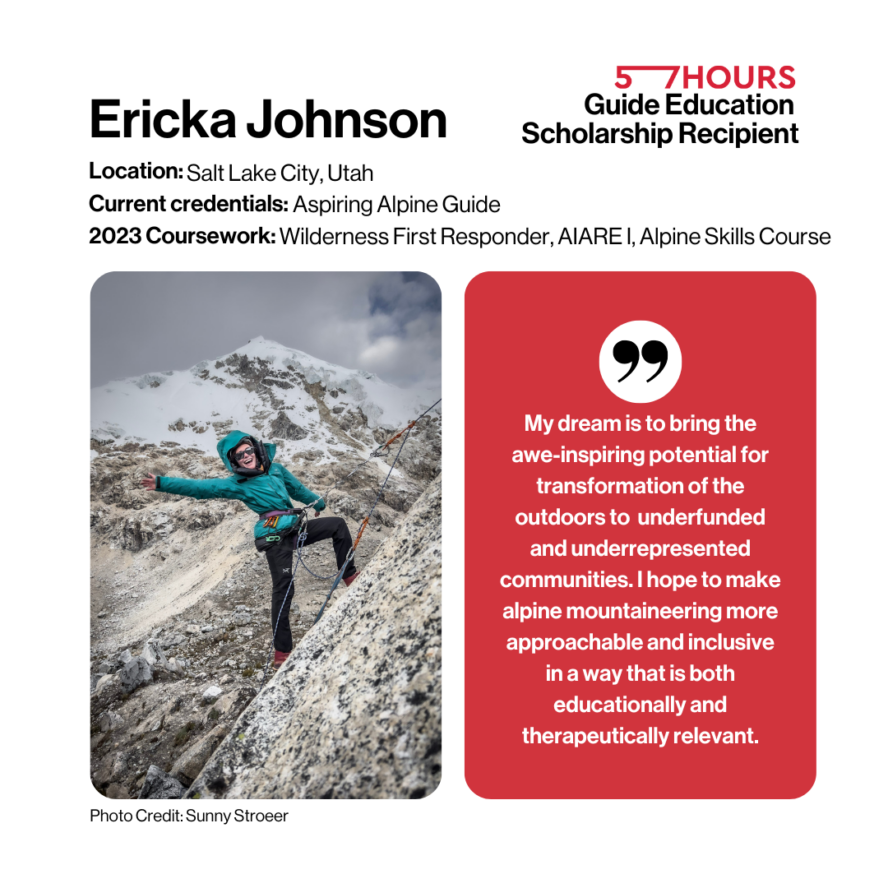 Ericka Johnson is a new guide with big goals. After an all-women's climb in Peru's Cordillera Blanca, she became enamored with broadening and sharing these experiences with other women. Growing up in Tennessee, there were distinct expectations around a woman's lifestyle: get married, buy a house, and raise a family. Because of these stigmas, it wasn't until later in life that Ericka would find the wildly challenging and fulfilling nature of being in the wilderness. Ericka pursued these passions and has spent the last five years playing and working professionally in the outdoors. In 2023, Ericka is ready to make strides and start her coursework as an aspiring AMGA Alpine Guide.
Get to know Ericka @​​ericka.enroute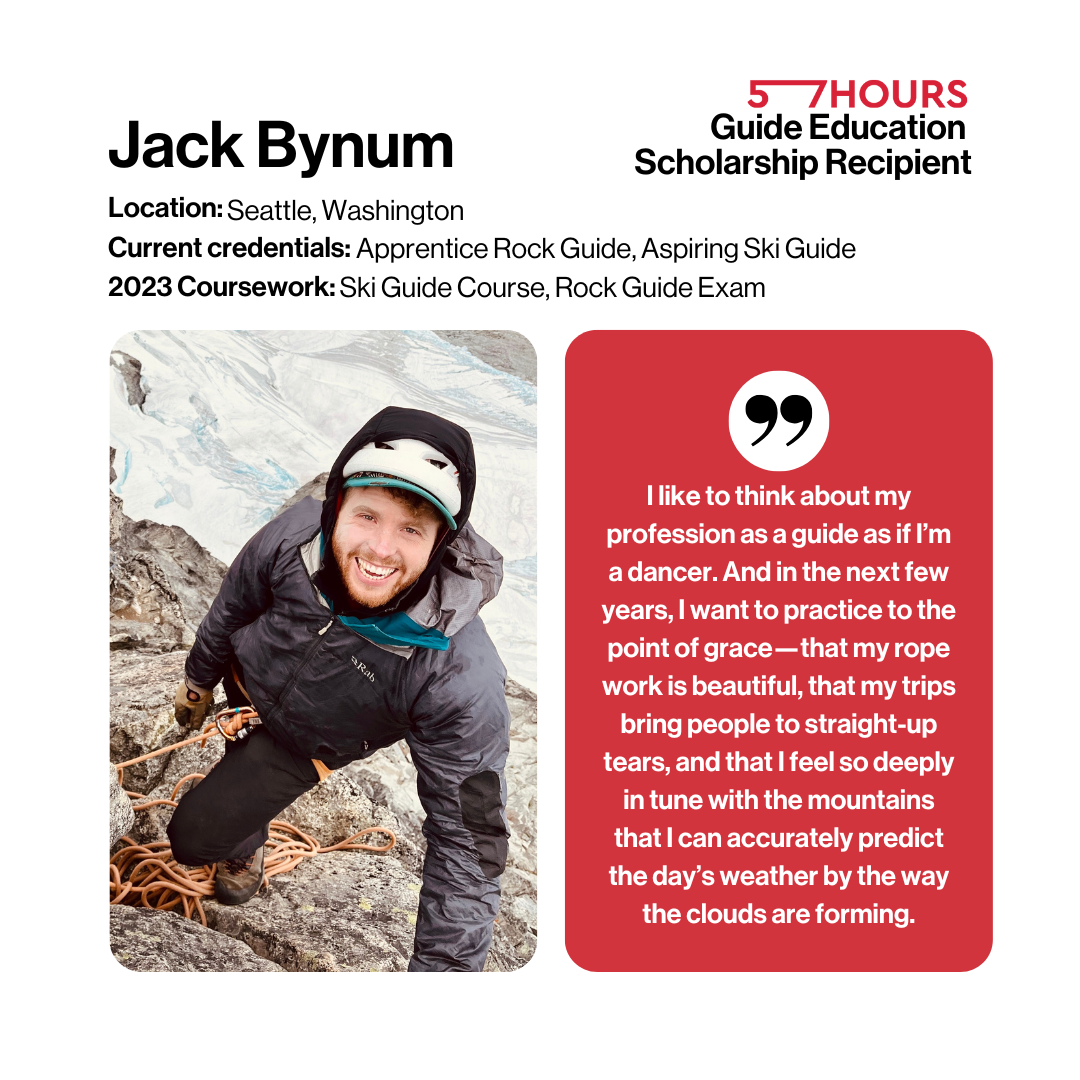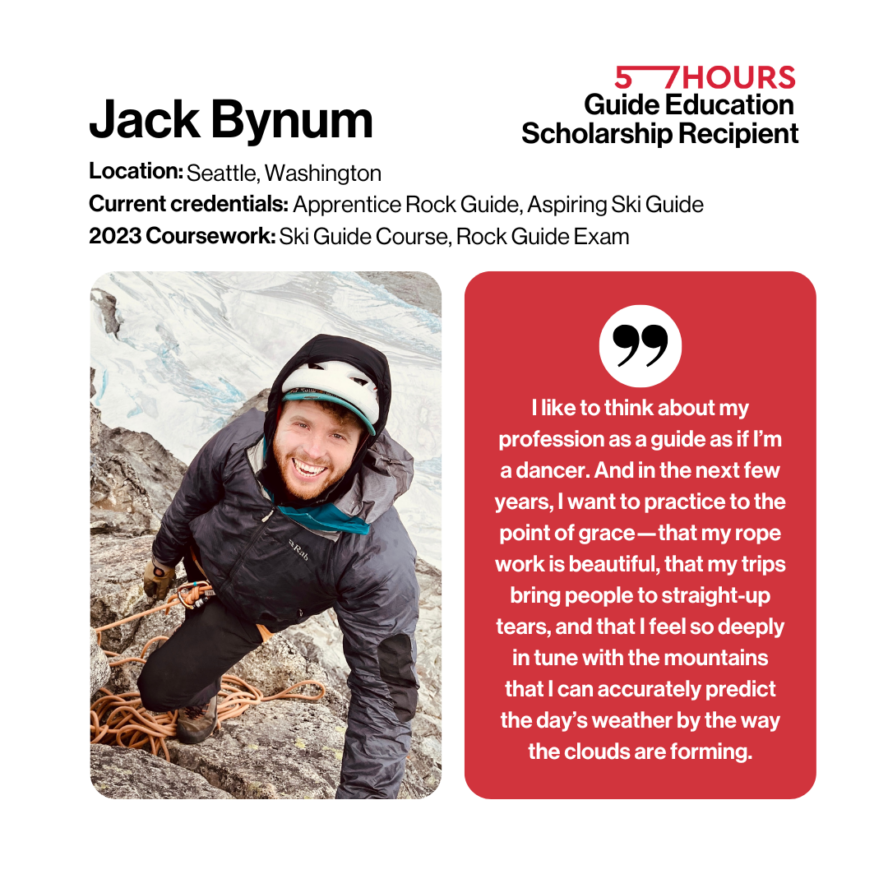 Jack Bynum is on a mission to perfect his craft in the mountains, find balance in his life, renew his spiritual energy, and share wild places with as many people as possible. The wilderness has long been Jack's classroom to explore fear, spirituality, and trauma. His gratitude for these places and experiences radiates from everything he does. To no one's surprise, Jack loves taking people climbing, and he does so through his guiding business, Indigo Alpine Guides. But what he truly loves is helping people reconnect with their inner spirituality and childlike wonder and, ideally, find a new sense of power in nature. In 2023, Jack will complete coursework toward his AMGA Rock and Ski Guide certifications.
Get to know Jack @indigo_alpine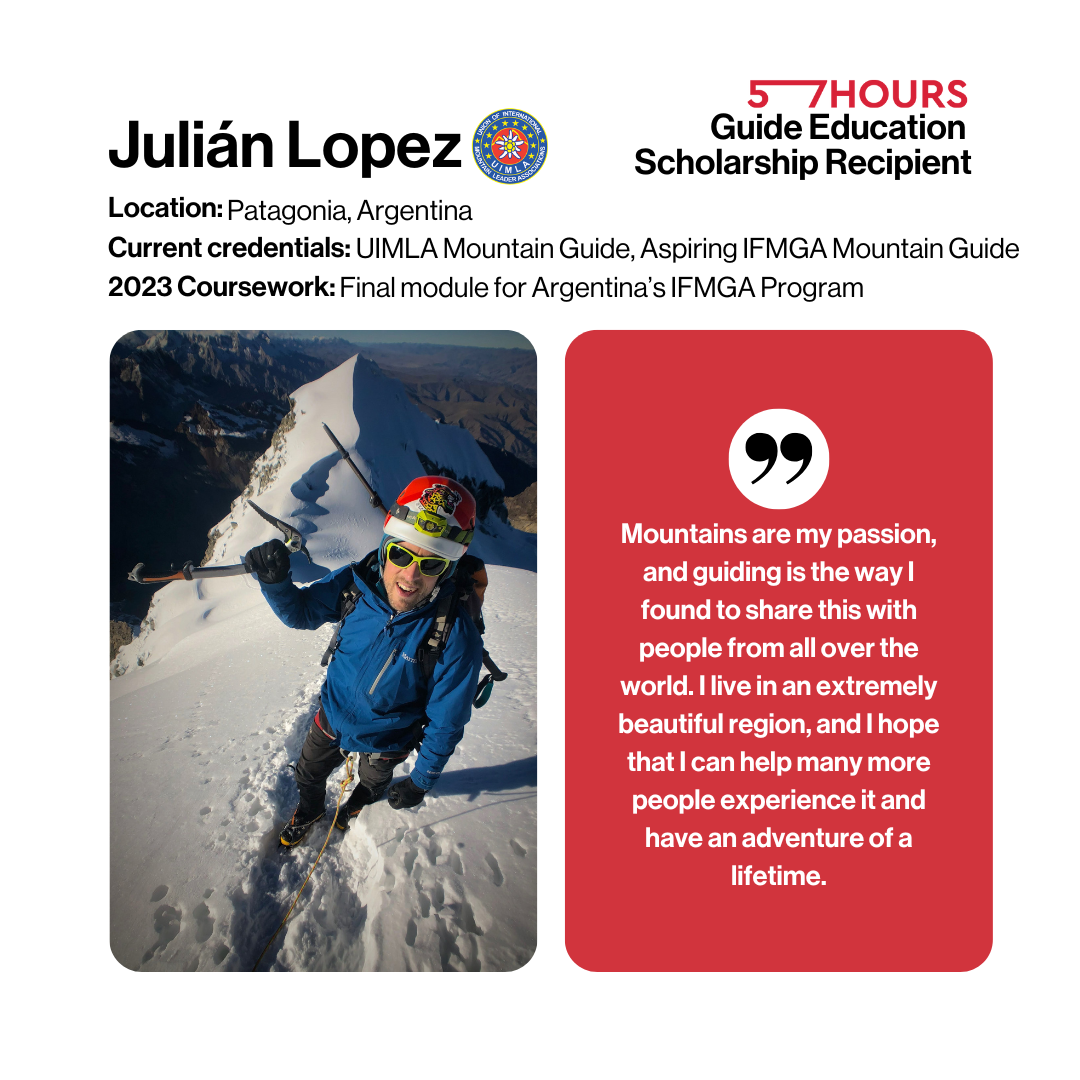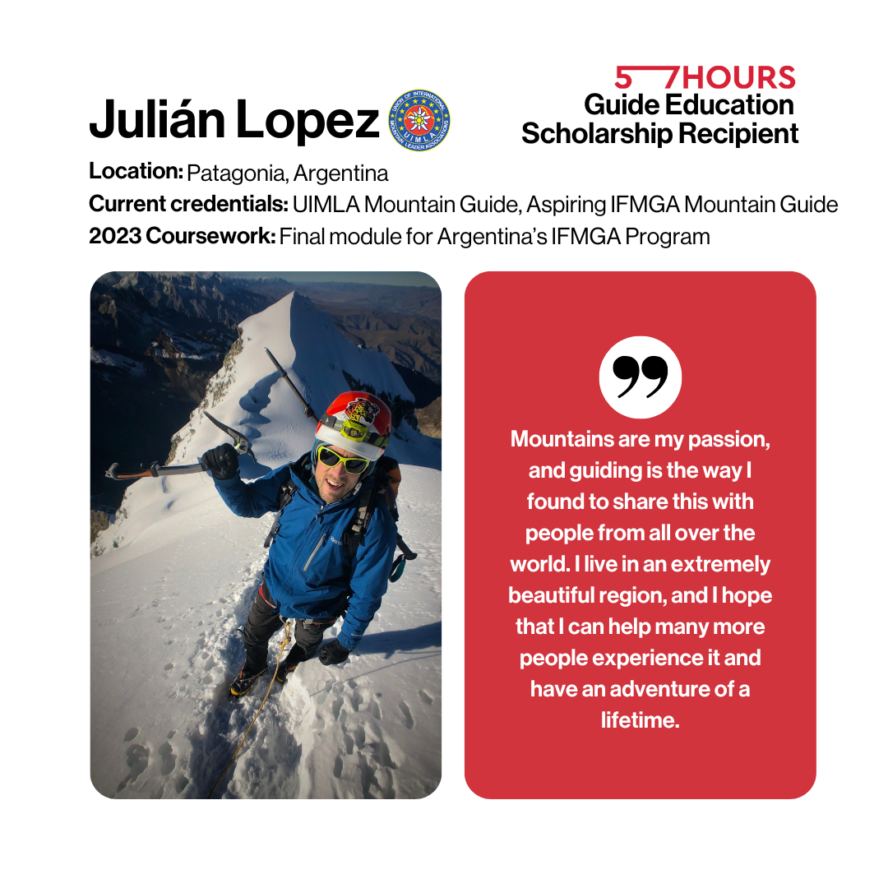 Julián Lopez started hiking, climbing, skiing, and mountaineering in Argentina when he was eight. Since then, he's devoted his entire life to being outdoors, and in 2010, Julián started his guiding career. He spent five years as a trekking guide and six years as a UIMLA (Union of International Mountain Leader Associations) Mountain Guide. Wanting to take things to the next level, Julián started his IFMGA coursework two years ago, and with the support of family, friends, and his partner, he is just one examination away from certification. There's no doubt that Julián had to work incredibly hard to even begin his IFMGA career; as you may know, these courses are costly and even more so when you live in Argentina. This year, Julián will start operating as Patagonia Mountain Guides and plans to finish his IFMGA coursework, officially becoming an IFMGA Mountain Guide.
Get to know Julián @julianbariloche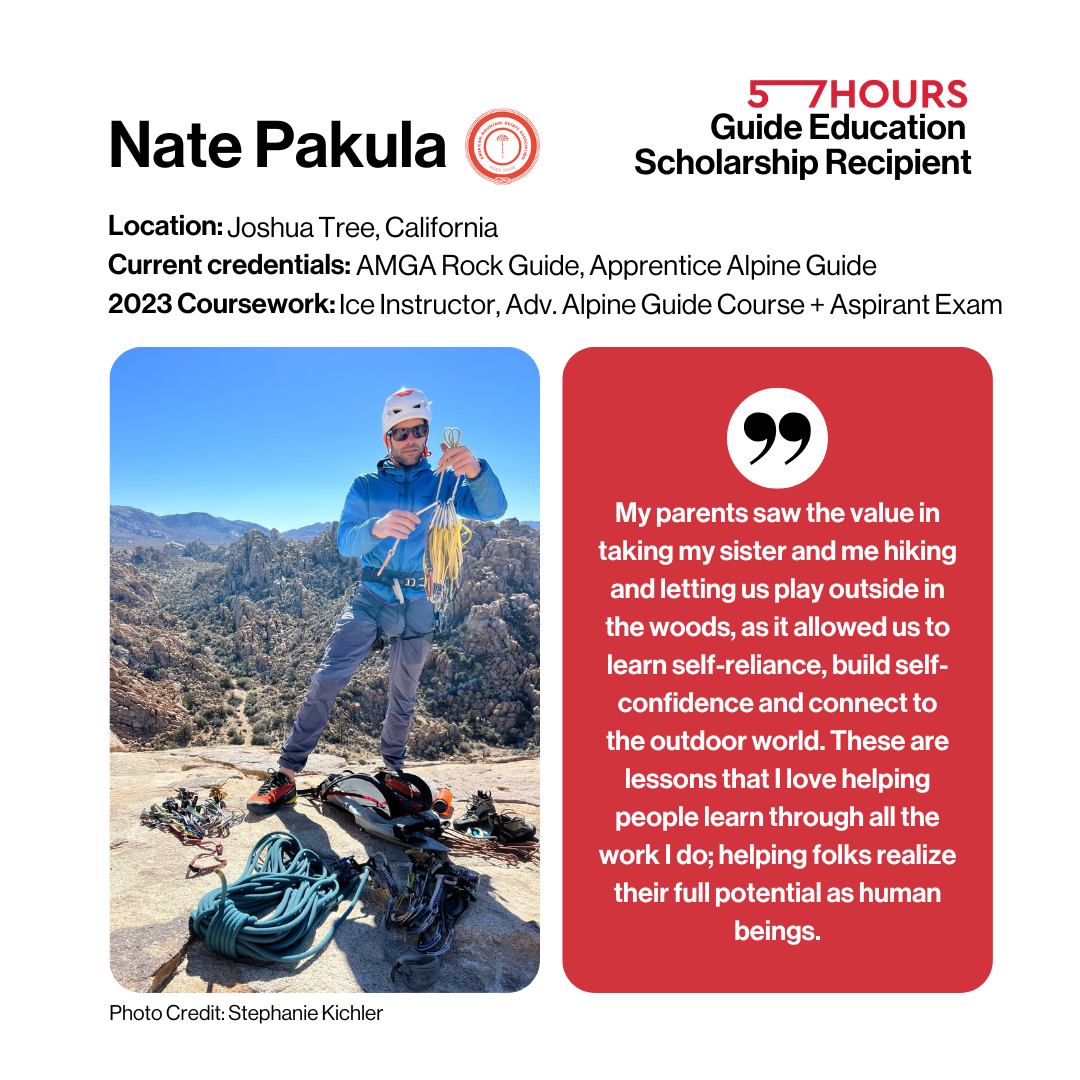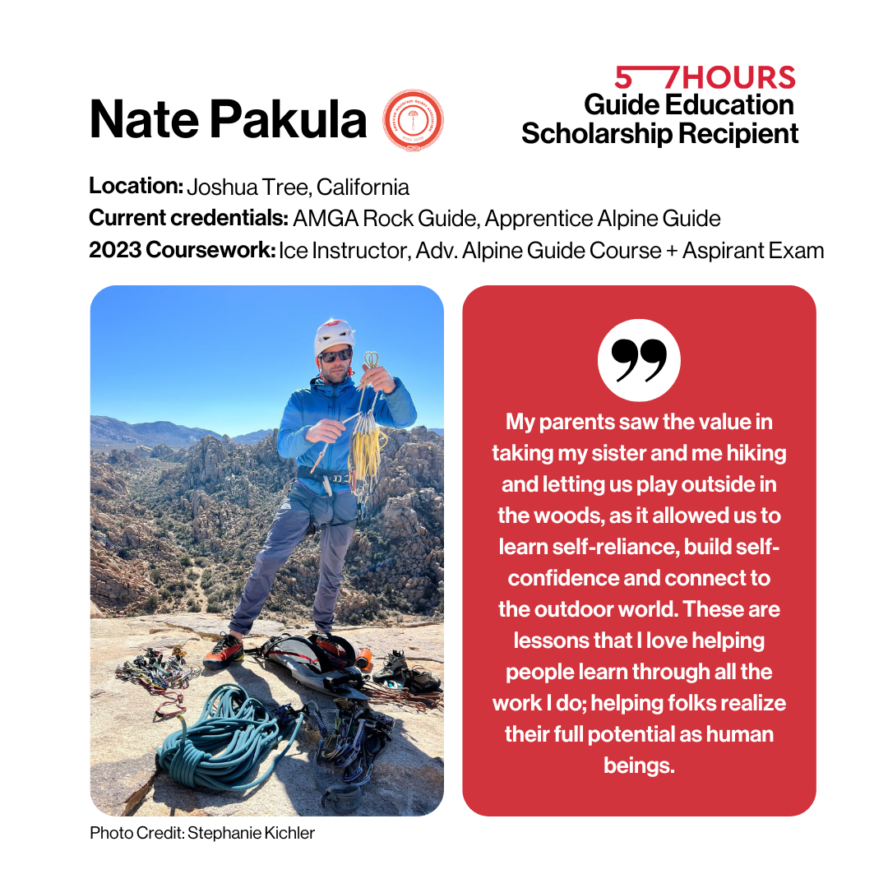 Nate Pakula is a life long outdoor educator. As a certified AMGA Rock Guide, Nate's teaching background shows in his ability to understand his client's needs and, in turn, provide them with an unforgettable day on the rock. Through his guiding business, High Desert Guiding, Nate is working on getting more young people into Joshua Tree National Park—opening doors to new experiences and opportunities. In 2023, Nate has his eye set on new experiences as he continues his coursework toward becoming an AMGA Alpine Guide.
Get to know Nate @highdesertguiding
Follow Along
As we move through 2023, keep your eye on our Magazine for a feature on each scholarship recipient. In the meantime, follow their social channels and stay up to day on all things 57hours by joining us here!
(Cover photo courtesy of Jack Bynum)