Miami Beach | Florida
Surfing in Miami Beach, Florida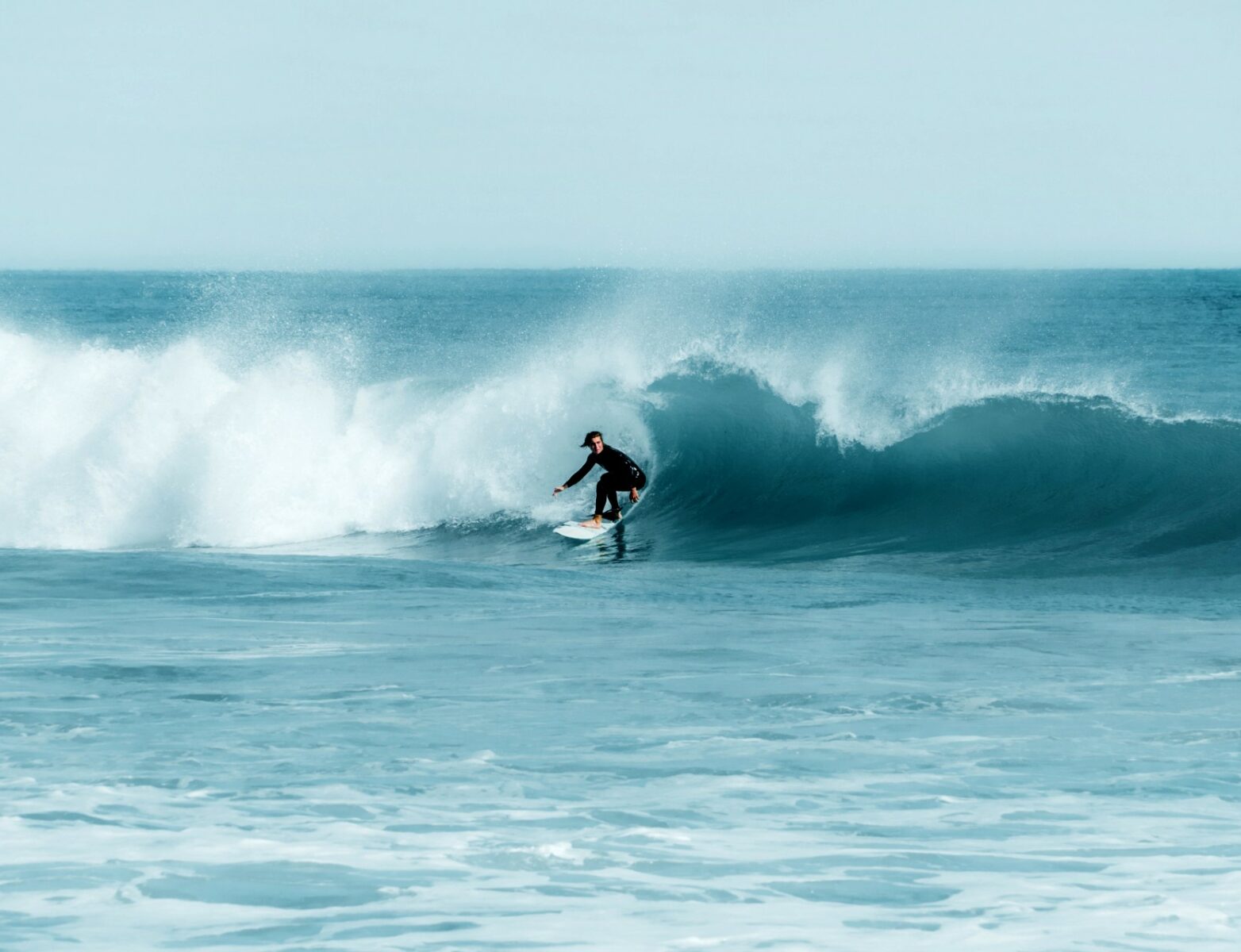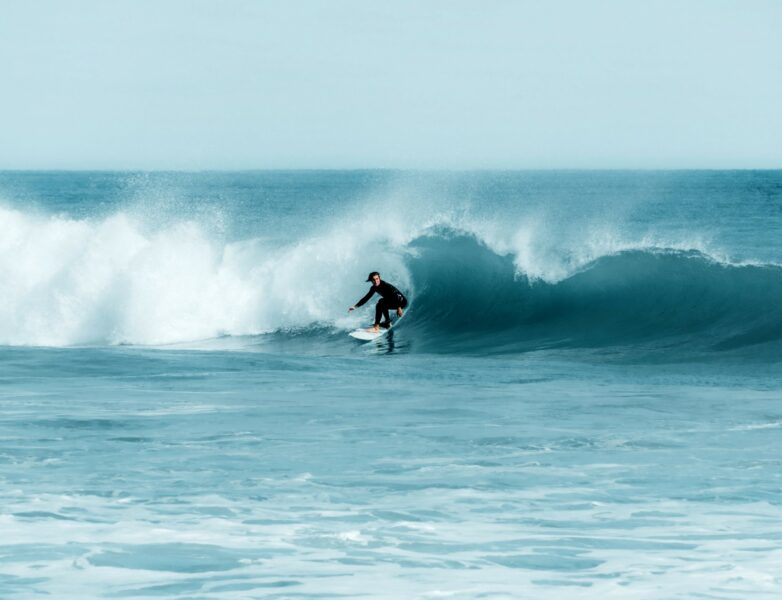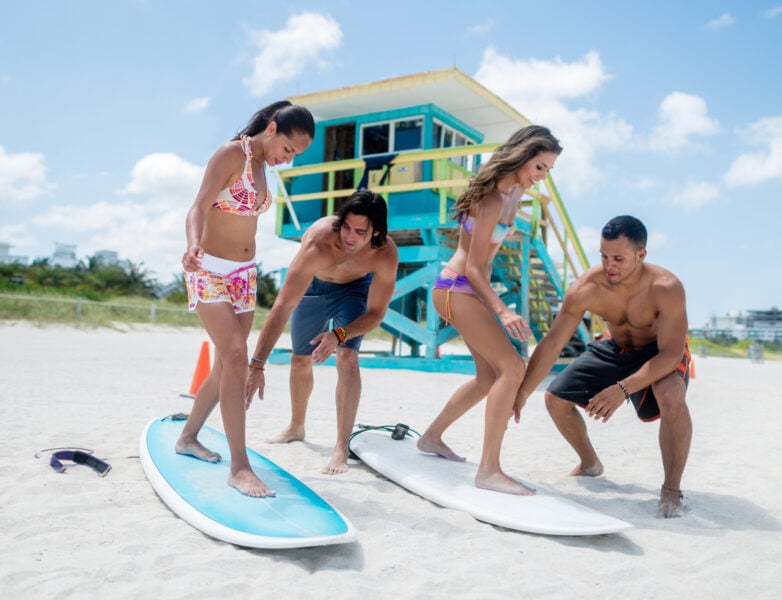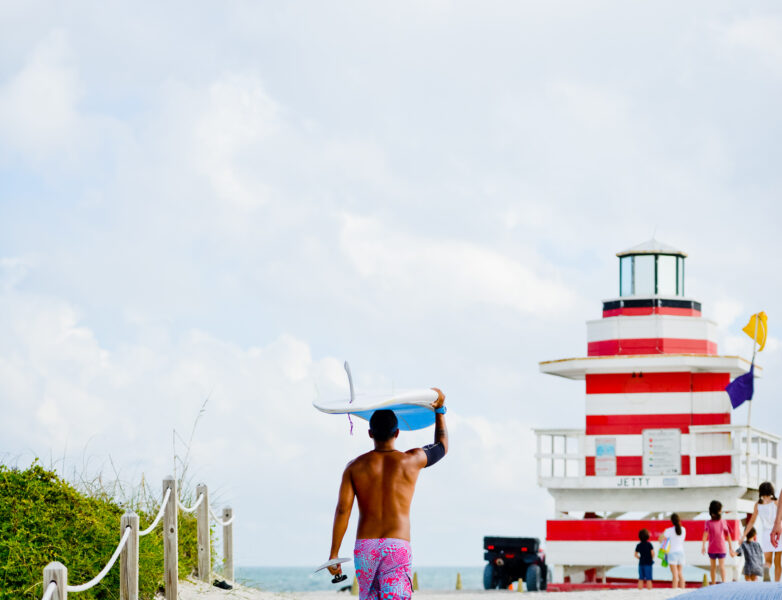 Nearest city

Miami International Airport (MIA) is 11.5 miles from South Beach
Options for everyone — from total novice to seasoned surfers
Miami's South Beach is iconic for barrels, bikinis, and bookending a surf session with global cuisine and never-ending nightlife. This oceanside city might be best known for warm water, eye-popping colors and people watching, but it's also one of the few places benefiting from the north-east swell along Florida's coastline. South Beach, specifically at Penrod Park, is the main destination for Miami surfing, where local surfing instructors can show you additional groundswells at coastal gems at 21st, 14th and 96th streets. Ride the best waves against the setting sun and dive into the magical universe of surfing in Miami Beach!
Most Popular Adventures
Learn to Surf With a Private Lesson
$120 per person
·
1.5 hours
Looking for customized attention with some positivity sprinkled in? Whether you're looking for the confidence to start surfing, or tips to reach the next step, you will get a private surfing lesson to focus on your needs. You'll be supported every step of the way during your beginner lessons that are taught in water less than 3 feet deep with a soft, sandy bottom. Experiment with a variety of boards in a safe, playful environment for all ages and skill levels!
Semi-Private Surf Lesson
$80 per person
·
1.5 hours
If you want to enjoy a day of surfing with your friend or better half, this semi-private lesson for 2-4 people is ideal for you. It is all about sharing an unforgettable experience, and having a lot of fun! Learn about the ocean, how to catch some waves together, and add more adventure to your sunny day in Miami!
Group Surf Lesson
$70 per person
·
1.5 hours
Find out what it's like to stand on a surfboard and glide on a wave in turquoise water with a group of friends or family. Let your instructor create an amazing surfing adventure so you can understand, appreciate and enjoy the thrill of surfing for years to come! Miami offers many options for all skill levels. Learn about the philosophy of surfing, master new moves and make some unforgettable memories!
Advanced Private Surf Lesson
Whether you want to build up on your skill or practice for your next competition, your professional surf instructor will take you to the highest level of surf performance. In this one-on-one training, you can watch videos of different tricks and techniques, learn about surf competition strategies, train, and have fun with your expert surf instructor. Don't miss out on the amazing Florida waves and pick up some new cool moves along the way!
Full-Day Surf Instruction
$230 per person
·
Full-day
Experience the ultimate surf instruction with a full day on the water, just like a local surfer. You'll learn new skills customized to your skill level. Paired with an instructor, work on your carve and soak up both the sun and new surf skills, either alone or with a friend. A whole day gives you the opportunity to take more control of your moves. The wonderful thing about surfing is that it doesn't matter how long you have been surfing, there is always something new to learn and discover!
Things you need to know
Covid measures in Miami
57hours is committed to providing safe outdoor adventure experiences. We require all guides using our platform to have a COVID-19 safety plan and to make the details of that plan accessible to travelers. In most cases, group sizes will be reduced, guides will avoid overcrowded locations, and other safety measures will be met depending on the location and activity.
We also expect clients to respect local regulations and take measures to protect themselves, guides and the communities they're travelling to. For more information on COVID-19 measures in Miami, please refer to the Visit Florida or City of Miami websites.
Please contact us if you have any questions or require further information. We are happy to provide you with the most up-to-date information!
What's included in the price?
What you get on this adventure:
An experienced local instructor with extensive surfing knowledge
Surf lesson depending on the chosen itinerary
Surfboard
Wetsuit
All other technical equipment
What's not included:
Transportation
Accommodation
Food and snacks
Swimming suit
Water
Towels
You can continue to use all borrowed gear like surfboards and wetsuits after the lesson for an additional rental fee. Let us know in the booking process, and we'll make sure you're set up with the gear you need. If you have your own equipment, you are free to use it during lessons.
How good of a swimmer do I need to be?
No one expects you to swim like you're in the Olympics, but you need to be able to keep your head above water and know how to tread.
You'll feel much more comfortable in the ocean if you're sure you can swim at least two lengths of a pool. Keep in mind that surfing is physically straining, like any sport, so you should prepare beforehand with stretching and light cardio. This way, you'll be better equipped to handle what the ocean throws, and in a better position to ride the waves with ease.
For kids who are not very good swimmers, we recommend a one-on-one private lesson. They will be kept in shallow water with the constant and complete attention of an expert surf instructor.
What if I've never surfed before?
Surf lessons are recommended for anyone new to surfing. Waves are smaller in Miami, making it an ideal setting for first-timers. A surf instructor will teach you how to be safe, have fun and work toward standing up on your board. It's all worth all a bit of practice, we promise!
What should I bring to the beach?
Swimsuit, towel, sunscreen, water, snacks, and good vibes — we'll take care of the rest.
How many lessons until I learn to surf?
Lessons are completely catered to your goals and experience level. If this is your first time, an experienced instructor will show you the ropes and teach you how to catch waves safely. It's harder than in the movies, but you'll get there. Some students will be able to stand up on their first try, while others will require a few more lessons to do the same. There are many factors at play, your fitness level and stamina, surf conditions, winds and tides. One thing's for sure, your instructor will be with you every step of the way, and you'll have fun doing it!
Why should I book with 57hours?
With us, it's all play and no work for you! 57hours is an open platform that connects you with trained and certified outdoor adventure professionals all over the world. Using our tech-savvy, we make it super easy to find and book adventures worth tackling, with guides worth booking, all gathered from the first-hand experiences of the locals who adventure in these amazing locations.
What should I do if I wear contact lenses?
Disposable contact lenses are the best option for surfing. Otherwise, you can wear an old pair and close your eyes tightly when underwater. Either way, consider wearing swimming goggles to avoid losing your contacts.
What about group sizes and pricing?
The most common group lesson size is 4-5 people per instructor, but lessons and guided surf tours can be arranged for groups of any size, whether it's one person or ten. So whether you're traveling alone or with your whole family, let us know and we'll set you up with instructors that can accomodate your whole party.
Pricing ranges from 'per person' to 'per group' depending on the adventure. If joining a group lesson alone, you'll be placed with peers that share a similar level of experience.
Is there a minimum age requirement?
There's surf lessons for all ages available, so let us know the ages of the people in your party and we'll set you up with a suitable instructor.
If your party has kids younger than five years old, contact us before booking. Otherwise, you're good to go!
What about bad weather?
Surf instructors are prepared for almost anything Mother Nature can throw at them, and you'll find yourself surfing in most weather conditions. If any significant threats to your safety begin to appear, such as thunderstorms or unmanageable waves, your instructor will not hesitate to reschedule your adventure for a more favorable day. If you're really eager, you can get lessons rain or shine, but we have to admit, the beach and sun go hand in hand, so check the weather forecast!
Cancellation policy
With 57hours, you benefit from both our own cancellation policy as well as that of the individual guiding service that delivers your adventure. All policies regarding cancellation will be clearly laid out by your guide after booking your adventure, but rest assured that our own cancellation policy will work on top of what is provided by your guide.
For this adventure, 57hours offers a Flexible Cancellation Policy, which states:
If Client cancels the Booking anytime prior to fourteen (14) calendar days in advance of the trip contemplated by the booking, Client is entitled to a full refund. For cancellations seven (7) to thirteen (13) calendar days in advance, Client is entitled to a credit with that Guide for another identical or substantially similar Booking, or a full refund, minus a One Hundred-Fifty Dollar ($150) reservation fee. For cancellations one to six calendar days in advance, Client is entitled to a full refund, minus a One Hundred-Fifty Dollar ($150) reservation fee. For cancellations anytime less than 25 hours in advance, the Client is not entitled to any refund.
For more information on terms and conditions, please visit our Terms of Service page.
Getting there
Getting to Miami Beach is easy thanks to the proximity of the Miami International Airport (MIA) being just 11.5 miles away. You'll need to get a taxi to bring you to the beach, and because of the walkability of the coastal community, you won't need to rent a car if you don't feel like it.
Once you and your instructor agree on the details of your itinerary, your instructor will suggest the best place to meet, whether that's at their shop or a predetermined location. From there, you'll head to your lesson. Be sure to arrive about 15 minutes early so you can check-in, put on a wetsuit, and start your lesson on time.