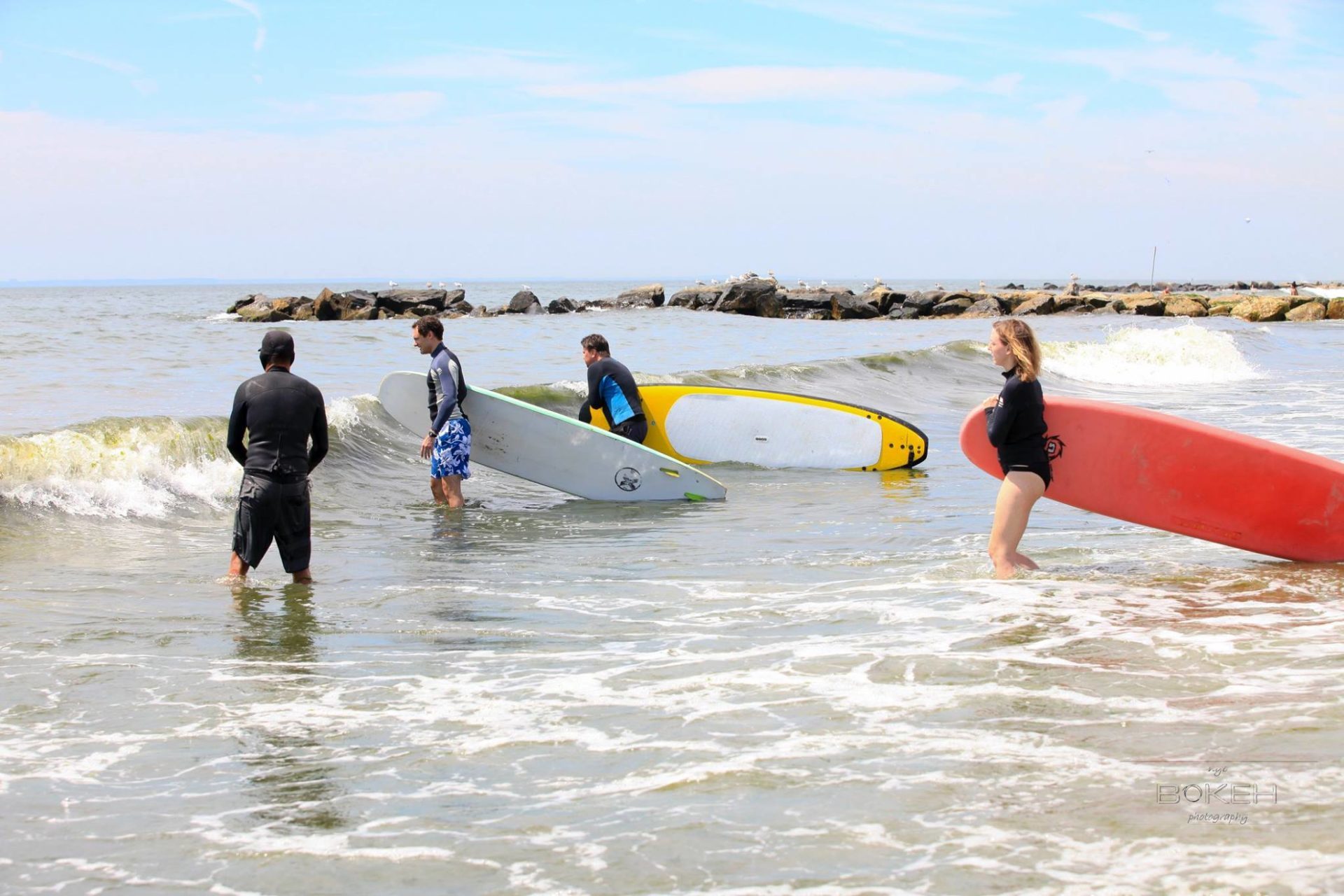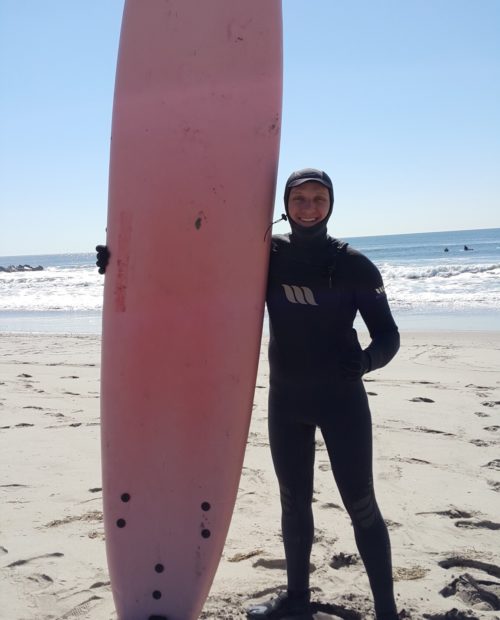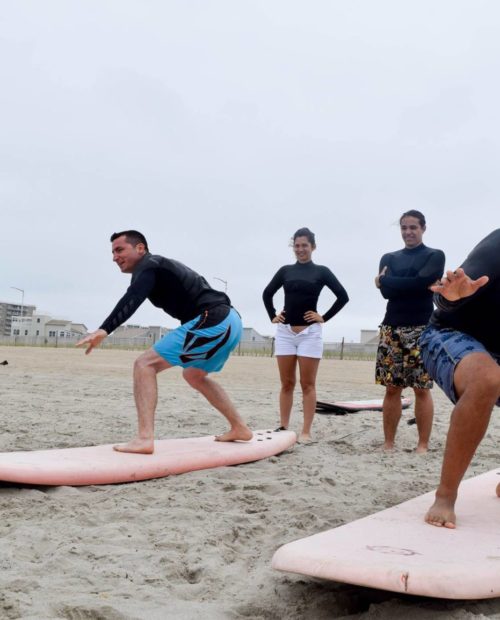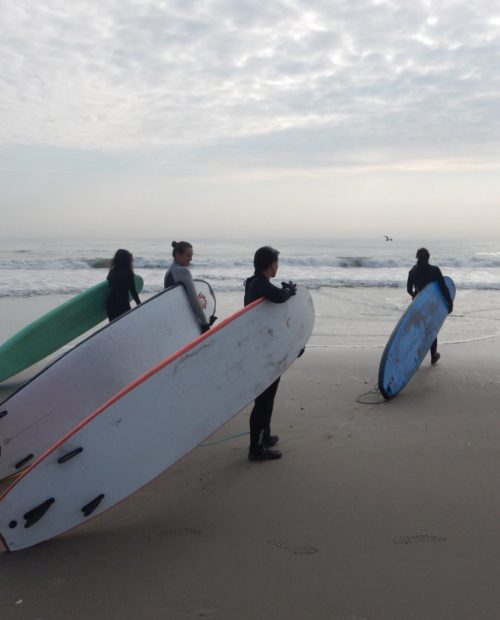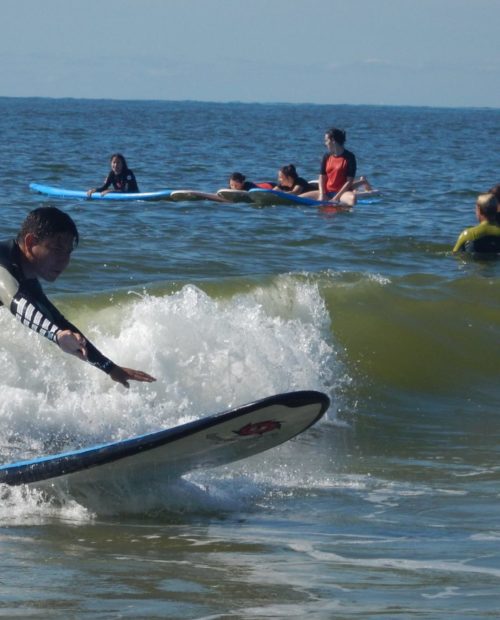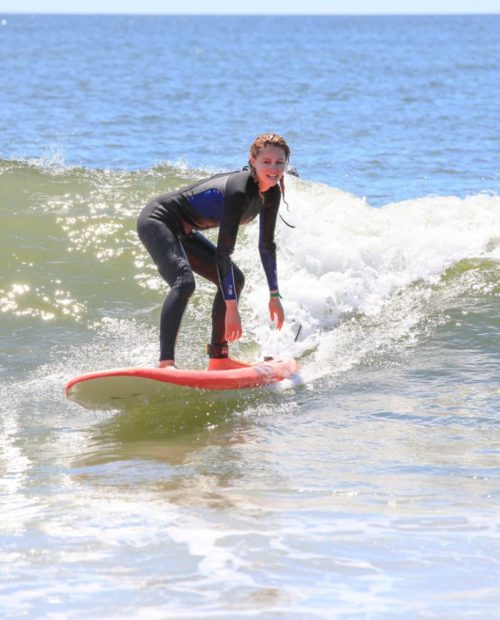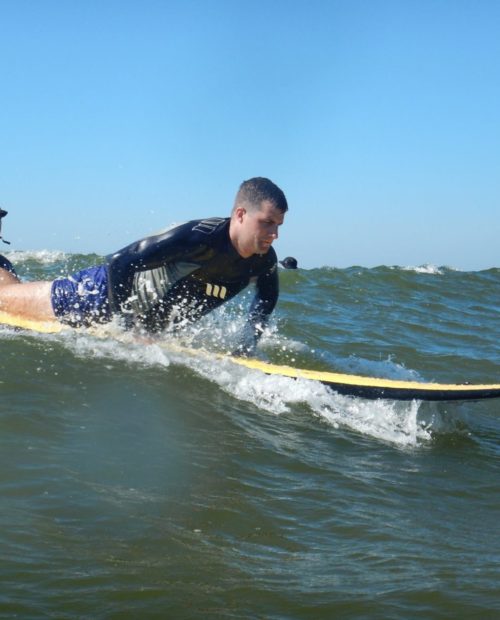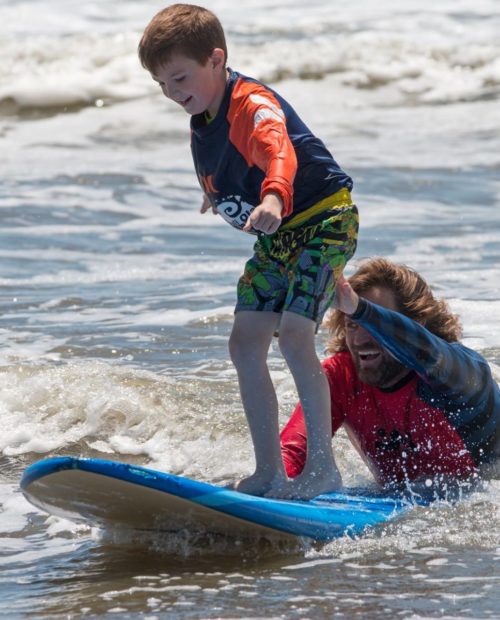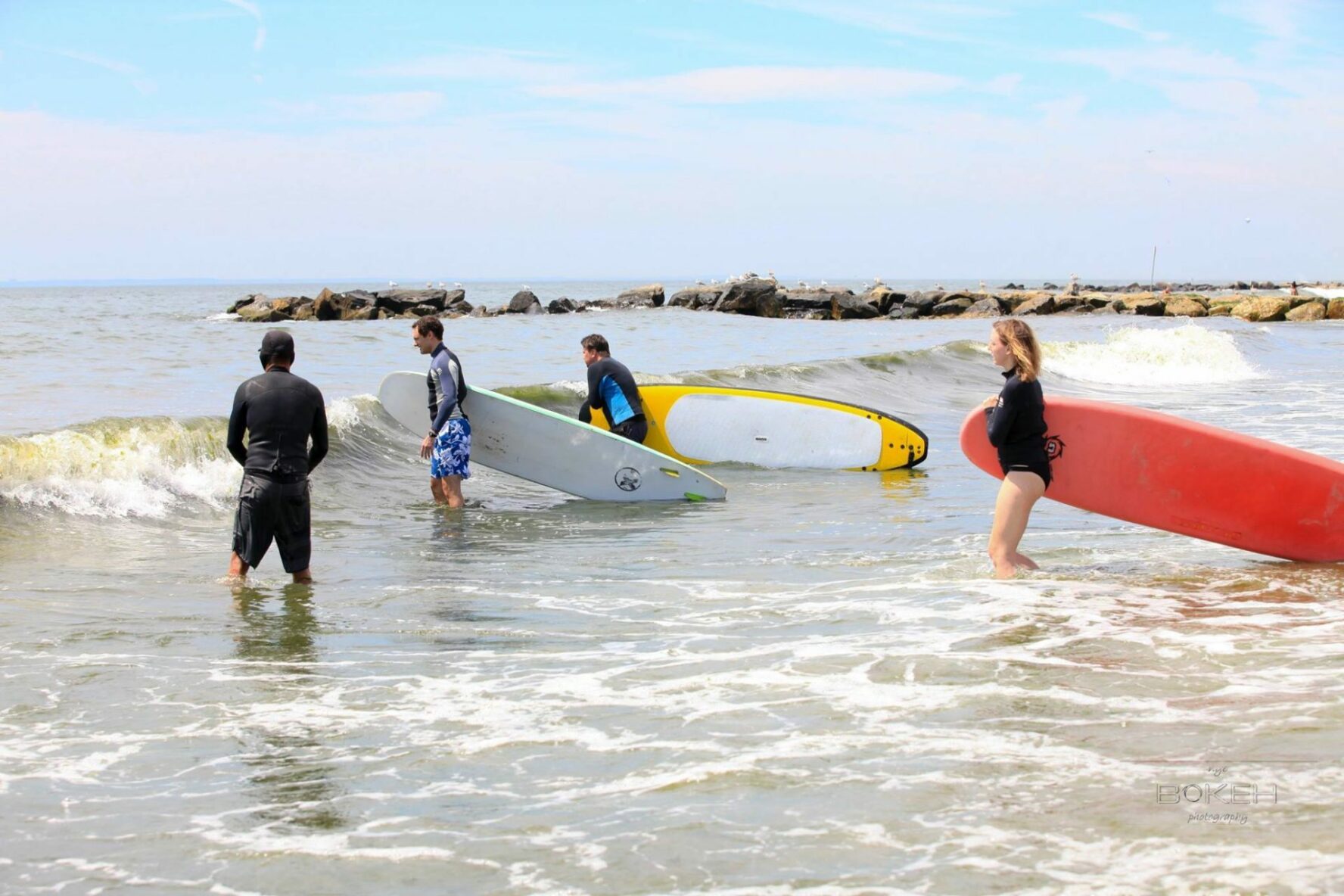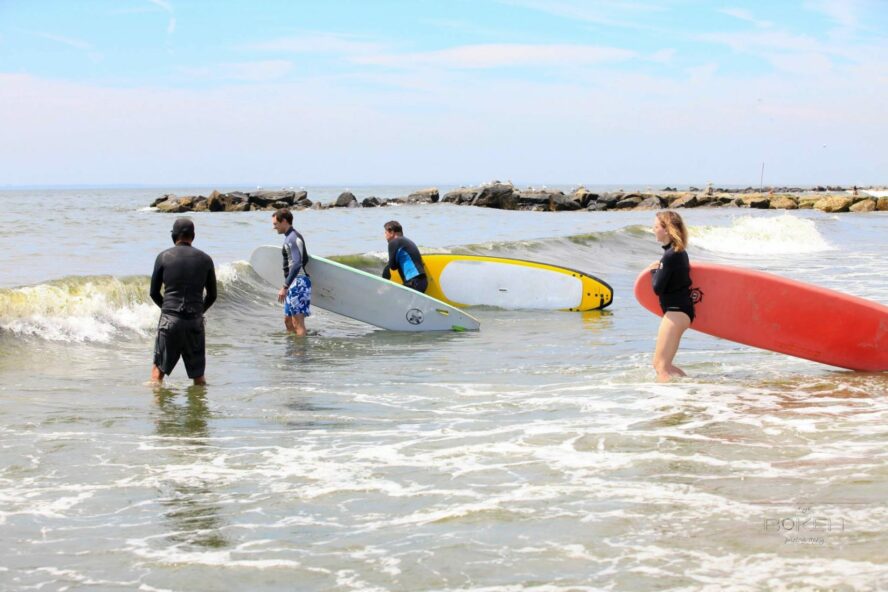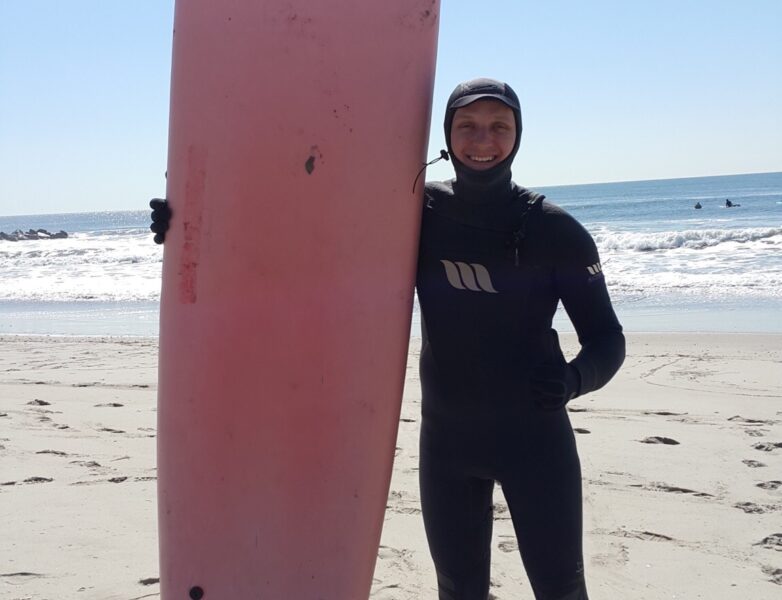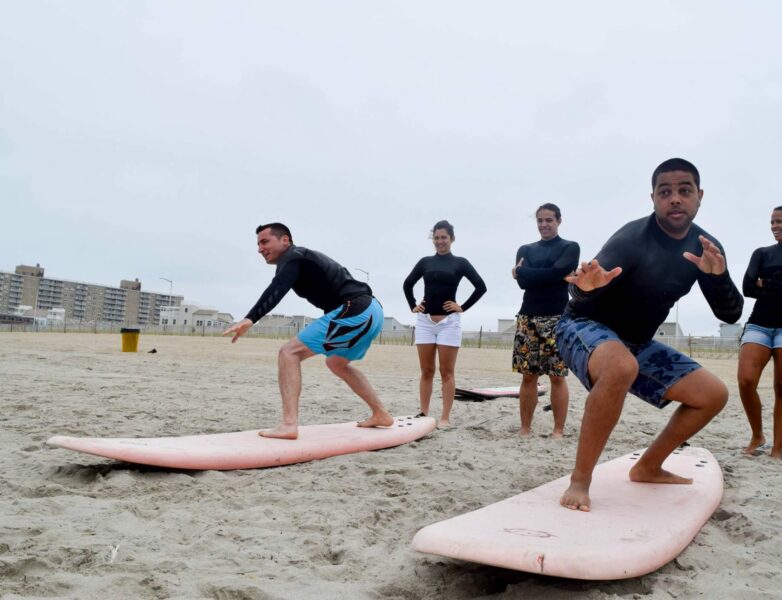 Surfing in the Rockaways, NY
5.00

()
Season
Year-round; peak season is September through April
Nearest city
John F. Kennedy Airport is just a short subway ride away
Guide
Surf Lessons New York 101
The Rockaways is New York's go-to spot for city surfers, especially first-timers seeking out surf lessons. Its forgiving waist-high waves help beginners focus on fundamentals, while still offering more experienced surfers a chance to develop their skills. Long stretches of beach house a diverse community, and there's always space for one more to join. In the end, everyone's chasing the same goal: to stand up and have a fun ride. It takes practice, but most get there in their first session. In the Rockaways, you're another New Yorker—just with more sand in your curls and crevices.
Deeply established culture

Ride the breaks in this legendary East Coast surf spot with decades of surfing tradition

The Rockaway beach has plenty of lifeguards and it's the only NYC beach where surfing is legal

Very accessible location by public transport and plenty of parking space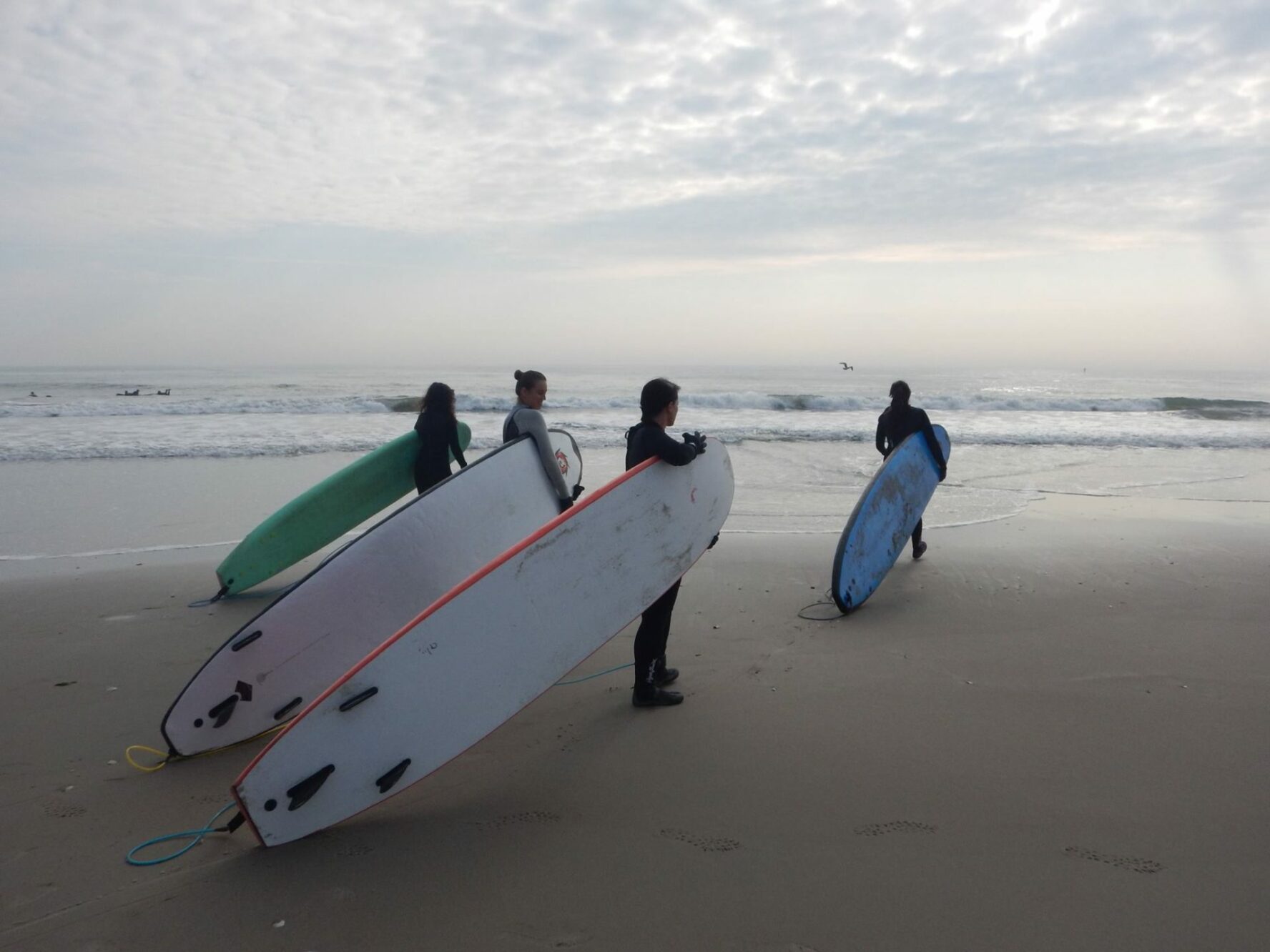 Choose itinerary
1-Hour Private Surfing Lesson
Jun 09 onwards
90-Minute Private Surfing Lesson
Jun 08 onwards
2-Hour Private Surfing Lesson
Jun 08 onwards
Group Surfing Lesson
Jun 08 onwards
Get free trip brochure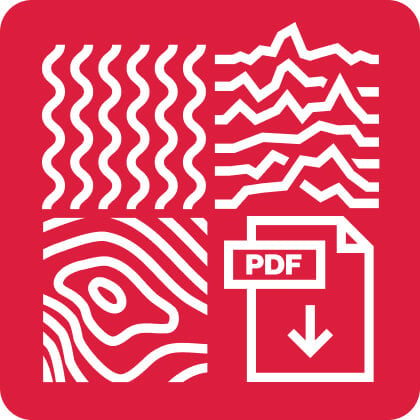 The brochure contains:
Adventure and location overview, itinerary, available dates, what's included, how to prepare, and much more.
Brochure sent, check your inbox
Talk with us
with our adventure expert and start planning your perfect adventure.
Meet your guide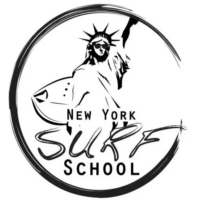 Surf Lessons New York 101
With NY Surf School, surfing isn't just a sport - it's a lifestyle. You'll be in the hands of experts whose teaching methods have become the gold standard to newer surf schools in the area. Look no further if you're seeking a professional, yet laid back family vibe.
Craig G.
about
NY Surf School
on Yelp
I had a great experience in a recent group lesson with New York Surf School. The owner, Frank, is super friendly and accommodating and our instructor, Felipe, made sure we had the fundamentals down before we went out in the surf. Another instructor, Simon, joined us in the water so we had 2 instructors for only 4 students (all beginners). Both instructors were upbeat and gave a lot of tips and positive reinforcement when any of us showed a little progress. We got a ton of rides in during our two hours. The equipment (boards and wetsuits) was high quality and in good condition. Overall it was a great day, definitely worth the money and highly recommended.
Molana J.
about
NY Surf School
on Yelp
We had a 9am group lesson today, they are super welcoming and encouraging to all students including those who have never surfed before. Even taking baby steps in the water with waves, I felt my instructor Greg helped me gain confidence to pop up and stand on the board to ride a wave rather than take it on one knee. On the website they said it was a preformed group lesson, they have so many great instructors and we got a fantastic semi private lesson. We were happy they let us stay together as I wouldn't have been as comfortable in a group without my girlfriend ‍ ‍. I felt more confident and enthusiastic about surfing and catching waves than when I walked on the beach. Highly recommend this for anyone learning to surf!!!
Kelly C.
about
NY Surf School
on Yelp
My 9 year old daughter had such a great time. She was able to get up and catch a lot of waves throughout the day. They were COVID and sun safe and created a fun learning environment. My daughter's confidence with her surfing is sky high now and she loves that she got a nickname. She has been telling everyone that she is a 'hurricane'. lol She will definitely be going back.
Federico S.
about
NY Surf School
on Yelp
I had a great time with these guys, my Instructors Amanda and Shawn were really nice and very good at teaching. After an insightful intro we were in the water and I was up on the board sooner than I ever thought I would thanks to them. As I mentioned before they're also cool people, I hope to go once more before the season ends.
Things to know
For all surfing clinics and courses, you'll be paired with an experienced local instructor with extensive surfing knowledge, and all the technical gear you need.

Experienced local instructor with extensive surfing knowledge
Surfboard
Wetsuit
Up to 2 hours of surf lessons

You can continue to use all borrowed gear like surfboards and wetsuits after the lesson for an additional rental fee. Let us know in the booking process, and we'll make sure you're set up with the gear you need. Your instructor will call you after the booking to arrange the details. If you have your own equipment, you are free to use it during lessons.

No one expects you to swim like you're in the Olympics, but to take part in these surfing lessons in the Rockaways, you need to be able to keep your head above water and know how to tread.

You'll feel much more comfortable in the ocean if you're sure you can swim at least two lengths of a pool. Keep in mind that surfing is physically straining, like any sport, so you should prepare beforehand with stretching and light cardio. This way, you'll be better equipped to handle what the ocean throws, and in a better position to ride the waves with ease.

For kids who are not very good swimmers, we recommend a one-on-one private lesson. They will be kept in shallow water with the constant and complete attention of an expert surf instructor.

Surf lessons are recommended for anyone new to surfing.
Waves are smaller in the Rockaways, making this New York hot spot an ideal setting for your first surfing class. A surf instructor will teach you how to be safe, have fun and work toward standing up on your board. It's all worth a bit of practice, we promise!

Here's what you'll need:

Day pack large enough to carry all the items listed (around a 40L bag)
Water bottle
Food you can eat on-the-go
Toiletries (sunscreen, bug spray, toilet paper, etc.)
Sunglasses
Swimsuit
Towel
Sweater
Camera — optional

Group sizes and prices:

The group size for these private lessons are usually between 1–10 people.
Costs per person decrease as the group grows for private lessons, so it's the perfect opportunity to surf with friends and family.
If you're joining group lessons alone, you'll be placed with peers with similar experience.
Lessons are held seven days a week, at 7 AM, 9 AM, 11 AM, 12:30 PM.

Surfing in the Rockaways can be arranged for bigger groups. Contact us prior to booking.

Min. age requirements:

If you are older than 18, you're good to go.
While there is not necessarily a minimum age to surf, there are minimum requirements, such as height and weight.

If your group has surfers under the age of 18, contact us prior to booking to make arrangements.

The Rockaways, NY, can be easily reached by car, subway, bus, LIRR and ferry. There is free street parking throughout the area.

Once you and your guide agree on the details of your itinerary, your guide will suggest the best place to meet, usually at a predetermined spot on the beach. Be sure to arrive about 15 minutes early so you can check in, put on a wetsuit and start your lesson on time.

57hours is committed to providing safe outdoor adventure experiences. We require all guides using our platform to have a COVID-19 safety plan and to make the details of that plan accessible to travelers. In most cases, group sizes will be reduced, guides will avoid overcrowded locations, and other safety measures will be met depending on the location and activity.

We also expect clients to respect local regulations and take measures to protect themselves, guides and the communities they're travelling to. For more information on COVID-19 measures in Rockaway please refer to the New York City Covid-19 Citywide Information Portal.
Get free trip brochure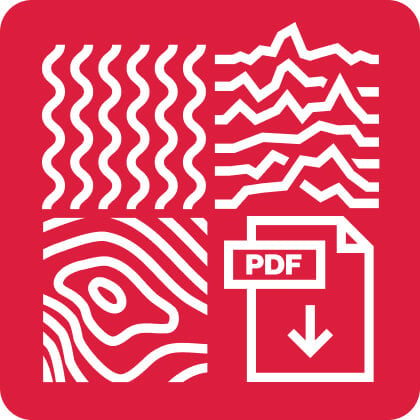 Adventure and location overview, itinerary, available dates, what's included and much more.
Brochure sent, check your inbox
Talk with us
with our adventure expert and start planning your perfect adventure.
Other things to do in New York