Learning To Surf at Witch's Rock Surf Camp
Trip review
|
Witch's Rock Surf Camp
People come to Tamarindo for its perfect beginner's breaks and for the amazing level of instruction at Witch's Rock Surf Camp.
Costa Rica is where I became a surfer
Once upon a time I lived in Oahu, the place with arguably the best surfing in the world, but I never learned to surf. I spent endless hours swimming and snorkeling the North Shore during the summer months, exploring the coral reefs that create the epic winter waves we've all seen in the movies. Those stunning reefs are also why I was too afraid to learn how to surf, even though I had such a stellar opportunity — the thought of my skin grating over the coral kept me anchored to the mellow shoreline of Oahu's eastern sandy beaches.
I always regretted not learning how to really surf. Deciding that I just needed to go somewhere a bit more low-risk, I found a surf resort in Tamarindo, Costa Rica. This perfect location had what I needed to better my skills: a smooth, sandy-bottom and consistent waves at just about any time of day. I packed my backpack and set out for surf camp.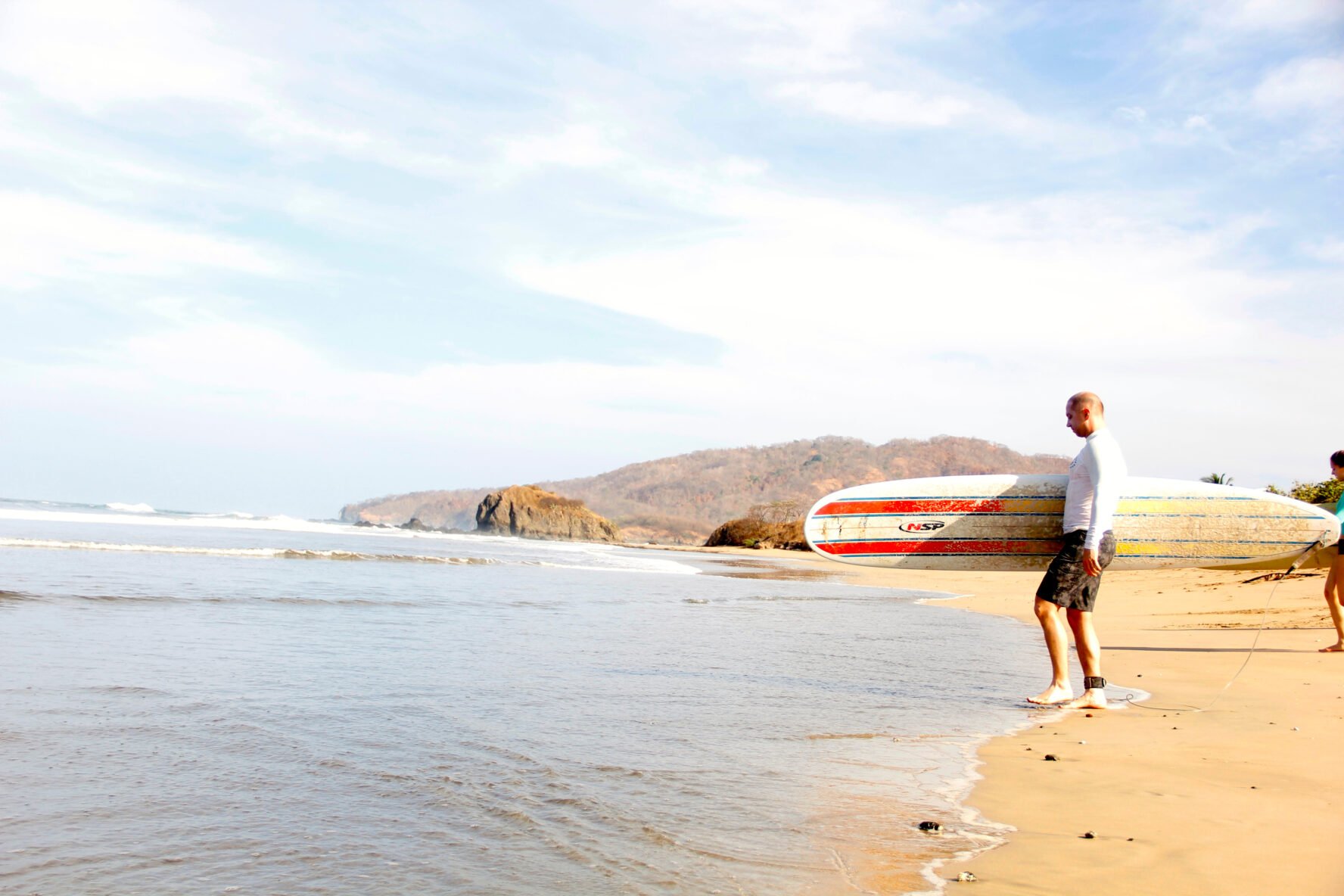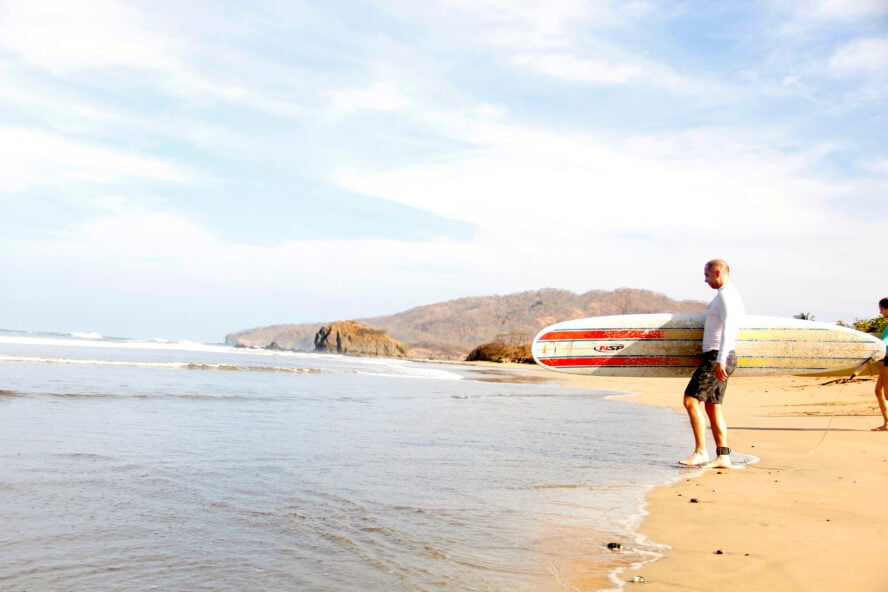 Pros and Cons of Surfing at Witch's Rock Surf Camp
Warm ocean water (no wetsuit required!)
Surf breaks for all skill levels
Saturday night scene is loud and late in Tamarindo
Surf rash and sore muscles!
Surf camp is where it's at
Witch's Rock Surf Camp is an all-in-one surf school, surf shop, hotel, restaurant, and brewery located right on Tamarindo Beach. Situated on the Pacific Coast, Tamarindo is one of the best surf spots in the world for surfers new to the sport, but it also has 12 different breaks so there's something for every skill level. It's just an hour drive from the airport in Liberia, and the camp has its own shuttle that will bring you right to its front door.
There is a fleet of free board rentals for the surf program that range from short to long, and they're available for use seven days a week. The rentals make it fun to get a feel for shortboard riding after learning the basics on a longboard; or try out a completely different shape — like an egg or hybrid board — to see what's best for your current skill set.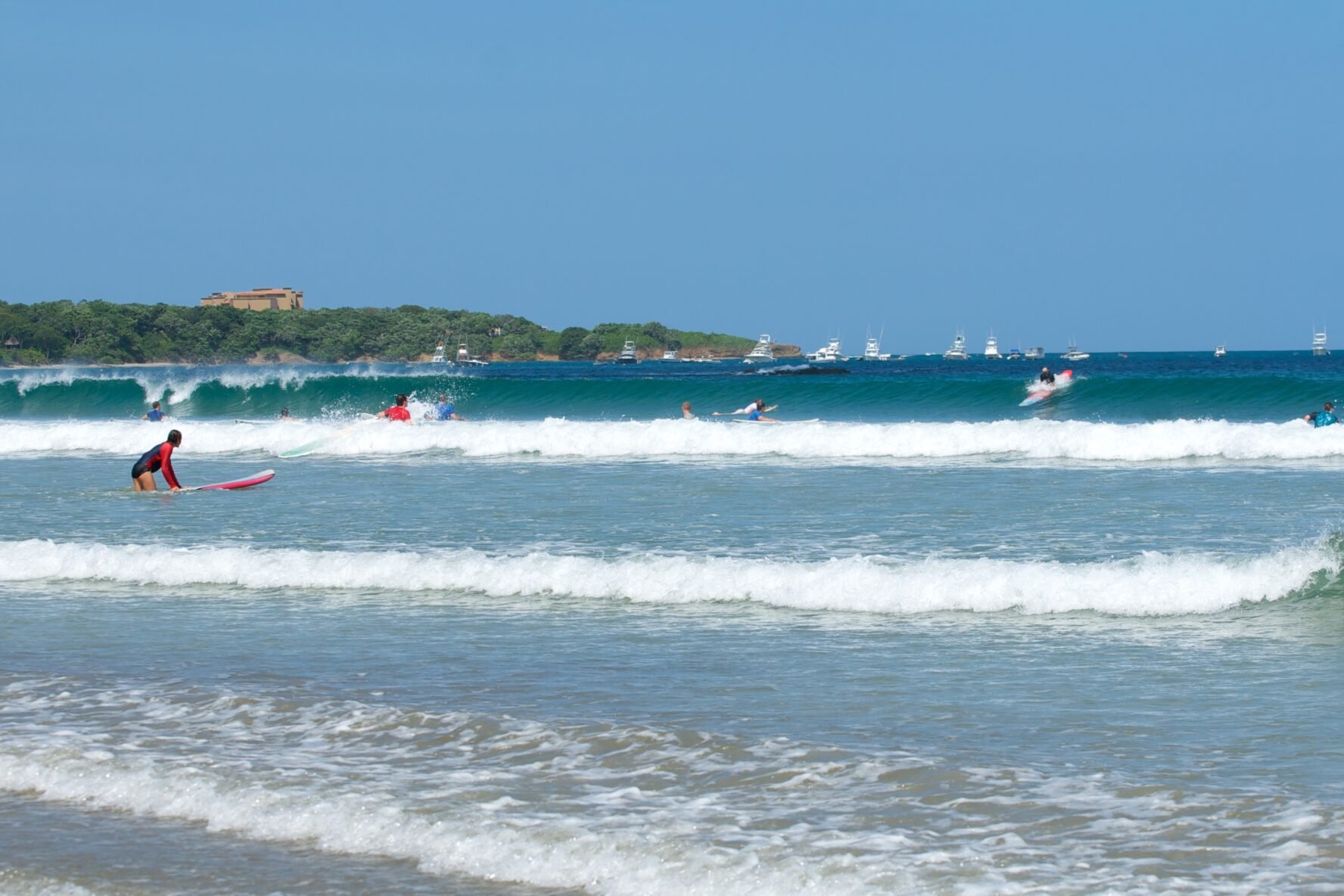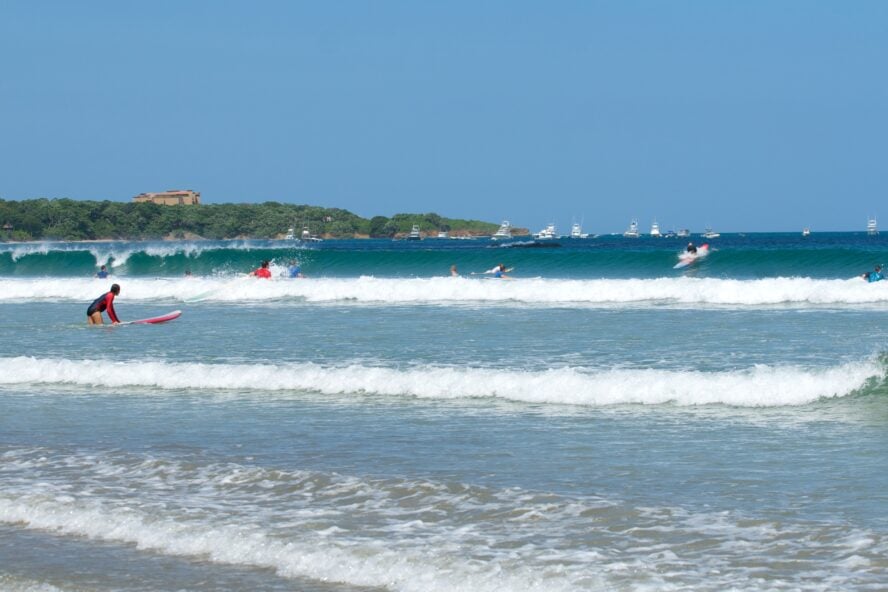 What to expect at Witch's Rock Surf Camp
After you arrive at Witch's Rock and get checked into your room, there's a quick tour of the grounds and a brief orientation before you meet your instructor. On both visits my group was small with a 3:1 student to instructor ratio, which was perfect for help, questions, and feedback — especially until you get the rhythm and feel for riding down. Every day there's a two hour lesson, and if you make the Saturday-Saturday rounds, you can count on at least six lessons during your stay, possibly even eight depending on your flight time and the tide schedule.
You'll have a local instructor, many of whom have been at the surf camp for years. Witch's Rock makes it a point to employ surfers from Costa Rica, so you'll also have a chance to learn more about the surf culture of the area. And don't worry if you don't speak Spanish — the instructors know plenty of English to make lessons both encouraging and fun.
Every day, the white board at the main desk gets updated with lesson times for the next day and the topic for the afternoon's seminar — these might range from a surf etiquette talk; a tour of the Robert August workshop; or even a video review of your progress so far at camp. Lesson start times vary on a day-to-day basis, but you can count on your lesson falling somewhere between the three-hour window before peak tide and the three-hour window after. Only advanced surfers usually have lessons outside that window, depending on what break they're traveling to.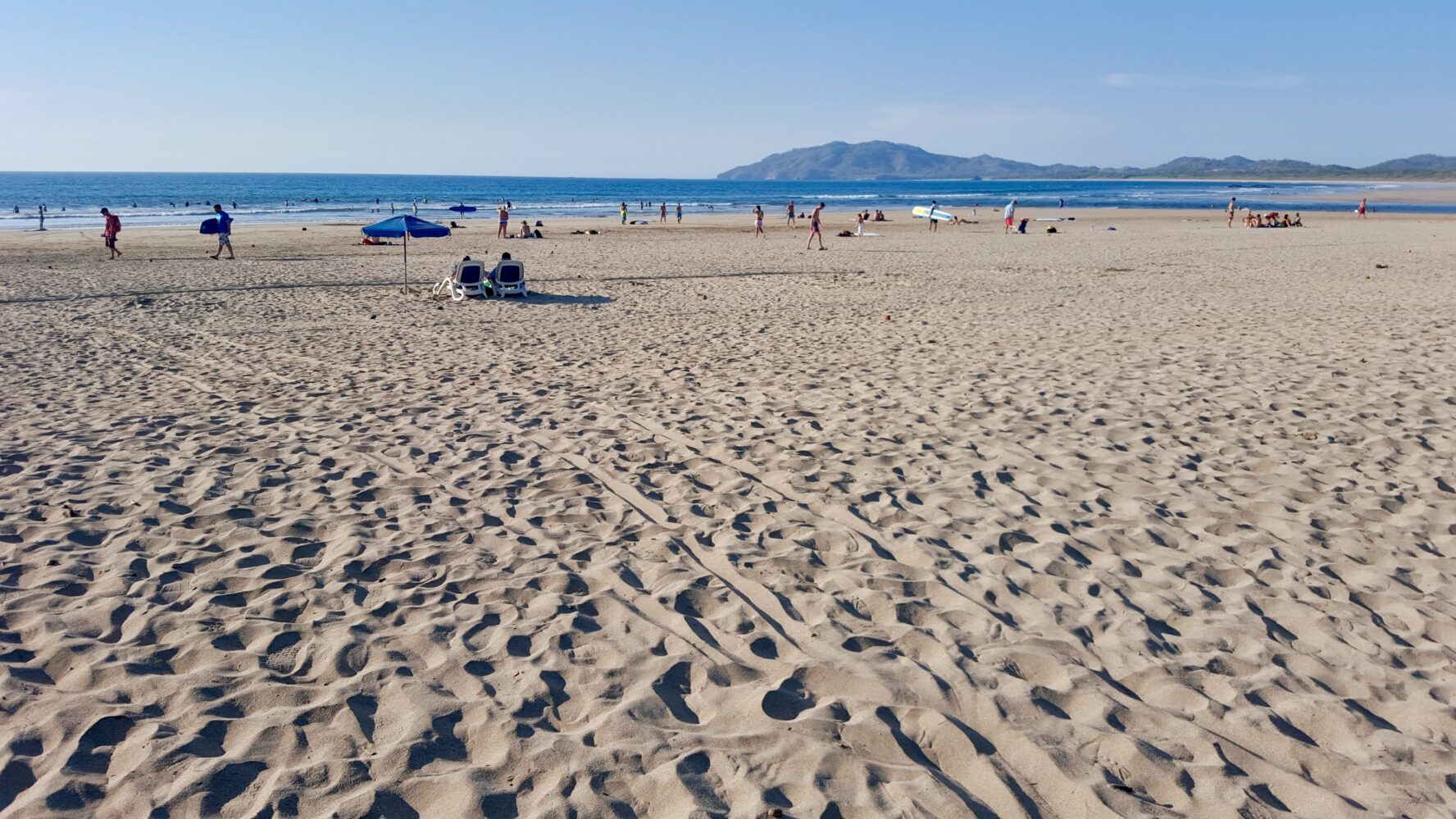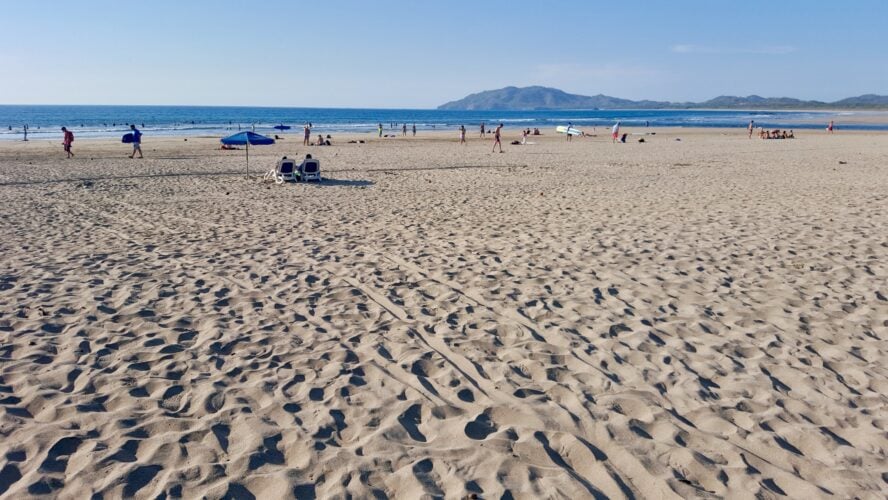 Surfing at last!
For our first lesson, we met up with Josimar at the beach and he helped us get boards from the cage. Next, we went to the beach for a dry land lesson on the mechanics of surfing. We practiced our paddle out and push up techniques. Once we got vertical on the board, we also found out which stance we were best suited to, regular or goofy. (I'm goofy footed, which means I'm right foot forward.)
Before long, it was time to see what we could do in the water. The general goal of the first day is to stand up and ride one wave in. Josimar took turns hanging out with each of us in the surf. He also paddled alongside us, giving students that weren't paddling hard enough the push they needed to get their front edge of the wave and have the momentum to stand up.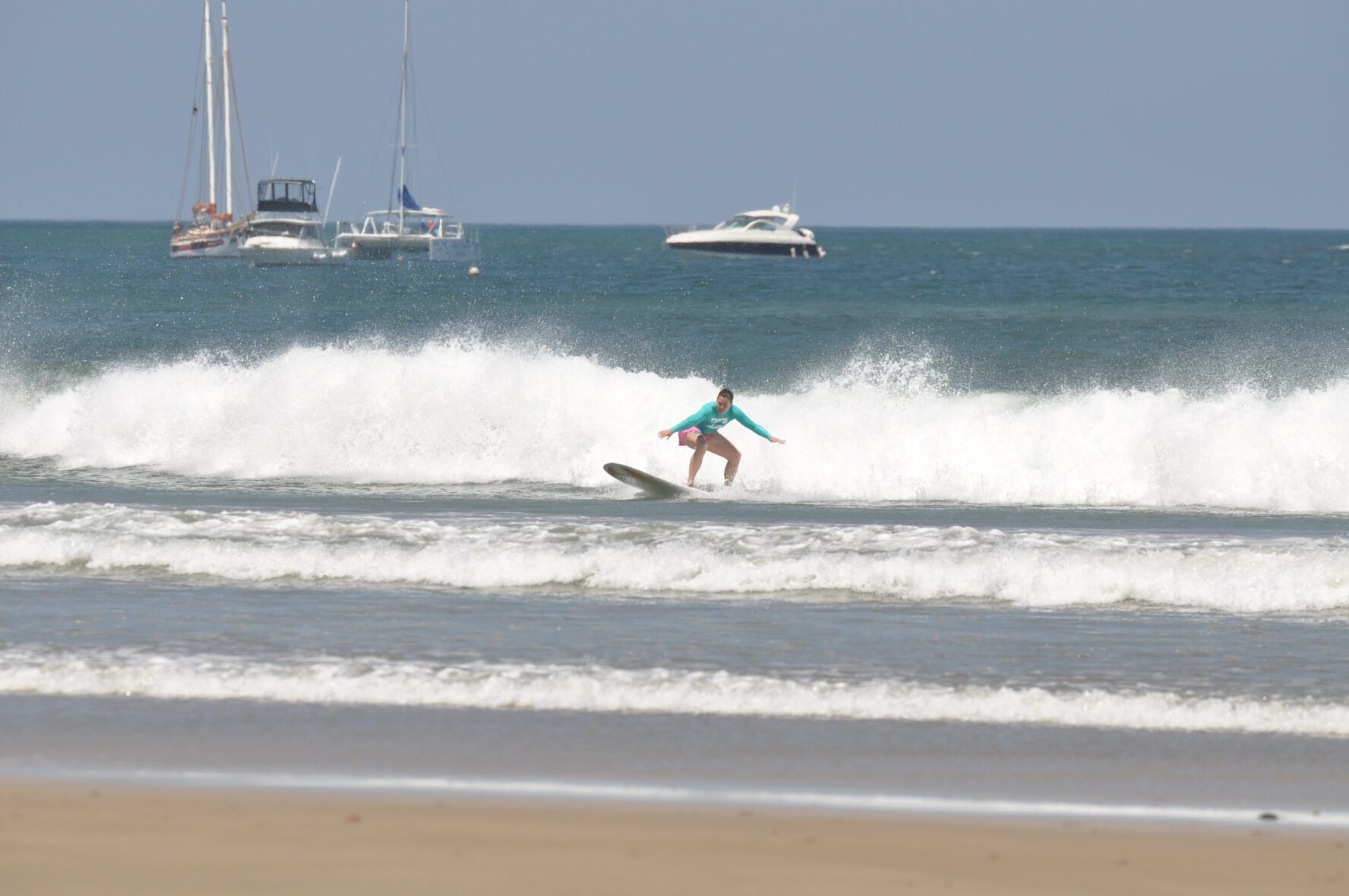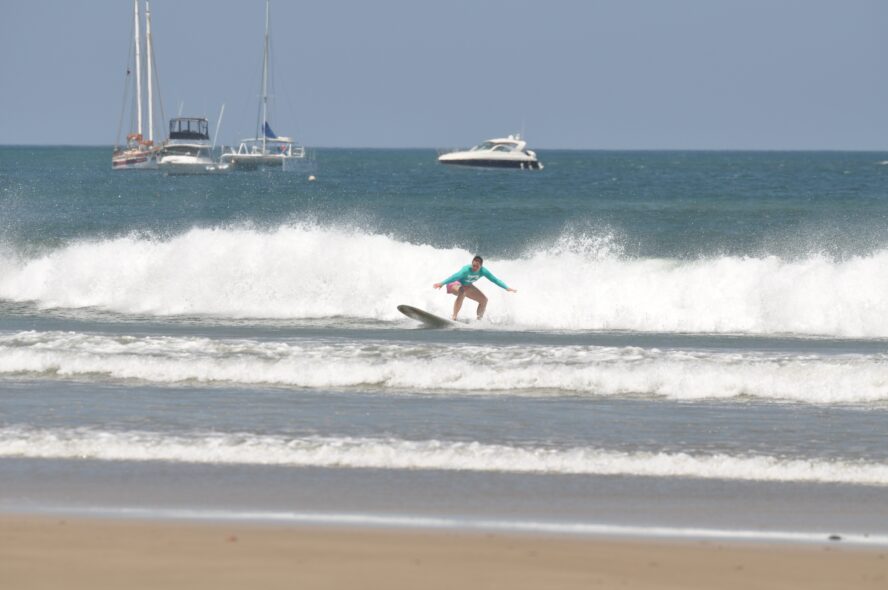 It didn't take long for everyone in my group to figure out this technique on their own, including me! It was amazing to feel the rhythm of the ocean when racing a wave into the shore. And really, that's why I was here, to figure out my timing and make mistakes on the forgiving sandy-bottom break. Getting tossed around in these waves didn't do anything more than clear out my sinuses before I paddled back out to wait for the next set to roll in.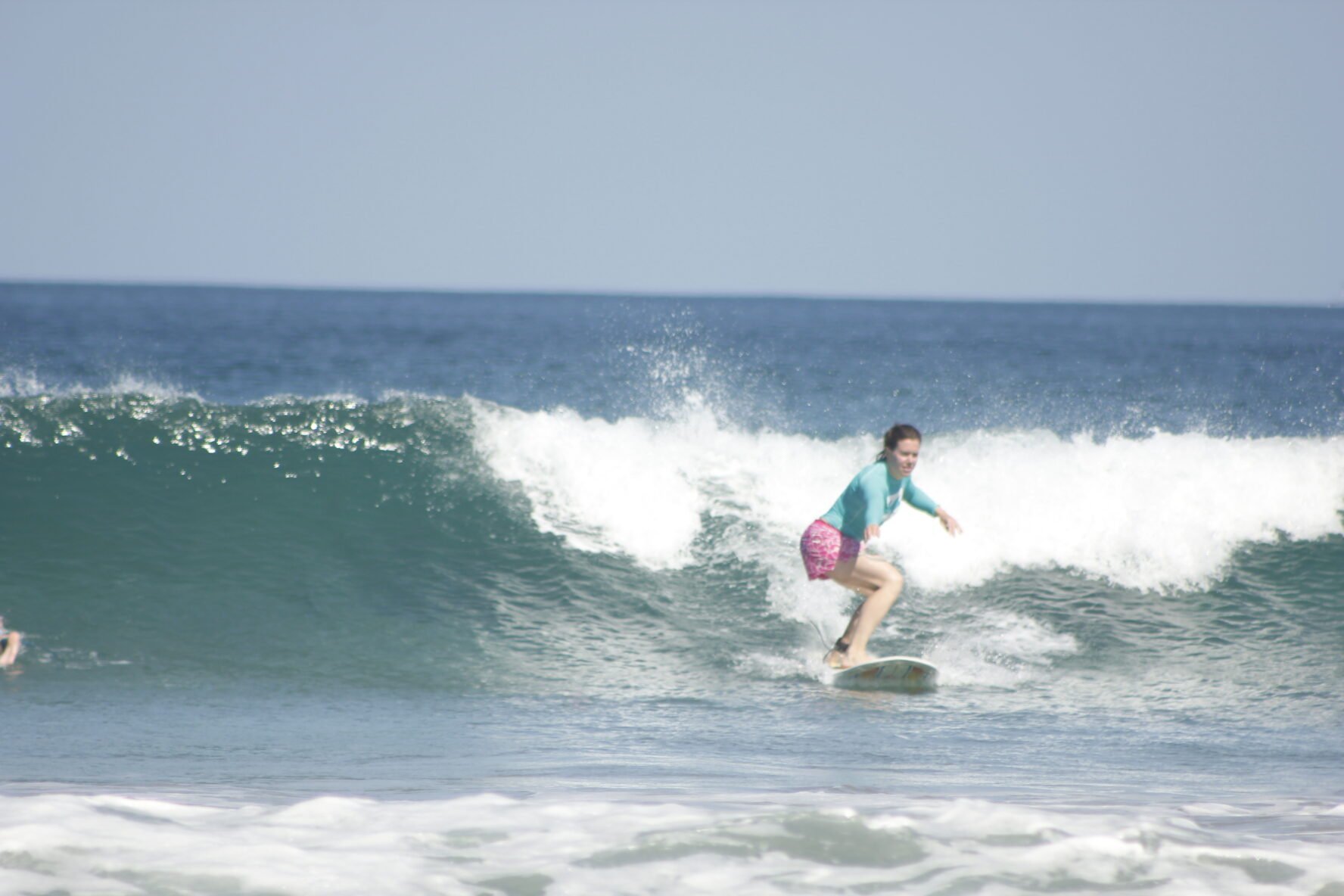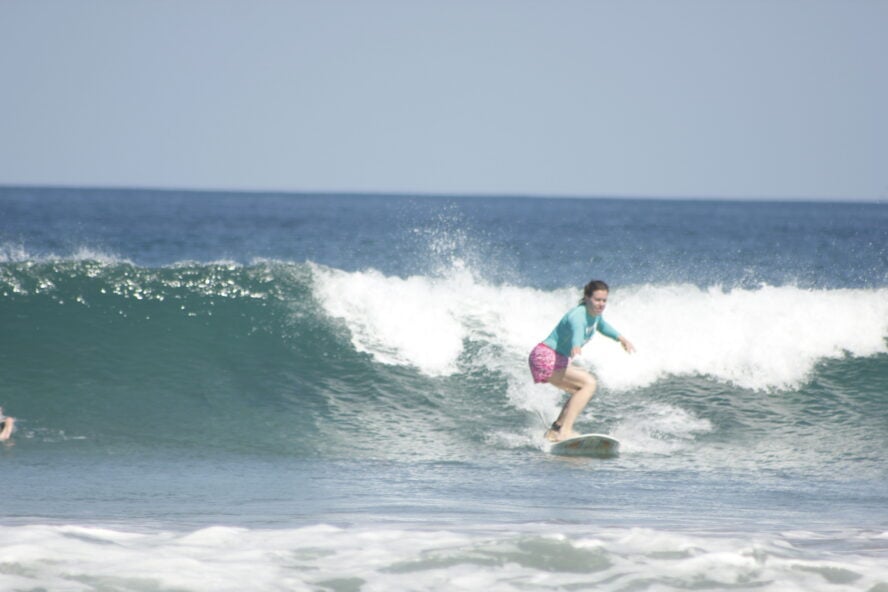 One Wednesday, a big swell came in that left me feeling over my head with the size of the waves. I couldn't catch one. I was getting tossed like a rock in a washing machine — on the spin cycle. Josimar, my instructor, knew I was feeling defeated and made it a point for me to get the first ride on a brand new Robert August surfboard the next morning. Although the waves that day were much kinder and easier to ride, letting me have first crack at the new board really helped me mentally recover from the previous day's beatdown.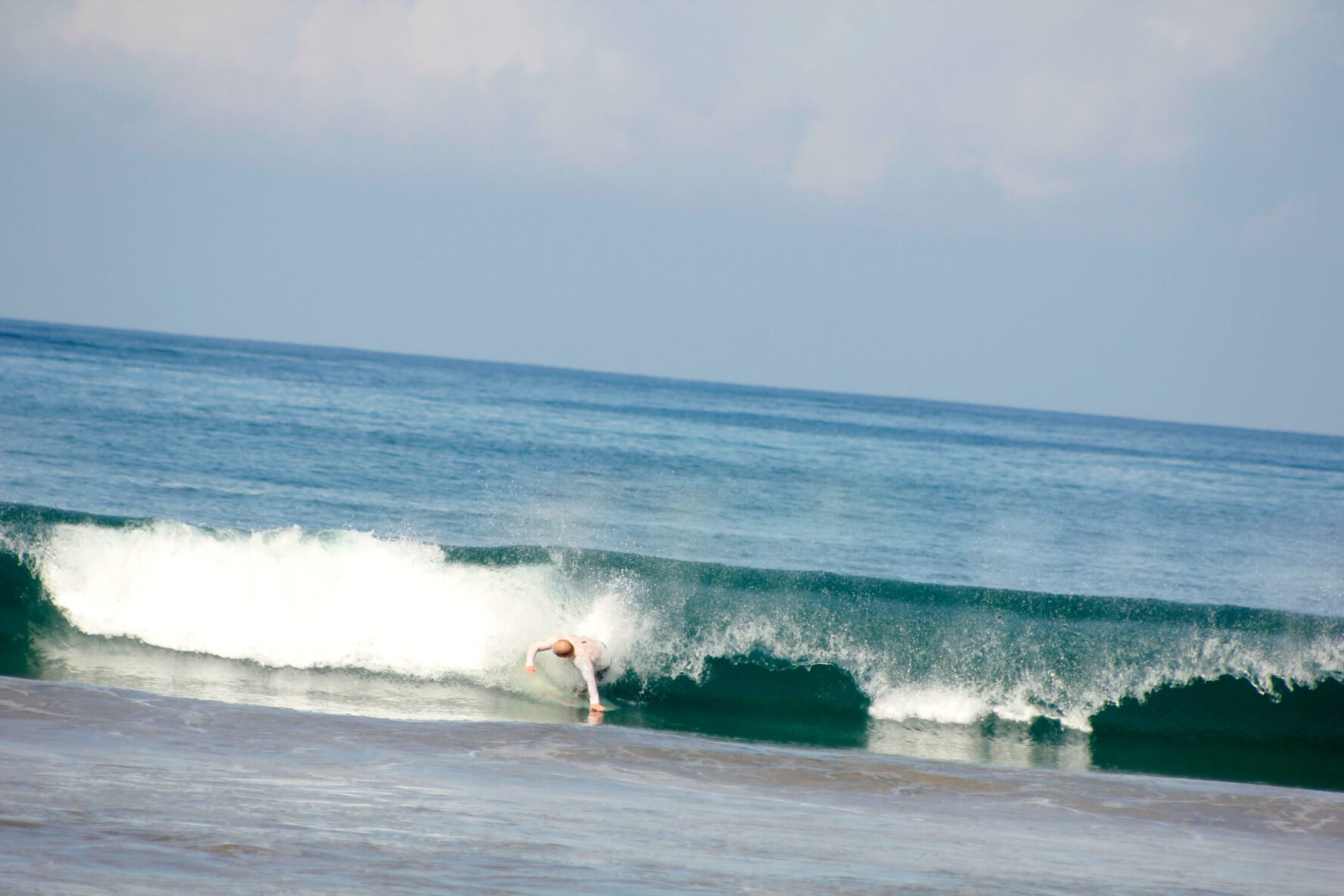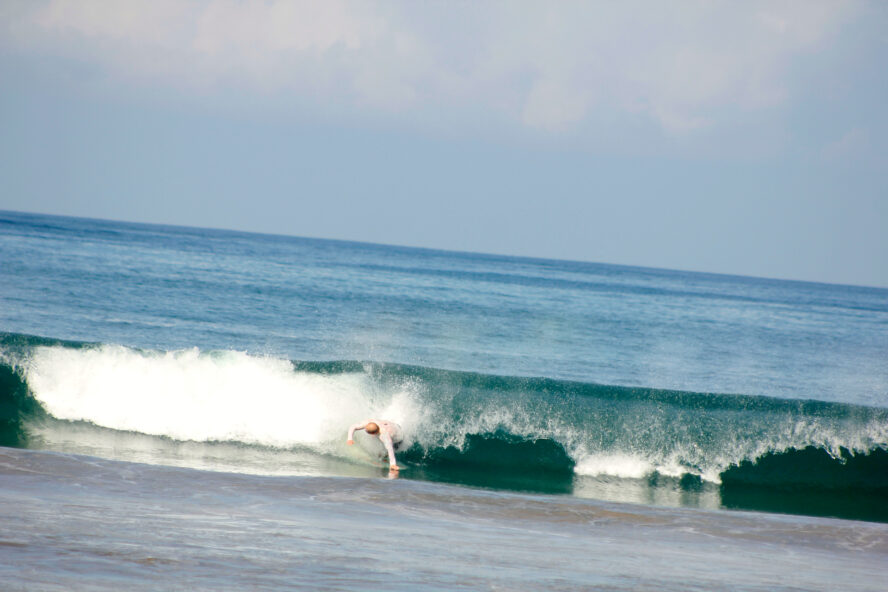 Every week on Friday, the group of beginners take a field trip to Playa Grande to surf waves about twice the size of what we were used to back on Tamarindo Beach. Here, we got a chance to see what sandbar surfing looks like. At Playa Grande, there were professional photographers and videographers present to document the progress we'd all made during the week. For our final outbrief — which was more of a graduation ceremony — our instructors used the videos to point out improvements we made during our time at camp and to highlight the skills we should work on at home, or on our next trip.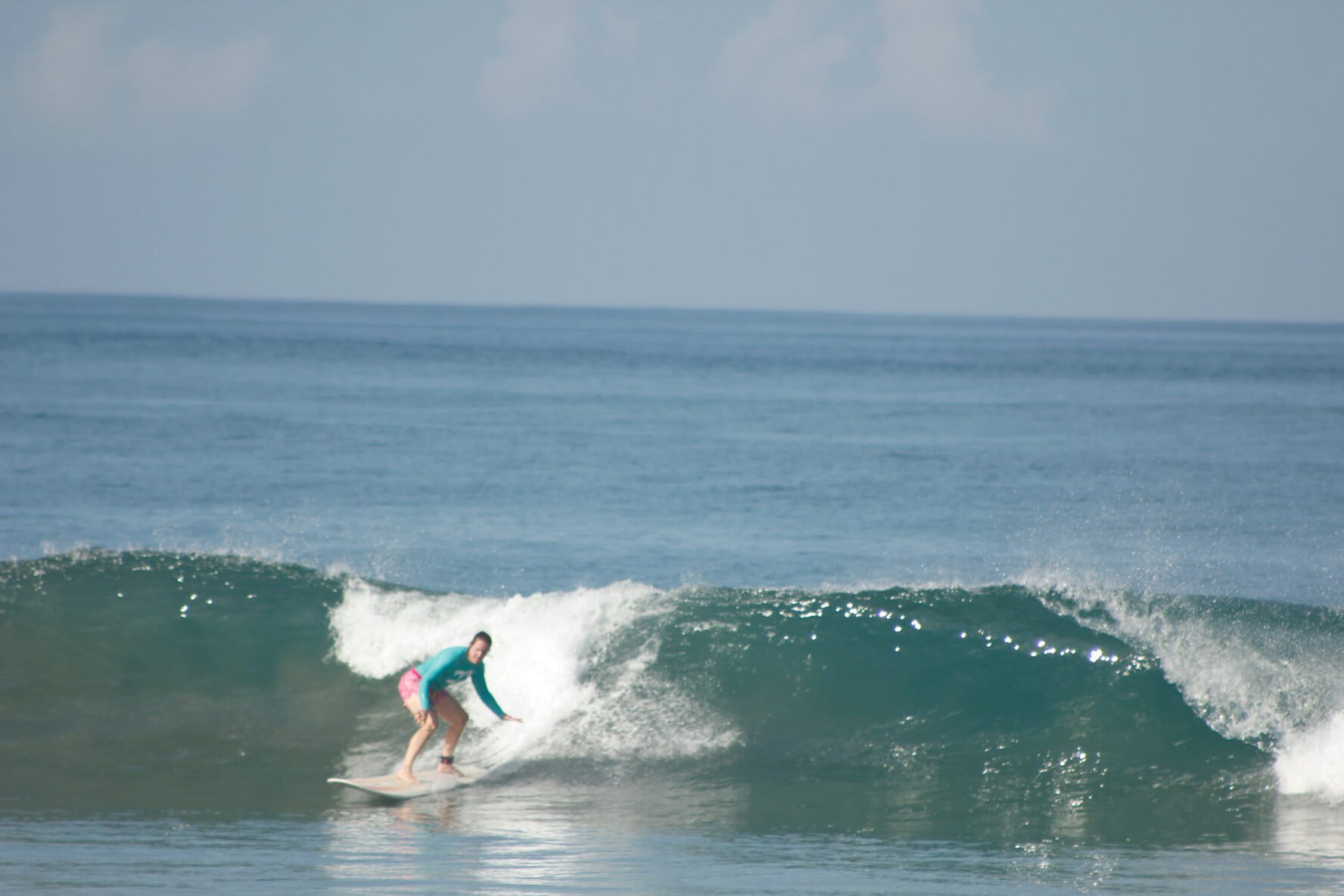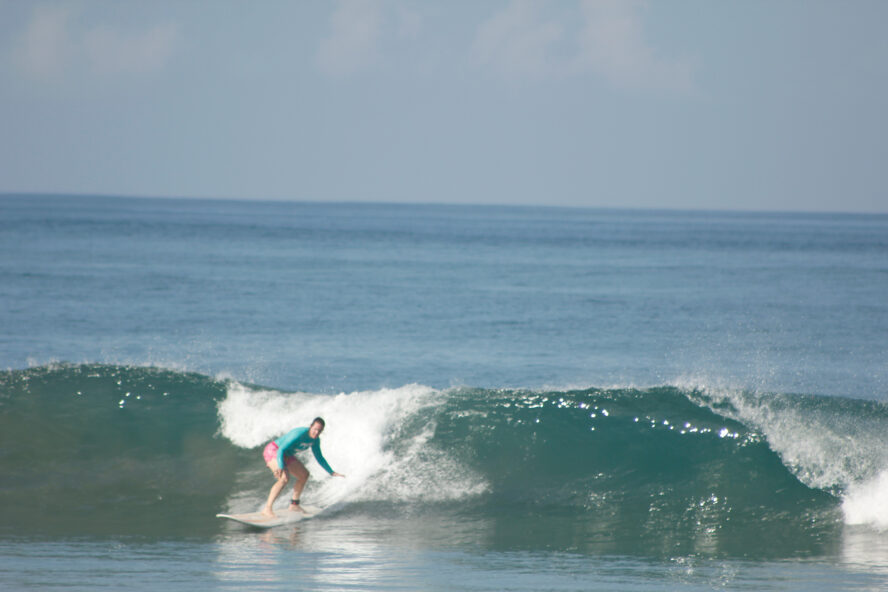 For those advanced surfers out there
The intermediate groups have fewer instructors per student, but take daily trips by boat and van to get to beaches outside Tamarindo, where there's more challenging waves on a variety of breaks. The tours usually take three to five hours per day with at least two to three hours spent on the water. The intermediate group also benefits from video recording during lessons and they have two weekly seminar reviews instead of one.
If you're no longer in need of instruction and want to maximize surf time in all the best spots on this side of Costa Rica, Witch's Rock also offers surf tour programs. These tours feature travel by land or sea to outer reef and point breaks depending on the day's conditions. For these tours there is neither accompanying video nor instruction.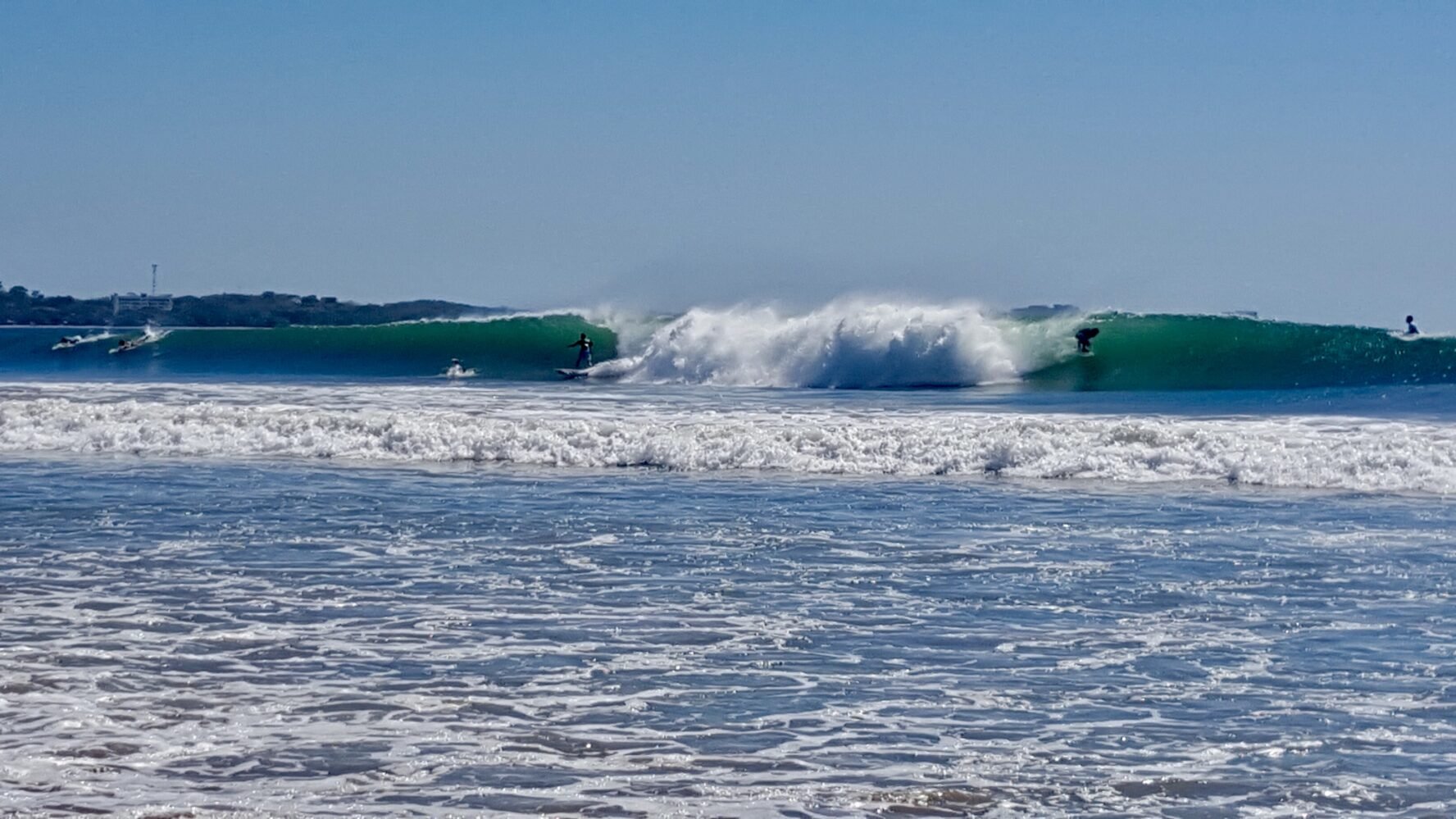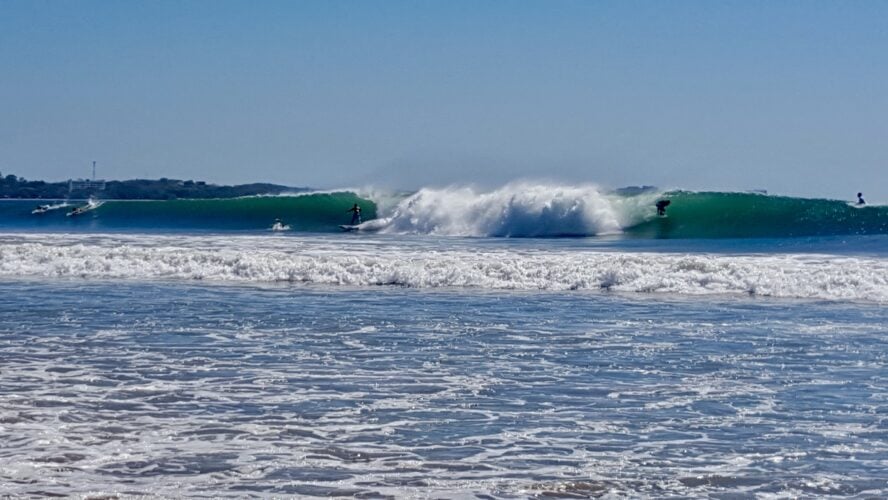 Other things to do in Tamarindo
If lessons last two hours, what else is there to do outside of surf camp? Plenty! Most days at camp, we would take advantage of the free board rentals and head back out to try to find some fun waves to ride. After all, the only way to get better is to practice, practice, and practice some more. The waves right in front of Witch's Rock are perfect for beginners, but there are a variety of other breaks in town you can walk to right from camp.
We also did a few touristy things including a zipline tour through the jungle, a horseback ride on the beach, a kayak tour up the river to check out some of the local monkeys, and a half-day deep sea fishing tour where I landed a tuna! There were also opportunities to get a deep-tissue massage on-site at the beach, which my husband took full advantage of.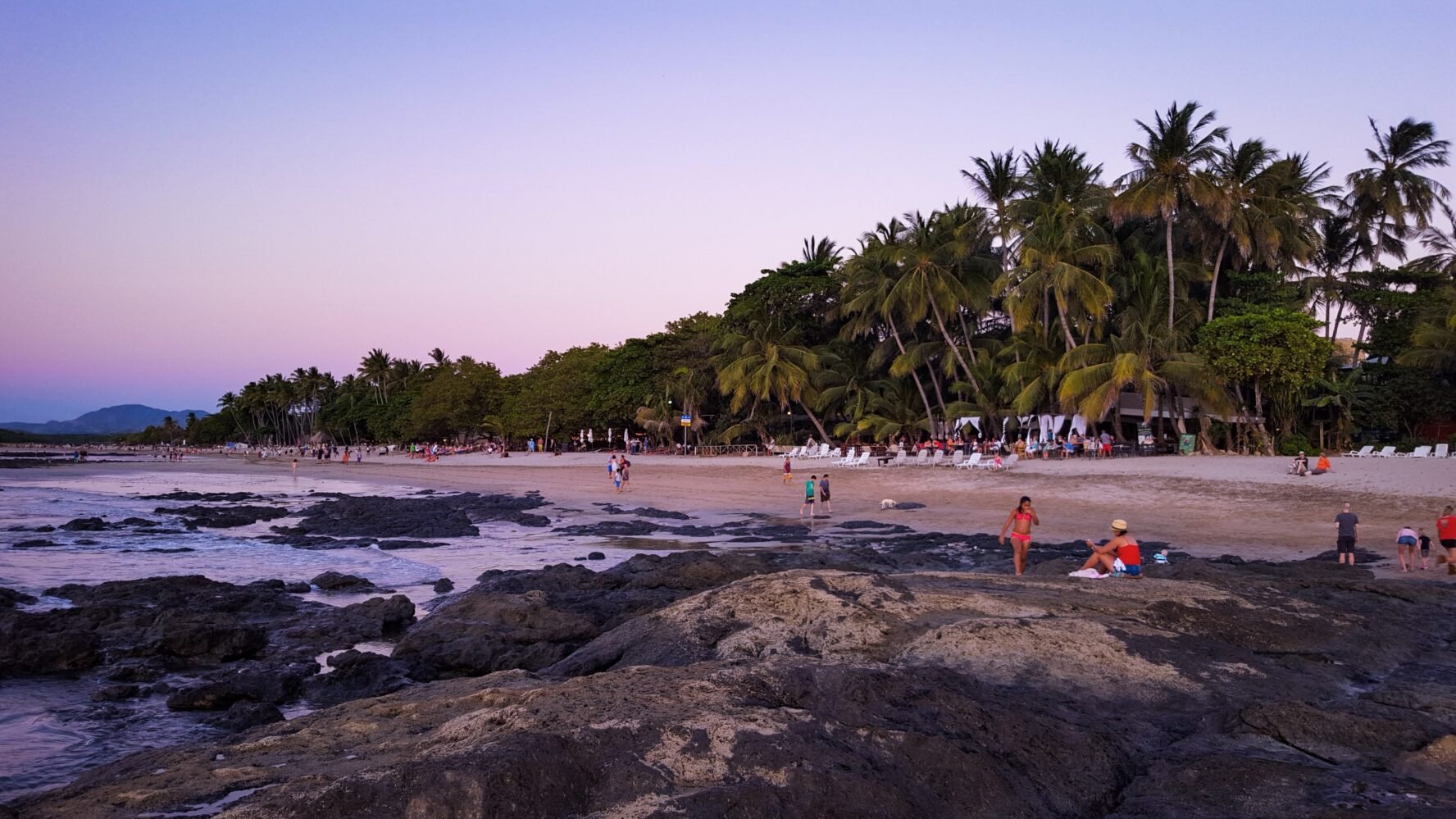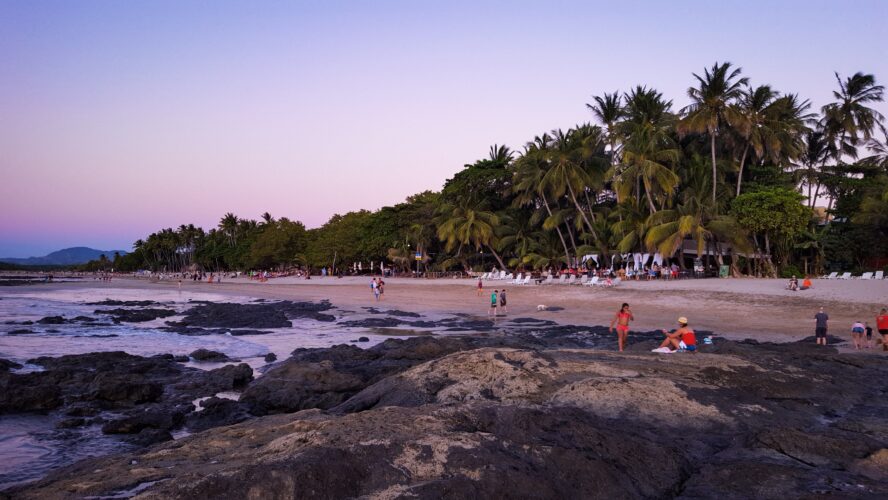 Everything you need is right at Witch's Rock, but if you feel like venturing away from home base, the town is small enough that it's easy to walk everywhere. Tamarindo is a happening little town with a great vibe, and there's shops, restaurants, markets and bars all over. For everything it has to offer — from the waves to the culture — Tamarindo is the best place in Costa Rica to get your feet wet in the sport of surfing. You'll find breaks that are right for your skill level, the instruction at Witch's Rock Surf Camp is top notch, and there's as much to do outside of camp as your travel plans allow for.