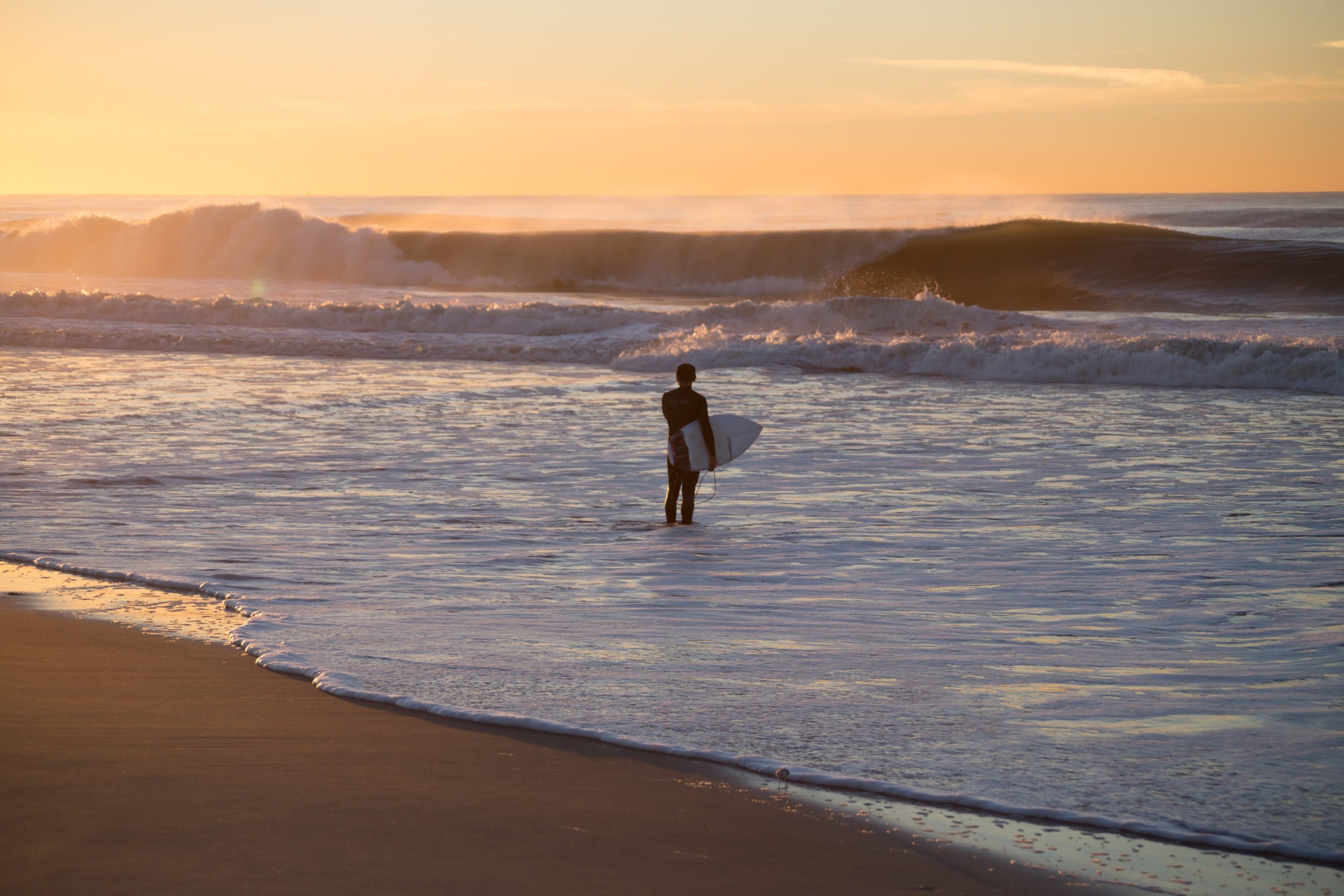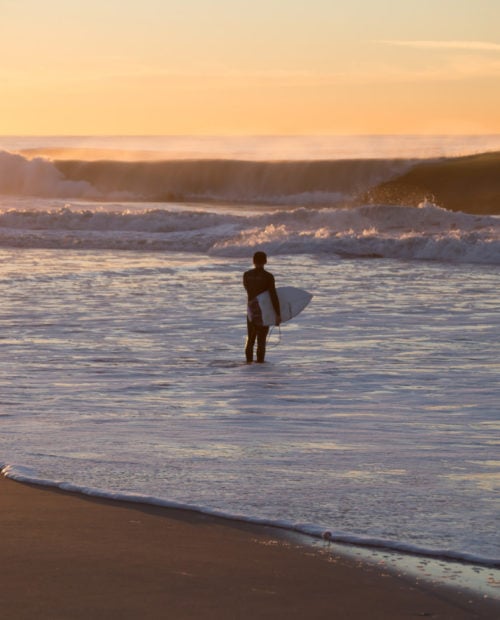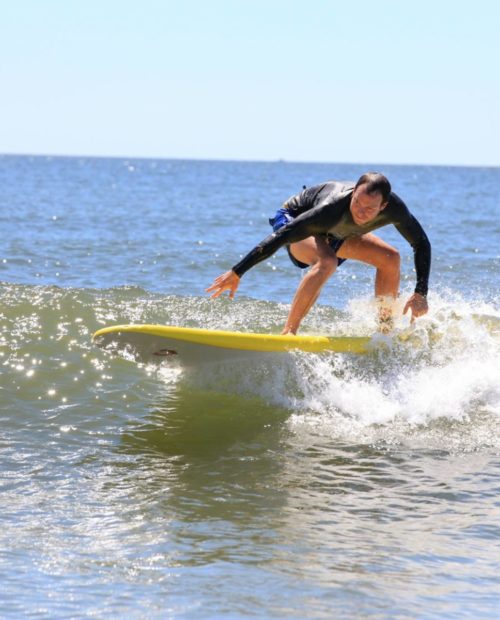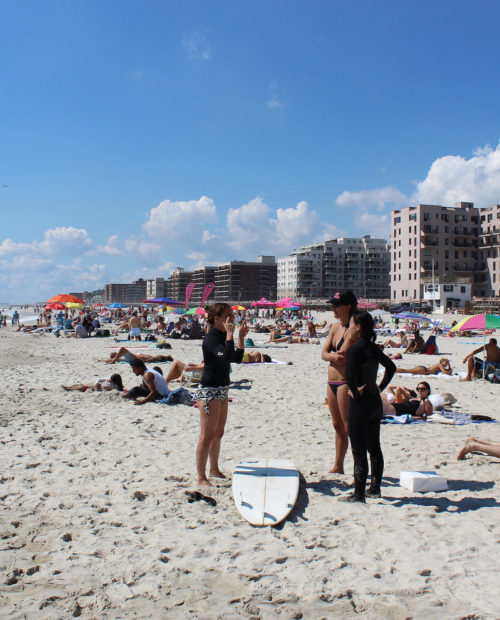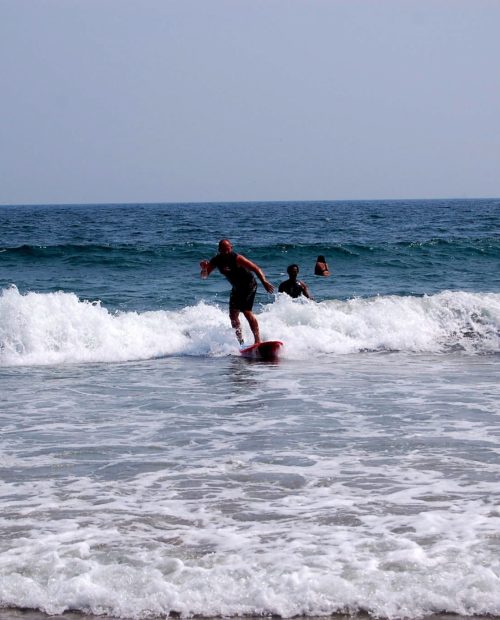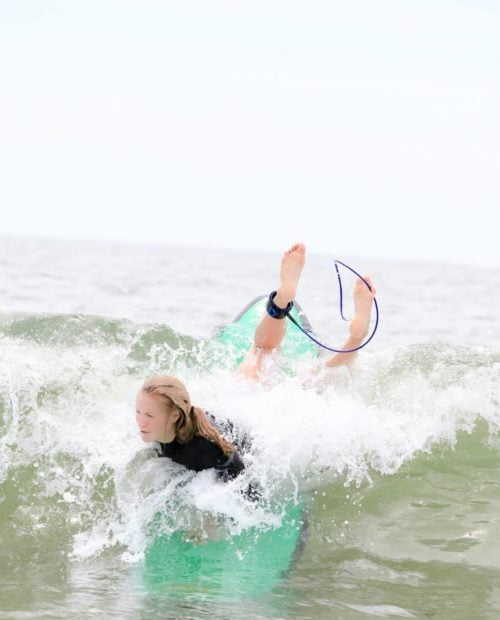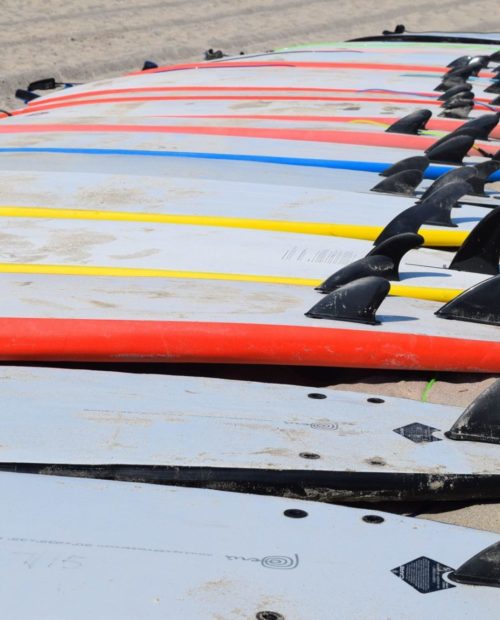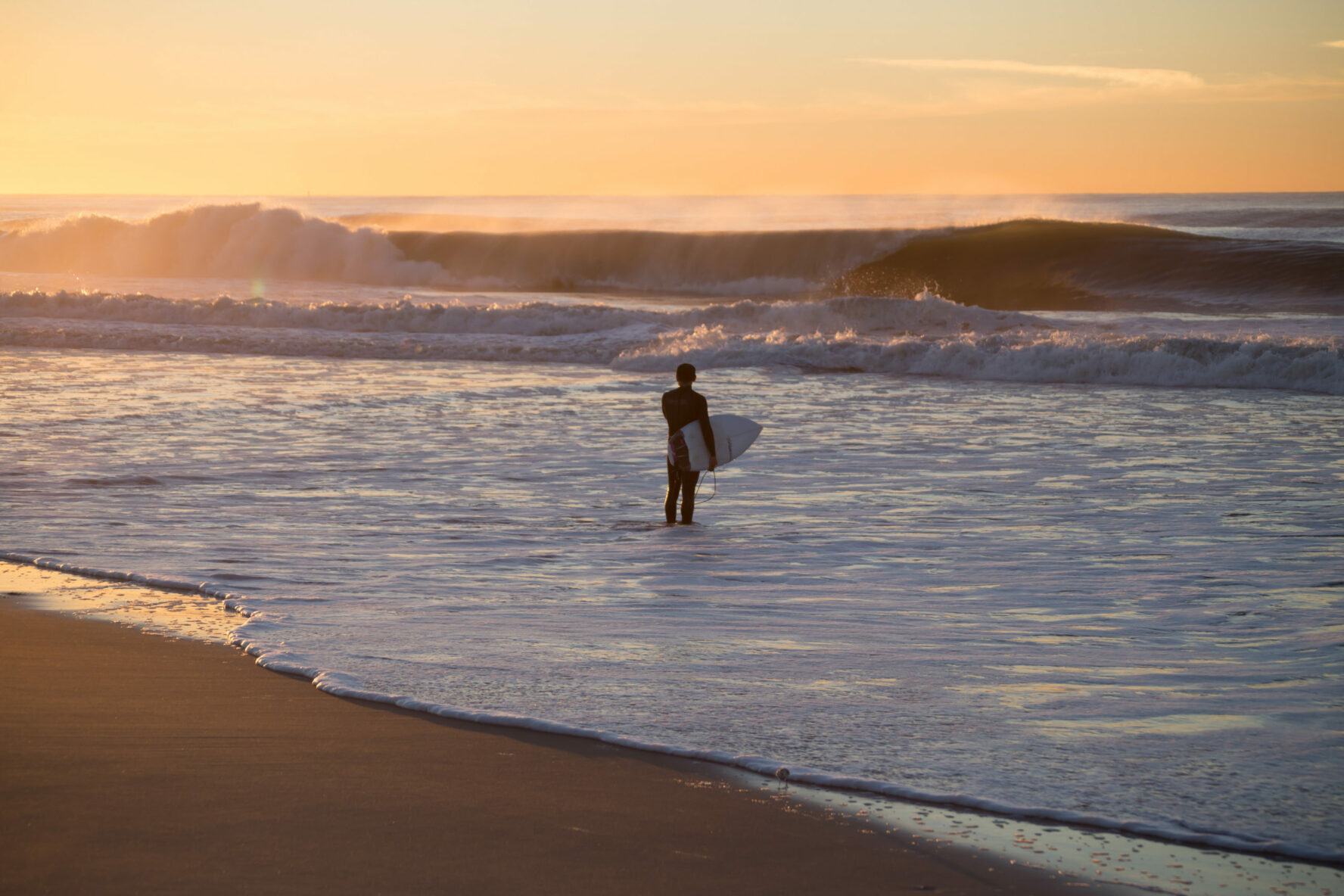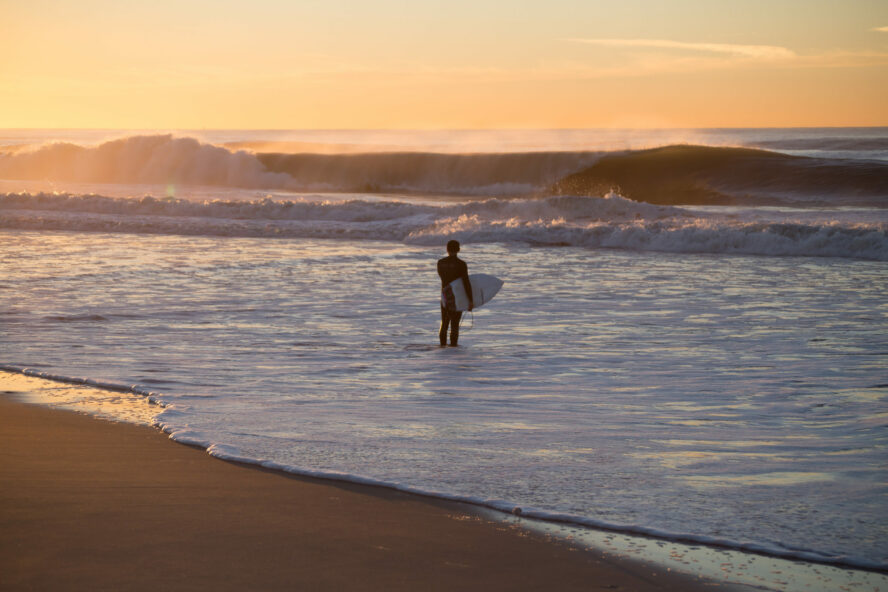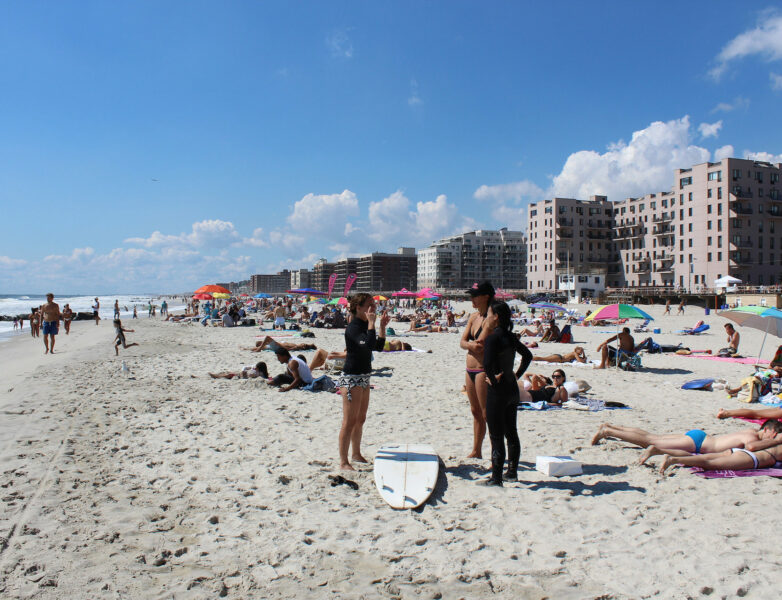 Nicknamed "City by the Sea," it's no wonder that Long Beach is one of the go-to spots for NY surfers and anyone looking for surfing lessons in Long Island. It holds legendary status among the surf community, and it's also known to be welcoming to new surfers eager to learn. Whether you're just starting out or you've been at it a while, a Long Beach surf lesson is a great way to build your skills and confidence while also riding amongst some of the best. Enjoy this action-packed spot and be ready for a fun day on the ocean.
Long Beach has some of the best surf you'll find near NYC

You'll be up on your board in a day – but hooked for life

Proximity to the city combined with abundant rental shops and experienced instructors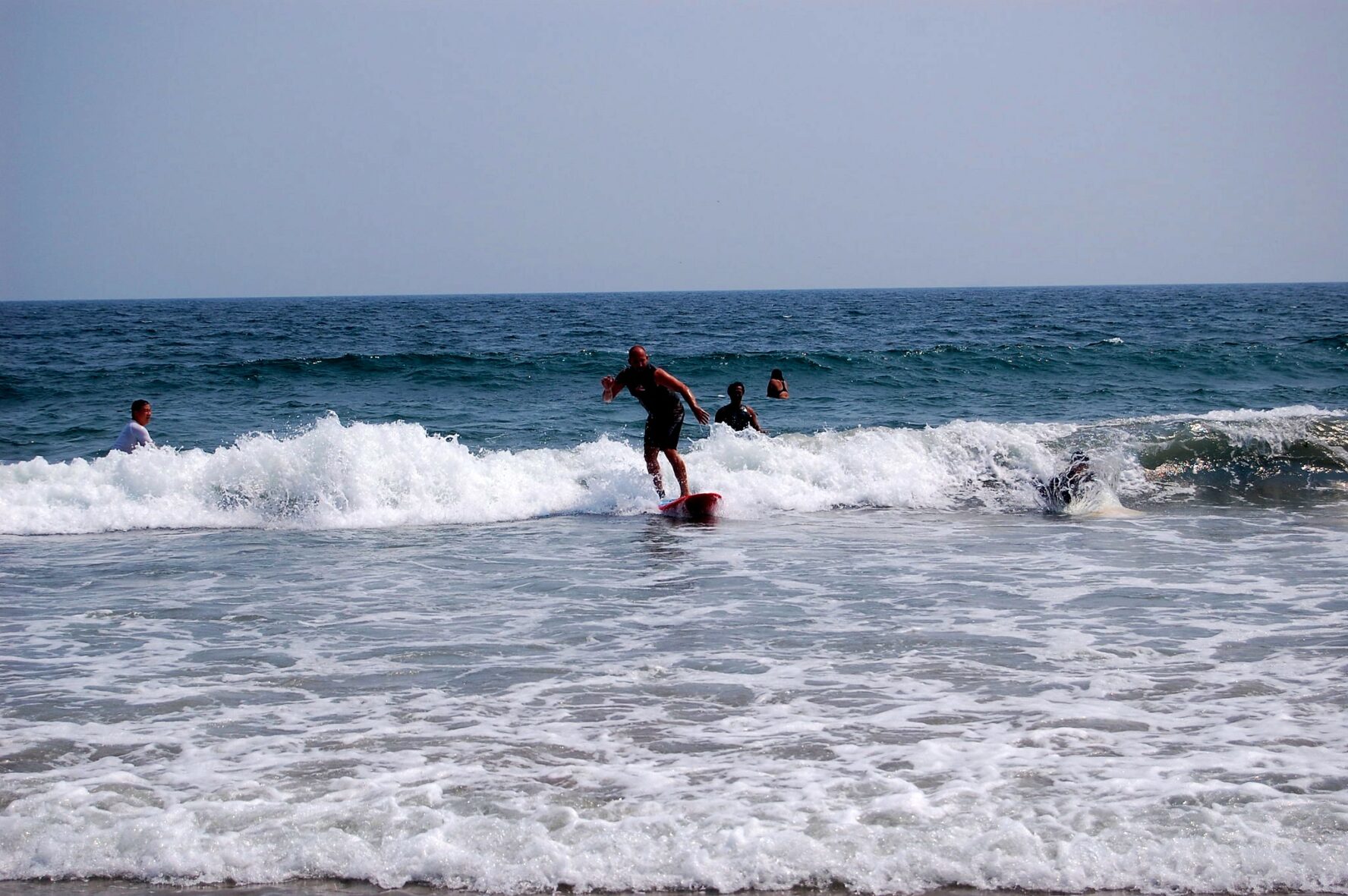 1-Hour Private Surfing Lesson
If you don't have a lot of time on your hands, this one-hour lesson is a good way to try out and learn to surf in Long Beach, NYC. Regardless of your experience, you'll get the chance to brush up on your skills and learn some new ones, as it will be only you and your instructor.
90-Minute Private Surfing Lesson
This 90-minute mini-surf school in Long Beach, New York, is an in-between type of deal if an hour on the waves is not enough for you, but two are stretching your schedule. Your instructor will tailor the experience to your needs and abilities.
1-Day Long Beach Surfing Camp
This whole-day surfing camp in Long Beach, NY, caters both to adults and children. Learn everything about ocean safety, technique, drills, and wave time. You'll learn to ride a wave on your very first day! Find out about the different types of ocean and surf currents and how to safely avoid and maneuver through them. Learn how to jump correctly from a prone position to a proper surfing stance with a professional surf instructor, and master the correct way to catch and ride waves!
Get free trip brochure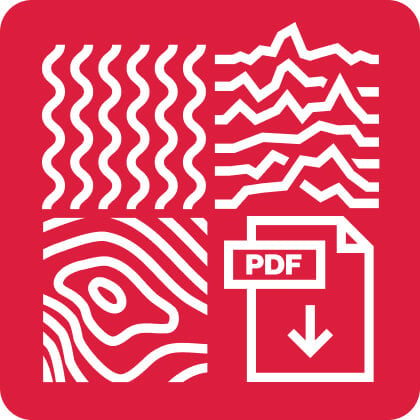 The brochure contains:
Adventure and location overview, itinerary, available dates, what's included, how to prepare, and much more.
Brochure sent, check your inbox
Talk with us
and let one of our adventure experts help you plan your perfect adventure.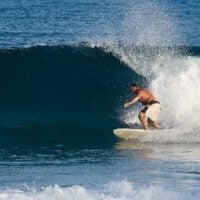 Elliot Zuckerman
Professional Surfing Coach
As a professional surfing coach, Elliot Zuckerman has coached many surfers over the years, optimizing their surf-abilities in the water and challenging them to surf at a new level. Elliot has a particularly intimate understanding of the New York and NW coast of Puerto Rico surf conditions as well as the strategy and equipment needed to excel as a professional surfer!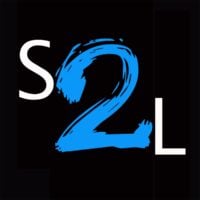 Surf2Live is a Long Beach mainstay, owned by Elliot Zuckerman, a surfer with more than 40 years of instruction under his belt. Surf2Live's group of surfing pros will get you catching waves in no time! With their extensive surf knowledge and decades of teaching experience, your surf dream will become reality faster than you can get your wetsuit on.
Linda J.
about
Surf2Live
on Website
Hi Elliot, just wanted to drop a quick note of thanks. John and Dana had an absolute blast this week at surf camp. All they ever talk about is you and the waves. Looks like we'll need to set up more surf camp weeks for the summer. Thank you, thank you!
Heather M.
about
Surf2Live
on Website
Wow! We (my kids and I) are hooked! We are living the surf life. My husband and I never thought that we would do something fun together as a family that would please everyone. From my 5 year old son to my 17 year old daughter. Thank you, Elliot.
Kristin
about
Surf2Live
on Website
Great teachers, splendid beach and amazing waves! We immediately fell in love with surfing! This is not only a sport, it is a philosophy! We learnt a lot, not only about surfing but about life! We felt so welcome and well taken care of. We had a blast and will come back as soon as we can! If you want to learn how to surf while having fun, Surf2Live is the best option!
Things to know
57hours is committed to providing safe outdoor adventure experiences. We require all guides using our platform to have a COVID-19 safety plan and to make the details of that plan accessible to travelers. In most cases, group sizes will be reduced, guides will avoid overcrowded locations, and other safety measures will be met depending on the location and activity. 

We also expect clients to respect local regulations and take measures to protect themselves, guides and the communities they're travelling to. For more information on COVID-19 measures in Long Beach, NY, please refer to the official pages of the Government of New York. 

Please contact us if you have any questions or require further information. We are happy to provide you with the most up-to-date information!

For all surfing lessons and courses, you'll be paired with an experienced local instructor with extensive surfing knowledge, and all the technical gear you need. 

What you get on this adventure:

An experienced local guide with extensive surfing knowledge

Up to 1 day of surf lessons depending on your chosen itinerary

Surfboard

Wetsuit

You can continue to use all borrowed gear like surfboards and wetsuits after the lesson for an additional rental fee. Let us know in the booking process, and we'll make sure you're set up with the gear you need. Your instructor will call you after the booking to arrange the details. If you have your own equipment, you are free to use it during lessons.


What's not included:

Transportation to Long Beach

Accommodations

Food and snacks

$15 per person beach access which is imposed by the City of Long Beach for all day visitors

No one expects you to swim like you're in the Olympics, but you need to be able to keep your head above water and know how to tread.

You'll feel much more comfortable in the ocean if you're sure you can swim at least two lengths of a pool. Keep in mind that surfing is physically straining, like any sport, so you should prepare beforehand with stretching and light cardio. This way, you'll be better equipped to handle what the ocean throws, and in a better position to ride the waves with ease.

For kids who are not very good swimmers, we recommend a one-on-one private lesson. They will be kept in shallow water with the constant and complete attention of an expert surf instructor.

Surf lessons are recommended for anyone new to surfing.

Waves are smaller at Long Beach, making it an ideal setting for first-timers. A surf instructor will teach you how to be safe, have fun and work toward standing up on your board. It's all worth all a bit of practice, we promise!

You should bring a swimsuit, towel, sunscreen, water, snacks and good vibes — we'll take care of the rest. If the day is colder, make sure to grab a sweater as well!

From fall to spring, you're free to surf the waves of Long Beach until your heart's content. However, during summer, you must be either a resident or pay daily for a $15 pass.

Group sizes and prices:

The private lessons are one-on-one lessons with an instructor.

For the group lessons, the usual guest to guide ratio is 5:1, but lessons can be arranged for groups of any size, making it the perfect opportunity to join your friends and family.

If joining alone, you'll be placed with peers that share a similar level of experience.

Cost is per person and it doesn't decrease as the group grows.

Surfing in Long Beach can be arranged for bigger groups. Contact us prior to booking.

Min. age requirements:

If you are older than 18, you're good to go.

While there is not necessarily a minimum age to surf, there are minimum requirements, such as height and weight. Prior to booking, let us know the youngest ages in your party and we will let you know if it's safe for them to get on the water. 

If your group has surfers under the age of 18, contact us prior to booking to make arrangements.

Long Beach's south shore is split into a few main beach areas, but the most popular beach to surf is Lincoln Beach — a straight shot down to the beach from Lincoln Boulevard.

To reach Long Beach by train, you can go from Penn or Atlantic Terminal. Take the LIRR Long Beach line to its final stop, Long Beach Station.

If traveling by car, take I-495E (BQE) to Exit 22A, heading south on I-678/Grand Central Parkway. At Exit 1, merge onto NY-878E/Nassau Expressway. You'll find free street parking throughout the area.

Be sure to arrive about 15 minutes early, so you can check-in, put on a wetsuit, and start your lesson on time.
Get free trip brochure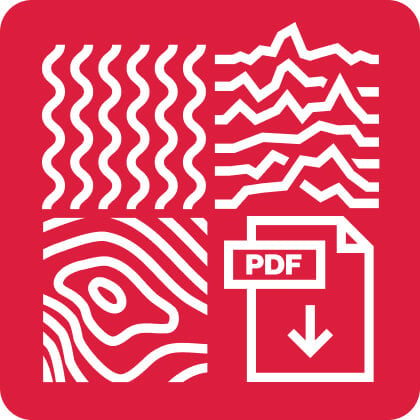 Adventure and location overview, itinerary, available dates, what's included and much more.
Brochure sent, check your inbox
Talk with us
and let one of our adventure experts help you plan your perfect adventure.
Other things to do in New York