Hut-to-Hut Hiking on the Laugavegur Trail
Laugavegur Valley | Iceland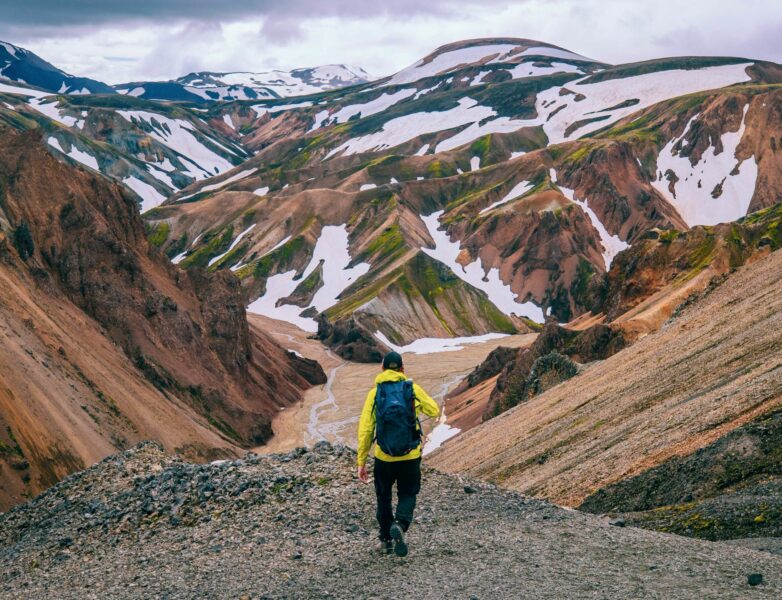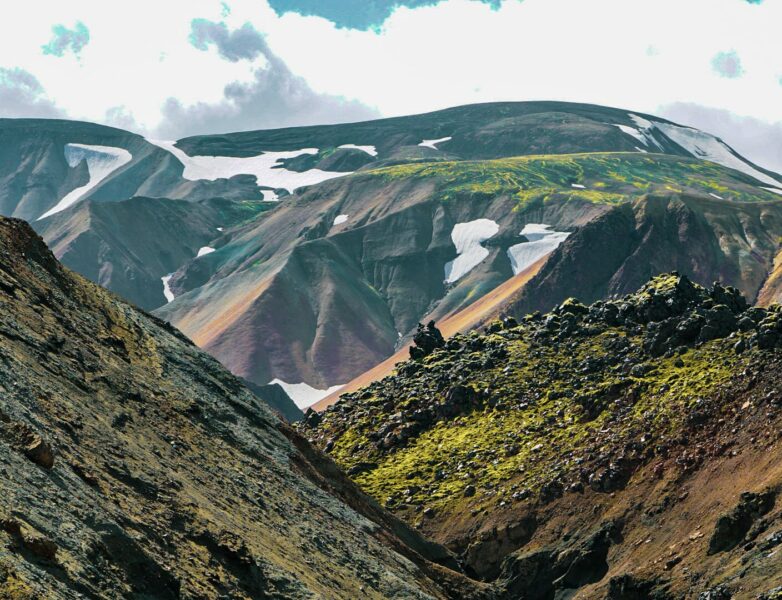 Top reasons to go on a hut-to-hut Laugavegur hike
Witness the combined forces of volcanoes and glaciers

Explore black sand deserts, deep canyons, frosty rivers, and geothermal pools

Hike through Iceland's famous valley without the burden of tents and heavy backpacks
Snaking its way through the Southern Highlands of Iceland, the Laugavegur Trail and its ever-changing landscapes are an inexhaustible source of wonder for any hiker. The moss-covered lava fields, polychrome mountains, black sand deserts, and turquoise lakes turn this age-old trail into a vivid riot of colors. With so many natural wonders to offer, it comes as no surprise that it bears the title of the most famous trail in Iceland.  And even when you enter the home stretch of this iconic trek, the beauty doesn't fade! You'll find yourself in Thorsmork, a valley nestled between three glaciers with amazing hikes of its own and home to glacier-fed rivers, mossy greenery, and so much more. Immerse yourself in Iceland's culture and recharge your batteries each day with a warm meal prepared in a heated mountain hut. Follow the ancient pathways under Iceland's midnight sun and let this untouched wilderness deliver some unforgettable moments.  
Season

Late June through early September

Nearest city

Your adventure begins in Reykjavik, Iceland
Choose how you spend your days
4-Day Laugavegur Trail Hut-to-Hut Adventure
Treat yourself to a 4-day Icelandic experience on one of the most admired trails in the world and explore a wide array of landscapes with an expert guide. Revel in the views of lava fields, icy river-crossings, canyons, black volcanic rocks, spouting thermal vents, and more as you hike this 35-mile long trail. Bond with your group over a meal, get a glimpse of the authentic Icelandic culture and rest in comfortable heated mountain huts along the way!
6-Day Laugavegur Trail Hut-to-Hut Adventure
Not every trip ends in a mythical place, but this one does. Following an ancient pathway across petrified lava, glacier-fed lakes and through ashen fields, you'll explore all the iconic locations in Laugavegur — like the geothermal pools and the valley that Thor himself created. After each day full of adventure and Iceland's untamed nature, you'll warm up and recharge your batteries in authentic mountain huts. Make sure for yourself that Iceland's most famous trek really does live up to the hype!
Itinerary: 4-Day Laugavegur Trail Hut-to-Hut Adventure
Day 1: Reykjavík to Landmannalaugar
You'll meet your group at the meeting point in Reykjavik city, BSI Bus Terminal and load the luggage into the bus. The drive to Landmannalaugar is a magical experience as you drive through many different contrasts of landscape and vegetation. As you move from the populated part of Iceland into the desolate black highlands, you will see many beautiful sights along the way in Fjallabak nature reserve. Enjoy the view of the incredible colors of Landmannalaugar: black, red, orange, green, blue—all coming together in the rhyolite mountains. Arrive at the hut and start getting to know each other as the guide goes over the itinerary for the next few days. In the evening, cook your first highland meal together and have a good time. 
Those who are interested in really soaking in nature can take an evening dip into the geothermally heated pool (up to 40°C!) that the name of the place derives from, as the name Landmannalaugar directly translates to "The People's Pools."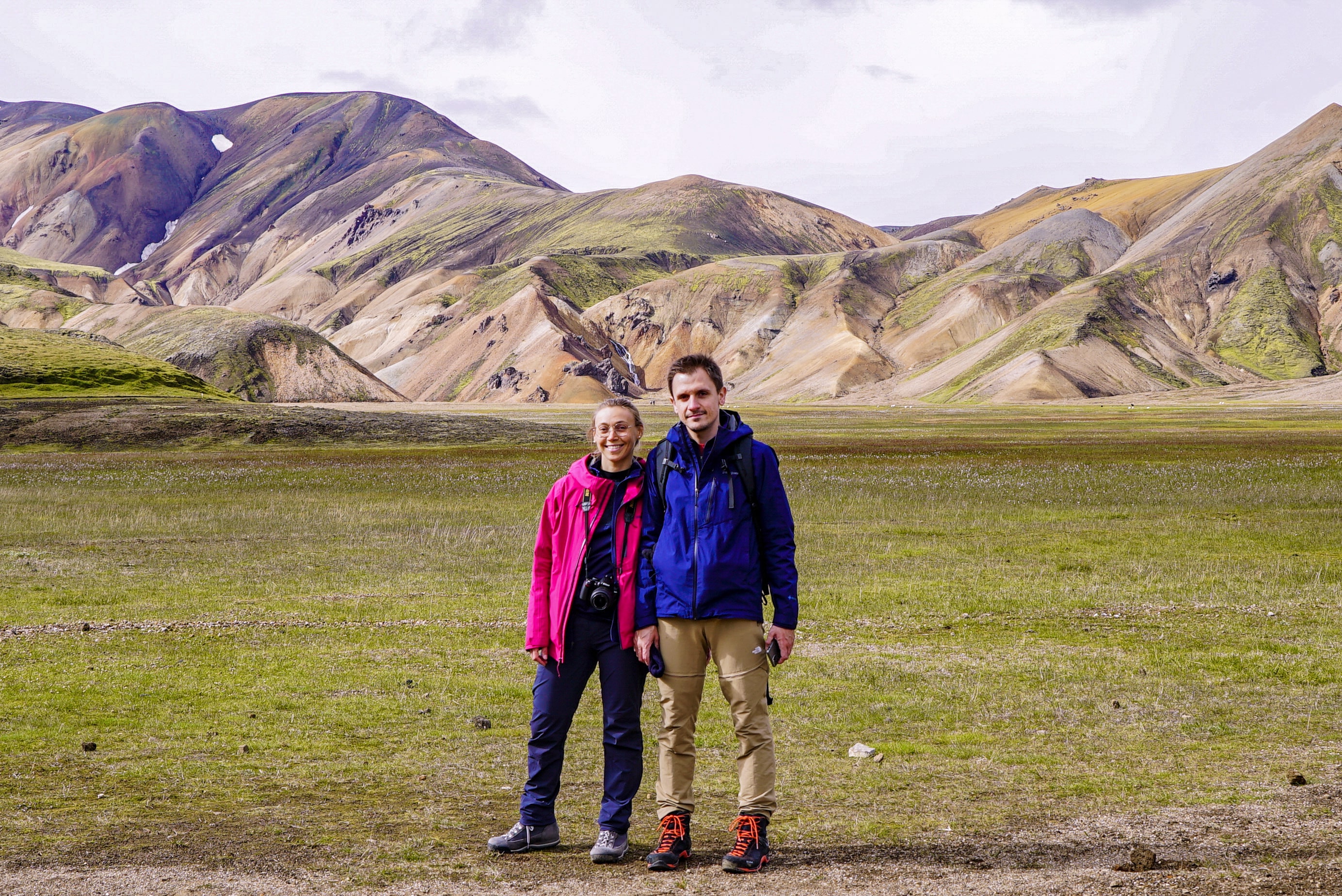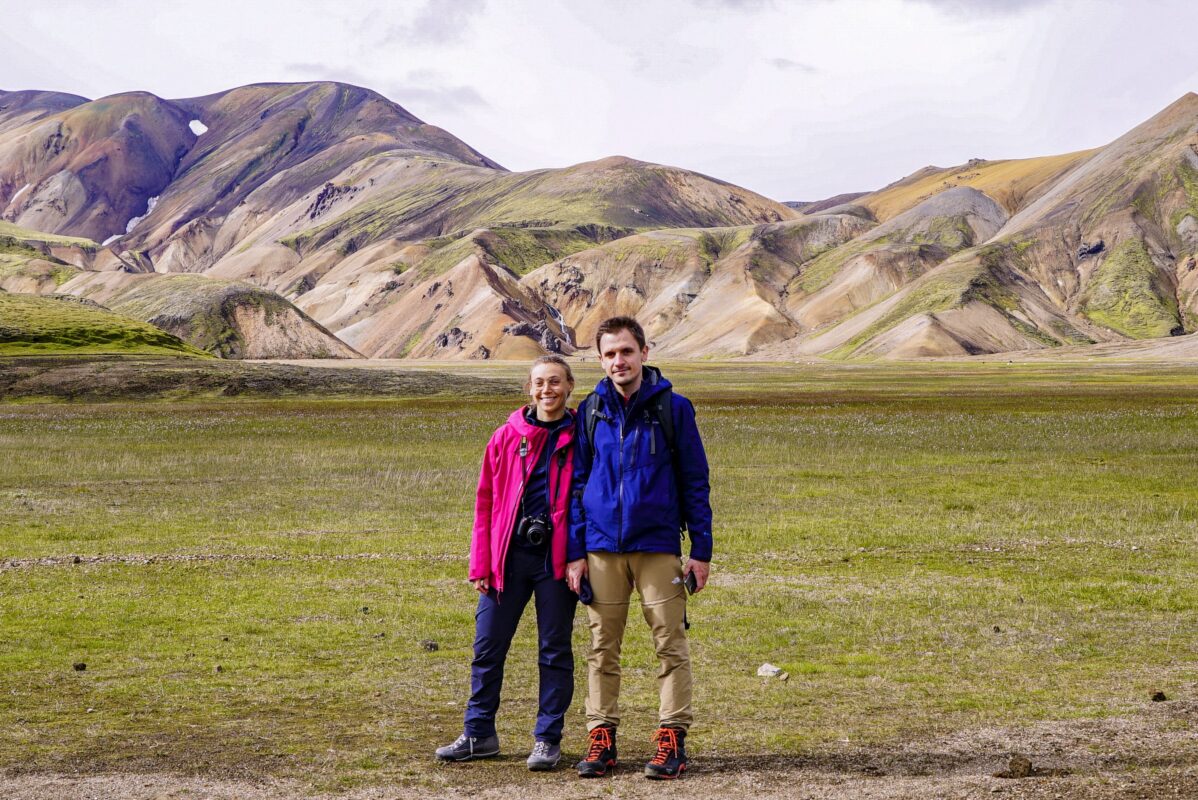 Day 2: Landmannalaugar to Álftavatn
The first part of today's hike leads up to the lava field of Laugahraun and heads downhill before heading up again to the plateau below Mt. Brennisteinsalda. It is a good idea to stop here and look at the flora, mountains and gorges in all colors of the rainbow. The trail continues up on to the plateau, where small ravines cut into the landscape as the rivers shape the soft mountain. The way ahead is all uphill, but it is not extremely steep. Your next destination is Stórihver, a beautiful vegetation spot right next to a whizzing geyser. Stop, rest your legs and get a bite from your lunch box. The rest of the trail runs along the slopes of Reykjafjöll. The area is a valley bottom which is mostly flat, but there are a few ravines that should be crossed extra carefully since they are often half-full of snow. Next, hike west of Kaldaklofsfjöll and up and down through ravines until you reach the edge of Jökultungur. Take in the views over the whole trail and the three glaciers, Tindfjallajökull, Eyjafjallajökull and Mýrdalsjökull. The road down Jökultungur is quite steep and rocky and at the bottom, the Grashagakvísl river awaits! In some cases it can be crossed on a snow bridge. If not, you need to ford by wading on foot. From there, it's an easy route to the hut in Álftavatn lake, where you will spend the night.
Hiking: 8-10 hours
Distance: 24 km (15 mi)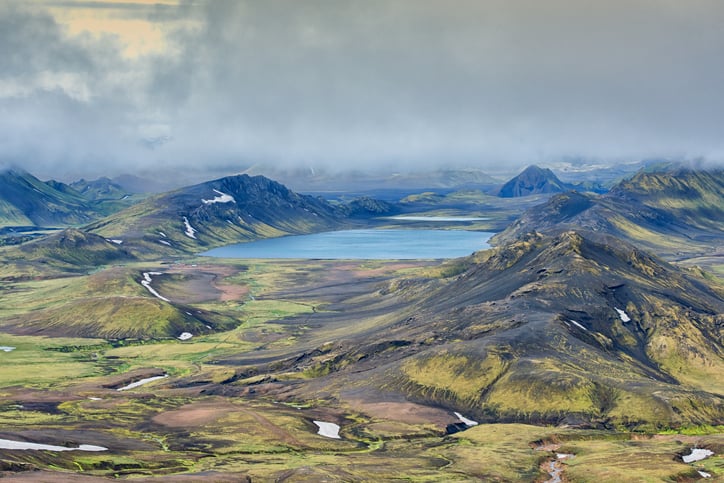 Day 3: Alftavatn to Emstrur
From Álftavatn, the trail goes over Brattháls and continues east to Hvanngil. The Bratthálskvísl river is without a bridge and needs to be forded by foot which in most cases is relatively easy. In Hvanngil, hikers can use the toilet facilities. There is a short walk to the river Kaldaklofskvísl, which can be crossed on a footbridge. Just south, is another river, Bláfjallakvísl without a bridge. Now the route lies mostly on the main road until the river Innri-Emstruá is reached. It has a bridge but you'll have to tread through some water as there is an overflow that bypasses the bridge. Afterwards, the trail takes you south to Emstrur, where the land is practically without vegetation. The trail lies between two mountains called Útigönguhöfðar and in about an hour, you should reach the Botnar hut in Emstrur!
Hiking: 6-7 hours
Distance: 16 km (10 mi)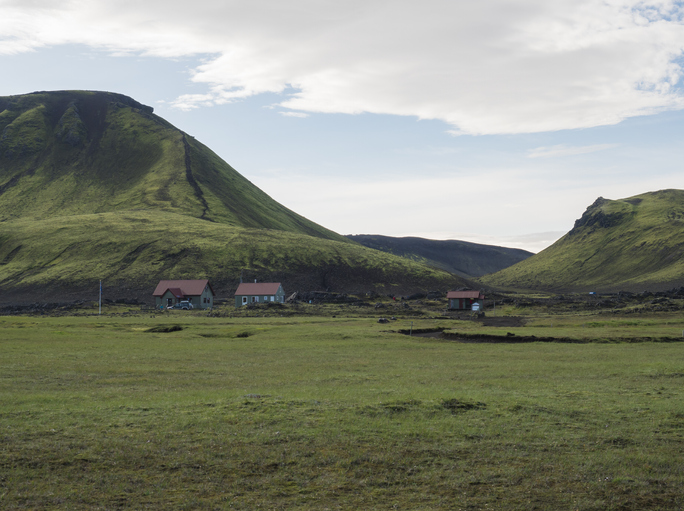 Day 4: Emstrur to Thorsmork and Reykjavik
Your last day in Laugavegur! Hike to the bridge over the Syðri-Emstruá, a river that flows into a narrow deep canyon that reaches most of the way to Entujökull. Keep in mind that people with vertigo sometimes struggle to get to and across the bridge. From there, the path takes you along Langháls, towards the junction of the rivers Markarfljót and Syðri-Emstruá. It is recommended to walk to the edge of the gorge where the rivers meet, before hiking south through Almenningar. Take a lunch break and rest in one of the two small ravines, Slyppugil and Bjórgil. A short hike up gradually leads you to an area with more vegetation called Úthólmar. The last point on the trail is called Kápa or "coat", where you'll have to ford the river Þröngá. The river marks the boundary of Thorsmork, meaning there's about half an hour of hiking through the pleasant woodland Hamraskógar before you arrive at the Skagfjörðsskáli cabin in Langidalur, Thorsmork. From here, board a bus and travel back to Reykjavik!
Hiking: 6-7 hours
Distance: 15 km (9 mi)
Interested in more adventures? Discover other hiking trips in Iceland organized by the best guides!
Itinerary: 6-Day Laugavegur Trail Hut-to-Hut Adventure
Day 1: Reykjavík to Landmannalaugar
Arrive at the BSÍ Bus Terminal in Reykjavík  and get ready for a scenic 4-hour drive to Landmannalaugar, making stops to explore amazing sights along the way. Once you arrive in Landmannalaugar, start getting to know each other as the guide goes over the itinerary for the next few days. In the evening, cook your first highland meal together and have a good time. Soak up the colors, mountains, and lava fields nestled in this huge and formidable environment. Head out for a short hike around the area to warm up for the coming days and in the evening, rest and have a delicious dinner with the group. Take a shower and get ready to hit the hay.
Those who are interested in really soaking in nature can take an evening dip into the geothermal pool (with temperatures up to 40°C!) that the name of the place derives from, as the name Landmannalaugar directly translates to "the People's Pools".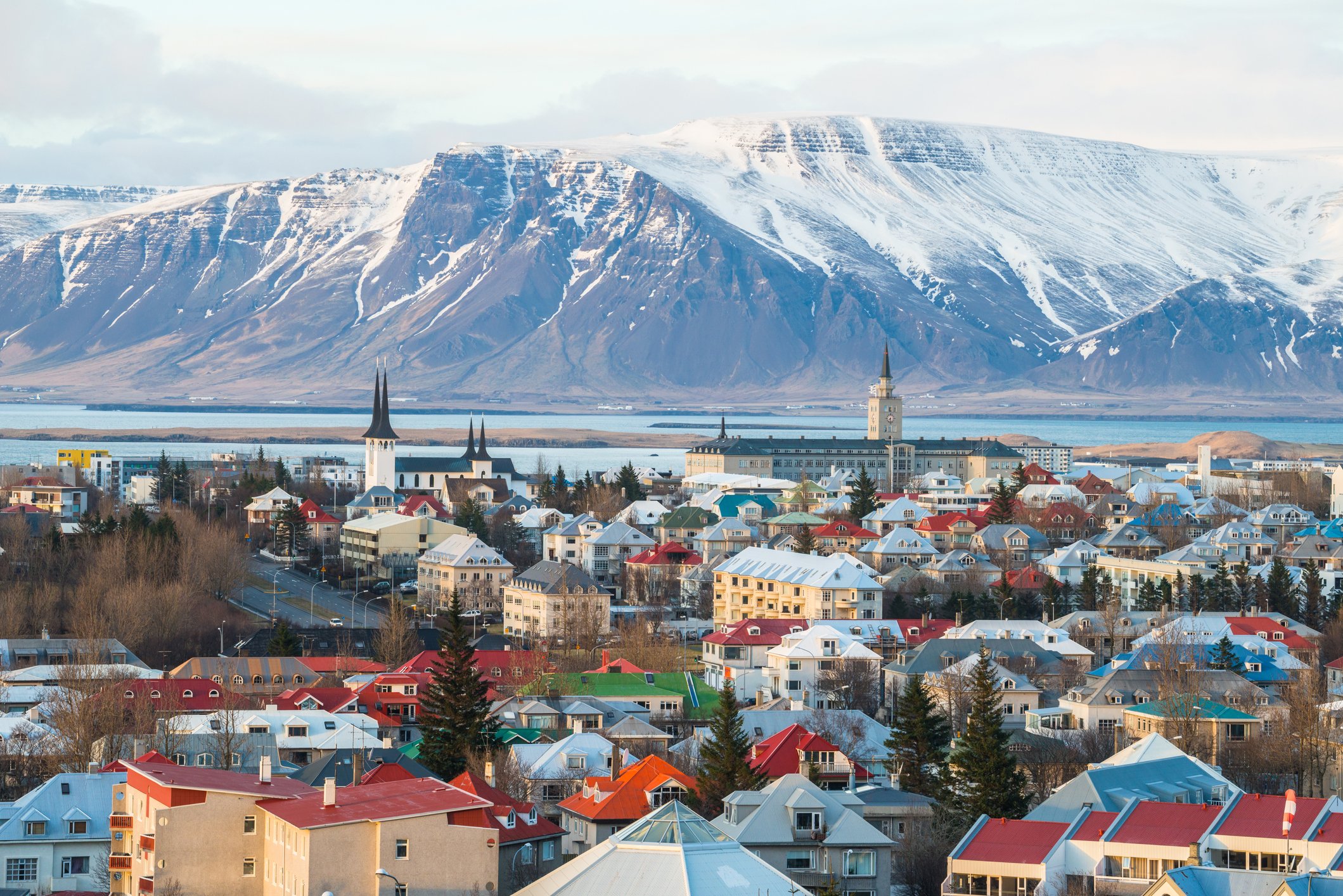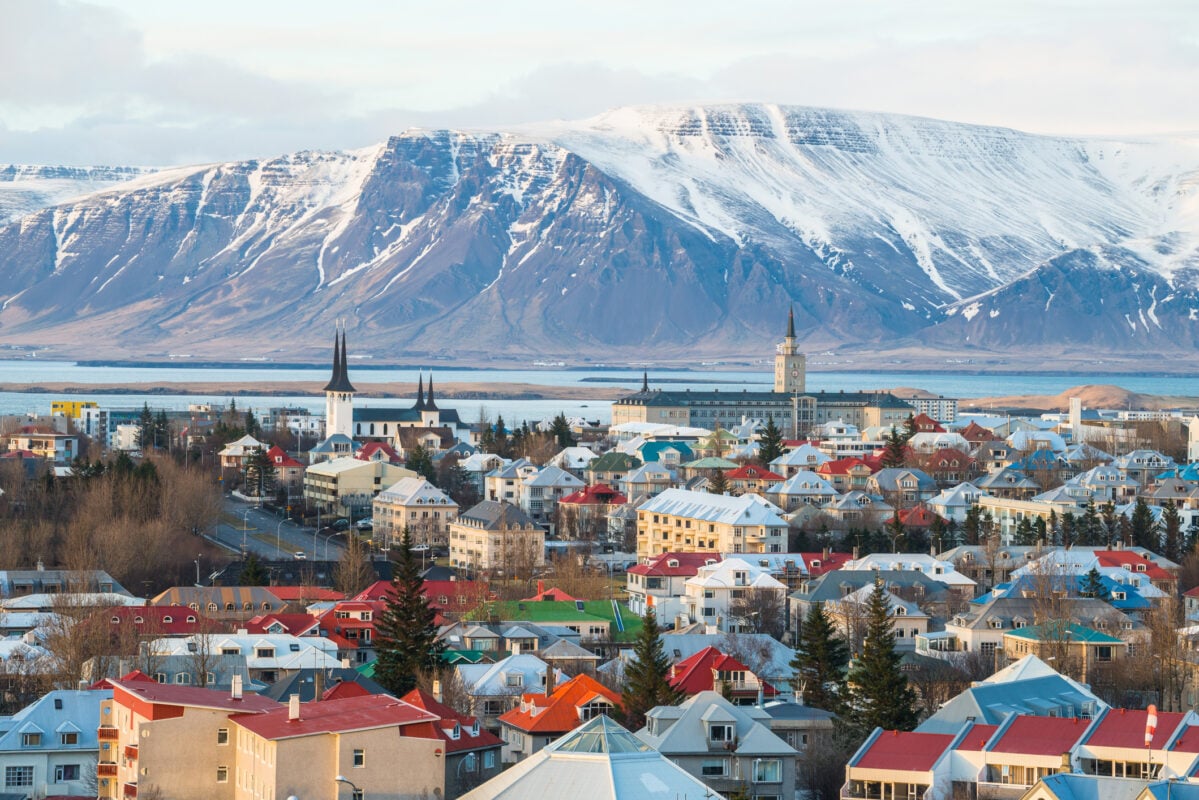 Day 2: Landmannalaugar to Hrafntinnusker
Kick things off with breakfast and make sandwiches for your lunch box. You and your group will hike through a moss-covered lava field over colorful rhyolite mountains and towards Hrafntinnusker, where you'll usually find snow throughout the summer! On this day, you'll witness the most drastic change of landscape! After passing different spots with geothermal activities, observe small lakes, pockets of hot water venting out of the ground, and beautiful hot springs. You'll notice that there will be less and less plants. Reach the second hut, rest and have a warm meal with the group!
Hiking: 4-5 hours
Distance: 12 km (7.5 mi)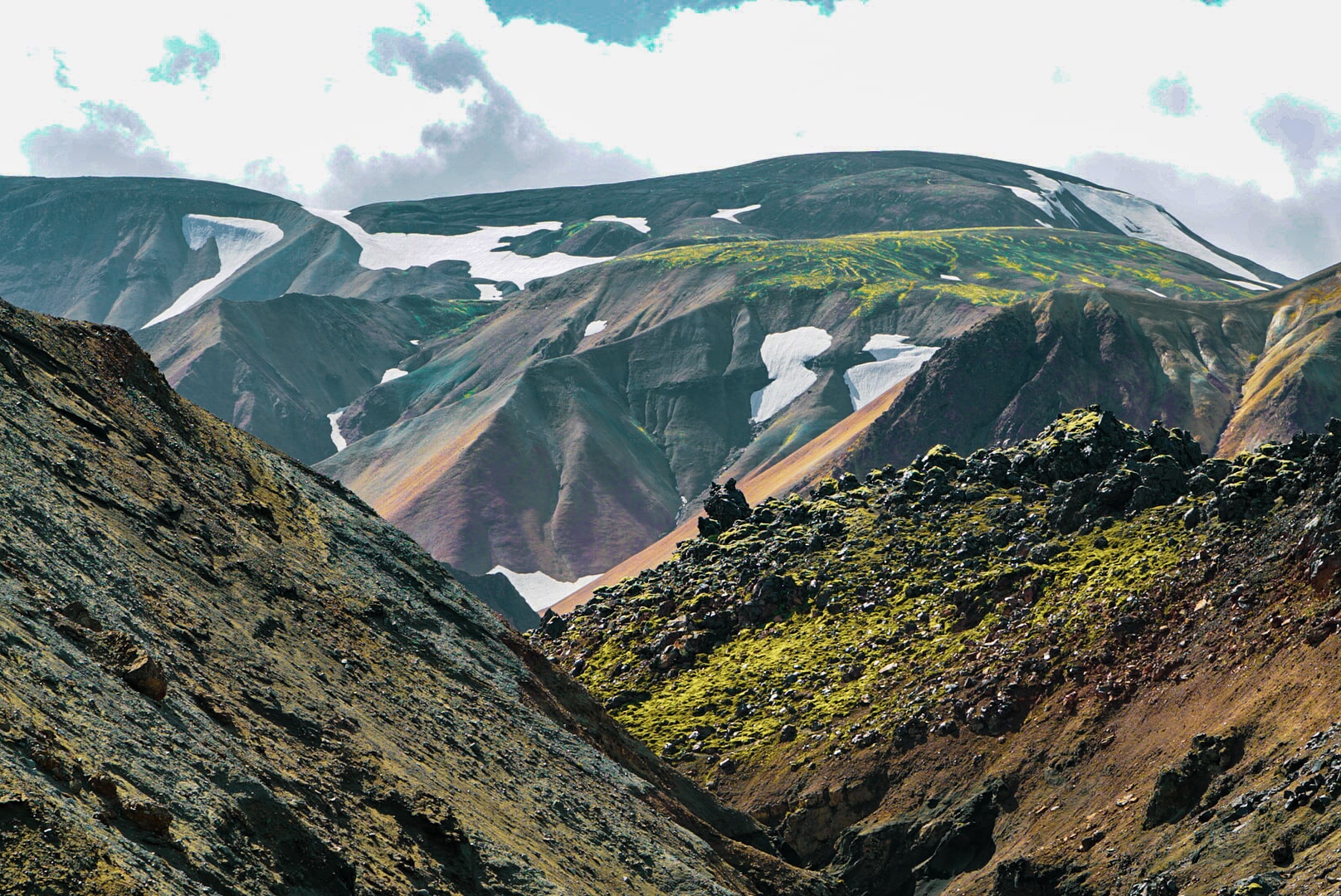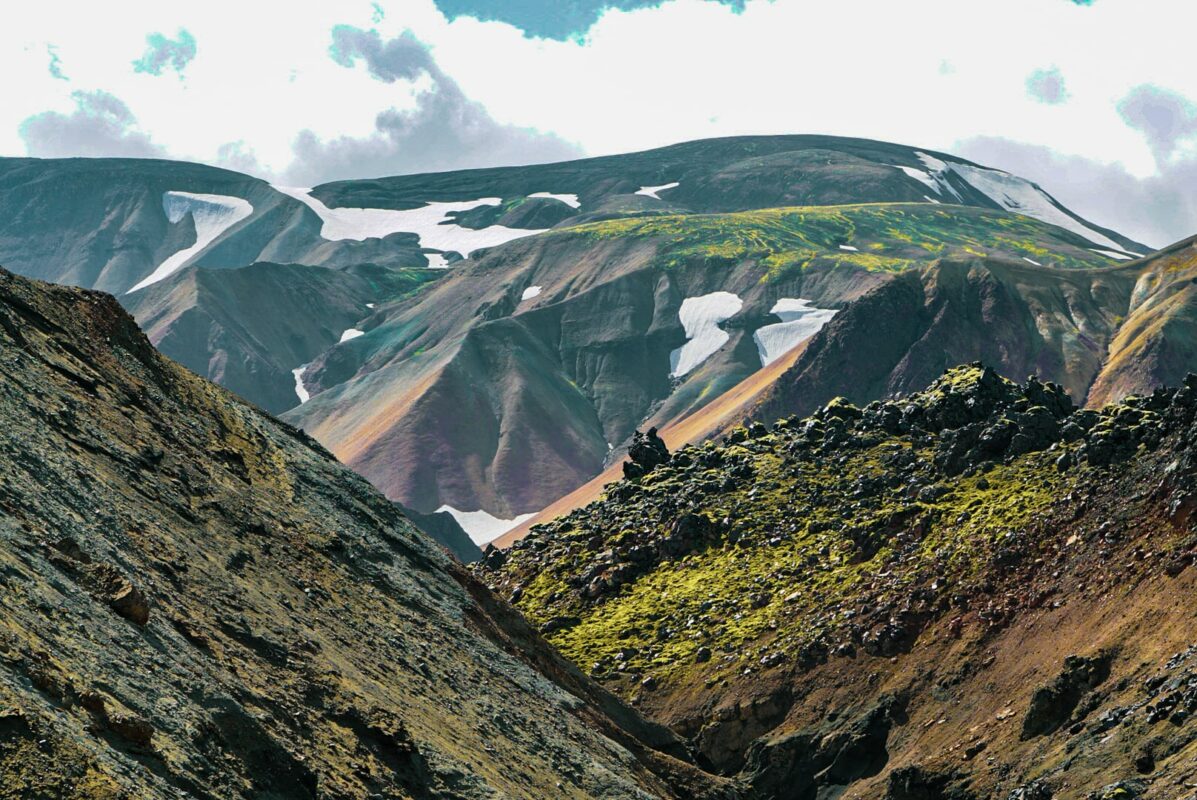 Day 3: Hrafntinnusker to Hvanngil
The biggest day of descending is ahead of you! Leave the warm hut, cross a river, and marvel at the glaciers in the background in case the visibility is good enough. The views will change rapidly from geothermal zones to tortuous mountain scenery. Reach your hut in Hvanngil after a long day of hiking and help your guide prepare a fabulous dinner before you get some well-deserved rest!
Hiking: 5-6 hours
Distance: 16 km (10 mi)
Day 4: Hvanngil to Emstrur
There won't be much ascending or descending today and the day will be pretty much flat. Start today's hike and cross a glacial river that is bound to wake you up faster than a double espresso ever could. Take in the views of mountain peaks rising out of black desert landscape and Mýrdalsjökull. This area was formed when glaciers covered the land and the volcanic activity caused the mountains to rise from underneath. After dinner in Emstrur, there might be a chance to hike to the Markarfljótsgljúfur Canyon, a sight you definitely don't want to miss out on! Cap off the day with a filling dinner and prepare for the day ahead of you.
Hiking: 6-7 hours
Distance: 16 km (10 mi)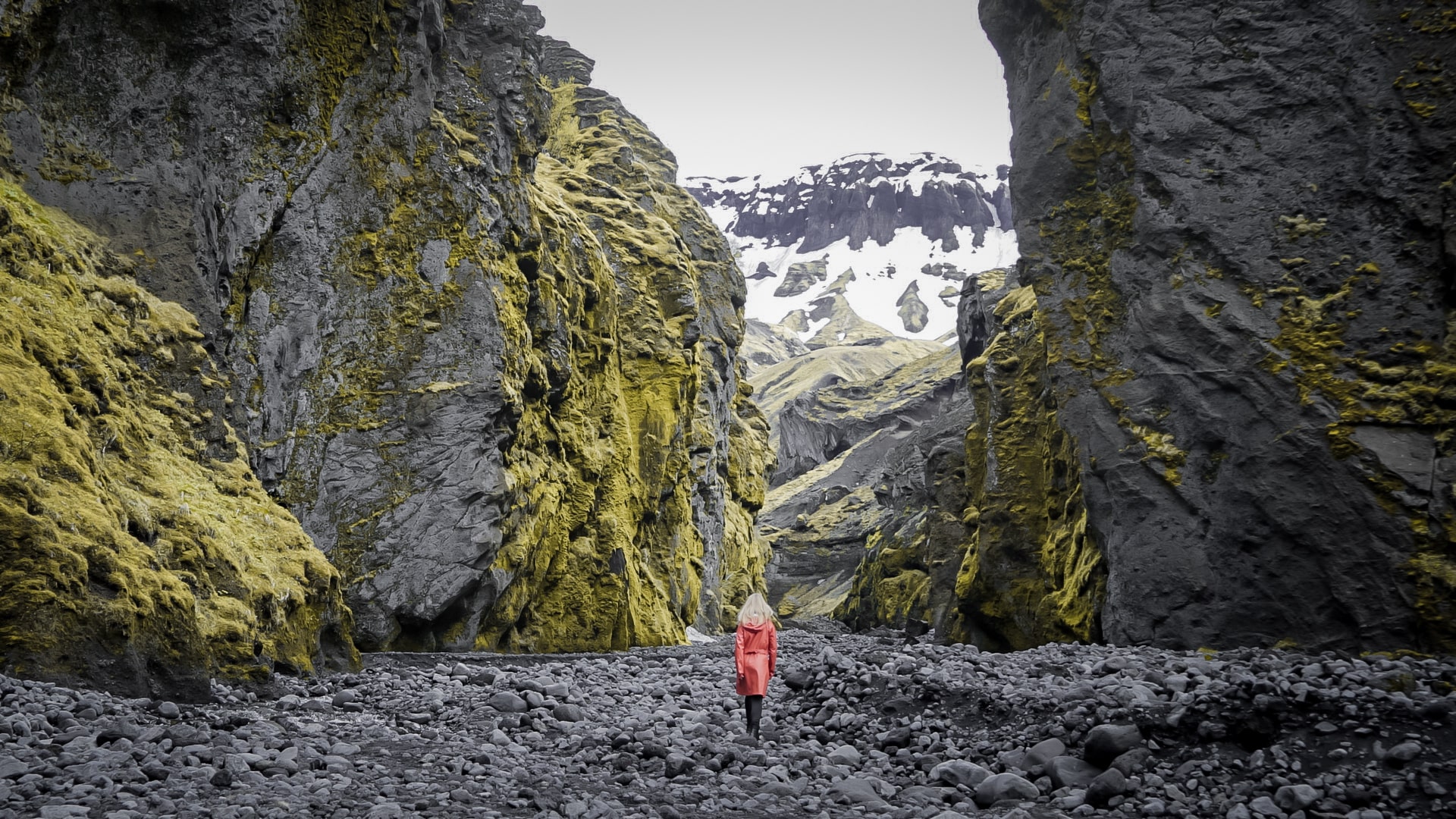 Day 5: Emstrur to Thorsmork
The fifth day of the trek has some ascending, descending, and flat parts in store. With the stunning Markarfljótsgljúfur Canyon on your right, you'll gradually descend most of the day and start seeing more plants, hear more birds, and even see some trees. Today is the most difficult day of the hike—it's the longest and there are two big hills you'll have to go over before reaching Thorsmork. There's one glacial river above a small canyon you'll need to cross. There's a sturdy bridge going over the river and the height might be an issue for people with vertigo. Today you'll get to Thorsmork, one of the most spectacular places in Iceland. Take a moment to appreciate the three glaciers around it nestled in the valley and admire the ever-changing Krossá river which splits the area beautifully. After dinner, you'll rest up for the last day.
Hiking: 6-7 hours
Distance: 15 km (9.5 mi)
Day 6: Thorsmork to Reykjavik
The final day has arrived! Start the day off with a nice breakfast, pack up your bags and go for a hike around Thorsmork before heading to Reykjavik with private transport. Make your way to Valahnúkur and soak up the views. You'll arrive in Reykjavík in the late afternoon. The official part of the trip ends here, but feel free to spend more time with the group and reminisce about the experiences from your hiking adventure!
Want to explore more of Iceland? Make sure to check out the hiking tours in Iceland provided by the best guides in the business!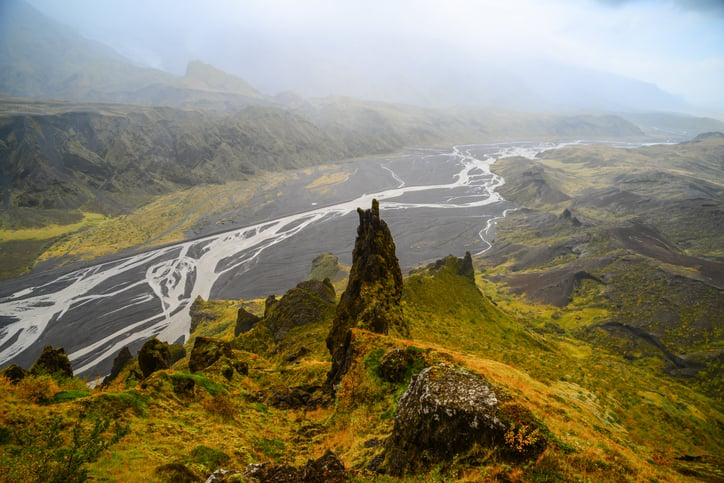 Meet your guides
Maggnus Viking
Maggnus Viking is sometimes called the Handstanding Viking because he's often seen ...
View details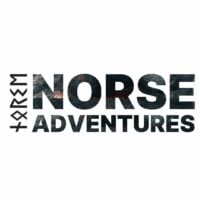 Norse Adventures
Norse Adventures is a family-run guiding service provider focusing on turning trave...
View details
Jin Gwee
about
Maggnus Viking
on Facebook
Maggnus is super friendly and knowledgeable! It's so much different from other tours in Iceland, I'm glad that I joined his Thorsmork and Landmannalaugar tour…
Terrific Tour
ScubaGuyATL
about
Maggnus Viking
on TripAdvisor
This tour was awesome. Maggnus is a great guide who went out of his way to show the group some stunning, off-the-beaten track, sights. He was also very willing to work with me considering that I booked the tour at the last minute and even picked me up from the place I had to take my COVID test (I was departing to the U.S.). All in all, the tour was a great high point to end my trip in Iceland. I am looking forward to returning and touring again with him!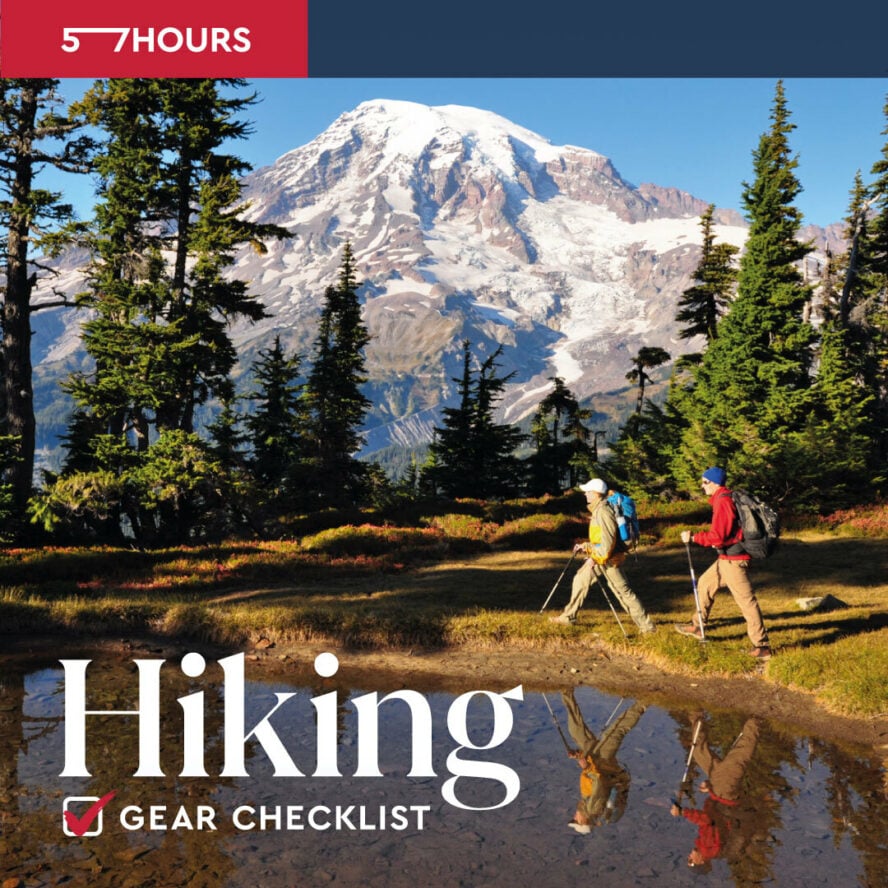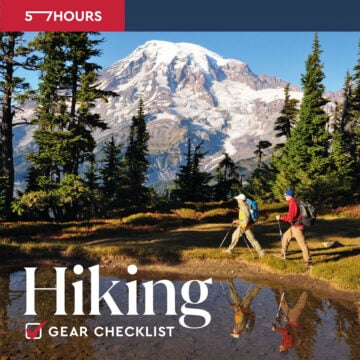 Download hiking gear checklist
Prepare for the trip.
Get complete checklist for hiking and camping equipment.
Check your inbox
Things to know
Covid measures in Laugavegur
57hours is committed to providing safe outdoor adventure experiences. We require all guides using our platform to have a COVID-19 safety plan and to make the details of that plan accessible to travelers. In most cases, group sizes will be reduced, guides will avoid overcrowded locations, and other safety measures will be met depending on the location and activity. 
We also expect clients to respect local regulations and take measures to protect themselves, guides and the communities they're traveling to. For more information on COVID-19 measures in Thorsmork and on Laugavegur Trail, Iceland, please refer to the official Government of Iceland and Official Information about Covid in Iceland websites.
Please contact us if you have any questions or require further information. We are happy to provide you with the most up-to-date information!
What's included?
What you get on this adventure:
An experienced, local hiking guide with extensive knowledge of the area

6 days of hiking

Transport at the beginning and end of the hike

Mountain hut accommodation in dormitories

All food during the trek (breakfast, lunch, dinner, snacks)

Transfer of luggage between huts

Charging battery/power bank
What's not included:
Transportation to and from Iceland

Pick-up from hotel (must meet at the starting point)

Accommodations in Reykjavík before and after the tour

Personal hiking gear

Sleeping bag — can be rented from the guide

Showers in huts — 500 ISK per shower, payable on site

Alcoholic beverages

Meals not mentioned above
How fit do I need to be?
In order to participate in this hiking adventure, you need to have a moderate level of fitness. You'll be hiking for 6 full days, covering around 7.5-10 miles per day (12-17 km) with moderate altitude change. Keep in mind that you'll also be covering tricky volcanic terrain. The weather and trail conditions may affect the difficulty and you will encounter several river crossings along the trail.
What do I need to bring?
Here's a list of the equipment you need to bring:
Day pack large enough to carry all the items listed (around a 25-40L bag)

A waterproof duffel bag for the transport of your overnight gear between huts (please avoid bringing a suitcase)

Good lightweight hiking shoes with ankle support 

River crossing shoes – Crocs are a good choice, open sandals or flip-flops will not do the job

2-3 pairs of soft wool or fleece hiking socks

Long sleeve shirt (thermal underwear, wool or fleece)

T-shirt (thermal underwear, wool or synthetic)

Light sweater (wool, fleece or similar)

Jacket with a good hood – windproof, waterproof and breathable, e.g. Gore-Tex or comparable

Hiking pants/shorts, something strong and light that dries quickly e.g. soft-shell

Rain trousers – windproof, waterproof and breathable (please note that poncho is not useful because of wind)

Warm hat and gloves

Hiking poles

Light towel, easily packable

Sunglasses or ski goggles

Sun protection and lip balm

Buff around the neck

Wind- and waterproof protective clothes

Cash for the showers, normally around 500 ISK per shower

Lunch box to pack each days lunch into

Water bottle or hydration bladder (2L capacity)

Swimwear if you want to bathe in the hot geothermal pool in Landmannalaugar

Sleeping bag – no specific temperature rating since all the huts are heated

Slippers for indoor use

Clothes for wearing in the hut

Toiletries (hand sanitizer, bug spray, toilet paper, etc.)

Headlamp or flashlight

Camera — optional (but recommended)
Dress comfortably and for the weather in clothes you can move in. We suggest bringing clothing appropriate for the season. Layers are best and don't wear jeans.
Huts and amenities
All of the huts have heating, showers and toilets, either flushable or outhouses. Using the showers costs 500 ISK and can be paid for at the warden's hut at each hut/campsite. The showers have a 5-minute timer which might not sound like a lot, but it is more than enough time to wash up. The toilets have toilet paper and soap but anything else you might need (shampoo, bandages, towels, washcloths, nail clippers etc.), you will need to bring with you.
The huts feature kitchens and/or grills that the group will cook their meals with. You will be able to fill up your water bottle at each hut or in the rivers as you hike. The river water in Iceland is safe to drink and very delicious.
WiFi is not available, but internet connection can sometimes be received around the huts, or by walking a bit around the area. There are no power outlets in the huts. We encourage bringing your own power bank on the tour (you can pack that in your duffel bag which is transported by the support vehicle). In some cases, you can buy small portable chargers at the huts as well, but they are not always available.
Group sizes and age requirements
Group sizes and prices:
The usual group size for these group adventures is 10 to 14 people with one guide. All prices are per person and the cost does not decrease as the group grows. 

It takes a minimum of 6 people for a tour to operate. 
Hiking in Iceland can be arranged for larger or private groups. Contact us to make arrangements.
Min. age requirements:
If you are older than 18, you're good to go.

Minors younger than 18 may be permitted to join the hike on a case-by-case basis, but must be in the presence of a parent or legal guardian.
If your group has hikers under the age of 18, contact us prior to booking to make arrangements.
Deposits and cancellation policy
A 30% deposit to secure your place is due upon booking. The remaining amount is paid 3 months (90 days) prior to departure. Once the trip is confirmed by the guide, the cancellation policy stated below applies. 
If the Client cancels the trip more than 90 days before the trip, the Client is entitled to a Full refund
If the Client cancels the trip less than 90 days, more than 60 days before the trip, the Client is entitled to a 90% refund
If the Client cancels the trip less than 60 days, more than 30 days before the trip the Client is entitled to a 50% refund
If the Client cancels the trip less than 30 days, the Client is entitled to no refund
In case the Guide has to cancel the tour due to unforeseen circumstances, you will get a full refund.
Getting there and meeting location
To get to Reykjavík, most people fly into Keflavík Airport (KEF) about 45 minutes away. From there, you can rent a car or take a bus or taxi to the BSÍ Bus Terminal in Reykjavík. From there, you'll head to your adventure. On the last day, the bus will take you back to the BSÍ Bus Terminal in Reykjavík.
You will be meeting your guide at the BSÍ Bus Terminal in Reykjavik.
The guide will choose the appropriate terrain each day dependent on conditions and the ability of the group.