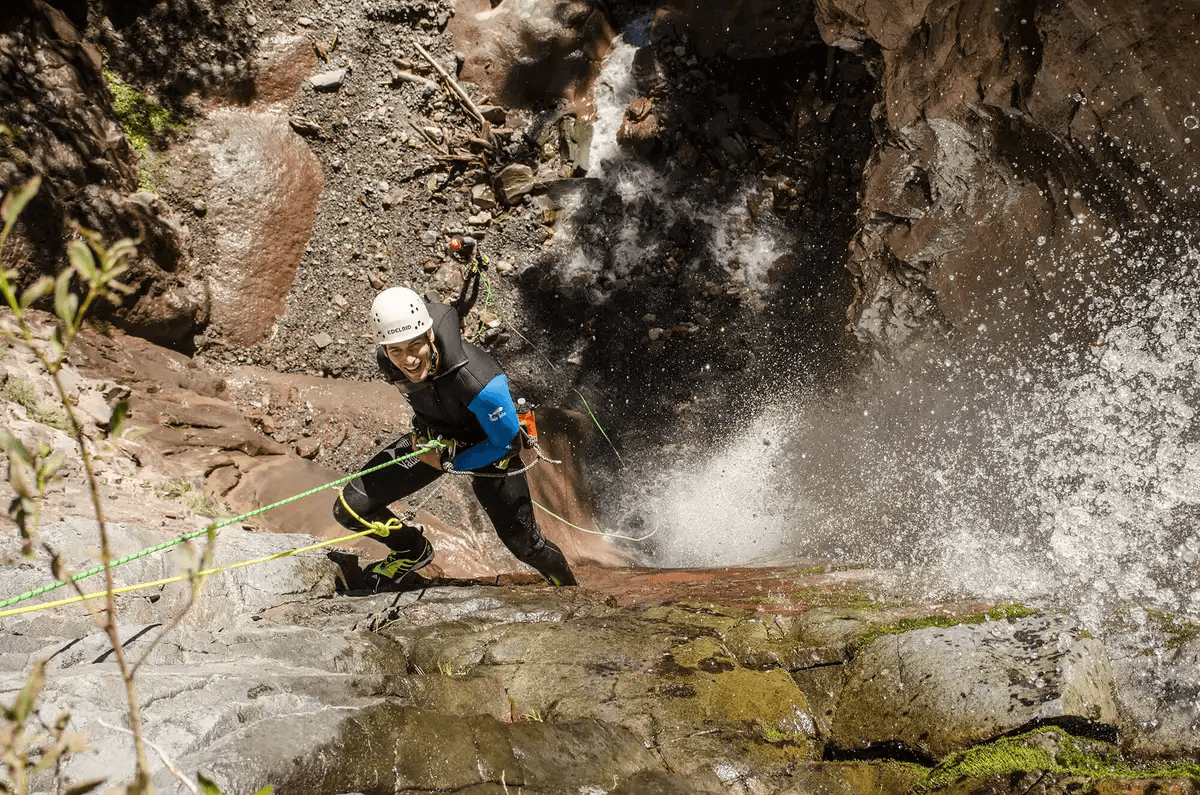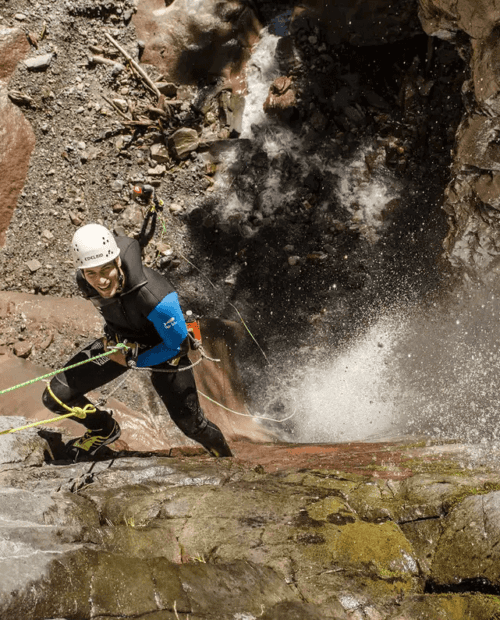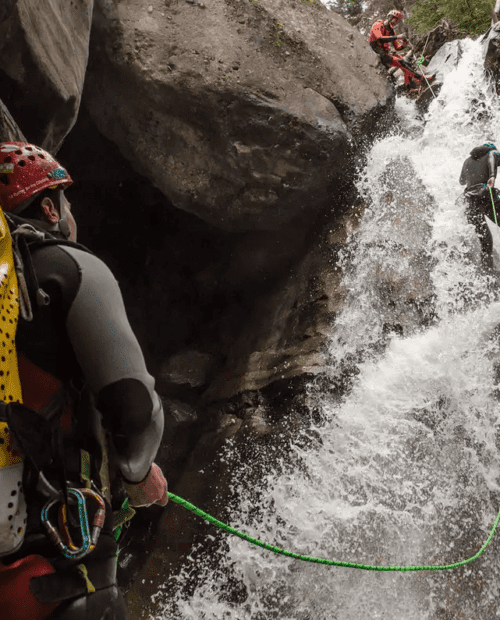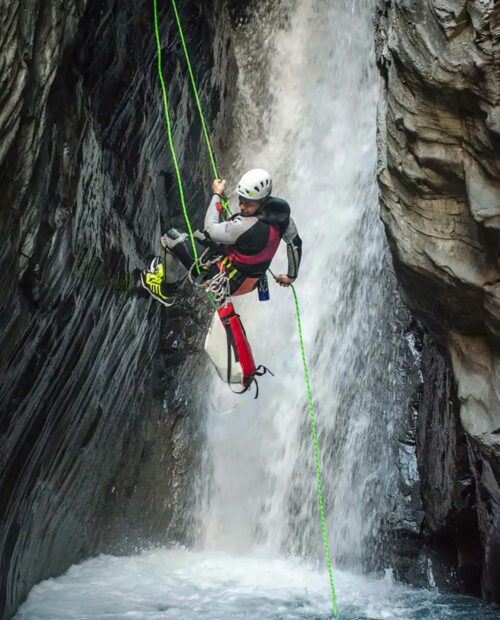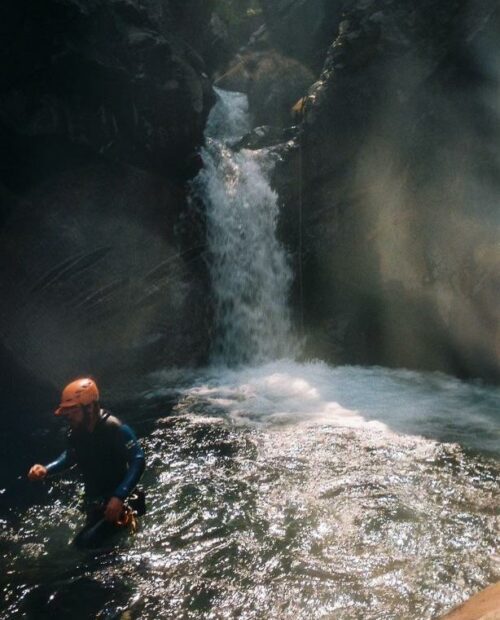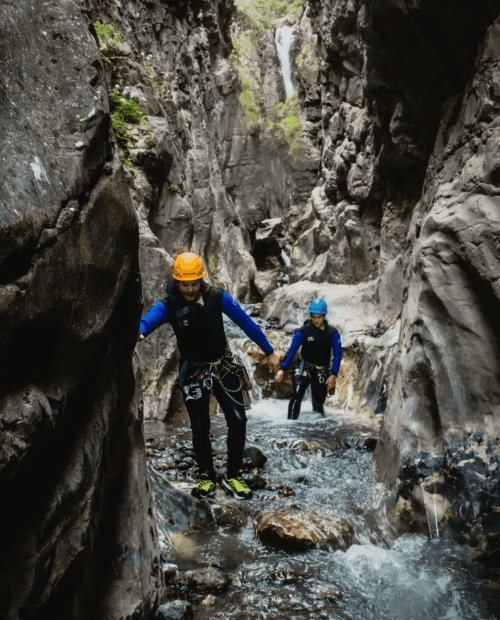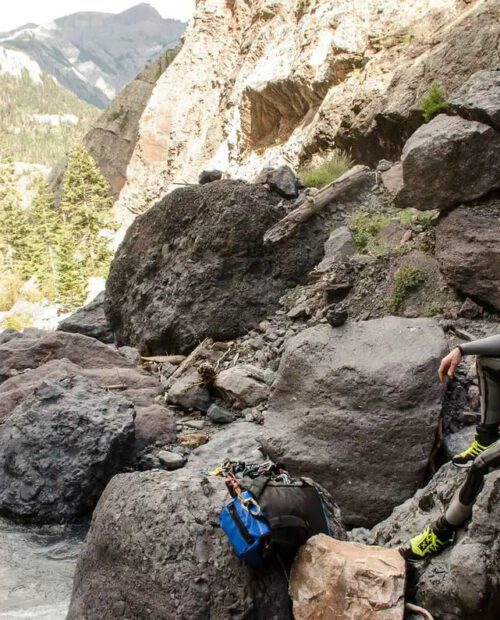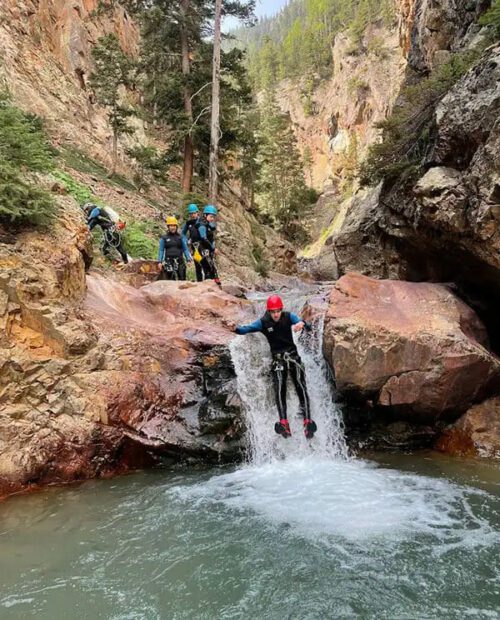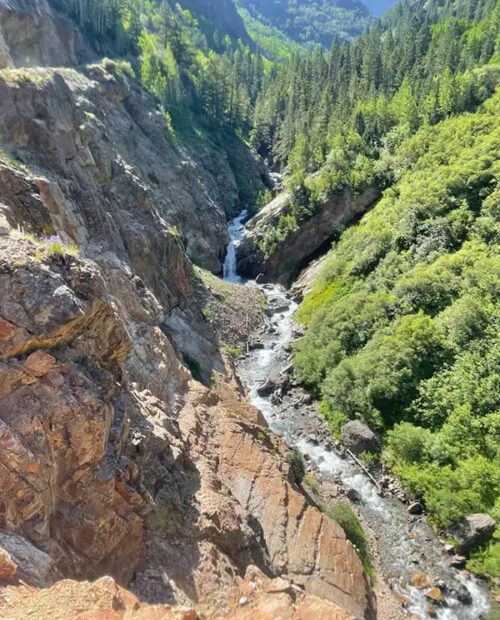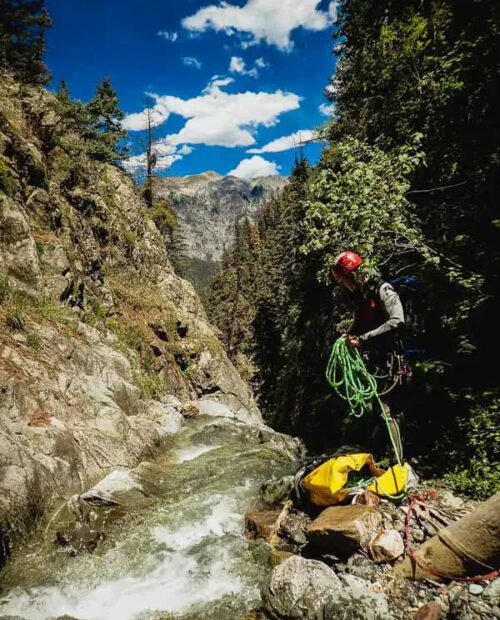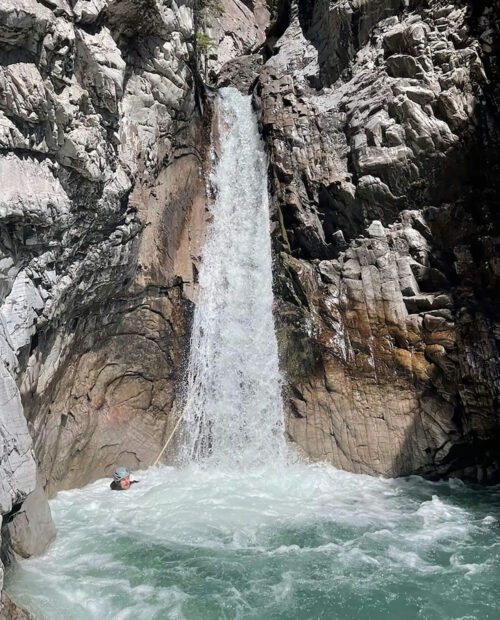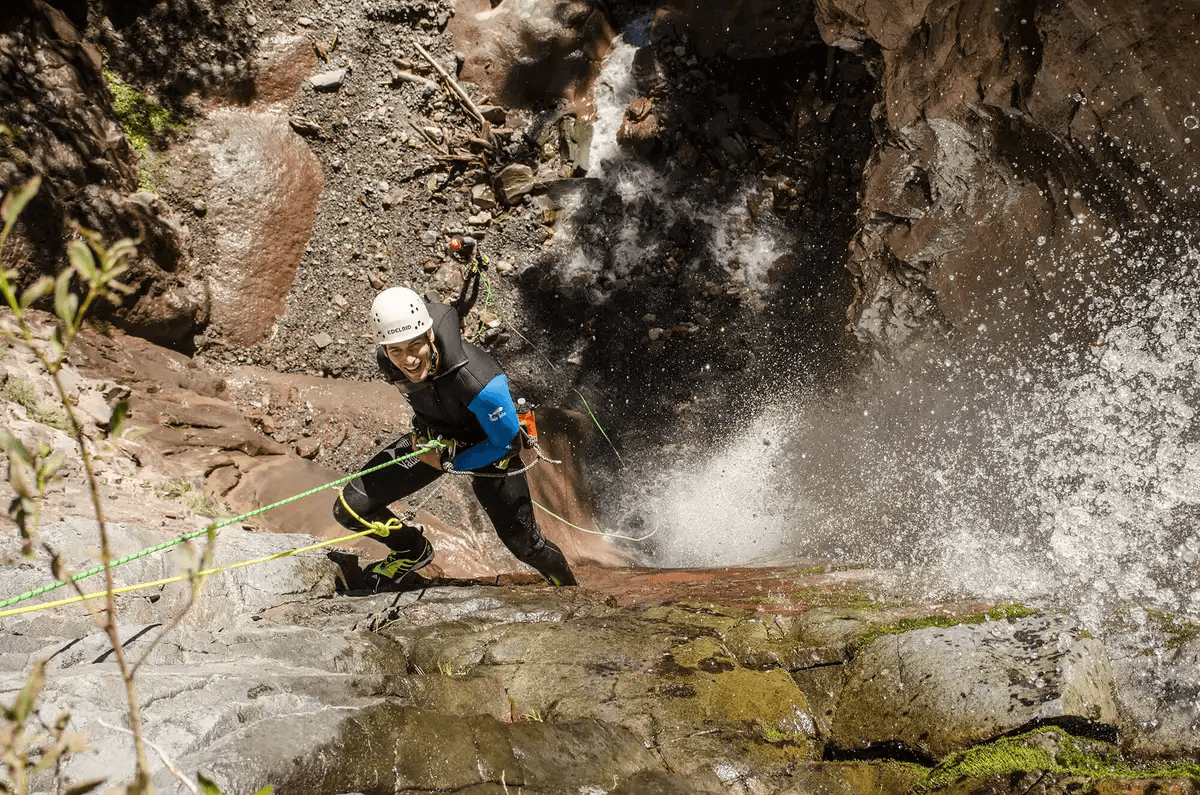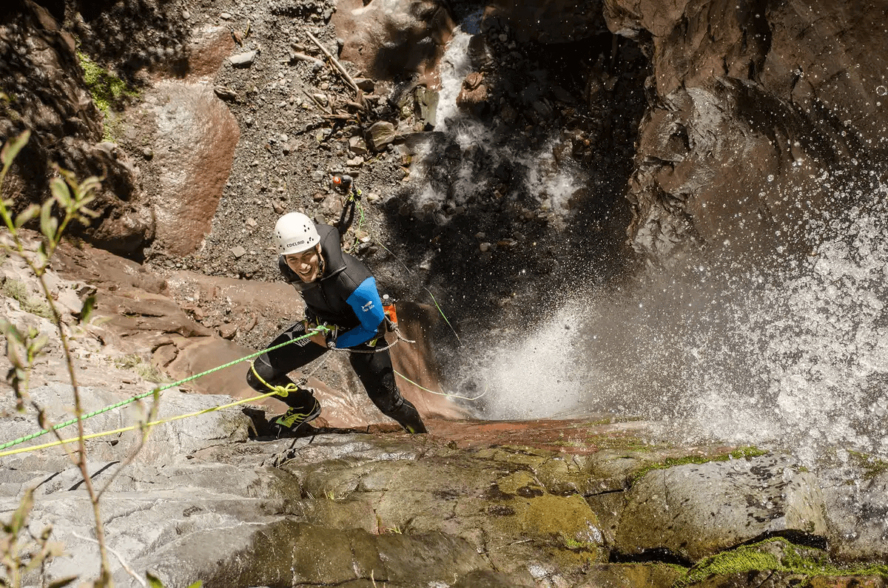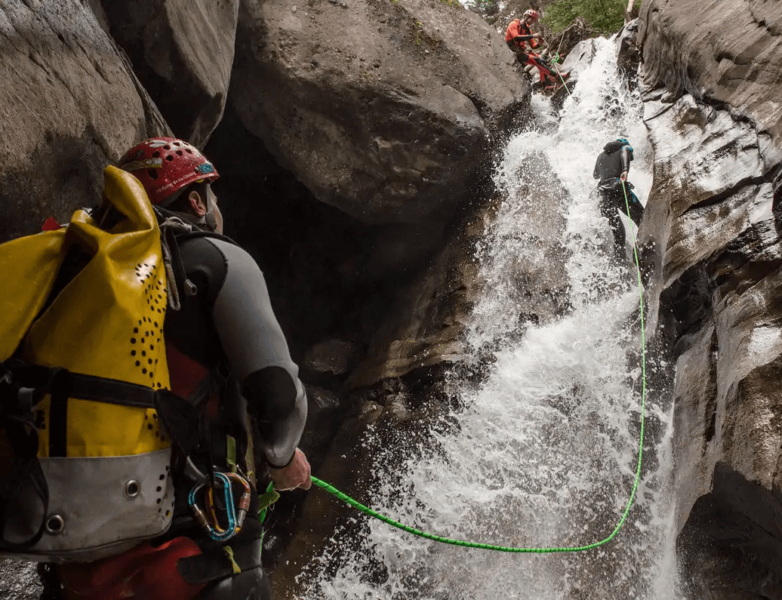 When the water levels begin to drop, so can you—down one of Ouray's many canyons! Accessible via hiking trails right from the town, these three intermediate canyoning trips are perfect for gaining more experience, and confidence, in technical terrain. Oak Creek is a perfect introduction to an intermediate canyon, yet features the biggest drop (130 ft) and one overhanging rappel. Upper Uncompahgre, on the other hand, is the wettest, and the only one with slides and jumps. Meanwhile, Bear Creek—the most challenging site on this list—is a demanding plunge often directly in the flow. With the help of supportive guides, combine the thrill of descending 100-foot waterfalls with the technicality of rappelling for a whole new mountain adventure.
Master your rappelling under the supervision of a private guide

Challenge yourself with 100+ foot drops down steep cliffs and waterfalls

One of the highest concentrations of alpine canyons in the country
Half-Day Canyoning in Oak Creek With a Private Guide
Oak Creek presents an introduction to the intermediate terrain. It features seven waterfalls giving you a chance to develop more technical skills. After a one-hour hike through the Ouray Perimeter Trail, reach the canyon and begin with the descent. The hike alone is a great opportunity to take in some beautiful vistas of the area surrounded by peaks which measure 13,000 ft (4,000 m), while the descent presents an opportunity to level up your skills.
Half-Day Canyoning in Upper Uncompahgre With a Private Guide
Upper Uncompahgre is arguably the adventure with the most palpably expressed fun factor, which correlates with it being the wettest one—translation: a lot of swimming, jumping, and sliding! What makes it even cooler—aquatic canyons simply cannot help it—is the cold temperature of water. In Upper Uncompahgre, you'll also practice managing uneven terrains and exploring history as the location features old mining equipment.
Full-day Canyoning in Bear Creek With a Private Guide
Being the most technical and the longest of the three, Bear Creek is definitely the most challenging adventure on this list. The canyon is accessed via Bear Creek Trail, with the approach taking 1.5 hours. With a 6-hour descent, the largest rappels, and numerous downclimbs, this site requires a lot of persistence and dedication that might involve pushing your limits. However, the rewards make it all pay off—Bear Creek features stunning rock formations, grand walls and splendidly carved passageways. One extra perk of this tour is lunch in the canyon!
Get free trip brochure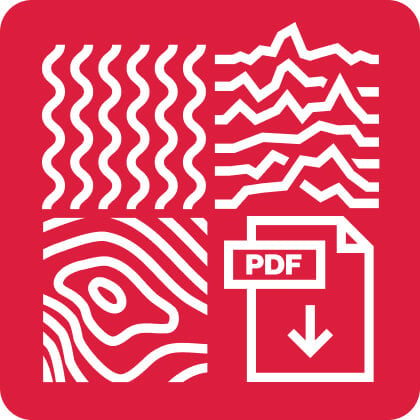 The brochure contains:
Adventure and location overview, itinerary, available dates, what's included, how to prepare, and much more.
Brochure sent, check your inbox
Talk with us
and let one of our adventure experts help you plan your perfect adventure.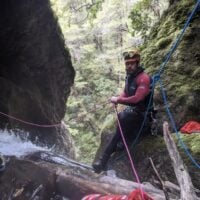 With more than a decade worth of experience in canyoning, and guiding experience in three continents and in both hemispheres, Kaden decided to focus on the sites in Colorado, more specifically the Ouray area because he fell in love with the place. His goal is to provide life-changing canyoning experiences to his guests.
Founded in 2016, Canyoning Colorado is an outdoor activity operator. Their guides are passionate about canyoning and know every nook and cranny in the Ouray area, which makes for some of the best canyoning experiences in Colorado.
Great time, great place, great tour
Nicholas S
(source: Tripadvisor)
We had an excellent time, beautiful views, and they even had all the equipment! Thank you Aron for your time, you were a great Tour guide!
What a blast!
BucketLister500
(source: Tripadvisor)
My daughter and I did the Oak Creek trip with Kaden as our guide. What a blast! Biggest adrenaline rush EVER! Kaden is a beast! Thanks to Kevin for his help, too.
I don't think I'll be able to top this year's "girls' trip" with Canyoning Colorado. We'll have to come back again to do an advanced trip!!!
If you're on the fence about this one, just book a trip and try it! Breath-taking scenery and a full body/soul recharge.
Do yourself a favor & take this adventure!
Phillip A
(source: Tripadvisor)
I had my first canyoning experience with Canyoning Colorado last year (2019) and was thrilled to still be able to squeeze in another trip this year with all things considered. Andrew was our guide again which was awesome because he's honestly the best. He's clearly a leader in the extreme sport and his passion is contagious adding another layer to the enjoyment & thrill of the whole experience. I really can't say enough good things. I highly recommend & can't wait to go again next year!
Canyoning Colorado
LOSTALMOSTNM
(source: Tripadvisor)
My husband and I had a great time and learned more skills, equipment use, and techniques appropriate for Canyoning in flowing water. The guides were helpful and knowledgeable. I was pleasantly surprised how the wetsuits kept me comfortable in the cold water.
Best adventure!!
Liz M
(source: Tripadvisor)
Amazing experience! Excellent and professional staff. You have to go! Beautiful and challenging adventure. 100% satisfied
Things to know
57hours is committed to providing safe outdoor adventure experiences. We require all guides using our platform to have a COVID-19 safety plan and to make the details of that plan accessible to travelers. In most cases, group sizes will be reduced, guides will avoid overcrowded locations, and other safety measures will be met depending on the location and activity. 

We also expect clients to respect local regulations and take measures to protect themselves, guides and the communities they're traveling to. For more information on COVID-19 measures in Ouray, Colorado please refer to the Colorado Department of Public Health and Environment.

Please contact us if you have any questions or require further information. We are happy to provide you with the most up-to-date information!

What you get on this adventure:

An experienced, local canyoning guide with extensive knowledge of the area

A half or full day of canyoning in Oak Creek, depending on your chosen itinerary

Snacks for half-day tours

Lunch for full-day tours 

Complete canyoning equipment

Photos of your experience

What's not included:

Transportation 

Accommodations

For these tours, you have to be an intermediate canyoneer in excellent physical condition. Prior experience is preferred but not required for tours in Oak Creek and Upper Uncompahgre. If you don't have canyoning experience but you live a highly active lifestyle, climb regularly (lead, top rope), are an avid whitewater paddler, have experience working with ropes or at height, then you might be suited to intermediate canyons. Keep in mind that you will also have to hike up to 60 minutes with gear in tow on uneven terrain. Swimming experience is also necessary because of waterfalls and plunge pools.

For Oak Creek (3C2 / V3.A4.III) and Upper Uncompahgre (3CIII / V3.A4.III), you will have to rappel for 30 m/100 ft and use a rope and safety lines. Be ready for prolonged immersion in cold water and moderate current. You might have to perform simple jumps between 5 m/ 16 ft and 8 m/ 26 ft.

For canyoning in Bear Creek (3C3 / V4.A4.IV), you should be prepared for low to moderate vertical flows, rappels over 30 m/100 ft, rough rock edges requiring rope management and landing pools that have current. Setting safety lines will be more difficult.

Canyoning isn't just for outdoor pros, it's also beginner friendly, meaning anyone with excellent physical condition and experience in rock climbing and paddling can have fun. If you've never canyoneered before, heading out with a guide is your best bet. They'll take care of the planning, introduce you to the basics, and teach you how to manage the ropes. Previous canyoneering experience is a must for canyoneering in Bear Creek.

If you don't have any experience with canyoning, outdoor rock climbing or paddling, this tour is not suitable for you.

Here's what you'll need:

Day pack large enough to carry all the items listed (around a 40L bag)

Water bottle

Swimwear

Towel

Athletic shorts

Contact lenses (glasses are not recommended, unless you own a pair of sports glasses)

Toiletries (sunscreen, bug spray, toilet paper, etc.)

All the necessary equipment will be provided by the guide. Your own shoes, clothes and personal belongings will not go into the canyon with you. Upon booking, the guide will ask you to send them your sizes and will prepare the necessary equipment, so please make sure all the sizes are accurate.

Group sizes and prices:

These courses are private. The usual guest-to-guide ratio is 4:1. It takes a minimum of 2 people for this tour to run.

Cost is per person and it doesn't decrease as the group grows.

Min. age requirements:

If you are older than 18, you're good to go.

To get to Ouray, most people fly into Denver International Airport, which is about 6 hours away. From there, you can take another flight to regional airports in Grand Junction or Durango or rent a car. You can also fly to Albuquerque, Salt Lake City or Colorado Springs.

Once you and your guide agree on the details of your itinerary, your guide will suggest the best place to meet, whether that's at the guide shop or a predetermined location in Ouray.
Get free trip brochure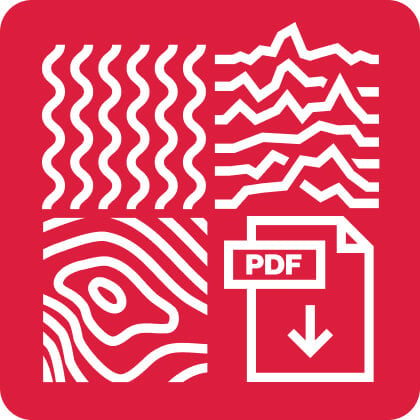 Adventure and location overview, itinerary, available dates, what's included and much more.
Brochure sent, check your inbox
Talk with us
and let one of our adventure experts help you plan your perfect adventure.
Other things to do in Colorado