The Best Canoeing in Canada Is Also Its Wildest
With over two million lakes and rivers, canoeing Canada's labyrinths of waterways unlocks a vast wilderness you can't get to any other way. And the best of the best may just be located in the country's heart, and soul.
As a ski guide for the better part of my life, introducing my kids to the outdoors was a no-brainer. Bringing them into the mountains, however, proved to be more than they could chew: their legs would give out quickly and the enthusiasm just wasn't there.
After our family friends introduced us to canoeing in Canada, my kids found their activity of choice. And turns out, I got hooked too.
Waving goodbye to Canmore in the rear-view, we drove east towards Saskatchewan and Manitoba's northerly rivers and lakes. It opened the floodgates for our adventures as a family.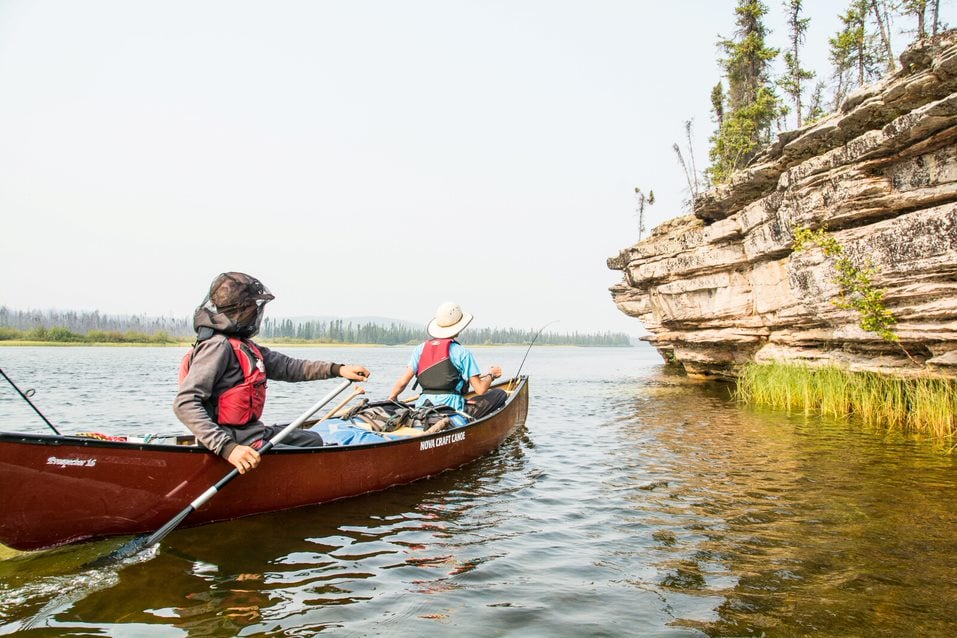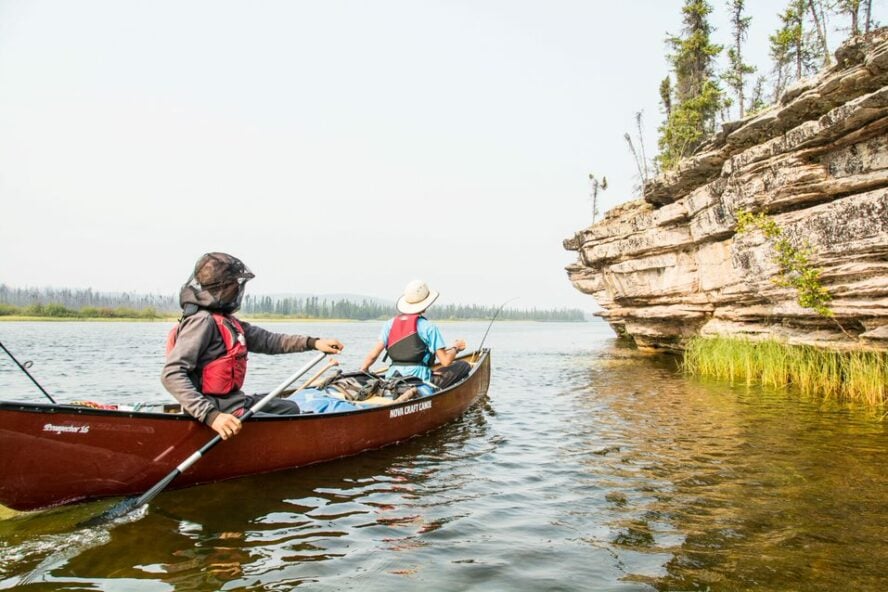 Pros and Cons of Canoeing in Canada's Wilderness
You'll often have the rivers and lakes to yourself
Camp on billion year-old granite outcroppings and sandy eskers
See plenty of wildlife in untouched settings
Blackflies and mosquitoes are a pain (literally) during the high season
While relatively accessible, the rivers are far away from major urban centers
Wild Canoeing in Canada's Prairie Provinces
I was familiar with the outdoor scene in the Rockies and Pacific coast from guiding—the area includes some of the best rock climbing in Canada and a slew of small towns like Squamish with loads of things to do—but when I asked myself about canoeing, I needed to look outside the region.
First and foremost, our goal was to find a destination where you didn't need to jockey for a place to pitch your tent. Some of the popular canoeing destinations—Algonquin, Killarney, Quetico, Moisie, and others—were out. Located within striking distance of Ottawa and Toronto, they are always teeming with crowds and require reservations for both maintained and backcountry campsites.
We wanted pure wilderness and solitude, and the leeway to choose where to canoe and camp. That's when we learned of a cluster of lakes and rivers carving their way through northern Saskatchewan and Manitoba in the heart of Canada: the Paull, Hawkrock, Porcupine, and Seal Rivers.
They are some of the best wild rivers around, and a world away from big cities.
An activity etched in history
Canoes play (and have played) a critical role in Indigenous travel, fishing, and hunting. They were carved from birch, spruce, and cedar trees, sturdy and lightweight enough to maneuver the countless rivers and boreal watersheds which they built their lives around. With the arrival of settlers, the canoe was adopted and facilitated the fur-trading business.
The importance of the riverways and lakes are woven into the provinces' nomenclature. That's why you'll often hear Saskatchewan referred to as Home to 100,000 Lakes and the name of the province itself comes from the Cree word, Kisiskatchewanisipi or "swiftly-flowing river".
Manitoba, on the other hand, got its name from the Cree Man-into-wahpaow, or "the narrows of the Great Spirit", which describes how the lake contracts at its center. This constriction, along with strong gusts, generates waves that slap against the limestone rocks creating a resonant sound that the First Nations believed to have been produced by a drum beaten by the spirit Manitou.
Nowadays, canoeing is popular in Canada for recreational purposes. It remains one of the best ways to delve deep into the wilderness for longer trips.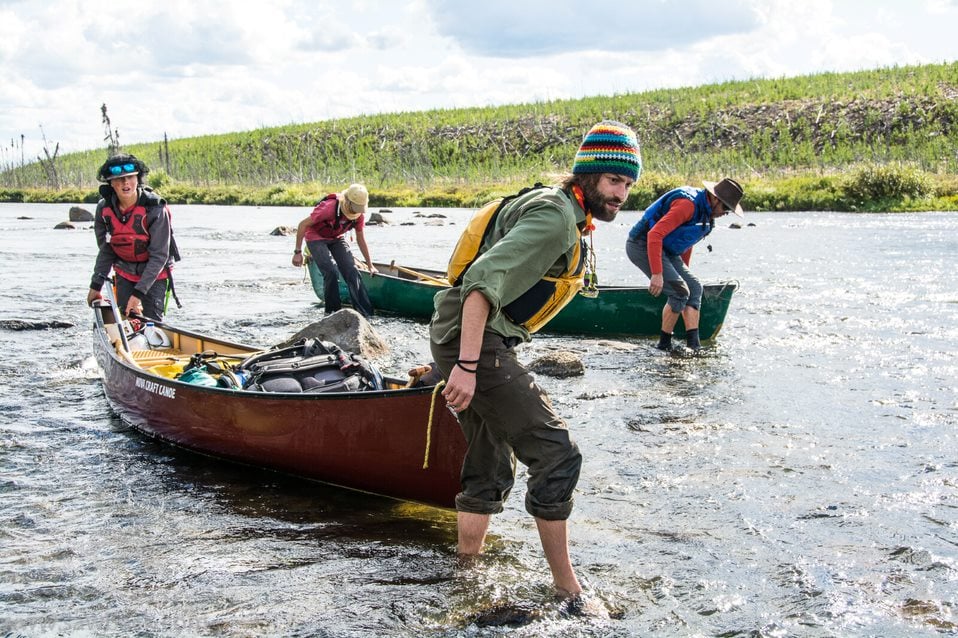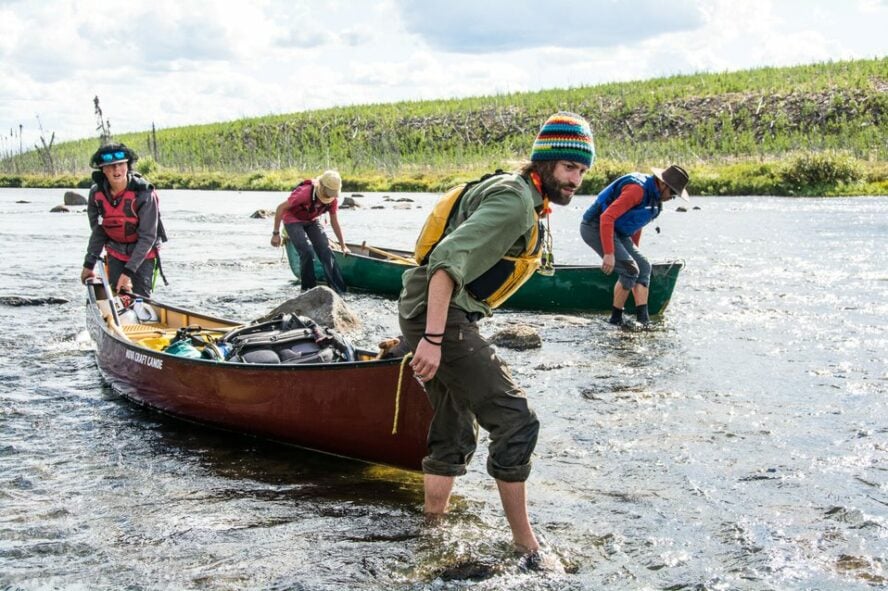 Canoeing the untamed wilderness of Saskatchewan and Manitoba
Although people usually conjure up images of wheat fields when they think of Saskatchewan and Manitoba, the northern part is anything but. Home to the billion-year-old Precambrian Shield, it is covered in granite, boreal forest, rife with wildlife, and, most importantly, the geologic foundation that has produced so many rivers and lakes.
Over the past millennia, great glaciers receded bit by bit leaving behind deep grooves and pockets in the granite surface. The cracks, weaknesses, and faults eroded further, resulting in lakes spilling into lower lakes and fast-flowing rivers through slender channels.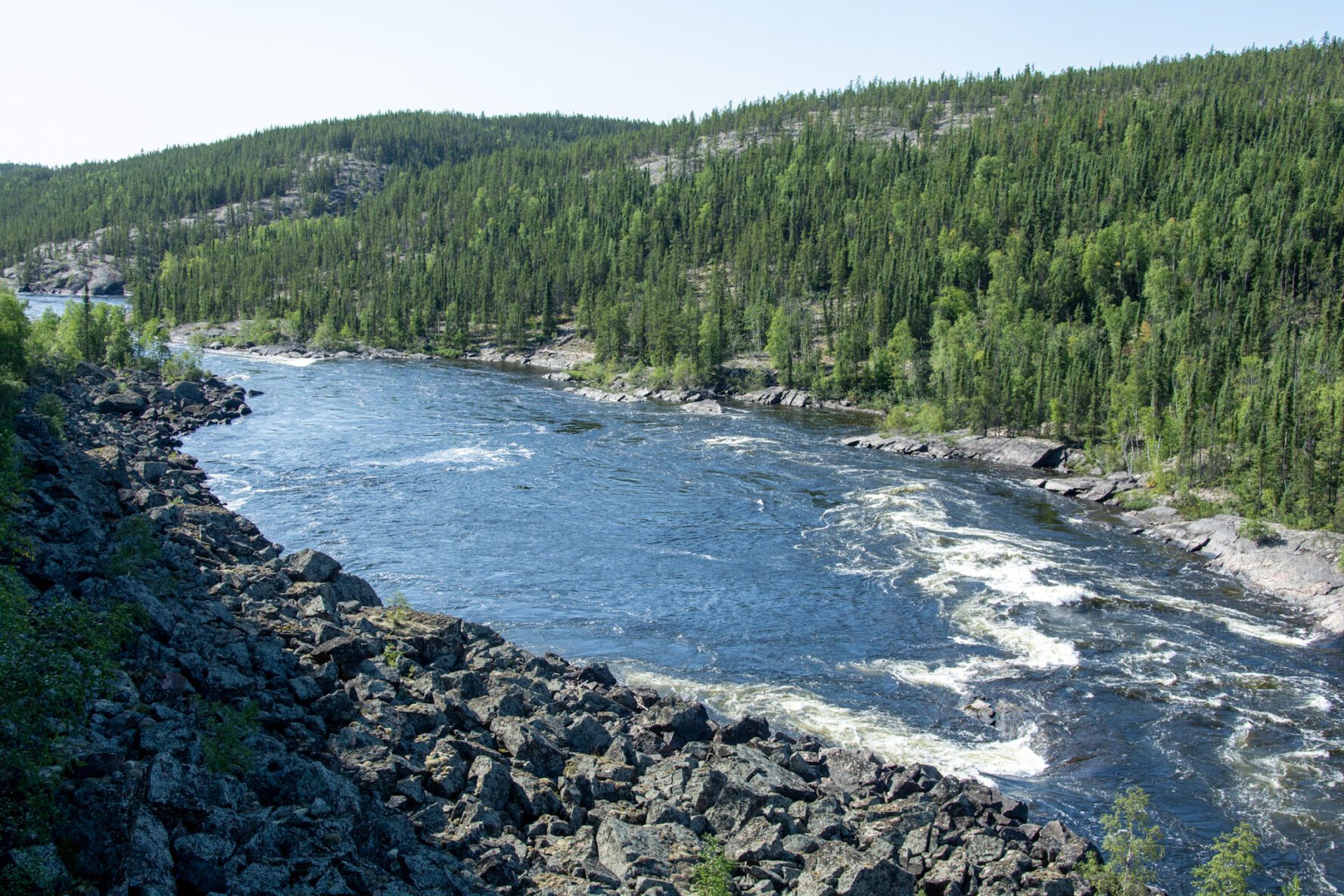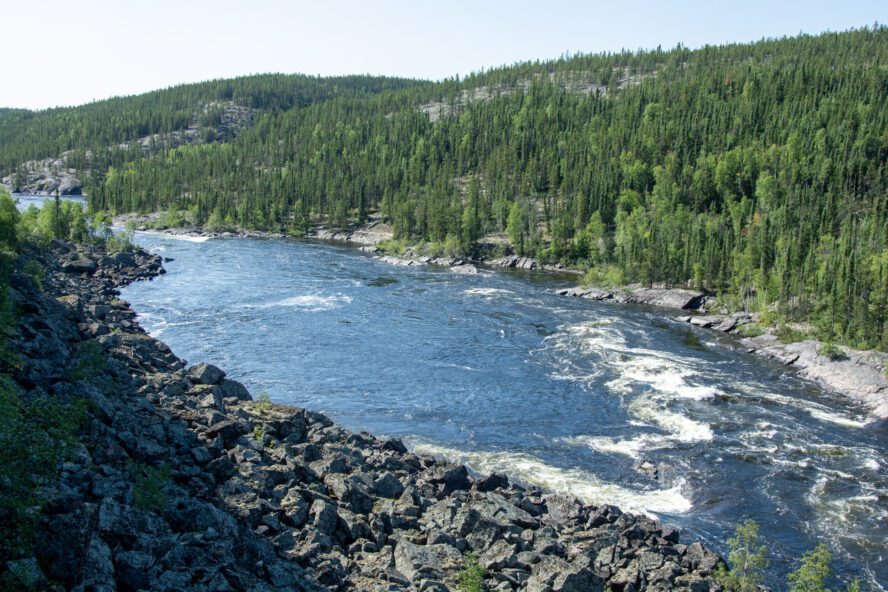 Today, while the lakes are relatively calm, you'll find plenty of rapids in the gushing water connecting them which makes this one of the best places for canoe trips in Canada. The rivers boast various white-water and drops, often short and savage but sometimes longer, bouncier, and gentler. When we come across a fun one, you best believe we run them and carry our canoes back up for another lap!
What takes the cake for me is the lack of other paddlers. You will, however, see a plethora of birds and fish, as well as minks, otters, beavers, moose, the occasional black bear, and many others. While the caribou and wolf signs are common, the sightings themselves are not.
Ready to learn more about the Paull, Hawkrock, Porcupine, and Seal Rivers? Let's take a dip into what makes each of them unique.
Paull River: Canoeing for everyone
I'll kick things off with the most popular fly-in trip in northern Saskatchewan and a great first river trip, the Paull River. Well, the Paull and then some.
The thing is, the Paull is a small tributary of the Churchill River, a series of island-filled lakes conjoined by short rapids and waterfalls. The route I recommend follows the Paull in its entirety—roughly the first ⅔ of the trip—and the last third on the Churchill.
With many easy Class I or II rapids, peaceful lakes, and waterfalls, Saskatchewan can accommodate beginner and intermediate paddlers, whether canoe or kayak. Newcomers can carry their canoes around some more demanding rapids on well-beaten portage trails (most portages are less than 300m and there are up to 10 of them), whereas those with more experience can run them. In total it's about 100 km (62 miles).
Compared to the Paull, the Churchill is much larger in volume and its river valley greater. What also sets it apart is that it doesn't follow the pattern that the rivers in the Precambrian shield usually do; while most follow the grain of the rock, as does the Paull, the Churchill cuts across it.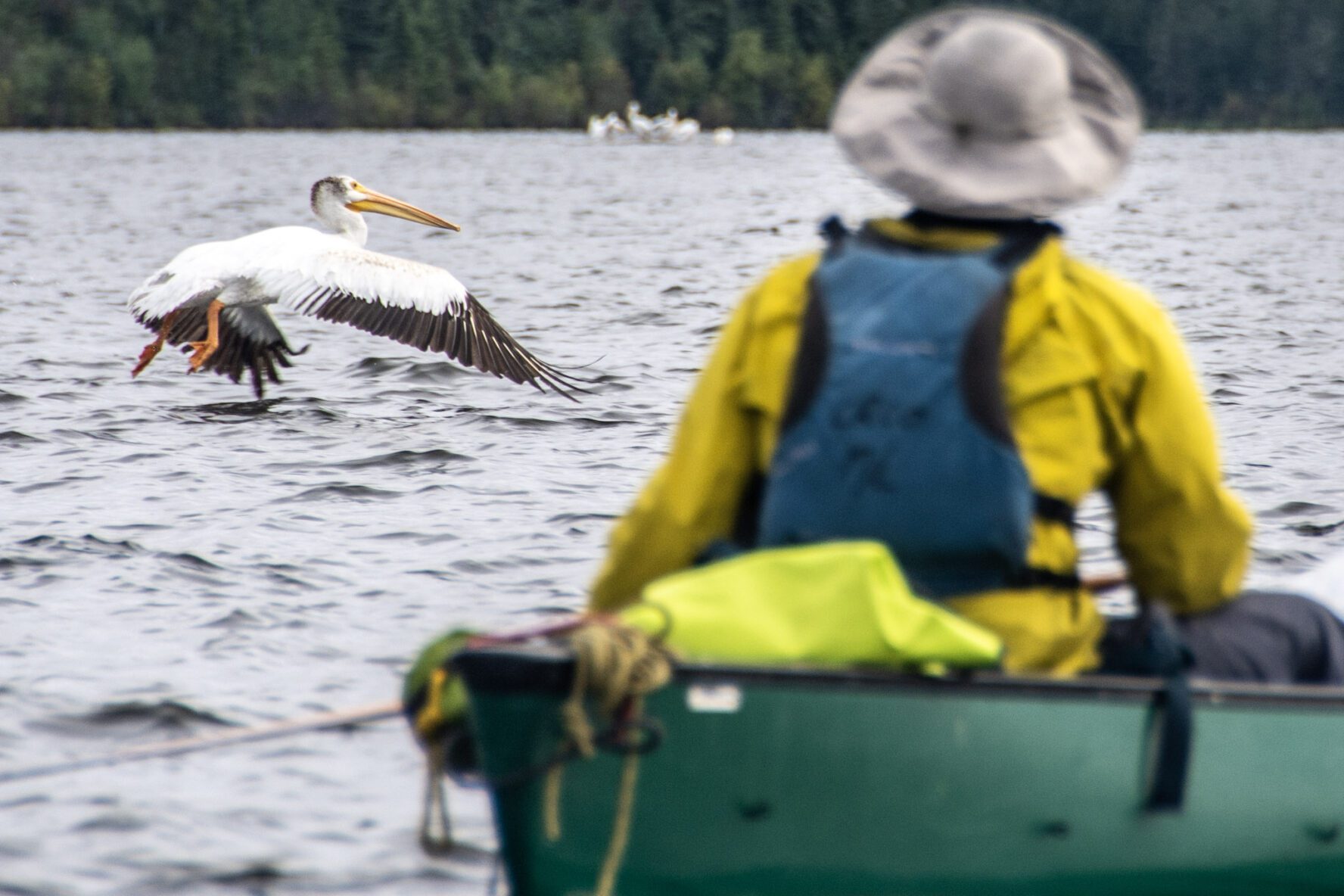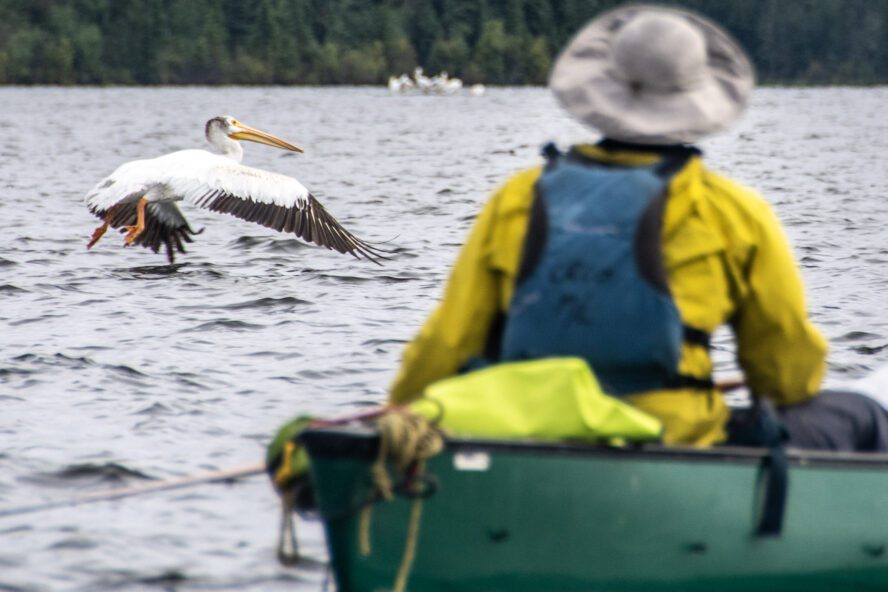 The islands scattered on the lakes here are actually peaks of ancient mountains that once adorned this area. When the rivers emanating from the lakes flow over age-old ridges, they produce great waterfalls and rapids typical of the Churchill. The landscape itself is vibrant with clefts in the granite, soaring cliff faces overlooking the rivers, exposed pink granite, floors carpeted with moss, and the occasional flat horizon.
Given the length of the rivers, you're looking at about 8 days of paddling starting from Paull Lake and ending at Devil Lake or Otter Rapids. The water temperature in mid-summer is about 22 °C (71 °F) and the region enjoys idyllic summer temperatures.
Hawkrock River: A rediscovered getaway
When talking about canoeing the Hawkrock River, two things come to mind: for starters, it's only recently started gaining popularity and secondly, unlike the other rivers I mention, it snakes its way through gorgeous limestone canyons. As a result, you'll find well-worn rapids full of ledges, swifts, and pools.
This intermediate trip usually takes around 7 days, with no mandatory portages and some more challenging rapids that you can either run or hike around. The average difficulty is an easy grade II and they're not overly long. With that, easy as they may appear initially, they gain in difficulty as the river gains volume. In addition, the river bed is generally made up of boulders and shelves, so you need to be on the lookout.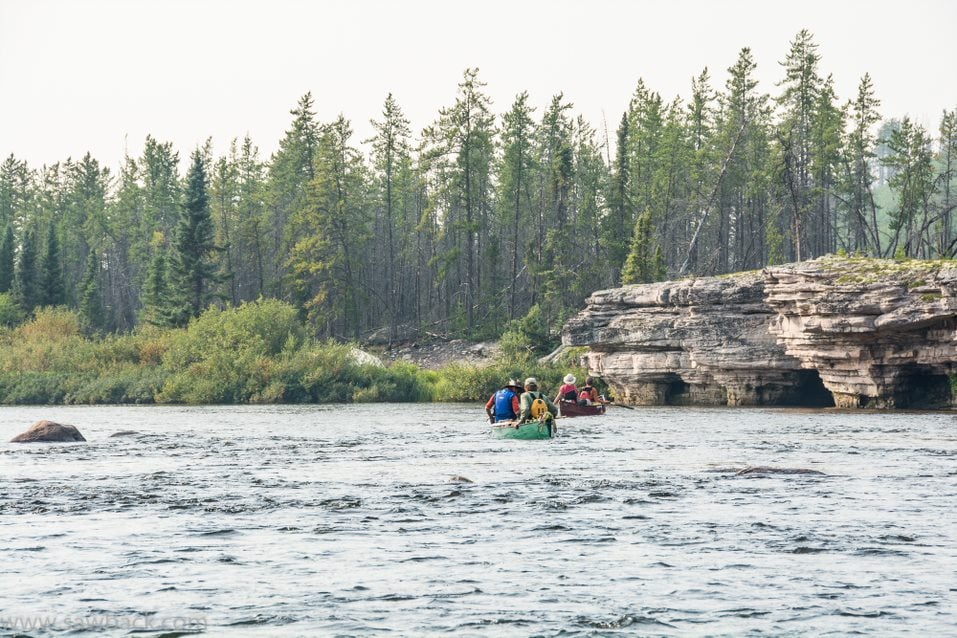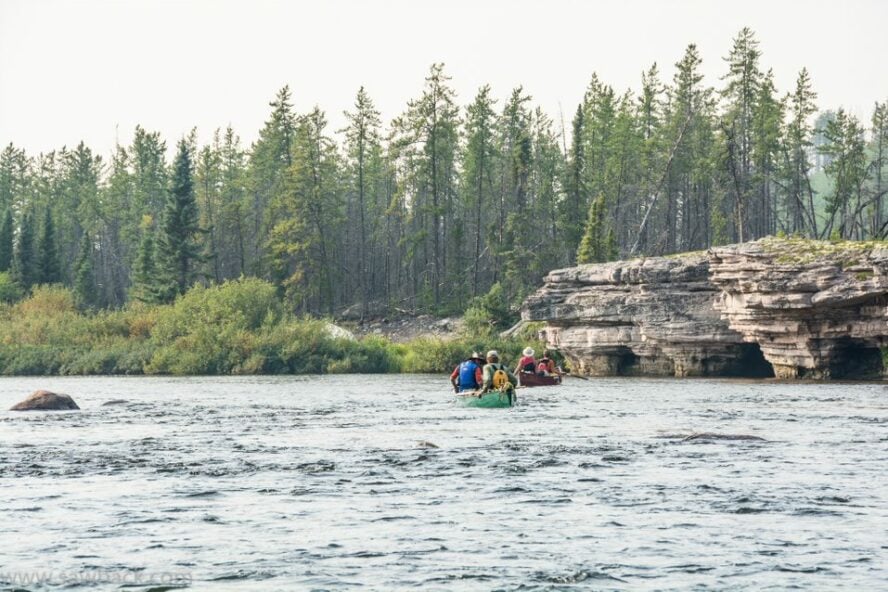 Along the way from Points North to Fond du Lac River, you'll revel in the spruce-and-pine-scented air, thick patches of white and yellow lichen, jack pine and birch in the old burns, with plenty of camping by the water.
Since the Hawkrock area is cooler than most of northern Saskatchewan, a rain suit is recommended. The temperatures in July and August range from 5 to 25 °C (41 to 77°F), but the average is 15-20 °C (59-68 °F). The harsher climate is reflected in the lack of vegetation and overall fewer animal species. You'll find moose, black bears, bald eagles, loons, ospreys, and otters, along with countless fish such as northern pike, walleye, and lake trout.
Porcupine River: The jewel of northern Saskatchewan
If you're looking to kick things up a few notches, the Porcupine River is a great choice.
To canoe the entire 150 km (93 miles) might take between 10-15 days. You need strong intermediate skills to conquer its rugged lower canyon referred to as "Dead Man's River" by the Dene, as well as falls and rapids dropping through gorges, granite boulders, and smooth, gray gneiss. There are at least 6 mandatory portages (most of which are in poor condition) at waterfalls, canyons, and rapids, with the longest being 600m.
My favorite part of this trip is the diversity in the landscape. The region is characterized by a series of uplands and lowlands with elevations ranging from 350 to 600m and full of crescent sand beaches rivaling those in Bermuda, granite cliffs towering above, wide eskers and drumlins, a forest full of spruce with lichen and glacial till covering the bedrock.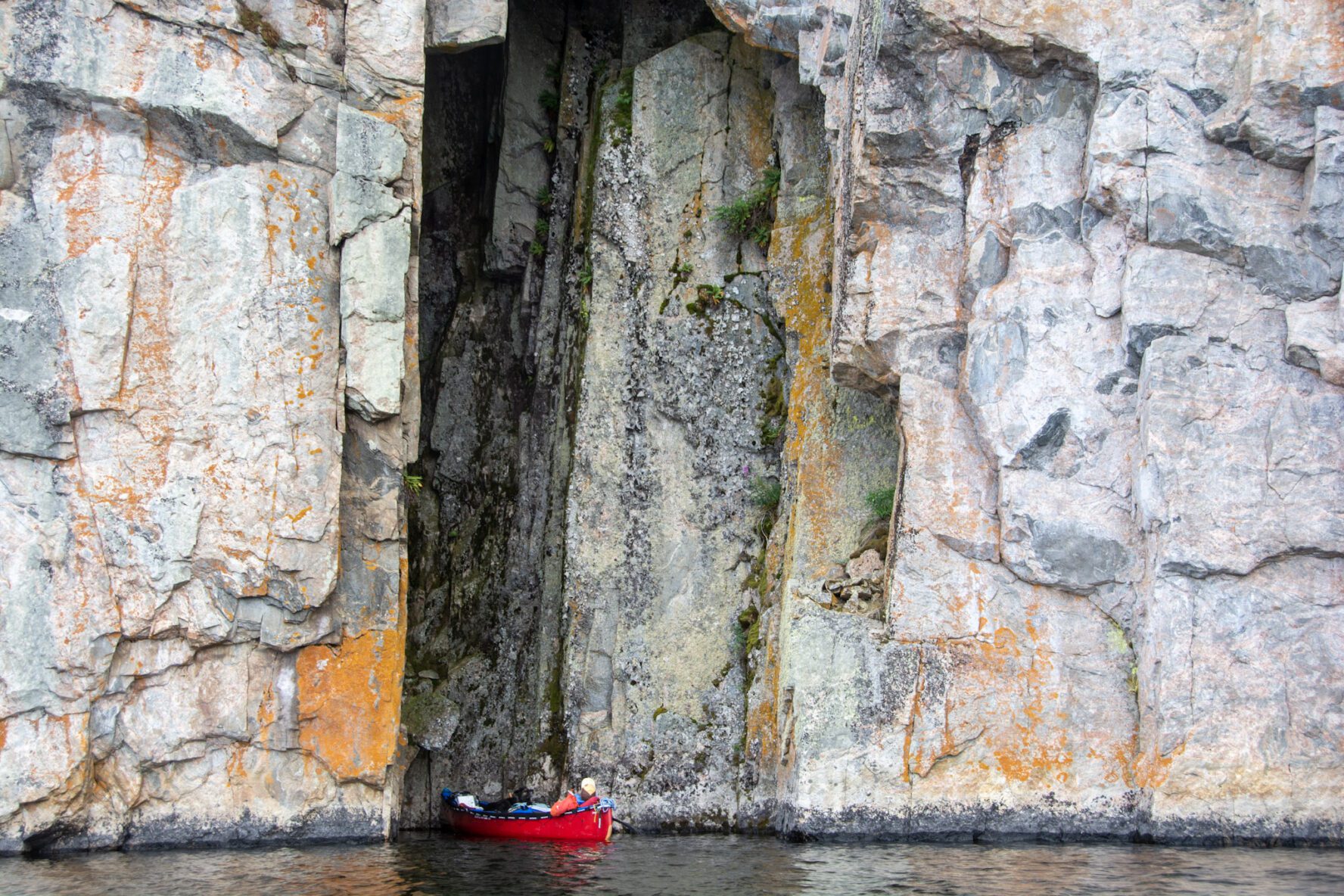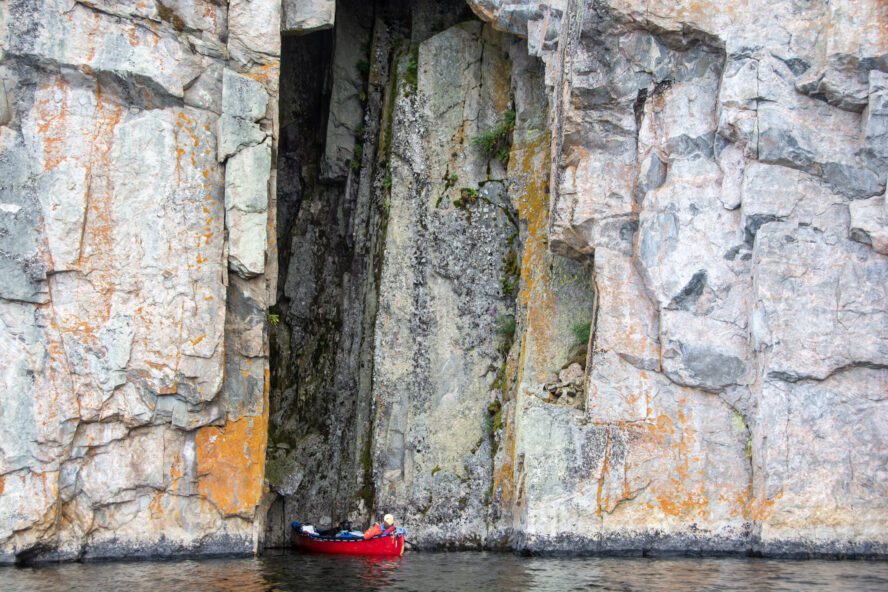 The rapids tend to be steep and drop through large chutes. Though they aren't too long, you're also likely to encounter irregular waves that produce an average difficulty of grade II-III, compounded by plenty of boulders ranging from football-to-bus-sized. The gradient of the river is about 0.75 m/km (1.5 ft/mi) and the larger volume of rapids makes swamping an issue. Flow peaks in June.
Saskatchewan's most northerly river is chillier than much of the surrounding area. The temperature average in July is 15-20 °C (59-68 °F), but it can range anywhere from 5 to 30 °C (41-86 °F). This is why a good rain suit along with a thermal protection (paddling suit, drysuit or wetsuit) are a must.
Seal River: Northern Manitoba's free flowing wonder
Winding its way through pristine subarctic forest, Manitoba's northernmost river flows freely from its source at Shethanei Lake all the way to Hudson Bay for a grand total of 260 km (160 miles). What makes canoeing Seal River so special is that it's the only major river in Manitoba that's still dam-free. And I really hope it stays that way.
To fully explore here, a trip usually takes more than two weeks. After taking a charter float plane into Shethanei Lake, you'll face rocky "pool and drop" rapids, canyon sections, a boulder-strewn tidal estuary, demanding sustained whitewater, as well as shorter rapids and easy swifts. There will also be some obligatory portages with poor footing and mud. As such, the Seal is one of Manitoba's best and most challenging canoe routes, meaning that only paddlers with lots of experience should undertake this.
The untouched landscapes gradually transition through several phases and boast a myriad of glacial features. The river is first encircled by sand-crowned eskers, many of which extend up to several hundred kilometers. It then flows through stands of black spruce, and beyond the boreal forest it passes through a subarctic environment. Before entering the Arctic tundra, the trees gradually diminish in number and you'll see boulder fields as the river approaches the Hudson Bay lowlands.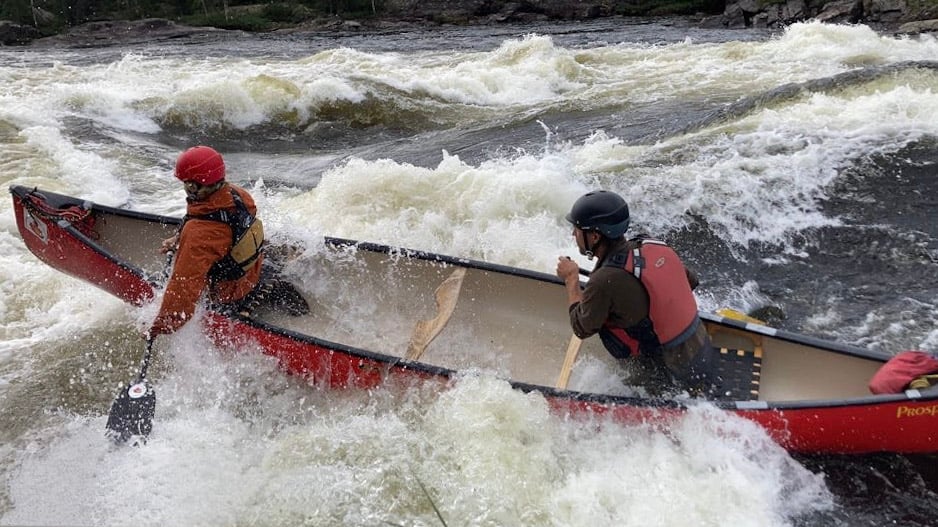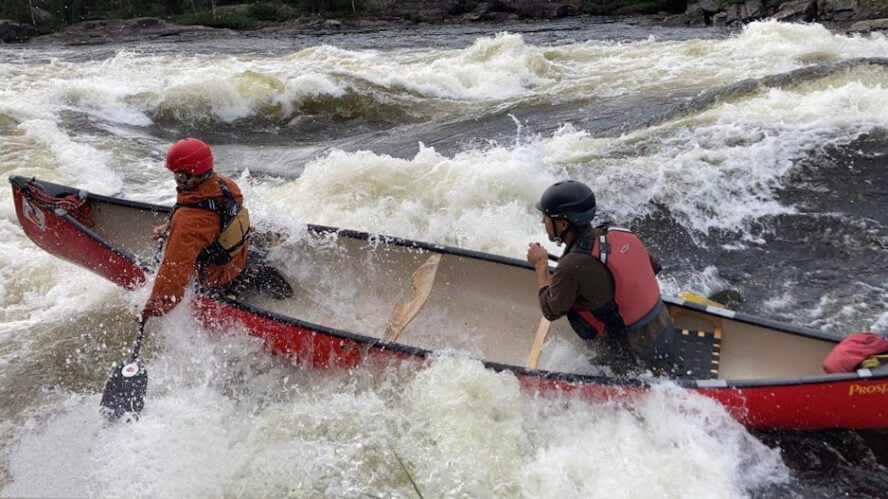 Other than being home to around 30 rarely-encountered plant species, the river corridor houses a whole host of incredible wildlife. These include moose, black bears, foxes, beavers, wolverines, caribou, millions of birds, and around 3,000 beluga whales at the river's estuary on Hudson Bay, making it one of the largest beluga whale concentrations in the world.
But what about its namesake seals? Well, harbor seals are found up to 200 km (125 miles) up the river—pretty uncommon for ocean seals—and wander off further from their environment than anywhere else in the world. This is in part because they look for a refuge from another denizen found in these areas: the polar bear. As the trip nears the end, take a boat shuttle across Button Bay to Churchill, and, with a little luck, you'll get a chance to see polar bears in their natural habitat.
The Seal watershed has played a vital role in indigenous fishing, hunting, and traveling for thousands of years. To this day, it remains undammed and devoid of logging interest, industrial development or colonial settlement, making it one of the last great wild places on our planet. The Sayisi Dene, who've lived in this area for generations, spare no effort to make sure it stays that way. They've teamed up with other indigenous communities and formed an alliance to protect the area so that they can continue to practise tradition and their forefathers' use and reverence for the river.
While I usually paddle here in August, the trips include some cold-water lake paddling and temperatures ranging from 0 to 30 °C (32-86 °F), but average from 15 to 20 °C (59-68 °F). The cooler temperatures are a result of the area's proximity to Hudson Bay. As with all the other rivers, a good rain suit as well as thermal protection are required.
What to Expect and How to Prepare for Canoeing in Canada's Wilderness?
Who are these trips for?
As I've already pointed out, the Porcupine and Seal River trips are for seasoned and fit white-water paddlers only. On the other hand, the Paull and the Hawkrock can work well for beginners because they can portage canoes across more demanding rapids.
A typical day includes paddling for around 4-6 hours, covering anywhere from 15 to 25 km (9.5-15.5 miles). This includes canoeing on white water, lakes, as well as portaging. The rule of thumb is that the fitter you are, the more fun you'll have. And just like with any outdoor pursuit, with good physical fitness comes the added benefit of not getting injured as easily. You need to be able to carry awkward loads weighing 25-35 kg (55-80 lbs) for up to 400 m (440 yards) on rough terrain. Apart from this, you need an extra bit of energy to set up camp.
Portaging, lining, and dragging
Sometimes canoeing is simply way too treacherous, and other times you may not be in the mood to paddle. You should also be prepared to drag the canoe as you wade through shallower parts of the rivers or even paddle through narrow, reed-filled swamps just wide enough for a canoe to fit.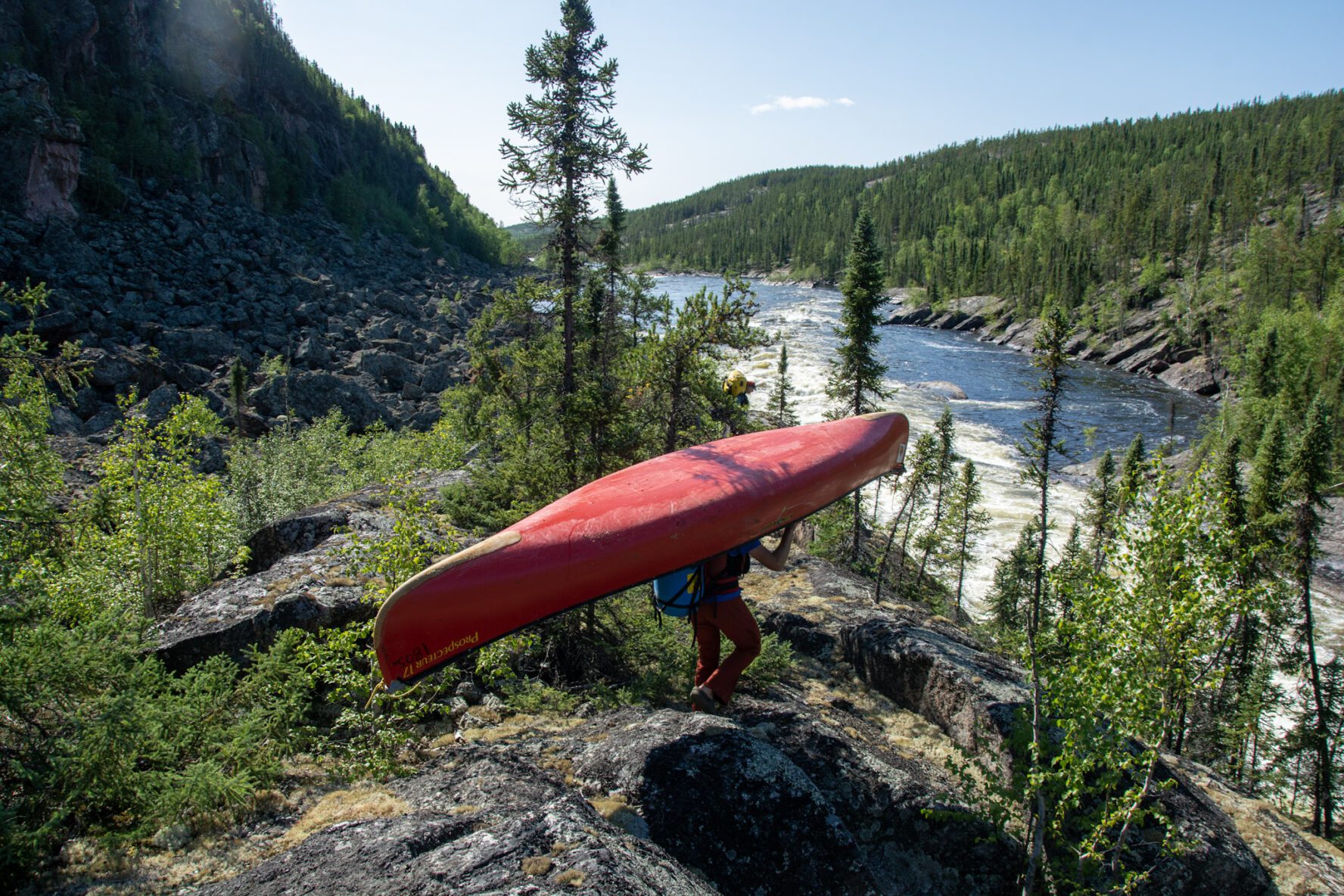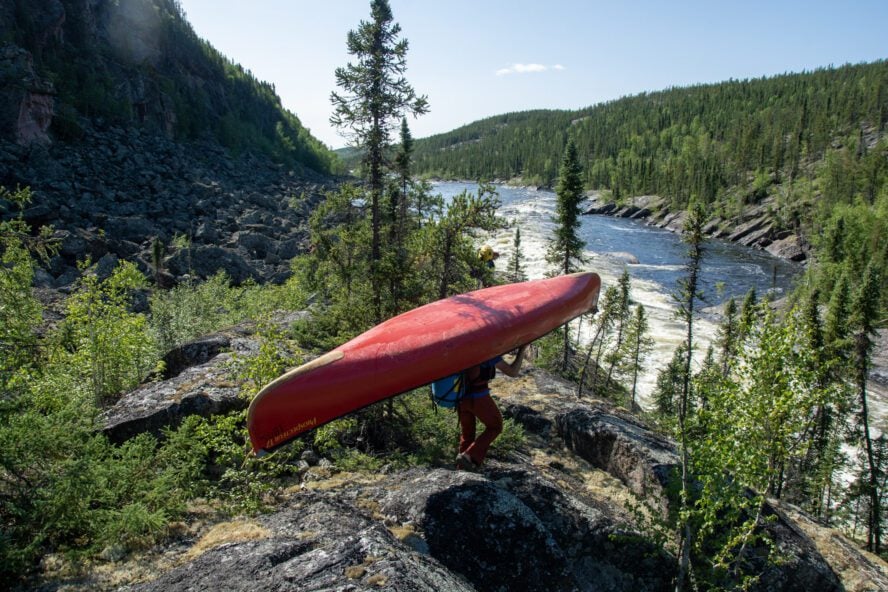 How to prepare for canoeing in Canada's wilderness?
If you've never paddled before or if you simply wish to step out of your comfort zone, it's strongly recommended you take a course. For reference, beginners are people who've never gone paddling before while intermediate canoeists have taken at least one white-water course and are confident on Class II white water with a loaded canoe. Advanced paddlers must have at least two white-water courses under their belt and be comfortable with Class II+ white water with a loaded tripping canoe in big water. They also need experience paddling technical Class III.
Where can you camp at the rivers?
All of northern Saskatchewan and Manitoba are unspoilt, pure wilderness. This allows you to set up a campsite in areas that have seen virtually no human intervention. The eroding effects of rain, wind, fire, and river currents are the sole "culprits" that have shaped these wild areas for millennia.
I find that there's no such thing as an ugly campsite—you simply have to come to terms that you can't always get what you want in the wilderness. So, get ready to clear some bushes out the way and camp on outcroppings, sandy eskers, or beaches. But, after several hours of paddling, hitting the sack is the number one priority no matter how you slice it, so you won't mind any site regardless of its comfiness level.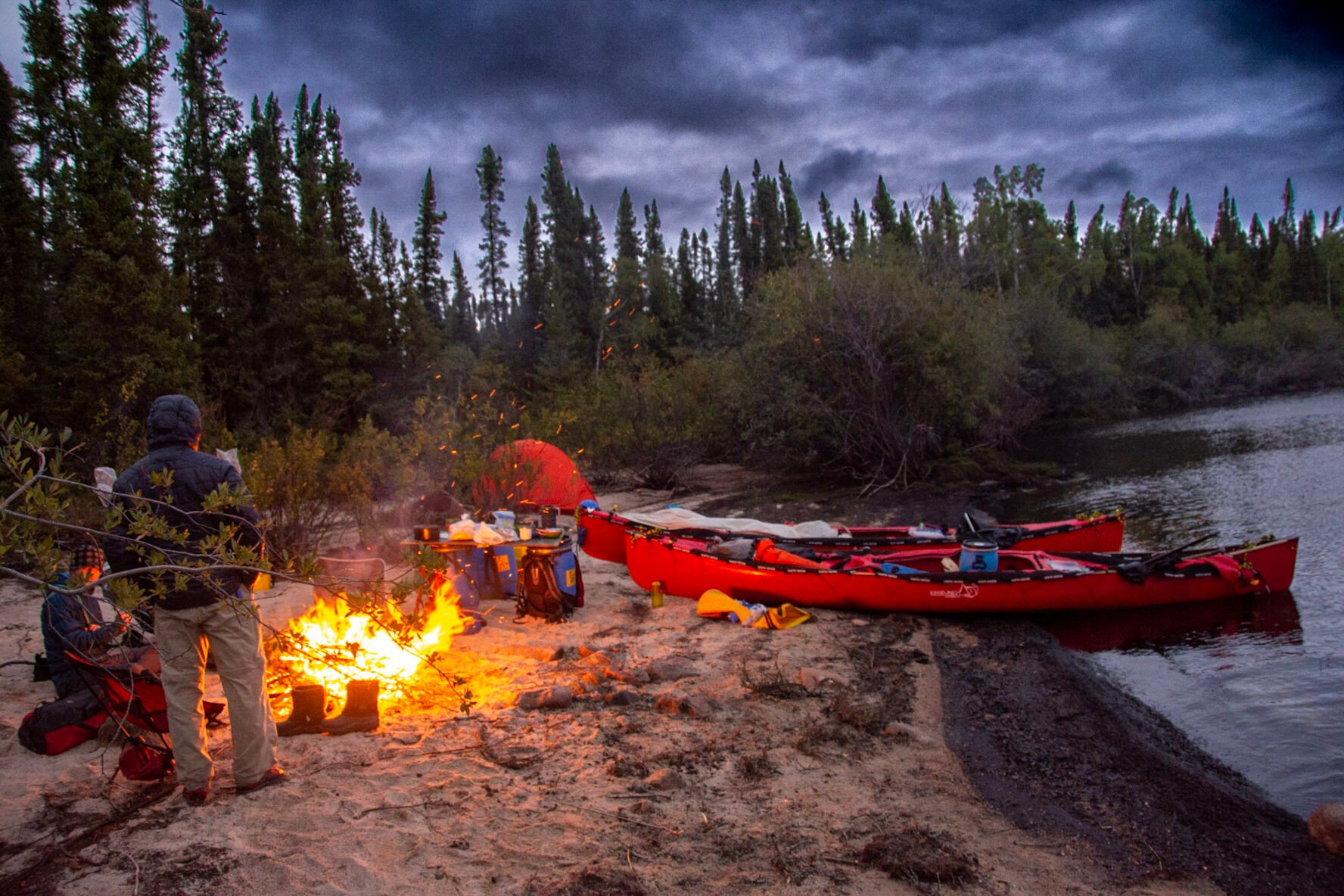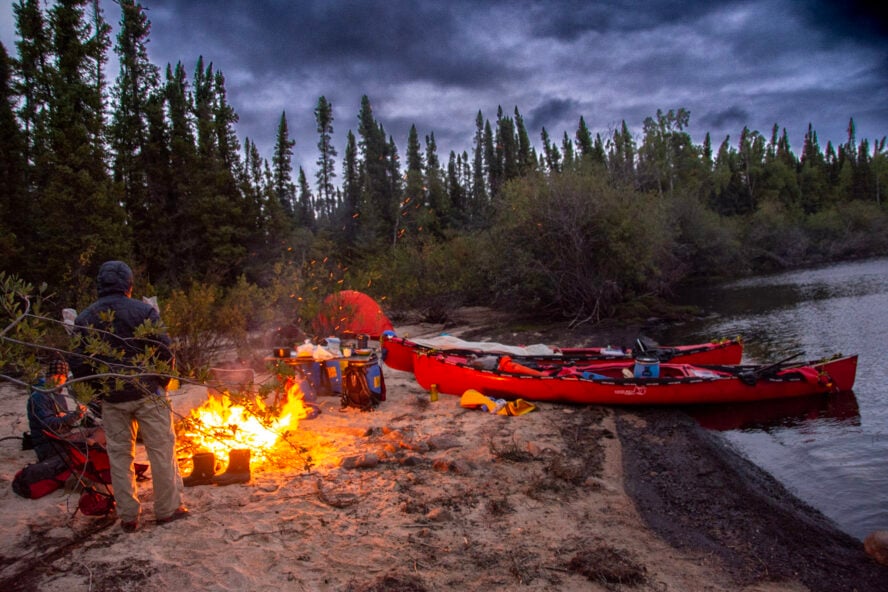 What's the best way to cook?
Unlike my mountaineering outings, the canoeing trips don't require me to bring fossil fuels. And when you think about it, it wouldn't make much sense—the boreal forest has more firewood than you could ever need.
I prefer a mix of freshly harvested, dried, and freeze-dried foods. Stir and chicken fries with fresh veggies, eggs and bacon, a wide selection of breads, sliced meats, cereal, fruits, freshly picked cranberries and blueberries, and so much more! Did I whet your appetite already?
One neat thing about carrying lots of things in a canoe is that it doesn't make much difference paddling-wise. This is why I always bring things like chairs, pots, a stovetop espresso maker, etc. The goal is, after all, to make yourself as comfortable as possible.
When is the best time to visit the rivers?
The peak canoe season is from June to August. Not that you can't paddle in May or September, but it gets a bit cooler during those months. Last year, I went swimming every day from June 1st to October 1st.
The average temperatures are from 15-25 °C (59-77 °F), but the conditions average slightly depending on the river. A good rain suit is needed, along with a thermal protection consisting of a paddling suit, drysuit, and wetsuit. The temperatures can drop as low as 0-5 °C (32-41 °F). The afternoon thunder showers are a frequent occurrence, but the skies usually clear up by evening.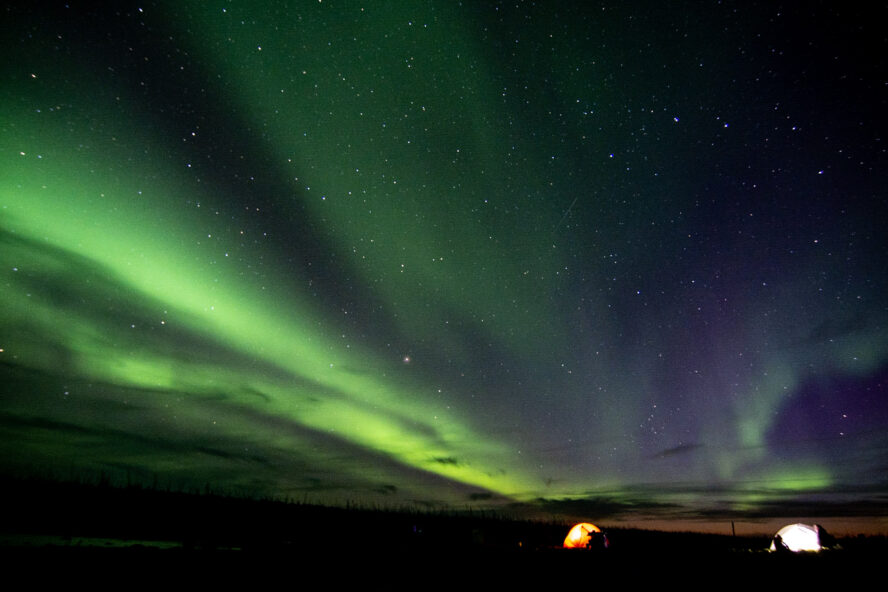 Gear list
When it comes to the equipment, you don't need any specialized gear or clothing beyond standard canoeing equipment, a rain suit and thermal protection (paddling suit, drysuit, or wetsuit. For a more complete list, check out the gear recommendations in this kayaking tips for beginners article). Bring what you'd typically take on an outdoor adventure, including rain pants and jacket, regular and short pants, a warm jacket, a sweater, underwear, socks, t-shirts, long-sleeved shirts, pajamas, running shoes, sandals, swimsuits, toiletries, bug spray, bug clothing, gloves, a sun hat, a toque, a camera, a fishing rod and a tackle, and a sleeping bag rated to -5 °C (23 °F).
Of course, make sure to have life jackets.
Some Additional Good-to-Know Info for Canoeing in Canada
What's the easiest way to get to the rivers?
The simplest way to reach the Paull River is to fly to Saskatoon, Saskatchewan. From there, take a connecting flight to La Ronge or rent a car and go for a 4-hour drive. To get to the Hawkrock or Porcupine River, you'll want to fly to Saskatoon and take a connecting flight to Points North. You can also drive from Saskatoon to Points North, but it's a strenuous, 10-hour drive. The best way to get to the Seal River is to fly into Thompson, Manitoba. From Thompson, you'll fly 350 km (217 miles) due north to Shethanei Lake.
Which guidebook should I consult?
To learn more about canoeing in northern Saskatchewan, consider purchasing Ric Driediger's guidebook Paddling Northern Saskatchewan: A Guide to 80 Canoe Routes.
Permits and taxes
A Park Entry Permit is required for Saskatchewan Provincial Parks and Manitoba Parks. Passes are charged on a per vehicle basis and can be purchased for a day, week, or the year. Camping fees are often an additional cost. Note that some parks require a physical copy of the permit to be displayed in the car. You can read more about the specifics of park permits for Saskatchewan and Manitoba.
Where can I canoe in Saskatchewan?
Apart from the Paull, Hawkrock, Porcupine, and Churchill, Saskatchewan is home to many of the best rivers in Canada to canoe or kayak. There are way too many to be named, but I'll single out the more popular ones.
While some are more known for coursing through the wilderness, others flow through the province's bigger cities. The notable south Saskatchewan river canoe routes include the North and South Saskatchewan Rivers, boasting broad and deep valleys beyond the cities they go through. A famous canoeing and kayaking destination can also be found within the province's oldest and largest national park, Prince Albert National Park. Fond du Lac, Clearwater, and Cree are some other popular rivers, while the lakes include Crean Lake, Waskesiu Lake, and Lake Diefenbaker.
Do I need a guide for wild canoeing in Canada?
You don't need a guide, but if this is your first time taking such an extended and remote canoe trip, I would strongly suggest it. Tours like this require a lot of planning and preparation, navigational skills, and varied experience to meet all the conditions you might face.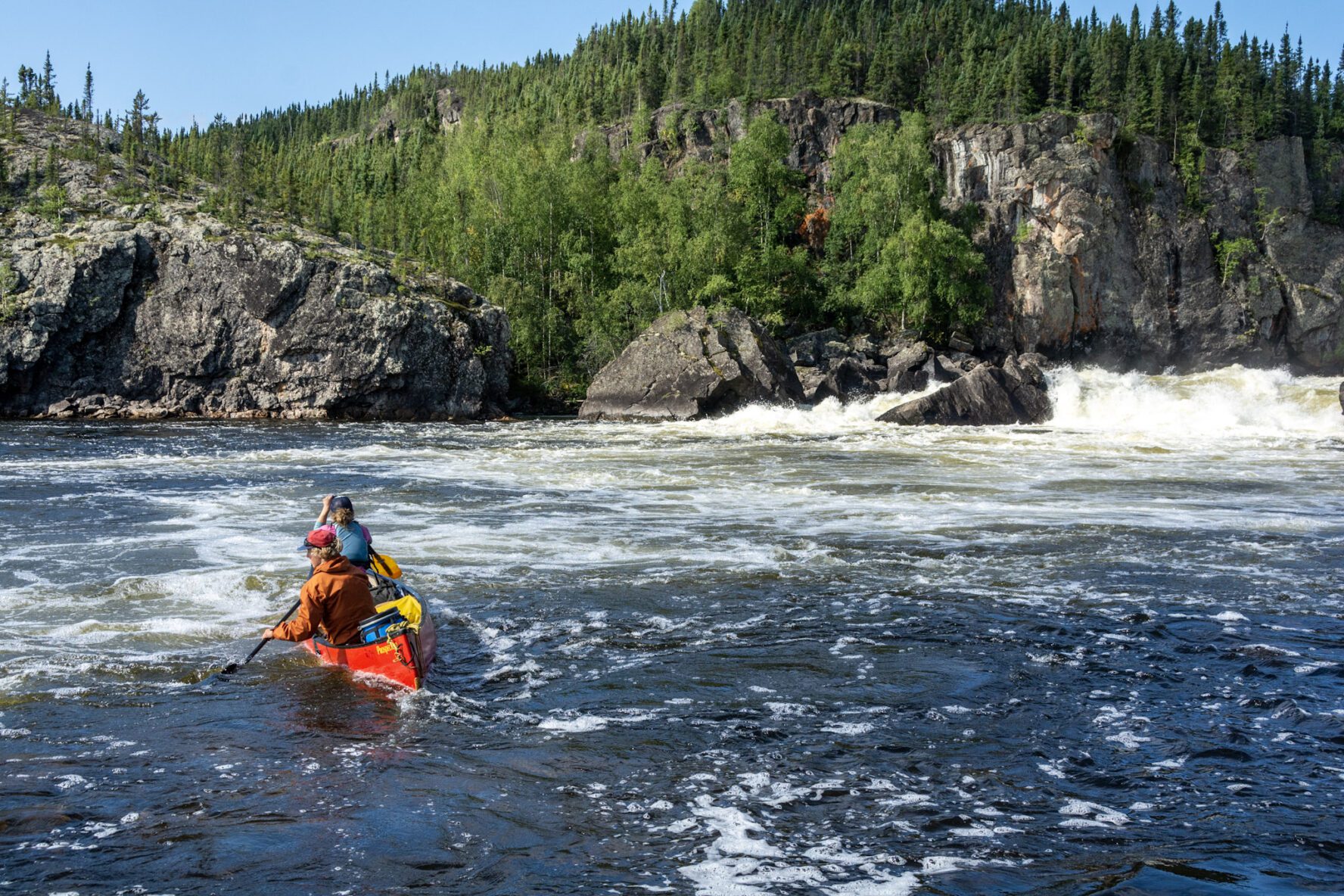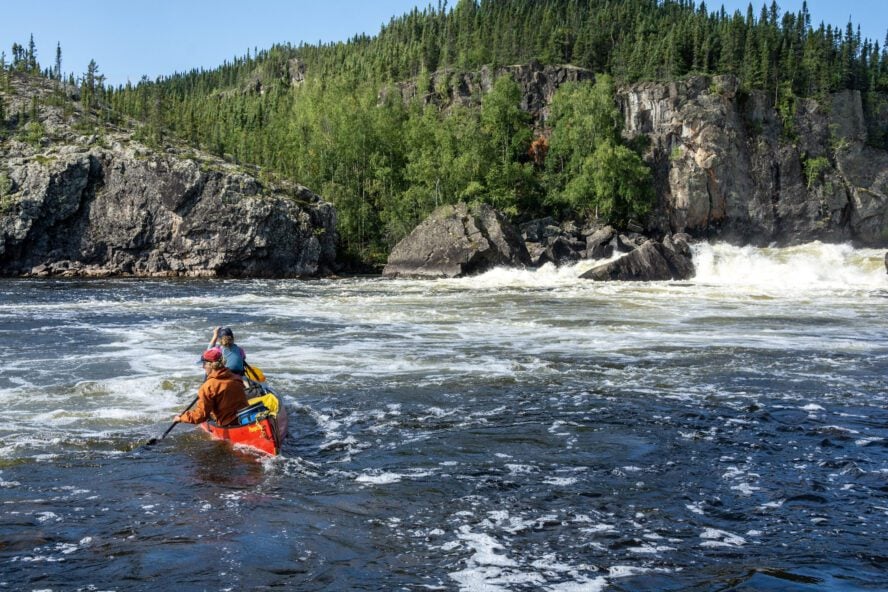 Canoeing is much more than a sport; it's a pathway to self-discovery
What was initially an attempt to familiarize my kids with the benefits of the outdoors ended up with me unveiling a worthy replacement for my usual summer endeavors. Although my kids are almost grown up now and our interests don't align as much, I still paddle and guide with great passion. And I have no doubt in my mind as to why.
For me, canoeing is much like trekking or ski touring—lots of planning and hard work translates into adventures through marvelous and at times austere and rough terrain. But it is this simplicity and the challenges along the way that lead to wild and faraway places—places accessible only to those willing to make a sacrifice of time and comfort. Places that beckon us back over and over again. It is thanks to the Canadian wilderness that I'm aware of that.
Want to find out more about the four hidden gems of Canadian canoeing? Discover why you must add the Paull, Hawkrock, Porcupine, or Seal River to your bucket list.