Winter Camping: Useful Tips to Avoid Freezing to Death
Tenting in the snow may sound daunting at first, but with these winter camping hacks, you'll be prepared for an overnight winter adventure you'll never forget.
For much of the country, winter can seem like the longest season of the year, but it doesn't mean you should stay indoors. And, it doesn't mean that camping season is over either. Winter camping doesn't have to be intimidating, freezing, or miserable… in fact, the solitude of the quiet, snowy woods might be just what you're looking for.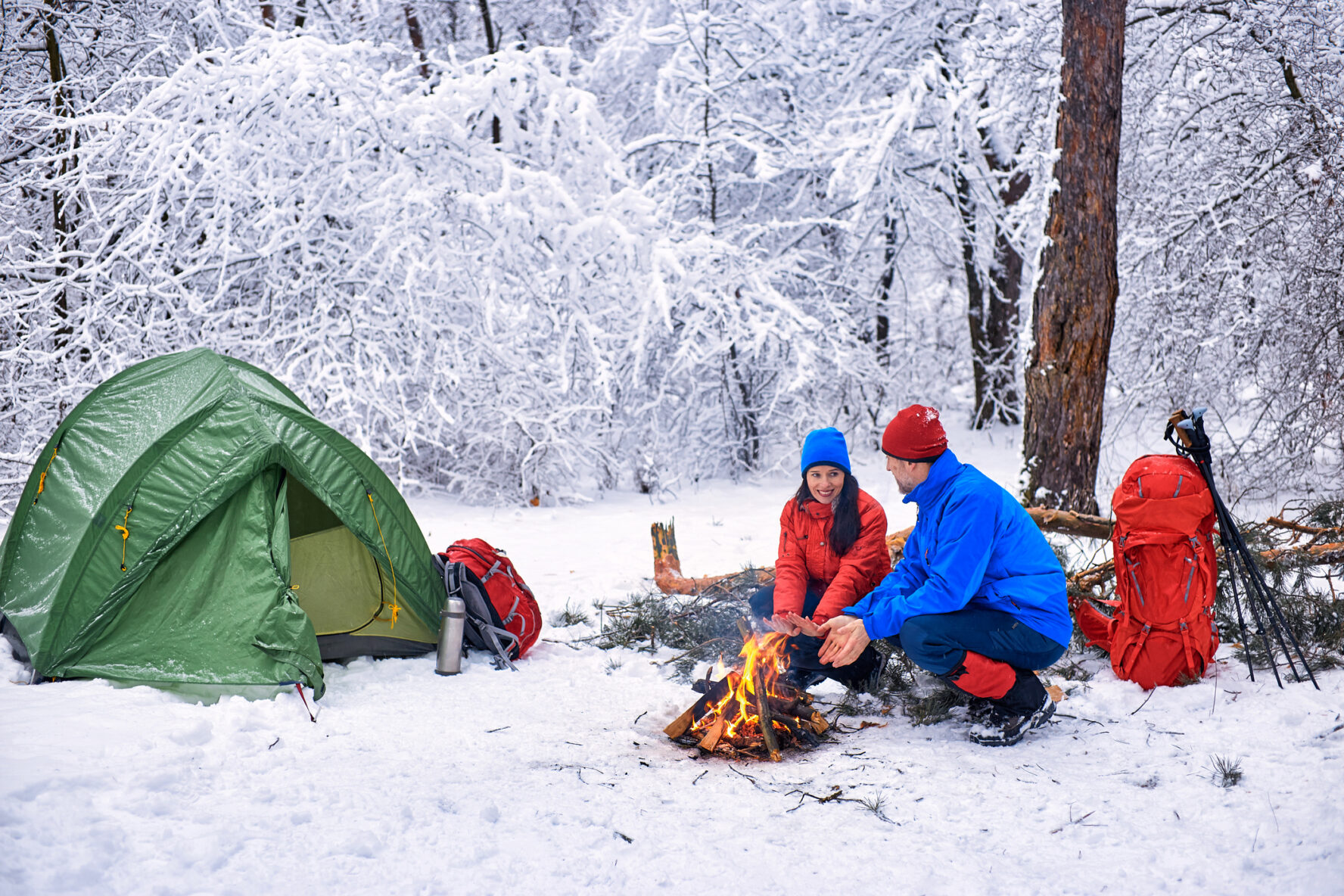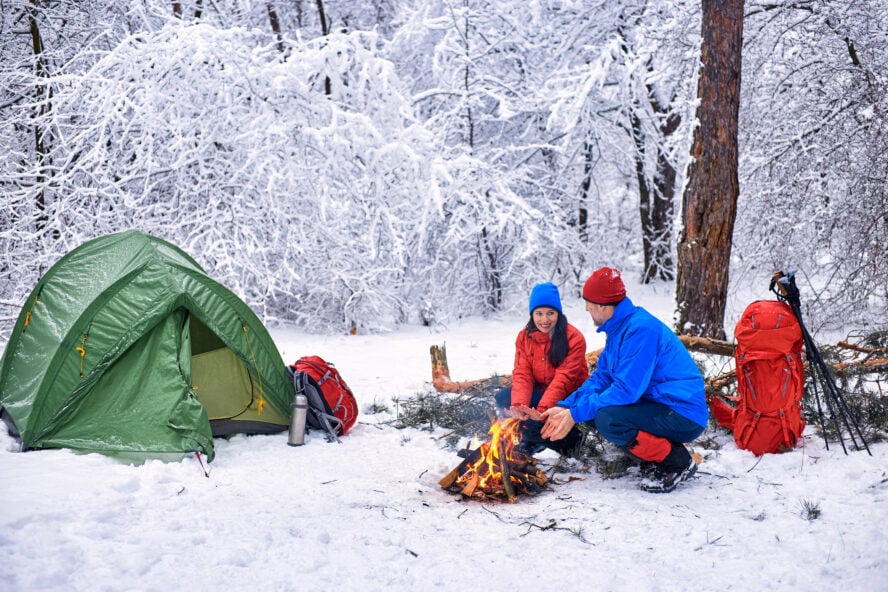 Why try winter camping?
Camping during the winter is a vastly different experience than camping in the spring, summer, and fall. Even the most popular campsites will likely be deserted, and the silence — not just from the muffling effects of the snow, but the lack of other parties — is something most people have never experienced.
Everything is softened — mounds of unbroken snow are rounded over the natural edges of the rocks, the tree limbs are encased in white, bowing under the weight and creating a sparkling tunnel over the trail. Concerns about finding a flat spot for your tent are unfounded: a season's worth of snow makes for an unbroken level field for setting up your site. Keep an eye out for animal tracks criss-crossing the trail and campsite, and listen for the rush of wings through the branches. It will likely be silent enough to hear things you normally wouldn't during the busier seasons.
How do you prepare for winter camping?
An overnight in the snow probably isn't the first thing that comes to mind when you think of winter activities. But winter camping doesn't have to be wet, miserable, or even too cold… if you prepare correctly. Winter camping gear, preparing your site, and adequate layering are all crucial elements when it comes to being safe and enjoying yourself in the woods this winter.
The majority of items you need for winter camping are probably already part of your gear system, but having a winter tent and a few other cold-weather items will help you have a safe, enjoyable experience. Here are our best winter camping tips, whether this is your first time winter camping, or you're looking to bring your four-season setup to the next level.
What is the best tent for winter camping?
There are many good options for a winter camping tent, including buying a four-season tent or reinforcing a viable three-season tent.
Most people opt to only use their four-season tent during the winter. By nature, these tents are bulkier and heavier than three-season tents, and will add unnecessary weight to your pack during warmer outings. Winter tents have the ability to withstand harsh conditions, including high winds and heavy snow loads, and are built with sturdier materials and less mesh than their three-season counterparts.
Winter tents are often steeper and dome-shaped, which helps prevent snow loading and will hold up better during inclement weather. The bodies of winter tents have less mesh, heftier fasteners, and are easier to set up while wearing bulky mittens. Winter tents should pitch fast and intuitively, as you'll want to get out of the elements quickly upon reaching your campsite. It's important to practice setting up your winter camping tent before setting out, as cold extremities will make everything seem more challenging.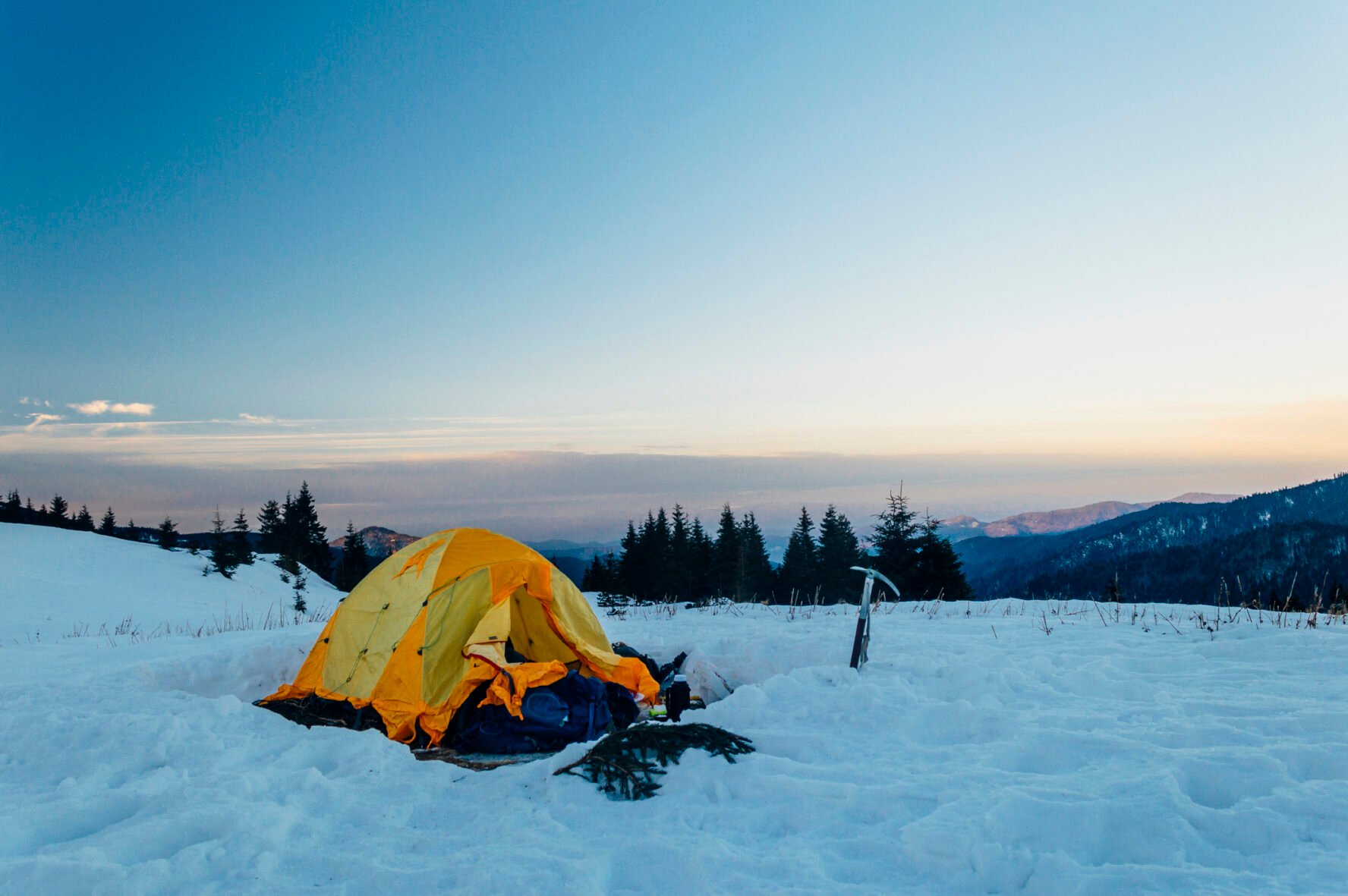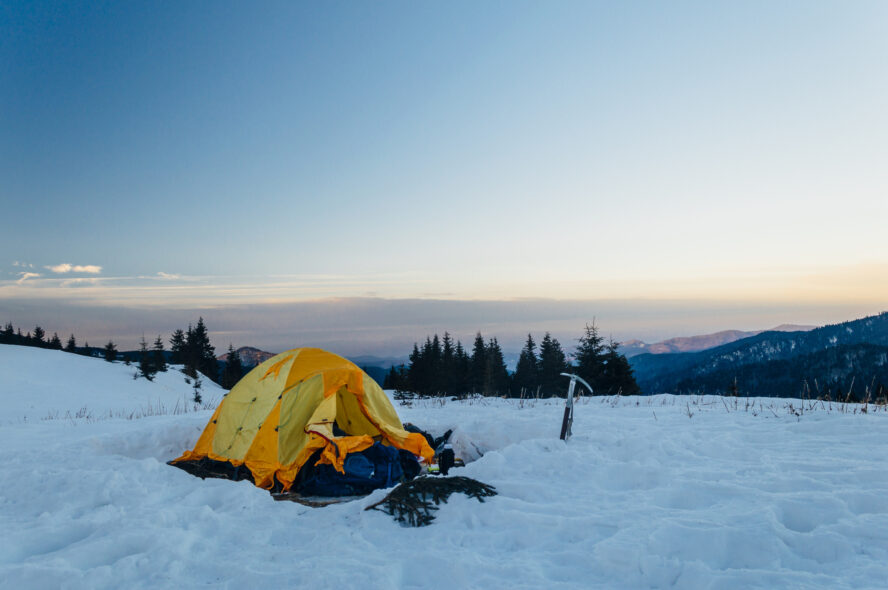 How do I keep a tent warm in the winter?
Keeping your tent warm in the winter really means staying warm inside your tent. Of course you'll want to stake and guy out the fly as tight as possible and make sure snow stays out of the tent, but staying warm happens with the right layers and the correct sleep system. You can buy a four-season tent to be better protected from the elements, and there's always the option to optimize a sturdy three-season tent for winter camping.
How do I winterize a tent?
You can't just buy an insulated tent, and winterizing a three-season tent will only get you so far. Tents are either single or double-wall, but they won't be "insulated." If you're going to use your three-season tent for winter camping, avoid models with flat tops, as snow loading will put pressure on the poles and the shelter won't be able to shed snow. Steeper walls are your friend, and if you don't have snow stakes, bury your normal tent stakes horizontally under tightly packed snow to ensure a secure pitch. Utilize all guy lines for winter overnights, as a tauter pitch will help prevent sagging and potential tent collapse.
How do I safely heat a tent?
Contrary to what you might think, you won't be heating your tent from the inside. You'll start by digging out a tent site, which will help insulate you from the elements. If the snow is just a few inches deep, pack it down to make a more stable space for your tent. If the snow is deeper, you can use a lightweight avalanche shovel to dig out your space. Be sure to leave room for your vestibule, and enough space around the walls of the tent to allow for ventilation and prevent excess condensation.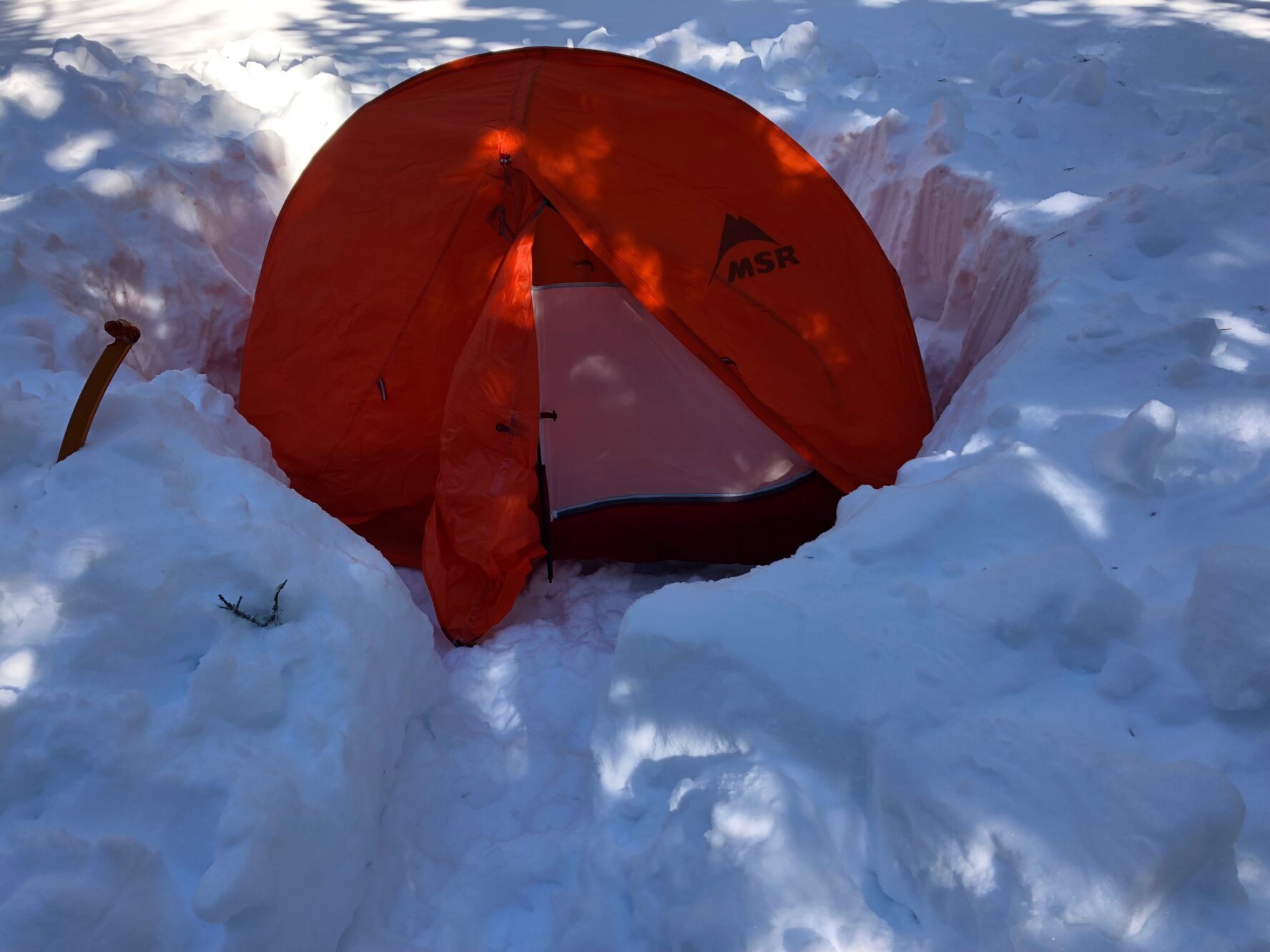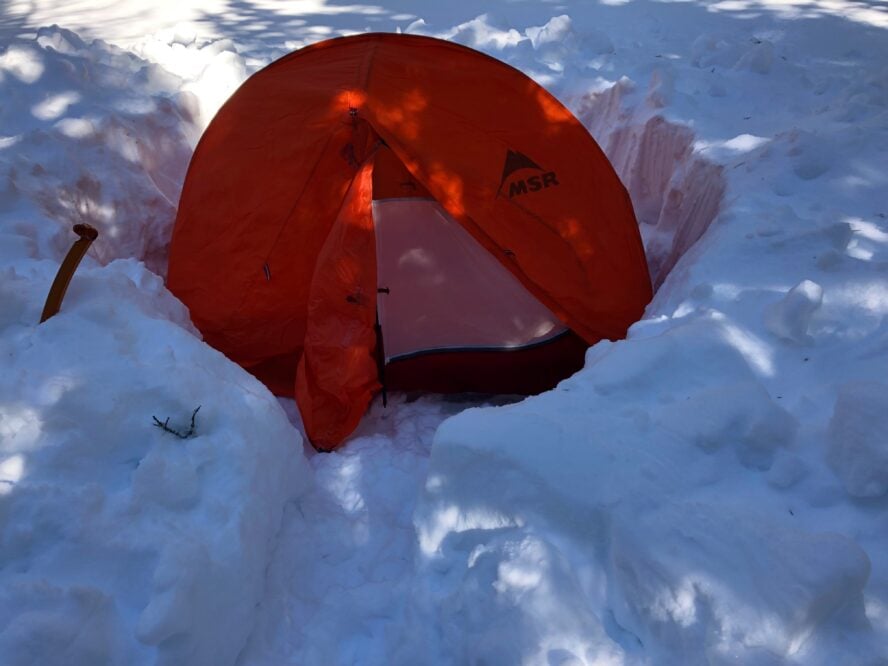 How do I keep food from freezing during winter camping?
Keeping your food and water from freezing is paramount to enjoying your time outdoors this winter. Plan ahead and pack food that won't freeze. Your go-to snacks of energy bars, peanut butter, and gels will quickly solidify into inedible bricks. Chocolate is a good option for a snack, and you'll want to bring hot meals to prepare as a pick-me-up for lunch or dinner. If you do bring gels and energy bars, hike with them in your pockets, and once you're at camp, keep them close to your body to help them stay thawed.
You'll likely need to melt snow for meals and drinking water, so bring enough fuel to account for the extra usage. At night, sleep with your water bottle and any snacks that could freeze inside your sleeping bag. Filters like the Sawyer Squeeze will be rendered unusable if they freeze, so throw that in your sleeping bag as well.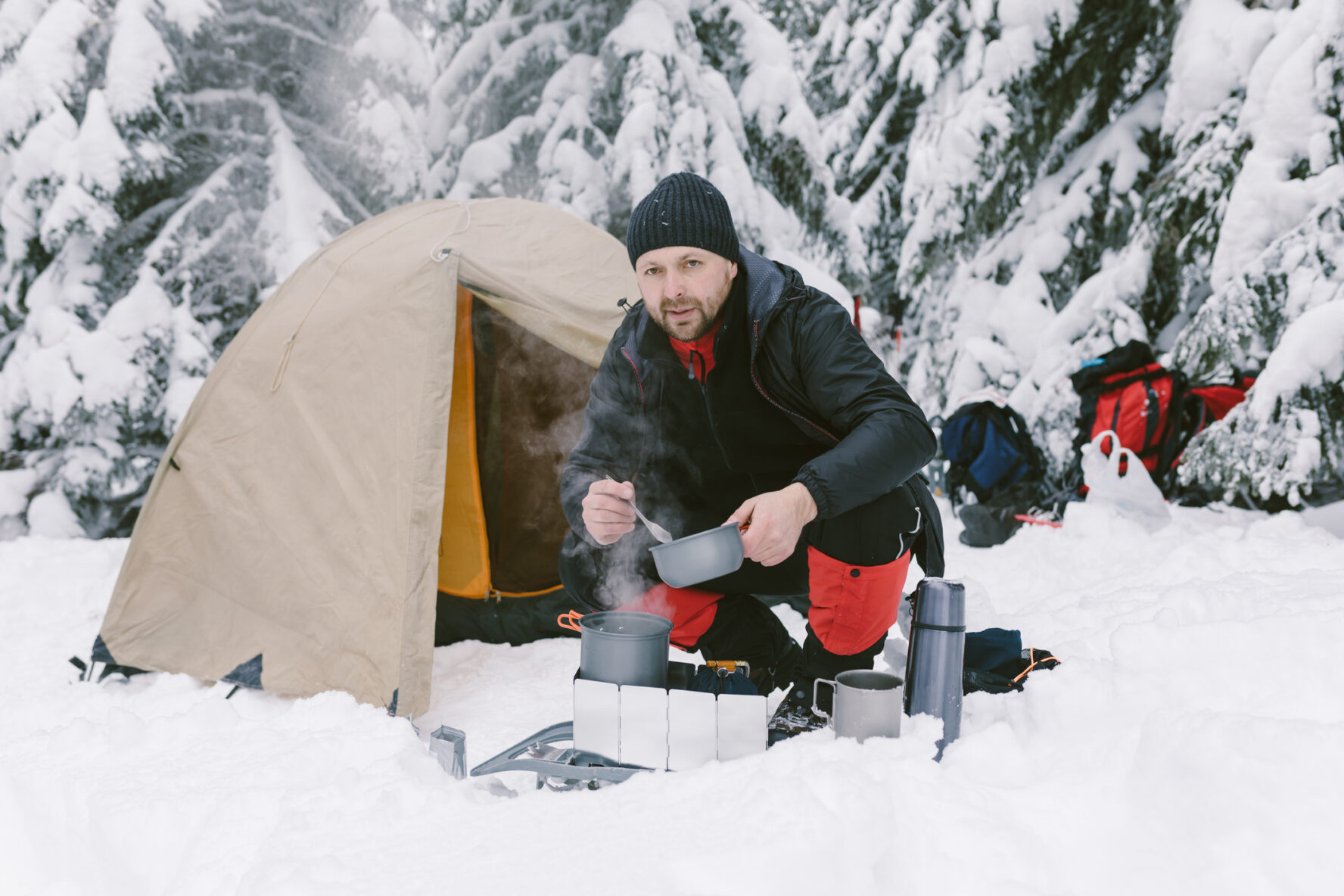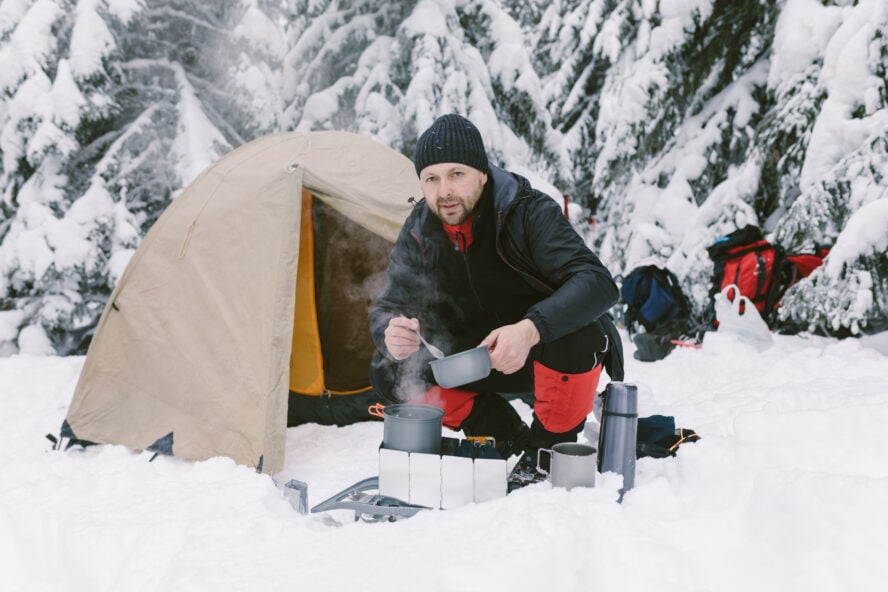 How cold is too cold to camp?
There are a few considerations when you think about four-season overnights as opposed to getting out for an overnight in spring, summer, or fall. The biggest one is temperature. The truth is, you can camp in pretty much any temperature as long as your gear is adequate. Understand the temperature rating for your sleeping bag, and plan to supplement with a down jacket if you tend to sleep colder.
The comfort limit for sleeping bags is not universal—know your sleep preferences and plan for that. That said, most people will not be super thrilled to be sleeping outdoors when the temperature drops below zero degrees Fahrenheit. Daytime temperatures in the 30s with sun will feel great, and with adequate layering and gear, most people will feel comfortable down to single digits at night. The right gear, layers, and preparation is key.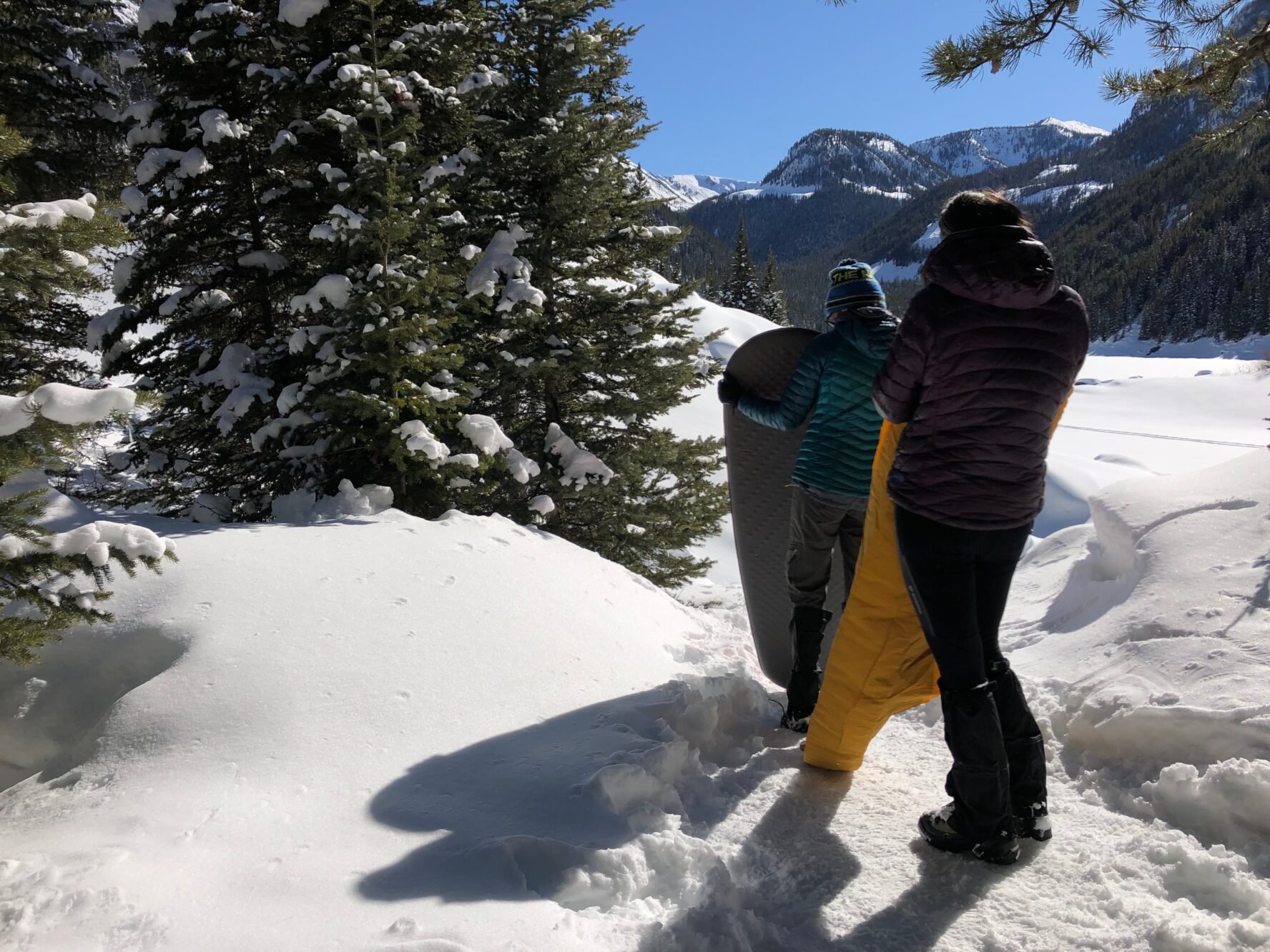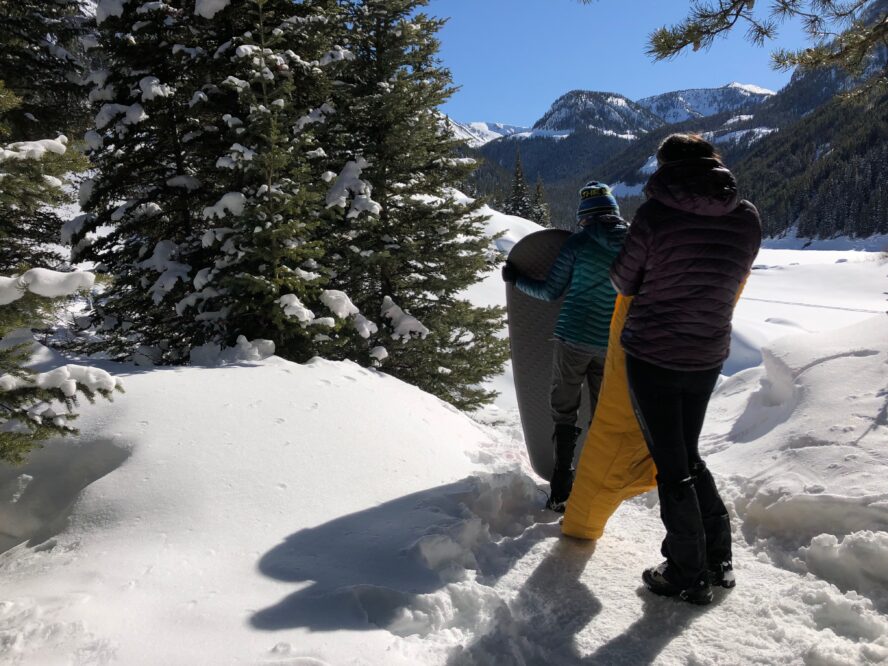 How do I layer for winter camping?
Aside from a sufficient sleep system, your clothing is what keeps you safe and warm during your winter overnight. Hike to your campsite in as little clothing as possible. It's ok to start cold—the less clothing you sweat in, the better. If you don't want to start cold, be prepared to remove layers once you heat up.
Hike with a wicking top and bottom, plus a mid-layer or wind shell (depending on conditions). Merino socks and ankle-height hiking boots will suffice in most situations, and your feet will be far happier in insulated boots. You'll want to pack wicking base layers for camp, a fleece mid-layer, and a down jacket for insulation. A waterproof shell protects the down from precipitation. Waterproof shell pants or rain pants aren't a bad idea, allowing you to sit at camp without worrying about soaking through. Wool socks for camp, a beanie, and mittens round out the layers.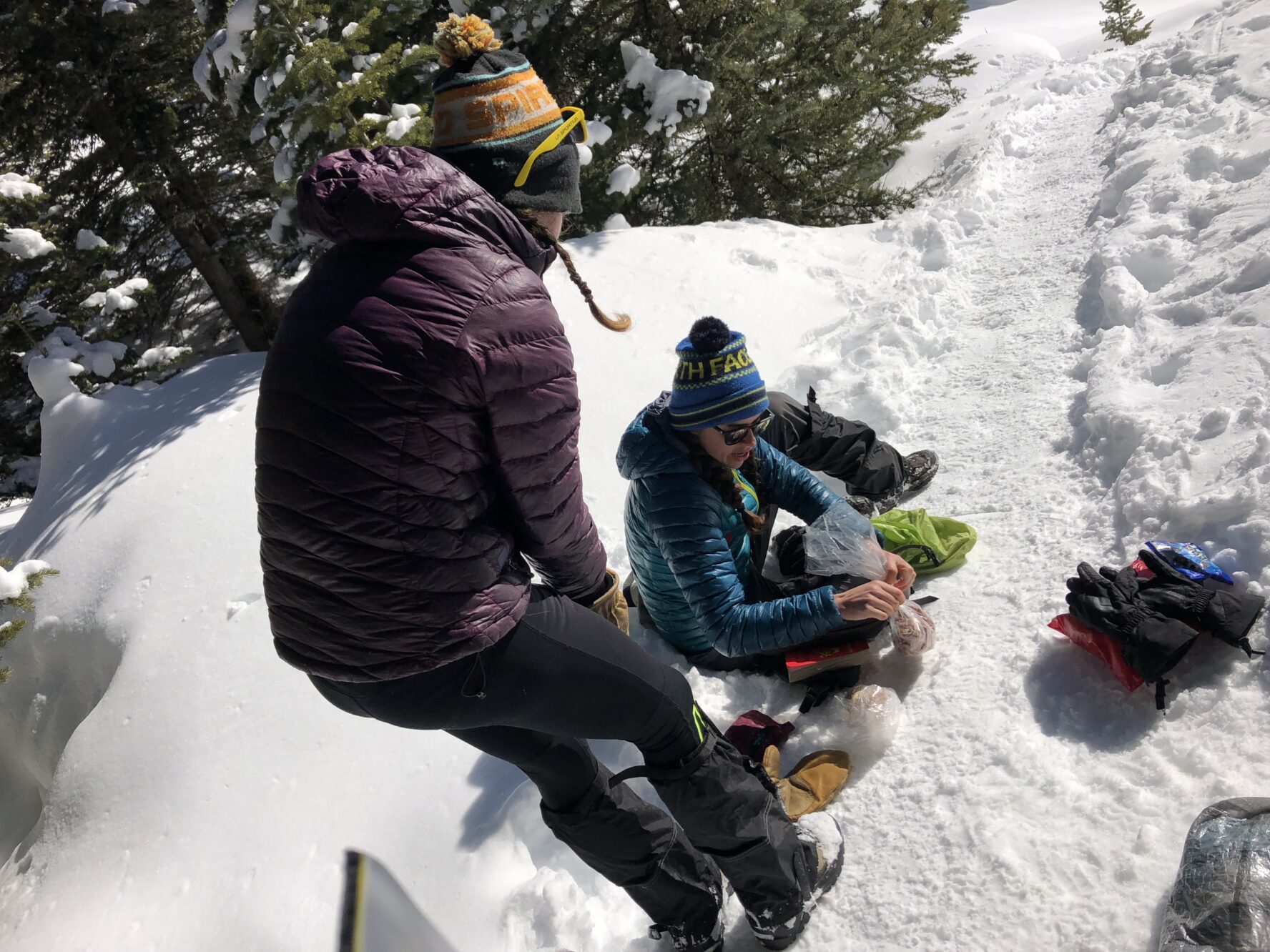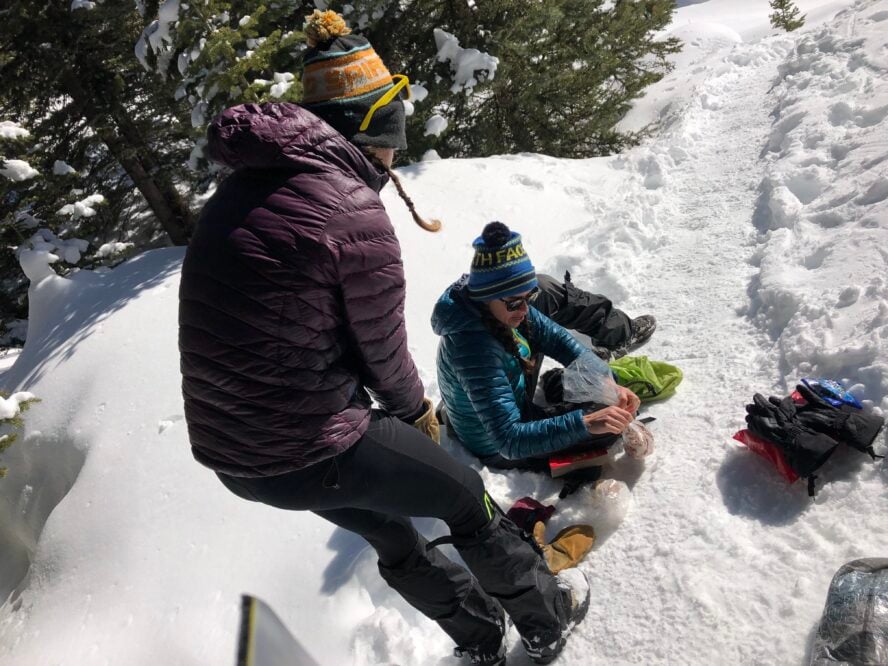 What should I bring winter camping?
You'll be bringing pretty much the same gear you'd be packing for a three-season camping trip, with warmth and staying dry being the top concerns. Here's a basic checklist for your winter camping gear:
❐ Sleeping Bag: Zero-degree down is a safe bet.
❐ Sleeping Pad: R-value of at least 4.0, higher if possible.
❐ Tent: A winter tent is your best option, or a steep-walled three-season tent if you don't have a four-season shelter.
❐ Pack: Whatever pack you've been using will work fine. Line it with a trash bag or use a pack cover to protect from snow and wetness.
❐ Down Jacket: Anything 700-fill or warmer, preferably with a hood.
❐ Waterproof Shell: Your everyday rain jacket will do the trick.
❐ Insulation Layer: Microgrid fleece or a heavier merino layer is perfect.
❐ Base Layer Top and Bottom: Don't put these on until you're at camp.
❐ Hiking Pants: Fleece-lined running tights with a waterproof shell pant is a good option.
❐ Hiking Shirt: A wicking merino or synthetic long-sleeve will work fine.
❐ Wool Socks: Bring an extra pair for camp.
❐ Hiking Boots: Be sure the tread and rubber is optimized for frozen conditions
❐ Hat: Merino wool or other natural fibers to insulate and wick.
❐ Mittens: Waterproof and insulated. Your hands will thank you.
❐ Gaiters: This might seem like overkill, but keeping snow out of your boots is a priority.
❐ Stove and Fuel: A white-gas stove will burn best in winter conditions, and be sure to bring extra fuel to account for melting snow for meals.
❐ Headlamp: 350 lumens is a good place to start. Remember it gets dark early!
❐ Water Filter: Not entirely necessary since you'll be boiling water and melting snow, but safe to have on hand.