Outdoor Guiding During COVID-19: Wins, Losses and Pivots
In response to a 57hours COVID-19 survey on the state of the outdoor guiding industry, ski guide Greg Hill shares his thoughts on this past season and ponders what the future holds for those in outdoor guiding.
57hours recently conducted a follow-up survey of outdoor industry guides to better understand the impact that COVID-19 has had on the guiding community one year into the pandemic. A year after their original survey, things are looking a lot better. While 2021 bookings are still down compared to a typical year, things are slowly on the upswing. Safety precautions are in place and 75% of respondents think that the guiding industry will make a full return sometime next year.
In the Selkirk Mountains, where I'm based, this past winter sure looked a lot different than what we've come to expect. I spoke with some of my longtime friends and colleagues to get a sense of how they fared this past season and to offer some insight into what the future might hold for us guides. Here are some of my thoughts.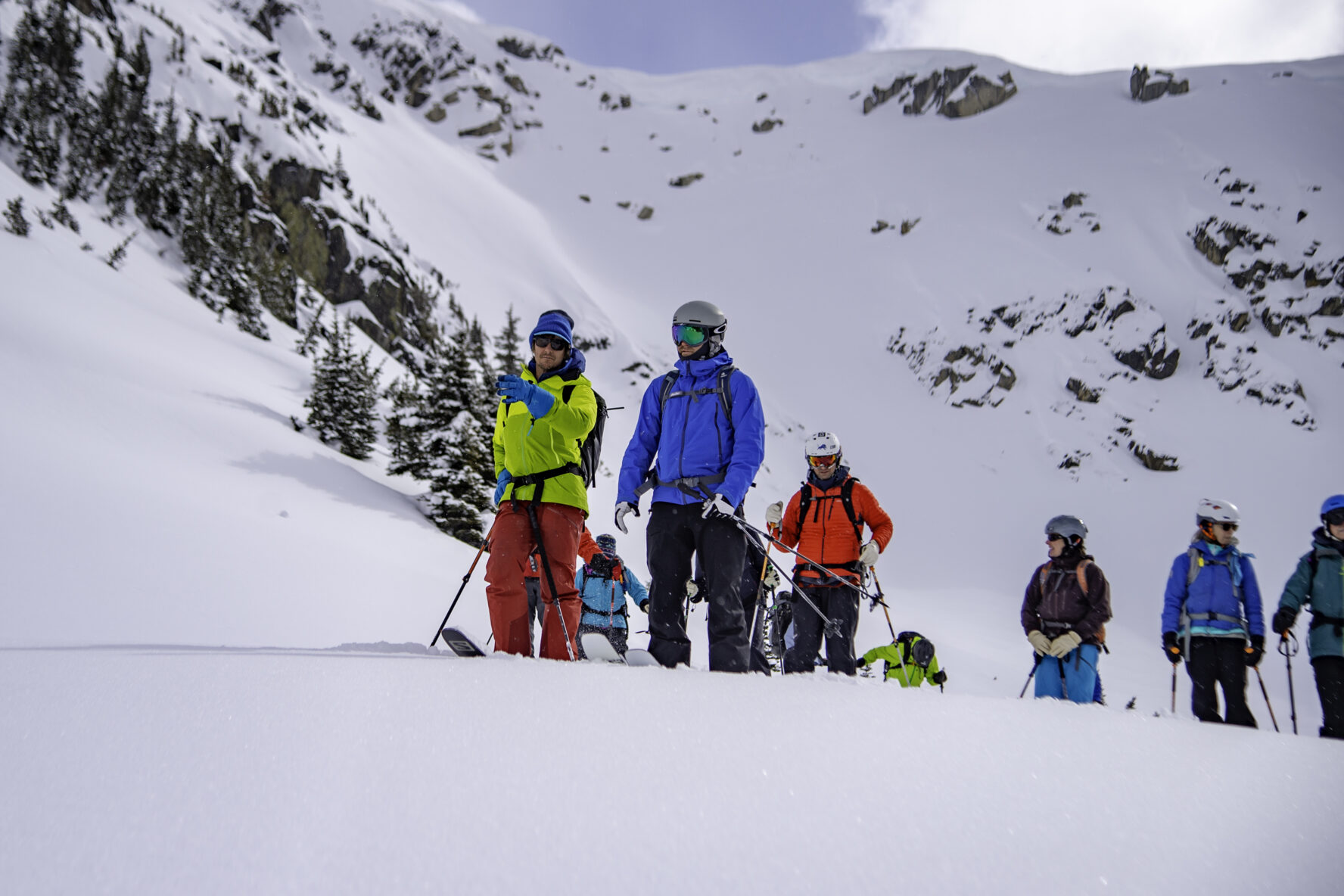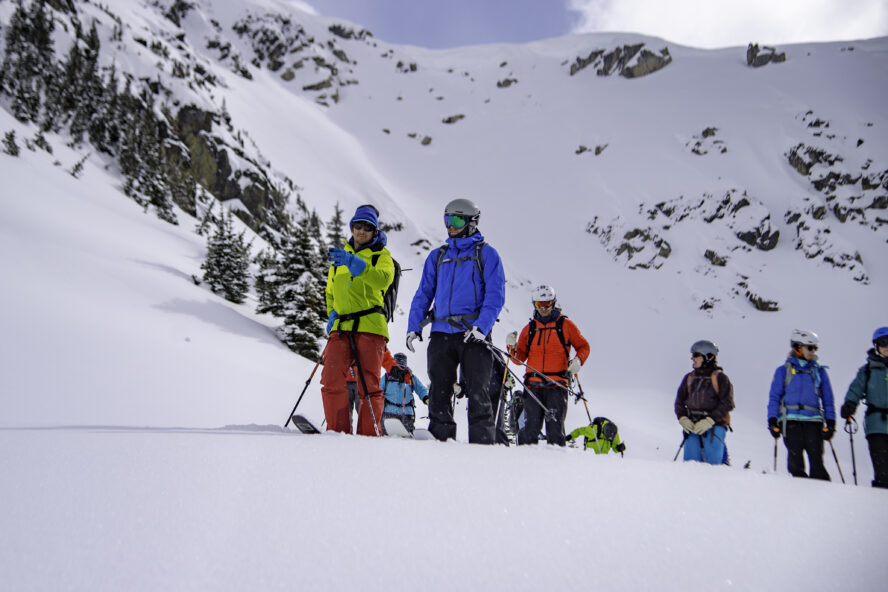 The reliance of the guiding industry on tourism
As a guide in Canada, my life and many of my friend's livelihoods rely on tourism. We all became ski guides in the area because of the consistent snowfall and the consistent clients. Much like our safe snowpack, we had all safely centered our lives around guiding people in our pristine backcountry settings. Most of my friends are heli-skiing guides, and they felt very secure working for renowned companies like CMH, Selkirk Tangiers, Mica Heli, and Eagle Pass Heliski. For years they had attracted tourists from all around the world who came to enjoy the incredible snow — this past year though, not so much.
I recall last fall, 2020, when we were all optimistic of a great season and curious if the borders would ever open. It was a nerve-wracking time as companies like CMH — which hires hundreds of guides — had to come to terms with the fact that domestic clients only accounted for 4% of their guests. With the borders closed, they had to make the hard decision to close all of their lodges but one. This left many guides with little to no work, and uncertain where it would come from.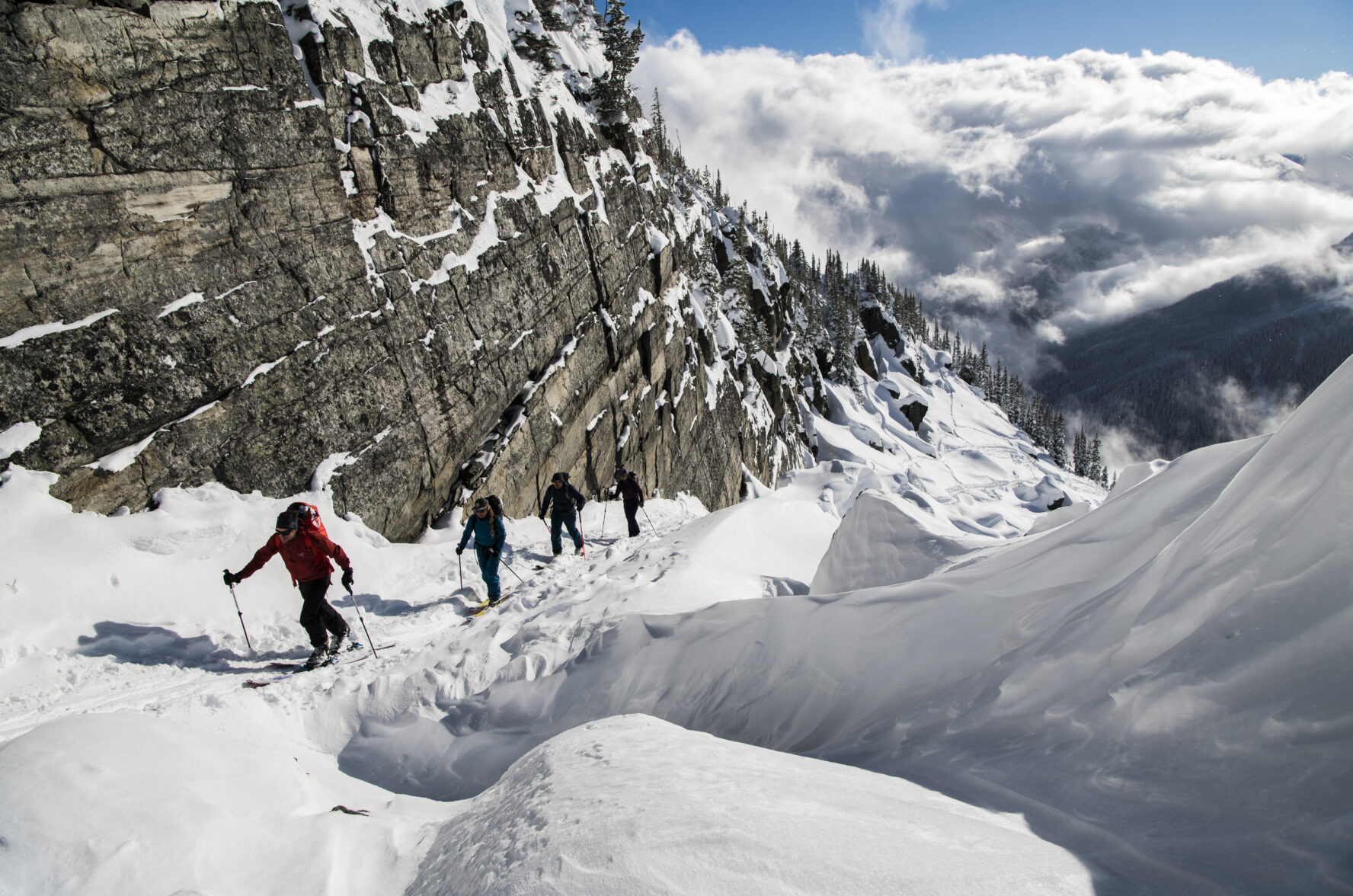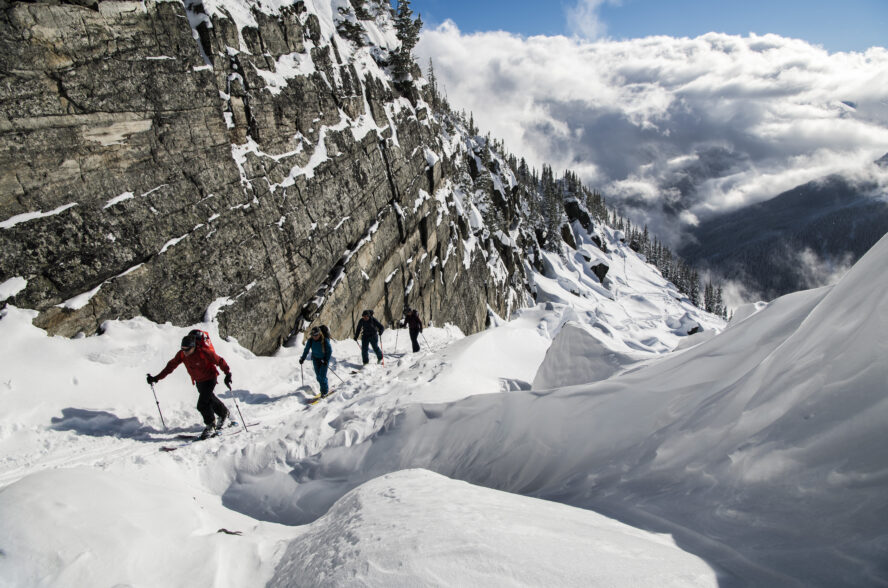 A pivot away from guiding for some
Those who had other skills started setting their winter up to work carpentry or earn income from other forms of employment. But in an area that so heavily relies on the influx of out-of-towners looking to ski deep powder, it was obvious that there was not going to be a lot of work to throw around. Aaron Chance, an ACMG Ski and Splitboard Guide based in Revelstoke, pivoted quickly, committing mostly to carpentry for the winter. He typically guides upwards of 80 days a season, usually a blend of heli-skiing and ski touring. He kept some flexibility and was able to guide 30 days, all ski touring, but thankfully his carpentry skills kept food on the table for his family of four. For Aaron, he was able to work as a guide just under 40% of a typical year, which sounds bad, but is actually a lot better than most of the guides who responded to 57hours' survey made out.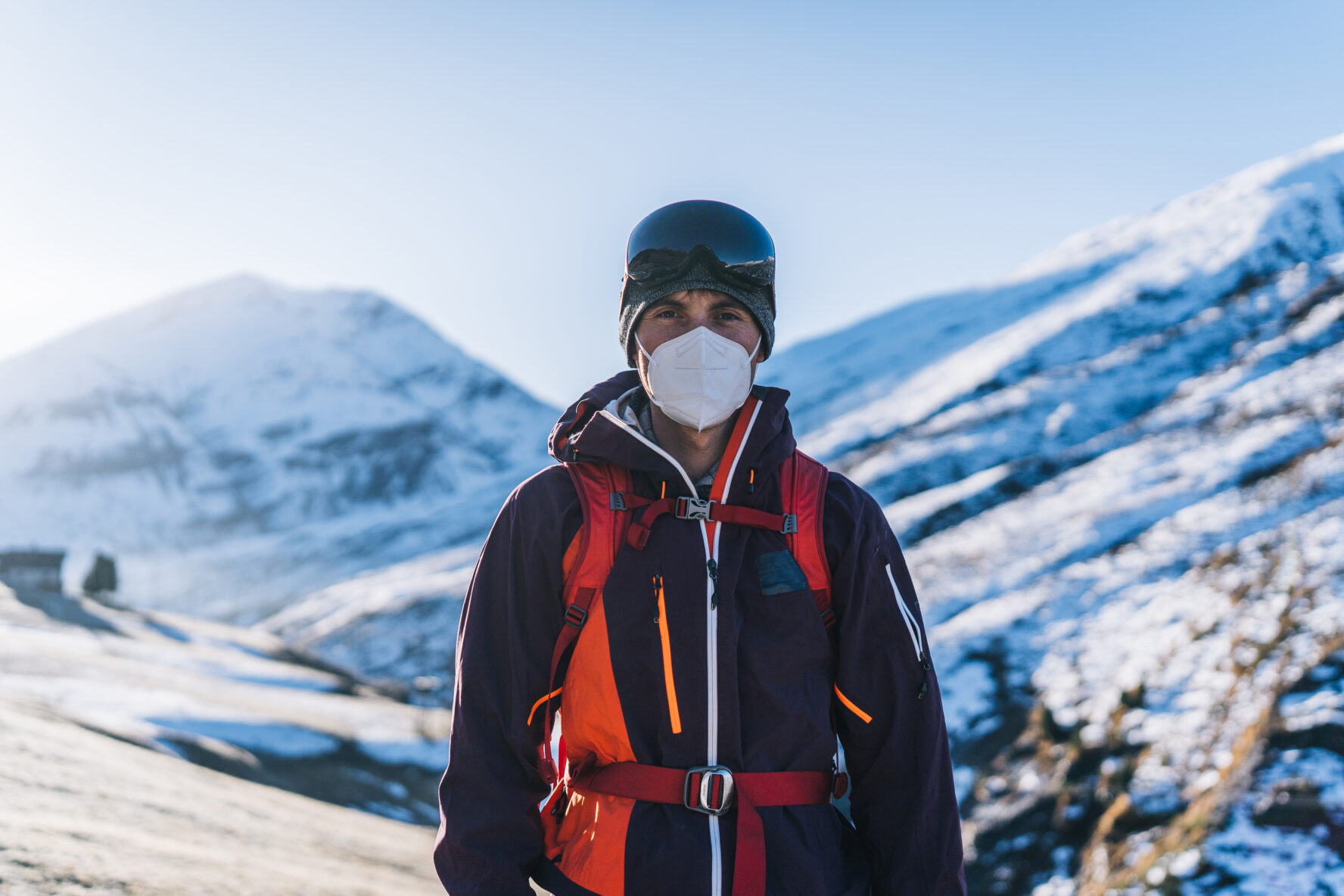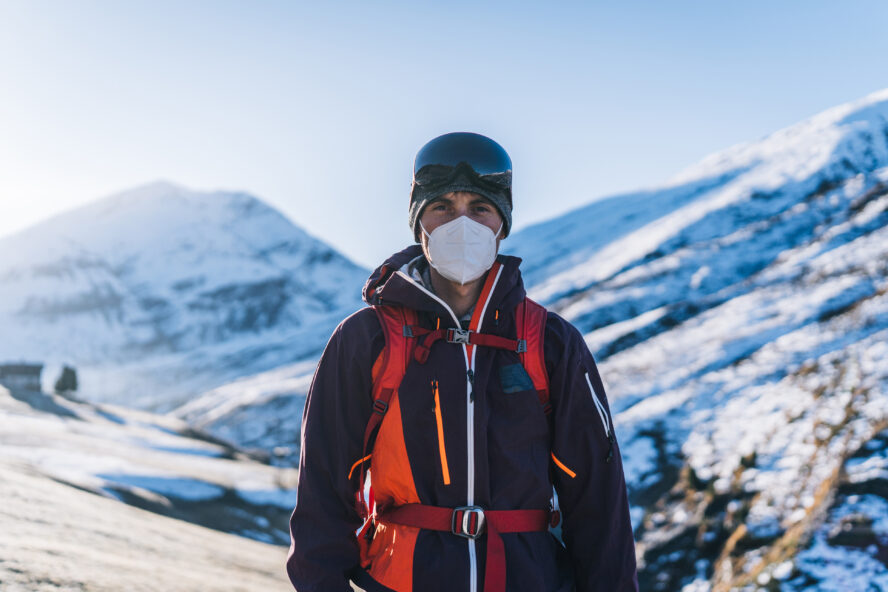 Bookings called off, with no immediate plans to reschedule
I personally still tread the line between professional athlete and guide. In a typical winter season, I guide around 30 days; this winter was different. Initially, I was booked with my usual clients and around that 30-day mark. Then bookings started changing. A group I have guided out of Whitecap Alpine Lodge for the last 12 years decided that the risk was not worth it, which I understood, as the group is called "the wise farts" and averages around 70 years of age. Obviously, the hazards of COVID-19 were not worth risking. This checks out with the survey as well — over 60% of guides said that clients who cancelled their bookings have not yet made plans to reschedule.
Then during the winter, I had multiple bookings that were eventually called off because of travel restrictions. Groups from Montreal knew it wasn't responsible to come out west and ski, traveling through airports and going from a high COVID-19 zone to a low one, possibly passing on the virus to people out west just so that they could ski tour. It's not that clients were worried about passing on COVID-19 to their guides, since it seems proven that it is very hard to pass this virus on outside. (Ski touring has great social distancing as it is, since if you are on my ski tails you are too close!) The feeling I got was that the travel was just too risky and not worth it, especially when government orders were put in place to stop people from moving around.
Running operations at reduced capacity
Eagle Pass Heliskiing is a boutique company that flies out of Revelstoke. For years, they have been offering an unparalleled small group heli-skiing experience. Before the pandemic, they employed around 25 guides, but due to the challenges of this past winter, they kept seven on staff. Their most senior guides were rewarded with some work, while sadly, all the younger up-and-comers had to accept the loss.
It was a hard decision for Eagle Pass to run, with lots of unknowns and when a typical season sees them with 15-20% Canadian guests. Speaking with Scott Newsome, Vice President of Eagle Pass, he voiced some great thoughts. "A guide's job is mostly risk analysis, and the virus was an added risk. Mitigating this risk and managing it was simply another layer — and one we worked on diligently all year." Overall their season ended up being around 25% of their usual. This checks out with the data from the 57hours survey, where most respondents answered that they lost about 75-100% of their guiding income during 2020. It seems Eagle Pass was one of the lucky ones to retain at least a quarter of their typical earnings.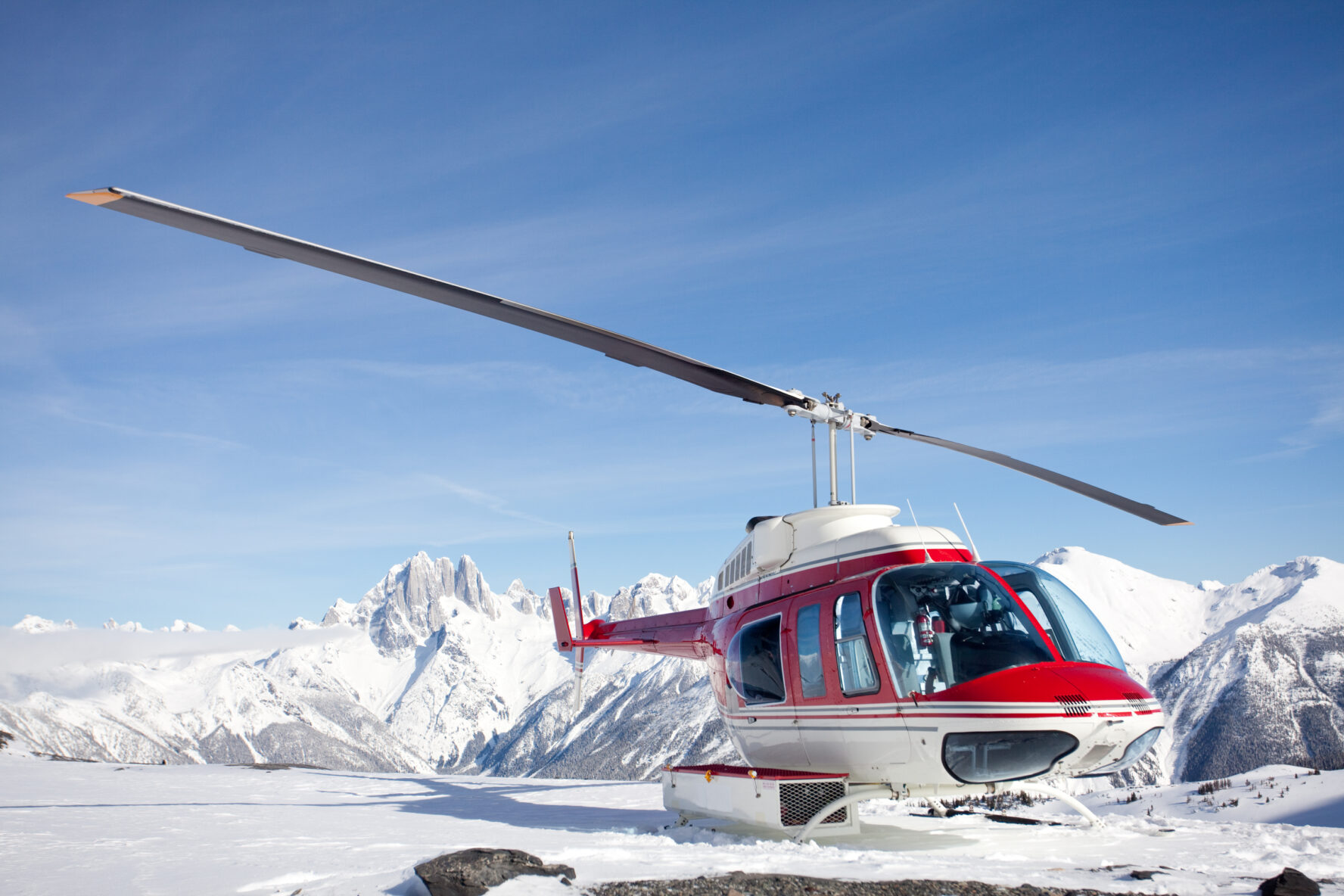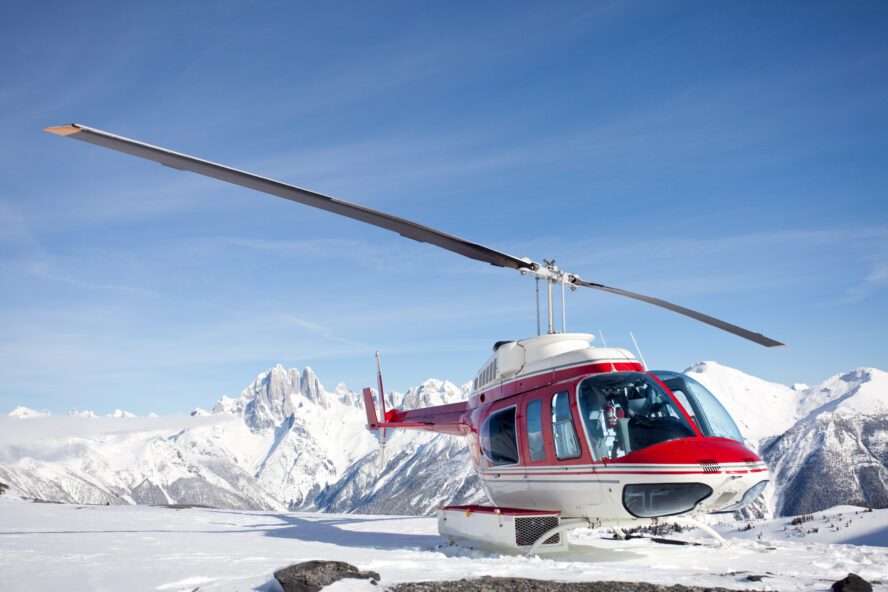 The impact of COVID-19 on backcountry ski lodges
Backcountry lodges are one of the best ways to experience B.C.'s mountains, and there were many implications to these destinations due to COVID-19. B.C.'s backcountry lodges were a safe bet for working guides as there was endless opportunity leading ski touring around these lodges. Clients booking months in advance, if not years, these lodges became coveted backcountry destinations. Consistent work was a guarantee, as was incredible snow; it was utopic… until COVID-19 closed the borders to international travelers.
Some operators decided early on to forgo the season and not open at all, while others implemented smaller groups and full lodge rentals. Speaking with Jasmin Caton of Valhalla Mountain Touring, her typical breakdown is 50% Canadian, 50% American, so they had a bit of an upset in one area, but an increase of Canadian clients kept the lodge running at 60% capacity this last winter.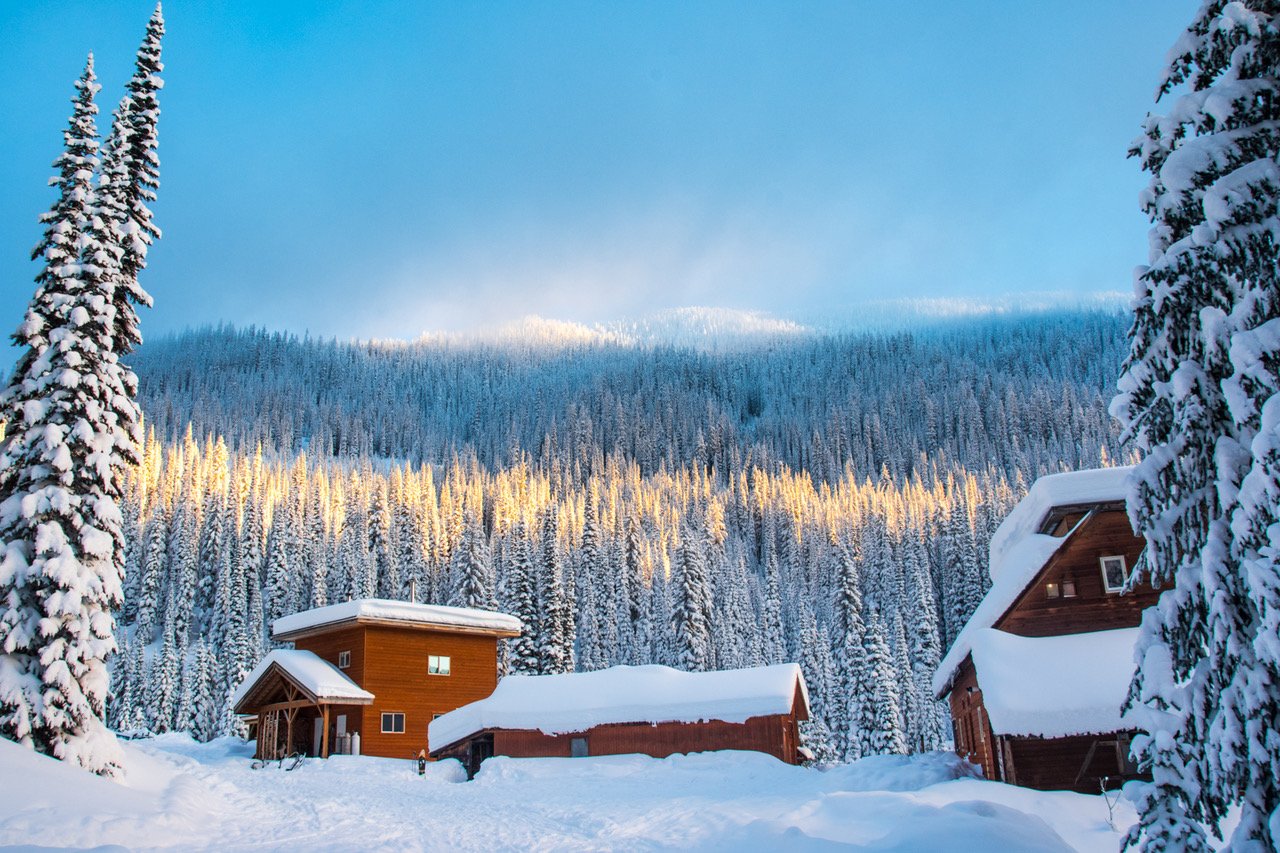 Local ski touring up this past winter
While backcountry lodges might have seen a slight bump in local traffic, one of the wins of this past winter, and what surprised me, was the incredible increase in backcountry ski guiding of locals. Again in line with the results of the 57hours survey, which saw 80% of guides saying their client base shifted to either locals or people visiting domestically, compared to only 27% of guides who are booked by local clients in a normal year. This trend to shift adventure close to home was something I talked about at the very start of the pandemic with my 300-Mile Adventure Diet idea.
In previous years, there was some guiding in Rogers Pass, but this last winter, it multiplied. So often, I would see five to ten guided groups a day. People who would typically be on the hill or away on a winter vacation, turned to backcountry touring. There were many guides who would typically be heli-skiing, but had to start ski touring again. This was refreshing for so many of them because they got into guiding to spend time walking around the mountains, then inevitably, the security and consistency of the work in the mechanized world absorbed them. To see locals getting out and enjoying their own areas was something I enjoyed.
Avalanche course enrolment up
COVID-19 rules were different all over the place, but in general it seemed that restrictions were in place for recreational activities, but for the most part, educational ones were acceptable. Whether it was an increase in new backcountry enthusiasts or just that people had an opportunity to focus some time on backcountry education, many guides saw a notable increase in avalanche courses. Troy Leahey, who actually taught me my first avalanche course in 1998, saw a rise of three to four times more AST courses this year. His feeling was that more people wanted to avoid busy ski hills, plus an increase in users looking for knowledge.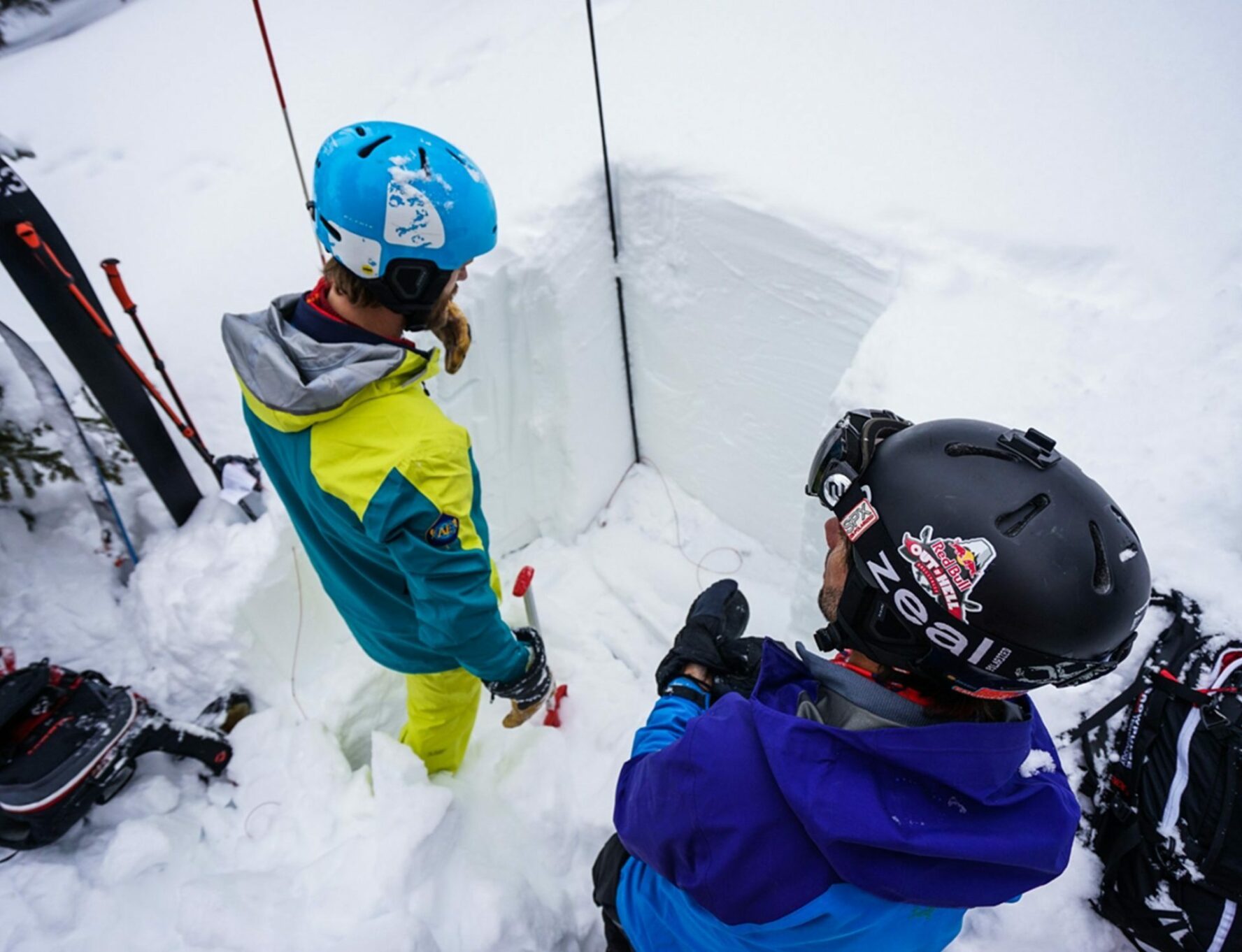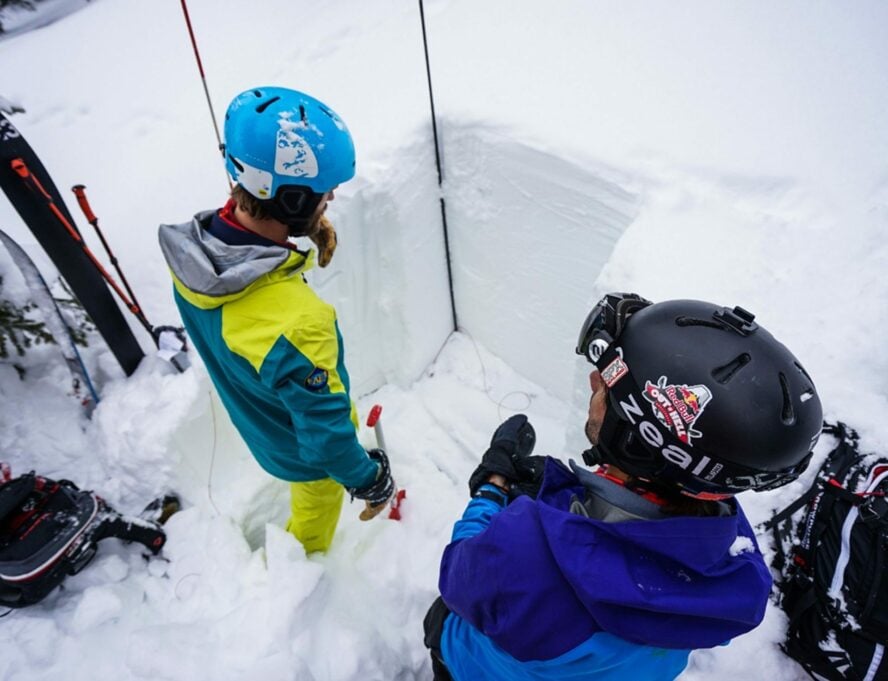 57hours also saw a higher demand for people looking for backcountry education, whether that was through bookings of avy courses or with the high attendance on their educational webinars, people really seemed to have the desire to learn about backcountry safety this past season. After the success of their first webinar with IFMGA Guide Rob Coppolillo on backcountry skiing safety for beginners, they ran a second and equally successful webinar on avalanche safety and risk awareness. Together these events had hundreds of participants. Perhaps related to the overall impacts of the lockdown and the virus, people really did seem to prioritize safety last season.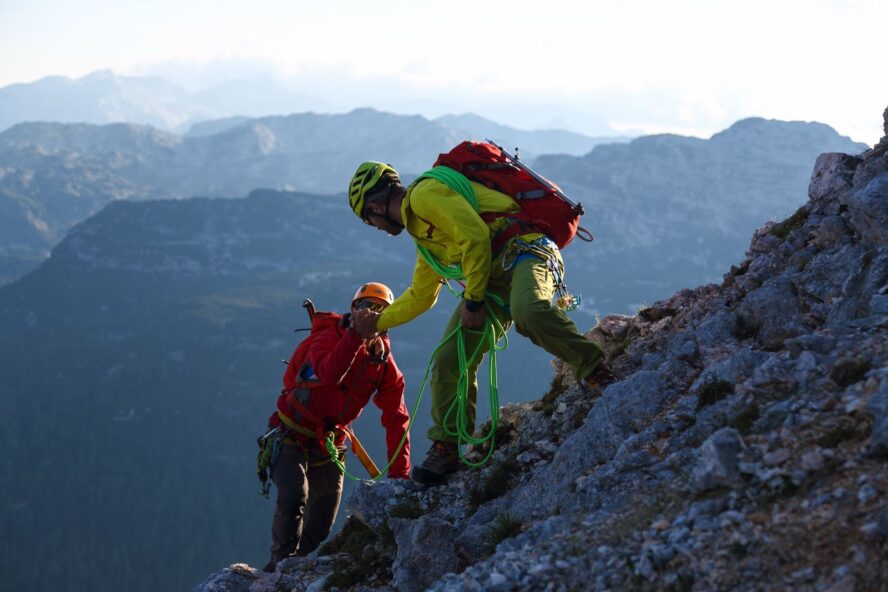 What's next?
As guides, we are trained and very experienced in mitigating hazards, yet this one caught us unaware and unprepared. Despite how many times rules and regulations changed, it was easy enough to learn about the virus and implement our own safety precautions, yet hard for us to work given the total loss of clients. Luckily, outdoor adventure is growing. People are seeking out new adventures and courses to further their skills, which will keep many guides employed. Backcountry skiing, climbing, mountain biking, hiking, kayaking, paddling— the numbers of people trying these sports are up.
With plans for next year already being dreamt up, I wonder what will happen in the guiding world. Will we be more seasoned and ready to mitigate new hazards? Will the safety measures we've learned this past year carry forward with us and make us better guides? Will we be better and to adapt to new challenges and pivot when needed? Only time will tell, but I think the answer is 'yes'.