One Year Later: 57hours Survey Exposes Impact of COVID-19 on Outdoor Guiding
When the pandemic hit, we surveyed 100+ active outdoor guides on how their businesses were affected by COVID-19. Then we followed up a year later. Here are those results.  
During the early stages of the pandemic, we surveyed our international network of professional outdoor guides to understand the many ways that COVID-19 was impacting their guiding businesses. Now, a year later, we're releasing the results of a follow-up survey conducted to help recognize shifting trends in guided outdoor adventuring. The goal was to gain insight into how the outdoor guiding community is responding to the challenges of COVID-19, both in the field and in their marketing strategies, so that we can support accordingly — all with the larger goal of ensuring the guides we partner with make it through these unprecedented times.
In May 2020, when the first survey was conducted, 92% of guides had already been out of work for several months. In April 2021, the majority of guides surveyed indicated they lost over half of their guiding income in the past year to COVID-19. Even as travel picks back up, 50% of respondents said their upcoming 2021 bookings are still down compared to a typical year, and guides are still suffering financially from trip cancellations due to COVID-19.
So, when do guides see things returning to normal? What are some of the ways they've seen outdoor adventuring shift?
Read the detailed account of our survey results and key findings: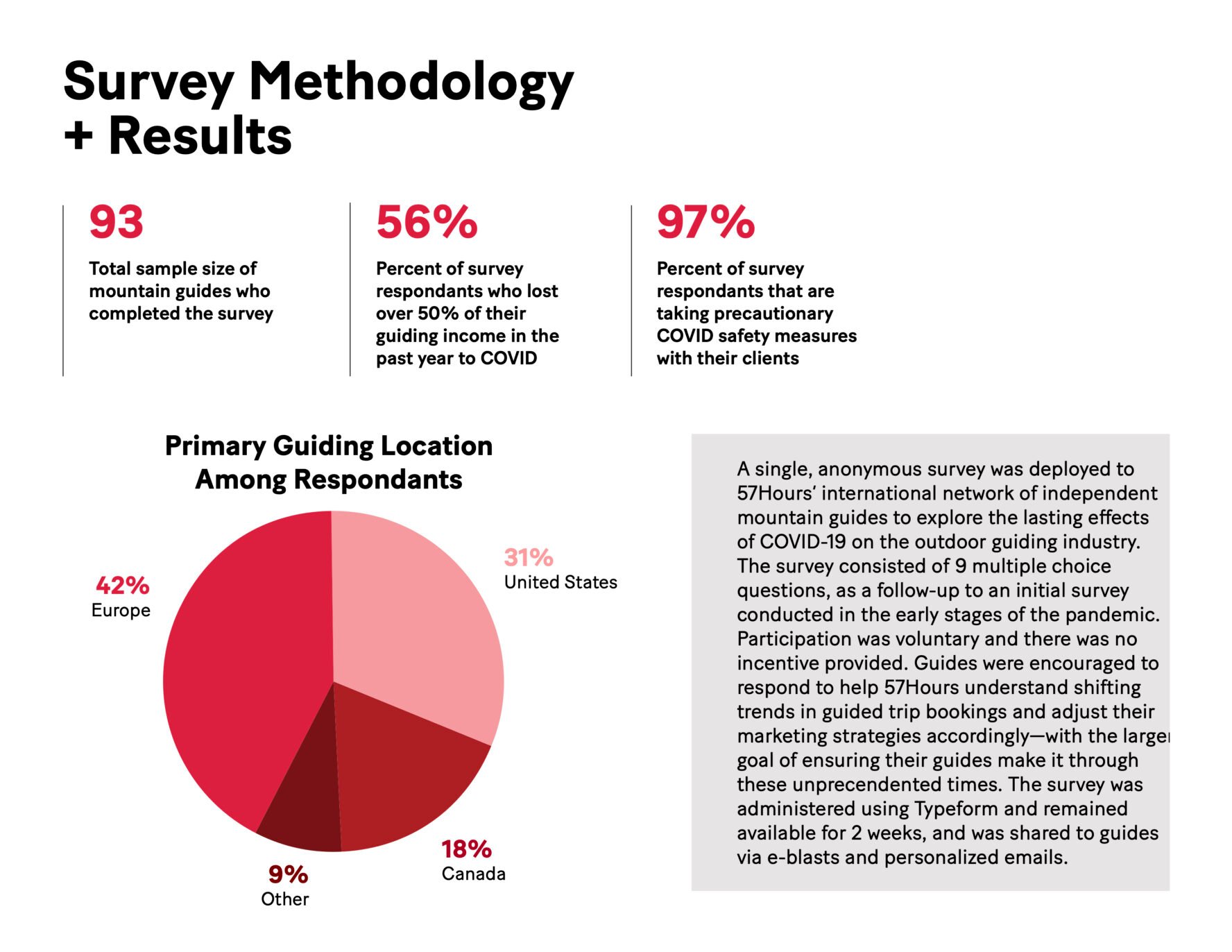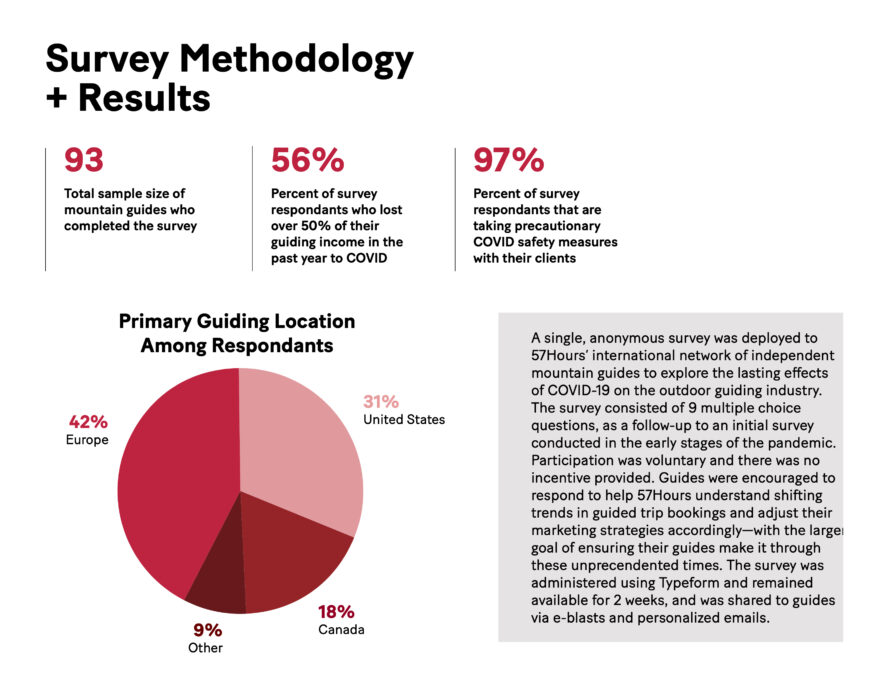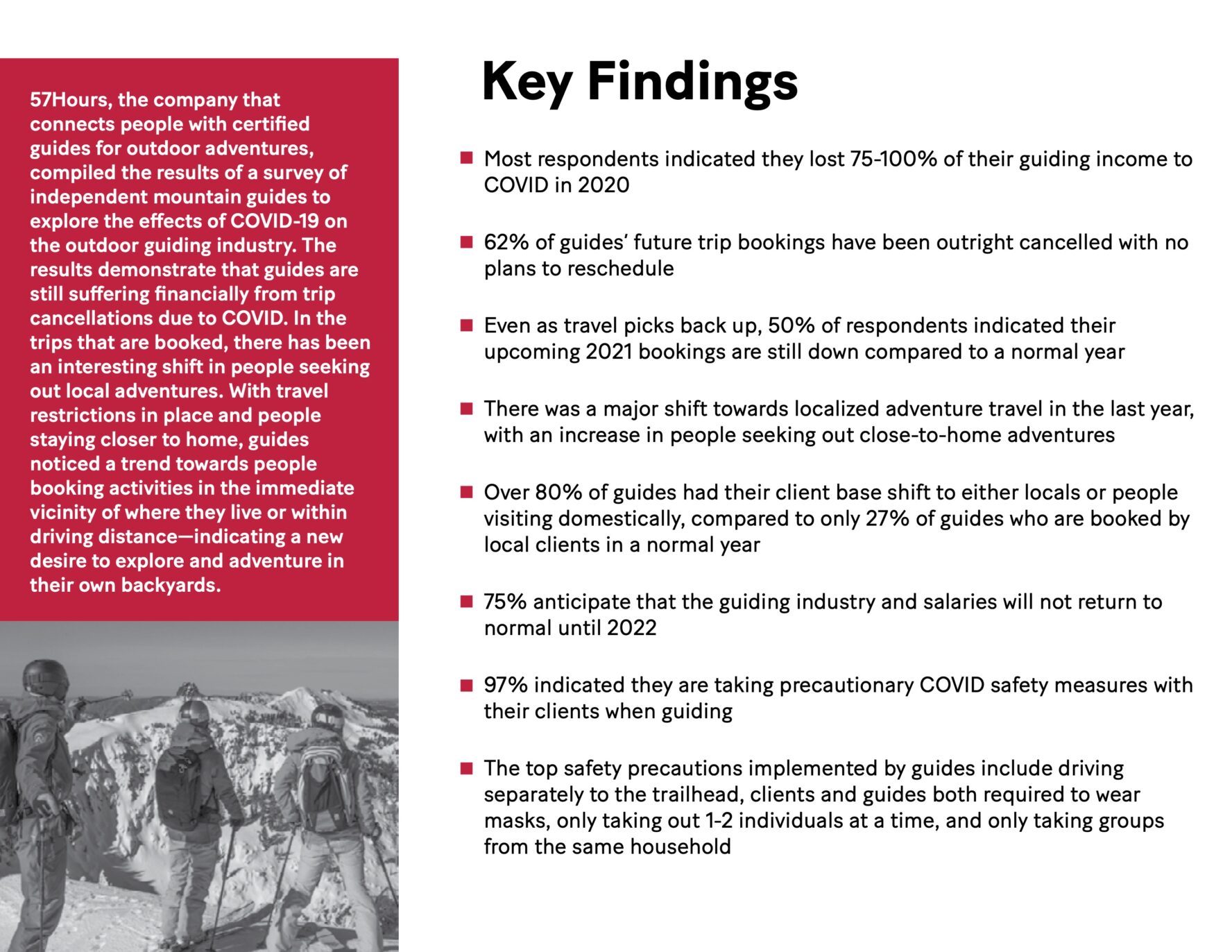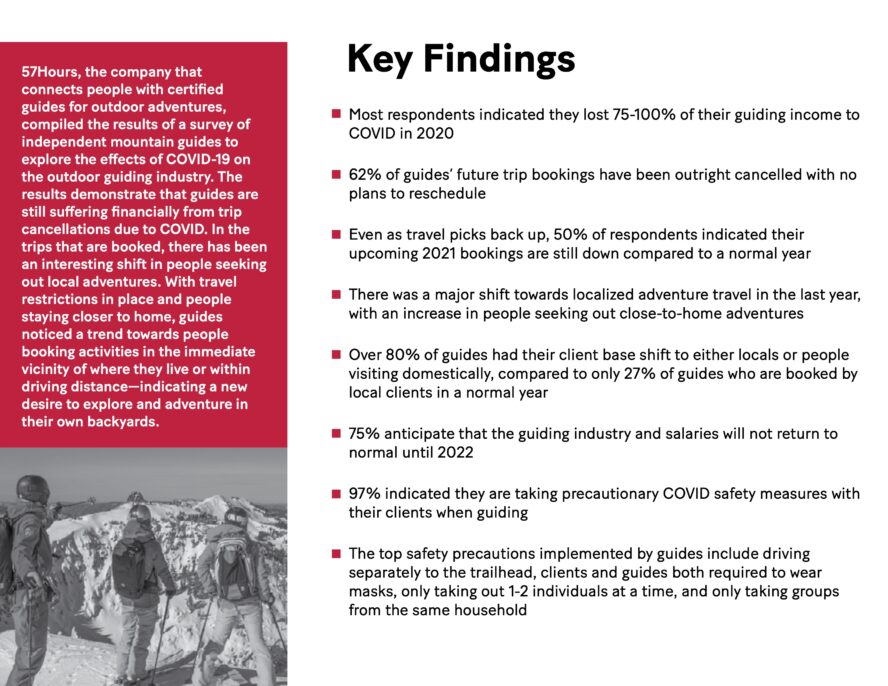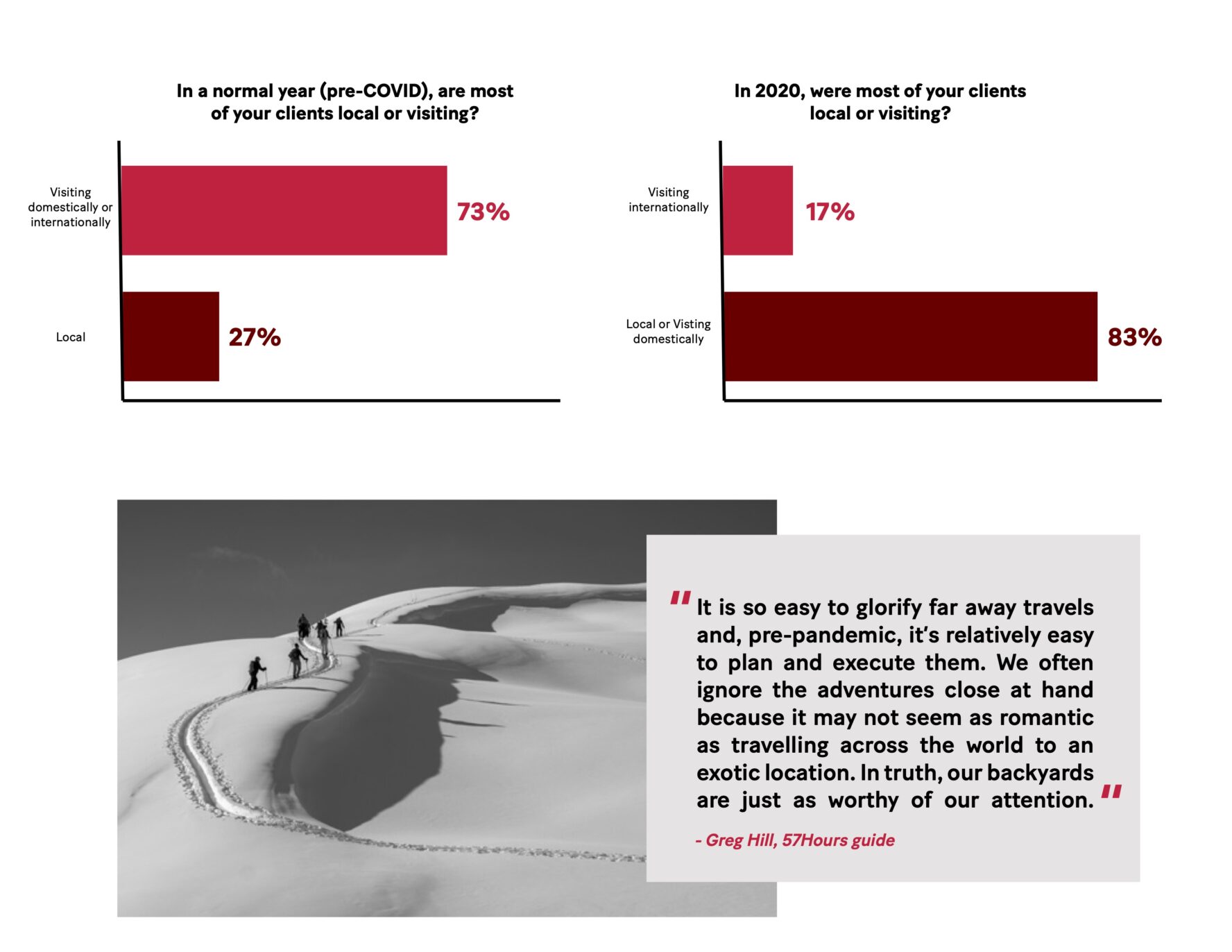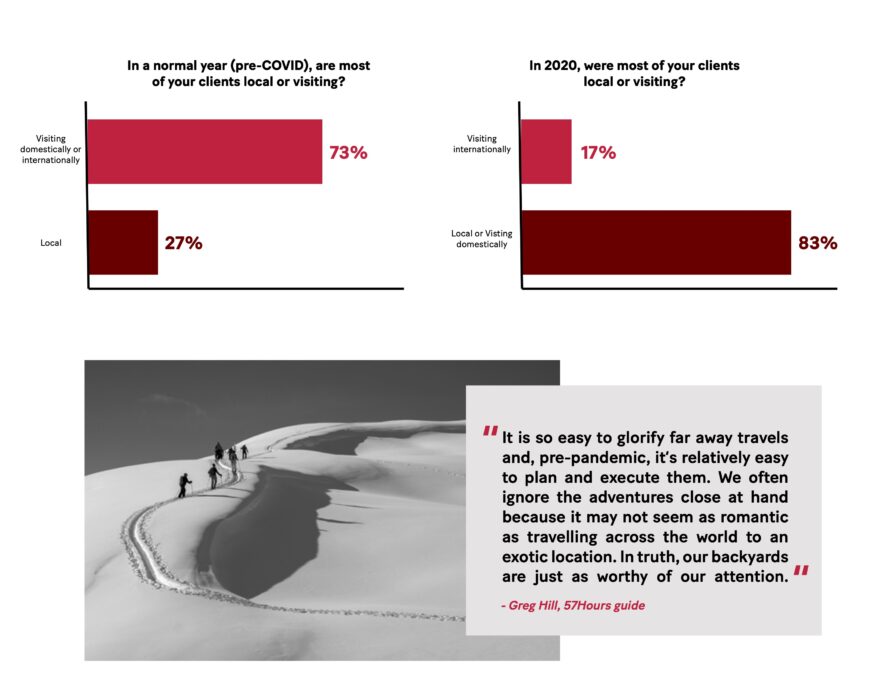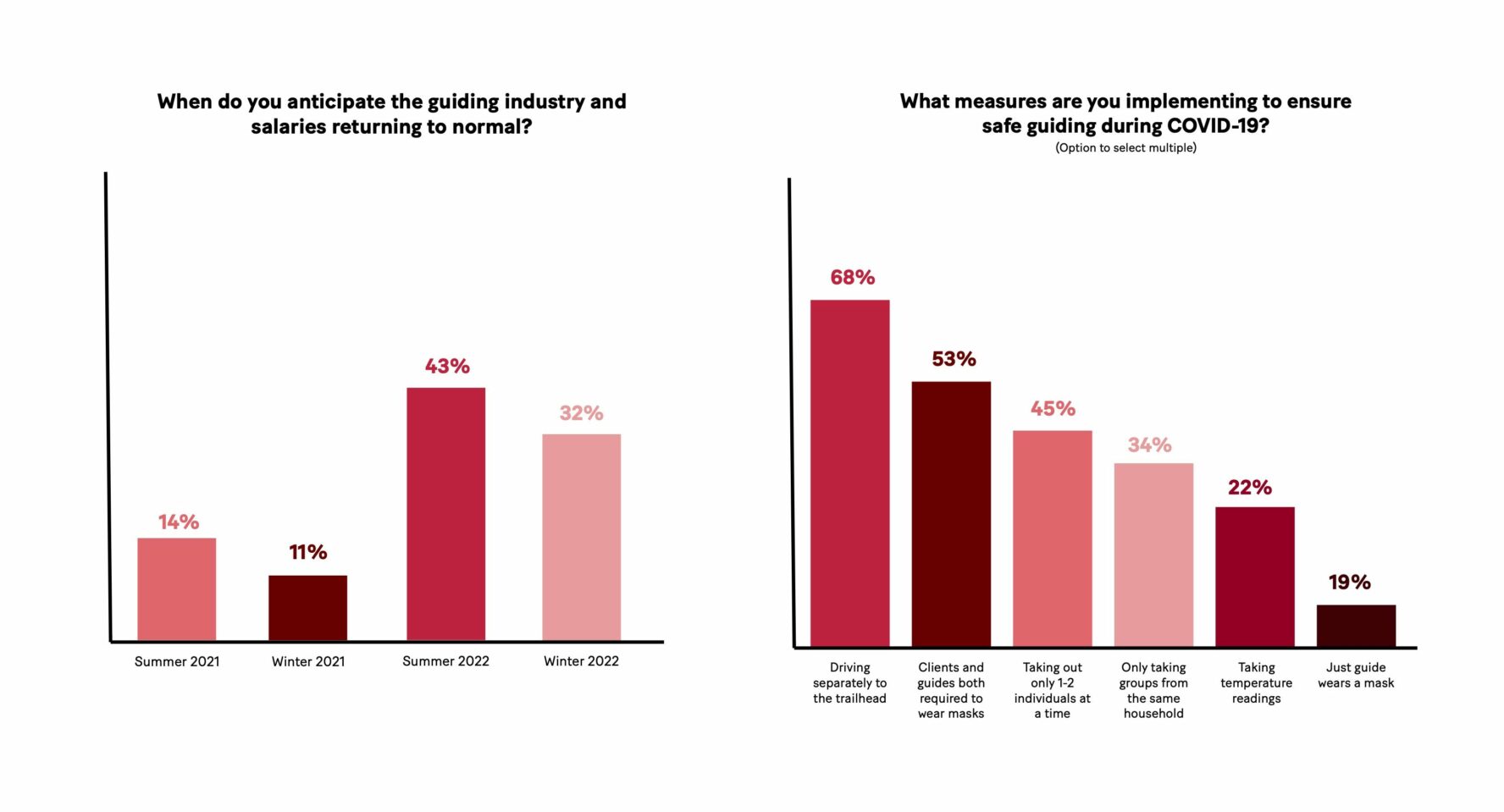 A silver lining — localized outdoor adventuring
One silver lining from the past year was the shift towards localized adventure travel, with an increase in people seeking out close-to-home adventures, and in turn, helping their local economies. Over 80% of guides had their client base shift to either locals or people visiting domestically, compared to only 27% of guides who are booked by local clients in a normal year — a trend indicating that COVID-related travel restrictions sparked a new desire among adventurers to explore and adventure in their own backyards.
57Hours guide Greg Hill says, "it's easy to glorify far away travels and, pre-pandemic, relatively easy to plan and execute them. We often ignore the adventures close at hand because it may not seem as romantic as travelling across the world to an exotic location. In truth, our backyards are just as worthy of our attention."
Safety the top priority
Safety remains a top priority among guides. 97% indicated they are taking precautionary COVID safety measures with their clients when guiding. The top safety precautions implemented by guides include driving separately to the trailhead, clients and guides both required to wear masks, only taking out one to two individuals at a time, and only taking groups from the same household.
57hours remains committed to providing safe outdoor adventure experiences and will continue to follow all government mandated restrictions and health guidelines. It is our hope that through surveys like this, we can better understand the impacts of COVID-19 on the outdoor guiding industry. Through the findings, our goal is to implement strategies that support the professional guides, outdoor adventure-seekers and the places that make these adventures possible.
Download your copy of the original 57hours Guide Survey on the Impacts of COVID-19 here (May, 2020)
Download your copy of the follow-up 57hours Guide Survey on the Impacts of COVID-19 here (April, 2021)