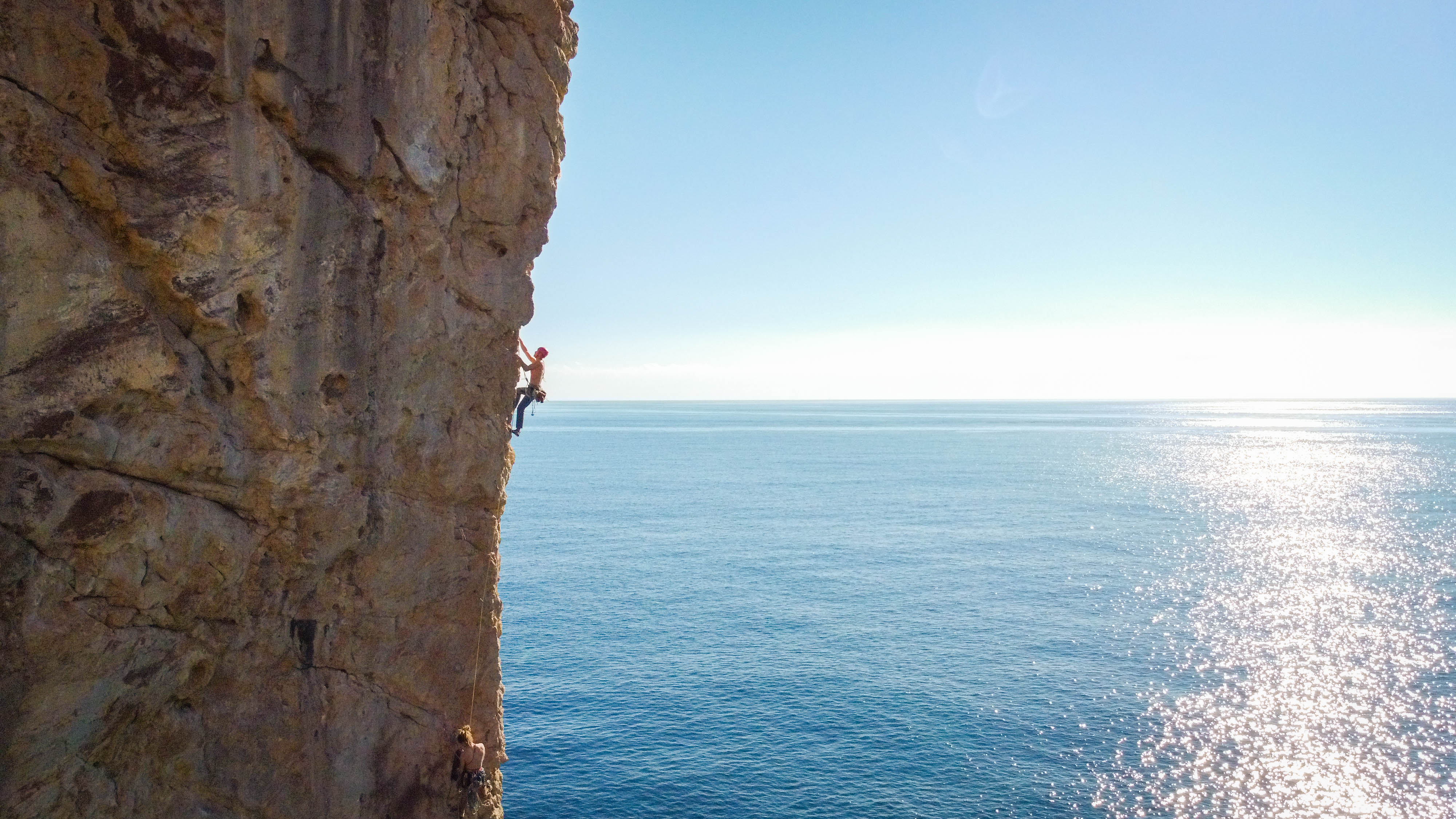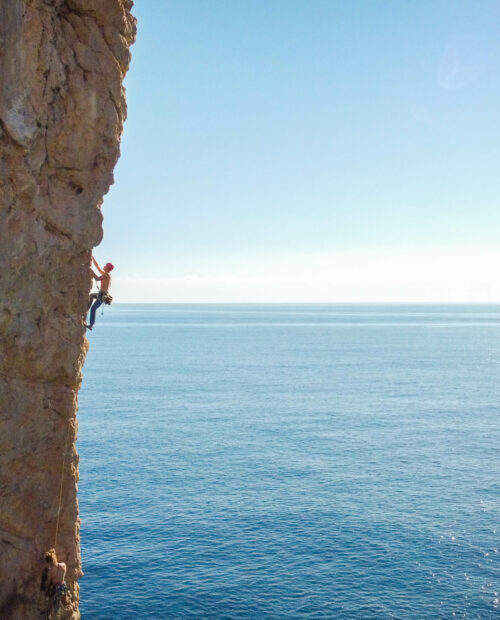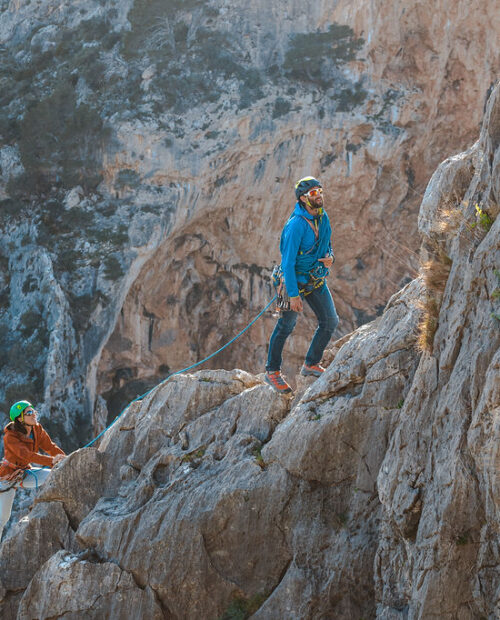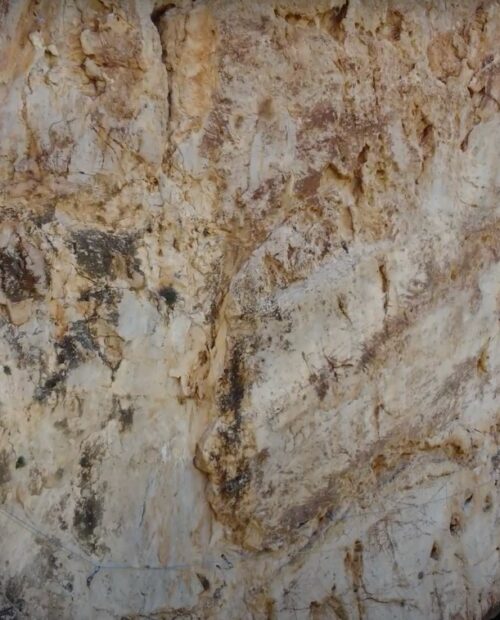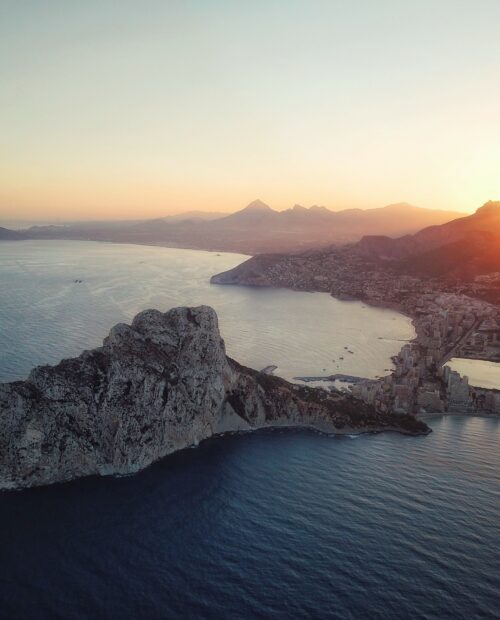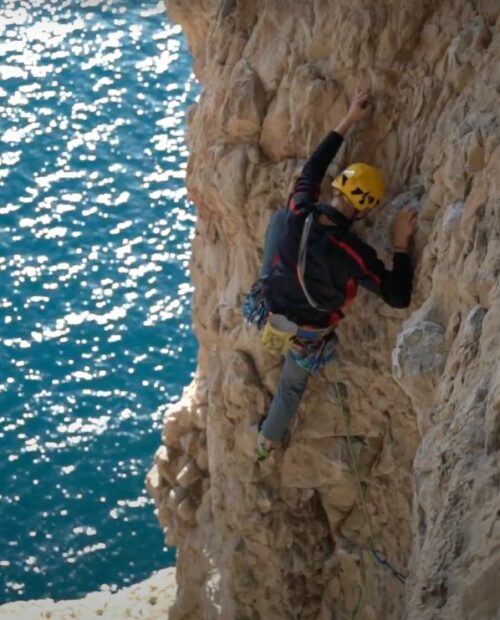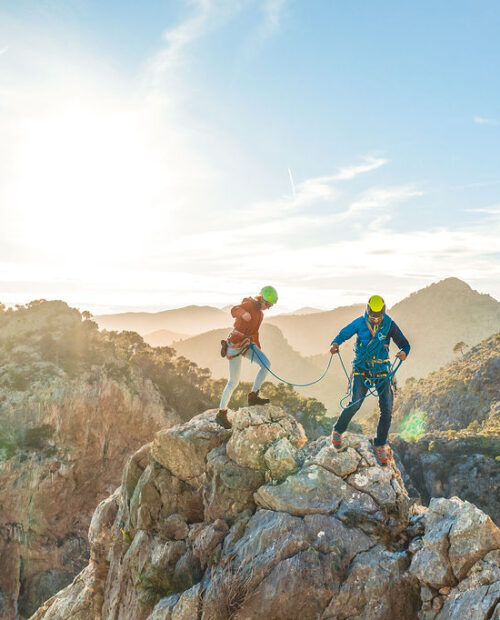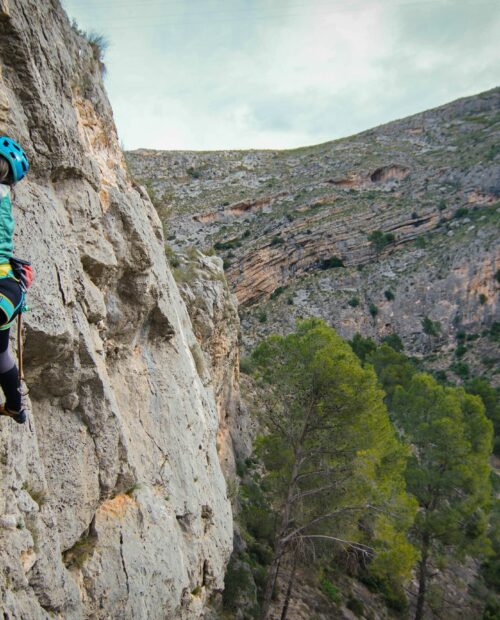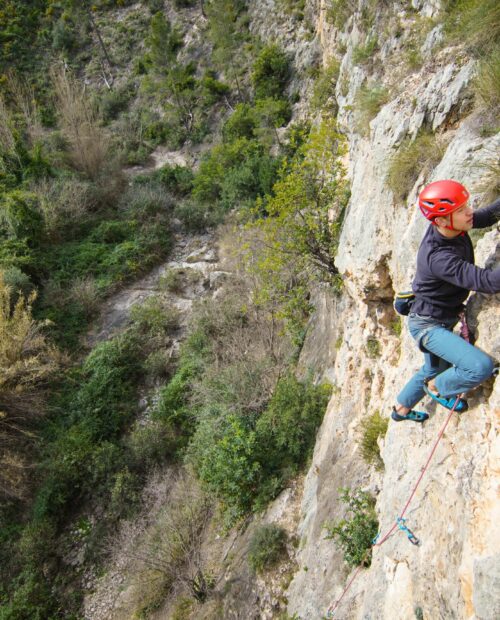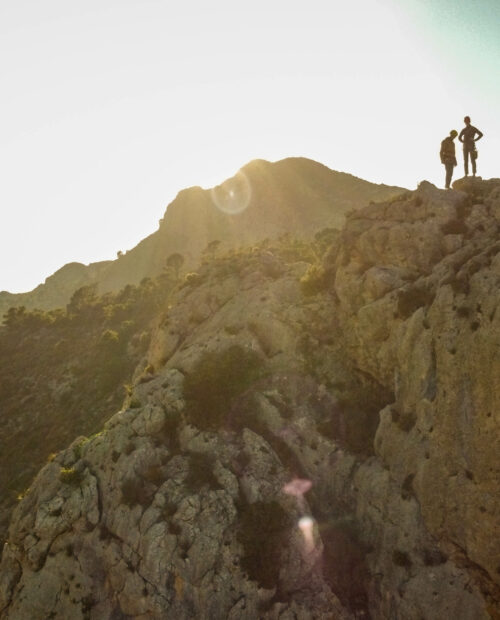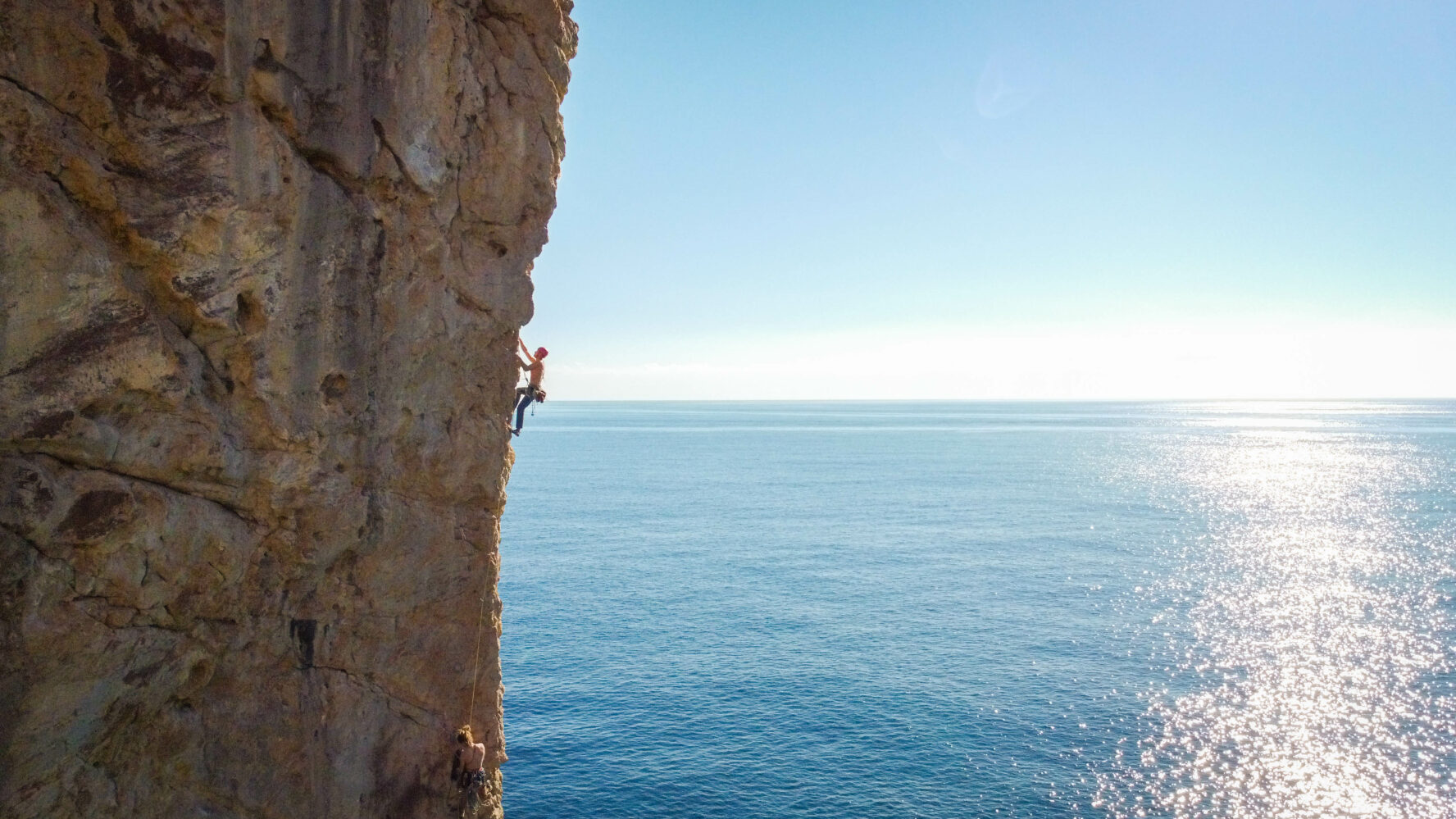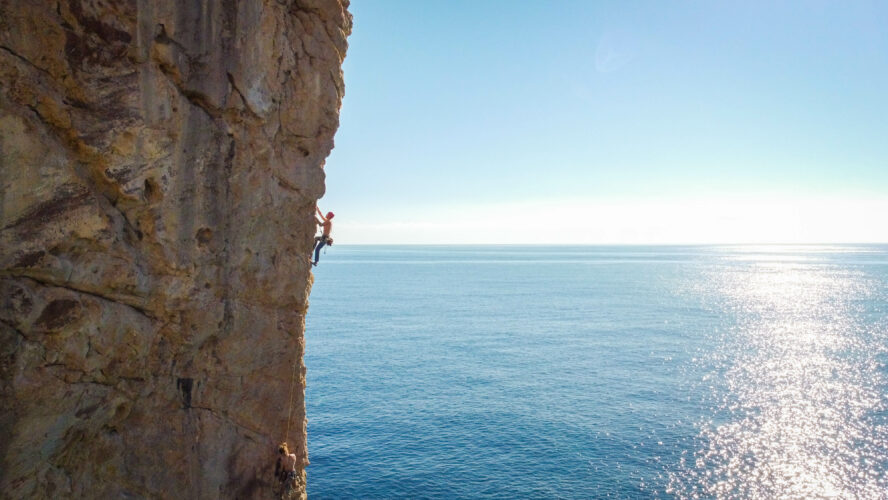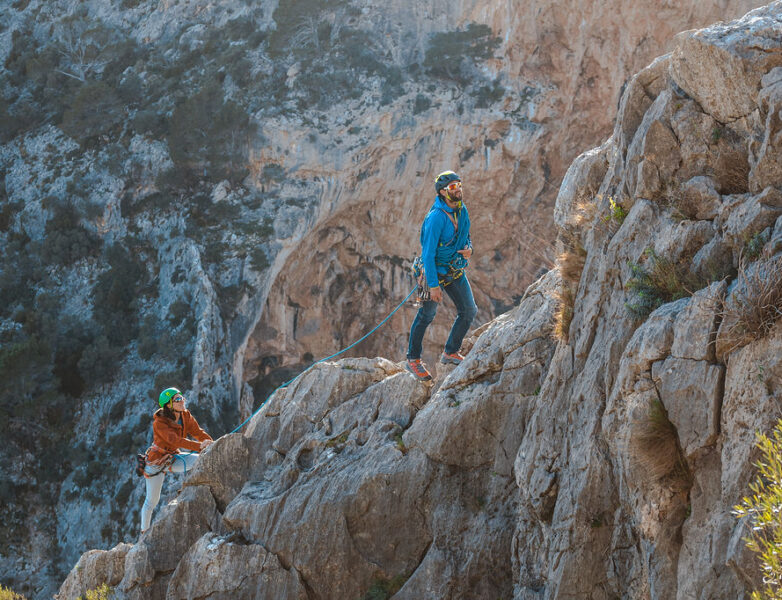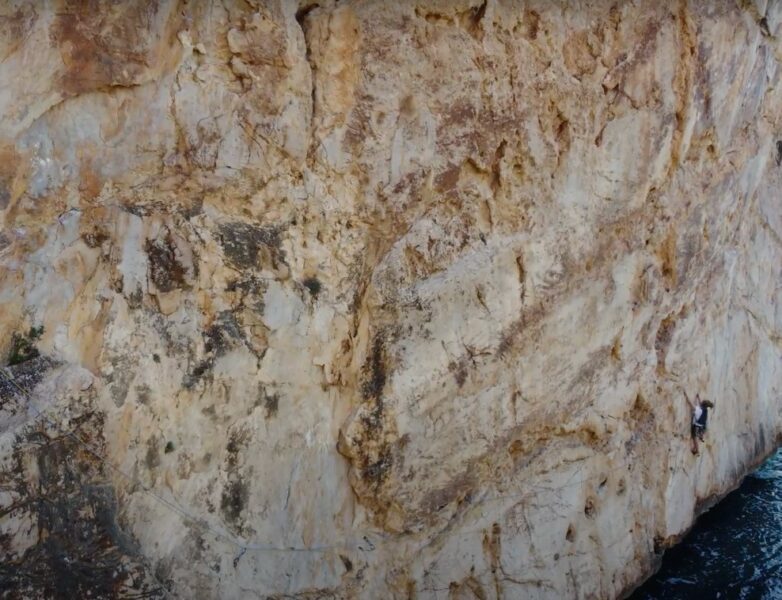 Costa Blanca Rock Climbing Adventure
5.00

()
Discover the Mediterranean haven for climbers on Spain's Costa Blanca, where rugged cliffs and breathtaking sea views set the stage for a week of unforgettable rock climbing. With the scent of saltwater and wild herbs lingering in the air, step onto the sun-warmed rock and let your fingertips trace the intricate textures of the limestone—until the sun sinks into the sea. Get to know the best vertical playgrounds in the area and experience the thrill of pushing your limits—with the help of an expert local guide. Immerse yourself in the vibrant climbing community, stay in private accommodation, and unwind in charming Spanish towns. Whether you're just looking to get more comfortable in outdoor venues or you're a seasoned climber who wants to pursue challenging world-famous routes, Costa Blanca promises an exhilarating journey filled with adrenaline, stunning vistas, and lifelong memories.
Climb in a premier destination boasting 3,000 routes, year-round climbing, and a vibrant community

See what happens when exceptional rock quality is coupled with a backdrop of the Mediterranean sea

Get a taste of local culture and cuisine after personalized days of climbing
Itinerary
Join a week-long rock climbing adventure on the scenic Costa Blanca, famous for well-maintained sport climbing crags, laid-back Mediterranean atmosphere, and a vibrant climbing community. Enjoy 6 days of personalized climbing with expert guidance and meet incredible new people. Stay in a private house in the quaint town of Abdet, enjoy meals prepared by a private chef and, when you're not climbing, spend every moment exploring nearby towns, hanging out with fellow climbers or soaking in the sunshine by azure waters!
Arrive at your accommodation in Abdet, meet your guide and fellow climbers, and go over the plans for the next week. You'll get a chance to talk at length about your preferences, current experience, and about what you wish to accomplish. Get to meet your squad in the evening by going somewhere for dinner or hanging out on the terrace of your private accommodation.
Accommodation: Private house in Abdet

Your days will begin with a hearty breakfast prepared by a private chef, followed by a briefing about where you'll go and what you'll cover during the day. The objectives may differ for different people in your group and you may split during the day and there is no fixed itinerary for the week—everything is customizable! During climbing days, you'll be provided with delicious packed lunches. You'll also be able to take a rest day or climb for a shorter period of time on any day. There will also be an option to climb in the nearby mountains and even camp somewhere for a night (discuss this with your guide prior to the trip). In the evenings you'll be able to explore nearby cities and towns (like Alicante, Villajoyosa, Altea, or Benidorm) or simply hang out on the terrace or take some time for yourself.
Meals: Breakfast and lunch
Accommodation: Private house in Abdet

After breakfast, your adventure has come to an end. Say goodbye to your guide, fellow climbers, chef Yessica, and to Spain—or continue touring on your own!
Meals: Breakfast
Get free trip brochure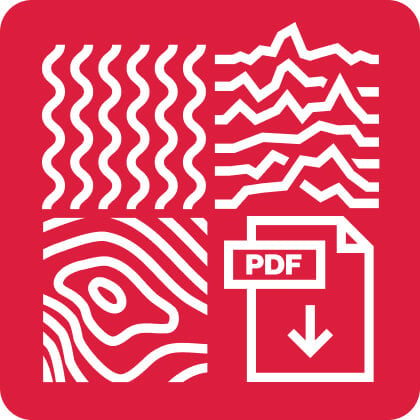 The brochure contains:
Adventure and location overview, itinerary, available dates, what's included, how to prepare, and much more.
Brochure sent, check your inbox
Talk with us
with our adventure expert and start planning your perfect adventure.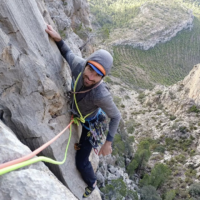 Omar is an expert rock climbing guide who holds the key to unlocking the treasures of Costa Blanca. Whether you seek the thrill of sport climbing, the grandeur of multipitch adventures, or the excitement of via ferratas, Omar is your ultimate asset around Alicante. His wisdom has ensured an unforgettable climbing experience on the shores of Costa Blanca for countless people from all over the world.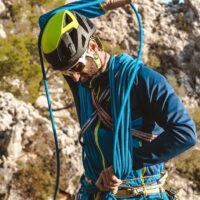 Javier, a true aficionado of mountains and nature, possesses an unparalleled familiarity with Valencia and Alicante. Having climbed all the iconic routes in the area, his expertise as a guide is unmatched. With years of experience under his belt, Javier is poised to continue revealing the hidden wonders of Costa Blanca to climbers from all over the world.
Kookoo Climb is a leading guiding company founded in 2021 by a passionate climber, Xavi Coll, who is dedicated to sharing his love for the mountains and outdoor adventures. With a team of experienced guides, they offer a wide range of climbing adventures in Europe, Africa, and Asia. Their mission is to provide unforgettable and safe climbing experiences for individuals of all levels, from beginners to advanced climbers. With a focus on professionalism, knowledge, and personalized service, Kookoo Climb strives to create memorable journeys, helping climbers from all over the world to explore the beauty of nature and push their limits in a supportive and inspiring environment.
Eilidh Rose McEwan
about
KooKoo Climb
on Google Reviews
Lucy Halliday
about
KooKoo Climb
on Google Reviews
After a couple of days in the local crags, we climbed some amazing multi pitch routes would definitely go back, you could spend months there and not climb the same route (although maybe you would want to). So much fun, the best people and the food by yesica is delicious. Thanks Kookoo!
Chris Cumming
about
KooKoo Climb
on Google Reviews
These guys are amazing had such a good week climbing with Kookoo. I'd highly recommended booking a holiday with these guys
A trip to remember.
Laura Buchanan
about
KooKoo Climb
on Google Reviews
After this I have fallen in love with climbing outdoors and I already plan to go back to climb in Spain. Feeling completely supported by our guide Mara, not only did I push myself beyond what I thought was my level of ability but I have began to build confidence and have learned new skills which I can now take with me in future climbs. Starting early we were provided delicious fresh food prepared by a lovely local ladyJessica( who should have a recipe book published)She packed us full of smoothies, grains and cake for breakfast. Along with this we had a lunch prepared for each day. And my god wee needed it!! We climbed in various places in the local areas, all bolted, everything felt very safe. Huge options when it came to looking for places to climb… my only complaint.. I wasn't there long enough. The plan Mara has set slowly built up our levels of climbing- my favourite being rappelling into a sea cave and then climbing back out. Challenging, mentally and physically, however I had the biggest smile on my face when I finished and saw the sun setting over the sea. Everything about the trip was memorable, what else could you ask for.
Things to know
What you get on this adventure:

An experienced, local rock climbing guide with extensive knowledge of the area
6 full days of rock climbing according to your interests and fitness level
Breakfasts and packed lunches prepared by a chef
Accommodation in a private house based on double occupancy (6 nights)
Public liability insurance

What's not included:

Transportation to and from Abdet
Local transportation
Dinners
Climbing equipment
Personal climbing and travel insurance
Guide gratuities — optional

This Costa Blanca guided rock climbing tour is suitable for intermediate and advanced rock climbers with a good level of fitness. You should be a fairly self-reliant climber since this Costa Blanca guided adventure is not aimed to teach you the basics. At the minimum, you should have strong indoor experience and having some outdoor climbing experience is preferred. You will decide on specific routes together with your guide and fellow climbers based on your preferences and fitness level. There are thousands of routes for different styles and ability levels on the Costa Blanca and there will be something for everyone—whether you simply want to build your confidence at outdoor crags or hone in on some advanced skills.

You will be climbing for six full days, but you will always have an option to take a rest day or shorten your climbing. Keep in mind that your guide will observe your technique, make informed suggestions on how to improve your movements and which route to pursue. They will give their best to push you to do your maximum, while avoiding burnouts and keeping you safe.

If you're looking for rock climbing adventures boasting similar Mediterranean landscapes, but are also suitable for beginners, check out this sailing and rock climbing tour in Sardinia, sailing and rock climbing tour on the Croatian coast, or sailing and rock climbing tour on Kalymnos.

For technical rock climbing equipment, we suggest you bring:

Helmet
Harness with a locking carabiner, belay device, and chalk bag
Ropes
Rock shoes
Climbing hardware (quickdraws, cam devices, stoppers, etc.)

Here's a list of other equipment and clothes we suggest you bring:

Haul bag
Day pack (20-30L bag)
Athletic clothes suitable for climbing in warm weather
Water bottles
Toiletries (sunscreen, bug spray, toilet paper, etc.)
Casual clothes to wear when you're not climbing
Sunglasses
Camera — optional

The October weather on the Costa Blanca is usually warm with mild night temperatures (averages between 14 and 24 °C / 57-75 °F). Most seasons, there's very little rain in October on the Costa Blanca (2 rainy days on average). However, you should be prepared for cool and wet weather. You'll get a chance to discuss gear and clothing with your guide prior to the trip.

The base during your Costa Blanca rock climbing adventure will be a spacious house in Abdet equipped with everything you need for a comfortable stay—including a terrace (for making the most out of those balmy Spanish evenings!) On top of that, the accommodation comes complete with home cooked breakfasts and lunches prepared by an extraordinary chef Yessica. The type of room you get will depend on whether you come alone or with people that you know, but most of them are either double or twin rooms. When it comes to food restrictions or preferences, everything can be easily accommodated—just let your guide know in advance!

Group sizes and prices:

For this group adventure, the group size is between 6 and 12.
It takes a minimum of 6 people for this tour to operate.
The cost does not decrease as the group grows.

Rock climbing on the Costa Blanca can be arranged for larger and for private groups with custom dates. Contact us to make arrangements.

Min. age requirements:

If you are older than 18, you're good to go.
Minors younger than 18 may be permitted to join the hike on a case-by-case basis, but must be in the presence of a parent or legal guardian.

If your group has climbers under the age of 18, contact us prior to booking to make arrangements.

A 30% deposit to secure your place is due upon booking. The remaining amount is paid 3 months (90 days) prior to departure. Once the trip is confirmed by the guide, the cancellation policy stated below applies.

If Client cancels the Booking anytime prior to one hundred twenty (120) calendar days in advance of the trip contemplated by the booking, Client is entitled to a full refund.
For cancellations ninety (90) to one hundred nineteen (119) calendar days in advance, Client is entitled to a refund in the amount of fifty percent (50%) of the total amount paid when Booking.
For cancellations seventy-five (75) to eighty nine (89) calendar days in advance, Client is entitled to a refund in the amount of twenty-five percent (25%) of the total amount paid when Booking.
After that deadline, Client is not entitled to any refund. Any reimbursable expenses arising out of the Booking incurred by Guide prior to the date of cancellation (including but not limited to plane tickets, car rental payments, and lodging or transportation fees) are non-refundable as soon as they are incurred by the Guide.

To get to Abdet, where you'll be based, most people fly into Valencia Airport, which is 2 hours away. From there, we suggest you rent a car or take a bus ride to Cocentaina and then a taxi to your accommodation.

Once you and your Costa Blanca rock climbing guide agree on the details of your itinerary, they will give you the address and suggest the best time to meet. Prior to your Costa Blanca guided rock climbing trip, you'll also get a chance to discuss the best way to arrive to Abdet depending on where you're coming from.

57hours is committed to providing safe outdoor adventure experiences. We require all guides using our platform to have a COVID-19 safety plan and to make the details of that plan accessible to travelers. In most cases, group sizes will be reduced, guides will avoid overcrowded locations, and other safety measures will be met depending on the location and activity.

We also expect clients to respect local regulations and take measures to protect themselves, their guides, and the communities they're traveling to. For more information on COVID-19 measures on the Costa Blanca, Spain, please refer to requirements for travel to Spain.

Please contact us if you have any questions or require further information. We are happy to provide you with the most up-to-date information!
Get free trip brochure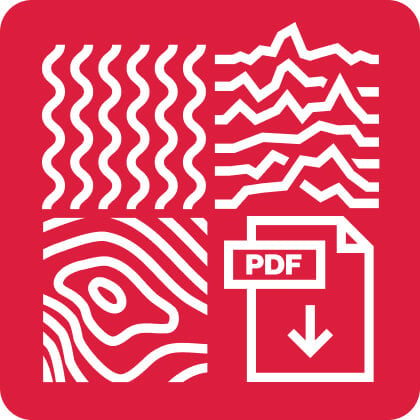 Adventure and location overview, itinerary, available dates, what's included and much more.
Brochure sent, check your inbox
Talk with us
with our adventure expert and start planning your perfect adventure.
Other things to do in Spain